RESTORED: 3/22/22
This is a topic that has been on my heart for a long time. What lit a fire under me, to get this article written, was a visit to a  little store right down the street from me. Across from that store is a local church, on their property was a huge sign advertising a 'PIRATE DAY' for the children to be held at a local event venue, where I was once employed.
I dated a man for a period, who was very into the Pirate thing.  He belonged to a very exclusive club of Pirates.  His walls were decorated with Mermaids and ships.  I found it hard to take him seriously.
As I researched this article, I was amazed and overwhelmed by the sheer numbers of events, websites, groups, etc., related to this topic.  You can see for yourself.  Pick a related topic and type it into Google… you will be deluged with links. 
One thing that I find very interesting, near as I can tell, it is common for these particular events to be FREE to the public.  Hmm, anytime something like this is FREE…you need to be suspicious.  Think about how much it costs to attend a Renaissance Faire.  A FORTUNE, why you practically have to empty your savings account to attend one of those.  These events are often on the same scale as the Renaissance Faire so how can they offer them for FREE?  When someone is GIVING you something like this, they more than likely have an agenda they are pushing.  Your 'Spidey Sense' should be going off like crazy! BEWARE.  Let's take a look.
Please understand this is not an advertisement for this fetish!  I am showing you all of this in the hope that your eyes will be opened to what is really going on.  
spacer
Most days are like all of the others,
Go to work, come back home, watch TV,
But, brother, if I had me druthers,
I'd chuck it and head out to sea,For I dream of the skull and the crossbones,
I dream of the great day to come,
When I dump the mundane for the Old Spanish Main And trade me computer for rum! ARRR!T' me,
Yo, Ho, Yo, Ho,
It's "Talk Like A Pirate" Day! When laptops are benches God gave us fer wenches,
And a sail ain't a low price ta pay!
When timbers are shivered and lillies are livered
And every last buckle is swashed,
We'll abandon our cars for a shipfull of ARRRs
And pound back the grog till we're sloshed! Yo ho….Don't pick up yer phone and say "Hello,
Our ten-o-clock meeting's delayed",
Ye scrunch up yer face and ye bellow,
"AVAST! Ye've been bleedin' BELAYED!"

Ye can't keep this fun to yerself, I bet,
So sing "Aye!" "ARRR!" "Ayy!" every man!
We ain't got much grasp of the alphabet,
But a damn good retirement plan!

T' me,
Yo, Ho, Yo, Ho,
It's "Talk Like A Pirate" Day!
Whatever's in fashion is in for a thrashin'
And bein' polite is passe! When it's ev'ry man's duty
to grab his proud beauty
And let out a hearty YO HO!
And if this offends you, hold y'r breath as we sends you Ta Davy Jones' Locker ya go! Yo ho….

We'll tell every banker "Heave to and weigh anchor!"
Buy latte with pieces of eight
We'll fight to be chosen as cap'n or bosun
The loser, o' course, is worst mate!

When we hoist Jolly Roger, the landlubbers dodge 'er,
We fill 'em with loathing and fear,
We'll plunder and pillage each city and village,
Or at least clean out Wal-Mart of beer!There ain't no computin' or morning commutin',
No "Parking Lot Full" signs for me,
No lawns ta be mowin' or bills to be owin',
I'm knowin' the pull of the sea.The fresh salty brace of the wind on my face
Through hurricane, sunshine or squalls,
I'm keepin' my eyes on the distant horizon,
Verizon can hold all my calls!To wear a red coat full o' buckles,
To earn a few duelling scars,
Well, at least we can get a few chuckles
By filling the office with ARRRs!

And maybe we'll never get closer,
Than watchin' 'em on the big screen,
So here's to old Errol and Depp as Jack Sparrow,
And every damn one in between!

T' me,
Yo, Ho, Yo, Ho,
It's "Talk Like A Pirate" Day!
That time in September when sea dogs remember
That grown-ups still know how ta play!
When wenches are curvy and dogs are all scurvy
And a soft-wear patch covers your eye,
Ta hell with our jobs, for one day we're all swabs
And buccaneers all till we die!

So hoist up the mainsils and shut down your brain cells, They only would get in the way,
Avast there, me hearty, we're havin' a party,
It's "Talk… Like… A Pirate" Day!
______________________

Words and Music: © 2003 by Tom Smith Dedicated ta Cap'n Slappy an' Ol' Chumbucket, fer creatin' National Talk Like A Pirate Day (September 19th)
spacer
I found this post while working on another article.  Just why in the WORLD would the ROYAL NAVY be putting on an event glorifying PIRATES?   Did you notice the dates of this EVENT???   From  4/6/19 to 12/31/20??  What?   What kind of event lasts that long?   I imagine it is pretty darned cold at the DOCKYARD on December 31, don't you?   December 31, 2020…  the very last day of the year.   From the middle of the year 2019 to the end of the year 2020!   I know that 2020 is a very significant year.  This year will change everything.   I wonder if this event has been affected by the Corona Virus.
Saturday, 6 April 2019

– 10:00am to 

Thursday, 31 December 2020

– 5:00pm
Horrible Histories Pirates: The Exhibition

Location: Portsmouth Historic Dockyard

Let your little pirates loose as they captain their very own ship. This fun and light-hearted look at life onboard comes complete with eye patches, wooden legs and deadly armaments ready for you to take into battle with the enemy.

Discover the patter of pirate talk and learn the lingo, decide your fate on the wheel of misfortune and get to grips with the rules of the pirate code– otherwise you might be taking a trip to Davey Jones' Locker.

Grab your grog and sing along in the Pirate Tavern, design your ownpirate flag and battle it out with different weapons including cutlasses and cannons. Take command of your very own pirate shipas you pretend to be a daring pirate commander on the high seas.

Book online and save 20% on a Full Navy Ticket

The above activity is free with a valid attraction ticket.

Valid tickets include our National Museum of the Royal Navy National Membership and Full Navy Ticket to Portsmouth Historic Dockyardand an Any 1, Any 2 or Any 3 attraction ticket.
I decided to check to see if the event was still open.  Apparently it has not been affected by the Corona Virus, at least not as of today.  There is a notice about harbor maintenance, however it does not affect the tours. 

The Fort Lauderdale Pirate Festival is a spring signature event in downtown Fort Lauderdale. The Pirate Festival has something for everyone families, millennials, pirate enthusiasts, residents, visitors- everyone! Get in on the ground floor now of the only Pirate Festival in Dade and Broward counties. As we build the event, we anticipate the Fort Lauderdale Pirate Festival becoming a multi-day event with parades, a Friday evening concert and street festival, multiple entertainment stages, off-site events throughout Fort Lauderdale and much more!
DID YOU KNOW THAT THERE IS AN OFFICIAL

INTERNATIONAL

PIRATE HOLIDAY??
Wednesday, September 19, 2018, is Talk Like A Pirate Day 2018.
Yarr! Our favorite days, Talk Like A Pirate Day encourages you to definitely inject sailing  Pirate-designed words and noises into all you say. Talk just like a Pirate in your own home, at the office, with buddies, on the telephone and also to everyone you meet finish it off by dressing just like a Pirate, too!    And here is the Pirate Mantra:
I'm a pirate! That I be!

I sail me ship upon the sea!

I stay up late – till half past three!

And that's a peg below me knee!

Yo Ho, my friends I have a tale

of treasure, plunder, sea and sail

my story's bigger than a whale

it gets so deep, ye'll have to bail

I'm a pirate! That I

be!

I sail me ship upon the sea!

I stay up late – till half past three!

And that's a peg below me knee!

I like to fish, I like to fight

I like to stay up half the night

When I say "starboard" ye go right!

Me ma, she says, "Ye look a fright!"

I'm a pirate! That I be!

I sail me ship upon the sea!

I stay up late – till half past three!

And that's a peg below me knee!

I've got no hand but that's me hook!

I pillage stuff but I'm no crook.

Me booty's in this chest I took.

They'll write about me in a book!

I'm a pirate! That I

be!

I sail me ship upon the sea!

I stay up late – till half past three!

And that's a peg below me knee!

And that's all there is to this song.

I hope it hasn't been too long.

A pirate's life might just be wrong

So grow up nice and big and strong!
Ok… so how many times do they say  "I am., I be, I do, I like, or I say.."? These are called affirmative declarations.  They are designed to formulate the image in your mind in order to manifest a change or a desired character or attribute. 
Pirate Captain Jay and his crew celebrate September 19th, International Talk Like a Pirate Day! Come learn with Pirate Captain Jay as we learn pirate words used around the ship. Have fun learning these new words that you can use during this fun pirate holiday. September 19th is Talk
Fun Holiday – International Talk Like a Pirate Day
International Talk Like A Pirate Day is a parody holiday annually held on September 19. Celebrated for the first time in 1995, the fun holiday encourages people to talk and dress like the sea plunderers of yesteryears.
John Baur ("Ol' Chumbucket") and Mark Summers ("Cap'n Slappy") created this holiday on June 6, 1995. Out of respect for World War II's D-Day, Baur and Summers chose to move the date of the holiday to September 19.  (Someone please tell me what Pirates have to do with World War II, or honoring Veterans???)
International Talk Like A Pirate Day was a low-key event until 2002 when it received media attention via syndicated humor columnist Dave Barry. Today, it is celebrated around the world as a way to raise funds for charity organizations, such as Childhood Cancer Support and Marie Curie Cancer Care.   
(Nothing and/or no one gets media attention unless by design of the Elite who own the media.  Raising funds for charity organizations, i.e. 501c3 organization who take their marching orders from the powers that be – the Elite – who run everything. I contend that this is an agenda.)
Criminals at Sea
Pirates are people who commit acts of robbery and violence at sea. Pirates have been around ever since the open seas have been used to transport goods and people from one part of the world to the other. Even Julius Caesar was captured by pirates twice.
Historically, pirates were considered contemptible human beings. In many societies, acts of piracy were punishable by torture and death. Even today, piracy is considered an egregious crime at par with other heinous crimes such as treason.
International Talk Like a Pirate Day (ITLAPD, September 19) is a parodic holiday created in 1995 by John Baur (Ol' Chumbucket) and Mark Summers (Cap'n Slappy), of Albany, Oregon,[1] U.S., who proclaimed September 19 each year as the day when everyone in the world should talk like a pirate.[2] An observer of this holiday would greet friends not with "Hello, everyone!" but with "Ahoy, maties!" or "Ahoy, me hearties!". The holiday, and its observance springs from a romanticized view of the Golden Age of Piracy.  Wikipedia   
(So, did you see anything in that Wikipedia about "honoring Veterans, or World War II???)
Saturday & Sunday, May 18 & 19. Pirate Day activities run from 10:00am to 4:00pm
Back this year we present the show "BOARDED! A New Pirate Adventure" aboard Californian!
Pirate Days, a two-day celebration for kids of all ages, will include kids costume contests, cannon firings, weapon demonstrations, sword fights, and a scavenger hunt for Pirate Treasure. Plus our add-on show "BOARDED! A New Pirate Adventure!"
Tickets
Pirate Days tickets include general admission to the Maritime Museum of San Diego and all pirate activities. Pirate Days participants of all ages who wear pirate or mermaid costumes will receive a $2 discount on admission. Adults carrying replica weapons must have them peace-tied.
ADD-ON EVENT: BOARDED! A New Pirate Adventure!
BOARDED is an add-on event to your Pirate Days admission ticket.
This hilarious interactive show puts you right in the middle of the pirate action. After you are sworn in as part of the crew you will be trained how to navigate, sword fight, bail water from a sinking ship, escape from the Kings Jail, swab the deck and other pirate skills. But beware…there be mutiny afoot, a lost crew and cursed treasure.
2019 tickets not yet available
APPARENTLY, ST LOUIS BAY LIKED THE IDEA SO MUCH THEY DECIDED TO ADD A PIRATE HOLIDAY OF THEIR OWN.
By Caray Grace, News Anchor
Downtown Bay St. Louis was overrun with buccaneers of all ages
for the first ever, Pirate Day
in the Bay. The two-day event officially started Friday night when the pirates "arrested" the mayor, but Saturday he attempted to regain control of the city.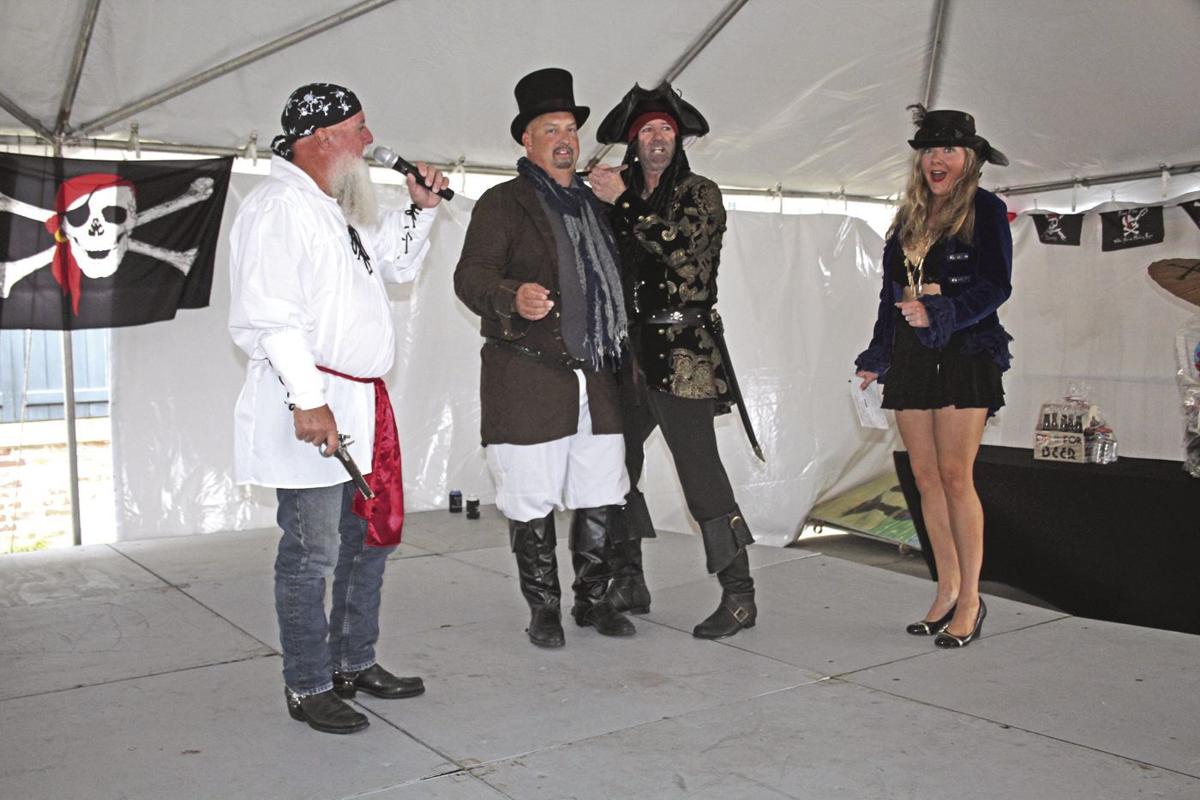 THEY HAVE FANS, COPYCATS, AND IMMITATORS:
Me and my friends have started a pirate crew and plan to raid the rivers and lakes near our homes. We still need an awesome name for our group. We already have a flag featuring a zombie unicorn with a sword for a horn, but the name doesn't really have to have anything to do with that. What say you mateys?  Follow  6 answers 
Originally Posted: 2004-11-11 3:44pm

Last Friday, My friend Jessica and I hopped the N to meet others at the Fireside for drinks. I had my name plastered all over whatever pints I could get my greedy lush hands on. I hadn't had a drop all week, and it had been the mother of all weeks. We sat and spoke and laughed the usual. Till, 12 Pirates walked through the doors of the bar. "Arrrrgh!" I heard among the group as they made their way to the bar in great spirits. We sat there wide-eyed. Well. I did. Josh saw the look on my face and asked me if I needed a napkin for my chocha. Once the initial shock passed through me, my friend Josh came with me to go infiltrate the bevy of pirates so I could get my picture taken with them. I got more than I had planned on getting. Apparently, the main pirate was a man named Eric whose birthday it was. Once introduced to Eric, I couldn't stop beaming…drooling, if you will. Full on red sash peeking out from underneath the pirate hat, complete with a curly mustache and goatee drawn on his face with theater makeup. And a sword. A fucking sword. We talked and I told him about how natural it would be for me to have a thing for pirates, with me being a ninja and all. You can't blame a highly trained martial artist not to find lust for those who ride the high seas with scurvy. He told me I was cute as a button and took out a bright purple sash and tied it around my head so I too would be an honorary pirate for the night.  Seriously, I squished like a 13-year-old girl at a Backstreet Boys concert and he invited my crew and I out to follow them on their Birthday Pirate Pub Crawl. The final destination was expected to have over 40 pirates in total.
THEY'VE GOT PLENTY OF PIRATE GROUPS ON FACEBOOK.  SEE FOR YOURSELF.
Mermaids, Pirates & Ocean Treasures  11,685 Members on Facebook
PIRATES: TIDES OF FORTUNE- MMO Pirate Game
THEY'VE GOT A PIRATE CATEGORY IN THE GUINNESS BOOK OF RECORD
An attempt by Penzance to beat the world record for 14,000 pirates in one place failed after a group accidentally stayed in the pub and missed the count.
The Cornish town has been trying to claim the Guinness World Record for several years, having lost it to Hastings in 2013. But they will be forced to try again next year after missing out on the title by "just a few" on Sunday.
Organizers blamed the miss in part to groups of pirates who did not leave their local pub in time to be counted.
Pubs in the area had promised to make sure pirates were out and in the count area by 3.45pm. But Andy Hazlehurst told the crowd: "Sorry to say we're back again next year, we fell short by a few.
THEY HAVE TONS OF PIRATE COSTUMES AND CLOTHING AVAILABLE FROM HUNDREDS OF SHOPS AND WEBSITES
THEY HAVE 

PIRATE 

EVENTS AND ACTIVITIES TOO NUMEROUS TO COUNT, LOCALLY, NATIONALLY AND AROUND THE WORLD
Check it out for yourself.  You can click on this link or put your own search into the search bar.  You will find more than you can imagine.
THEY'VE

GOT PIRATE AND MERMAID SPECIALIZED VACATIONS
Are you getting the drift?  Do you see that there is some force/agenda behind this?  The organization, the funding, the production, the promotion involved in all this is mind-boggling.  And it has just sprung up so rapidly.  There must be some reason why suddenly there is so much interest in Pirates and Mermaids?  Certainly, you see that there is a huge monetary motivation here.  There are some people making a lot of money off everything related to this craze.  That is fine.  I am for people making a living.  I am equally happy to see people enjoying themselves, especially when they can do it as a family. What concerns me is the spiritual, mental and emotional effect on the public with everyone going hog wild over Thieves and Murderers or dimensional entities/demonic creatures that were once worshiped as Gods.  What message does this convey to our children? 
PLEASE CLICK TO CONTINUE TO: PART 2 
FOR MORE RELATED INFORMATION PLEASE VISIT THIS ARTICLE: