WHAT INSANITY!  It start out crazy and unbelievably it has gone from bad to worse to HORRENDOUS.   Who can make any sense of what has been going on between the Pope, the Vatican, the meeting of the Bishops, the lay folk and the United Nations.  Nothing they are doing or saying makes any sense.
WHO can keep up with it?  DAILY we are smacked with new insanity.
I know that I am not equipped to sort it all out and present it to you in a manner that can provide any clarity.  So, I have compile a selection of what I consider the best of the videos created to bring light to what has occurred.  It is a lot to digest, so I suggest you take it in small doses.
As fast as things are moving, much of it will be irrelevant in no time at all.  But, it is good to know how things progressed in order to recognize where it is going.
spacer
If you have not viewed the following related posts, check them out:


spacer
Fr. Gerald Murray joins A Catholic Take to tackle the tough questions more and more Catholics are asking themselves these days, not least of which being: …is the Pope Catholic?
#popefrancis
#synod
#heresy
#sedevacantism
#vatican
Full Episode –
 • Live News Today | Is the Pope Catholic?  
spacer
Synod Plans for 2024 Revealed!! w/ David Torkington
spacer
🤯Evangelical Christian Shocks Catholic Workmate 🤯 – Fr. Mark Goring, CC
spacer
John 17
17 These words spake Jesus, and lifted up his eyes to heaven, and said, Father, the hour is come; glorify thy Son, that thy Son also may glorify thee:
2 As thou hast given him power over all flesh, that he should give eternal life to as many as thou hast given him.
3 And this is life eternal, that they might know thee the only true God, and Jesus Christ, whom thou hast sent.
4 I have glorified thee on the earth: I have finished the work which thou gavest me to do.
5 And now, O Father, glorify thou me with thine own self with the glory which I had with thee before the world was.
6 I have manifested thy name unto the men which thou gavest me out of the world: thine they were, and thou gavest them me; and they have kept thy word.
7 Now they have known that all things whatsoever thou hast given me are of thee.
8 For I have given unto them the words which thou gavest me; and they have received them, and have known surely that I came out from thee, and they have believed that thou didst send me.
9 I pray for them: I pray not for the world, but for them which thou hast given me; for they are thine.
10 And all mine are thine, and thine are mine; and I am glorified in them.
11 And now I am no more in the world, but these are in the world, and I come to thee. Holy Father, keep through thine own name those whom thou hast given me, that they may be one, as we are.
12 While I was with them in the world, I kept them in thy name: those that thou gavest me I have kept, and none of them is lost, but the son of perdition; that the scripture might be fulfilled.
13 And now come I to thee; and these things I speak in the world, that they might have my joy fulfilled in themselves.
14 I have given them thy word; and the world hath hated them, because they are not of the world, even as I am not of the world.
15 I pray not that thou shouldest take them out of the world, but that thou shouldest keep them from the evil.
16 They are not of the world, even as I am not of the world.
17 Sanctify them through thy truth: thy word is truth.
18 As thou hast sent me into the world, even so have I also sent them into the world.
19 And for their sakes I sanctify myself, that they also might be sanctified through the truth.
20 Neither pray I for these alone, but for them also which shall believe on me through their word;
21 That they all may be one; as thou, Father, art in me, and I in thee, that they also may be one in us: that the world may believe that thou hast sent me.
22 And the glory which thou gavest me I have given them; that they may be one, even as we are one:
23 I in them, and thou in me, that they may be made perfect in one; and that the world may know that thou hast sent me, and hast loved them, as thou hast loved me.
24 Father, I will that they also, whom thou hast given me, be with me where I am; that they may behold my glory, which thou hast given me: for thou lovedst me before the foundation of the world.
25 O righteous Father, the world hath not known thee: but I have known thee, and these have known that thou hast sent me.
26 And I have declared unto them thy name, and will declare it: that the love wherewith thou hast loved me may be in them, and I in them.
spacer
Roy's Uniquely Spiritual Perspective on the Current Situation, Based on the Prophecy of Moses in Deuteronomy 32 (17 Min.) An extract from Roy's October 23, 2023 Divine Mercy Chaplet Livestream
spacer
United States Conference of Catholic Bishops
https://www.usccb.org › synod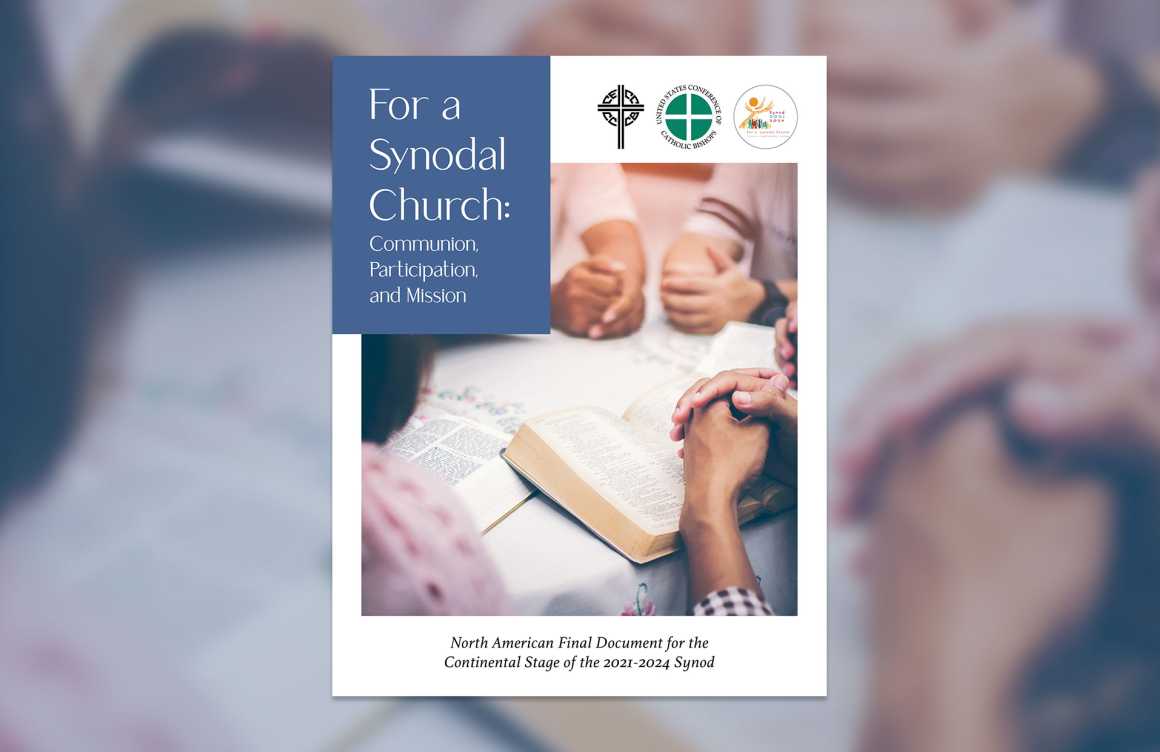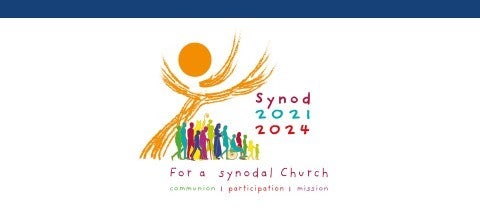 The Synod on Synodality is a three-year process of listening and dialogue beginning with a solemn opening in Rome on October 9 and 10, 2021 with each individual diocese and church celebrating the following week on October 17. The synodal process will conclude in 2024.
Pope Francis invites the entire Church to reflect on a theme that is decisive for its life and mission: "It is precisely this path of synodality which God expects of the Church of the third millennium." This journey, which follows in the wake of the Church's "renewal" proposed by the Second Vatican Council, is both a gift and a task: by journeying together and reflecting together on the journey that has been made, the Church will be able to learn through Her experience which processes can help Her to live communion, to achieve participation, to open Herself to mission."
Learn more about the synodal process by visiting the Vatican Synod website.
10/24/23
spacer
 spacer
Cdl. Christoph Schönborn: Pope could drop the phrase 'intrinsically disordered.' Church Militant's Rome correspondent, Dr. Jules Gomes, reports on the push to edit out of the catechism the phrase, "homosexual acts are intrinsically disordered."
spacer
spacer