Photo Credit: Inside Edition No copyright infringement intended. Does everyone see the snake in this picture?   The road looks like a snake, slithering through the trees with its head near the house..
———-
WAKE UP!!  The truth is finally coming out.  OPEN YOUR EYES.  I know it is horrifying to believe that this things are happening around us…but it is TRUE.  The Epstein story is not just about horney old men using young women for sex.  As disgusting and unforgiveable as that is, there is a much darker and more evil part of this story that the public is not addressing.  The trading of human flesh and blood, especially that of young children is out of control.   It must be stopped!!
Epstein's island was used to provide the elite a safe and secluded place where they could keep little children in cages and chains and use them for sexual perversion, torture and kill them.  There were hundreds of children's bones found in the water near his Temple.  There were likely many more buried in under the ground.   Please PEOPLE grow up  and stop pretending everything is fine.  IT IS NOT FINE!  The world is going to HELL in a handbasket.  Many little children, teens and even adults are in a LIVING HELL
PLEASE REVIEW MY ARTICLE  "Update 2/23/20 – It's in The Blood – Part 10 of 11 – ABORTION"
There are elites who rule this world.  THEY ARE POSSESSED by DEMONS who often manifest as Reptilians.   THIS IS NO JOKE.  Those demons have NO HEART, NO LOVE FOR HUMANS, NO CONSCIENCE, NOTHING to prevent them from committing the most horrendous atrocities imaginable. 
Read this article and DO NOT just slough it off.  Take it seriously, what if those were your children??
If you can't see the snake in the photo, or you think it is just in my imagination, or you believe it just occurred by accident; you need to re-evaluate your critical thinking abilities.  Maybe you need to unplug, and deprogram. 
 Jeffery Epstein is a lowlife scumbag, and I don't really care if he killed himself, was murdered by his clients or is still alive under witness protection.  Whichever is the truth, the bottom line is he has escaped justice, and we will never get the whole truth.  I wouldn't even be addressing this topic at all, but for the fact that this hideous, disgusting, inhuman behavior is going on everyday.  WAKE UP!  WAKE UP!  WAKE UP!  Quit hiding your head in the sand.  Face the TRUTH.  IT is the only way for this to come to an end.  MILLIONS AND MILLIONS OF CHILDREN are being tortured, hunted like animals, sacrificed, and even eaten!!  What are we doing to stop this horror???  I know you don't want to believe it is true… IT IS TRUE!   Stop hiding from the truth.
For all you deniers out there.  Those who just can't bring themselves to believe that people can be this evil… I felt that letting you actually see the evidence might help you get a grasp of the reality.  They say a picture is worth a thousand words.  So take a look.  THIS EVIL IS REAL!  AND IT IS GROWING LIKE A CANCER.  
Take a good, long, serious look at what was going on at this island and understand this is not unique. It is going on all across the Earth.  This is not new.  This story has repeated itself over and over throughout history.  PAGANISM, you know that it has been on the rise. This is where it leads.
Update 10/11/19
ENCHANTED LIFEPATH TV ALTERNATIVE NEWS & MEDIA
Since I have hit on the submarine issue, other people have also began to look into this and I was contacted by somebody who made this depiction showing how submarines can be used to avoid detection to enter Little St. James Island.
Update 9/8/19

Cremation diamonds theory, a closer look into why this may be connected to satanic ritual child abuse and trafficking. Another thing I want to mention is the cremation diamond industry. This service offers people the chance to have deceased loved ones ashes and hair turned into diamonds. Watch the video as there is more info on the article and in the video combined. This is one of the most thought triggering videos you will ever see. Although the process is very dear it may not be if elite child-traffickers Maxwell…
ENCHANTED LIFEPATH TV ALTERNATIVE NEWS & MEDIA
Update 8/26/19
Update 8/24/19
Ok, here is a close picture of the head of the snake road/walkway.  It appears to have a very high wall around the head and that head seems to serve no purpose other than to represent the snake.  There is a walkway from that platform up to a group of strange buildings before you get to the main house.  Do you see the formation of the sodded area around the four trees?  The design there is the same one that was on the sacrificial arena area on this island and on the "labyrinth" at Epstein's Zoro Mansion.   It represents the four cardinal directions.  As do the four trees.
  TWITTER
Sure looks like those are doors that could lead underneath the Temple, to me.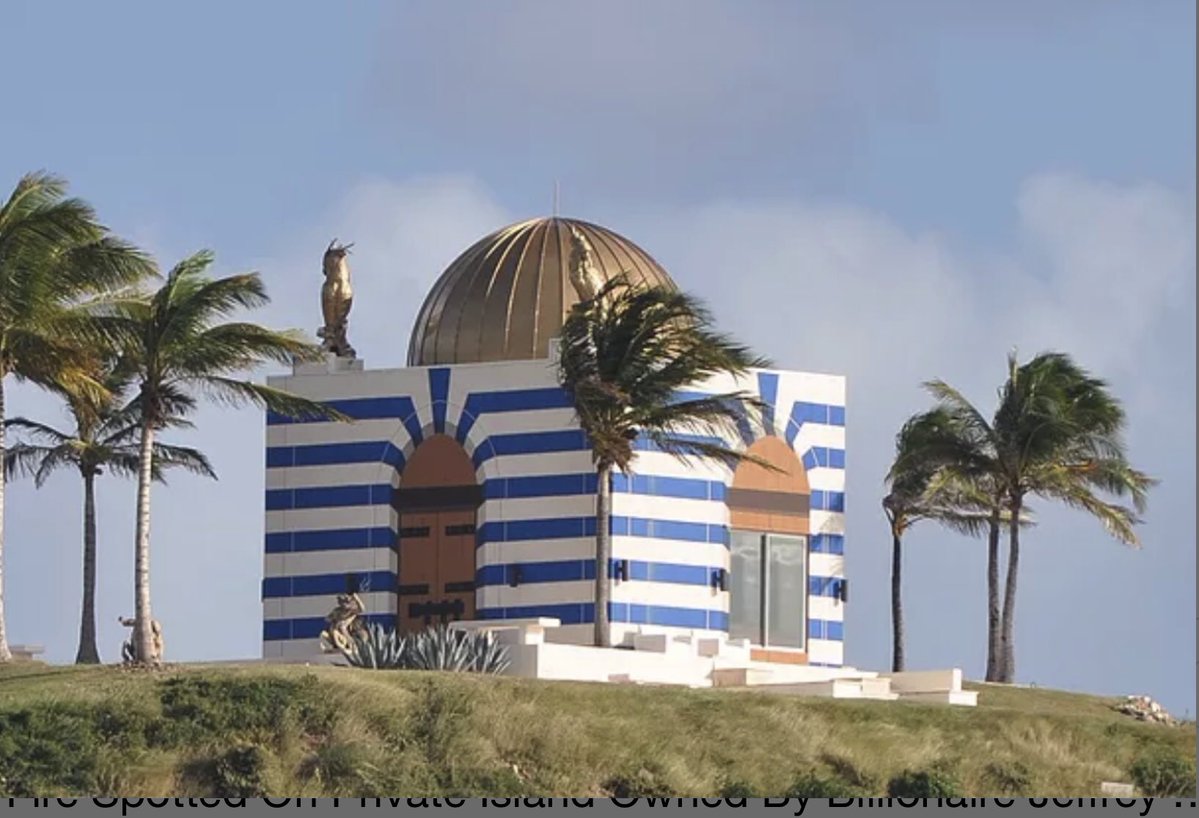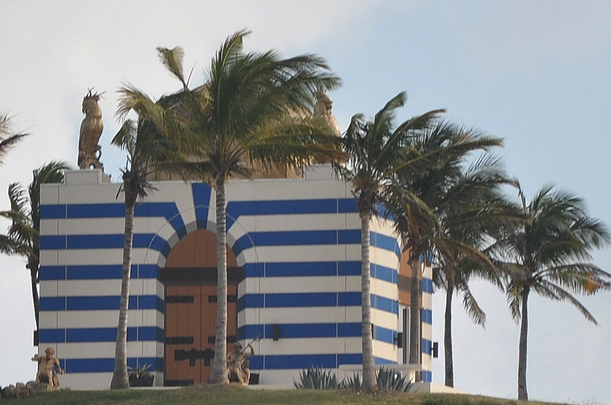 That figure on top of the Temple does not look like an owl to me at all.  Infact, to me it appears like it might be a stag.  Do you see the tail?  It looks like a stag/dear standing on two feet to me.    I am interested in learning more about the figures on the ground level near the door.  Someone said there is a figure of Poseidon on site.  It appears that the one right of the door above could be Poseidon/Neptune with his spear.   I am not sure what the one on the left might be.   I can't see the other figure on the roof.  I have seen other shots of it and it seems to be a bird, perhaps the phoenix?  The Phoenix is most often represented with a crest or something pointed at the back of it's head.  I believe the two figures are a Stag and a Phoenix.
| | |
| --- | --- |
| | Immediately, I saw an eerie resemblance this island has to the symbol Prince adopted to represent himself. |
Something  else about this island caught my eye.  Do you see the outline of some kind of biped animal?  Study the photo below.  Look for its dog or bear like snout and the very clearly defined two feet… Is that a sasquatch?
Ok… some very strange things about this Sundial.   First of all not only is it creepy that there are benches all around it, but do you notice that the shadows cast by the benches look like Gallows??  The Roman numerals on the face make no sense at all.  Only a few
numbers are present, their placement is incorrect, what is the reason for the group of numbers in the top left? What is the significance of the rocks at each of the numbers in the group at the top?  Why is there an extra space between the number V and the number VI.  The number VI on the right side and the number VI on the left side are aligned.  What are those articles place above both of those numbers?  When enlarged, they appear to be some kind of statue or sculpture.
The following photos are from The Clover Chronicle.com  https://cloverchronicle.com
An absolutely brilliant #Anon went digging through USGS topographical data to try and sort out the most likely areas where #JeffreyEpstein would build his tunnels, and compiled a ton of helpful images to help visualize the actual size and depth of these things, as well as probably entrances and exits.
This fits with another anon, who theorized about the size of the tunnels based on the power and probable output of the HVAC units found on the surface.
(If the images aren't big enough, simply right-click, and open the image in a new tab).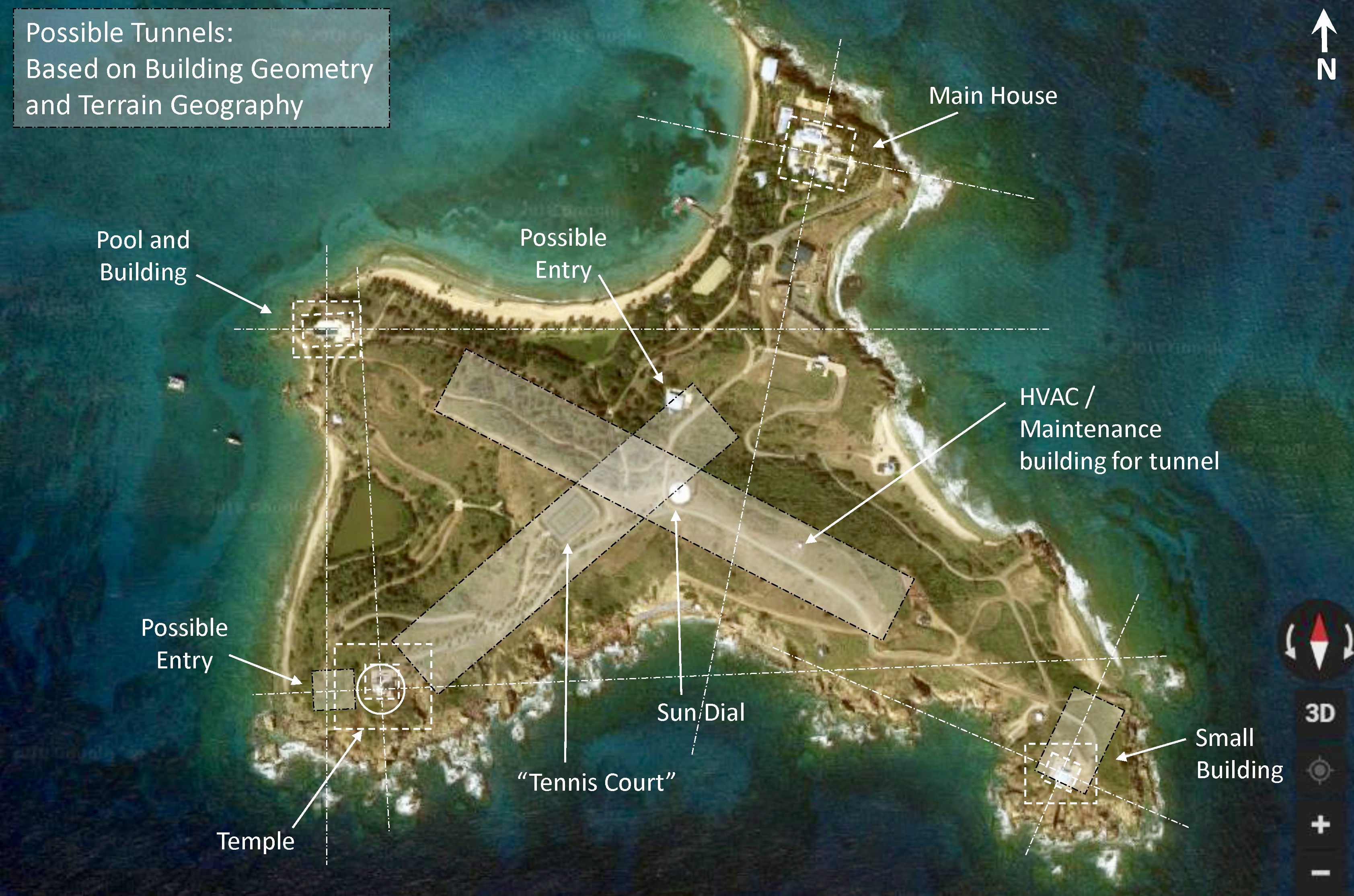 #Pizzagate #Pedogate #TheCabal #HRCVideo #QAnon #GreatAwakening
The CUT
Spacer
Little St. James Island. 

Photo: Gianfranco Gaglione/AP/Shutterstock
More than two decades ago, Little St. James Island, a small part of the U.S. Virgin Islands, began to change in ways that the locals on neighboring islands regarded with suspicion. Plants were cleared. Poles bearing American flags went up. Security guards lined the beaches.
These transformations, according to the Associated Press, happened when the island was bought by accused child-sex trafficker Jeffrey Epstein, who was found dead by apparent suicide in his prison cell on August 10. The island has, over the years, gained a handful of sinister nicknames: "Orgy Island," " Pedophile Island," and "Island of Sin." (Epstein, Bloomberg reports, preferred the nickname "Little St. Jeff's.")
Though much of what transpired on the island has remained the subject of rumor, it's likely that more concrete details will soon emerge: On Monday, at least a dozen FBI agents raided Epstein's Little St. James residence, a bureau spokesman told NBC News.
Below, everything to know about Epstein's ties to the island.
The island was Epstein's main place of residence.
In 1998, for $7.95 million, Epstein purchased Little St. James Island, which is situated between the larger St. Thomas and St. John islands. After buying the 72-acre body of land, Epstein outfitted the island with towering palm trees, multiple buildings, and a helicopter pad, Bloomberg reports.
Though not many details have been reported about the interior of the main residence, a former employee said that Epstein had two offices, which no one but the maid was allowed to enter, where he kept security boxes. A former IT contractor who worked for Epstein from 1999 through 2005 also shed light on what was to be found inside Epstein's residence: countless photos of nude women.
"There were photos of topless women everywhere," contractor Steve Scully told ABC News. "On his desk, in his office, in his bedroom."
There's also what appears to be a mysterious blue-striped temple. According to Insider, which investigated the structure, it previously featured a gold dome that flew off in 2017 when the hurricanes Irma and Maria devastated the region. While the purpose of the temple is unknown, one possibility is that it had served as a place for the classically trained Epstein to practice piano — workers described it as a music room with acoustic walls and a grand piano inside, as the AP reports.
Both also pointed out the temple's questionable wooden door, which features a reinforcing lock bar. "What makes it peculiar is that if you wanted to keep people out, the bar would be placed inside the building, [but the] locking bar appears to be placed on the outside … as if it were intended to lock people in," he said. According to Scully, though, the building is simply a gym. (He claims, however, that the gym allegedly features an especially large framed photo of a topless woman.)
Epstein also had an interest in "pirate treasure," one of his former employees told Bloomberg. Reportedly, Epstein would pay staffers anywhere between $100 and $1,000 if they discovered and gave to him old rum bottles, plates, and other dishware.
He allegedly ran his trafficking ring there.
According to Fox News, Epstein had a dedicated team of workers on the island who trafficked girls as young as 12 to his clients. To get there, Epstein would fly the underage girls into St. Thomas, and then he would ferry them over to his private island via a boat named Lady Ghislaine, one former employee told Bloomberg.
Once on the island, the underage girls and women say they were coerced into sexual encounters and, in some cases, even held hostage. Sarah Ransome, who claims Epstein instructed her to have sex with lawyer Alan Dershowitz when she was in her 20, said she tried to swim off the island, only to be found by a search party that included Epstein and his alleged madame Ghislaine Maxwell. (Dershowitz claims that he has never met Ransome). She also said that they kept her passport so she couldn't leave — a ruthless tactic they allegedly used in an attempt to hold more than one victim against their will. In a 2015 defamation lawsuit filed against Maxwell, the house manager for one of Maxwell's close friends testified that a "distraught" 15-year-old Swedish girl told him that Maxwell had taken away her passport and tried to force her to have sex with Epstein while she was on the island. (In a statement, a spokesperson for his former employer called this claim "demonstrably false and defamatory.")
Furthermore, in his interview with ABC News, Scully said that he frequently saw groups of girls who "couldn't have been more than 15 or 16 years old" riding ATVs and bathing topless.
And he reportedly ordered heavy renovations while he was facing a potential life sentence for his role in said alleged trafficking ring.
According to permit records obtained by NBC News, while Epstein's legal team was busy negotiating a notoriously lenient plea deal for their client in the fall of 2007, Epstein was preoccupied with orchestrating major renovations on the island. (He would eventually plead guilty to two counts of soliciting prostitution from a minor, thus dodging federal sex-trafficking charges, and serve just 13 months in jail.) During this time, Epstein reportedly ordered the construction of a spa, a living room that would connect to a ground theater, a new kitchen, and two new guest rooms. Altogether, he sought to expand his residence by nearly 20,000 square feet — a transformation that turned his main house into a mansion.
Bill Clinton allegedly visited the island, though he has repeatedly denied the claims.
Virginia Roberts, who claims to have been trafficked by Epstein, told her lawyers in 2011 interview that she saw Clinton with "two young girls" on the island. "I remember asking Jeffrey, 'What's Bill Clinton doing here?,' [that] kind of thing, and he laughed it off and said, 'Well, he owes me a favor,'" Roberts told her lawyers.
Clinton, however, has repeatedly denied this allegation through his spokesperson.
"President Clinton knows nothing about the terrible crimes Jeffrey Epstein pleaded guilty to in Florida some years ago, or those with which he has been recently charged in New York," Angel Urena said in a statement. "He's not spoken to Epstein in well over a decade, and has never been to Little St. James Island, Epstein's ranch in New Mexico, or his residence in Florida."
Most recently, Epstein bought a neighboring island.
In 2016, Epstein purchased the nearby Great St. James Island, which is approximately 165 acres, for $18 million. This year, he had begun construction on a compound there despite a stop-work order that had been in place since December. The compound was to feature an amphitheater, an underwater office, and pool, according to the Virgin Islands Daily News.
On July 9, U.S. Virgin Islands Delegate to Congress Stacey Plaskett said she would be matching the donations she had received from Epstein over the years to give to organizations in her district that focus on women and children. "I am uncomfortable having received money from someone who has been accused of these egregious actions multiple times," Plaskett said.
This post has been updated.
https://www.douknowq.com/169753/Epstein-Island.htm