What is happening to our World?  So much anger, frustration, rage, violence, rape and all manner of abuse.  We see a steady increase in witchcraft, Satanism, cannibalism, and pagan ritualistic sacrifice, as well.  This has been an ongoing and escalating problem for decades now.  Where did it start?  What is the cause?  Who is behind it?Can the music that we hear everyday affect our personalities, our behavior, our emotions?  We know that science loves to play with frequencies.  So many experiment have shown how frequency affects not only us, but animals, plants, and even water.Today we are going to look at today's music industry to shed some light on the topic.


spacer
Some of my posts related to this topic:
spacer
It's 2021, and there are different types of hip-hop.  Hip-Hop is more popular than it's ever been and the beloved genre can be crossed over and intertwined with other genres such as country, gospel, and rock!  Usually at rock concerts, you can see fans raging in multiple mosh pits.   Just look up rage on YouTube and you'll see something that looks like it has a mixture of  fun, dangerous, pain, and joy.  If you go to a Playboi Carti, Trippie Redd, or Lil Uzi Vert concert (just to name a few), you will see a few mosh pits.  In fact,  they encourage their fans to go crazy.  When I first discovered that this goes down at rap concerts, I was confused.  Now, I know these aren't your typical 90s, early 2000s or even early 2010 rappers, but this is still rap.  I thought that only happened at rock concerts, but no, hip hop artist have adapted this into their shows as well.  It's almost like it's a part of the show. 
                I came across Trippie Redd's performance at Lollapolooza on Youtube and Trippie wanted his fans to rage.  I imagine the crowd was already ready to rage, but when the artist on stage encourages it, it sets the tone.  It's almost like Trippie and artist similar to him make songs so the fans can rage.  It makes going to their shows more worth it. 
I also came across Playboi Carti's set at Lolla as well and his fans go crazy!  Just like Trippie's!  Recently, one of Playboi Carti's show was canceled due to rioters. You can see fans raging at Travis Scott's show too.  His shows are infamous for that and have been for years. Unfortunately, many people were hurt and a few people died at Astroworld Festival over the weekend.  We pray for the loved ones of those people that lost their lives.
I guess you can say hip hop is all the rage, which is new to me.  I never thought I'd see hip hop evolve in this way.  Playboi Carti, Trippie, Uzi, and Travis Scott are like rockstars.  Hopefully they can find a way to get these fans under control. We don't need other negativity associated with hip hop. 
spacer
'Let's rage': It's a popular refrain, but what does it mean? I suppose it's a bit obvious that it refers to blowing off steam, so perhaps a more interesting question is, why do college students (and, for that matter, plenty in their twenties who still follow the university pattern) feel the need to participate in this destructive ritual every weekend? What drives young adults to call partying 'rage?' Below are a few takes that might unravel some secrets:

Rage Culture as a Ritual

It's a social pattern that repeats itself, week in, week out, with a shared vocabulary, symbolic rites, the whole nine yards. From repeated terms like 'wasted' and 'fucked up,' the aggressive, destructive, and can we say, unhappy nature of the phenomenon comes to light. When we consider how quickly the events of the weekend are swept under the table, it seems that rage occurs in a sort of timeless space, a familiar pattern that becomes more and more automatic as students and young people accustom themselves to the norm . It's an initiation of sorts, a way to prove oneself in an age with few concrete standards of man-or womanhood. In the Greek system, the initiation aspect is central.

Rage as a Means to Obliteration

Rage is a sought-out activity because of its destruction, not just of our ability to think, not just of our standards, but, crucially, of the actions we take during the week. Obviously, baptism by cheap liquor does nothing to absolve or change the negative aspects of life and its stresses. Raging is just another thing to forget. The sweet oblivion of the blackout is the perfect solution-drink to forget your week, drink more to forget the forgetting.
spacer
The following video is a sampling of HIP HOP/RAP for those who are unfamiliar.  I chose this video in particular for the artwork at the front.  Take note of the image.  It will be relevant later in this post.
spacer
First published at 06:03 UTC on August 12th, 2019.
I do not own the rights to the music, clips and image featured on this video. All rights belong to the respective owners. This video is for educational/promotional purposes only. All lyrics written and performed by Seth Davis.
Proudly WWW.PONIREVO.COM
by Walt Gil
Rap and Hip Hop Music is one of the leading trends in music today. Yet, so many parents disapprove of rap/hip hop music, while kids, teens and young adults have an undying love for it. Why?
Most parents want the best for their children, and so, they go about their days attempting to acquire better lives for themselves and their loved ones. Parents were young once too, but they later discovered it is more beneficial to live a positive life style compared to a negative one. They have come to understand that the path towards having constructive experiences start with feeding the mind with constructive ideas, learning good lessons and following sensible instructions.
Therefore, most parents do not want their loved ones to have negative experiences, such as the constant viewing of cruel images, repeated feelings of unnecessary pain or repetitive listening to destructive words that are heard in some hip hop and rap songs. For this reason, parents don't like many rap and hip hop songs because of the damaging lyrical content. What is more, they don't appreciate the idea that such harmful words are being fed into the minds of their kids, teens or young adults.
On the other hand kids, teens and young adults love rap and hip hop music because of the powerful nature of the beat, while the flow of the lyrics spew out catchy punch lines and slick metaphors. For the young at heart, hip hop and rap is more than just music, it is a life style. It is a wonderful combination of rhythm, rhetoric and hope. Kids, teens and young adults all over the world bop their heads emotionally to the rhythmic sounds of hip hop. They become awe inspired by the rhetorical flow of rap and hope to one day capture the financial success of the artists viewed in the videos.
Although some of the lyrics in rap and hip hop music are derogatory in nature, all of it is not belittling. Several hip hop and rap artists outright demean people, places and things, while some rhyme about how they overcame appalling living conditions, hateful peers, poverty and crime. Others boast about their financial success as an affirmation that they have made it out of a life of dreadfulness. And, artists may use language which they are familiar with — a curse or two to express such experiences.
So I ask parents, a kid, teens and young adults, is there a balance?
Well, everyone knows that the mind is like a sponge, soaking up information like water from the very moment of human conception. Indeed, the mind vividly records what is observed through sight, sound, touch, taste, smell and imagination. As a result, that which is recorded in our minds has an effect on our behavior. Yes, music also shapes our mindset!
Music is considered an art and science for a very good reason! Experts in the fields of neuroscience, psychology, biology, physiology, physics and education have worked alongside musicians to unravel the mysteries of music. Such research is aimed at understanding music's basic structure; it's biological, emotional and psychological effect on humans and the brain; it's healing and altering potential; and its function in the evolutionary process. Music helps scientists understand complex functions of the brain and opens up treatments for patients who are recovering from strokes or suffering with Parkinson's. Research even suggests that music may alter the structure of the brain.
What is more, words have power, real energy. This is demonstrated in the fact that music can thrill us, sadden us or inspire us. We feel goose bumps rise on our skin as we listen to a favorite melody, and we are whisked back to old memories by hearing the opening bars of an old school song. Throughout history, songs have been created with the intention to inspire feelings of happiness, joy, praise, relaxation, anger, heartache, destruction, etc. Wow! Music can do all this?
The good news is that there is a balance. For parents, it is recommended that you do not discredit all rap and hip hop music. There exist good and wholesome compositions out there that your young ones can enjoy, and you can feel safe that they are feeding their minds with sensible ideas.
And for the kids, teens, and young adults, it is suggested that you be more mindful of the type of rap and hip hop music you are listening to as it does have an impact on your mindset.
spacer
Rapping is one of the earliest discovered means of alleged spirit communication. Rapping includes any knocking, thumping, bumping or tapping associated with discarnate messages.
dis·car·nate  /disˈkärnət,disˈkärˌnāt/ adjective
(of a person or being) not having a physical body."
methods for communicating with the dead or with discarnate spirits"
The 9th-century chronicle Rudolf of Fulda refers to communications from a rapping intelligence. Paracelsus, a 16th-century Swiss physician and alchemist, called raps pulsatio mortuorum, or a Death Omen. Rapping spirits, or spiritus percutiens, were conjured away at the benediction of medieval Catholic churches.
Source
Latin  POPULAR TRANSLATIONS  (Beats)
striking

beating, striking; piercing.

percutiō (present infinitive percutere, perfect active percussī, supine percussum); third conjugation iō-variant I strike, beat I make an impression on the mind, touch, please, delight, astonish, shock I pierce, thrust, or punch through, kill
spacer
c. 1300, "

madness, insanity; fit of frenzy

; rashness, foolhardiness, i

ntense or violent emotion, anger, wrath

; fierceness in battle;

violence

" (of storms, fire, etc.), from Old French 

rage

, 

raige

 "spirit, passion, rage, fury,

madness

" (11c.), from Medieval Latin 

rabia

, from Latin 

rabies

 "madness, rage, fury," related to 

rabere

 "be mad, rave" (compare rabies, which originally had this sense). This is said by some sources to be from PIE 

*rebh-

 "violent, impetuous" (source also of Old English 

rabbian

 "to rage"), but de Vaan finds this uncertain and sees no convincing etymology.Similarly, Welsh (

cynddaredd

) and Breton (

kounnar

) words for "rage, fury" originally meant "hydrophobia"

(hydrophobia is rabies in humans) 

and are compounds based on the word for "dog" (Welsh 

ci

, plural 

cwn

; Breton 

ki

).It is attested from late 14c. in the sense of "

fit of carnal lust

or sexual desire." In 15c.-16c. it also could mean "rabies." Other Middle English senses, now obsolete, include "come to a boil; grieve, mourn, lament; flirt, make love." The rage "fashion, vogue" dates from 1785.


spacer
late 15c., "full of rage," present-participle adjective from rage (v.).  Other, less common, adjectives include 

rageful

 (1570s); 

rageous

 (mid-15c.), 

ragesome

(1913).


spacer
late 14c., "make furious or mad" (implied in 

enraged

), from Old French 

enragier

 "go wild, go mad,

lose one's senses

," from 

en-

 "make, put in" (see en- (1)) + 

rage

 "rabies, rage" (see rage (n.)). Related: 

Enraging

. Intransitive only in Old French; but the transitive sense is oldest and predominant in English.


spacer
1610s, "furious, raving, behaving violently," from Latin 

rabidus

 "raging, furious, enraged;

inspired

(inspired means indwelt/influenced by spirits)

;

ungoverned

; rabid," from 

rabere

 "

be mad, rave

" (see rage (v.)). The specific meaning "made mad by rabies" in English is recorded by 1804. Related: 

Rabidly

; 

rabidness

.


spacer
"extremely fatal infectious disease of dogs,

humans, and many other mammals,

" 1590s, from Latin 

rabies

 "madness, rage, fury," related to 

rabere

 "

be mad, rave

" (see rage (v.)). The mad-dog disease sense was a secondary meaning of the Latin noun. Known as hydrophobia (q.v.) in humans. Related: 

Rabietic

.


spacer



In Greek mythology, Lyssa' (/ ˈ l ɪ s ə /; Ancient Greek: Λύσσα Lússā), called Lytta (/ ˈ l ɪ t ə /; Λύττα Lúttā) by the Athenians, was the spirit of mad rage, frenzy, and rabies in animals. She was closely related to the Maniae, the spirits of madness and insanity.  In Rome she was variously named Ira

(from where we got the name IRATE)

, Furor

(from where we got the name FURY)

, or Rabies. Sometimes she was multiplied into a host of Irae and Furores.
spacer
In case you missed it, RAGE is very much related to RABIES.  That is the ROOT of the Word!!  Remember, the root is all that matters.  Everything else is a lie, coverup, deception.
So what is RABIES?
spacer
spacer
IF you think that RAGE is something new… think again.  It had a stronghold on the world before Christ came to set the captives free.  When the world was primarily Pagan, the King of this world, Satan/Lucifer/The Devil an all his cohorts RULED over humanity.  Everyone was at the mercy of demonic influences.  Everyone had to do whatever they demanded, including human sacrifice.  It was the rule of the day.  
Why do the heathen rage, and the people imagine a vain thing?   Psalm 2:1
Sadly, we are in the last days, and demonic spirits are returning to the earth for the final hoorah.  They are seeking whom they may devour.  Those who belong to GOD, who love and serve Him, are not at the mercy of these spirits. They can be influenced by them if they open up doors or invite them in.  But, the demonic forces cannot affect them other wise.  But, anyone who has turned their back on God and refused the free gift of salvation are helpless and subject to demons.
The next line in that same Psalm gives us some insight as to what is contributing to the rage, stirring up the people.  The kings/leaders/rulers/wealthy elite of ancient times, just as those same folks today, were gathering together in summits/meetings/councils to conspire to control the people by whatever means possible to inspire them to rage against order/authority/self control which in truth, means rage against GOD and HIS order.
The kings of the earth set themselves, and the rulers take counsel together, against the LORD, and against his anointed, saying,  Let us break their bands asunder, and cast away their cords from us.  Psalm 2: 2-3
Satan's warfare against God's people, including Jesus Christ, the natural descendants of ancient Israel and all true Christians, is the primary subject of Revelation 12 and 13. Winston Taylor. This end-time alliance of nations is introduced as "a beast rising out of the sea, having seven heads and ten horns, and on his horns ten crowns…
So we have clear confirmation that there is a driving force that is pushing the world further and further into the darkness as we come to the end of time.  This FORCE is what is driving those humans that are working the agenda/conspiracy…yes, it is a real conspiracy.  It is not a theory.  IT is very real.  But, it does not originate with man.  It comes from the pit of HELL and the demons of Hell are the ones manipulating both the leaders and the followers of this agenda. 
Sadly, anyone who is influenced by demons likely does not even know.  Even those who are actually indwelt or possessed by demons may not even know that is what is happening to them.  They are deceived into believing that the thoughts and emotions they are feeling are their own.  
As you saw in the bible verse above, they demons/Fallen Angels/Nephilim and Raphaim  desire to throw off the constraints placed on them by GOD.  They believe that they can conquer GOD and make a world of their own design.  They are the force that is rising up in humans and causing them to turn away from GOD and filling them with anger and rage.
THAT IS EXACTLY WHAT IS HAPPENING RIGHT NOW!  IF you watched all the videos about the Satanic Ritual that was ASTROWORLD FESTIVAL 2021 in HOUSTON, than you saw that part of the ritual involved Travis ordering the people to lift their middle finger to the sky.  That was very significant and it had a very clear message.  They were all in agreement as they lifted their FINGER to GOD, to say FUCK YOU, to our Heavenly Father.  
(OPINION) ETH – No this is not a title from the Babylon Bee but

an actual organized online event

that is planned for this Thursday at 2 pm Eastern.
According to the description of the event posted on Facebook, Everyone will come together and "give a middle finger to the sky to end Christianity and create more Atheists".  It goes on to say it will also help fight the Global Prayer so "their sky daddy won't snatch us up"
This shouldn't be very shocking to anyone who knows the signs of the End Times as the bible describes humanity doing such things in the Book of Revelation:
"Then the fifth angel poured out his bowl on the throne of the beast, and his kingdom became full of darkness, and they gnawed their tongues because of the pain. They blasphemed the God of heaven because of their pains and their sores and did not repent of their deeds". – Revelation 16:10-11

"And great hail from heaven fell upon men, each hailstone about the weight of a talent. Men blasphemed God because of the plague of the hail since that plague was exceedingly great". – Revelation 16:21
Anger is not easy to define, even though most of us know it when we feel it or see it. From mild irritation to more intense fury, all variants sometimes feel uncomfortable.

Anger is a part of us, and more than that, often a perversely pleasurable part. The ego-boost of anger feels good, and is associated with a reduction in cortisol, the stress hormone, and the increased release of norepinephrine, which numbs physical pain. "The angry man is aiming at what he can obtain," observed Aristotle, "and the belief that you will attain your aim is pleasant". In the view of some psychotherapists, it's almost always a defence mechanism – a secondary emotion that arises to restore a feeling of control when some other emotion, such as anxiety or fear, feels intolerable to the ego. We could acknowledge, in short, that anger isn't crazy – in ourselves or in others.

Anger is in fact a completely normal, usually healthy, and sometimes protective human emotion. For example, anger might give you energy to get something done or to stand up for what you believe in.

That certainly doesn't mean anger is always, or even often, justifiable. The philosopher Martha Nussbaum has argued that it's almost never justifiable, because the desire for payback, which lies at the heart of anger, is fundamentally irrational. Getting angry about mistreatment, yours or someone else's, doesn't turn the clock back and magically reduce the mistreatment. (It might dissuade future wrongdoing, of course; but the sheer fact of making the culprit suffer achieves nothing.) It follows that a perfectly rational person wouldn't get cross; whatever noble goals one might achieve through the motivating force of anger could always, in principle, be accomplished without it.

While anger can be productive, when rage occurs, it can lead to problems— at work, in your personal relationships, and in the overall quality of your life and functioning.

There are long-term health effects of uncontrolled anger, including increased risk of hypertension, worse pain management, increased anxiety, weakened immune system and headache. On a more societal level, today's culture of rage has stopped productive conversations, ended relationships, clouded reasoning, and overall ripped apart some of the fundamental democratic fibers that hold our society together.   Source
Those who would have you under their control are working to get you out of control.  They manipulate your emotions and work circumstances and environment in ways that exacerbate and intensify your feelings of anger and frustration and drive you to lose your mind with RAGE!  In a state of rage you have lost all ability to control yourself and you have opened yourself up to demonic entities.  They feed on RAGE.  Rage gives them FULL ACCESS to do as they please with you.  
But, God's word tell us that vengeance belongs to GOD and that if you trust HIM, God will fight your battles for you.  
God advises us to not to allow ourselves to dwell on the things that hurt us or make us angry.  Holding on to those things is only destructive.  We can not move forward or gain any satisfaction by allowing our anger to build.  His Word says:
When you allow ill feelings to muster, and allow thoughts of retribution and vengeance enter your mind you are giving the devil place.  The devil brings those things into your life to try to get you to give in to your own ego, your own emotions and lose control.  Give your cares, concerns, hurts and anger to GOD.  He will work things together for your GOOD and you will find that things come out better than they were before.  
If you insist on doing things your way…God will let you.  But, I promise you, you could never do better for yourself than what GOD can do for you.  AND, YOU can NEVER defeat the enemy on your own.  The enemy is ALWAYS the devil.  Not the people you think you are fighting.  You wrestle not with flesh and blood.
For we wrestle not against flesh and blood, but against principalities, against powers, against the rulers of the darkness of this world, against spiritual wickedness in high places.  Ephesians 6:12
spacer
EXCLUSIVE
11/8/2021 6:42 AM PT
THE FOLLOWING VIDEO IS AVAILABLE TO VIEW ON THE WEBPAGE:

CLICK HERE
Organizers behind this year's deadly Astroworld Fest promoted the show with footage from 2 years ago, hyping up the fact things could get crazy … and that people could get hurt.
Check out this promotional video that was published earlier this year in May and posted by the official Astroworld Fest Instagram account — which shows a number of news clips and civilian clips from 2019 spliced together … demonstrating the chaos that unfolded ahead of that year's show, including the fact some people were trampled while trying to get in.
THANKS TO EVERYBODY THAT PULLED UP TO RAGE !!!! pic.twitter.com/zrgd4gDWSj

— TRAVIS SCOTT (@trvisXX) November 13, 2019
The video seems to lean into the notion Astroworld Fest was deemed dangerous/potentially treacherous, embracing that identity … almost like they were inviting people back with that specifically in mind. You could even interpret this as a … enter if you dare type thing.
At the end of the video, they tease the dates for this year's concert. BTW, this is the same video that Travis himself posted on his Twitter account shortly after Astroworld Fest wrapped in 2019 … when he was accused of encouraging the wild behavior.
He wrote at the time, "THANKS TO EVERYBODY THAT PULLED UP TO RAGE !!!!"
This repackaged video used to promote this year's event has allegedly been scrubbed from Astroworld Fest's official YouTube page and other pages, but it is still up on their IG account.
On its face … this video is pretty damning in the fact that it plays up the apparent inherent danger that lies with attending Astroworld Fest — and rather than try to pivot away from that … it would seem folks involved in putting the concert together encouraged round 2.
This is evidenced by the 8 deaths and dozens of other injuries that occurred on Friday night — not to mention several video clips that appear to show concertgoers trying to relay their concerns about people passing out and dying … but being mostly ignored and drowned out.
There are also videos that show Travis himself was at least somewhat aware of people falling into distress while he performed — apparently acknowledging an ambulance golf cart that was working its way through the crowd, as well as taking note of someone who'd passed out in front of him. While he did alert for help for the latter … TS carried on with the show.
— cherliess (@CherlyBonilla) November 6, 2021
After the fact, Travis described how devastated he was … sending condolences to the deceased's family members, and promising to work with the authorities. He also denied knowing the severity of things while it was all unfolding — saying he simply didn't realize people were dying out there. That was echoed by Kylie Jenner as well.
Travis took to Instagram to share his sadness surrounding the event … again emphasizing he was going to work with Houston PD.
Speaking of the police … a criminal investigation has been opened into this, as it appears at least one person might've been injected with a needle.
Meanwhile, on the civil side of things, lawsuits are starting to roll in … and Travis has already been named as a defendant.
Nov 8, 2021
The video above was removed from youtube.  But the one below gives you an idea of how the crowd was packed in at the Concert and what they experienced. 
To Watch the following video on The Independent webpage:CLICK HERE
a compilation of crowd footage showing people not able to breath due to being smashed together
spacer
"A Travis Scott show is crowd surfing, moshing, sweat, blood and vomit,"
"You know, raging, you know, having fun."
He continues that "raging and having fun and expressing good feelings is something I plan on doing and spreading across the globe", before offering: "I don't need a stage to f***ing perform".
"We just need something to stand on — it could be somebody. I just need a platform."   Source
Remember back in the day
When muthafuckas dealt drugs, shot Glocks, rode jeeps, had corners on lock
Wrote super dope rhymes in notebooks
Dropped ill fuckin' James Brown samples on a hook
Bought dookie gold chains from the Fulton Mall and didn't give a fuck 'bout rappin' on a pop song
You may hate me for what I say but don't forget to page me back in the day
Remember back in the day
When rap wasn't gay and muthafuckas shot at each other all day
If Biggie and 2Pac was alive today
They would kill you all in a hip hop rage
In a hip hop rage
In a hip hop rage
They would kill, kill, kill, kill, kill, kill, kill
In a hip hop rage
In a hip hop rage
They would kill, kill, murder murder, dance, dance on your grave
Remember back in the day when you ran from the cops
Wilding out rolling blunts not giving a fuck
Doing business from corner pay phones
Giving shout outs to all your dead homeboys
Incarcerated rappers were all fucking famous and every ghetto was fuckin' dangerous
Now a moment of silence for some east coast-west coast violence
Remember back in the day when rap wasn't shit and every MC was fucking legit
If Eazy-E was alive today he would kill you all in a hip hop rage
In a hip hop rage
In a hip hop rage
He would kill, kill, kill, kill, kill, kill, kill
In a hip hop rage
In a hip hop rage
He would kill, kill, murder murder, dance, dance on your grave
808   
[eyt-oh-eyt]
WHAT DOES 808 MEAN?
808 is the common nickname for the Roland TR-808 Rhythm Composer, an electronic drum machine from the 1980s popular in hip-hop music.
808 is also often mistakenly referenced as the penal code for "disturbing the peace."
WHERE DOES 808 COME FROM?
TNW
The 808, or Roland TR-808 Rhythm Composer, was developed in 1980 and discontinued in 1983. It was met with mostly unfavorable reviews at the time because the preloaded analog drum beats were found by many to sound too unrealistic for the electronic music scene of the time. The 808 soon took off in the underground hip-hop and rap scenes, though, because of its relatively low price tag and uniquely loud bass drum beat. It became particularly associated with Atlanta's hip-hop scene in the 1990s.
The 808 sound is most recognizable on tracks like Marvin Gaye's "Sexual Healing," Whitney Houston's "I Wanna Dance With Somebody," Lil Jon and Usher's "Yeah!" and the entirety of Kanye West's 2008 album 808s and Heartbreak.
Though many popular sources say 808 is the number corresponding to the penal code for "disturbing the peace" (allegedly a reference to the sound of the 808 bass over speakers), the claim is unsubstantiated.
spacer
Travis Scott astroworld gets exposed by survivors (ritual sacrifice) (bitchute.com)      808
TO WATCH THIS VIDEO ON BITCHUTE CLICK THE TITLE LINK BELOW:
#endgame #illuminati #newworldorder #ritual #astroworld
2 days, 4 hours ago
spacer
Illuminati Blood Sacrifice At Travis Scott Astroworld Concert (bitchute.com)
In 2015, Travis Scott was arrested and charged over an incident at Lollapalooza, with police accusing him of urging fans to jump over security barricades.
During the same performance, he yells to the crowd: "We want rage".
A review from Complex the same year — titled "I Tried Not to Die at Travi$ Scott and Young Thug's Show Last Night" — dubbed the artist's performance "a turnt-up fight for survival".
"I was pretty certain I'd be sacrificing if not my life then full functionality of a major limb, going into a standing-only show starring a dude who literally incites riots," it read.

"Five minutes into his set, Travi$ declared this show wasn't for the 'pussies' and pointed said weak-willed non-turner-uppers to the exit."

TO WATCH THIS VIDEO ON BITCHUTE CLICK THE TITLE LINK BELOW:
Travis Scott fan Obama brings up dreams of Dystopia at COP26 3 days after concert – AstroWorld – 666
2 days, 4 hours ago
FROM THE STREET CORNER TO THE WORLD STAGE, HIP HOP HAS GROWN IMMENSELY INTO BEING THE WORLD'S BIGGEST MUSICAL GENRE AND CULTURAL INFLUENCE.
---
Black America in the 80's, was filled with the crack epidemic and poverty. Black Americans were helpless with the Reagan administration cutting down on social services that benefited people in low socioeconomic classes, primarily black Americans. But then they found a voice and that voice was hip hop. And this so called hip hop became one of the biggest cultural phenomenon's the world has seen.  From the street corner to the world stage, hip hop has grown immensely into being the world's biggest musical genre and cultural influence. Yet to my fellow peers, little is known about its cultural roots and history.  In this research paper, I will discuss hip hop's rise from the inner city to a global force and more importantly, I will examine how it can become a dominant musical and cultural force.
Hip hop is one of the biggest genre in the world, yet it is only about thirty years old, and it is still going strong. How does a tiny American subculture go from the street corner to almost every corner in the world?  Before I can answer this question, it is important to discuss what hip hop is and how it originated.
a. Four Elements of Hip Hop
Some people think hip hop is just music when really it's actually a culture. In fact, there are four key elements in hip hop, which are: DJing, MCing, B-Boying, and Graffiti. Most people imagine rappers when they are asked about hip hop, but what they may not realize is that MCing is the first major characteristics of hip hop.
DJing is the art of playing a record on turntables. The people who do this are called deejay. It consists of turntables, an audio mixer, and original recordings. Then the DJ performs techniques such as mixing, scratching, cutting, and sampling to make a whole new piece of music from other people original recordings. The first DJ to show his skills was DJ Kool Herc and was the first one to make the breakbeat. The breakbeat was when he put two copies of the same record on the turntables and use an audio mixer to switch between them which made them loop. Thus the breakbeat was born and so was DJing ("The Four Elements of Hip Hop").
MCing is the spoken word rhyming over a beat.  Also known as 'mic-controllers', MC's rapped over the music spun by DJ's, like Pete "DJ" Jones and Hollywood and Eddie Cheeba who created music by mixing old and new records that included funk, like James Brown.  Earlier MC's were Coke La Rock, Luvbug Starski, and Busy Bee. Initially they helped incite the crowds to have a good time and they are considered the original B-Boys (Nelson, 14-15). Soon MC's became the main attraction and today, the MC is the face of hip hop.
The dance associated with hip hop is B-Boying, one of the four major elements of hip hop. B-Boying was given birth by DJing, and the people are called B-Boys and B-Girls who dance during the DJ is spinning his records. The B-Boys include high-energy combination of complex footwork, spins, kicks and 'freezes' – when the B-Boy or B-Girl is balanced on hands, head or shoulders. During the early days of hip hop culture, B-Boy and/or B-Girl battles were common. People would make crews and face other crews for bragging rights and dance supremacy ("The Four Elements of Hip Hop").
Graffiti is one of the most overlooked elements in hip hop is artistic visual side of the genre. But people don't call it graffing but tagging is one of the types of graffiti which is to write one's signature. There are three types of graffiti: with tag being the first one, then 'throw up', and then a piece. Throw up is an evolved tag perhaps more of an outline, two colors and so on. After you are done with the throw up you can move to a piece, a full-on masterpiece of graffiti. To be a called a piece you must have at least three different colors. Even though graffiti is overlooked in hip hop it has accomplished several accolades. Such as graffiti artists like Keith Haring or Lee Quinones, whose art has graduated to art galleries ("The Four Elements of Hip Hop").
These four elements are what makes hip hop so great and unique. Hip hop started out as the voice of Black America in the 80's, which was filled with the widespread use of crack cocaine, poverty, and racism (which is still very alive today). Over time, this become a national and even global phenomenon.
b. History of Hip Hop
When I around ten years old, I was first introduced to this music and culture.  The first full album I bought (which was rare) was Jay Z's The Blueprint. After listening to that album, I quickly found out more about this music and culture. I fell in love with the hip hop world and I became a part of its culture. Since The Blueprint, I have experienced hip hop culture in my daily life, yet I was not fully familiar with the story of hip hop. As a true fan of hip hop, I needed to go deeper and come to understand the history of hip hop.
On August 11, 1973 a new, unique, and controversial genre of music was born. DJ Kool Herc is what people say the blueprint maker of hip hop. He was born in Kingston, Jamaica the same place where Bob Marley came from. He was born Clive Campbell and later moved to Bronx, New York. When he moved to Bronx he brought with him his knowledge of a mobile sound system. He would repeat the breaks in parts of songs that are most danceable to. His catalog consisted mostly of funk records which is why many early hip hop songs had funk samples. Hip hop grew out of notable funk artists like James Brown, Mandrill, and the Jimmy Castor Bunch (Nelson 16-17).
Then on August 11, 1973 DJ Kool Herc threw a party on 1520 Sedgewick which became the birthplace of hip hop and a historical landmark. The party became the foundation for hip hop where he showed his talents to the Bronx community. Unfortunately DJ Kool Herc later faded away in the limelight when hip hop became more mainstream. Hip hop was still not international – or even national, but that took a turn later in the 80's when more acts and groups became emerging from the underground (Nelson 16-17).
Of course DJ Kool Herc was not the only pioneer of hip hop. Rappers, too, played a major role. The first hip hop hit was Sugar Hill's "Rapper's Delight." The song reached in the Billboard Top 40. This new style of music was initially loved by the world. When The Sugar Hill Gang rapped on TV, a whole new genre has been made. The song was of the three members (Wonder Mike, Master Gee, Big Bank Hank) rapping over a funky beat. This was history in the making for Black people and America (Steven, "DJ Kool Herc").
Hip hop initially had its start on the street corners of New York City, but then hip hop saw bigger acts coming up in the 80's which brought the street acts to the national stage. Run D.M.C. was considered a pioneered hip hop group. They rapped over Jam Master Jay's hard rock samples. A lot of their samples were rock sampled but when they collaborated with Aerosmith that's when America saw what hip hop was. Hip hop was used by African Americans for many things. Some used it to brag about materialistic things. Some used it about the struggle they came from and others used it to talk about the political disadvantages black Americans were facing.
Eventually hip hop made its way to the big screen with lesser known films Breakin (1984) and Breakin 2 Electric Boogaloo (1984), but it was not until Public Enemy's 1989 "Fight The Power" used in Spike Lee's film Do The Right Thing (1989) that hip hop crossed into mainstream society. Not only was rap a focal point in the film, but the hip hop culture was focus on as well. This song single most handedly revolutionized hip hop and the first major politically rap song which showcased their pro Black beliefs and even dissed iconic figures Elvis and John Wayne.
Hip hop at the time was just in the East Coast but when it started spreading, it grew like wildfire and exploded in the West Coast. Soon fans were introduced to rap artists like Too Short and MC Hammer, and eventually fans were introduced to Gangsta Rap. But Gangsta Rap is nothing if you do not mention N.W.A. (i.e. Niggaz Wit Attitudes) is what they called themselves. The members, some of having a famous solo career, being Ice Cube, Dr. Dre, MC Ren, DJ Yella, and of course their manager and part-time rapper Eazy-E. This group was so gritty, controversial, and violent that the FBI put them on their list. The lyrics of N.W.A were talking about fuck the police, hardships in South Central L.A., gun violence (Coker 251-263).
Hip hop not only spread to the west coast but to other regions of the nation, like the South. Southern rap is a style of hip hop that originated from southern places like Houston, Atlanta, and New Orleans. The Dirty South is what people would call it and it was much different from the west and coast. Notable hip hop artists Lil Wayne, T.I. Ludacris, Scarface, and Outkast helped bring southern hip hop to mainstream. The south captures the money and "bling-bling" culture of hip hop. Most southern artists incorporate the car-culture, fashion, trends, jewelry slang into their music. The hip hop community is somewhat polarized when it comes to southern rap with some saying that it holds no meaning in their music and portrays African Americans in bad manner to America. On whatever side you are on, you know that the dirty South changed the tide in hip hop history and helped bring the genre more mainstream than it was.  But the pioneers who put the south on the map were The Geto Boys debut album Grip It! On That Other Level (Adaso, "Southern Rap").
The genre had spread through much of the national in the 2000's. But hip hop is not only in the United States but it has gone to reach many regions like South Korea, Europe, and even South America. This genre was once an all-black culture and it has now been practiced by Asians, Europeans, and Mexicans.
III. Hip Hop Today 
Hip hop stars have taken over much of the mainstream scene with their promotion on many products. 50 cent, P.Diddy, Jay-Z and Kanye West have endorsement deals with major soda companies, bottle water companies, etc.  Many top rap artists are more than rappers; in fact, many have their own clothing lines.  Kanye West has Donda, Jay Z has Rocawear. P. Diddy (i.e. Sean Combs) has Sean Jeans.  In addition, 50 Cent has his own vitamin water line.
Although hip hop has taken over popular music and it has become an integral part of American culture, it still stirs up controversy in many parts of the United States.  Many in America continue to think of hip hop negatively. Nas, the platinum selling American rapper from New York, released his ninth album Untitled in 2008. But the original title was Nigger which sparked massive outrage from both Black and White Americans. It did get support from artists but much hate towards the original name. Rev. Jesse Jackson, civil-rights activist, condemned the album's name, by stating, "Again, I'm opposed to anybody using the term. And also, I think we need artists to lift us up, not lock us down." But artists like Akon and Method Man supported Nas' choice saying it will put less "sting" to the word (Reid, "LA Reid…").
Hip hop has changed dramatically over the decades. Rap lyrics at first was about political and social issues, but to many critics today, it has changed into a corporate money making business with no message or deep meaning. It seems that many labels tell their artists what to wear and what to rap about in order to sell more albums. Many follow the labels formula which does not make the rapper grow in artistry ("Hip-Hop Is the Most Important Youth Culture on the Planet").
A new and young rapper, Soulja Boy, had an argument with legendary rapper Ice-T because to Ice-T, Soulja killed hip hop with his 2007 hit Crank That. But in Soulja Boy's defense he said that hip hop has evolved and will keep evolving. To many other people, rap has evolved due to many factors.  Such as legal rights, technology, and lyricism. Due to song protection laws, sampling is too expensive for producers in this day in age. And the availability of synthesizers and electronic techniques. With that, the sound of hip hop had been changed (C., Justin. "How Has Rap Music Evolved?").
IV. How Hip Hop is Now a Dominant Cultural Force
Before hip hop, America had rock 'n' roll, jazz, and even disco before it died. But when hip hop was introduced in the 1980's rock 'n' roll was the trend for mainstream American kids and music loving adults. When hip hop emerged from the streets to the mainstream limelight, it was due to a collaboration between Aerosmith and Run D.M.C who remade Aerosmith's Walk This Way. It showed White rock stars with Black rap artists singing and rapping.  This broke the underground barrier hip hop once was.
Hip hop went further and even started to expand commercially by selling hats, clothing, shoes and other apparel. Many rap artists nowadays sell merchandise and clothing apparel as part-time jobs. Such artists and groups like Run-D.M.C, P. Diddy, 50 Cent, Wu-Tang, Odd Future, and Young Money have clothing labels which generate millions of dollars for their labels.
Hip hop was made and used by Africans Americans to talk about the hardships in life but when White people saw the beauty of the genre it became a big hit for Whites in the 2000's. When Eminem dropped his debut major album, The Slim Shady LP in 1999, this opened the door for White Americans, especially teens and kids, to come in to Hip Hop culture. Eminem is an American rapper who grew up in Detroit having incredible lyricism. As a White rapper, Eminem faced obstacles in a Black dominated city. But he did not care and helped make hip hop into the mainstream genre it is. Eminem influenced White demographics to listen to rap music and which in turn may had more people discover more about hip hop.
The above is important to note because Eminem helped make hip hop an integral part of mainstream American and even world culture. His career influenced the whole "White boy trying to be Black" trend. In the 80's, not many White people were assimilating to the hip hop culture. Then the 2000's rolled in and White kids started to sag their pants, wear do-rags, use hip hop slang, and even claim that they were from the streets or the hood.
Hip hop now has become a global phenomenon. It went from being a street corner routine for most kids in New York to an international wide craze that has lasted for many years. In the earlier days of hip hop, rappers' lyrics focused on daily struggles in the poverty-stricken streets.  This message has crossed not only racial lines, but political lines as well.
Hip hop as a voice of revolution in the Middle East. Artists in the region used hip hop as a way to bring change to their countries. Hip hop artists in the Middle East use it to build a future for their countries, and in addition, they use rap to get through the struggles they face. The past sixty years in Egypt has been a rough time for the people there, but hip hop has actually been helping redefine their identity while they are trying to create a democracy after the end of a dictatorship ("Hip-Hop Revolutionaries In North Africa…").
V. Significance of Issue 
Even though the genre is only about thirty years but it has influenced the world greatly. So greatly that later in time it should be taught in music classes and maybe even yet college courses. The reason being that is part of American culture and history during the late 1900's and twenty-first century. But the genre is a dominant force in mainstream and corporate America that has been discussed endlessly and that it should be taught to students later in the future. Later in the future because hip hop is compared to other genre's and in general is still young. The genre only has about two eras being "old" and "new" school. Hip hop should be taught sometime in the next ten years.
Although there are has been university courses offered on hip hop legend Tupac Shakur, who was multi-platinum, award winning American rapper who has influenced many people in and out of the hip hop community. In my opinion, this is great for hip hop, being that it breaks another barrier for the genre with a university course being offered for hip hop. Tupac Shakur was an inspiration to many and was and is an icon in American history. The course will be a great start for people who are novice to hip hop.
VII. Conclusion
Hip hop's rise from the inner city to a global force and more importantly, it can become a dominant musical and cultural force. Hip hop was born by DJ Kool Herc who invented the breakbeat. Then people started to rap along these beats and those rapper became the main focus in hip hop and they are the 'face' of hip hop today. Who knew this little thing called hip hop that Blacks used to express their struggles and would have turned into a multi-billion global force?  I did.
Twitter: @PaulosS_
Tumblr: paulos-s
Gather 'round, kids. Those of you with tinfoil hats may wish to ensure that they're fitted snuggly. What I'm about to tell you will shake your faith in all the music you've heard in your life.
If you look down the right paths, it becomes clear that governments and various security apparatuses have used music to control us using music. All the music of the West that's based on the standard 12-tone scale is used for the management of crowds as well as thought control.READ MORE: 'Big Brother Canada' Season 6 winner crownedLet's begin with some music theory.If musical performances were to sound the same the world over, some standardization was required. As early as 1885, the Music Commission of the Italian Government declared that all instruments and orchestras should use a tuning fork that vibrated at 440 Hz, which was different from the original standard of 435 Hz and the competing 432 Hz used in France.

In 1953, a worldwide agreement was signed. Signatories declared that middle "A" on the piano be forevermore tuned to exactly 440 Hz. This frequency became the standard ISO-16 reference for tuning all musical instruments based on the chromatic scale, the one most often used for music in the West. All the other notes are tuned in standard mathematical ratios leading to and from 440 Hz.

This tone standard is now universally accepted, which is why a piano in Toronto sounds exactly the same as a piano in China.

Weirdly, no one can say for sure why this frequency was chosen in the first place. In fact, there are those among us who vehemently disagree with this standard. In fact, they consider the 440 Hz middle "A" to be an abomination against nature.

READ MORE: Neon Dreams on their undefinable music and leaving the Hedley tour

Adherents to this theory claim that a more "natural" frequency for middle "A" is 438 Hz. Others believe that the correct middle "A" is 432 Hz (also known as Verdi's A) because it has "a pure tone of math fundamental to nature" and is "mathematically consistent with the patterns of the universe, vibrating with Phi, the Golden Ratio. They point to how this pitch can be connected to everything from nautilus shells to the works of the ancients, including the construction of the Great Pyramid.

Furthermore, 432 Hz resonates with 8 Hz (the Schumann Resonance), the documented fundamental electromagnetic "beat" of Earth. It just feels better.

Research says that music tuned from this frequency is easier to listen to, brighter, clearer, and contains more inherent dynamic range. As a result, music with this tuning need not be played at higher volumes and thus reduces the risk of hearing damage.

The more radical among middle "A" haters insist that the true frequency 

should be 528 Hz

 because it's a "digital bio-holographic precipitation crystallization [and] miraculous manifestation of diving frequency vibrations." I have no idea what that means.

Here's where the conspiracy comes in. There is allegedly something sinister and evil about 440 Hz. It is said that the Rockefeller Foundation had an interest in making sure the United States adopted the 440 Hz standard in 1935 as part of a "war on consciousness" leading to "musical cult control."

Without going too far down this rat hole, this theory says that tuning all music to 440 Hz turns it into a military weapon.

I quote from one of the many online articles on the subject: "The monopolization of the music industry features this imposed frequency that is 'herding' populations into greater aggression, psychosocial agitation, and emotional distress predisposing people to physical illnesses and financial impositions profiting the agents, agencies, and companies engaged in the monopoly."

READ MORE: Carrie Underwood goes into detail about facial injury in 1st TV interview since accident

Whoa.

Going a little deeper, we end up at the doorstep of the Nazis. It is said that propaganda minister Joseph Goebbels insisted that on 440 Hz tuning in Germany because he believed it made people think and feel in specific ways, making them "a prisoner of a certain consciousness." And if you're trying to mobilize the population for Der Fuhrer, that's exactly what you want, right?

There's more from the Tinfoil Headphones crowd: "The powers that be are successfully lowering the vibrations of not only the young generation but the rest of us as well. These destructive frequencies entrain the thoughts towards disruption, disharmony, and disunity. Additionally, they also stimulate the controlling organ of the body — the brain — into disharmonious resonance, which ultimately creates disease and war."

There's something to think about the next time you pop in some earbuds. Does listening to music make you feel more warlike and diseased?

Let's test it out with this video.

Got that? Now try another experiment. Here are two versions of Coldplay's "The Scientist," starting with the standard version from their 2002 album, A Rush of Blood to the Head.

Any feelings of war or disease yet?

Now listen to this. It's a version of the same song that's been tuned down to the supposedly more natural frequency of 432 Hz. Can you feel a difference?

I've also been told that the different effects these frequencies have on our chakras. Songs tuned to 440 Hz work on the third eye chakra (the "thinking") while 432 Hz stimulates the heart chakra (the "feeling"). Therefore, 432 Hz music increases the spiritual development of the listener. It may even have healing properties.

There are numerous organizations advocating a universal switch to 432 Hz, but that would involve upsetting worldwide standards, not to mention the construction and re-tuning of millions of musical instruments. Nice idea, but it ain't gonna happen.

If that idea stressed you out, please meditate on this special 432 Hz music.

Alan Cross is a broadcaster with 102.1 the Edge and a commentator for Global News.

Subscribe to Alan's Ongoing History of New Music Podcast now on Apple Podcast or Google Play

© 2018 Global News, a division of Corus Entertain

BOB DYLAN, known for his "protest" songs, is a prophet for the dark prince.  By his own admission and of his own free will he sold his soul to the Devil for fame and fortune.  By his own admission he is staying faithful to that commitment TO THIS DAY.
"The Times They Are A-Changin'"
Come gather 'round people
Wherever you roam
And admit that the waters
Around you have grown
And accept it that soon
You'll be drenched to the bone
If your time to you is worth savin'
Then you better start swimmin'
Or you'll sink like a stone
For the times they are a-changin'
Come writers and critics
Who prophesize with your pen
And keep your eyes wide
The chance won't come again
And don't speak too soon
For the wheel's still in spin
And there's no tellin' who that it's namin'
For the loser now
Will be later to win
For the times they are a-changin'
Come senators, congressmen
Please heed the call
Don't stand in the doorway
Don't block up the hall
For he that gets hurt
Will be he who has stalled
The battle outside ragin'
Will soon shake your windows
And rattle your walls
For the times they are a-changin'
Come mothers and fathers
Throughout the land
And don't criticize
What you can't understand
Your sons and your daughters
Are beyond your command
Your old road is rapidly agin'
Please get out of the new one
If you can't lend your hand
For the times they are a-changin'
The line it is drawn
The curse it is cast
The slow one now
Will later be fast
As the present now
Will later be past
The order is rapidly fadin'
And the first one now
Will later be last
For the times they are a-changin'
"That's when I went to the crossroads and made a big deal." – Bob Dylan (No Direction Home, Martin Scorsese, 2005)
"I made a bargain with … the Chief Commander … [of] this earth, and the world we can't see." – Bob Dylan (60 Minutes, 2009)
As of October 13, 2016, Bob Dylan can add one more trophy to his impressive worldly accolades: Nobel Laureate. Dylan was just awarded the Nobel Prize in Literature and hailed for having "created new poetic expressions within the great American song tradition."
Dylan has been dubbed the world's "greatest living poet," the "inventor of folk rock" and "the most important figure in pop-culture history." Rolling Stone magazine called Dylan's song, Like a Rolling Stone, the "number one song of all time."
Bob Dylan sang in his song, Gotta Serve Somebody, "Well, it may be the Devil or it may be the Lord, but you're gonna have to serve somebody." It doesn't take long, when examining the spiritual decisions Dylan made to become rich and famous, to discern on the basis of his own confession, he is not serving the Lord, but the Devil!
Dylan leaves little to the imagination as to who he is serving when asked by Ed Bradley of 60 Minutes, why he is still out there performing after all these years (five decades now). Dylan gives a chilling answer regarding a bargain he made with an invisible spiritual entity that he feels he must keep:
Dylan: Well, it goes back to that destiny thing. You know, I made a bargain with it, you know, long time ago. I'm holding up my end.
Bradley: What was your bargain?
Dylan: Get where I am now.
Bradley: Should I ask who you made the bargain with?
Dylan: With the Chief . . . you know, the chief commander.
Bradley: On this earth?
Dylan: This earth, and the world we can't see.
Dylan is acutely aware that there is a spiritual world of wicked spirits that Satan leads. The apostle Paul warned:
"Put on the whole armor of God, that you may be able to stand against the schemes of the devil. For we do not wrestle against flesh and blood, but against the rulers, against the authorities, against the cosmic powers over this present darkness, against the spiritual forces of evil in the heavenly places." (Ephesians 6:11-12)
This idea of consciously surrendering one's eternal soul to Satan in exchange for fame and fortune has been rife in pop music since its inception. In our eye popping video expose "They Sold Their Souls for Rock and Roll" we document the occult history of pop music and reveal admissions by top artists from John Lennon, Jim Morrison and Jimi Hendrix to Prince, Madonna and Michael Jackson regarding issues ranging from channeling songs, Spiritism, Satanism, selling one's soul and demonic possession. In our upcoming and highly anticipated video update (now in production), we expose the same occult phenomena and messaging among today's top artists from Katy Perry, Kanye West, Jay Z, Kesha, Rihanna and Drake to Ariana Grande, Salena Gomez and Beyonce (and many more).
While Bob Dylan's admission on 60 Minutes to having made a bargain with the unseen entity that rules the wicked world is more common than most people know, Jesus resisted a far greater temptation from the evil one. Satan offered Jesus worldly power over the nations of the world in exchange for Jesus' worship, but Jesus rebuked Satan and declared:
"Be gone, Satan! For it is written, 'You shall worship the Lord your God and Him only shall you serve.'" (Matthew 4:1-11).
Three times Jesus referred to Satan as the ruler of the fallen world system (John 12:31; 14:30; 16:11) and the apostle Paul referred to him as the "god of this world" (2 Cor. 4:3-4) "who works through the children of disobedience" to guide "the course of this world." (Ephesians 2:1-2)
Dylan at the Crossroads
In the early 1960's Dylan, aspiring to become the next big rock star like Elvis Presley, was devoid of any formal musical training; Dylan couldn't sing, wasn't writing songs and was a subpar guitar player. However, like the legendary bluesman, Robert Johnson, who sang "Me and the Devil … walkin' side by side," and who claimed he sold his soul to the Devil at the crossroads, Dylan also claimed that he went to the crossroads and came back a different man. Dylan stated:
"That's when I went to the crossroads and made a big deal. You know, like shewww, you know. One, one night, and then, uh, went back to Minneapolis, and it was like, 'Hey, uh, where's this guy been? You know, He been to the crossroads.'" (Richard Grossinger, The Bardo of Waking Life, Berkeley, CA: North Atlantic Books, 2008)
While Dylan was not speaking literally about going to where Highway 49 intersects with Highway 61 in Clarksdale, Mississippi, where Robert Johnson reportedly surrendered to Satan for musical prowess. He was speaking of his own spiritually transformative crossroads experience, which yielded the same diabolical effect.
While Dylan has paid homage to Robert Johnson by playing Eric Clapton's cover of Johnson's "Crossroads" live, and even titled an album Highway 61 Revisited, Dylan's Crossroads experience took place when he briefly left Minneapolis for Greenwich Village.
Dylan left Minneapolis a struggling and uninspiring musician and returned a man possessed, manifesting musical gifts and lyricism that were previously far beyond his own musical ability. In Martin Scorsese's film No Direction Home, John Bucklen, Dylan's schoolboy friend, talks about Dylan's return to St. Paul, Minneapolis after his first trip to New York in 1961:
"He was playing at some party or something, and it was like a whole different guy. You hear those stories about the blues men who go out to the crossroads and sell their soul to the devil and come back all of a sudden able to do stuff – Robert Johnson, Tommy Johnson, that whole mythology. It was one of those kind of deals, almost. When he left Minneapolis he was just average. There were five, six other guys doing the same thing. When he came back, he was doing Woody and he was doing Van Ronk and he was fingerpicking, he was playing cross harp, and this is a matter of a couple of months. I mean, this is not like he was gone a year or anything." (No Direction Home, Martin Scorsese, 2005)
In the same film, fellow musician Liam Clancy shares his eyewitness account of Dylan's remarkable transformation from the musically ordinary Robert Zimmerman to Bob Dylan:
"In old Irish mythology, they talk about shape changers. Dylan changed voices. He changed images. It wasn't really necessary for him to be a definitive person. He was a receiver. He was possessed…" (Ibid.)
Dylan not only went through a radical makeover of his person and image and suddenly excelled on various instruments, but he apparently picked up a demon that used his body as a vessel to help usher in the counter cultural revolution of the 1960's. A revolution that introduced millions of young people to occultism, blasphemy, eastern mysticism, sexual perversion, moral decline and ilicit drug use.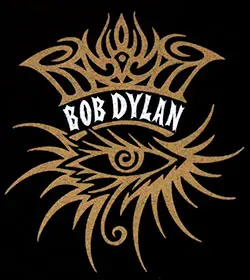 It is clear from a number of interviews with Dylan through the years that he himself doesn't understand some of his own lyrics, and that a spiritual entity he gives credit to has helped him along the way. In an interview conducted by Karen Hughes, she asked Dylan if he wrote "like a medium," and he told her that his compositions were not coming "from him," but "it's just coming through him," and that "a melody just happens to appear," and "the words come in and out." He went on to tell Hughes that sometimes "I've written songs in five minutes complete…" (Source)
In the same 60 Minutes interview where Dylan admitted he felt bound to fulfill the youthful bargain he made with an invisible entity, Dylan explained that he can no longer write songs like his early ones, and that they were beyond his own writing ability, and were given to him through a "penetrating magic":
"They were all, those early songs they were almost magically written, 'Darkness at the break of noon, Shadows even the silver spoon, The handmade blade, the child's balloon, Eclipses both the sun and moon, To understand you know too soon, There is no sense in trying' well, try to sit down and write something like that. There's a magic to that and its not Siegfried & Roy kind of magic, you know, it's a different kind of penetrating magic." (Source)
Dylan changed his name from Zimmerman to Dylan, owing to the influence of Dylan Thomas. In Bob Dylan's memoir, he admits that he had been influenced by Dylan Thomas. Dylan Thomas claimed that his greatest influence was Victor Neuburg, a master occultist who himself was one of Satanist Aleister Crowley's most prominent disciples. Neuberg was the first to bring Dylan Thomas to prominence and published his first works.
Crowley, born into privilege, was a self proclaimed Antichrist who signed his name on letters "the beast 666" and was appropriately dubbed "the wickedest man in the world" in the early 19th century. Crowley, a Satanist organizer, often used "magick" as an excuse to exercise his homosexual and sadistic tendencies and performed homosexual "sex magick" on Neuberg, which included whipping him with a bundle of nettles and drawing blood with 32 lashes using a switch. These magical workings were said to have eventually opened up Neuberg more and more to the demonic realm that both he and Crowley served.
Crowley claimed that he was being used by Satan (who he also identified as "Aiwass") to usher in the age of Antichrist, which he called the Age of Horus, symbolized by the hawk headed Egyptian god Horus. Crowley stated that this new satanic age would replace Christianity and wrote in his Book of the Law, via automatic writing, "With my Hawk's head I peck at the eyes of Jesus as he hangs upon the cross."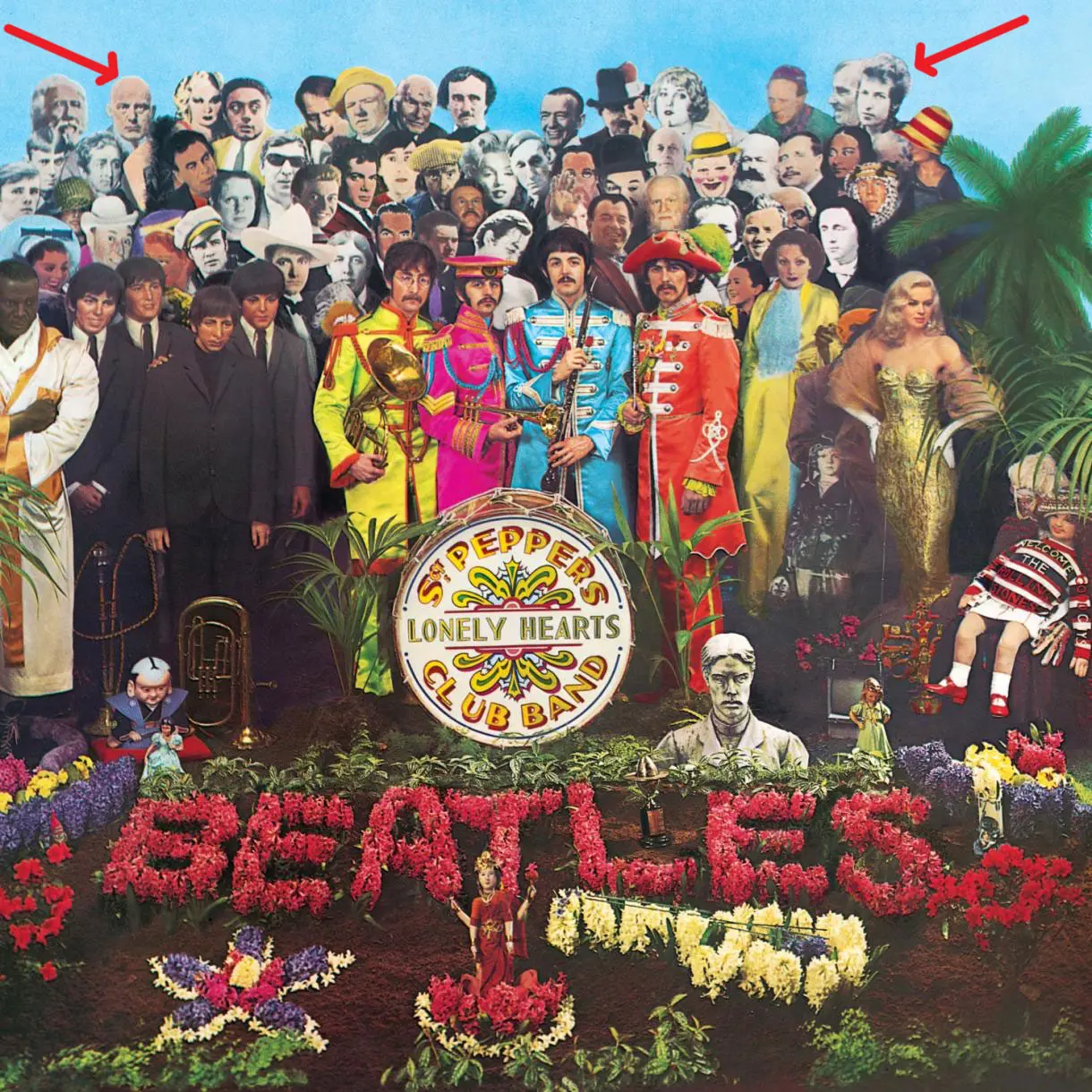 Bob Dylan's official logo (shown above earlier in this article) features the eye of Horus at the bottom. This symbol was used by Crowley as one of the emblems for the coming new aeon of Antichrist/Horus. Incidentally, both Dylan and Crowley made the front cover of Sgt. Pepper's Lonely Hearts Club Band album (click image at left for larger view).
Dylan would also show his affinity for the occult by depicting the occult tarot card of the Empress on the back of his album Desire.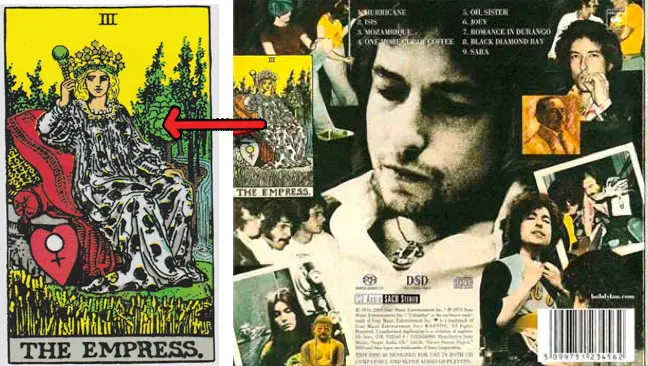 While it appears that Dylan made at least a feeble attempt to escape the hellhounds on his trail by making a short stint where he claimed to have become a Christian, even writing songs reflecting this claim, he would later tell Kurt Loder of Rolling Stone magazine "I've never said I'm born again." In response to Loder's question as to whether he belonged to a church, Dylan stated, "Not really. Uh, the Church of the Poison Mind." (Rolling Stone Magazine, "Bob Dylan, Recovering Christian," Kurt Loder, June 21, 1984)
Jesus warned that there is no profit in serving the devil and declared:
"For what will it profit a man if he gains the whole world, and loses his own soul? Or what will a man give in exchange for his soul?" (Mark 8:36-37)
Jesus also warned of the horrific punishment that will befall those who allow Satan to use them:
"If anyone causes one of these little ones–those who believe in me–to stumble, it would be better for them to have a large millstone hung around their neck and to be drowned in the depths of the sea." (Matthew 18:6)
Let us turn from "artists" who are used as mediums by dark powers to influence us and increase human rebellion against God. There are many serious passages of Scripture that warn against allowing ourselves to be influenced by mediums:
"Do not turn to mediums or necromancers; do not seek them out, and so make yourselves unclean by them: I am the LORD your God." (Leviticus 19:31)
"If a person turns to mediums and necromancers, whoring after them, I will set my face against that person and will cut him off from among his people." (Leviticus 20:6)
"A man or a woman who is a medium or a necromancer shall surely be put to death. They shall be stoned with stones; their blood shall be upon them." (Leviticus 20:27)
"When you come into the land that the LORD your God is giving you, you shall not learn to follow the abominable practices of those nations. There shall not be found among you anyone who burns his son or his daughter as an offering, anyone who practices divination or tells fortunes or interprets omens, or a sorcerer or a charmer or a medium or a necromancer or one who inquires of the dead, for whoever does these things is an abomination to the LORD. And because of these abominations the LORD your God is driving them out before you." (Deuteronomy 18:9-12)
"And when they say to you, 'Inquire of the mediums and the necromancers who chirp and mutter,' should not a people inquire of their God? Should they inquire of the dead on behalf of the living?" (Isaiah 8:19)
Please take time to pray for the genuine repentance and salvation of Bob Dylan and all the others who Satan is using to deceive the world (Revelation 12:11), and pray for the hundreds of millions of people they are leading astray, so "they may come to their senses and escape from the snare of the devil, after being captured by him to do his will." (2 Timothy 2:26)
May the Lord empower us to serve Him alone, through the gospel of Jesus Christ, who gave Himself for our sins and rose from the dead, conquering Satan and death:
"Since therefore the children share in flesh and blood, He himself likewise partook of the same things, that through death He might destroy the one who has the power of death, that is, the devil, and deliver all those who through fear of death were subject to lifelong slavery." (Hebrews 2:14-15)
"For this purpose the Son of God was manifested, that he might destroy the works of the devil." (1 John 3:8b)
"Little children, keep yourselves from idols." (1 John 5:21)
Let us also remember that in the end Satan will be cast into the lake of fire forever and ever with the wicked:
"And the devil who had deceived them was thrown into the lake of fire and sulfur where the beast and the false prophet were, and they will be tormented day and night forever and ever." (Revelation 20:11)
Let us also rejoice in the fact that when the Lord Jesus Christ returns, He will judge the world and rule the nations (Revelation 11:15-19). As King of kings and Lord of lord's, every knee will bow to Him, and every tongue confess that He is Lord, whether on the earth, in heaven or in hell (Philippians 2:5-11)!
Related:
CBS Showing of 60 Minutes 12-5-04. In an interview with Ed Bradley, Bob Dylan admits to selling his soul and of no longer being able to write music.
…to Rock-N-Roll
By David J. Stewart
1st Kings 21:20 and 25,"And Ahab said to Elijah, Hast thou found me, O mine enemy? And he answered, I have found thee: because thou hast sold thyself to work evil in the sight of the LORD … But there was none like unto Ahab, which did sell himself to work wickedness in the sight of the LORD, whom Jezebel his wife stirred up."
       Wicked king Ahab SOLD HIMSELF to Satan to do evil in the sight of God. Nearly every Rock-N-Roll superstar, Pop superstar, country superstar, Hip Hop superstar, and even Contemporary Christian Music [CCM] superstars have made a DEAL with the Devil. In exchange for money, fame and worldly pleasures, they have sold themselves!!!

Just as wicked Ahab sold himself, so do Rock singers and Hollywood entertainers sell themselves to Satan. Jesus offered Jesus the kingdoms of this world if only Jesus would WORSHIP him. Matthew 4:8-9, "Again, the Devil taketh Him up into an exceeding high mountain, and sheweth Him all the kingdoms of the world, and the glory of them; And saith unto Him, All these things will I give Thee, if Thou wilt fall down and worship me." Jesus told the Devil to go back to Hell where he came from, quoting the Scriptures to thwart the temptations of Satan. Christ gave us the answer in John 5:39—SEARCH THE SCRIPTURES!!!

Have you sold your soul to the Devil? Some people are so greedy and desperate for worldly fame that they'll do anything, willingly selling their souls to Satan. This is why Jerry Garcia of The Grateful Dead was so popular. His first band was called, THE WARLOCKS!!! This is why The Rolling Stonesbecame so famous, selling their souls to Satan, producing their 1967 album, THEIR SATANIC MAJESTIES REQUEST, featuring the song, SYMPATHY FOR THE DEVIL!!! They have all sold their souls to the Devil for sex, drugs and money.

Whether it be Led Zeppelin, AC/DC or Van Halen, they have all sold themselves to Satan! David Lee Roth of Van Halen sings the song, RUNNING WITH THE DEVIL. Bon Scott and Brian Johnson of AC/DC sing HIGHWAY TO HELL. Brian Johnson sings HELL'S BELLS at every concert!!! The Rock music industry is saturated with Satanism and the occult.

Stevie Nicks of Fleetwood Mac is a Witch. Like many demon-controlled wicked people, she denies it. Despite Nicks' public denial of being a "witch," her publishing company is named "Welsh Witch Music," clearly revealing that she is a witch. Patricia Kennealy of THE DOORS is a Celtic Witch. Witchcraft is prevalent in music. As bizarre as it may sound, even Brian Wilson of THE BEACH BOYS admitted while under the influence of illegal drugs in the 1960's to have made "witchcraft music."

Aleister Crowley was the most infamous Satanist of the 20th century. He was known to have a direct communication with Satan, and many wicked people sought his insights into the spirit world. Every band from THE BEATLES to LED ZEPPELIN praised Aleister Crowley. OZZY OSBOURNE also praises Mr. Crowley in his demonic music. Jimmy Page, guitarist of Led Zeppelin, purchased Crowley's castle after he died, and opened the biggest occult bookstore in Europe. These people are of the Devil. They've all sold their souls for worldly fame, fortune and pleasures. But "the world passeth away and the lusts thereof," just as 1st John 2:15-17 warns. This world is only temporal. The sexual pleasures of this world, getting high on heroine and cocaine, indulging in all the hobbies and possessions of this world, won't last.

The term "Rock-N-Roll" originated with the idea of a car rolling down the street, rocking back-n-forth from sex in the car. This is the hellish meaning of the term. It implies sex outside of marriage, for married people use a bedroom. Our modern society teaches young people to live in fornication, moving in-and-out of sexual relationships, only getting married when you eventually find someone you truly love. In sharp contrast, the Bible teaches marriage before sex.

THEY SOLD THEIR SOULS FOR ROCK-N-ROLL – PART 4, PART 7, PART 8, and PART 10

Ye Must Be Born Again! | You Need HIS Righteousness!
---
Ali Vegas Exposes Music Industry Rituals And What He Saw Rappers Do For Fame!
Ezekiel says Lucifer was perfect in 
all
his ways before he sinned. The word translated as "perfect" means whole, complete, healthful, wholesome, sound, perfect, free from blemish and undefiled. It means to be perfectly in harmony and accord with the truth, and it could be summed up in the words "to speak and sound out the truth." Lucifer's music was absolutely perfect and complete, without any spot or blemish of imperfection. It was a literal sounding out of the truth of God's awesome characteristics and glory, and it promoted wholeness and peace and righteousness. His music was like a healing balm throughout the halls of heaven. His music was the living Word put to sound that was glorious perfection in every note, arrangement, pitch, and beat. He was the heavenly composer, whose music elevated the heart toward God and filled it with praise, joy, and thankfulness in a great crescendo of exuberance and awe before the throne of God. All the perfection of musical composition and performance was created in Lucifer. He was the maestro of music in the entire heavenly realm. 
 Source
spacer