BABYLON HAS FALLEN!   
Understand that when they erected the TEMPLE OF BAAL ARCH in the heart of our Nation, in the center of our Capital, it was an ominous sign of the END OF THE WORLD AS WE KNOW IT!  Paganism has so overtaken the earth that our precious nation, once under the protection of the Creator, is destroyed.  Destroyed from the inside, with no hope of recovery.  The full manifestation is all that awaits us.  WEEP and WAIL People!   PRAY as you have never Prayed before!  PRAY THAT YOU ARE ABLE TO ESCAPE ALL THAT IS COMING!  REPENT!  FOR THE KINGDOM OF THE LORD IS AT HAND!
Psalm 139:19-24 
Surely thou wilt slay the wicked, O God: depart from me therefore, ye bloody men.
For they speak against thee wickedly, and thine enemies take thy name in vain.
Do not I hate them, O Lord, that hate thee? and am not I grieved with those that rise up against thee?
I hate them with perfect hatred: I count them mine enemies.
Search me, O God, and know my heart: try me, and know my thoughts:
And see if there be any wicked way in me, and lead me in the way everlasting.
Proverbs 29:2
2 When the righteous are in authority, the people rejoice: but when the wicked beareth rule, the people mourn.
Proverbs 29:10
"The bloodthirsty hate the upright: but the just seek his soul."
BAAL is really the Adversary/Satan/The Devil.  BAAL worship was the beginning of all paganism.  The story of Elijah clearly demonstrates the SPIRITUAL WAR in which we are engaged.  IT is a choice between BAAL/SATAN and GOD!   IF BAAL be god than worship him, BUT IF YAH BE GOD THAN WORSHIP HIM!   That is your choice.
It is important that you know that Nimrod incorporated into his worship system the grisly practice of human sacrifice and cannibalism. Our authority Hislop says, "the priests of Nimrod or Baal were necessarily required to eat of the human sacrifices; and thus it has come to pass that 'Cahna-Bal' (cahna meaning priest & Bal referring to Baal) is the established word (cannibal) in our own tongue for a devourer of human flesh."    Source: here
If you don't believe that this is what the world has come to, you had better WAKE UP!  BLOODTHIRST is a reality in our world today and it is going to get worse!  Especially when people are hungry and desperate. 
SENOMYX – MAKING US CANNIBAL'S ONE BITE AT A TIME
You know as soon as I heard that they had come up with technology that gave them the ability to make things taste like what they are not, I was certain this meant major trouble.  This is just another kind of lie.  DECEPTION is the biggest tool that Satan uses to destroy us.  Let me assure you that they are using this technology to do just that – destroy us.
Psalm 5:4-6
For You are not a God who delights in wickedness;
no evil can dwell with You.
The boastful cannot stand in Your presence;
You hate all workers of iniquity.
You destroy those who tell lies;
the LORD abhors the man of bloodshed and deceit.
Psalm 59:2
Deliver me from the workers of iniquity, And save me from bloodthirsty men.
Psalm 26:9
Do not take away my soul along with sinners, my life with those who are bloodthirsty,
Japanese Researcher Mitsyuki Ikeda Creates Artificial Meat From Human Feces
A LOOK AT YOUR FUTURE!   Socialism Kills…
Document Read on the Floor of Congress…   They have been working on this for a long time.  Wake up… they are creating this horror!  
Illuminati Turning us into Cannibals/Zombies-Aborted Fetal Cells in Food & Vaccines
Season 5 Episode 12 Specialty of the House Alfred Hitchcock
SOON EVERYONE WILL BE EATING ONE ANOTHER….LITERALLY!
A Brazilian man — dubbed the "Sweeney Todd" cannibal — his spouse and his mistress have been every sentenced to a number of many years in jail after they have been convicted of murdering ladies and stuffing their flesh into pastries that they then ate and handed out to neighbors, reviews stated.
Video Restore 3/26/20
As they parade the TEMPLE OF BAAL around the world, proclaiming their victory, is it any wonder that we are seeing so many incidents of Cannibalism?  It has even been claimed by some that Cannibalism is becoming popular.  YUCK!
The Global Diet – A Matter of Life or Death
Update 7/28/19
The Arch of Palmyra appeared on the National Mall, but its relationship to Senate Judiciary Committee hearings was purely coincidental.
A photograph shows the Arch of Baal erected on the National Mall in Washington, D.C.
Origin

On 26 September 2018, the Institute for Digital Archaeology unveiled a replica of Palmyra, Syria's iconic Triumphal Arch on the National Mall in Washington, D.C. The following day, Christine Blasey Ford and Supreme Court nominee Brett Kavanaugh testified before the Senate Judiciary Committee about sexual assault allegations stemming from their time in high school.

Although these two events had little connection to one another (other than taking place in the same city), web sites such as EndOfTheAmericanDream.com published articles which questioned the coincidental timing of the arch's appearance in Washington:

Is it just a coincidence that the "Arch of Baal" has been erected in Washington D.C. on the exact same week that Brett Kavanaugh and Christine Blasey Ford are testifying before Congress? The future of the U.S. Supreme Court is literally hanging in the balance, and many believe that it is quite odd that this ancient pagan symbol has been put up at this precise moment in time. According to the official website of the Institute for Digital Archaeology, the Arch of Palmyra was unveiled on the National Mall on September 26th, and it will remain there until September 29th. You can view a photograph of the arch standing directly in front of the U.S. Capitol building right here. Just one day after this arch was put up, Brett Kavanaugh and Christine Blasey Ford testified before Congress. Perhaps this is all just a "giant coincidence", but things of this importance usually don't happen by accident.

The elite deeply understand that symbols have power, and the fact that the Arch of Baal has been placed directly across from the U.S. Capitol is highly significant.

The article went on to connect the Triumphal Arch, or Monumental Arch, which was built around 200 A.D. and served as an entrance way to the Temple of Bel, to ritualistic Baal worship and the sacrificing of children. It's appearance just before Dr. Ford and Judge Kavanaugh testified before the Senate Judiciary Committee was more than coincidental, the article argued, as Kavanaugh could be instrumental in making abortion illegal:

In the end, the debate over whether or not to confirm Brett Kavanaugh comes down to the issue of abortion, and this vote in the Senate is going to have tremendous implications for the future of our country …

We have murdered far more children than they ever did in the ancient Middle East, and our fate will be the same as theirs if we don't turn things around as a society.

And now an ancient symbol of child sacrifice has been erected directly across from the U.S. Capitol at the precise moment when the future of the U.S. Supreme Court is hanging in the balance.

Is this just a coincidence?
Update 3/19/19
The Secret Nation of Baal and Magic on the Midnight Ride – It is a long ride for sure, but you will learn a lot about the TRUE HISTORY of the United States.  More importantly, you will learn how BAAL worship has a strangle hold on the nation, even the whole world!   YOU NEED TO KNOW!  BAAL is walking all over this nation, and laughing at our stupidity.  
I have posted so much about BAAL, I felt I needed to give Our Father some honor and recognition.  SO, I am sharing this amazing testimony from Nehemiah Gordon.  I pray that you are blessed.  
God's name is not Yahweh – Proof from Jewish Rabbis (Episode 4 of 5)
May His NAME be PRAISED!   
1 Kings 18:21  'How long halt ye between two opinions? if YHVH be God, follow Him; but if Baal, follow him.'  
Joshua 24:15  "And if it seem evil unto you to serve the YHVH, choose you this day whom ye will serve; whether the gods which your fathers served that were on the other side of the flood, or the gods of the Amorites, in whose land ye dwell: but as for me and my house, we will serve the LORD."
Published on Oct 31, 2017
UPDATE: 2/24/19
UPDATE: 2/5/19   More Temple of Baal exhibits across the country.  watch this video to the end.
333am Woke Up To This Message From God – Completing The Puzzle Pieces!
LOOK WHAT SATANIC MONUMENT JUST SHOWED UP IN WASHINGTON….
From September 25th to September 27th, the United Nations launched a "new universal agenda" for humanity. Those are not my words, they actually come directly out of the core document for this new agenda. The Pope traveled to New York City to give the address that kicked off this conference, thus giving his considerable endorsement to this new plan. Virtually every nation on the entire planet willingly signed up for the 17 goals that are included in this plan, but this stunning turn of events made very few international headlines.

For the general population, 

"the 2030 Agenda"

 has been rebranded as 

"the global goals".

 On September 26th, some of the biggest names in the music world (including Beyonce) promoted these new 

"global goals"

 at the 

"Global Citizen Festival"

 that was held in Central Park. And you can watch a YouTube video where some of the most famous names on the entire planet urge all of us to get behind these new 

"global goals"

 right here.   

Source
God said, "Speak to the Israelites and say 
to them: 'When you cross the Jordan into Canaan (Palmyra), 
drive out all the inhabitants of the land before you. 
Destroy all their carved images and their cast idols, and demolish all their high places.
"
Neither the location nor the timing of this event was selected without very clear and precise deliberation.  This event is of such tremendous significance it is unfathomable.  Though you may not "see" or "feel" any affects, matters not.  This was a very ARROGANT and BOLD declaration by those worshipers of Baal/SATAN.  They have declared their rulership over you, AMERICA!  And next month, THEY WILL DECLARE THE SAME RULERSHIP OVER THE WORLD at the Hague, Netherlands.  BEWARE!!
9/25: Old Egyptian festival of Neter Amen-Ra-Atem, the Great God, and Neteret Amenet-Rait-Mut,
 the Great Goddess.  (again, the Yin & Yang).    The male God RA- the Egyptian SUN GOD, ruler of the all parts of the created world: the sky, the earth, and the underworld.   And the female Earth Goddess MUT considered a primal deity, associated with the waters from which everything was born. Wikipedia  (Is there any wonder we are celebrating Pirates and Mermaids
–,

2018 

M‑TuSukkot   Feast of Tabernacles  Satan wants to replace Yah/Creator God/Heavenly Father to Tabernacle with you.!   
9/21 -23 – Autumnal Equinox  From this date through Halloween, occultists believe the veil separating the earthly dimension from the demonic realm gets progressively thinner, with the thinnest night being October 31; this thinning of the separating veil makes it easier for the demonic realm to enter the earthly dimension. Thus, on Halloween, evil spirits, ghosts, witches, hobgoblins, black cats, fairies, and demons of all sorts were believed to be running amok across the land. They had to be back in their spiritual dimension before midnight, Halloween, for the separating veil would then get thicker. Once again, I reiterate, this is an occult belief, not mine! October is a most propitious month to the Illuminati.  (So, this is time to prepare the upcoming sacrifice, obtaining a victim.)  
Historically, Halloween is the deadliest holiday ever celebrated in human history. This Satanic night is dedicated to the Celtic Lord of the Dead, also symbolized by the Horned-god and the Stag-god, (PAN, Please see the Articles on PAN). The Druids celebrated Samhain as a 3-day fire festival, building huge bonfires, thought to ward off demons that roamed around; More importantly, the fires provided the means by which the required human sacrifice would be presented to the SUN GOD. In enormous wicker baskets, the priests caged both human and animal sacrifices, which they then lowered into the flames. Source
GOD HAVE MERCY ON US ALL.
Let the Triumphal Procession Begin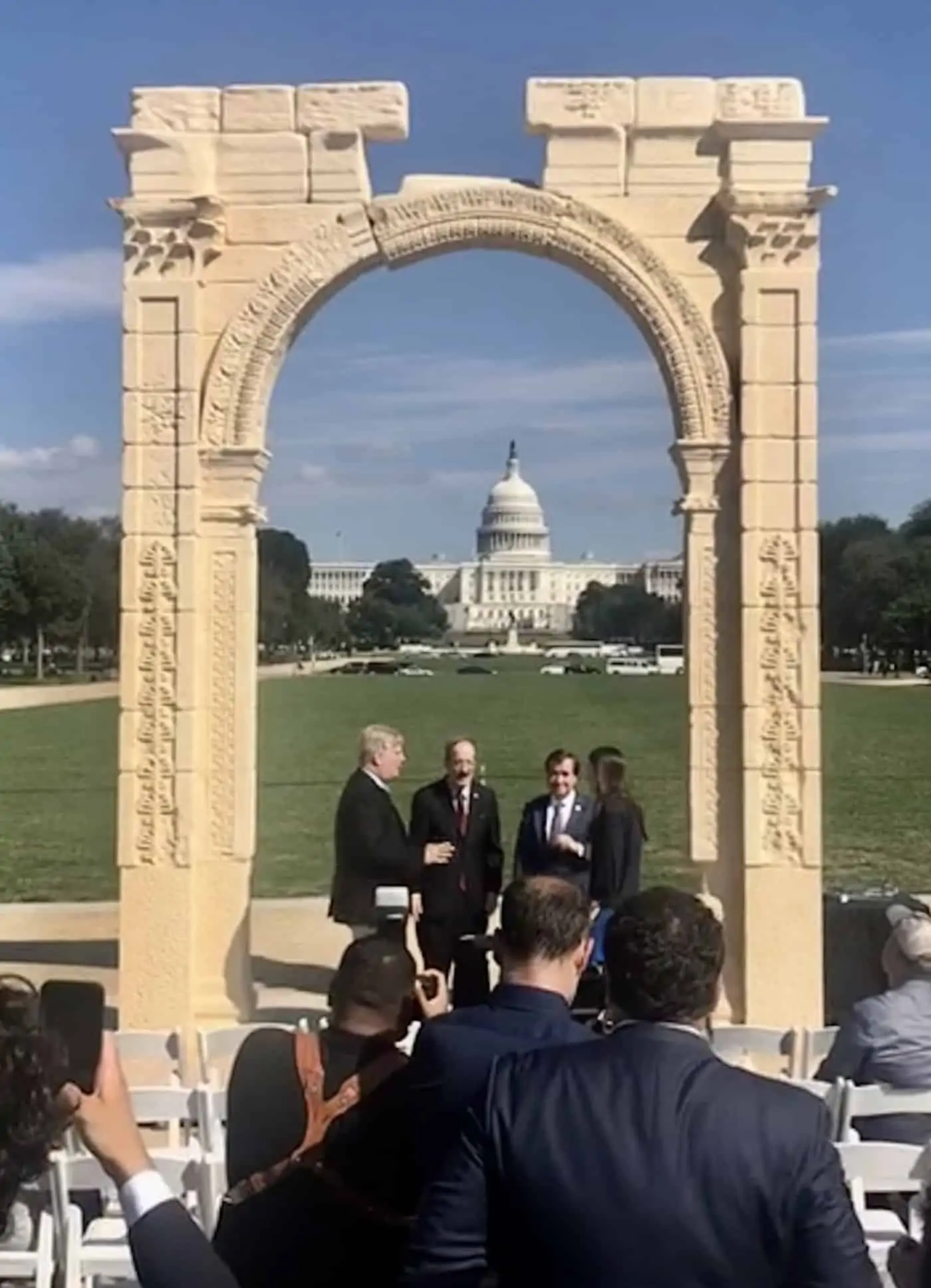 Congressmen Ed Royce (introduced as being from the "Great EMPIRE STATE of New York) claims that ISIS wanted to destroy the "center of learning and Philosophy" to rewrite history.  WRONG.  ISIS stated very clearly that their desire was to destroy the PAGAN ARTIFACTS that represented worship of PAGAN IDOLS.  They wanted to cleanse their nation of this abomination in the hopes of a new beginning. Believe me, the ones who REWRITE history every day are the Elite who run the world.  Congressman Royce also glorifies Zenobia, who was a very self-serving, ambitious, and violent queen.  Some believe she had a role in the assassination of her husband. He praises Ancient Palmyra as the center of the "FIRST ENLIGHTENMENT" and Philosophy.  Palmyra was an opportunist city, that was able to flourish financially by accepting all pagan gods and pagan worship in order to blend the various often opposing people groups that came to call their city home for various reasons.  He talks about the Syrian who took the photos (with a camera provided by IDA) who was captured, tortured and killed by "the ASSAD REGIME".  Wait a minute, isn't it the Assad family that was honored by the IDA as representing the City of Palmyra?  Check out this video of an event where the IDA honored the ASSAD family.
The IDA, the UN, and the World Summit are spending trillions of dollars promoting and preserving PAGAN WORSHIP.  This is about the RESURRECTION OF PAGANISM and their effort to defeat the one true CREATOR and destroy those who follow HIM. MAKE NO MISTAKE, THIS IS SPRITUAL WARFARE!
As in everything, perspective is crucial.  TRUTH is hate speech to those who HATE TRUTH.  TO PAGANS, the idea of ONE TRUE CREATOR GOD is OFFENSIVE.  As the world returns more and more to their Pagan ways, those who love the Creator God and Believe HIS WORD, are becoming more and more hated.  BE PREPARED! 
Please visit my post on "Palmyra – the truth you need to know".  You will see that what these people don't care about the unfair imprisonment, torture, and murder of people.  THEY ONLY care about their precious ARTIFACTS.   Why is that?  Because these ARTIFACTS HAVE POWER!!  THEY are spiritually charged by the blood that was shed and the worship that was offered to the gods they represent. 
Wow, what a joke.  Apparently, this is the unveiling.  You can hear the applause at the end.  I thought it might be a rehearsal. But, it appears to be the actual event.  This looks even sadder than the New York unveiling.  It is no wonder there was no one there.  They were so secretive about the whole thing.  Once again I submit to you that they don't require nor seek the approval of the people.  They are confident that they have already taken dominion! 
This video was deleted/censored.  However, thanks to HiddenintheCraig.com  I was able to restore it here along with a lot of other fabulous information. Please visit his site.  He does an awesome job of research and publishing the TRUTH.  
Democracy has a new door, or should I say Arch. The seat of the free world is represented by the "democracy" of the United States. This happens at the US Capital building at the National Mall. The Arch is representing this new democracy than will then be brought to the Hague, the International Courts.At the ceremony, we have a Christian and a Jew welcoming the Arch that was brought to you by the IDA and OXford. Their last names mean the Rose Angel or goddess in this case. Take note that OXford was a big part of this. What is an OX? A bull. The bull has always been symbolic of Nimrod, Osiris, Apollo and the list goes on. The divine masculine.Now you have the Arch of Triumph that is not only represented by this divine masculine but also invoking and bringing about their demonic divine feminine. And on a side note, the bull needs a companion and we are seeing this happen with the red heifer in Jerusalem. This is nothing more in laymens terms fallen angels and bring about that ancient spirit of Antichrist."The Arch carries the same DNA" – Roger Michels (IDA)
LINK TO VIDEO: https://videos.files.wordpress.com/ApnNXMfh/y4wsy_dvd.mp4
Ed Royce (Rose) speaking at the Arch unvieling. He says it "represents the first enlightenment). Go back a few days to my blog and read what I wrote about David's Tent being near the area where the Arch is at. David's Tent is supposed to be their "great awakening". Coincidence he chooses this phrase right? You can find the video here if mine "vanishes".When watching the videos above they make a point to say how this Arch stood for 2,000 years. When the Arch was replicated the media was saying it was being resurrected. Do you know who resurrected 2,000 years ago? Jesus did. And this Arch is their demonic representation of their god trying to be resurrected and be healed from his deadly head wound.Did you realize that the original Arch of Triumph or Triumphal Arch in Rome sat directly in front of Capitol Hill. This is what Palmyra's Arch of Triumph was modeled after. It brought you to their seat of authority that was represented by the Temple of Baalshamin and the Temple of Bel. Their 2 supreme gods.
"Gateways had an ancient, symbolic resonance for the Romans, who associated them with death and victory. Both imply a passage into a brave new world and the Roman armies, masters of siege warfare, breached many a city gate to expand across the globe. So it was that the custom arose to construct triumphal arches to celebrate a particularly decisive victory achieved by a Roman general, a few examples of which still stand today." (https://www.romaexperience.com/rome-blog/rome-triumphal-arches-inspired-the-world/)
Why was the Arch put on 6th Street? The Arch being placed here was strategically put their for a reason. It is symbolic for conquering a site and this is their celebration. The US Capitol building signifying that the womb is the entrance that takes you through the Arch of Triumph or gateway/portal that leads you to the obelisk or Baals shaft. There is a disgusting sexual element to all of this ritual and this is why they want the public to touch it and go in and out from the Arch. They are having a union with Jupiter, Sophia and their lord, Baal. It is their demonic trinity.
Notice in the images above how this pathway directly where the Arch stands on 6th Street is paralleling the symbolism to the pyramid. When getting to the Washington monument, you have a right angle that takes you directly to the White House representing the kings chamber. This ritual just may be an axis mundi with the spiritual realm and man. There is a lot going on here with this Arch in Columbia.
6th Street
So I was a little disoriented as to where the Arch was being placed in the National Mall. It is running East to West (or vice versa) with the Arch facing the Capitol Building (the womb) and the Washington obelisk (the phallus). Talk about symbolism right? If you look in the middle of the field where 6th street runs its invisible line through the National Mall, you will see the exact location of where its going to be set up. Go just above the red marker in between the air and space museum and the art gallery. Actually it's already up and I'm just awaiting pictures of it from someone. The number of man is what? 6.
Axis Mundi?
I'm wondering of this ritual tomorrow with the Arch placed where its at is District of Columbia axis mundi. The axis mundi is believed to be a spot where architecture (in this case) can be set up that supposedly connects heaven and earth. They see it as a sort of umbilical chord like Jacob's ladder in Peniel. Christianity has its axis mundi on the Mount of Olives based on toss is where Jesus was crucified, rose from the dead and then ascended to Heaven. Judaism has the Temple Mount and Islam has the Kaaba.
Remember when I mentioned the "virgin mary" paintings and statues under the Arch, the Vetruvian Man and the Sharon Tate pose for the Eye of the Devil movie? These all represent the demonic spirit behind the pose itself and its all connected to an arch. It just so happens the Vetruvian Man is the axis mundi or connection to Heaven and Earth for people. That's what that represents. So I wonder if this placement on 6th (number of man) street inbetween the phallus and the womb is in fact a axis mundi?
| | |
| --- | --- |
| | |
It makes sense being that its falling on the last few days of Sukkot where God Tabernacled with man. Do you get it? Another demonic inversion led by the principalities and powers as a sign of false peace. And notice a tweet I came across. Now you can have your own vr/augmented reality version of the original arch of triumph in your own front yard. Your own personal vr axis mundi. No thanks…
I received the following message in an email and decided to share it.
It is no coincidence that this arch is here in DC for just 4 days at this time and then going to The Hague International Court of Justice. This is all about calling on Baal and god's and goddesses whose temples were on the back side of this arch, to empower the injustice and lawlessness that is rampant throughout the DOJ, the State Department, the CIA as well as in congress as demonstrated in congressional support for the chaos and disruption of the past weeks.

When I went yesterday to the point on the map I sent out,  which is at the intersection of 16st NW (which goes through a tunnel under the circle) and Massachusetts Ave, I saw the significance of that point. The Statue of General Winfield Scott is faced down 16th street directly at the White House. General Scott was a member of the Whig Party. Here is a little about that: The Whig Party was formally organized in 1834, bringing together a loose coalition of groups united in their opposition to what party members viewed as the executive tyranny of "King Andrew" Jackson. They borrowed the name Whig from the British party opposed to royal prerogatives.  Does that sound at all like something similar going on right now?

On the North West side of the traffic lanes of the traffic circle called Scott Circle, is a Statue of Daniel Webster. His statue is not in the circle but off to the side of it. 
Daniel Webster, (born January 18, 1782, Salisbury, New Hampshire, U.S.—died October 24, 1852, Marshfield, Massachusetts), American orator and politician who practiced prominently as a lawyer before the U.S. Supreme Court and served as a U.S. congressman (1813–17, 1823–27), a U.S. senator (1827–41, 1845–50), and U.S. secretary of state (1841–43, 1850–52). He is best known as an enthusiastic nationalist and as an advocate of business interests during the period of the Jacksonian agrarianism. Any significance to that?

Across Massachusetts ave is the Australian Embassy. Australia being one of the "Ally's" that has been calling President trump to not declassify the FISA documents along with the UK whose Embassy in at the NW end of Massachusetts Ave right next to the Naval Observatory which is home to the Vice President. Between the UK embassy and the Australian embassy are most of the other major embassies in DC along what is called Embassy Row. If you go the opposite direction from the White House is a location where the demonstrators are being brought into DC, fed and trained.


All said I believe that this spot of Scott Circle is a very significant power point that is linked to the calling on Baal and the fomenting of lawlessness in our Nation. This location was prayed over and prophetic acts done. Please continue to PRAY PRAY PRAY


Blessings to you all, Listen to the Lord and be obedient to what He shows you.
Update 9/26:  

THIS IS IT!
Temple of BAAL COMES TO DC TODAY
REPENT FOR THE
KINGDOM  OF GOD
IS AT HAND!
T

HE ENEMY SPEAKS IN SIGNS AND SYMBOLS AND THIS A HUGE ONE.  GATEWAYS ARE VERY IMPORTANT and POWERFUL.  THE CREATOR GOD WILL NOT BE MOCKED.  CHOOSE YOU TODAY WHICH GOD YOU WILL SERVE BAAL/NIMROD/ZEUS/SATAN (all the same being, just different names)  or THE CREATOR/YAH/YHVH.  Because believe it or not, you will SERVE one or the other. AND, believe it or not those are the only two choices.  Every other god/goddess is just another version of the same thing.  THERE is only GOOD and EVIL. TWO CHOICES. PICK ONE. You followers of the evil one will be greatly shocked when you learn just what it means to serve SATAN/BAAL. ONCE THE TRAP IS SHUT, REALITY WILL SET IN AND ALL HOPE WILL BE GONE.  THERE IS NO FREEDOM with SATAN, only slavery, and servitude.  SATAN LOVES NO ONE, there is NO LOVE IN HIM.  
THE ARCH of BAAL is set to be erected in Washington, DC – Sept 26, 2018 – Sept 30, 2018. Institute for Digital Archeology  shows the event set to go off as scheduled.  This is a sad day for the USA. We are in the most strategic timeframe for Occult activity!!  WAKE UP WORLD!)  Whether or not you sense anything changing…THIS IS A HUGE EVENT IN THE REALM OF THE SPIRIT.  IT WILL AFFECT YOU! 
Please check out: PALMYRA – THE TRUTH YOU NEED TO KNOW
Check out Palmyra – Forced Resurrection
If you have not already viewed all of the TEMPLE of BAAL articles please do.  They are full of really great information. I think you will enjoy them and I hope they will bless you.   Just follow the link at the bottom of each page to progress through to the end. It should bring you finally to this article.  TEMPLE OF  BAAL  Part 1
PRAY 
Please cover those who are onsite, standing for us, with the blood of Jesus/Yehushah; Pray Yah/GOD's protection for them and stand in agreement with them for our nation and the world! 
We ALREADY HAVE A HUMUNGOUS ROMAN ARCH right in the center of  Washington DC, (see the article below).  We don't need another one.  We CERTAINLY DO NOT NEED ONE THAT REPRESENTS BAAL WORSHIP!  And they don't need another Arch to claim the United States for ROME  because everything about the United States is ROMAN and we already send our TAX money to ROME.  THIS ARCH IS SPECIFICALLY TO DECLARE BAAL THE OFFICIAL GOD, LORD, POSSESSER, AND MASTER OF OUR NATION.  DO NOT BE DECEIVED!   THIS IS A DECLARATION OF RULERSHIP BY SATAN! 
If you are not aware, most of the world now does not believe in The CREATOR GOD. Nor do they accept HIS Authority.  The United States was the largest Bible BELIEVING Nation.  The Nation as a whole has turned its back on the GOD of the BIBLE.  The WORLD is uniting into ONE WORLD RELIGION that includes EVERYTHING BUT the TRUE GOD OF THE BIBLE.  Just as the Baal Worshipers of Palmyra welcomed every pagan god along with BAAL. TODAY, anyone who believes the WORD OF GOD TO BE TRUE, is now an ENEMY OF THE STATE.  And the GLOBALISTS and SATAN are CELEBRATING!!!  That is why the Arch is TOURING THE WORLD and ending its tour at the WORLD COURT!  They are declaring that BAAL RULES!
Do you remember?  1 Kings 18   Elijah and the Prophets of BA'AL
1Kings 18:21 And Elijah came unto all the people, and said, How long halt ye between two opinions? if the LORD be God, follow him: but if Baal, then follow him. And the people answered him not a word,
Elijah's Prayer
1Kings 18:36-40  And it came to pass at the time of the offering of the evening sacrifice, that Elijah the prophet came near, and said, LORD God of Abraham, Isaac, and of Israel, let it be known this day that thou art God in Israel, and that I am thy servant, and that I have done all these things at thy word. Hear me, O LORD, hear me, that this people may know that thou art the LORD God, and that thou hast turned their heart back again. Then the fire of the LORD fell, and consumed the burnt sacrifice, and the wood, and the stones, and the dust, and licked up the water that was in the trench. And when all the people saw it, they fell on their faces: and they said, The LORD, he is the God; the LORD, he is the God. And Elijah said unto them, Take the prophets of Baal; let not one of them escape. And they took them: and Elijah brought them down to the brook Kishon, and slew them there.
Designed at the turn of the 20th century as a monumental gateway for those arriving in Washington, D.C., by train, today Union Station is as much a public living room for the city as it is a transit hub that daily serves thousands of commuters and visitors. It is a place where city workers take their lunch breaks alongside members of Congress, and where restaurant patrons watch the "ballet" of crisscrossing travelers unfold in front of them, as an ever-changing community animates the space.

Union Station sits as a visual and symbolic focal point at the confluence of the diagonally radiating streets of Massachusetts, Delaware, and Louisiana Avenues and First and E Streets NE. The significance of this location was no accident — it was carefully selected at the turn of the 20th century as "the grand gateway to the capital" through which everyone who comes or goes must pass.

"From all directions, Union Station is an impressive sight: approaching from the direction of the U.S. Capitol the central pavilion, based on the Arch of Constantine in Rome, frames the Columbus Fountain while residents arriving from the nearby Capitol Hill neighborhood walk through the loggia on their way to the subway," notes Richard Wolf, president of the Capitol Hill Restoration Society.
In case you had any doubt that this Palmyra ARCH is a declaration of VICTORY.  Check out this Arch from our past.
The Dewey Arch
A year after the battle of Manila Bay — a stunning naval victory by the United States over Spain in 1898, an event that established the U.S. as a global military power — the architect of that historic engagement in the Philippines was invited to New York for a triumphal celebration in his honor. If Admiral George Dewey's entrance into the city in the waning summer days of 1899 wasn't quite as elaborate as Cleopatra's into Rome, it was not for lack of trying.
The hero's welcome that awaited him lasted several days, two of which were declared state holidays by Governor Theodore Roosevelt. The festivities included a flotilla of ships steaming up the Hudson, led by Dewey's cruiser, the USS Olympia, on Sept. 29, 1899, and culminated in a spectacular parade through Manhattan on Sept. 30. The reviewing stand was at Fifth Avenue and 24th Street, where a colossal arch and colonnade had been erected.
Updated for 9/25 (a little early) – 
For those who are alone and need someone to pray in agreement,  or for those who do not know how to pray…  here are some recorded prayers you can pray along with and agree with, add your own prayers as GOD leads.  Pick the ones you like or with which you are comfortable and in agreement.  OR, look online and find some of your own.  BUT PRAY!! Especially tonight and all day tomorrow and tomorrow night, every time you think about it.  PRAY, PRAY, PRAY!!    The first video is about ruling prayer to help you pray for our government with confidence, by Derek Prince.    Remember, we have people with boots on the ground at 7:30 pm Eastern time Tuesday 9/25, Washington, DC.   Think of us at that time and take at least a moment to agree with us in prayer for God's protection for ourselves, our families, our loved ones, our cities, our states, our nation, our world!  Pray that The Father/Jesus rebuke the evil one and his minions that are coming against the people of YAH/GOD.  Pray for God's forgiveness and mercy.  Pray that that DEMONIC ARCH be destroyed by the POWER OF GOD! Pray that our nation be ruled by the RIGHTEOUS!  That all of those evil people who are working for the evil one be removed from our government and positions of power across our land.
Prayer Warriors 365- RULING BY PRAYER (Derkek Prince) 
Please check out: PALMYRA – THE TRUTH YOU NEED TO KNOW
Check out Palmyra – Forced Resurrection
Updated 9/24 
I have it on very good authority that prayer warriors will have boots on the ground at 7:30 pm Tuesday, September 25.  Please join hearts and spirits in prayer with us.  Do you see that they are promoting legislation that protects these artifacts from defacement or vandalism.  So, once they put them up, we will be unable to bring them down.  SO, NOW IS THE TIME TO PRAY!!  Now is the time to make your voices heard!  These monuments are GRAVEN IMAGES TO PAGAN GODS.  THAT IS WHAT THEY WERE MADE TO BE AND THAT IS WHAT THEY ARE TODAY.  IF WE HELP TO RESTORE, REBUILD, AND REPAIR THEM WE ARE MAKING  FOR OURSELVES GRAVEN IMAGES.  MAKE NO MISTAKE ABOUT IT.  
Institute for Digital Archaeology Update
Please join us on the National Mall (at 6th St., between the National Gallery of Art and the Air & Space Museum) next Wednesday, September 26th, at 2:30PM when House Foreign Affairs Committee Chairman Ed Royce (R-CA) and Ranking Member Eliot Engel (D-NY) will jointly unveil the Institute for Digital Archaeology's* reconstruction of Palmyra's iconic Triumphal Arch.  The reconstructed arch, created using state-of-the-art 3D scanning, printing and carving technology, has previously been displayed at New York's City Hall Plaza, London's Trafalgar Square, the G7 Summit in Florence and Dubai's World Government Summit.  The original arch was infamously destroyed by Islamic State Extremists in August 2015.  The IDA's reconstructed arch, carved from the same marble as the original, has become an international symbol of resistance to extremist groups who seek to obliterate world history and heritage in favor of their own social, religious and cultural narratives.  Previous installations of the arch have attracted more than 5 million visitors and it has been the subject matter of numerous books, stories, and documentaries.
 Congressmen Royce and Engel, both longtime advocates for the protection of global cultural heritage assets, have sponsored key bipartisan legislation aimed at protecting cultural sites and artifacts, including the Protect and Preserve International Cultural Property Act, the Rewards for Justice Program Act, the Import Restrictions of Archaeological and Ethnographic Material from Iraq Act, and the Emergency Protection for Cultural Heritage of Iraq Act.  These important provisions, apart from safeguarding world heritage materials from defacement and destruction, are also aimed at depriving extremist groups of income derived from the sale of looted antiquities, a primary source of their financial support.  Next Wednesday's ceremony will celebrate these achievements.  Please join us!
Updated 9/23  Check out  Palmyra – Forced Resurrection
The Tetrapylon is a symbol that represents total control over travel north, south, east and west.  It is a declaration of total control by SYRIA/ROME. Palmyra was subject to ROME.  The ARCH was a Roman Arch.  The Palmyra Arch is a declaration of VICTORY for Syria/ROME.  Why do you think that Syrian History and Syrian culture is being promoted EVERYWHERE?  
Yes, this is a declaration of Victory and RULERSHIP, yes it is a Revival of the Roman Empire. But more importantly, it is a declaration of the Rulership of the PAGAN gods!  So, Satan and his crew are declaring that they reign.
Now I believe there is an even BIGGER (literally) side to this and that is the RETURN of the NEPHILIM!  "If YOU BUILD IT, THEY WILL COME".  I believe they are rebuilding these HUMUNGOUS Monuments all over the world because the "gods" are returning.  Palmyra was called the HOME OF THE GODS!  This is just another onslaught of the Papal agenda to "unite" all religions.  Sorry, folks.  As lovely as it may sound to you.  It is not sound.  We do not all worship the same Creator/GOD.  The worship of anything or anyone else is an abomination in HIS sight.  
We do know, however, that Bel shared his sacred precinct with a host of other deities. Archaic inscriptions from foundation trenches of this early sanctuary, in addition to Bel, refer to the gods Herta, Nanai, Reshef, Yarhibol, Belhammon, Manawat, the "daughter of Bel" (brt bl), "the goddess" ('štr'), Belastor, "the demons" (šdy'), and Baaltak.31 Apparently, these gods were the patron deities of specific groups in residence at Palmyra or of those in transit, and the holy precinct of Bel served as a focal point for the integration of their respective cults into the communal life of the oasis. In some instances, these people built shrines and altars around the temenos to honor their gods.32 This evidence, though not abundant, confirms the communal aspects of worship at Palmyra and illuminates the temple of Bel as a center for shared cult.  Source: IDENTITY, COMMUNITY, AND STATE FORMATION AT ROMAN PALMYRA by  Andrew M. Smith II, Doctor of Philosophy, 2004
If you believe the Bible and/or the other Cultural Mythology about the "gods" you will understand that these were GIANTS.  These ENTITIES are returning.  So, whether you choose to believe in them or not, you may very soon be face to face with GIANTS! 
Aurelian first attempted to counter the cataphracts by skirmishing against them with light cavalry, tempting them to charge, then evading them, in the hope Of tiring them out, then tailing on their flanks. This worked cnough to give Aurclian a point' victory in the first gnat battle near Antioch. It did not work again in the second battle at Elucsa. This time, when the Roman cavalry retreated, they fell victim to an outflanking movement hy the lighter of the numerically superior Palmyran cavalry. and were caught and ridden down by the cataphracts. Unfortunately for the Palmyrans, while this was going on their infantry had been charged and scattered by the Legtones. •rhe cataphracts returning Flown after their pursuit were attacked by the victorious Roman infantry, led we are told by giant Palestinians who felled them from their saddles With huge wocxien clubs. With both cataphracts and infantry gone, there was nothing for the Other cavalry to rally on, so they dispersed.

The remnants were now besieged in Palmyra. When the city was about to fall, Zenobia fled to the Persians on a camel as being faster over long distances than a horse. However, she was caught by pursuers who had taken spare horses, walked in Aurelians' Triumph, the ended her life as a fasionable Roman hostess with a pension and a villa.

Source: Armies and Enemies of Imperial Rome by Phil Baker, page 39 of 147
If you look at the SIZE of the monuments they are reconstructing, repairing or restoring, THEY ARE HUGE!  Who do you think they are for, us?? lol,lol,lol.  Those monuments were HUGE because the entities that they honor are HUGE!  No, they are not huge to metaphorically represent the size of their contribution to mankind, they are HUGE because those entities are physically HUGE!   
Giant Nephilim super soldiers in our military?
The Bible, like many ancient works of literature, speaks of giants. Genesis describes the Nephilim (meaning "those who make others fall down"), and the books of the Pentateuch mention races of giants: the Rephaim and the Anakim. These are not giants of the willowy, slender type—these men were all known as warriors of great strength and skill. Og, the king of Bashan was one of the Rephaim. His height is not recorded, but he was buried in a sarcophagus that measured over 13 feet. Goliath of Gath, whom David slew, was nine and a half feet tall. Ishbi-benob, Saph, and Lahmi were other giants from the time of David's rule.
Are such accounts clear evidence of exaggeration or the influence of legends on Bible writers? Not necessarily. Although no conclusive evidence has been found for the existence of a giant race in Palestine, there are reasons not to dismiss the idea out of hand.
First of all, acromegalic gigantism has produced men of extraordinary size throughout recorded history. In our modern times these have included:
Robert Wadlow
John Rogan
Edouard Beaupre
Vaino Myllyrinne
Don Koehler
Sultan Kosen
Patrick Cotter O'Brien
Gabriel Esevao Monjane
Julius Koch
(1918-1940)
(1865-1905)
(1881-1904)
(1909-1963)
(1925-1981)
(1982-present)
(1750-1806)
(1944-1990)
(1872-1902)

8 feet 11 inches
8 feet 9 inches
8 feet 3 inches
8 feet 2 inches
8 feet 2 inches
8 feet 1 inch
8 feet 1 inch
8 feet ¾ inch


 8 feet
Some of these names may be familiar. I grew up reading about Robert Wadlow in the Guinness Book of World Records. My memory of him was as a fragile-looking giant who required two canes to walk. Others on this list are similar—John Rogan could not walk, and Sultan Kosen also requires the help of two canes.
But not all giants are weakened by their condition—at least not in their youth. Edouard Beaupre weighed over 400 pounds and worked as a professional strongman and wrestler. He would regularly entertain crowds by lifting a 900-pound horse on his shoulders. Vaino Myllyrinne was a soldier in the Finnish defense forces and later a professional wrestler and boxer. Patrick Cotter O'Brien weighed over 460 pounds. In 1826 he grabbed a heckler by the collar, held him at arm's length and shook him.
In the span of a mere 260 years, there have been twelve people with a verified height of more than eight feet. From a purely statistical point of view, that suggests around 140 such people have lived in the past 3000 years—even if we do not allow for the possibility of a genetic anomaly that would increase the height of a given race.
Modern Sudanese may average 6 feet 4 inches; modern Scandinavians are nearly 6 feet 2 inches. Surely it is possible that at some time there existed a race whose average height was close to 7 feet. If so, a case of gigantism in that race could certainly result in an incredibly tall person.
Of course, there is a wealth of anecdotal evidence of the remains of people of much greater stature being found all over the world. Most of this evidence has been ignored by science or has been destroyed before it could be properly analyzed. It should, though, at least allow us to consider the possibility that a race of giants did at one time live somewhere on the earth.
It is interesting that the Bible's most famous giant, Goliath of Gath, is not described as being twenty feet tall (or as living atop a beanstalk). His nine-and-a-half foot height is certainly extraordinary, but not beyond the realm of physical or medical possibility.
As I said, there is no conclusive archaeological evidence of such a race. But huge stone constructions in Palestine are traditionally attributed to the Rephaim giants. In the Iraqi National Museum in Baghdad before the looting, there was a display of three battleaxes that had been found in southern Palestine. I have included a photograph of them below. The heads of these axes weigh more than thirty pounds each. Most archaeologists believe them to be ceremonial weapons—but they draw this conclusion purely based on their size. The axe heads themselves are entirely functional. (The handles are re-creations for display purposes). Below them are photographs of Andre Roussimoff (7'4″ and 500 lbs.) and Eduoard Beaupre.
The possibility must be entertained that these were once weapons in the hands of one of the most feared races of warriors ever to walk to the earth: the giants of Palestine.
Ellen Lloyd – AncientPages.com – The purpose of this article is not to prove or disapprove the existence of giants in the distant past. Many modern people do believe giants once roamed the Earth, although most mainstream scholars will say the existence of ancient giants is doubtful due to lack of their remains.
Instead of debating this issue, we will focus our attention on the Bible that clearly states mighty giants constructed several cities in modern day Syria, Israel and Palestine.
Updated 9/22
I have been warning you that this is much more significant than any of us really understand.  Even those of us who are alert and aware and hearing from GOD.  This is SO MUCH MORE THAN JUST a Temple to a foreign god.  I was one who was focused on calling it what it is the Temple of BAAL, but in truth, the fact that they are pushing PALMYRA is much more significant. I am currently researching that City and let me tell you, it is VERY SIGNIFICANT that this city is being so HIGHLY promoted.  Did you know they even have video games that feature the PALMYRIAN ARMY?? Check it out. I am gathering my thoughts as I gather data.  I will post more on this topic when I have it all collected.  MEANWHILE,  PRAY, PRAY, PRAY.  Not out of FEAR, but out of recognition of the time.  Those who know GOD need not fear.  No matter what comes, we are not going to go through it without GOD.  We need to PRAY for those who are LOST and DECEIVED.  PRAY for the innocent children who must go through this evil time.  Pray for believers to WALK IN FAITH and COURAGE and share the GOOD NEWS of REDEMPTION in CHRIST.  
Updated 9/21 – There are still no more details available about the Arch going up in Washington in 5 days, they are keeping that under their hat or should I say, Turbin?.  Seriously, folks, this is clearly all about Syria.  I mean they come right out and tell you so.  Please check out these two sites, just click the titles.  You will be surprised at what you see.  Look the sites over really closely.  There is a lot of information there, for those with eyes to see.  
A tetrapylon (Greek: τετράπυλον, "four gates" [gates are very significant in the spiritual realm, they allow things in/or out], plural tetrapyla, known in Latin as a "quadrifrons" (literally "four fronts") [in this instance most likely represents the four corners of the earth or four directions, very significant when working magick], is a type of ancient Roman [we know that this is a ROMAN resurrection though they are using ISLAM/MUSLIMS to be their front men] monument of cubic[the cube of Saturn the cube worshiped by Muslims at Mecca] shape, with a gate on each of the four sides: generally it was built on a crossroads.  [The WORLD is at its most significant crossroad in history on every level for everyone nationally and individually]
Restored 3/26/20
It was a type of monument common to the architectural vernacular of classical antiquity. The defining quality of this form is the concept of four gates, with four pillars [represent strength, foundation, support]or other supporting structures placed at the corners marking the divisions between them. A tetrapylon could take the form of a single building or multiple, separate structures. They were built as landmarks at significant crossroads [why are we allowing Muslims to put their mark on our land at our crossroad?  Don't you even wonder how this came about? Don't you even know what this means for us spiritually? MY GOD, PEOPLE!  WAKE UP!] or geographical 'focal points' [very magickal term], as a 'sub-type' of the Roman triumphal arch,[so this is a "sub-type of the Arch going up in Washington, this is another pillar at another gate with another focal point for mulitplying the force of their magick] or simply as decorative and aesthetically pleasing ornamental architecture. As applied to a triumphal arch (e.g., the Mausoleum of the Julii at Glanum, Arch of Janus, Rutupiae), a tetrapylon was effectively a 'doubling' of the original form; with a total of four major arched openings, one on each side of the structure (one pair of openings opposite each other along one axis,[along a line/leyline] and a second pair of openings of equal or lesser prominence perpendicular to the first pair; hence a structure with two barrel vaulted passageways, in the form of a cross – or an X? another symbol for Satan/Saturn).
National Symposium – Exhibit Columbus   –  Columbus, Indiana
Watch the video images on this site and count the number of portals you see.  
I find it very interesting the Tetrapylon is going up in "Columbus", and the Arch of Palmyra is going up in the DISTRICT OF COLUMBIA.  AND Columbia is the Earth Goddess, ISIS.  Not only that, check out this map.  LOOK! You can draw a straight line in the space between Washington, DC and Columbus Indiana.  Not only that you could say google's route between them creates somewhat of an "arch".  It reminds me of the kind of arch that is made when LIGHTNING STRIKES!  Is this SATAN striking at the HEARTLAND OF AMERICA? I BELIEVE IT IS… what do you think?
Heartland is an American term referring to U.S. states that "don't touch an ocean,"[1] whether the Atlantic or Pacific, or to the Midwestern United States.[2] The phrase not only refers to a tangible region but is also a cultural term connoting many ideas and values, such as hard work, rustic small town communities, rural heritage, simplicity, and honesty. Citizens of the Heartland—referred to as simply "Heartlanders"—are often seen as Blue collar.

The states of Colorado, North Dakota, South Dakota, Illinois, Iowa, Kansas, Missouri, Montana, Nebraska, Oklahoma, Wisconsin, and Wyoming are typically associated with "The Heartland"—all states of the former Louisiana territories, known then as New France. However, Indiana, Michigan, and Minnesota are often included, while Idaho, Nevada, and Utah are sometimes included as Heartland states, but this remains a matter of dispute over region
I wonder where else, in the US, they are erecting Arches this coming week.
TO SEE A LOT MORE ON ISIS, COLUMBIA and Washington DC:  CLICK HERE   Shout out to Abovetopsecret.
PRAY – JUST MEANS CALL OUT TO GOD! TURN TO HIM WITH A HUMBLE HEART AND ASK HIM TO SAVE.  BELIEVE IN HIM AND TRUST HIM. HE HEARS YOU. 
Updated 9/20 – They are still not talkin!  No light has been shed on this event at all.  We still don't even know which arch they are bringing. 
Global leaders and the occult meaning of the Victory Arch of the Temple of Ba'al
Renew America
Global leaders are meddling with dark forces:
"In the spiritual realm, it is as if Satan is 'marking' his territory," the pastor said. "And the leaders of the world are gladly doing his bidding – even summonsing his presence and 'blessings.' We are living in extremely prophetic times. The demonic realm is engaged in an unprecedented outpouring, just as the Bible said would happen. We are living in the most prophetic times since the first coming of Jesus Christ." (Carl Gallups)
Update 9/19 
WND

PAGAN ARCH RETURNING TO WASHINGTON AS 'SYMBOL OF PEACE'
I am curious why WND's article states that the ARCh is "Returning" to WASHINGTON.  Was it erected there for the Syria Fest?  I never was able to find out.   They are so secretive.
You know that they did this very thing when they brought the Arch to New York.  They were very secretive, hush-hush, tight-lipped about it.  I understand that they only told a handful of people, evidenced by the size of the group viewing that unveiling.  The majority of the small number of people that were in the audience were people who happened to be in the area at the time for some other purpose.  For this unveiling, they obviously are not worried about the creating energy via the size of the crowd.  Their magic obviously does not need the energy of a crowd.  They are getting their power influx other ways.  Likely from sacrifices and bloodshed.  Someone or many someones are paying a high price.  Due to the time of year, this event is taking place that is certainly safe to assume.  Also, just the fact that they have the support of our Government gives them rights in the spirit.  PLEASE, PEOPLE, PRAY.  PRAY FOR OUR NATION MOST ASSUREDLY.  PRAY FOR THE WORLD WHICH IS FULL OF PEOPLE WHO ARE HOPELESSLY LOST. BUT PRAY ESPECIALLY FOR THOSE WHO WILL BE VICTIMS OF  THESE SICK ENTITIES. PRAY FOR ALL THOSE WHO WILL BE FORCED TO PARTICIPATE IN THEIR RITUALS.  PRAY, THAT GOD HAS HAD ENOUGH AND IS READY TO PUT AN END TO THIS INSANITY! 
Please Visit this Person's Site they've done a really great job:
ARCH OF PALMYRA – ENTRANCE TO TEMPLE OF BAAL COMING TO WASHINGTON, D.C. SEPTEMBER 26
LIVING HIS WORD
We believe Jesus Is The Only Way To Heaven!
DIGITAL ARCHAEOLOGY. ORG.UK/OUR-PURPOSE


Join the IDA for the unveiling of the Triumphal Arch on the National Mall in Washington DC on September 26, 2:30 PM
Update 9/18
By Geri Ungurean
Just the fact that those funding this are staying in the shadows, shows clearly the sheer evil of this endeavor.  Will New Yorkers complain?  That is doubtful. It seems that evil is very much accepted by the general public.
(I totally agree!  There is still no information to be found.  No announcements, no event scheduled.  Anywhere.  Those who have nothing to hide, HIDE NOTHING. SO WHY ALL THE SECRECY?  BECAUSE THEY KNOW THAT WHAT THEY ARE DOING IS EVIL AND IS NOT CONDONED BY THE AMERICAN CITIZENS)
TAKE A LOOK AT WHAT I FOUND TODAY…  I DON'T KNOW IF THE ARCH MOVED TO THIS SIGHT WHEN IT LEFT CITY PARK IN NEW YORK.  I do know that they had originally planned to keep it in place for a week and then move it to another spot in New York.  Were they successful in that goal?  Does anyone know?? They are so secretive.  If you do know or are able to find out, please let me know.
Regardless whether they are carting this Arch around the country for this Program, they are indoctrinating our children with this stuff.  What cities are they taking this to?  
PLEASE VISIT OUR COMPANION CULTURAL HERITAGE EVENT FOR VISION-IMPAIRED VISITORS AT THE NEW YORK PUBLIC LIBRARY
Designing Inclusive Cultural Experiences: Preserving the Past, Exploring the Future
Presented by the Institute for Digital Archeology
Tuesday, September 20, 6:00 PM – 8:30 PM, Andrew Heiskell Braille & Talking Book Library, 40 West 20th St | New York, NY 10011
THE EVENT
This event marks the opening of our new tactile exhibition "the architecture of identity, celebrating history and a shared vision for peace"
Centered around Palmyra's ancient triumphal arch, this exhibition represents the launch of a bigger project in collaboration with the UK's Royal National Institute for the Blind, the USA's National Federation of the Blind, and the New York Public Library to develop and deploy 3D printing technology to help to make architectural cultural heritage — something which is traditionally very hard for those with sight difficulties to experience — more accessible. We aim, also, to draw attention to the extent to which emerging technologies have the power to transform the museum and gallery experience into one which is more welcoming, inclusive, and inspiring for those who cannot see.
A total of seven tactile exhibits complete with braille, large print, and audio exhibition guide will explore the key architectural and decorative features of this ancient structure. The exhibition will travel across the United States in parallel with a sister exhibition in the United Kingdom.
Update 9/17     Here are some thoughts for you to consider.  The first two Locations where they erected this Temple of Baal Triumphal Roman Arch was the two major Financial Cities of the time.  London and New York.
Then next two cities where it was erected were locations of Meetings of  WORLDWIDE Governments were Convening.   Arona and Dubai.
And the next two scheduled locations are the centers for the Rule of Law and Justice.  Washington DC and The Hague.
I propose to you that they are DECLARING THEIR TRIUMPH over all of these!!  THEIR VICTORY!  THE COMPLETION OF THEIR NEW WORLD ORDER! 
VICTORY OVER THE WORLD's FINANCE, GOVERNMENTS, LAWS, and JUSTICE.
Don't believe me just watch.
JUST TO BE CLEAR,  I AM NOT SPREADING FEAR!
We are not to fear.  GOD is in control.  We know the ONE WORLD GOVERNMENT is what is going to happen. That is what the Bible predicts. Sadly though, many of us will be martyred.  God said Pray that ye be found worthy to escape the evil that is coming. That is why I AM ENCOURAGING EVERYONE TO PRAY AND GET CLOSER TO GOD!  HE IS OUR DELIVERER!
Luke 21:36 "Watch ye therefore, and pray always, that ye may be accounted worthy to escape all these things that shall come to pass, and to stand before the Son of man." 
Excerpt Taken From:  Palmyra's Arch of Triumph: Pathway to … and Time Deception Series Volume 1
Update 9/16
MAP TO THE LOCATION OF THE ERECTION OF THE BAAL ARCH, SEPT 26 (Note that it will crown the Goat of Mendes formed by the streets of Washington, DC.)
This next article is old, and the writer was convinced that the rapture would happen in 2016 or 2017. However, the excerpts I have taken from his article and added here are still relevant.  
Do you want to understand the meaning of why they erected the Syrian Baal Arch in New York City?
A recreation of the Palmyra Syrian Arch, a Roman arch destroyed by Isis, goes on display at City hall Park in New York Photograph: Raya Jalabi for the Guardian
Its all in the symbolism. 
What did it mean when a Muslim Imam opened in prayer at the US Congress session?
U.S. House of Representatives Bows to Allah as Muslim Imam Delivers 'Prayer'
BY / ON NOVEMBER 15, 2014 AT 2:30 PM An abomination of sacrilegious proportions was witnessed Friday when the National Cathedral allowed Muslims to hold an within its dwelling.
Sharia Law will be granted to the Muslims through the US Judicial and Legislative Systems.
What did it mean when The Muslims were granted the ability to hold their services at the NATIONAL CATHEDRAL IN WASHINGTON DC?
Muslims hold prayer inside the Washington National Cathedral
The Muslims have been granted Religious Authority in the USA, and this is the reason why Obama has repeatedly stated that… AMERICA IS NOT A CHRISTIAN NATION. 
What did it mean when Barack Obama received his nomination for president on a stage that resembled the Pergamum Altar of Zeus, declared in the Book of Revelation as… The Throne of Satan? Revelation 2:12-13
This was not only a symbol of the man receiving the nomination but also of his plans for America… the Spirit of Antichrist has been given authority over our once beautiful Christian nation. 
WHAT DO YOU THINK IT MEANS THAT THE SYRIAN TEMPLE OF BAAL ARCH WAS ERECTED IN NEW YORK CITY?
Replica of Syrian arch destroyed by Isis unveiled in New York City
T
he arch historically served as the entrance to the 2,000-year-old Temple of Baal.
The 11-tonne arch was placed in the small park directly outside of New York's city hall, in the heart of the financial district. The park is usually occupied by tourists visiting city hall and the nearby World Trade Center memorial and office workers on their lunch breaks. The arch is not roped off, allowing visitors to walk under it and touch it.
Palmyra itself, a former trade hub and major tourist site before the war, was located in central Syria, and its surrounding area was
largely
barren desert. But in New York, the arch is surrounded by ultra-modern skyscrapers and architectural landmarks including One World Trade Center and the Woolworth building.
At the unveiling, deputy mayor Alicia Glen said, the arch "was a symbol that we will not stand for acts of terrorists, we will not stand to have people murdered and thrown out of their countries."
Just two days earlier, there was a bombing in the city's Chelsea neighborhood injuring 29 people. "What could be more appropriate than to have this symbol of freedom in front of City Hall, so close to where we had our own challenges," Glen added. Source
According to the Bible, it was the Prophets of Baal that were responsible for killing the Prophets of Yahweh during the time of Elijah. This means that with this Temple Arch it will unleash a spirit of Persecution against Christians and anything non-Muslim, non-Baal… against all infidels, just as the Koran states. 
And he answered, "I have not troubled Israel, but you and your father's house have, in that you have forsaken the commandments of the 

Lord

 and have followed the Baals.
And he said, "I have been very zealous for the 

Lord

 God of hosts; because the children of Israel have forsaken Your covenant, torn down Your altars, and killed Your prophets with the sword. I alone am left, and they seek to take my life."
WHAT ABOUT THE FACT THAT THIS WAS UNVEILED IN NEW YORK CITY, NOT ONLY THE HEADQUARTERS OF THE UNITED NATIONS BUT ALSO WHILE THEY WERE IN GENERAL SESSION AT THE SAME TIME AND IN THE SAME EXACT LOCATION??? 
WHAT ABOUT THE FACT THAT THE ARCH ORIGINATES IN SYRIA?
AMERICA AND THE WORLD WAS JUST GIVEN TO THE SYRIAN REFUGEES
****************************
Here is your SYRIAN CONNECTION TO…
THE SIXTH TRUMPET
Sixth Trumpet: The Angels from the Euphrates – Revelation 9:13-16
13 Then the sixth angel sounded: And I heard a voice from the four horns of the golden altar which is before God, 14 saying to the sixth angel who had the trumpet, "Release the four angels who are bound at the great river Euphrates." 15 So the four angels, who had been prepared for the hour and day and month and year, were released to kill a third of mankind. 16 Now the number of the army of the horsemen was two hundred million; I heard the number of them.
THE GREAT EUPHRATES RIVER

(LOOK ON THE MAP FOLKS, SELF EXPLICIT)
THE EUPHRATES RIVER BEGINS IN SYRIA
SYRIAN REFUGEES WORLDWIDE… PLANNED ISLAMIC TAKEOVER ORCHESTRATED BY THE NEW WORLD ORDER
They are being EXTREMELY SECRETIVE regarding this event.  I have looked at every event calendar I could find and there is no mention of it anywhere!!  No details to be found regarding what they plan to do.   I am really curious as to whether they are bringing the full size 50 ft version of the Arch to DC.
73rd session of the UN General Assembly (UNGA 73)
September 18 – September 30
The 73rd session of the UN General Assembly (UNGA 73) will open on 18 September 2018.
The first day of the high-level General Debate will be Tuesday, 25 September 2018.
On Monday, 24 September, the UNGA will hold a high-level plenary meeting on global peace.
The plenary will adopt a political declaration negotiated by Member States.
Dates: 18-30 September 2018
Location: New York, NY 
About the event:
On the morning of September 26, 2018, the Columbia Center on Sustainable Investment (CCSI) and the UN Sustainable Development Solutions Network (SDSN), under the guidance of Prof. Jeffrey Sachs, Special Advisor to the UN Secretary-General on the SDGs, and Laurent Fabius, President of the Constitutional Council of the French Republic, will host a conference to discuss the Global Pact for the Environment. The Global Pact for the Environment aims to unify international environmental governance and codify a human right to the environment in international law. More information and registration via the link above.
Organized by:
SDSN, CCSI
Eastern Religion Festival –  WANDERLUST is coming to Washington, DC culminating a tour of very interesting cities.    It is possible that each of these cities is intended to be home to a permanent ARCH OF BAAL, full size.
Toronto, ON – Sep 15, 2018
Amsterdam, Netherlands – Sep 15, 2018
London, UK – Sep 15, 2018 (BAAL Arch has visited)
Milan, Italy – Sep 16, 2018 (BAAL Arch has visited)
Adelaide, Australia – Sep 2018 Dates Unconfirmed
Paris, France – Sep 22, 2018
Philadelphia, PA – Sep 22, 2018  (Philadelphia one of the cities they had hoped to take the BAAL Arch)
Florence, Italy -Sep 23, 2018
Washington, DC – Sep 29, 2018
9/14 – Update
Here are some excerpts from articles that express their original intent for the Temple of BAAL. They state they intend to erect a full life-size (48ft high and 23 ft wide) replica of the TEMPLE OF BAA, and they plan to erect at least 1,000 of these same BAAL ARCHES in cities around the world.  Since the IDA has been very vague and secretive regarding their plans for Washington, DC the 26th of this month.  I am curious which Arch they are erecting in our Capitol.  Is it the smaller version they put up in NY, NY or the full life-size version they had originally planned to erect??  
"A towering arch of an ancient temple in Palmyra, Syria, that has been mostly destroyed by ISIS terrorists will be recreated by a huge 3-D printer and put on display in New York City this spring, officials said on Monday.
The life-size model of the original 2,000-year-old structure, known as the Arch of the Temple of Bel, will stand approximately 48 feet high and 23 feet wide.
It will be one of two constructed in China for exhibition likely in Times Square and London's Trafalgar Square as part of a World Heritage Week event in April 2016, said Roger Michel, executive director for the Institute for Digital Archaeology.
Soon both Times Square and Trafalgar Square will feature replicas of the 50-foot-tall archway marking the entrance to Palmyra's Temple of Bel. The structure was built around 2,000 years ago as a temple to a Mesopotamian god
A plan to exhibit a model of the Temple of Bel — also known as the Temple of Baal — in Times Square or Union Square is awaiting approval from the Mayor's Office, Michel said.
"I'm sure it will turn on issues of traffic flow and security," he told The Post. "I know it's pending."
The institute plans to construct approximately 1,000 such versions of the arch in cities throughout the world."
Read more at http://www.prophecynewswatch.com/article.cfm?recent_news_id=217#g4QVUTPZ2JBHmDs3.99
The reproduction of the Arch of Palmyra, a Roman victory arch that stood as the entrance to a pagan temple for almost 2,000 years, will make an improbable appearance in Washington D.C. and the International Criminal Court in the Hague as a "symbol of Peace and Resilience." 
The IDA's internet announcement of the exhibit describes the reproduction of the arch as their "flagship exhibit," the replica of the Roman Triumphal Arch of Palmyra, will be displayed in Washington D.C. from September 26-30.
The replica arch will then be reassembled in the Hague, the site of the Dutch Parliament and the UN's International Criminal Court. The Hague is described as  the City of Peace and Justice." Hosted by the Centre for Global Heritage and Development, the arch will be displayed adjacent to the ICC for one month beginning October 17. The Internet announcement of the exhibit describes the arch, as a replica of the victory of Roman paganism, as "a symbol of cultural resilience" that will stand as an inspiration to the Netherland's approximately 100,000 Syrian immigrants.  Source:  Israeli News
BBC World Service, Monday, November 14th, 2016
BBC World Service, Monday November 14th 2016
Iraqi government forces say they've recaptured Nimrud – the site of an ancient city south of Mosul. The historical site was overrun by the so-called Islamic State group two years ago. The old city, once the capital of the Assyrian empire, was reportedly completely destroyed by IS last year, an act condemned by the UN as a war crime.
However, The Institute of Digital Archaeology says all may not be lost. The Institute's founder, Roger Michael, explains why the site is so special and why there may be reason for hope.
Here the full recording HERE 
9/13 Update

LOOK AT  WHAT  THE IDA  POSTED  ON 9/11:

"Anyone who doubts that a copy — a recreation — of an important cultural artifact can be at least as powerful as the original"  SO, they are telling you that this ARCH OF BAAL is as POWERFUL as the ORIGINAL.  Are you listening??
Here is the link to the video on youtube if you would like to watch it: 
The IDA's flagship exhibit, the replica of the Triumphal Arch of Palmyra, will be displayed in Washington D.C. from September 26 – 30 2018. The unveiling ceremony, attended by members of the United States Congressional Committee on Foreign Affairs, will be held at 2:30 PM on September 26th.
Woe, Woe, Woe –  Coming to our National Capitol, endorsed by our Congress.  This bodes so much evil for America.
WAKE UP AMERICA!  THIS IS A WARNING… THOU SHALT NOT MAKE FOR YOURSELF ANY GRAVEN IMAGE.
BRINGING THIS PAGAN TEMPLE TO OUR COUNTRY WILL BRING DOWN AMERICA!  GOD WILL NOT TURN A BLIND EYE AND HE WILL NOT BE MOCKED.  CHOOSE YOU THIS DAY WHOM YOU WILL SERVE.
IF YOU BRING THE SYMBOL OF THIS PAGAN GOD INTO OUR LAND GOD WILL GIVE YOU OVER TO BAAL TO SERVE HIM!!
(You have to ask yourself if all the wars and displacement and demolition of these pagan idols and structures so that they can be rebuilt anew or restored and 'refreshed' (reanimated), is just the Elite's way of reappropriating and repositioning the world for their New World Order.   And don't kid yourself or let yourself be fooled.  THIS destruction and displacement to restructure is not just happening in Syria.  THIS IS WORLDWIDE.)
Ashura for the year 2018 is celebrated/ observed on sundown of September 20 ending at sundown on Friday, September 21.
Ashura falls on the 10th day of the 1st month of Muharram on the Islamic lunar calendar. For Shia Muslims, the day commemorates the death of Husayn ibn Ali and for Sunni Muslims, the day relates to when Moses and his followers fled Egypt and where saved by God separating the Red Sea.
Related Events | Smithsonian Folklife Festival 
festival.si.edu/visit/2018/related-events/smithsonian
September 22, 2018–January 13, 2019 … 2700 F St. NW, Washington, D.C. … The Smithsonian Folklife Festival joins Roadwork in celebrating its fortieth anniversary ….Syrian Armenian chef Andranig Kilislian will join the team at Maydān for a … https://festival.si.edu/visit/2018/related-events/smithsonian 
Video Restored 3/26/20 

Come and learn why Syrians are renowned in the Middle East for their expert art, craftwork, and culinary traditions passed down for generations. Explore each region of Syria, the home of many ethnic and religious groups, through authentic experiences organized and presented by Syrian-Americans, Syrian immigrants, and recently-arrived Syrian refugees, and their friends.
The Syrian Cultural House hopes that this year's Syria Fest will leave you with a newfound appreciation for the centuries-long history and culture of Syria and it's diverse and hardworking people who are a part of the American fabric and the DC area.
Took Place on Sep 02, 11:00 PM –
Freedom Plaza, Washington, D.C. 20004
Following last year's successful Syria Fest, the largest ever Syrian cultural festival in the United States, the Syrian Cultural House invites you to join us again for the second annual Syria Fest, a free family-friendly outdoors cultural festival showcasing the beauty of Syria and its people. The Syria Fest will take place on September 2 from 11:00 am to 7:00 pm.
From the markets of Damascus, the music of Aleppo, the sweets of Hama, and more, the Syria Fest will bring Syrian heritage, culture, and cuisine to the heart of our nation's capital. The Syria Fest aims to bring friends and family of many different backgrounds together over delectable food, nostalgic musical and dance performances, enlightening cultural discussions, and engaging games and activities for kids. Come to learn why Syrians are renowned in the Middle East for their expert art, craftwork, and culinary traditions passed down for generations. Explore each region of Syria, the home of many ethnic and religious groups, through authentic experiences organized and presented by Syrian-Americans, Syrian immigrants, and recently-arrived Syrian refugees.
The Syrian Cultural House hopes that this year's Syria Fest will leave you with a newfound appreciation for the centuries-long history and culture of Syria and it's diverse and hardworking people who are a part of the American fabric and the DC area.
You may also like the following events from Syrian Cultural House:
Also check out other Festivals in Washington, Arts Events in Washington, Cooking Events in Washington.
Syria Fest Washington, DC Facebook
www.facebook.com/SyriaFest/
Did you know the Arch of BAAL was scheduled to be in Washington DC, last year?? and it is scheduled to be there this year?   I don't know if it actually was erected last year at the Syria Fest, or if it is actually supposed to be at the Syria Fest this year.  However, the IDA (Institue for Digital Archeology)  DOES PLAN to bring the BAAL ARCH to Washington, DC, on September 26.  They don't state whether it will be the mini version or the full size.  Let's keep watch and pray!
Please Click to View the Series:   TEMPLE OF BAAL
TEMPLE OF BAAL Continued – UPDATES
PLEASE CLICK TO CONTINUE:  Part 17   TEMPLE OF BAAL – WAKE UP, OPEN YOUR EYES