I am constantly appalled at the number of US Citizens who have taken to HINDU/BUDDIST practices so completely they are light incense to the idols of the gods and goddesses of those religions in their own homes.  Sometimes in theiir own bedrooms.  FOOLS and idiots!  They have no idea what they are doing.  They used to say that they were not practicing the HINDU/BUDDHIST religion, they just saw Yoga as a physical discipline; excercise and diet.  Let me tell you first of all there is no way to separate yoga from religion. Ask any HINDU or BUDDIST.  NOW, there is no way for anyone to fool themselves, when you bring and idol into your home or yoga studio and burn insence to it, then go into your yoga routine where you bow to the god/goddess in all the same positions as practitioners of those religions… you are worshipping their gods/goddesses.  You aren't kidding anyone.
If you want to know the truth about YOGA/EASTERN RELIGION  I have multiple articles on the topic, here are a few:
I know that people just don't want to believe that human sacrifice is real.  Certainly not Buddhim/Hinduism, the people of the religion that brings peace, enlightenment and fulfillment could not possibly commit such heinous acts…  You have been duped!
'Holy men' blamed for inciting dozens of deaths
Through the doorway, in the distance, colourfully dressed women are bent double, toiling in the fields, their faces worn and wrinkled from the sun, their hands cracked from digging at the dry earth from dawn until dusk
It's an intolerable life in the remote village of Barha, a squalid collection of mud-bricked farmers' dwellings in the heart of the impoverished province of Khurja, Uttar Pradesh. This corner of rural India is a lawless place of superstitions and deep prejudice. The region, known for its sugarcane, is a tortuous eight-hour drive from Delhi and a lifetime away from the 21st century.
Sumitra Bushan, 43, who lived in Barha for most of her life, certainly thought she was cursed. Her husband had long abandoned her, leaving her with debts and a life of servitude in the sugarcane fields. Her sons, Satbir, 27, and Sanjay, 23, were regarded as layabouts. Life was bad but then the nightmares and terrifying visions of Kali allegedly began, not just for Sumitra but her entire family.
She consulted a tantrik, a travelling 'holy man' who came to the village occasionally, dispensing advice and putrid medicines from the rusty amulets around his neck.
His guidance to Sumitra was to slaughter a chicken at the entrance to her home and offer the blood and remains to the goddess. She did so but the nightmares continued and she began waking up screaming in the heat of the night and returned to the priest. 'For the sake of your family,' he told her, 'you must sacrifice another, a boy from your village.'
Ten days ago Sumitra and her two sons crept to their neighbour's home and abducted three-year-old Aakash Singh as he slept. They dragged him into their home and the eldest son performed a puja ceremony, reciting a mantra and waving incense. Sumitra smeared sandalwood paste and globules of ghee over the terrified child's body. The two men then used a knife to slice off the child's nose, ears and hands before laying him, bleeding, in front of Kali's image.
In the morning Sumitra told villagers she had found Aakash's body outside her house. But they attacked and beat her sons who allegedly confessed. 'I killed the boy so my mother could be safe,' Sanjay screamed. All three are now in prison, having escaped lynch mob justice. The tantrik has yet to be found.
Police in Khurja say dozens of sacrifices have been made over the past six months. Last month, in a village near Barha, a woman hacked her neighbour's three-year-old to death after a tantrik promised unlimited riches. In another case, a couple desperate for a son had a six-year-old kidnapped and then, as the tantrik chanted mantras, mutilated the child. The woman completed the ritual by washing in the child's blood.
'It's because of blind superstitions and rampant illiteracy that this woman sacrificed this boy,' said Khurja police officer AK Singh. 'It's happened before and will happen again but there is little we can do to stop it. In most situations it's an open and shut case. It isn't difficult to elicit confessions – normally the villagers or the families of the victims do that for us. This has been going on for centuries; these people are living in the dark ages.'
According to an unofficial tally by the local newspaper, there have been 28 human sacrifices in western Uttar Pradesh in the last four months. Four tantrik priests have been jailed and scores of others forced to flee.
The killings have focused attention on Tantrism, an amalgam of mystical practices that grew out of Hinduism. Tantrism also has adherents among Buddhists and Muslims and, increasingly, in the West, where it is associated with yoga or sexual techniques. It has millions of followers across India, where it originated between the fifth and ninth centuries. Tantrik priests are consulted on everything from marital to bowel problems.
Many blame the turn to the occult on the increasing economic gap between rural and urban India, in particular the spiralling debts of cotton and tobacco farmers, linked with high costs of hybrid seed and pesticides, that has led to record numbers of farmers committing suicide.
According to Sanal Edamaruku, president of the Indian Rationalist Association, human sacrifice affects most of northern India. 'Modern India is home to hundreds of millions who can't read or write, but who often seek refuge from life's realities through astrology or the magical arts of shamans. Unfortunately these people focus their horrific attention on society's weaker members, mainly women and children who are easier to handle and kidnap.'
Tantriks caught up in the crackdown in Uttar Pradesh say their reputation is being destroyed by an insane minority. 'Human sacrifices have been made in this region since time immemorial,' says Prashant, a tantrik who runs a small 'practice' from his concrete shell of a home on the outskirts of Bulandshahr. 'People come to me with all sorts of ailments. I recommend simply pujas and very rarely animal sacrifices.'
In her squalid home Ritu Singh rocks back and forth, beating her chest in grief. She has been mourning since the day her son Aakash's body was discovered in a sewer outside Sumitra Bushan's home. Her husband, Rajbir, said: 'We expect them to be jailed or fined but they won't spend longer than a few years in prison for what they have done. They were my neighbours, they ate in our house. The Tantrik who made them do this has disappeared, they will never find him.'
spacer
A new law is aimed at stopping self-styled holy men from murdering and mutilating children to gain divine favour, but widespread ignorance and blind devotion still fuel the ritualistic killings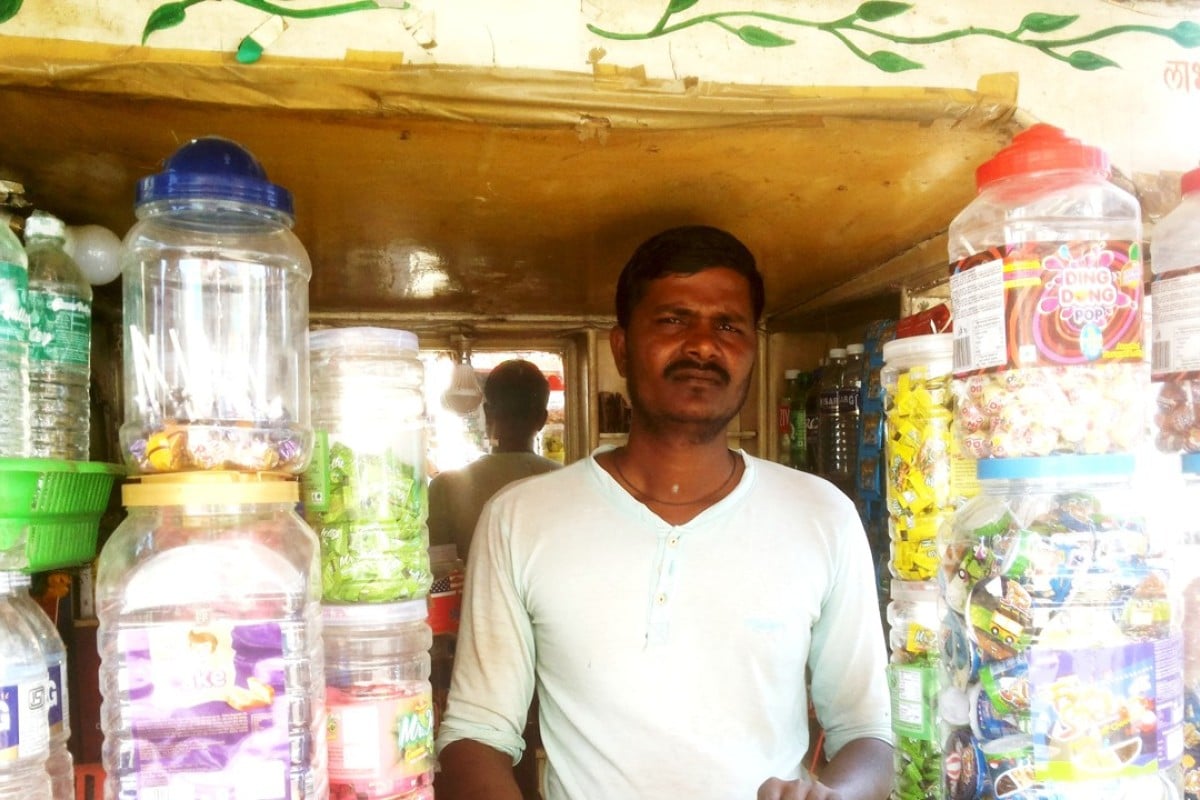 Hiramand Mule's son Rupesh, 9, was killed in a ritual sacrifice. Photo: Handout
After her six-year-old son went missing in January 2017, Sarika Ingole, a homemaker, scoured every corner of her village in the western Indian state of Maharashtra to find him. But when Krishna, a class one student, was found 18 hours later, she chose not to look at him. The boy's mutilated corpse was left only a few metres from his home. His clothes were torn, his belongings missing and his eyes had dozens of marks from needle piercings under them.
"They had slit his throat with a knife," says Gouraba, 45, Krishna's father. "And they had made a hole in the back of his head, as if with a drill machine. When we found him, we couldn't believe someone could put a child through such barbarity – more astoundingly, why."
Police investigations found the crime had been perpetrated at the behest of Krishna's 40-year-old paternal aunt, Draupadi Pol. The accused, a tantric or holy man, had kidnapped the boy from near his home, stuffed a cloth ball into his mouth, bundled him into a jute sack, and a few hours later, slit his throat. The murder was an act of human sacrifice – committed to gain the favour of a goddess.
A few feet from the boy's body, investigators found ingredients gathered for the sacrifice ritual – human skulls, bones, pictures of the Hindu goddess Kali, sandalwood paste, incense sticks and ghee. They also found a pit dug in the ground, where Krishna was to be buried.
"Draupadi had been digging that hole for a week before my son went missing," says Sarika, 30, "When I asked her what it was for, she said she was building a temple. I'd helped her with the work. I didn't know I was digging my own son's grave."
In the four years since the publication of this first criminal legislation against human sacrifice in the country, Maharashtra has registered at least seven murders connected to the practice. Eight other attempted sacrifices were prevented in this time.
According to Sanal Edamaruku, president of the Indian Rationalist Association, India is home to thousands of practising tantrics who perform the ritual.
"There's not one Indian state devoid of the crime. The practice is most prevalent in the eastern part of India – West Bengal, Jharkhand, east Bihar, and eastern Uttar Pradesh – where rituals connected with sacrifice were integral to culture in medieval times. Meanwhile, southern India, which has seen more reformist movements against superstitions over centuries, has a lesser frequency."
The National Crime Records Bureau (NCRB), an office attached to the Indian Ministry of Home Affairs, started collecting data on human sacrifices in 2014, and reported that 51 such murders took place in 14 of 29 Indian states between 2014 and 2016. The highest numbers were reported in Uttar Pradesh (nine) and Jharkhand (eight), while Maharashtra, during the same period, reported two.
India: no country for Muslims
"The figures are understated," says Hamid Dabholkar, son of rationalist Narendra Dabholkar, a pivotal figure behind the legislation in Maharashtra who was assassinated in 2013. "Between the end of 2013 and 2016, our organisation, Maharashtra Andhashraddha Nirmoolan Samiti (Mans) has recorded at least seven murders related to human sacrifices – as opposed to two recorded by NCRB. This discrepancy is because the motive of sacrifice hardly gets identified unless the murders are perpetrated under extremely suspicious circumstances, say, internal organs of the victim were removed, or ritual ingredients were found on the spot."
According to Avinash Patil, president of Mans, recent cases in Maharashtra were perpetrated to gain the favour of goddesses to bring peace upon homes, locate hidden treasures, ward off the "evil eye", and facilitate "showers of gold". He says the practice of human sacrifices is largely associated with the cult of Tantrism, a spiritual movement which originated in medieval India. Abraham Eraly, in his 2011 book, The First Spring: The Golden Age of India, noted that the cult enjoyed its widest popularity in 8th century India, and many tantric rites involved blood sacrifice, human sacrifice and ritual cannibalism.
"Human flesh is considered as maha prasad (great oblation) in Tantrism. Kalika-purana, a Tantric text of from the 12th century, has an entire chapter on the procedure of human sacrifice, and it states that the sacrifice of a man would keep the goddess Kali pleased for a thousand years. Devotees subject their victims to a lingering death, preferably under prolonged torture, as by this means the flesh, blood and bones are believed to be properly confected."
Deepak Sarma, professor of religious studies at Case Western Reserve University, Cleveland, however, argues that references to human sacrifices were made much earlier in the Rigveda, one of the oldest Indian religious texts, likely penned between 1,500 and 1,000BC. "In the Rigveda, a cosmic man is sacrificed in order to generate the universe, and the social and caste systems," he says, adding that contemporary tantrics who perpetrate human sacrifices, are "antinomian elements", and have misinterpreted the tantric tradition.
antinomian

– 

ăn″tĭ-nō′mē-ən –

noun
A proponent of the doctrine of antinomianism.

One who denies the fixed meaning or universal applicability of moral law.

In theology, one who maintains that Christians are freed from the moral law as set forth in the Old Testament by the new dispensation of grace as set forth in the gospel; an opponent of legalism in morals.
"
Tantrism involves initiations
that concern the purification of body through body mortifications, internalisations, and mantras. 
There are accounts of

tantrics who eat human flesh

,
 but this is mainly at funeral pyres – no one is killed in the process.
Contemporary tantrics, who kill people as sacrifice,
are psychopaths, who are portraying themselves incorrectly," he says.
Why the world needs to sit up and take notice of

India's war on meat
Patil says victims of human sacrifices are usually poor, disabled or belong to weaker sections of society – people whose disappearances are more likely to go unnoticed. There is a preference for boys, aged three to 12 years; but tantrics also take girls who have just started menstruating, and children who were breech babies.
"
When these children are sacrificed, they're usually mutilated

.
Their ears and nose are sliced off to unleash streams of blood,
 which is 
collected in vessels and offered to the goddess

.
 In Krishna's case, 
a hole was drilled into his head to facilitate this.
 Several 
tantrics are known to drink the blood during the ritual

,
 which is
usually performed on new moon and full moon nights
.
There have also been cases where the accused 

savoured mutilated organs after boiling them.

"
Although Maharashtra is the only Indian state with legislation against human sacrifices, advocate Ranjana Gavande, who has been working to create awareness against the practice in Maharashtra's Sangamner district, says the prevalence of the crime continues. Many are unaware of the relatively new law.
She says awareness is poor among law enforcement agencies, and often such cases are met with "shoddy" investigations.
Gavande cites the example of Rupesh Mule, 9, who was killed as a sacrifice in November 2014, by a tantric wanting to locate a hidden treasure in Maharashtra. Nine people were accused of kidnapping the boy, removing his kidneys and heart and dismembering him. Tantrics allegedly consumed the organs while chanting mantras. A court acquitted the group in 2017.
"I saw my son's body," says Rupesh's father, Hiramand, 32, "They had carved his organs out with the precision of surgeons and butchers. But despite the evidence, including confessions of the accused, the case didn't stand in court. All these people, who killed my child, were let off. I've filed an appeal in a higher court, but I'm not very hopeful."
Tibetans to Sri Lankans, India welcomed all. Why not Rohingya Muslims?
Gavande says that although the state government enacted the law four years ago, there are no specialised police officers to implement the legislation, and the on-ground staff lacks knowledge about religious beliefs and resultant crimes.
"Policemen don't know that superstition oriented crimes like human sacrifices exist, and are reluctant to probe the angle when we insist. In Mule's case, for example, they assumed the case was that of organ theft until activists intervened, and the accused confessed."
Hamid says: "Although India is now a rapidly emerging global economy, religious faith makes for a large portion of its social fabric. To exploit these beliefs, thousands of tantrics and self-styled 'godmen' have set up shop in every city and village here. These men claim to possess supernatural powers, convince others that they are divine reincarnates through bogus magic tricks, and dupe scores of people every day. In fact, public faith in these con men is so strong that resistance has grave repercussions – my father was shot dead."
Mumbai-based sociologist Nandini Sardesai agrees. "Blind adherence to godmen is integral to our cultural ethos. We've been brought up to think they're messengers of God, and crimes perpetrated by them hence have religious sanction. That's why, even today, people all over India fall for their claims, and end up as victims or criminals."
Edamaruku of the National Science Centre in New Delhi, says the prevalence of human sacrifices in India can be gauged from the number of missing children in the country.
According to the latest figures from the National Crime Records Bureau, 55,625 minors were missing in India as of 2016, 34,814 of whom were girls. "Many of the missing children are eventually found murdered and mutilated. And the crime goes beyond the urban-rural, rich-poor and literate-illiterate divides. All sections of society are known to have participated in the practice.
"The solution here isn't just education; it's building of scientific temper," he said.
Even as activists clamour to raise awareness about human sacrifices, Satish Mathur, the director general of police for Maharashtra, feels there is little need for change.
"The Indian law makes it extremely clear that murder is a crime. Why do you need to specifically tell people that murders for sacrifice are illegal too?"
Hamid, however, feels there's a "pressing need" for a national anti-black magic law, modelled on the Maharashtra Act, as evidence for such heinous crimes mounts.
Sanjay Bhondve, 35, lost his son Sanjot, 4, to human sacrifice in Maharashtra in 2016. Bhondve says that on the morning of April 4, Sanjot left with a neighbour, Sachin Pingle, 38, and never returned. Pingle is on trial for the boy's murder.
"We found my son's body in the water tanker in his home. Before my boy was murdered, Pingle would keep telling me that sacrificing children could please gods, that it could make homes prosper, and bless generations of the devotee's family with the riches of a king. I never believed he was serious – not until I got down into that tank, and discovered my son's lifeless body." ■
DO YOU OWN RESEARCH, you can easily pull up doezens of reports of human sacrifice in India with just one google search!   When I first looked into it articles about it were hard to find.  Not because the sacrifices did not exist.  But, today, human sacrifices are increasing rapidly.  Demons are becoming more powerful through all the worship they are receiving. 
Eastern thought and Eastern religion is rampant in our country supported and encouraged by the government, especially since Obama took office.  So many schools, universities, businesses, and medical facilities have made some type of yoga mandatory for their employees/students.  Now, you will find a Buddha statue in the homes of those who practice these Hindu teachings.  IDOLATRY to the MAX!  People need to wake up and realize that they have opened their homes to demons and they are living under their influence.  Worshipping demons/spirits/gods/goddesses ALWAYS LEADS TO  death/sodomy/pedophilia/human sacrifice/and cannibalism!!
spacer
Hellenism — the ancient religion built around Zeus and his pantheon — was finally recognized by the Greek government in 2017. Here's what its followers have been up to.
In April 1976, Augoustinos Kantiotes, a monk from the Greek Orthodox Christian sect in Mount Athos, penned a furious article "concerning the genitals of the pagan God and the shame of Athens." Particularly incensed by a replica of the sea god Poseidon residing erect and nude at the entrance of the Ministry of Education, the article inspired another monk, Nestor Tsoukalas to drive across Greece to take a sledgehammer to the statue. Guards were unable to control the single-minded frenzy of an Orthodox hell-bent on protecting Christianity, and Tsoukalas succeeded in smashing the statue's extremities.
"Why do they have the idol in the Ministry?" one reporter asked the monk after police apprehended him. "Do they want to restore paganism, as did Julian the Apostate?"
"No," the monk retorted. "They will not succeed in that."
Vlassis Rassias was a teenager when Kantiotes' act of vandalism hit the Greek news. "I got a hint that Christianity was something bad," he told me. Now the Secretary General of the Supreme Council of Ethnikoi Hellenes (commonly referred to by its Greek acronym, YSEE), he is one of 2,000 active followers of the polytheistic Hellenistic religion Kantiotes was so afraid of.
Ancient Greek religion, on which modern Hellenism is based, was a thousand-year polytheistic theology void of clergies and sacred texts. Devotees believed in 12 anthropomorphic gods — you remember Aphrodite, Hades, and their peers — under one almighty god, Zeus. Their sacred home was Mount Olympus. While proselytizing was completely unknown, atheism was rare, as the only requirement for ancient Greeks was to believe in the gods' existence, and to perform in ritual ceremonies and sacrifices. They did not concentrate on the afterlife, as they did not believe in rewards or punishments post-mortem. Instead, they believed their dues would come in this life, and the relationship between deities and mortals was based on gift-giving. (As in giving the gods what they demanded in order to receive gifts and favor and avoid the wrath of the gods.)
"Hellenism is something that supports life, and puts order to the beauty," Vlassis said. Aside from having an encyclopedic knowledge of paganism, his duties as Secretary General include publicly representing the YSEE and coordinating any legal administration. "We have a different perception of gods. Whatever gives power to life is god, even death is god. Our perception of god is not an immortal person that does things to us." He delivered this last statement with a chuckle.  (In truth, that is EXACTLY what they believe.  The KNEW there were entities that ruled over territories and nature and that they had to be appeased to avoid their wrath.  They had to provide whatever the gods demanded even human sacrifice.)
As Christianity began to forcefully spread in Greece, Hellenism declined. Historians point to the reign of Constantine II in the fourth century A.D. when Christianity became spread more earnestly, and prosecution against paganism began. In the centuries that followed, pagans were effectively wiped out from Greece. Today, Christian Orthodoxy is the official religion of Greece, enshrined in the constitution, and a fundamental aspect of Greek identity. But still, many of the things that are a source of pride and national identity for modern Greeks (Many the peoples of the world were unfortuntely forced to convert. So they were not truly converted.  They did not become Christians in their hearts.  They held on to their pagan roots. Many did truly find the truth of Jesus Christ over time…but many of their children and grandchildren are rediscovering their pagan roots.) — architecture, literature, the Olympics, theater, philosophy, the very concept of democracy — comes from the ancient Greeks. But until this past April, worshippers were still, in a sense, discriminated against.
The YSEE was unofficially established in 1997, and is often presented as a totally modern representation of ancient Hellenism. While there were brief moments when Hellenistic believers did publicly worship, for most of Greece's history the Orthodox Church has had a firm hold on the country's religious identity. A firmly entrenched conservative and traditional institution, it has furiously spoken out against any pagans. "We are the modern point of a very long chain," Yannis, a fifty-three year old geologist and modern Hellenistic believer told me. "There was no interruption to our religion, it just wasn't on the surface of society. It went underground."  (Just as Satan and his followers just went underground, ROME never died, it just went underground in the Vatican. The HOLY ROMAN CHURCH still secretly worships demons/Fallen Angels/the Roman gods and goddesses, they just changed their names to saints names.  The Romans highjacked Christianity.)
Now, they are firmly — or at least, legally — in Greek society. On April 9, 2017, the Greek government officially recognized YSEE as a "known" religion, granting it the right to openly worship, build temples, perform marriages and funerals, and write their religious beliefs on birth certificates. It's a huge legal step for the religion — until recently, the Greek state did not recognize any non-monotheistic religion, and even non-Orthodox Christian religions, like Protestantism and Roman Catholicism faced challenges. Greek Muslims are still struggling to build a mosque.
Modern Hellenism is often presented in today's Greece as a kooky revival of an ancient, dead religion. "Careful they don't cut out your liver for sacrifice," a friend half-jokingly told me before I went to the YSEE headquarters. The group has faced some harassment — in the 1990s, a bookstore was burned to the ground — and for years, the Greek Church decried the "satanic" modern Hellenists. But with their new legal status, they feel more secure, though some members do face problems in Greek society.
"A lot of people call me names, or they don't accept me as their friend. Sometimes my teachers call me crazy," fourteen year-old Aristomohos told me. His whole family are worshippers, and he loves his community, but navigating through high school with any small variation from "normal" is bound to be a difficult experience. Still, Aristomohos said, summoning the wisdom of his ancestors, "that's their problem, not mine."
Hellenism also remains a misunderstood religion. A few years ago, Greek fascists wildly missed the mark and were drawn to what they perceived as YSEE's nationalistic identity. "We don't have the place to embrace totalitarianism," Vlassis said. "The philosophy of ancient Greek religion is not compatible with fascism," Peter, a 21-year-old economics student told me. He came to the YSEE headquarters to change the religion on his birth certificate — not because he necessarily believes in Hellenism, but because he doesn't want to support the Christian Orthodoxy, which he views as "hypocritical… All the Nazis and nationalists I've seen are Christian."
This year, the Winter Solstice coincided with the Birth of Hercules on December 23. I was invited to witness the two-for-one ceremony, which celebrated both Hercules' birthday and the slow return to summer. It took place in YSEE's state-recognized temple, housed in a nondescript apartment building in Athens' Museo neighborhood. Inside, a very normal-looking group of devotees milled about: a bodybuilder in a button-down, a lipsticked grandmother, a ten year-old girl adjusting her flower crown. The wine flowed freely, amongst plates of savory cheese pies and cookies. The curtains were decorated with garlands and crimson bows. "These are winter decorations," Vlassis corrected me when I mentioned something about Christmas. "Jesus was born in the Middle East, he didn't have wreaths."
For the uninitiated, the visual packed less weight inside a low-ceilinged apartment then it would in the Temple of Delphi. As Vlassis pointed out, this was a religion created under the burning Mediterranean sun — fluorescent lights don't do it justice. "Of course we prefer to worship in nature, but this is our temple. It's more practical here," Sophia, a 22-year-old priestess and criminology student told me. There are no plans to relocate — they're just happy to finally have a state-recognized temple.
The half-hour long ceremony started with a slow procession of 12 priests dressed in flowing white ("the color that brings us closest to the gods," Vlassis explained), carrying bouquets of flowers, dried nuts, and dishes of wine — all offerings for Hercules. One priest plucked away at a small harp; another beat a drum. The offerings were placed on one side of the altar, as a priestess unsheathed a knife and pointed it in four directions, while reciting a prayer in ancient Greek. "Onmyomen," she said solemnly. (The phrase translates to "we promise before the eyes of god.") In a synchronized movement, all the devotees placed their right hand on their heart and loudly repeated after her, nearly everyone in the room looking radiantly happy.  (So, they swore an oath to their diety.)
It felt a bit like stumbling upon a group of happily tipsy, open-minded people in really nice robes. There was a profound respect for other religions and cultures. Many of the members I met came to Hellenism through other "ethnic" religions — Vlassis studied Mayan and Native American religions, and Yannis practiced Chinese martial arts. Since they don't believe in proselytizing, they couldn't care less about indoctrinating new members. Instead, curious people show up voluntarily to the ceremonies, like an Australian PhD student interested in paganism who came for the Birth of Hercules.
But while the religion's legalized status and increasingly mainstream place in society means there are more people peripherally connected to YSEE, paid membership dues have actually gone down in the last few years. Like every other facet of Greek society, the economic crisis has also touched the Hellenists, making it impossible for some devotees to afford the 60 euro yearly fee to become official members — though in the true spirit of Hellenism (and Greek hospitality), they don't turn anyone away at the door.
"It's a very beautiful feeling, being connected to the deities, to the aura of the world. We worship the order of the universe, and the world itself makes you feel like you are part of something bigger," Sophia told me after the ceremony. She had taken off her priestess outfit, and was back in jeans. "It makes me want to be a better person. With Christianity I always felt like it was humans first and then the world. Now I feel like I am truly a part of this Earth."
Correction: A previous version of this story misstated the role of Nestor Tsoukalas.
spacer
Homeless woman killed in 'ritual Satanist ceremony' in Greece
June 17, 2014 at 11:38 p.m. CDT
The scene was gruesome: Police said Papageorgiou
killed the woman with a rock before writing the number "666" and drawing an upside-down cross on a bench in his own blood.
He was
identified by a fingerprint on the rock and references to the killing on social media.
The suspect allegedly told police that he had intended to carry out another ritual killing on Saturday, the day of the summer solstice, but it was unclear whether or not he had selected a prospective victim, the AP reported.
The Times called the murder

a "human sacrifice."
Unrelated, but chilling: In a recent book, "The Parthenon Enigma," a New York University professor argues that Athens's oft-visited temple celebrates human sacrifice.
spacer
Archaeologists working in the Roman Forum have
unearthed
 a large marble head of what is believed to be the

god Dionysius

.
The 2,000-year-old head would have belonged to a large statue and dates to the Roman imperial period.
 The paleness of the white marble, which was
 probably
 once brightly painted, obscures the fact that in Roman times
Dionysius (or Bacchus, as he is often known)
was a pretty colorful guy. 
This

god of dance, wine, religious ecstasy, and fertility

was very much the bad boy of the pantheon of gods.
 T
he cult of Bacchus scandalized ancient Romans so much that in the second century B.C. it was outlawed and his followers were persecuted.
So who was Dionysius? In Greek drama, Bacchus is described as an effeminate, long-haired, and dangerous deity who brought Asian magical practices into Greece. It's his effeminacy that allowed scientists to identify the head. A statement issued by the Archaeological Park of the Colosseum noted that, "The face [of the statue head] is refined and gracious, young and feminine. All of which makes us think this could be a depiction of Dionysos."
The primary and most popular outlet for the worship of Dionysius was the cult of Bacchus

,
 o
ne of a number of secretive mystery cults
 that migrated to and subsequently became popular in ancient Rome. 
Adherents of Bacchus, or Bacchants,

were known for throwing wild parties that involved dancing, religious ecstasy, possession, and loud music.
The ancient musicologist Aristides Quintilianus described the appeal of the cult in the following way, "
This is the purpose of Bacchic initiation, that the depressive anxiety of less educated people…be cleared away

through the melodies and dances of the ritual in a joyful and playful way

.
" It's an insulting way to describe people, but easy to see how celebrations to honor the god of wine could turn out to be joyful and raucous affairs. But in 186 B.C. things came to a head,
scandalous information about their practices came to light
, the cult of Bacchus was investigated, and participants were strictly punished. 
(music and dance, as well as alcohol and drugs play a huge role in pagan worship.  They serve to bring the participants to and ecstatic trancelike state where they are easily manipulated into sadistic murderous acts and perverted sexual activities, as well as cannibalism and vampirism.  This is because the drugs and violence opens them up to demonic oppression and/or possession.)
According to the Roman historian Livy (who wrote a century and a half after the events), sex and alcohol were just the gateway drugs. The Bacchants, he charged, had brought to Rome a whole host of more serious crimes. Livy's soap opera-style story of the discovery of their true nature and the subsequent investigation describes how at celebrations, after everyone had had their fill of wine and bawdy conversations, people would indulge in every kind of pleasure depending on where their interests lay. Gay sex between men is prominently mentioned in these descriptions, but Livy wasn't talking just about the orgies.  "From the same place, too," he writes, "proceeded poison and secret murders, so that in some cases, not even the bodies could be found for burial. Many of their audacious deeds were brought about by treachery, but most of them by force; it served to conceal the violence, that, on account of the loud shouting, and the noise of drums and cymbals, none of the cries uttered by the persons suffering violence or murder could be heard abroad." The music, he says, which could be heard throughout Rome in the evenings was intended to drown out the noise of people being murdered.
Livy goes on to tell us a story at the end of which a former Bacchant describes the secret mysteries of Bacchus to the consul of Rome. Apparently men who would not submit to sexual congress with other men were sacrificed to the gods, and the cult initiated people only under the age of 20 in order to win converts who were still young and impressionable. Comparatively pedestrian crimes like perjury and forging wills were also being committed. When these crimes were discovered the Roman senate agreed, without debate, to take action: many practitioners were killed or imprisoned, places of worship were destroyed, and a decree was leveled against the cult of Bacchus. This decree, passed in 186 and known as the senatus consultum de Bacchanalibus, restricted gatherings to a mere handful of attendees who could meet only with a special license. Apparently many members committed suicide to avoid punishment.
spacer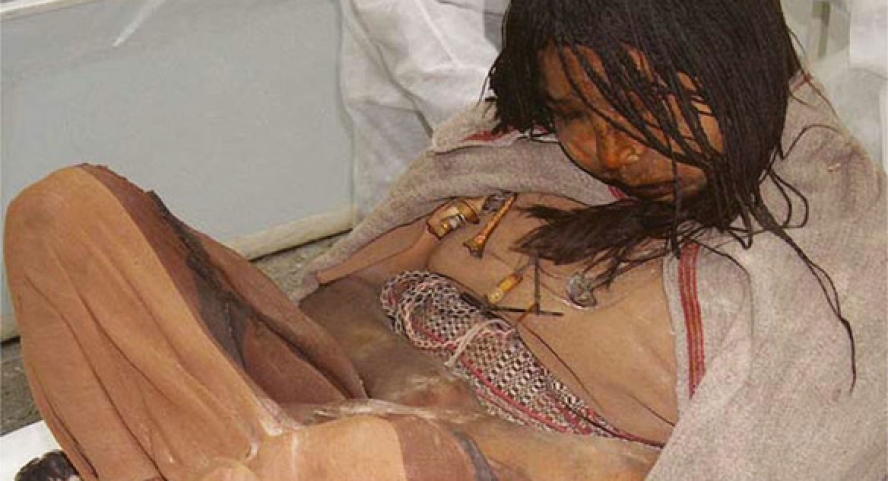 Faithful Catholics who had been scandalised by the presence of pagan idols during the Amazon Synod received another blow when Pope Francis apologised for their removal from the Church at Traspontina. However, only a little research reveals that the images which featured prominently during the Synod are traditionally associated with child sacrifice. Archaeologists have been documenting a ritual known as the Capacocha ceremony, in which children were killed to appease the Earth-Mother, Pachamama, for decades. And to make matters worse, the disturbing first-fruits of the Holy Father's open support for paganism are becoming evident: it became known today that Italian Bishops are promulgating prayers to Pachamama.
For more information on the Amazon Synod and the Pachamama ritual view my posts: 
The Capacocha Ritual
One well-documented case of the Capacocha ceremony was discovered in 1999 by archaeologists at the summit of the Llullaillaco volcano in Argentina. The bodies of a seven-year-old boy, a six-year-old girl and a 15-year-old, known as 'the Maiden' had been perfectly preserved due to a unique combination of naturally-occurring phenomena. Various experts have used the children's bodies to study aspects of biology and anthropology; they unanimously identified Pachamama as the intended recipient of the Capacocha sacrifice."[1]
A different article[2] describes how boys being sacrificed were given maize beer or chicha, then strangled or hit on the head before burial. It also quotes an account from 1621 which explains how coca leaves were stuffed into children's mouths to simultaneously drug and suffocate them. Coca leaves were found by the archaeologists inside the Maiden's cheek, providing further evidence that the children were sacrificed.
The

Apochates Ritual
On a side note, there is another ceremony[3] related to Pachamama that should be of interest to faithful Catholics. In the Apochates ritual, a hole is often dug in the ground, into which are placed food, leaves or stones, which are offerings for "Mother." Before planting, devotees ask permission from Pachamama, since they will be hurting her with the gardening tools.
As other have noted, the first Friday is a particularly sacred day in this cult.
It is easy to spot the connections between this Apochates ceremony and the tree-planting ritual which took place in the Vatican gardens before the Amazon synod. The date of that ceremony was October 4th, ostensibly the feast of St Francis of Assisi. While poor St Francis has been endlessly co-opted by green Catholics as a figurehead for sacred environmentalism, that day was the first Friday; that is, the most sacred day of the month for devotees of Pachamama!
Visitors to Peru can take part in traditional Pachamama ceremonies[4], in order to 'release what is no longer working', 'change a negative situation' 'or to simply honour Mother Earth. We can only wonder for what intention the Vatican's tree-planting ceremony was offered.
Tourist Attraction
Although the Fathers went to great pains to play down the significance of Pachamama during the Synod, the link between Pachamama and child-sacrifice is no secret in South America. For example, the website of a Peruvian hotel invites visitors to observe the remains of a young girl who was sacrificed to Pachamama during the 15th Century. Tourists can view "Juanita", an Incan maiden, who was specially selected for what the website tells us "was then considered a privilege: to be sacrificed as thanks to the Pachamama or Mother Earth."
The young girl's body was discovered in the Ampato volcano by archaeologists, having been sacrificed in a Capacocha ritual "to calm the Pachamama, avoid natural catastrophes and guarantee a good harvest."[5]
Yes, Vatican spokesmen, including the Pope himself, have assured us again and again that the idol of Pachamama is not pagan and is merely a symbol of life. They failed to explain that in order to maintain this 'life', the goddess demanded the death of many of her subjects, including innocent children.
Animals and humans are still being sacrificed
In recent times, animal-rights activists have been up in arms over the ritual killings of animals being committed to appease Pachamama. A 2015 article[6] from the Latin American Herald Tribune describes a cult whose members mix Pachamama worship with satanism and who were regularly sacrificing animals in Bolivia, in an area known as "the Devil's Curve".
The rituals were performed on Tuesdays and Fridays during February and August at an altar made from a huge rock. The four-meter rock is located near a market where animals, such as rabbits, chickens, dogs and cats, were specifically supplied for sacrifices. According to the report;
"The animals are wrapped in cloths and stabbed, buried alive or strangled … Animals are forced to drink alcohol before being sacrificed and about 50 people participate in the rituals …
Police destroyed an altar at the site bearing the inscription "Tio Lucifer" (Uncle Lucifer) three years ago following the discovery of a human body nearby. Investigators suspected that the body may have been linked to the Satanic cult.
Supposed Satanic groups mix Indian beliefs about animal sacrifices, especially of llamas, to Pachamama (Mother Earth) to bring about prosperity and produce good harvests with other ideas." [Emphasis added]
Interestingly, scholars have documented 16th and 17th century Capacocha rituals which included prayers to Pachamama and human sacrifice as taking place during August and April.
Pope Francis' denunciation of the symbolic act of throwing Pachamama idols into the Tiber River becomes even more sinister, given his penchant for globalists and his commitment to protecting the environment at all costs. Population controllers are eager to expand modern-day child sacrifice – abortion on demand – in South America. The Pope's open support for Pachamama as well as the restaffing of the Pontifical John Paul II Institute with immoral lecturers will make their job much easier.
It will be interesting to see how papal apologists react to this latest outrage that the Holy Father has inflicted upon the Church. Defending an idol on cultural grounds, (however flimsily), is one thing; public worship of an idol that demands child-sacrifice is something else entirely.
[Note: I am indebted to Veronica@BeGreatSaints for some of this information. Please follow her if you are active on Twitter!]spacer
If you are not familiar with the Pachamama Synod and/or you have not seen my series  on the topic, check it out:
The bodies of two members of the Italian heavy metal band BEASTS OF SATAN, who were allegedly killed six years ago in a satanic sacrifice, were uncovered in a two-meter deep grave (Photo#1, Photo#2, Photo#3) in a wood in northern Italy, according to Reuters.19-year-old Chiara Marino and 16-year-old Fabio Tollis (Photo#1, Photo#2) were last seen in January 1998 leaving a pizzeria with other members of their group. 

Four of the band members have been arrested for murdering the pair for a human sacrifice.

 "It is a crime with a level of

cruelty and savagery, with an intent to cause extreme pain through ritual activity,

that I have never seen before in my career," chief investigating magistrate Antonio Pizzi told Reuters on Monday."There was  and at the end of that  Chiara and  Fabio  were killed." 

a very specific ritual with very specific rites

 Italian media said witness statements showed Marino and Tollis died during a cocaine-fuelled ritual where Marino, a petite brunette, was 

killed under a full moon by knife plunged into her heart.

 Tollis, the lead singer of the band, was killed with a hammer blow to the head when he realized the other band members were going ahead with Marino's murder and tried to stop it. The deaths have horrified Catholic Italy, home of Vatican City, with pages of newspapers given over to descriptions of the black candles and goats' skulls decorating Marino's bedroom and witness statements of sexual violence
Tracy Wilkinson 
THE BALTIMORE SUN
MILAN, Italy – The remains were unearthed just north of here, from a six-foot pit of dirt and bones. The alleged killers called themselves the Beasts of Satan.
A 27-year-old named Andrea Volpe led investigators to the wooded site where he and his accomplices allegedly beat and stabbed two teenage victims, then buried their bodies in what officials describe as a ritualistic human sacrifice.
The deeds attributed to Volpe and those accused with him have shocked and riveted Italians increasingly terrified about the purported growth of satanic cults in this Roman Catholic country.
The Beasts of Satan case, whose first defendants go on trial Feb. 21, represents one of a handful of gruesome crimes that priests and worried parents point to as proof of a troubled, amoral young generation turning away from God and toward the occult and, in the extreme, devil worship.
Still, the Vatican is sufficiently concerned to offer special training for priests and novices this spring. A two-month course at Rome's Regina Apostolorum, a prestigious pontifical university, will lecture on the history, theology and sociology of Satanism and black magic, and the healing power of exorcism.
"There is a growing interest in satanic cults among youth today," said Carlo Climati, who is teaching the course. "They hear it in music; they find it on the Internet. Ten years ago when young people wanted to find out about Satanism, it was difficult. Now it's very easy."
Climati said priests are asking for help in understanding and detecting the malady and combating it, after having been flooded with entreaties from suspicious parents.
"It would be a big mistake to see the devil everywhere. There is no reason to panic," said Climati, who has written extensively on the alienation of youth. "What we are teaching is how to know the language of Satanism, how to identify where [the phenomenon] is, and where it is not."
Under Pope John Paul II, the church teaches that the devil is a real and dangerous presence in society. Furthermore, the devil is very much enshrined in popular Italian culture. Exorcisms are performed routinely in Italy, by priests and with the Vatican's blessing.
The Italian research institute Eurispes has identified 650 "satanic organizations" in Italy, most of them in the northern Lombardy region that includes Milan.
Volpe, in a bid for leniency, has turned state's evidence. He and seven others, all under 30, will be tried for the murder of three of their friends and for forcing the suicide of a fourth.
By his own testimony and a chilling diary he kept, portions of which were leaked to the Italian news media, Volpe and his girlfriend, Elisabetta Ballarin, lured his former girlfriend Mariangela Pezzotta, 27, to a remote chalet last January. High on drugs and alcohol, the pair shot Pezzotta in the face, then buried her, still alive, in a shallow grave. (Another accomplice later arrived and finished her off with a shovel.)
Police eventually arrested Volpe in Pezzotta's murder. That's when he agreed to take investigators to the woods near the town of Busto Arsizio, just north of Milan, where two other victims were buried.
Last summer, forensic archaeologists and police, guided by Volpe, found the bodies of Fabio Tollis, 16, and Chiara Marino, 19. One-time members of the band Beasts of Satan, the two had been missing since 1998, when they were last seen leaving a bar in Milan.
Tollis was a singer in the band. He apparently sealed his demise when his loyalties to the group came into question, investigators say. One report said the group killed Marino because she had come to personify the Virgin Mary.
Lurid details of the case filled newspapers and TV reports – Volpe's penchant for snakes and the number 666, and Marino's use of black candles and goat skulls to decorate her bedroom.
Investigators now believe that Volpe and his accomplices used a knife and spade to repeatedly beat and stab the two until they died, then buried them in a six-foot hole that would have taken a long time to dig.
Even though the graves and human remains were six years old, the forensic archaeologists were able to find the knife, bits of a broken spade, cloth and leather, and, with the skeletons intact, they could match the tattered clothing and pinpoint the many wounds in the bones.
The physical evidence in the case may be strong. But figuring out what was in the minds of the suspects, whether it was a pact with the devil or something more mundane, may take a lot more doing.      The Los Angeles Times is a Tribune Publishing newspaper.
I am sure you are nearing your limit for this kind of material.  However, it is important that you stay with me.  It is just one more post.  But, you need to see it all.  
If you missed part one here is the link: