How aware are you of what is going on today?  Does the only news you get come from the network "News" broadcast?  If so, you probably missed all that is shared here.  I hope you will take it very seriously.  Pay close attention to the details in each article or video.  Watch especially for references related to water.
The world around us is morphing at warp speed.  None of this is happening by accident, but most of the world is oblivious.  The ruling elite as directed by the Fallen Angels who are returning to earth is being geo-engineered to meet their requirements.  This is happening on a global scale and in every area of life.
Today we will look specifically on their plan to recreate the maritime world of the ancients.  Humanity is much more easily controlled when they are all located near shorelines.  The further inland civilization gets the greater the buffer zone around them becomes.  It is hard to live inland though.  Water is essential to life and supplies are hard to come by without access.  Most humans today have no clue to live off the land.
spacer
If you have not seen the following posts, I suggest you check them out.  They are even more relevent today than when I fist posted them.
spacer
spacer
spacer
Breathing fire: US Marine experimentation and the rise of Sea Dragon
The US Marine Corps (USMC) is one of the most combat capable forces in the world and has been extensively deployed in warzones for the last two decades. While Marine units are still deployed in the Middle East and elsewhere to fight Islamic extremists, the risk of state-based conflict means the corps is going back to its expeditionary roots and experimenting for a deadlier type of war.
State-based conflict refers to what most people intuitively perceive as "war"; fighting either between two states, or between a state and a rebel group that challenges it. The UCDP defines an armed state-based conflict as: "An armed conflict is a contested incompatibility that concerns government and/or territory where the use of armed force between two parties, of which at least one is the government of a state, results in at least 25 battle-related deaths in one calendar year"  Source
Conflicts since the end of the Cold War have predominantly focused on fighting asymmetric forces, an era defined by the US's 'Global War on Terrorism' and the prolonged wars in Iraq and Afghanistan. But as countries such as Russia and China increasingly use military force and challenge the West, the US is preparing its forces to face an enemy that is far better equipped and resourced than the militant groups it has spent nearly twenty years fighting.
"This next fight will likely be very different than what we have experienced over the last two decades," General Robert Neller, Commandant of the Marine Corps, wrote earlier this year. "The potential for great power conflict means we will be contested in every domain."
The USMC is attempting to meet this threat head on and in 2016 articulated a new Marine Corps Operating Concept (MOC) to prepare for a potential peer-on-peer confrontation. The MOC has two purposes: to set out how the USMC intends to "operate, fight and win" in 2025 and beyond, and to shape its actions as it develops the capabilities and capacity of the future force.
Key areas for the USMC and Marine Corps Force 2025 (MCF 2025) are a return to sea-based operations that are expeditionary in nature (along with associated logistics challenges), operating in contested and denied environments, and evolving the corps' principal Marine Air-Ground Task Force (MAGTF) structure.
Experimenting with new technology
To achieve this, the USMC is also eyeing a host of new and improved technologies including packable drones, ground robots, electronic warfare and cyber assets, and new forward basing concepts.
Informing this future force work is a series of real-world experiments, known as Sea Dragon 2025, which is being run by the Marine Corps Warfighting Laboratory (MCWL). "Sea Dragon 2025 institutionalises our campaign of learning process and will blend innovative ideas, concepts, continuous and iterative wargaming, and deliberate experimentation to refine the Marine Corps of the future," Neller said.
"Sea Dragon 2025 will blend innovative ideas, concepts, continuous and iterative wargaming."
These experiments will span several phases over a number of years, with the first phase concentrating on the future makeup of the USMC infantry battalion. This phase has already successfully concluded and has informed several radical changes to how a battalion is organised and equipped, including a new 12-man squad configuration. Every marine will also be armed with the new M27 Infantry Automatic Rifle (Heckler and Koch HK416) with suppressor and advanced optics.
Other improvements for squads include new communications equipment to provide better links for close-air support or long-range fires, as well as to improve general situational awareness. As part of efforts to increase a Marine commander's understanding of their surroundings, each squad will also receive a quadcopter that is able to be carried in a backpack and give real-time aerial video feeds when required.
Now the Sea Dragon 2025 experimentation initiative has rolled into its second phase, which is a three-year long campaign that concentrates on hybrid logistics, operations in the information environment (OIE) and expeditionary advanced base operations (EABO).
Experimenting with hybrid logistics
As the military transforms for the next conflict with a hybrid force of manned and unmanned systems, now is the time to transform supply chains and logistics capabilities to keep pace with the speed of conflict and sustain maritime advantage. Source
For future logistics, the USMC has determined that it must adopt a "hybrid" approach – a mix of legacy and evolving capabilities – to expeditionary operations that leverages new unmanned/autonomous systems, additive manufacturing and "smart" logistics information technologies. This will support a widely distributed force in a so-called anti-access/area denial (A2-AD) environment, where movement is limited in both the air and in the littorals as stated in the MOC.
Two live-force experiments have been carried out in 2018 in support of phase two's hybrid logistics doctrinal development, including the large-scale MAGTF war games known as Integrated Training Exercise 3-18 in California, and the well-documented Ex Trident Juncture in Norway in October and November.
"For future logistics, the USMC has determined that it must adopt a "hybrid" approach to expeditionary operations."
Other exercises have taken place to experiment with tactical-to-strategic logistics in contested environments, as well as medical support.
This year will see the warfighting lab focus on operations in the information environment (OIE), utilising previous work on MCF 2025 and the USMC's IE Ops Concept of Employment that was released in 2017.
"This approach to Marine Corps operations in the information will significantly impact future MAGTF operations across all domains. Therefore, experimentation to assess and evolve this nascent organisation and its associated concepts is critical," said a USMC statement.
Marines and sailors with I Marine Expeditionary Force Information Group (I MIG) – formerly I MEF Headquarters Group – will be the primary experimentation force for the OIE phase (operations in the information environment) (OIE)   of Sea Dragon, although it is expected that all USMC units will take part in some capacity. An assessment conference to inform and support combat capability development and future experimentation will take place at the end of 2019.
Concentrating on the electronic domain
USMC MIGs are a relatively new construct, which bring together cyber, communications, signals intelligence and electronic warfare into one command.
"I MIG will provide Marine Corps commanders with the ability to more fully integrate information warfare capabilities into their plans," said Brigadier General Roberta Shea, former commander of I MHG. "We will be able to degrade and detract from our enemy's ability to access their own networks while also defending our commanders' ability to manoeuvre in the information environment."
Less is known about the EABO, which is another new fighting concept being put forward by the USMC and is expected to be part of future Sea Dragon experimentation.
It calls for "difficult to target" forward basing infrastructure that will enable marines to operate within range of enemy artillery and rocket fire. This is seen as particularly important in future conflicts with Russia and China developing even longer-range artillery, as well as other state and non-state actors possessing ballistic missiles.
Experimentation and live-force testing of EABO is expected around the FY20 timeframe.
Other potential areas for experimentation at the latter part of the decade include preparing the USMC for dense urban operations, which is likely to define future conflict. All in all, it is hoped that the Marine Corps' current and near-future experimentation, such as Sea Dragon, along with its new operating concepts, will ultimately give it the edge if it has to face an advanced foe in the not-too-distant future.
spacer
The Marine Corps' Okinawa-based expeditionary unit has changed its logo from a bald eagle over an anchor to a dragon…
spacer

The Marine Corps' Okinawa-based expeditionary unit has changed its logo from a bald eagle over an anchor to a dragon emerging from water to chow down on an enemy's skull.
The 31st Marine Expeditionary Unit unveiled its new insignia on Oct. 26 — designed by Pfc. Luis Marcial and Lance Cpl. Alexis Betances — who were commended for their creativity by the unit's commanding officer, Col. Robert Brodie.
The "design symbolizes strength and power that instills confidence in our allies and partners while striking fear in our enemy's hearts," Brodie said in a statement.
There's, uh, a lot going on here:  31st MEU
Admittedly, when I got the press release from the MEU, I thought it was a joke. Even an unnamed Task & Purpose staffer was incredulous, writing, "what in the name of God is this?"
Well, that is a fantastic question!
According to the press release, the sea dragon "pays homage" to the Corps' Asian partners, while the trident illustrates the MEU's amphibious nature. And best of all, the "skull tucked inside the dragon's mouth reinforces Defense Secretary James Mattis' focus on lethality."
spacer
Hunter Warrior
The Hunter Warrior Experiment showed how lightly-armed units can dominate large coastal regions, not by landing on the beaches, but by leaping over them in V-22s, spreading out and operating deep inside enemy territory. They used hand-held Apple Newton computers to send out hard-to-detect digital bursts to call in long-range, precision firepower from ships, choppers, fighters and other military assets.
spacer
Description
The Bell Boeing V–22 Osprey is an American multi-mission, tiltrotor military aircraft with both vertical takeoff and landing and short takeoff and landing capabilities. It is designed to combine the functionality of a conventional helicopter with the long-range, high-speed cruise performance of a turboprop aircraft. Wikipedia
Unit cost: 71,300,000–71,300,000 USD (2005)
First flight: March 19, 1989
Museum of Engineering and Technology, Krakow
spacer
Bell
Textron
Headquartered in Fort Worth, Texas – as a wholly-owned subsidiary of Textron Inc.,
– we have strategic locations around the globe.
Bell Textron
Wikipedia
Bell Textron Inc. is an American aerospace manufacturer headquartered in
Fort Worth, Texas. A subsidiary of Textron, Bell manufactures military rotorcraft 
Aircraft manufacturer in Grand Prairie, Texas
BAAL – BEL – BELL – HELLS BELLS
spacer
Boeing History, Family Crest & Coats of Arms
HouseofNames

From the Celtic land of Wales came the name of Boeing. The 
Welsh name Boeing is a patronymic surname created from the Welsh personal name Owen, or Owein
.
Owen is a masculine name of Welsh origin, meaning "noble-born" and "young warrior." It is the Anglicized version of the Welsh name Owain—a form of Eugene which comes from the Greek word eugenēs, meaning "well-born." Owen is also thought to have Celtic roots, with the Gaelic spelling of Eoghan meaning "born of yew" or "youth."  Source
  In Boeings current Logo we see the Vector, we see the Delta symbol circling the earth. For more information on these symbols see my post on the Mars Mission
spacer
This experiment tested the tactical concept of squads acting as independent elements on the dispersed battlefield. To do this, a communications system allowed the squads to talk to their headquarters elements at distances of 100 miles.This type of radio did not exist, so we took existing palm-top computers, tied them into a digital radio and built a communication infrastructure of towers in the desert. The result was a communication system that was a "surrogate" and allowed us to see if squads could act as independent units on the dispersed battlefield.
In October 1995, Gen. Charles C. Krulak's foresight led to the creation of the Commandant's Warfighting Laboratory and a program called Sea Dragon, conceived to test and implement new innovations. The Commandant of the Marine Corps' vision for the 21st century warrior became visible to the rest of the world 01 March 1997 when the first of three Advanced Warfighting Experiments (AWE), Hunter Warrior, began in Southern California. The AWE is not a field exercise or a technical or operational test; it is an experiment.
The Hunter Warrior experiment was designed to examine three specific areas. Each encompasses numerous objectives and experiments.
The first objective area covers tactical operations on the dispersed, noncontiguous battlefield. How small units perform against a numerically superior force on a battlefield that has no front, flank or rear areas, is a key component of this objective.
The second area is command, control, communications, computers, and intelligence, and the single battle concept. Creating and using a shared, digital communications network will be crucial in many different areas. Experiments in C4I examined the digital network and information-sharing.
The third objective is enhancing fire support and improving targeting. To dominate the broad, dispersed battlefield of the future, effective and efficient use of all indirect fires is absolutely necessary.
This experiment evaluated the ability of sea-based forces to operate successfully on a digital and extended battlefieldusing these new concepts and technologies. These concepts and technologies are intended to result in additional capabilities to the core competencies that already exist.
The Special Purpose Marine Air-Ground Task Force (Experimental), known as SPMAGTF(X),is the force conducting the Hunter Warrior experiment. The SPMAGTF(X), manned by about 2,000 Marines, is composed of: a command element; a ground combat element (Battalion Landing Team, 3rd Battalion, 4th Marines); an aviation combat element (Marine Medium Helicopter Squadron-364 (Rein)); and a combat service support element (CSS Enterprise).
During the experiment, the units simulated sea-based operations. The command element was located in an experimental combat operations center at Marine Corps Base Camp Pendleton, Calif., as a surrogate for a command center at sea. The majority of the ground, and all of the air combat elements, were also stationed there, as if on ships, Harris said. Marines were inserted by air into Marine Air-Ground Combat Center, Twentynine Palms, Calif., more than 100 miles away.
Once on the ground, units conducted sequenced, force-on-force engagements to test the new concepts and technologies. Many of the advancements, such as laser range finder binoculars, unmanned aerial vehicles, palm-sized computers, and hand-held digital radios, meant the Marines had to adapt to a new era in communication.
The "Hunter-Warrior AWE" was one phase of Sea Dragon. It was the culminating experiment of the Hunter-Warrior phase (Phase I) of the Commandant's Warfighting Laboratory's (CWL's) Five-Year Plan to evaluate new tactics, techniques, procedures and technologies. Sea Dragon examined the use of these technologies when combined, for improved tactics, techniques, and procedures to provide revolutionary improvements to the command and control process.
Hunter Warrior was a large-scale, force-on-force field experiment that lasted for 12 days. It involved 7,000 Marines and took place on a battlefield that covered more than 4,000 square kilometers. Hunter Warrior tested a hypothesis: "Can we significantly extend the area of influence of modest sized forward-afloat and early arriving forces and also increase their effectiveness within that larger area of influence?" Hunter Warrior examined how technologies and tactical innovations can be used to make forward-afloat Marine Expeditionary Units (MEU) more effective. A MEU is made up of a battalion landing team (BLT) supported by an aviation combat element (ACE) and a combat service support element (CSSE).
The OPFOR was a mechanized, conventional force of 4,500 Marines. This force was armed with current Marine equipment and weapons.
Special Purpose Marine Air Ground Task Force Experimental (SPMAGTF (X)). SPMAGTF (X) served as the friendly force. The SPMAGTF (X) mission was to locate important enemy targets (large concentrations of troops and equipment) and engage them with long-range, precision fires in order to shape the battlefield for the introduction of heavier, follow-on forces. The SPMAGTF (X) squads conducted long range contact patrols (LRCPs) to find enemy positions and report enemy activities. These squads, led by their sergeants, were inserted onto the battlefield at night and carried out missions that usually last three to five days.
Results showed the Marine Corps could indeed provide forward afloat forces with the capability to have an operational effect on a capable, larger foe through the introduction of new technologies, training and organization. The SPMAGTF (X) did have a significant operational effect on its opponent. This did not happen solely because of technology, however. Marines squads are capable of independent action on the dispersed, non-contiguous battlefield. The squads performed superbly. An example of their performance is evident is how difficult they were to find on the battlefield. In total, 28 squads were placed on the battlefield during the 12-day experiment. Only one was detected and attacked by the OPFOR. These squads did this while carrying 100-pound packs and remaining on the battlefield for three to five days at a time. The lesson in this is that junior Marines are capable at performing at a much higher standard than currently expected of them. Marines can be trained to operate independently in squads and, in future combat, whether in cities or on the open battlefield, it will be necessary for squads to be dispersed in a much greater fashion than in the past.
spacer
Urban Warrior
Over the course of 18 months, the Urban Warrior experiment looked into nearly every facet of military operations in the urban environment to make streetwise Marines for the Corps of the future. It was part two of the Corps' five-year experimentation plan known as Sea Dragon. Commandant of the Marine Corps Gen. Charles C. Krulak conceived the Sea Dragon process to enhance naval and joint expeditionary capabilities, develop military innovation while meeting current commitments, and insert science and technology into the warfighters' arsenal.
In the past 50 years, a variety of factors have forced millions of people into the world's cities. According to a 1996 report from the World Health Organization, more than 60 percent of the world's population is expected to live in cities by 2025, compared to less than 45 percent in 1995. Nearly 70 percent of these cities are near the coastline or surrounding areas, known as "littorals," within reach of sea-based forces.
noun. : a coastal region. especially : the shore zone between high tide and low tide points.Jun 21, 2023
Description
The littoral zone or nearshore is the part of a sea, lake, or river that is close to the shore. In coastal ecology, the littoral zone includes the intertidal zone extending from the high water mark, to coastal areas that are permanently submerged — known as the foreshore — and the terms are often used interchangeably. Wikipedia
littoral
Encyclopedia of World Geography
THE WORD LITTORAL comes from the Latin root littus, or "seashore."
The littoral zone of a lake or ocean refers to the shallow waters closest to shore.
What does littus mean in Latin?
WordHippo
seacoast noun. maritima, litus, ora, marituma · seaboard noun.
litus, ora · littoral noun. litus · waterfront noun. litus · coastland noun. litus.
Lituus – Wikipedia
The word lituus originally meant a curved augural staff, or a curved war-trumpet
in the ancient Latin language. This Latin word continued in use through the 18th century as an
alternative to the vernacular names of various musical instruments.
spacer
Exactly how Marines can best fight amidst innocent bystanders among the concrete jungles and steel-girded cliffs of the world is what Urban Warrior is all about. While diverse city populations continue to grow and well-financed "bad guys" can easily purchase lethal weapons systems and high-end off-the-shelf technologies at a whim, the warfighting lab's job is to find out what Marines need to accomplish their mission. Marine Corps strategists do this by testing theories in realistic situations.
Urban Warrior began where the lab's first experiment, Hunter Warrior, ended in 1997 in Southern California. The first advanced warfighting experiment sought to increase a Marine expeditionary unit's area of influence and effectiveness. It looked at enhancing methods and technologies needed for Marines to shape the battlefield and reach their objective in low- to mid-intensity conflicts against a larger force.
The Urban Warrior experiment is the Corps' attempt to catch up with the wave of urbanization. Current tactics, doctrine, and technology emphasize the traditional, open battlefield with limited time spent in the "city." In contrast, of the 20 occasions where U.S. forces were committed abroad since 1977, 55 percent involved cities or combined rural and urban areas. Some major challenges facing the lab in Urban Warrior deal with the dense urban infrastructure, which limits mobility, communications, and fire support, and makes location identification extremely difficult.
Like a science lab, the warfighting lab develops hypotheses, sets up experiments, collects data, analyzes results, and reports findings. But military experimentation rides the line between science and art with the inclusion of factors normally unwanted in controlled experiments; knowing the impact of human factors like creativity, innovation, and unpredictability is essential to military operations.
The Urban Warrior experiment takes on a world that has become increasingly urban and dangerous. Most of the urban littoral will contain the classic ingredients for conflict. There will be social, cultural, religious, and tribal strife. Many areas will deal with scarce resources, including food and shelter. As populations grow and resources shrink, the chances for conflict will naturally rise. The World Health Organization says we can expect overcrowding and increased homelessness, accompanied by increases in alcohol and drug abuse, violence and aggression, and suicide.
Easy-to-acquire, user-friendly technology will add fuel to the fire. Lethal weapon systems today can be acquired by anyone with the money to buy them and the will to use them, according to Lasswell. Added to this is the explosion of easy-to-use advanced technologies. Urban Warrior acknowledges up front that potential foes, even in the most poverty-stricken parts of the world, may have very dangerous weapons, backed by very good technologies to use against Marines.
One of the keys to training Marines for the "concrete jungle" is teaching them to deal with the many events that can occur in a short period of time in an urban environment, what Commandant of the Marine Corps Gen. Charles C. Krulak calls the "Three Block War." Recent operations called on Marines to be peacekeepers in some situations, offer humanitarian assistance in others, and, just a few blocks away, engage in combat with well-armed enemies.
The lab looked at five broad areas:
– Combat in cities;
– Seabasing (keeping support out of harm's way);
– Fires and targeting (using air and naval gunfire support with civilians nearby, where collateral damage can affect non-combatant support);
– Aviation (getting Marines in and out, providing fire support, and avoiding bad guys with hand-held missiles); and
– Information, communication, and associated technologies.
Urban Warrior will examine these areas in two phases.
Phase I ran through Fall 1998, mainly on the East Coast, where the lab had already begun developing the tactics, techniques, and procedures (TTPs), specialized capabilities, and technologies required for urban operations. This included three limited objective experiments (LOEs) and a culminating phase experiment. The LOEs are building blocks for the culminating experiments. For example, the first LOE, which took place at Marine Corps Base Camp Lejeune, N.C., explored the effectiveness of ground combat tactics in the urban environment, as well as specific gear such as a hand-held camera that "looks around corners." It also looked at new ways to resupply forces from a sea base, and improve aviation help for combat and combat service support operations. The second LOE, in April 1998 at Camp Lejeune, focused on penetrating the city via air, surface, and subsurface means; seizing objectives, engaging the enemy, and sustaining the force. That sustainment includes medical support and evacuation. Using extensive information operations, LOE-3 tested isolating and influencing the enemy and non-combatants in the city early in June 1998.
The culminating phase experiment explored the combined effectiveness of the three LOEs by integrating them in a series of experiments resulting in taking control of the objective city. (always the ultimate goal – CONTROL) As Urban Warrior moved to the West Coast for Phase II, the lab further refined its Phase I findings. It also experimented with the new and improved enhanced combat operations center (ECOC); the first evolution proved promising during the Hunter Warrior experiment.
The Marines initially proposed staging Urban Warrior inside San Francisco's Presidio, a United Nations Biosphere. The exercise was to include five ships, 6,000 sailors and marines, fighter jets, helicopters, and four days of simulated combat. But the National Park Service, which oversees much of the land earmarked for the exercise, turned down the Marines' request for a permit to conduct the exercise because of environmental and safety concerns.
During the urban combat phase of Operation Urban Warrior, US Marines took cover and moved out in Oakland, Calif., 16 March 1999. The urban combat phase was designed to prepare Marines for the type of conflict they may encounter during 21st century battles in foregin lands. More than 6,000 Marines on land and stationed on ships off the northern California coast took part in the operation. The US Navy and Marine Corps "Urban Warriors" sailed, hovercrafted, and humveed themselves into the San Francisco Bay Area March 15-21.
Friends of the Sea Otter (FSO) strongly opposed the Department of Navy's proposed Urban Warrior Advanced Warfighting Experiment planned for Monterey on March 13, 1999. Based upon FSO's review of the Navy's Environmental Assessment (EA), the Navy failed to adequately address the impacts that this exercise will have on the southern sea otter. The southern sea otter is listed as a threatened species under the federal Endangered Species Act. The Navy failed to prepare a biological assessment as required by the ESA when a listed species may be impacted by a federal agency's proposed project. The southern sea otter's 11 percent population decline in the last three years places the otter precariously close to being reclassified as "endangered." Any activity that may have potential effects on sea otters needs to be thoroughly reviewed with the U.S. Fish and Wildlife Service as required by the ESA.
In spite of weeks of organized protests by local activists, a few city council members, and the birth of the Coalition Against Urban Warrior-as well as a takeover of the Oakland mayor's City Hall office by a group of local high school students, which resulted in about 20 arrests-the exercises commenced as scheduled. The Marines held a week-long military warfest in the Oakland area, which included some 14 waves of hovercraft landings, 40 aircraft overflights, and the detonation of 60 "flashbang" grenades and 24,000 rounds of extremely loud machine gun fire.
spacer
Combined Joint Task Force Operation Inherent Resolve
Combined Joint Task Force Operation Inherent Resolve continues to work by, with and through regional partners to militarily defeat the Islamic State of Iraq and Syria, or ISIS, in order to enable whole-of-coalition governmental actions to increase regional stability.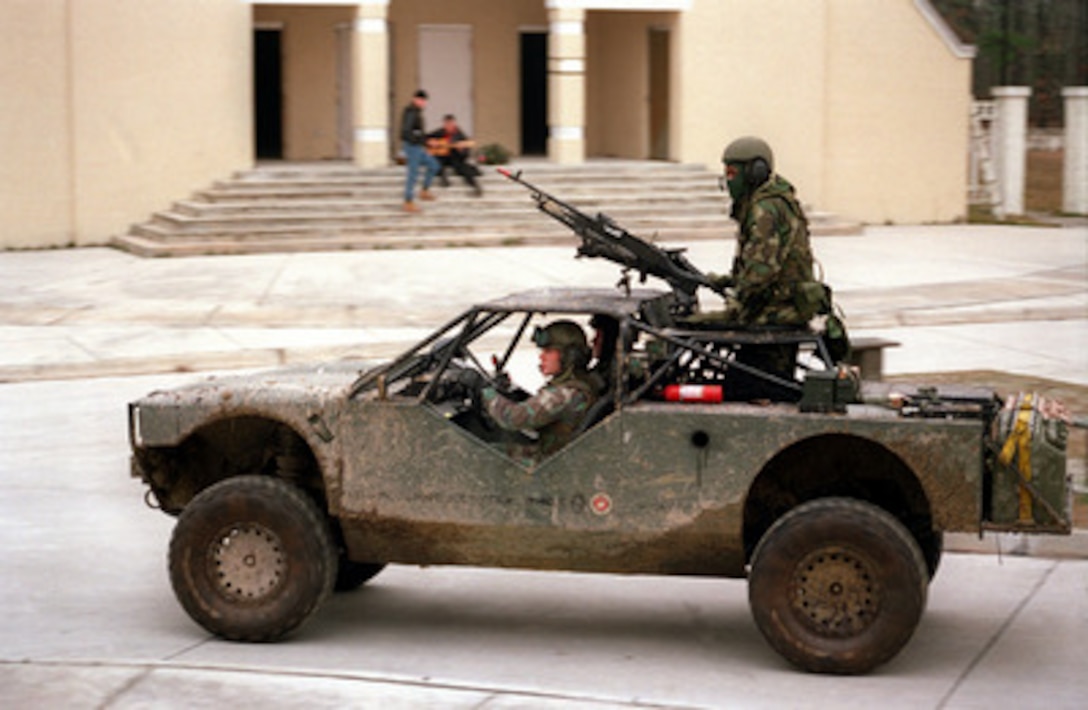 U.S. Marines patrol in a Helo Transportable Tactical Vehicle (HTTV) during Urban Warrior.
U.S. Marines from Charlie Company patrol the Military Operations in Urban Terrain facility in a Helo Transportable Tactical Vehicle (HTTV) at Camp Lejeune, N.C. on Jan. 20, 1998, during Urban Warrior. Urban Warrior is the U.S. Marine Corps Warfighting Laboratory's series of limited objective experiments examining new urban tactics and experimental technologies. The HTTV is one of the small, urban tactical vehicles the Marines are experimenting with. The experiment is being conducted by the Special Purpose Marine Air-Ground Task Force (Experimental) from Quantico, Va., and Charlie Company, 1st Battalion, 6th Marines from Camp Lejeune, with support from the 2nd Marine Expeditionary Force.
spacer
Marines took to the mountains of West Virginia to test integrating the tracked unmanned vehicle into their operations.
Elements of B Company, 1/2nd Marines, part of the 2nd Marine Division based at Camp Lejeune in North Carolina, conducted the mountain training at Camp Dawson, West Virginia just in the past week or so. Earlier today, the 2nd Marine Division's public affairs office released pictures, which were taken on Feb. 5, 2022, showing them working with the Hunter WOLF unmanned ground vehicle (UGV).
HDT Global, which is headquartered in Ohio, began development of the Hunter WOLF in 2012. The WOLF part of the name stands for Wheeled Offload Logistics Follower. "Follower" in this case reflects one of the unmanned vehicle's primary modes of operation, in which it automatically trails behind an operator holding a hand-held wireless controller. That system can also be used to remotely operate the UGV. The manufacturer is working to integrate additional autonomous capabilities onto the platform, as well.
The relatively small 6×6 vehicle, which weighs around 3,600 pounds, is a modular design capable of carrying various payloads weighing up to 2,200 pounds. It has a hybrid-electric propulsion system that allows it to travel as far as 200 miles or otherwise operate for up to 120 hours on a single tank of gas – either JP-8 jet fuel or diesel. Range-extending fuel tanks are available.
An onboard generator can provide up to 20 kilowatts of power to support sensors, remotely operated weapon stations, and other systems, as well as provide 15 kilowatts of electricity to run offboard systems. The vehicle can also move or operate in a static position in a "silent" mode to help reduce the chance of enemy forces detecting it and the troops it is working with.
During the recent mountain warfare training in West Virginia, Marines appear to have utilized this UGV to help move equipment and supplies, as well as evacuate a simulated casualty. HDT Global lists these mission sets among a broad array of roles that appropriately configured Hunter WOLFs might be able to perform.
HDT Global says the Hunter Wolf can be configured to perform mine-clearing, limited battlefield engineering work, direct and indirect fire support, and other missions. The vehicle can be equipped with a quad-copter unmanned aerial vehicle on a tether, which could allow it to act as a communications relay node. That small drone might be able to carry full-motion video cameras to give the combined unmanned platform an expanded surveillance and reconnaissance capability or just provide general localized situational awareness.
This is not the first time that the Marine Corps has explored the capabilities the Hunter WOLF has to offer, as well as those of other unmanned ground vehicles. However, integrating new unmanned platforms, on the ground, as well as in the air and at sea, are key components of the service's ongoing force restructuring, called Force Design 2030, which you can read more about here. As already noted, 1/2nd Marines is one of three battalions that the Corps is using to evaluate different infantry force structure configurations.
The goal of Force Design 2030 is to enable new expeditionary and distributed warfare concepts of operations, known collectively as Expeditionary Advance Base Operations (EABO). At EABO's core is the idea that relatively small groups of Marines will be able to rapidly deploy to remote or austere locations, especially islands in the Pacific region, and establish forward bases. From these locations, the hope is that they will be able to employ a wide array of capabilities to deter a potential enemy and, if a conflict does break out, be well-positioned to respond. These contingents should also be able to quickly redeploy, either in response to new developments in the battlespace or to help upend an opponent's decision-making cycles.
The Marine Corps sees UGVs as an important way to expand the capabilities and general operational capacity of these distributed contingents without having to significantly enlarge their overall force size. The mobility and transportability of these platforms are also important factors in this calculus. HDT Global says that a Marine MV-22 Osprey tilt-rotor can carry two Hunter WOLFs internally. It's not clear how many might be able to fit inside one of the service's new CH-53K King Stallion heavy-lift helicopters, but a CH-47 Chinook can accommodate six inside its main cargo cabin, according to the manufacturer.
What kind of UGVs ultimately end up in the Marine Corps' infantry battalions, as well as other Marine units, remains to be seen. "Everybody's hungry for more capabilities, everybody is interested in getting more of the enhanced capabilities that we're providing," Gen. Benjamin Watson, head of the Marine Corps Warfighting Laboratory, as well as the service's Futures Directorate and as Vice Chief of the Office of Naval Research, told Defense One last year in regards to the three experimental units.
"But quite frankly we're a people-centric organization, and we believe this is more, first and foremost, about the development of the individual Marine and the organizational structure, and less about the technology," he added. "But both are required."
What one sees in the recent pictures from Camp Dawson is certainly indicative of the kind of mixture of people and technology that Gen. Watson was talking about. As time goes on, images of Marines trekking around, whether it's in the mountains of West Virginia or somewhere else, together with a Hunter WOLF or some other kind of UGV, are only likely to become more commonplace.
spacer
By Joe Lacdan, Army News Service
September 21, 2022
WASHINGTON — Industry partners working with the Army and Defense Advanced Research Projects Agency engineers will fly a pilotless UH-60 Black Hawk helicopter carrying up to 3,000 pounds on supply runs as part of its annual Project Convergence experiments this fall. In addition, the range of the tests will expand significantly across the Pacific.
Lt. Gen. Scott McKean, director of Army Futures Command's Futures and Concepts Center, said that autonomous vehicles will cover great distances on land and sea during the joint experiments of PC 22, which the Army designed to augment joint, all-domain command and control, or JADC2.
The Army will work to reduce the number of Soldiers necessary to operate the autonomous vehicles, eventually having a single Soldier controlling multiple vehicles, McKean said.
The experiments will be held at locations in the Pacific and at Yuma Proving Ground, Arizona, in October and November. JADC2 is the Defense Department's concept for joint warfighting.
"Autonomous capability is at the forefront of what we believe our next operating concept will be based on," McKean said during the Defense One State of the Army conference on Sept. 7. "Why do you need a Black Hawk? Think of the capacity that a Black Hawk provides in the sense of carry capabilities. It really will help us provide commanders options."
As part of the Army's broader modernization efforts, PC 22 will help validate the Army 2030 multi-domain operations goals. The Army plans to publish its new, Army 2030 multi-domain operations doctrine this fall.
In addition to the autonomous Black Hawk, the service will deploy air and ground robotic vehicles from the U.S., United Kingdom and Australia during tests at Yuma, Camp Pendleton, California, and the National Training Center in San Bernardino County.
"This is convergence," McKean said. "How do we pass the data from those robotic vehicles back to the command post so commanders can make sense and act on what those systems are providing? This is going to be a great learning opportunity to see just where we are."
In addition, the Army will test its ability to "swarm" using a group of drones controlled by a Soldier.
This year the experiments will include participation from all six military branches including the Space Force as well as the British and Australian militaries. Carrier strike groups and the U.S. Navy's Third Fleet elements will be stationed in the Pacific and sensors will be placed in areas from Japan to Australia.
McKean said that Project Convergence 2021 set the foundation for this fall's iteration, allowing the Army to build greater levels of integration with other military branches.
This year the series of experiments will divided into two phases.
First the services will operate in a Pacific environment; engaging under maritime conditions and long distances. Then, the experiments will move to land-dominant scenarios. There will also be an additional combat simulation at Yuma, where the Army is working with industry solutions to develop battlefield dynamics with feedback from military representatives.
"It is not an Army experiment. This is not how the Army is approaching JADC2," McKean said. "This is truly a joint, and combined experiment venue to inform JADC2 as well as other capabilities that we're trying to develop out as part of our modernization process."
McKean said the scenarios revolve around three objectives. First the militaries will establish an integrated air and missile defense through the development of protective and defensive fires. Second, participants will be employing joint, offensive fires and the ability to hit targets and great distances.
Finally the Army will examine which authorities and policies hinders its ability to fight as a joint combat force. The military branches will also focus on establishing proper communications between each service's command post.
"We're looking at both mass and precision," he said. "That was part of the objective to scale this experiment establishing a mission partner network. We understand that we're not going to be able to fight without our allies and partners."
spacer
The Army will not hold a capstone demonstration for its ongoing Project Convergence (PC) experimentation campaign this year, with the next event slated for spring 2024 at the earliest.
Gen. James Rainey, head of Army Futures Command (AFC), confirmed the update…
In the spirit of quick adoption, two AI systems that stood out during Project Convergence in 2021 will likely be officialized into programs of record, according to Todd via DefenseScoop. (Project Convergence is the Army's Joint All Domain Command and Control offshoot.) The pair of AI algorithms will be utilized in the coming fiscal yearand are "increment 1 sensor-to-shooter algorithms that will help the Army identify, target and engage enemy platforms."

"[We're] extremely interested in AI autonomy, some of these types of technologies that help us in decision-making so that we can make decisions quicker than our adversaries — the network, in particular, connectivity, transport-layer processing, data storage," Todd remarked.

AFC is also currently doing work with robotics, synthetic biology, materials by design and additive manufacturing to answer the needs of tomorrow, the next decade and beyond. They are striving to ready these technologies for multi-domain interoperability.  Source: US Army Strives for 'Persistent Modernization' to Reach Interoperability
spacer

The next Project Convergence will focus on experimentation at the theater level, beyond the tactical level addressed previously, according to McKean, which will include tackling more challenging threats.

Part of the upcoming evaluation will examine if the joint force is getting closer to achieving what it calls a "kill web," which evolves the "kill chain" that follows a linear process of sensing threats and shooting a target and expands that into a comprehensive network of sensors from space all the way to the ground and connects those sensors to a network of options to take out threat targets on the battlefield.

"We've always aspired to get this kill web type of capability as a joint and combined force, and we're starting to get to that point," McKean said. "We're not there completely yet, but we're definitely making great strides toward it."  Source: Army sets sights on 2024 for next Project Convergence

spacer
RECOGNIZE that they are planning to force those who survive into smart cities in very specific locations  Most of these cities will be on or near shorelines.   Welcome to the MARITIME WORLD.
spacer
To understand what is happening, you have to understand the root and the forces behind.  If you have not viewed the following series in its entirety, check it out here:
spacer
By James Caponiti
From its earliest days when the American colonies were dependent on trade with Europe, the United States has been reliant on merchant shipping. During the fight for independence beginning in 1775, an effective American strategy was to arm merchant ships to disrupt the British supply chain of ships along the eastern seaboard and across the Atlantic Ocean. In this way, the U.S. Merchant Marine's vital role of support in wartime predates both the United States Coast Guard (1790) and the United States Navy (1797). As another measure of its importance, the development and passage of laws related to maritime issues and the merchant fleet were among the early priorities of the newly formed Congress.
The United States benefits economically and strategically from an abundance of ocean coastline and internal rivers and lakes, and U.S. citizen merchant mariners navigate, maintain, and work on the ships, tugboats, towboats, ferries, dredges, and other vessels that provide service in associated waterborne trades. U.S. mariners are expertly trained and perform their respective shipboard tasks to the highest of standards anywhere in the world. The adequacy and viability of a qualified pool of citizen mariners is distinguishable from many other civil occupations since it is critical to U.S. national security and to America's ability to project power.
Though it is fundamentally a commercial enterprise, the U.S. Merchant Marine has proven throughout history its capability to serve as an auxiliary to the Navy. The often overlooked "fourth arm of defense," [along with the Navy, Army, and Air Force] as described by President Franklin Delano Roosevelt, the U.S. Merchant Marine and American seafarers have been called upon repeatedly to deliver U.S. military personnel and materiel to areas of conflict or emergency.
Perhaps most notably, the U.S. Merchant Marine and civilian merchant mariners were integral to the Allied Forces' victory in World War II, delivering nearly 270 billion long tons of cargo in support of the war while risking their lives in the treacherous waters of the North Atlantic and Pacific Oceans. All told, 733 American cargo ships were lost during World War II. Though U.S. Government records management for merchant mariners failed to match the precision applied to the other services, it is widely held that proportionately, the U.S. Merchant Marine suffered a higher fatality rate during World War II than any of the Armed Forces. According to the 1946 Report of the War Shipping Administration "Up to V-J Day, 5,638 merchant seamen and officers are dead and missing; 581 were made prisoners of war."
The U.S. Merchant Marine has continued to demonstrate its value as a strategic resource into the 21st Century and beyond providing worldwide shipping facilities and support to the Department of Defense (DOD) and to essential foreign assistance programs, such as waterborne response related to domestic and international disaster recovery operations. U.S.-flag industry sealift missions in support of U.S. military operations throughout recent decades have been historically efficient, especially its ability to deliver more than 90 percent of all cargoes bound to and from Afghanistan and Iraq during Operations Enduring Freedom and Iraqi Freedom.
U.S.-flag ships have also supported months-long U.S. Gulf of Mexico recovery efforts in the aftermath of Hurricanes Katrina and Rita in 2005, have responded to the devastating 2010 earthquake destruction in Haiti in 2010, and have bolstered federal and state recovery efforts in the New York/New Jersey area following destruction to that region as a consequence of Hurricane Sandy. Sadly, few Americans will forget the evacuation of New York City on 9-11 and the selfless acts of U.S. mariners and private sector companies to evacuate citizens from lower Manhattan – the largest and safest evacuation of citizens in U.S. history.
It is important to note that U.S.-flag capability brought to bear in the wartime and hurricane missions noted above included both U.S. Government-owned sealift vessels and privately-owned commercial ships. However, the same single pool of trained and qualified civilian mariners is called upon during emergencies to crew government ships, the majority of which are idle and maintained in readiness prior to activation—all while simultaneously meeting service requirements in U.S.-flag commercial trades.
The availability of a trained and qualified mariner pool sufficient to support the activation and operation of the U.S. Government's surge sealift assets is a key element of U.S. strategy and planning. This organic lift includes the Maritime Administration's (MARAD) Ready Reserve Force (RRF) which currently numbers 41 ships and the Military Sealift Command's (MSC) 19 Large Medium-Speed Roll-on Roll-off ships (LMSRs). These vessels are maintained by commercial ship managers in prescribed levels of readiness and outported in reduced operating status (ROS) in commercial berths or in government facilities, available to be activated when crises arise. To promote readiness and to enable rapid transition to operational capability, ROS vessels are partially crewed while idle. Once activated and fully crewed, all of these assets, RRF and LMSR alike, fall under MSC's operational control. The surge sealift capabilities comprised from these vessels enable deployment of combat forces in the early stages of a conflict. Of course, the vessels themselves are essentially useless without trained civilian crews to maintain and operate them.
The government relies on a partnership with U.S.-flag operators and maritime labor organizations to assure access to commercial sealift capability and civilian merchant mariners. The framework through which this is possible is the Maritime Security Program (MSP) and its companion program, the Voluntary Intermodal Sealift Agreement (VISA). These programs are administered jointly by MARAD, an agency within the Department of Transportation, and DOD's United States Transportation Command. With MSP funding, the Government leverages a relatively small investment, $314 million for fiscal year 2021, and $318 million annually for fiscal years 2022 through 2025 for 60 ships of diverse capability, gaining assured access to militarily useful ships and related intermodal transportation networks.
The investment also works to ensure the continued viability of both a U.S.-flag fleet engaged in international trade and the pool of seafarers to crew those vessels. Without a viable U.S.-flag commercial fleet, and the American merchant mariners this fleet supports, the United States would be unable to deploy and effectively sustain its military forces on a global basis.
The government / private industry partnership itself is unique, and it entails peacetime planning and an operational relationship through peacetime service contracts. The U.S. companies enrolled in MSP/VISA agreements are required to be managed by U.S. citizens, and those companies with a foreign parent are required to execute security agreements that protect the rights and interests of the United States. The companies have the equivalent of a "secret" clearance enabling participation in joint planning and operational exercises with U.S. military commands in a secure environment at regular intervals.
MSP is approaching the end of its third 10-year authorization cycle, and the program has been authorized for a fourth time through Fiscal Year 2035. Given the austere fiscal environment facing DOD and every other executive agency from time-to-time, it is important to note from a budgetary standpoint that the fleet of vessels and infrastructure available for military missions through the MSP is capitalized and recapitalized solely through the private investment of the owners and operators of enrolled vessels.
The current annual taxpayer investment in MSP is modest when compared to an alternative scenario that would call for the Government to acquire, operate, and maintain equivalent sealift capabilities on its own. Accordingly, to assess the cost effectiveness of the MSP, it is important to understand this huge cost avoidance at the same time one evaluates the cost of Government programs and policies that support the U.S. Merchant Marine to achieve national sealift objectives. For example, the cost of MSP operating agreements during the program's first 15 years were less than $1.9 billion; meanwhile the U.S. government benefitted by saving nearly $70 billion in other costs that would have been incurred for equal readiness.
Perhaps the largest bargain gained from the government's maritime investment lies in sustaining jobs on U.S.-flag ships, benefitting America economically as a large international trading power while also ensuring that the country has the readily available pool of trained and qualified citizen seafarers on which the nation relies to provide sealift during emergencies.
A fundamental element of U.S. maritime legislative policy is — and has been — that "vessels of the merchant marine should be operated by highly trained and efficient citizens of the United States." Of course, the application of this principle is especially true with respect to developing and maintaining the nation's military sealift capability. Military planners understand that America's security is best protected when the country relies on a commercial shipping industry domiciled in the United States, employing U.S. citizens both at sea and ashore, and subject to U.S. laws and regulations.
Competition in global shipping is fierce and survival depends on many factors. Quality of service can eclipse cost to a degree, but much of the market is driven by carriers adhering to a minimum level of compliance with international safety and environmental standards while employing mariners from underdeveloped countries, all to minimize cost. Much of this occurs within open registries which account for more than half the ships in the world's commercial trading fleet. Competitive pressures have been magnified in recent years by the economic crisis worldwide and by an oversupply of shipping tonnage. The result has been a loss of U.S.-flag oceangoing tonnage and related afloat jobs. This is partly because federal programs designed to support the maritime industry have been reduced in some instances while others have failed to keep pace with rapidly changing national and international factors affecting shipping conditions and economics.
Other issues have further impacted the mariner pool. The loss of shipboard billets when U.S.-flag ships leave commercial service has a compounding effect on the mariner pool since each billet supports roughly two individuals when vacations, training, and other time spent on shore are taken into account. The loss of billets also negatively affects the ability to recruit and develop new mariners to grow the manpower pool. International and domestic regulatory rules limit mariners' ability to maintain and upgrade their seafaring credentials without possessing sufficient sea time and without meeting recency of service requirements. For example, a mariner might require specific training to update practical experience in technical skills before being allowed to volunteer for an emergency sealift billet during a contingency.
A primary element of DOD's sealift planning framework are manpower exercises that focus on and test proficiency in the timely recruitment of qualified personnel necessary to crew organic government assets to meet emergency activation requirements. MARAD and MSC place a high priority on working with carriers and labor unions to identify, contact, and prepare qualified mariners leading up to and during emergencies. MARAD has developed and maintains a Mariner Outreach System with the cooperation of willing mariners to maintain and update contact information and current USCG qualifications.
Notwithstanding the willingness of U.S. mariners to maintain their qualifications and stand ready to sail – for any reason – into harm's way, the retention of mariners in the workforce is a growing problem. This problem exists not only in the United States but globally, especially among mariners in developed economies. For more than a decade, there have been concerns about a global shortage of qualified seafarers and the reasons are numerous and varied. It is a difficult and often dangerous occupation that, for many, is arduous to endure long term.
Time away from family is probably the most prominent downside for individuals sailing far from home. In the modern age of containerization, expedited cargo handling, and sophisticated shipboard technology the job is more intense than ever. Expectations and communications from management are endless, which can impact mariners during working shifts and beyond. The sense of adventure once associated with going to sea has eroded significantly. A mariner today gets only a limited dose of "seeing the world."
Turnaround intervals in ports today are usually numbered in hours – not days – and access to the cities attached to ports of call has been eliminated or minimized at best. Security issues, together with strict limitations on the granting of entry visas by port states, also prominently impact port access. These and other issues cause some mariners entering the workforce to view it as a short term opportunity to make some money rather than as a career.
This is especially true in the United States, where competition from onshore job opportunities is a significant factor that draws mariners away from sailing. The work has always been demanding, but imagine the impact of the ongoing pandemic. New and lasting pressures combine with frequent instances whereby crews remain trapped on board with little certainty of when they can disembark to enjoy families and something approaching normalcy, even as mariners wonder if they can ever forget the risks experienced in close quarters and unknown threats stemming from the virus.
Due in no small measure to America's standard of living and the reasonable expectations all American workers, including American mariners, have for a living wage, health and pension benefits, a safe workplace environment, and other employment-related terms and conditions, it is difficult for the U.S.-flag maritime industry to compete in the international cargo markets against foreign flag of convenience vessels and their third world crews. This is why the Federal government has administered and must continue to administer programs to support the industry.
Throughout American history, the one constant has been that a strong commercial maritime capability enhances national security. This is as true today as ever. The Maritime Security Program remains the most important of the federal programs that assist U.S.-flag ships in foreign trade, and it should be supported, fully funded, and modified as necessary to keep pace with economic conditions affecting U.S.-flag shipping. The government also administers a framework of cargo preference programs designed to provide access to military and civilian government-impelled cargoes. Especially with respect to food assistance, certain of those programs should be expanded to promote global peace and stability. In any case, authorizing statutes and programs should be supported by all Federal agencies to ensure that taxpayer dollars are spent at least in part to enable U.S.-flag shipping and not spent in their entirety to rely on foreign-flag shipping and foreign crews. Finally, the domestic shipping statutes commonly referred to as the Jones Act should be retained to sustain the commercial shipping base that helps support the civilian manpower pool needed to meet defense requirements.
Ocean-borne transport is largely taken for granted by the American public. It is predominantly about freight, and therefore essentially invisible to most citizens, who view the television in their living room as having come from Walmart instead of from Asia. The United States remains the largest trading nation in the world based on exports and imports of goods and services. Yet only about four percent of U.S. foreign trade is carried on U.S.-flag ships. The benefits of maintaining a strong maritime industry does not naturally resonate with citizens, so the shipping industry is trying to raise public awareness to this vital capability.
spacer
Government policies and arrangements with foreign investors have put America at risk!  We need to go back to "MADE IN AMERICA" wherever possible.  We should be creating jobs and industries in the USA.  Putting our nation at the mercy of foreign imports is BAD for America!spacer
This ought to help you recognize that the elite/royals worship the gods of the sea.
Discover the Sea–God watches: luxury diving timepieces
Montres SeaGod was launched in 2003 but their first series of timepieces was released in 2012.  Founder Enzo Palazzolo
IN 2021 the company launched a new line of Diving Watches
It's time to mark the time with a Sea-God on your wrist!
Get your favourite Sea-God!
info@sea-god.ch for your questions
Jewelry/watches
spacer
FOUNDER's NAME: Enzo Palazzolo
Enzo Name Meaning (Origin, Popularity & Nicknames)
Mom Loves Best
Sep 25, 2022 — It means "king," "owner," or "rich ruler," which comes from Germanic origins and the name "Henry." Origin: Enzo came from German and French …
Palazzolo History, Family Crest & Coats of Arms
House of Names
These place names are all rooted in the Italizn word "palazzo," which means "palace."
spacer
Everyone needs to be keeping their eyes on Saudi Arabia!  They got rich off American import of oil, and now they are becoming the leader in just about everything  They are swimming in GOLD and money buys them a lot of influence.  Watch the connection to the Royals, must especially the King of England.
In its 3rd edition, Saudi Maritime Congress will welcome senior professionals from regional and international maritime, shipping and logistics communities.
Note the Topic of the following Forum:  "Protection from Unmanned Systems".  Interesting, considering what we have seen in this post, the US Marines are focused nearly entirely on unmanned systems.
If you have not seen the following posts, check them out:
spacer
spacer
DAYS OF NOAH – GENETICALLY MODIFIED NEPHILIM SOLDIERS FIGHTING IN SYRIA (TRUNEWS TV)
spacer
Several military tanks were spotted across multiple US cities on Saturday

The clip of the sighting spread across social media like wildfire and garnered views in huge numbers

Several social media users commented on the viral clip
---
Updated: June 18, 2023 04:24:48
Several military tanks were spotted across multiple US cities on Saturday. Social media users shared pictures and videos.
spacer
🚨🇺🇸 All is Well! An undeclared military drill is ongoing in multiple states, including a tank group that was spotted earlier on a highway in Idaho and a Military landing in suburban neighbors in Larkspur California. pic.twitter.com/u4KwetZ1uw

— Terror Alarm (@Terror_Alarm) June 17, 2023
spacer
spacer
So, is our military preparing to fight the wars of the future?  Or, are they preparing to control the insurrectionists who resist the New World Order?  Or, are they preparing to HERD US into the planned configuration of smart cities along the coasts?
spacer