COVID 19 is everyday manifesting the UN/ELITE/ROYAL Agenda.  I hope that you are awake and observant.  This year is going to be a very big year for you.  YOUR LIFE if you continue to have one, is NEVER GOING TO BE THE SAME AGAIN.  THAT IS A PROMISE!  
Please as you review the items posted here, don't just peruse through them and take them at face  value.  READ these article with a critical and analytical mind.  Most of all PRAY that God will reveal the TRUTH to you.  All the deceptive fluff and hype that is being thrown at the general public makes it very hard for the regular, average person to sort out.  That is why there are people on the internet who are dedicated to sorting it all out and presenting you with TRUTH.  We can't make you see it… all we can do is put it out there.
I encourage you to check out the UN 2020 Website.  These people are deadly serious about the GLOBAL GOVERNMENT being in place by the end of 2020!
The UN2020 campaign is working to develop a civil society Declaration and Plan of Action to be adopted at the UN75 People's Forum for The Future We Want, The UN We Need  taking place on
……tentatively planned for May 14, 2020 
Your inputs will inform the content of the Declaration and the advocacy going forward, as UN member states also negotiate the intergovernmental UN75 political declaration, which is to be completed by June and adopted by Heads of State at the
..UN75 Leaders Summit on September 19, 2020

SPACER
spacer
Note the colors on their Logo. 
Like the color purple, a survey of orange logos and Occult symbols is a GOLD mine of sodomite gateway imagery. The color gold is leveraged as associated with light body of the sun god Apollo, the Beast and those who take his mark.
Orange is the combination of the colors red and yellow, and in symbol language it speaks of the merging of red-Adam and the yellow-star light fallen angel line of Lucifer. These warm colors sit opposite blue-violet on the color wheel. The balance between them appears to relate to a rainbow and the signaling orange speaks to me of the jamming effort towards a counter-flood dimensional breech, which I write about on occasion. Orange speaks of the ritual sodomy that works to bring that transdimensional merger of the red and the yellow. 

For more info on this click

HERE
I get that it is hard for people to accept that our leaders could be so diabolical.  (that is appropo diabolical – diablo -the devil)  I am sorry to break it to you, but they are EXACTLY THAT!  They were having difficulty getting the general public to play along with their desires, and an even hard time getting the general public to give up their guns!   They had to come up with a plan that would have the people volunteering to comply.  AND HERE IT IS!   THE THREAT OF TOTAL INNIALATION BY A VIRUS THAT CAN ONLY BE DEFEATED IF THE PUBLIC SUBMITS TO AUTHORITIES!  It's INGENIOUS!  Even better than an alien invasion, thought I don't believe that they have scrapped that idea.  That may be the next step once they have us under total control.  
THOSE who are pushing the worship of "MOTHER EARTH" have convinced the general public that mankind is a blight on the EARTH.  That all the evils that have befallen our environment are the product of human greed.  The general public do not realize that these disasterous environmental issues have ALL been created by the ELITE through their religion of SCIENTISM.   They are manipulating humans by taking advantage of our natural desire to care for the Earth and its inhavitancts and lour love for all creatures.  YOU ARE BEING PLAYED!  
Listen to this PROPOGANDA…and recognize it for what it is, BS!!  This right here is their REWILDING AGENDA in action!!  Forget about all the PEOPLE who are going through a living HELL right now… focus on the freedom being enjoyed by the animals.   GAG ME WITH A SPOON.  God Created the EARTH for the benefit of MAN.  Mankind is born with a natural instinct to protect GOD's CREATION, He put that in us.  It is the EVIL SEED that is destroying the EARTH, and us with it.   Yes, we care about animals…but we should NEVER care more about animals, or trees, or natural formations, or water or anything else than we do about human beings CREATED IN THE IMAGE OF GOD!
But, let's get down to the real heartbreak… People.  People are paying a very high cost through this Pandemic.  For the most part, people were caught unware.  Very few people had any idea how fast the world could change, or how devastating those changes could be.  
Every one that I talk to says the same thing.  "This is one crazy world we are living in"
They just shake their heads and no one has any idea what is going to happen or when this is all going to end.  When it does…what will our reality be like?
In the meantime.. how does one cope?  How do you face the fears.  Fears about if you will have any money, food, water, shelter.  How do deal with the lonliness, the inactivity, the boredom the overwhelming emptiness and hopelessness?  How do deal with the loss of loved ones, or worse yet, how do you watch them die?
FROM OUR OBSESSION
Being Human
We've never been as connected, or as isolated.
Warnings about coronavirus—from "stay inside" to "wash your hands" to "cancel social gatherings"—have been largely accepted by Italians, but people here are growing increasingly anxious about the weeks-long lockdown, and need help dealing with the mental toll. Italy has exceeded 100,000 infections and 10,000 deaths, and Italians are entering their fourth week of isolation.

A new survey investigated how people are receiving and responding to public messaging about the coronavirus crisis. It was commissioned by the city of Rome, designed by an international group of social scientists, and carried out with a representative sample of the population earlier this month.

The results show that the majority of Italians trust the advice given by the government. "I believe that everyone should stay at home," one respondent said. "I think the longer we stay inside, the sooner we get out," said another. The researchers termed the level of acceptance to the messaging "remarkable"—better than public health campaigns on smoking, drinking, and exercising.

Health authorities update the population daily on TV, and the prime minister makes periodic televised addresses to the nation, which have contributed to a jump in his popularity. The government recently increased a fine for people caught outside from about €200 ($220) to between €400 and €3,000 ($440 to $3300), while mayors have been personally scolding people caught wandering around. The messaging is constant, and it's working.

Shift in focus

But the authors of the study warn that the government has little to gain from repeating the same recommendations now that people are saturated with them. They advise the government to instead start helping people cope with the mental toll of being under lockdown.
Not even gonna go here… Just saying…  Today's world is all about the migrants.
It is not easy to work in an alien land. If Indians abroad complain of racial discrimination, north eastern Indians in Bengaluru suffer bullying too. The differences in our cultures, looks, food, language and habits show us up as outsiders.
By Uma Shashikant
How does one define home? The place one was born in? Where one works? Or is it where one lives with the family? Our need to be economic units that earn an income has made nomads of us, displacing us from our homes.

Consider the children of well-heeled parents who go abroad to study. They find jobs and settle in foreign locations and raise a family there. They are the proud achievers their parents and society brag about. Many middle class households crave for that possibility of a dollar income earning offspring.

Then consider those workers, walking home with children on their hips, belongings bundled on their head. They also moved to the big city in search of a better life and better income. How is it that we have nothing but pity and disdain for them? How are they different from the first lot?

How cruel is that economic reality that our earnings are in one place and our homes are in another, and we live a life torn between the two. What we call home is where we think we belong; a place that accepts and supports us. We give that warmth up for earning an income.

Except we do not see everyone out on this pursuit as equals. For one class we host an investment mela in a five star location; the other, we let them walk for miles without food or water, because we failed to account for how they could get home, safely and with dignity. Even while they bear the burden of having lost their livelihood.

It is not easy to work in an alien land. If Indians abroad complain of racial discrimination, north eastern Indians in Bengaluru suffer bullying too. The differences in our cultures, looks, food, language and habits show us up as outsiders. We suffer the ignominy because we need the job.
Those who already live there see us as desolate people who have to leave home to earn money. The parochial mindsets recognise locals as 'us', and outsiders as 'them'. Those who have willingly uprooted themselves from the comfort of home, must be desperate. There is no acceptance or respect, and it comes grudgingly even if it does.

What does one do when there are no economic opportunities near home? How does one cope with poor quality education and mindless entrance exams? How does one get a place in the rat race for favours? One sets out into the big bad world, to find a place. To learn, to upskill, to work, to earn and to live.

The new place can become home. If one feels safe, secure, and knows someone will have their back when they are in trouble. Indians abroad gather into communities, lobby with local politicians, find their voices and carve out homes in a foreign land.

What would a migrant labourer do in a large alien city? He would try and stay close to others from his village. But he cannot make the new city his home. The city is a place that pays for labour, and has consistent work to offer. But there is no place to stay. Every square foot is expensive. Cost of living is high.

We are not talking of a few. Millions of migrant labourers, living in abominable conditions in our cities, contributing to its economic growth, but never able to call it home. They have to pick up their bundles and leave when a pandemic strikes because it is not their home.

We will argue about the unfair H1B process; the long line for green cards; the unfairness of spousal employment under H4; and about how the Indian immigrant is an important contributor to the Western economy. But the migrant worker who cannot afford to bring his wife to the city; the daily wage earner who hasn't met his family in months; or the worker who only rents a bed and shares a bathroom with 10 roommates do not evoke our collective consciousness.

Thus we have the economic system that uses hands and legs, backs and bodies to build, clean, cart and drive, and feels it is a fair deal to pay humans for the actual hours they work. We don't see the denial of the basic right to call the place they work in home, to a fellow human being like us, as an act of gross social injustice.

We do fight for stray dogs and we do become vegans to save cattle, but we let these fellow humans remain homeless in our large cities. We got here because we stopped caring. We limited our focus to ourselves—our job, our income, our wealth and our family. We forgot to give, to include, to empathise, to enable, and to take our communities along. We have no stake in our communities, the places we live in and work. We are all nomads occupying slots of economic value that pays us money. We don't know how every other piece fits in that collage of our lives—every human being that contributes to make our life what it is.

If not for those hundreds of faceless contributors, who would we be? How would we work, eat, commute, live, love and thrive? We have turned into societies that grab, take, and behave with an entitlement mindset. Thus we don't see those who walk home in hunger and sorrow as people like us. People we abandoned.

To donate money is to take the easy and lazy way out of the problem. Dignified humans do not stand and wait for charity. Into our everyday lives, we have to include our community. We have to take it upon ourselves the responsibility for every single person who enables our lives. We cannot see urban migration as a policy problem that offers pavements as homes and streets as toilets to millions of our fellow humans.

There is no difference between the coveted NRI and the construction worker. The former has nudged his way into the community he lives in and found his voice and power. The latter remains on the fringe, powerless and alone. Let us not stop at merely donating to feed the misplaced. Let us find a way to integrate these people into the places they have come for a better life, so they can call it home. So they won't be asked to pick up and leave ever again.

(The author is Chairperson, Centre for Investment Education and Learning)

Click here for all the information and analysis you need for tax-saving this financial year
Lockdown is already a matter of life and death for those in India.  Don't worry, it is coming here faster than you can imagine.  There was already a food shortage and a financial collapse coming before COVID 19 was even a gleam in a scientists eye

.
Despite leaders' decrees on staying home, laborers who live hand-to-mouth say they have no choice but to keep hitting the streets. Here are their stories.
By Maria Abi-Habib and Sameer Yasir 
Photographs by Rebecca Conway


Prime Minister Narendra Modi has ordered a lockdown of India's 1.3 billion citizens to fight the spread of coronavirus, urging people to distance themselves socially and work from home.
But social distancing means hunger for many in India, with a work force heavily dependent on manual labor. It would be an unheard-of luxury for the ragpicker or street vendor who lives day to day.

About 80 percent of India's 470 million workers are in the informal sector, lacking contracts and unprotected by labor laws. Many are manual laborers in the fields, factories and streets of India.

We asked people how they were making ends meet as the economy grinds to a halt with the coronavirus pandemic. India reported 1,024 cases and 27 dead as of Sunday. Here are some of their stories:

What's he afraid of? 'The police and not being able to eat'

Ashu, 12 | ragpicker

Ashu and his two brothers spend their days at one of Delhi's biggest dumps. They are ragpickers — scavengers who hunt for scrap metal using a giant, rusted sieve to help them sort through the stinking refuse.

If Ashu works really hard, he can earn 53 cents a day. He and his brothers have been unable to go to the dump regularly since the lockdown was announced because if they are caught by the police, they will be beaten.

"I miss my friends," he said, adding that he and four buddies would meet at the dumpsite every morning, work for a few hours and then play with whatever treasures they found — broken toy cars, tattered dolls and ripped clothing.

"I hear there is a virus from China going around," Ashu said. "But I'm more afraid of the police and not being able to eat."

"When the money dries up, we will have to find a way to come back here again," he said.

'At least this life of misery will be over'

Ramchandran Ravidas, 42 | bicycle rickshaw driver

On a Wednesday afternoon, normally peak rush hour in Delhi, Ramchandran Ravidas was bicycling around in big, lazy circles in the middle of a main thoroughfare, boredom, hunger and his empty pockets on his mind.

On a good day, if he has "a lot of energy" he can make up to 450 rupees, or $6, he said. He lives out of the garage he rents his bicycle rickshaw from and worries that he will be evicted soon; he has had no customers since the lockdown.

He said, for him, it was a race between whether the virus or hunger got to him first.

"I'm not worried about corona; if corona comes to get me, at least this life of misery will be over," Mr. Ravidas said, breaking into a grin as he roared with laughter.

'I've never seen this panic in my entire life'

Baudghiri, 60 | sadhu (religious ascetic)

Walking barefoot along Delhi's deserted streets, his saffron-colored clothing stained and tattered, Baudghiri said he had not eaten in two days. A sadhu, or religious ascetic, he makes about $1.50 every day by offering prayers to people on the street.

Sign up to receive our daily 

Coronavirus Briefing

, an informed guide with the latest developments and expert advice.

Mr. Baudghiri, who goes by just one name, had never gone hungry a day in his life, he said, and had always found a meal in Hindu temples or gurdwaras, Sikh places of worship. But they have closed since the lockdown started last week.

While he agreed with the prime minister's decision to try to prevent the virus's spread by limiting people's movement, he was frustrated with the government's lack of planning for the destitute like him.

"I do not have a house to practice social distancing in," he said. "I go from place to place, temple to temple, to eat. But the entire city is closed."

In all his decades of walking across India, Mr. Baudghiri said he had never seen India so paralyzed.

"In every crisis, the gurdwaras, the temples were all open," he said. "We were still able to feed ourselves and find shelter. I've never seen this panic in my entire life."

'I don't have the pleasure of staying at home'

Raj Kumari | street sweeper

Sweeping leaves and trash off a deserted street and dumping them into her rusted wheelbarrow, Raj Kumari said the silence of the normal cacophony of Delhi was glorious, but eerie.

She used to sweep Delhi's streets with her husband, but he died eight years ago. She is now the sole breadwinner for her six children, after her eldest son was laid off from his tech job this past week because of the lockdown.

"It's just me and the sewer cleaners out here now," she said.

The lockdown has affected public transportation, and she now walks two hours just to get to work.

"This is what I have to do for money, for life," she said. "Even if the streets are empty, I have to come out. I don't have the pleasure of staying at home, this is my duty."

The government has never provided Ms. Kumari, who does not know her exact age, with gloves or masks for her job. But one of her daughters forbade her from working without protective gear during the pandemic and gave her a mask that her school had donated to students to protect against Delhi's infamous pollution.

"I'm not afraid of corona," Ms. Kumari said. "Why would anyone fear death when it is time for God to take you?"

'They need to help people like us'

Mohan Singh, 18 | fruit seller

Every morning, Mohan Singh and his father pile their carts with fruit and wheel their loads to work, on a busy neighborhood street corner. Although their jobs are deemed necessary and permissible during the lockdown, they say customers are too afraid to come to their carts. By midmorning, they had served one customer between them.

"If we are afraid of this disease, we will die in our homes," Mr. Singh said, adding that he and his father provide for their entire family of six.

Mr. Singh said he was worried that the government was going to help big businesses and that small businesses like his would be overlooked. Although the government announced a $22 billion relief package to support the millions left unemployed because of the crisis, some say people in the informal work force, like Mr. Singh, will have trouble getting help.

"They need to help people like us," he said. "There are more people working on the streets than India's biggest companies. If we close, no one can eat."

'If we stay at home, my family goes hungry and India goes thirsty'

Many India

Arjun Chauhan, 18 | water deliverermage

n homes lack running water or water safe enough to drink, making Arjun Chauhan's job a necessity during the lockdown. He zipped across Delhi's streets on his moped bike, stacked high with leaking water bottles.

"If we stay at home, my family goes hungry and India goes thirsty," Mr. Chauhan said, adding that his parents and five siblings rely on his wages.

Since the lockdown, Mr. Chauhan has seen his daily earnings of about $8 cut in half. He said he had been unable to reach all his customers because the police had prevented him from deliveries and even beat him for being on the streets although under the lockdown rules, deliveries of necessary items like medicine and water are supposed to be allowed.


Updated 22m ago
More live coverage: MarketsNew York
Latest Updates: Coronavirus Outbreak
Ya, it is really easy for the wealthy to get through anything.  Money buys a lot of safety, supplies, shelter and ammo.  The poor always suffer the most.  
Virus Outbreak Highlights Structural Inequalities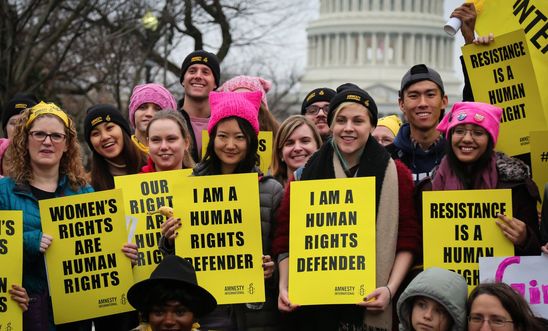 As the COVID-19 pandemic spreads, people across the world face the devastating impact it is having now on families, friends and communities, and will continue to have long into the future. This is a human rights crisis in the most immediate sense – and a reminder of our common humanity and that we are all equal in dignity and human rights.

The international human rights system as we know it today was born from the lessons of the 1930s and 1940s and the hopes of a better future. Today, human rights are central to the situation we all face. At their heart, human rights are both a protection from the power of the state and a demand that our governments use their considerable power to protect our lives, health and wellbeing.

In the next days and weeks, we will analyse developments from a human rights perspective and publish updates. And as we do this, we will continue to scrutinise actions of governments here and elsewhere in the world.

What we want to see from the government

All of us in the UK have responsibilities towards each other in this crisis, but the government has an overarching duty to protect our health and wellbeing. It can only fulfil its obligations if it puts human rights at the centre of its response.

In introducing emergency measures, it is vital from the outset that the UK Government ensures human rights are at the centre of all prevention, preparedness, containment and treatment efforts, in order to best protect public health, welfare, and support the groups and individuals most at risk.

The government must provide full economic support to protect people's right to a home, to work and to an adequate standard of living. They will need to take action and extend the arms of state protection and support, perhaps more widely than ever before.

These measures must focus first and foremost on the most vulnerable, those who are already struggling and those who are least protected.

Coronavirus Emergency Powers Bill

In these exceptional circumstances and the public health emergency, the government is introducing emergency powers. This must be done with care to protect and respect our human rights. These measures must be temporary, be subject to regular scrutiny. and undergo genuine review before any extension. The provisions in the Bill must be proportionate and any derogations of human rights must be in accord with international human rights law.

Who are those most at risk?

The virus doesn't discriminate, although we do know that certain groups appear to be at greater risk of severe illness and death. According to the WHO, older people and people with pre-existing medical conditions (such as asthma, diabetes or heart disease) seem to be more vulnerable to becoming severely ill with the virus.

People living in poverty and homelessness will find it much harder to access preventive measures. They may be working on zero-hour contracts, reliant on benefits and subject to punitive measures under the system of Universal Credit.

We have seen how, in countries which have already been in lockdown, refuges and women's organisations have been raising awareness of what self-isolation means for women living with violent and controlling partners. In the UK organisations working on domestic violence are chronically underfunded and, to date, no additional provision has been made to cope with the impact of coronavirus. Victims with 'No Recourse to Public Funds' face additional barriers and insecurity as they cannot access life-saving refuges and are barred from other forms of public support.

A shortage of care services (childcare, healthcare, elderly care) will have a disproportionate impact on women as providers of unpaid care work. Coronavirus will exacerbate a situation where cuts to public spending have already fallen on women. The UN Committee on the Elimination of Discrimination Against Women (CEDAW) has reiterated its previous concern (dating back to 2009) about the disproportionately negative impact of austerity measures on women, who constitute the vast majority of single parents and are more likely to be engaged in informal, temporary or precarious forms of employment.

How should the most vulnerable be protected?

We know that there are real challenges in the UK and Coronavirus is bringing these into sharp focus. In 2018, Professor Philip Alston – UN expert on extreme poverty and human rights – visited the UK and reported how 14 million people are living in poverty, dependent on food banks and charities for their next meal. He documented the plight of homeless people, some of whom don't have a safe place for their children to sleep. Underpinning this he highlighted how successive governments eroded the healthcare system and undermined the social security safety net. In this context, we welcome the government's commitment to food vouchers for children who get free school meals, and to keep schools open for frontline workers and vulnerable children.

Amnesty International and its partners have previously reported poor treatment of undocumented and irregular migrant people and their exclusion from services such as healthcare. This has been a feature of policy over successive governments and many years, whether by barring people from such services, making them unaffordable, or deterring their use by threat of being reported to immigration enforcement.

The pandemic intensifies the risks these measures present to many already vulnerable people and the wider public. It is vital that their impact is urgently assessed and mitigated to ensure individual and public health. There should be no barrier to health care at this time.

How we're coming together

While we see the stories of incidents of racism – acts driven by fear and ignorance – we also see how communities come together to support one another, through individual and collective acts of kindness, whether looking out for elderly neighbours or mass applause to demonstrate their appreciation to health workers. We're proud that Amnesty International groups and activists are playing their part, offering support to those most in need in their communities.

What must be done next

We welcome measures including mortgage relief and support for businesses – but have been concerned by the significant gaps and questions that remained, including for those that are renting their homes. We are therefore pleased that the Prime Minister has announced he will act to protect renters from eviction. However, there's no commitment to supporting those working on precarious contracts, often without sick pay or safety net and this need to be urgently addressed. So, while there is much to be welcomed, there is clearly a lot more that needs to be done and it is now vital that the government give equal focus to supporting those most vulnerable.

The UK will survive the COVID-19 outbreak, not least thanks to the front-line services that put their lives on the line to deliver our right to health. But more than ever before, we need the government to do more to protect those who are already highly vulnerable, as well as those who may become so in the weeks and months ahead.
One might think that because everyone is staying home, the world would be a lot safer.  NOT SO…
Since Tuesday, the Kansas City metro area has been under a stay-at-home order requiring residents to remain inside their homes unless they're engaged in activities "essential to the health and safety" of themselves, family members or friends.

With most of the city staying put unless they need groceries, hardware or the like—you can't even outfit your home office at Nebraska Furniture Mart anymore—many have wondered what's going on with the city's crime rate.

A lot of people have wondered about this—to the extent that the city's police decided to make a statement about it via Twitter.

We continue to get questions about how our calls for service are being impacted. Here's the last seven days compared to the same time period last year for Priority 1 and 2 calls:

25 people are talking about this

Priority one calls are the more serious calls, while priority two are of lesser urgency.

A second percent drop in more serious calls to the police is "anecdotally" significant, though the police cautioned that they would have to dig a little deeper—perhaps looking at conditions like weather, major events in town and the like—to present a better analysis.

Still, it seems like good news: There is, at the very least, not a crime wave underway during this pandemic.
ROME—Police have been dispatched to the streets of Palermo, Sicily, to try to calm an increasingly anxious population under lockdown. Several stores in the area have reported widespread shoplifting, looting, and nightly break-ins. Guards now stand outside grocery stores after people started refusing to pay for groceries, taking what they needed in front of helpless store clerks too afraid of the spread of coronavirus to try to stop them.

Italy Prison in Flames, Dozens Escape in Coronavirus Riot

OUT OF CONTROL  – Barbie Latza Nadeau

Closed Facebook groups with thousands of members are calling for civil disobedience and riots in the streets. And to make matters worse, the Tirrenia CIN ferry company, responsible for getting crucial supplies from the mainland, has gone bankrupt.

Authorities warn that the Mafia—likely behind the unrest—will soon step in as an ostensible savior bringing the southern region back to order, offering loans and black market jobs to fill the vacuum created by a lack of state attention to anyone outside the coronavirus red zone in the north. In exchange La Cosa Nostra will have recruited a whole new army of civilians ready to help it exploit whatever rises from the pandemic ashes.

All this, and we aren't even halfway through the fourth week of the lockdown, now extended until "at least Easter" with most authorities cautioning it will be more like June or later before life is anywhere close to what it once was.

As the novel coronavirus guts the northern regions of Italy, those in the south, where the cases are far fewer for now, have a different ailment: frustration and anger. People are missing their first paychecks just as rent and mortgage payments are due. Factories are closed, businesses are failing daily, and some 3.7 million people who work in the undocumented black economy are left out, unqualified for what little official help is on offer.

"We need to act fast, more than fast," Palermo Mayor Leoluca Orlando told reporters this week. "Distress could turn into violence."

"Small and medium-sized enterprises are suffering from a devastating economic impact, here, right now. The Mafia is ready to intervene."

— Giuseppe Antoci of the Caponnetto Foundation for victims of Mafia attacks

Orlando worries that the Sicilian Mafia or Cosa Nostra is behind a series of those closed Facebook groups that call for unrest if the lockdown isn't lifted in areas where the coronavirus risk appears to be less of a threat.

Every single province in Italy has hundreds of cases and several deaths, in fact, but a lack of aggressive testing has led to a false sense of security, implying that COVID-19 isn't much of a problem south of Rome. In Italy's southern regions, known as the mezzogiorno, infrastructure is weak, long pillaged by rampant organized crime. If a new cluster develops anywhere in the South, the potential human costs are almost unimaginable. If hospitals couldn't handle COVID-19 in the industrious, wealthy north, there is little hope for the rest of the country.

The idea that the Mafia is fanning the flames of unrest so it can swoop in to appear to bring order has historical foundations. The Mafia in Sicily began exactly that way in the 19th century, offering an alternative to the state that appeared weak and unable to help the people. It took decades and massive loss of life to beat it back, but the pandemic will almost surely give it new life, says Giuseppe Antoci, president of the Caponnetto Foundation for victims of Mafia attacks.

"In this difficult moment in which many families and entrepreneurs are in great difficulty, in a moment in which small and medium-sized enterprises are suffering from a devastating economic impact, here, right now, the Mafia is ready to intervene," Antoci told The Daily Beast in a statement. "They are ready to insert their liquidity, ready to offer it through usury to those who will then be strangled and enslaved by it, or, simply, offer it to those who will then be hired in the various organizations."

"Unrest in Sicily and the southern regions will very likely be as contagious as the coronavirus, and will spread north."

Palermo Mayor Orlando says the city is not equipped to impose order if citizens take to the streets to protest the lockdown. "The situation is very heavy. Because behind the threats of unrest echoed via social networks is a den of Mafia jackals ready to exploit the desperation of the new poor from coronavirus," Orlando said. "We cannot underestimate the risk of an alliance cemented by despair. In the North the risk is speculative, but here, where there is greater poverty, the danger is that desperate subjects may fall into the hands of criminals, Mafia members."

Unrest in Sicily and the southern regions will very likely be as contagious as the coronavirus, and will spread north. Prime Minister Giuseppe Conte announced a stimulus package that includes €400 million for mayors to convert to vouchers for groceries for those whose jobs have been lost during the lockdown. Southern mayors say that money offered is part of a pre-existing solidarity package that has nothing to do with the coronavirus and that communities are on the verge of financial collapse.

Think about it… If you and your loved ones are sheltering in place, and the medical staff and emergency staff are already overwhelmed… what do you think happens when a family member dies?  That is bad enough to imagine when you are voluntarily sheltering in place, what about when you are barricaded in your homes, as we saw happen in China?

In Palermo, to make sure the money isn't extorted or otherwise stolen, authorities are not giving the cash to those whose financial situations have been compromised by the lockdown. "We're giving shopping packages with pasta, bread, milk and sugar," Orlando says. "They go to the old poor and the new poor who are the bed and breakfast owners, the travel agency collaborators, the gym instructors, and all the people with atypical jobs who cannot access employee social safety nets."

And he says that soon those people will be in every single province in the entire country. "This isn't about the South, it's about the whole country," Orlando says. "Because the social unrest that is erupting in the South will also explode in the North."
Feb 10, 2020 … … clusters in China is raising speculation of China burning piles of bodies. … the actual severity of the Wuhan coronavirus outbreak is piling up.
Jan 24, 2020 … Disturbing new video shows dead bodies piling up in a hospital in Wuhan, China, as the coronavirus outbreak continues to spiral out of control.
6 days ago … New York in crisis: The head of the state's funeral directors association said the Big Apple could soon see dead bodies piling up, as morgues and .
3 days ago … COVID-19: Ecuador struggles to bury the dead as bodies pile up. Anger and frustration in Ecuador where families face unusual challenges as …
Mar 12, 2020 … … the director of the Behesht-e Masoumeh morgue in Qom, told state-run television at the time that there was now a "pile up" of bodies at the …
Jan 24, 2020 … Nurses and others are seen stepping around the bodies, which are covered by white sheets, in a corridor packed with people apparently infected …
Mar 19, 2020 … Coffins pile up and corpses are sealed off in homes as Bergamo's … The army intervenes to move bodies from the main cemetery in Bergamo.
Mar 6, 2020 … Under Islamic tradition in Iran, corpses are typically washed with soap and water before burial. But two medical workers in Qom told CNN that in …
Mar 24, 2020 … Soldiers have found dead or dying residents in multiple abandoned care homes in Spain, revealed the country's defence minister. The Spanish …
Jan 7, 2020 … Relatives of the missing often face lengthy waits for any information, with unidentified bodies piling up in morgues.
2 days ago … There are the new dead. And then there are the bodies waiting in overcrowded mortuaries to be buried as cities struggle to meet demand and
Having looked at the timelines in China, Italy, Spain and now in the UK, it's clear the science/medical advice to governments etc is not evidence based with the (so called) advice just to pacify a panicking public's demand for guidance and action.

Here is why: the model the medical advice is based on – which is secondary school year 1 biology stuff – to explain how rapidly cell division takes place, bears no relation to a real virus. Yes, everyone knows that a cell divides itself into two. The two cells divide again into four, the four divide into eight, eight into 16 etc.

Great at giving young students an idea of the curve of cell division but nothing at all to do with how viruses work in the affected organism. Coronavirus (others are available) can take between one and 14 days to show the symptoms, so a person who displays the symptoms within 24 hours may indeed only pass it on to two others before self isolating or not as the case may be, but the people who take longer will pass it on to many, many more.

One hypothesis on this suggests a person who takes 12 – 14 days to show the symptoms and who is making repeated visits to their supermarket for toilet roll due to panic buying, could pass on the virus to as many as 100 other people.

Also there are people out there who will carry and pass on the virus but who will not develop any symptoms and without proper testing will go unnoticed and therefore uncounted.

So calculating or predictions (total guesswork) on the spread of the virus based on one person infecting two and so on is utterly incorrect and borders on professional misconduct.

Lockdown or containment in China, Italy, Spain, France and almost here in the UK, has and is making a bad situation worse and hasn't slowed down the pace of it

Lockdown or containment can only have an effect if it's introduced early, as in when the first half a dozen people are tested positive. Even then if they have been to work, on a bus or train to another town it's most likely to be too late.

All the lockdowns so far were implemented weeks too late to have any impact on the speed of spread of the virus, due to the high numbers of already infected people or carriers dispersing through their countries or abroad.

Because they have all been too late in their introduction, not one country, city or village around the world has seen a slowing of the rapidity of the virus.

However the combined effects of the global lockdowns will have a far greater and devastating effect than the virus itself, as lockdowns will now cause the greatest global economic depression and mass unemployment the world has ever seen, making the global financial crash in 2008 completely insignificant.

Vic Thomas
Catfirth
MY FINAL THOUGHTS ON THIS WHOLE THING
This virus is dehumanizing mankind even further than we have already come.  People are unable to render aid to their sick and dying loved ones, Unable to meet together with family and friends for comfort and encouragement.  No gentle kisses or tender hugs to help us get through these perilous times.  When our loved ones die, they die alone, their bodies are often forgotten or mistreated as their loved ones anxiously await news of their condition.  There can be no family burials, in fact there will likely be no burial at all as the mortuaries and cemetaries are overflowing.   And when this is all over, what will we have become??
Thanks to TECHNOLOGY, the members of  our families have already been alienated from each other, we have a generation of children who have no idea who they are or why they are here. They have been so dumbed down they cannot even read, write or work simple math problems, they think that using drugs to change your consciousness and communicate with other-wordly beings is normal, they sit in their rooms all day and play video games or watch horror on television, drinking blood and ingesting babies body parts is just part of their anti-aging, natural health diet, they hate anyone who does not believe what they believe and they will kill for financial gain.  They WORSHIP ghouls and monsters who sacrifice their friends and family to make it to the top.  They believe that they are not only as smart as THE CREATOR but that they can become GODS themselves.  

We are looking at moving into the world the globalists have planned, where animals have the roam of the earth and people are locked op in little 200 square foot boxcar apartments stacked to the sky and travel on foot or via bicycle.  Cut off from our families and friends because there is no more travel by automobile, airplane or train.  We will be getting our work and our entertainment pumped to our brain via AI.  Our every move, every deed, every thought will be monitored and even forecast ahead of time.  WE will have no money but what the powers that be alot to us, based on our level of submission to the state. Our health will not only be monitored but controlled by our overlords and they will take our freedom from us when and how ever they choose.  
Perversion, torture, slavery will be the normal way of life.
I would rather just take a pass… THANK YOU.
And if you think any of that is a joke…  You better do your research.  It is all laid out for you, if you have a mind to discern it.
Please see the following Articles on this site.   They are ALL RELATED!
Be blessed, be safe and be well.