Wow… I have been observing how the lives of Boris Johnson and Donald Trump have been mirroring each other in very significant ways.   I believe that there is a spiritual significance to their presence and their placement at this time.  Perhaps merely as place holders for Apollyon.   So here is what has been happening with Mr. Johnson recently.   It does not bode well for President Trump.  
They are both playing a role.  Politics is just a facade that the elite stage in front of us to give us an illusion of self government, while they continue to manipulate and control us from behind the veil.  
It does not take a rocket scientist to figure out that both Johnson and Trump have been made to appear as if they are fighting against the powers that be.  The far left has been screaming for their removal.  All part of the game.  If the script calls for their removal, this COVID 19 is the perfect vehicle to bring that about.  
I have been convinced from the onset that this virus was created to bring about the NEW WORLD ORDER.  It gives them the perfect vehicle to install and/or activate all their evil agendas.  They can demand anything they desire in the interest of "SAVING" the world from the dreaded pandemic
I do not participate in politics.  I have never believed that Donald Trump is any better than the rest of them.  But, he is our duly elected President, and as such we should respect the office.  Pray.  Not only for Trump, but for us.  These endtimes are very unstable and treacherous.  I expect to see something happen to Trump in the days ahead.  I don't know if it will the virus, or an assassination, or some other equally fatal event.   Keep your eyes on the Golden Boys.
Update 4/19/20
Boris Johnson update: Where's Boris Johnson? When will the Prime Minister return to work?

PRIME MINISTER Boris Johnson was recently released from intensive care after being diagnosed with coronavirus. Where is Boris Johnson now? When will the Prime Minister go back to work?

Boris Johnson says NHS 'saved my life' after hospital discharge

The Prime Minister tested positive for coronavirus on March 26. He was said to be experiencing mild symptoms including a continuous cough and a high temperate, and so was advised by Chief Medical Officer Chris Whitty to get tested. Mr Johnson spent three nights in intensive care as his condition worsened, but has since been discharged from hospital.

Mr Johnson is currently recovering from his illness and not doing any official Government work.

Downing Street said the Prime Minister is residing at his countryside home, Chequers, and is not receiving his ministerial red box of papers.

While staying at Chequers, the Prime Minister was tested again for COVID-19 but returned a negative result.

Prime Minister Boris Johnson has been recovering from coronavirus 

The Prime Minister is staying at his Chequers country home while he recovers (Image: Getty)

Foreign Secretary Dominic Raab is currently filling in for the Prime Minister in his absence, and yesterday announced a three-week extension to the ongoing lockdown.

The Prime Minister's official spokesperson, when pressed about his health, said: "He continues his recovery at Chequers and is not doing Government work."

The spokesperson added: "The PM had a discussion with the first Secretary of State yesterday [Dominic Raab].

"He is not doing any red box work. He is focused on his recovery and not on doing Government work."

Foreign Secretary Dominic Raab has been filling in for the Prime Minister (Image: Getty)

When will the Prime Minister come back to work?

The Financial Times reports that ministers are excepting the return of Mr Johnson on May 7.

This, according to the publication, is to coincide with an announcement that lockdown restrictions may be eased ahead of the May Bank Holiday weekend and the 75th anniversary of VE Day.

Mr Johnson praised NHS staff when he was released from hospital, hailing our health service as the country's "greatest national asset", as he spoke from a video call.

The Prime Minister personally thanked health workers by name and admitted things could "have gone either way" during his stint in intensive care.

Mr Johnson is not doing any Government workwhile at Chequers (Image: Getty)

He wanted to thank two nurses in particular, Jenny and Luis, who he said stood by his bedside for 48 hours keeping a watchful eye on him.

He said: "For every second of the night they were watching and they were thinking and they were caring and making the interventions I needed.

"So that is how I also know that across this country, 24 hours a day, there are hundreds of thousands of NHS staff who are acting with the same care and thought and precision as Jenny and Luis.

"This is why we will defeat this coronavirus and defeat it together."

Mr Johnson hailed the NHS as the country's greatest asset (Image: Getty)

Mr Johnson went on to thank everyone in the country for making sacrifices, staying indoors and following social distancing rules during the warm weather.

He added: "So many millions and millions of people across this country have been doing the right thing.

"I want you to know that this Easter Sunday I do believe that your efforts are worth it, and are daily proving their worth.

"The British public has formed a human shield around this country's greatest national asset – our National Health Service."
Update 4/16/20
The PM arrived at Chequers on Sunday to complete his recovery from coronavirus
Update  – 4/9/20
Update 4/7/20
Boris Johnson 'is a fighter' and will be back at the helm to lead us through coronavirus crisis, Dominic Raab says – latest news
Struggling to breathe, the British prime minister spent the night in a hospital ICU in London.
Well, looks like the intel was inccorrect. Boris Johnson is not dead!  
Three unconfirmed reports have come into the Hal Turner Radio Show CLAIMING that British Prime Minister Boris Johnson has died.  This is UNCONFIRMED as of 11:13 PM eastern US time.

The reports all center around a claim that Mr. Johnson went into Respiratory failure and could not be revived.

The first report came in from family of a BBC staffer, who reported that BBC were calling employees into work to begin working on Johnson's bio and state funeral planning.

The second report came from a source in law enforcement inside the UK, who claimed respiratory failure killed the Prime Minister, and that it was being kept secret until tomorrow.

The third report came in from a political staffer in the UK who claimed the British Government is considering a government evacuation out of London, fearing some type of civil uprising, and  repeating the above claims about Boris Johnson being dead.

NONE of this has been verified via official sources.  I am merely passing this info along as raw intel.
With the prime minister's condition worsening Monday, Britain plunged into a harrowing new phase in its struggle against the coronavirus. Mr. Johnson is in a debilitating battle after contracting a virus he initially viewed with characteristic nonchalance.  (Minimizing the virus just like Trump)
Independent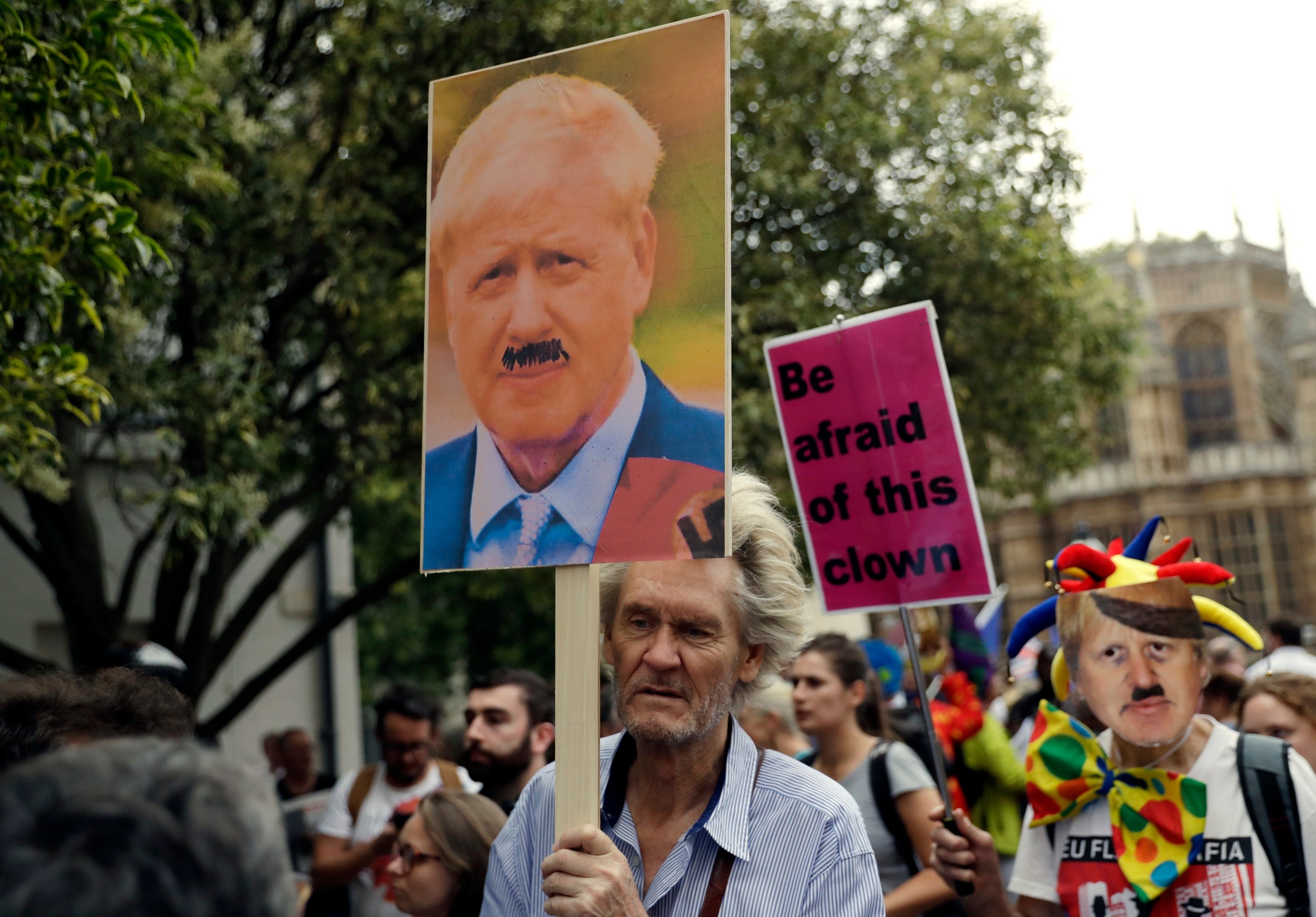 Prime Minister speaking after his own brother walked out of government in protest at his position on EU

The comments came on another disastrous day for the prime minister, as his own brother Jo walked out of his government in protest at his leadership.

In a move which one former Tory minister described as "absolutely devastating" for the PM's credibility, higher education minister Jo Johnson – who has previously advocated a Final Say referendum on EU membership – said he had found it impossible to reconcile his loyalty to his brother with the national interest

Thousands protest

after Boris Johnson requests to suspend parliament

Show all 29

spacer

Speaking during a visit to Wakefield, West Yorkshire, Boris Johnson paid tribute to his younger brother's service in government, but made clear he was sticking to his pledge to take Britain out of the EU on 31 October come what may.

Asked if he could promise not not to ask for an extension to Brexit negotiations, as a bill going through parliament requires him to, the prime minister replied: "Yes, I can. I would rather be dead in a ditch."

But challenged on whether he would therefore resign if the bill becomes law, as it is expected to on Monday, he simply restated his objection to an extension.

"It costs £1 billion a month, it achieves nothing," he said. "What on Earth is the point of further delay? I think it's totally, totally pointless."

He repeated his call for Labour leader Jeremy Corbyn to tell his MPs to vote for a snap election on 15 October, to allow time for the victor to go to Brussels for an EU summit two days later with a mandate from voters to negotiate either a deal or an extension to talks.

The prime minister's comments came in a sometimes shambolic speech at a police training academy, where he struggled to remember the formal words of an arrest caution and was forced to cut his remarks short when a female officer had to sit down after waiting in the warm sun for his delayed arrival.

There was anger at his use of a line-up of rows of uniformed cadets as a backdrop for highly partisan remarks, with Wakefield MP Mary Creagh saying she was "very unhappy" about cadets being used as "wallpaper for Johnson's party political stunt".

Hero policeman Charlie Guenigault, who was injured in the London Bridge terror attack, said that the event sent "the wrong message" by giving the impression that officers were displaying their political allegiance.

Jo Johnson's resignation comes just six weeks since he faced fierce criticism for returning to the government despite having resigned last year to campaign for a second EU referendum.

In a tweet announcing his decision to leave the government and stand down as MP for Orpington, he said it was impossible to reconcile "family loyalty and the national interest", adding: "It's an unresolvable tension and time for others to take on my roles as MP and minister #overandout "

The prime minister paid tribute to his brother as "a fantastic guy and a brilliant minister" who had supported his domestic agenda, but added: "Jo doesn't agree with me about the EU. It's an issue which obviously divides families and divides everybody.

"But what I think Jo would agree is that we need to get on and sort this thing out."

It is understood that Jo Johnson informed the prime minister of his plan to resign in a phone call on Wednesday evening.

One Westminster observer immediately summed up his decision to walk out as sending the message: "I'm resigning to spend less time with my family."

Others pointed back to an interview Boris Johnson gave, a few years ago, in which he insisted he and his brother would never suffer a family schism like David and Ed Miliband.

"We don't do things that way, that's a very left-wing thing," the elder Johnson said.

"Only a socialist could do that to his brother, only a socialist could regard familial ties as being so trivial as to shaft his own brother."

It appeared the final straw for Jo Johnson was his brother's decision to "purge" 21 moderate Conservatives from the party for their rebellion to block a no-deal Brexit.

Among the exiled MPs were colleagues, such as Justine Greening, with whom he had – before the summer – been working to try to avert a crash-out from the EU.

One of the 21, former defence minister Guto Bebb, told The Independent that the resignation was "absolutely devastating to the credibility of Boris Johnson".

"In effect, Jo is saying he has wrestled with the choice between loyalty to his brother or loyalty to the national interest and has concluded that loyalty to the national interest has to come first," said Mr Bebb.

"This is Jo Johnson – who is a decent, honourable person – saying quite categorically that his brother is not acting in the national interest."

Mr Bebb said he expected opposition parties to exploit the schism between the brothers in the same way that Conservatives did the rivalry between the Milibands, in a way which would be "very damaging" to the Tory cause in the expected election.

But another former minister told The Independent: "It's not the same. Ed Miliband was challenging his brother. Jo is vacating the scene. His decision to leave parliament makes clear he is not doing this to damage his brother."

And former justice secretary David Gauke, who had the whip removed after rebelling on Tuesday, said: "Lots of MPs have had to wrestle with conflicting loyalties in recent weeks. None more so than Jo. This is a big loss to parliament, the government and the Conservative party."

Shadow education secretary Angela Rayner said: "Boris Johnson poses such a threat that even his own brother doesn't trust him."

The resignation capped a horror 24 hours for the new prime minister, who has yet to win a Commons vote – while suffering multiple defats at the hands of MPs.

The Commons refused to grant Mr Johnson a snap general election, less than two hours after passing a bill designed to block a no-deal Brexit on 31 October.

An election could yet be granted for his chosen date of 15 October if the bill becomes law by Tuesday, but Mr Corbyn is facing a growing Labour revolt to delay it further.

When he first resigned, in November 2018, Jo Johnson branded Theresa May's negotiations as a "failure of British statecraft on a scale unseen since the Suez crisis".

Warning Britain stood "on the brink of the greatest crisis since the Second World War", the younger Johnson added: "The democratic thing to do is to give the public the Final Say."
spacer