Ok folks, get ready!  2023 is going to be an earth shattering year.  Off to a bang up start it is coming in with calamities and catastrophes galore.
California is about to be hit by a major bomb cyclone!  Weather that is unprecedented, totally out of the ordinary.  They want you to believe that these things are occurring naturally due to "climate change" and/or the "pole shift".  Don't you believe it.  Now that they have ceased complete control of the weather, they are going to town.  Men just love to play with new toys.
Interesting, California is overrun with homeless people and immigrants… looks to me like they have created an answer to their problem.  Or at least a way to address it.
There are an awful lot of people in California and many of them have no means to mobilize.  This could bring massive deaths and/or incarcerations.
Rest assured, this is coming to your neck of the woods.  They have to tweak it a little for different types of localities, but they can bring devastating weather ANYWHERE.
Right now, I just want to offer my prayerful support for all those in the path of this current SUPER STORM.  My heart goes out to everyone there in California, but most especially to the poor and the homeless.  May our Heavenly Father miraculously protect and provide for you and bring you out on the sunny side.
Below you will find some very important information as well as some very vital and helpful TIPS on what to do and how to prepare.
spacer

To Watch the Following Video on the Weather Channel website: CLICK HERE
spacer
spacer
LOS ANGELES – A powerful double whammy of an atmospheric river and bomb cyclone continues to drench California Thursday, dropping several inches of rain on a region that has struggled to wring out from an onslaught of winter storms and creating a widespread risk of flooding, mudslides and power outages in what some forecasters are suggesting will become one of the most impactful storms to strike the state in years.
The storm has been blamed for at least two deaths in the San Francisco Bay Area. An infant was killed Wednesday inside a home that was hit by a falling redwood tree in the rural Sonoma County town of Occidental, according to local firefighters. No other details have been released.
In Fairfield, a 19-year-old woman was killed when her car hydroplaned on a partially flooded road and slammed into a utility pole, according to Fairfield Police.
Gov. Gavin Newsom declared a state of emergency in response to the severe winter storms in an effort to boost emergency response efforts and authorize the mobilization of the California National Guard for disaster response. It also directs Caltrans to request immediate assistance from the Federal Highway Administration to expedite road repairs due to the storms.
The Sacramento Fire Department propositioned water rescue teams before the rain actually fell in earnest.
"California just hasn't been used to this for probably the last 20 to 30 years," said fire captain Keith Wade. "We're moving through; the big thing we're doing with our equipment that we're asking to come in, we have a swift water team that's prepositioned here in the city of Sacramento."
Coordination efforts are underway by the state's emergency operations center to set up sandbagging locations and shelters, and deploy ambulance strike teams. "We anticipate this may be one of the most challenging storms in California," officials said.
Mandatory evacuations were ordered for several neighborhoods that face a high risk of flooding. Police across northern California continue to evacuate homes as more rain falls.
Keep LAFD's 6 "Ps" at the ready
What you should have on hand, and what to do ahead of an evacuation order
Important documents and phone numbers
(passports, ID's; passwords, car title, birth certificates, insurance docs, proof of income, medical information)
Family photos, priceless memorabilia
Credit cards, ATM cards, cash,

jewelry, coins,  gold or silver
Family members and pets
and their food

, water bowl, litter box or pee pad and pooper scooper, plastic bags, leash, shot information, meds if needed, flea collar, tags, pet bed, toys, blanket, sweater/jacket and carrying case and/or kennel to maintain control in a strange location.
Any prescriptions, medicines, or vitamins, including glasses,

(hygene items, wheelchairs, walkers, canes, crutches, inhaler, catheters, bladder supplies, pain medication like aspirin or tylenol, bandaids, antibiotic get,  etc.)
Computers, hard drives, anything with important info (chargers, cords, headsets, thumb drive, mouse.)
Coats, blankets, socks, underwear
Take a ice scraper, a window breaker, a car charger, a car phone charger, a couple flares, a gas can, some bottled water, protein snacks, and pepper spray
IF YOU HAVE INFANTS OR TODDLERS:
car seat, carrier, pacifiers, diapers, wipes, vinyl gloves, trash bags, bottles, formula, foods, snacks, toys or games, favorite snuggle toy, kid videos and or music CD's, warm clothes, blanket, coat, hat, water, 

Other HELPFUL Tips
Leave early to avoid flooding or road congestion.

Take your car out of your garage

Take the car out with the windows closed. Hold on to your keys.

Disconnect your automatic garage opener, in case of a power outage.
Storm becomes 'bomb cyclone'
The storm underwent rapid development off the California coast over the past 36 hours, becoming what meteorologists refer to as a bomb cyclone. As the storm intensified, it tapped into abundant tropical moisture available in the Pacific Ocean, creating a reasonably strong "atmospheric river" carrying copious amounts of moisture from Hawaii to California.
WHAT DOES A 'CATEGORY 5' ATMOSPHERIC RIVER MEAN? SCALE AIMS TO RATE NATURE'S LARGEST SOAKERS
"Basically, an (atmospheric river) is a river in the sky of water vapor, and when it hits the mountains, (the moisture) is forced up over the mountains," Marty Ralph, Director of the Center for Western Weather and Water Extremes, told FOX Weather. "That upward motion causes clouds and precipitation to form, and the faster the flow of air and water vapor is hitting the mountains, the faster the rain is falling, so you get more and more rain with the stronger ARs hitting the mountains."
This animation shows the rapid strengthening of a low-pressure system as it approaches the West Coast. This system has become what is known as a bomb cyclone. / FOX Weather
This specific type of atmospheric river, known as the "Pineapple Express" in a nod to the storm's fuel source due to its Hawaiian origins, is set to bring significant moisture to California. Think of this as a narrow pipeline of moisture that originates in the tropics.
Significant threat of widespread flooding from atmospheric river
Flood watches span much of the state, from near the Oregon-California border to just north of the Los Angeles area.
Of particular concern are the potential for debris and mudflows where heavy rain falls in areas burned by major wildfires in the state over the past few years.
Some areas along the Northern and Central California coast could see 5 to 8 inches of rain, while farther inland, rainfall totals in the mountains and their foothills could approach 8 to 12 inches in some spots.
The San Francisco Bay Area, which saw its second-wettest day on New Year's Eve, could see an additional 2 to 5 inches of rain with locally higher amounts.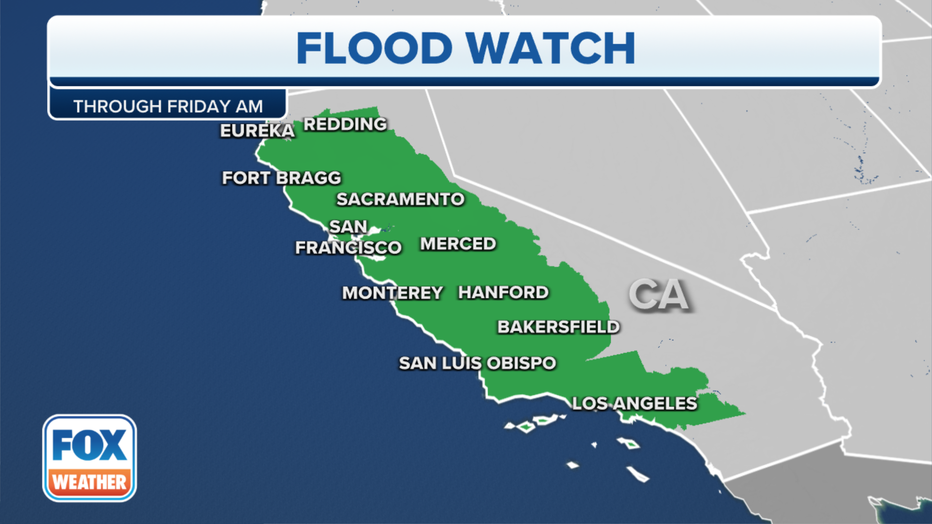 Flood Alerts / FOX Weather
Even the Los Angeles area could have 2 to 4 inches of rain – with 4 to 8 inches of rain possible in the Southern California mountains – by the time the storm system moves through.
"We are seeing street flooding occurring on multiple streets throughout the City of Los Angeles," Los Angeles Police tweeted Thursday morning, adding the Sepulveda Basin had been shut down due to high water levels.
Since atmospheric rivers have been dropping near-record amounts of rain across California since before the Christmas holiday – as much as 5 to 12 inches – the additional water will have nowhere to go. As a result, numerous instances of flash flooding and mudslides are expected.
Considerable and life-threatening flooding is especially possible along the northern and central California coast. Rivers across the state are forecast to rise into flood stage.
Santa Cruz County, which sits along the central California coast, has already declared a local state of emergency before Wednesday's storm arrived as the county suffered more than $10 million in damage from last weekend's atmospheric river storm.
ATMOSPHERIC RIVER TURNS DEADLY AS IT SLAMS CALIFORNIA WITH FLOODING, MUDSLIDES
'Likely loss of human life' from atmospheric river impacts
Meanwhile, the bomb cyclone will create a tremendous difference in pressure across regions, leading to widespread high-wind events that could last for several hours.
WHEN STORMS 'BOMB OUT': EXPLAINING HOW A BOMB CYCLONE FORMS
High Wind warnings span much of Central California into Thursday morning for gusts between 50 and 60 mph in the San Francisco Bay Area, 60- to 70-mph gusts in the Sacramento Valley and 65- to 70-mph gusts possible along the coastal and mountainous regions.  In Southern California, gusts from 50- to 70-mph are likely in the mountains and central coastal regions.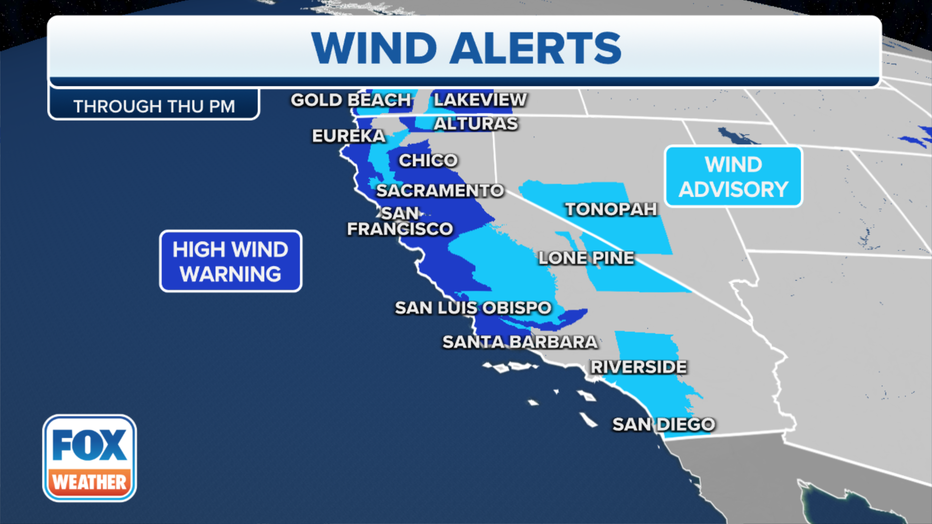 California Wind Alerts / FOX Weather
So far, Eureka recorded a gust of 66 mph, forcing the closure of an 18-mile stretch of Highway 101 in Humboldt County due to multiple downed trees.
California's State Route 1 was closed for a period Wednesday in Mendocino County south of Gallaway due to downed trees.
San Francisco reached a gust of 60 mph Wednesday evening while Oakland wasn't too far behind at 59 mph. But wind reports are coming in exceeding 100 mph in some mountainous areas.
Alpine Meadows in the Sierra Nevada hit a gust of 132 mph while a wind gust as high as 106 mph was recorded at the Grapevine Peak weather station in Kern County, according to the National Weather Service.
A few strong thunderstorms are possible in the region Wednesday night that could bring sudden localized damaging wind gusts.
As of Thursday morning, more than 180,000 customers in California were without power. The most widespread outages were reported in Northern and Central California, including parts of the San Francisco Bay Area.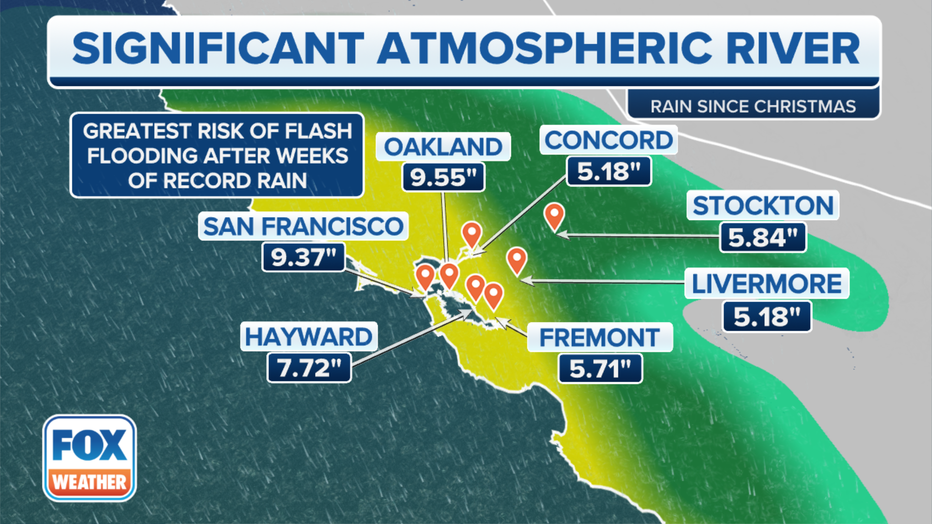 Greatest risk of flash flooding after weeks of record rain. / FOX Weather
With heavily saturated grounds and hours of such wind speeds, widespread power outages are likely. "Customers are strongly urged to prepare for potential extended outages," Pacific Gas & Electric officials warned.
WHAT IS AN ATMOSPHERIC RIVER? EARTH'S LARGEST FRESHWATER RIVERS ARE IN THE SKY
The current storm combined with the saturated soils from previous storms has emergency officials bracing for widespread damage from flooding and mudslides.
National Weather Service forecasters in San Francisco were not mincing words about the upcoming threat.
"To put it simply, this will likely be one of the most impactful systems on a widespread scale that this meteorologist has seen in a long while," an NWS meteorologist in San Francisco wrote in a forecast discussion Monday evening. "The impacts will include widespread flooding, roads washing out, hillside collapsing, trees down (potentially full groves), widespread power outages, immediate disruption to commerce, and the worst of all, likely loss of human life. This is truly a brutal system that we are looking at and needs to be taken seriously."
In addition, forecasters are warning about coastal flooding along the San Francisco peninsula that would flood parking lots and coastal roads.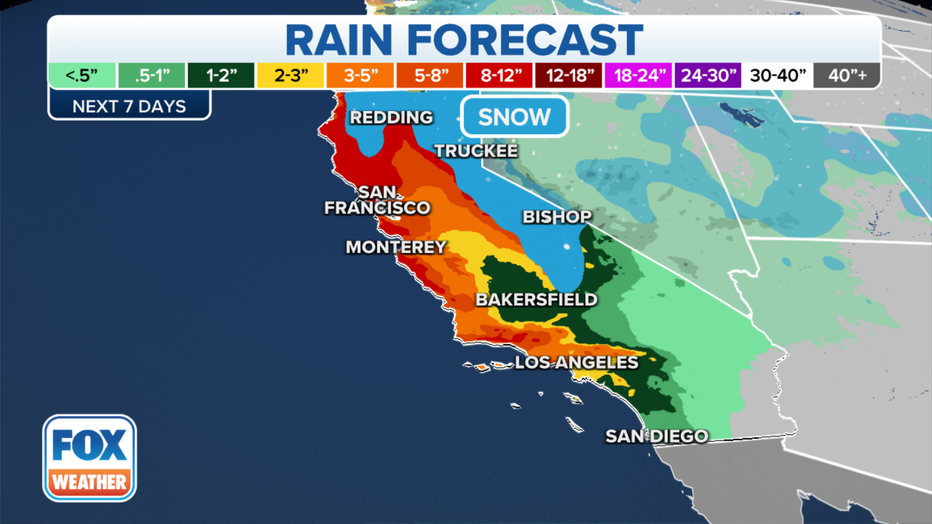 The rain forecast over the next seven days. / FOX Weather
Atmospheric river once again bringing snow measured in feet to Sierra Nevada 
While rain will fall at the lower elevations across the West, as you get higher in elevation, snow is expected.
Up in the mountains, dangerous travel conditions are developing and will continue through Thursday night as extremely heavy snow rates greater than 3 inches per hour are near certain above 5,000 feet.
This will lead to dangerous, if not impossible, travel conditions. In total, and additional 1-4 feet of snow is expected across the Sierra Nevada. In Southern California, the highest peaks of the mountains will pick up 1-2 feet.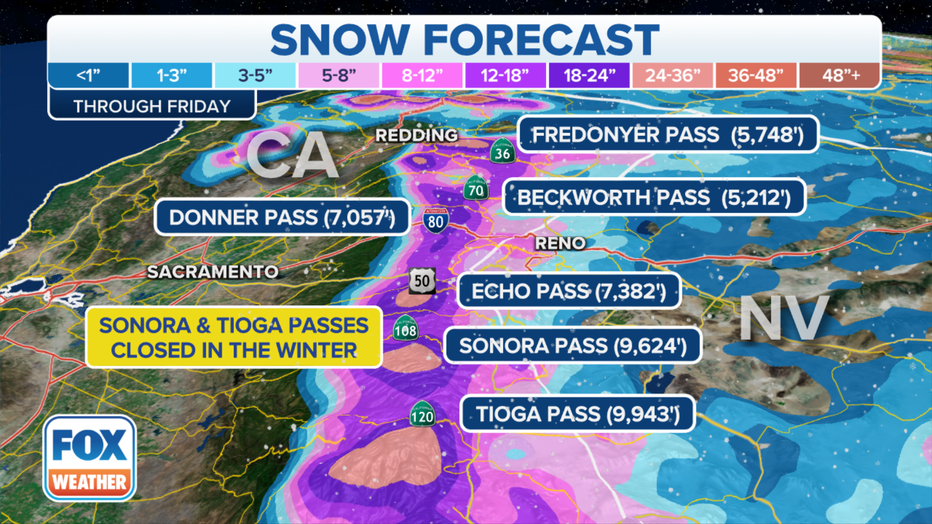 The snow forecast over the next seven days. / FOX Weather
Winter Storm Warnings are in effect across the Sierra Nevada for not only heavy snows, but damaging winds gusting to 55-70 mph along the higher peaks with gusts reaching 85 mph on the highest peaks.
There is no (sun)light at the end of the tunnel yet
This latest storm will eventually push through by late Thursday or early Friday, but there is scant hope for drier weather in the Golden State anytime soon.
Another atmospheric river will blast the state this weekend and then yet another powerful one is likely next Tuesday-Wednesday, according to the FOX Forecast Center. Each will bring a renewed round of dangerous flooding.
Over the next week, as much as 20 inches of rain may fall in the northern parts of the state.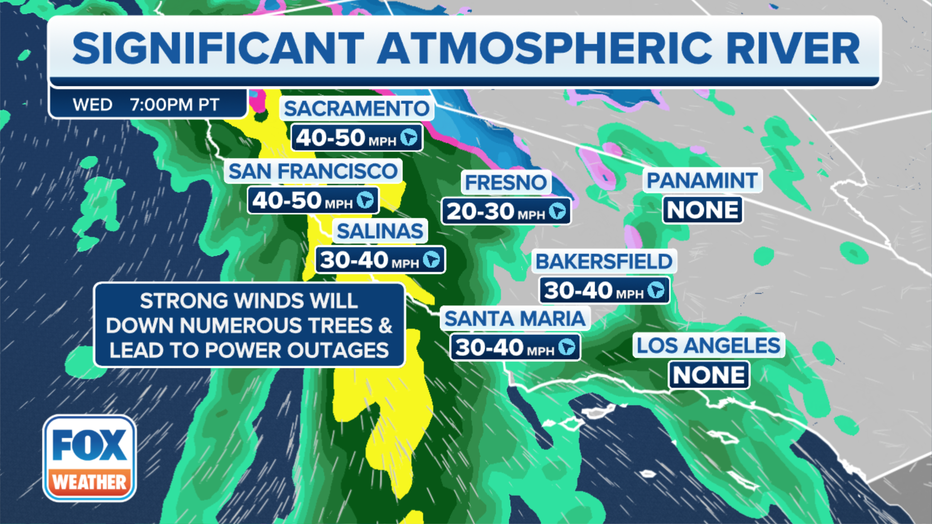 California Wind Forecast / FOX Weather
"The cumulative effect of the repeated rounds of moderate to heavy rain will lead to the potential for more widespread flooding with increasingly severe impacts," the National Weather Service in Sacramento said in their discussion Wednesday morning.
Fellow NWS meteorologists in San Francisco added in their forecast discussion: "The message to convey is resiliency as this is not a 'one and done' storm."
Despite relentless atmospheric rivers, drought still factor in California
Several inches of rain in the forecast on top of what's already fallen this winter is surely appreciated in a region mired in a yearslong drought. While every drop helps, the area has a long way to go.
"At this point in time, we still have another four or five months in our snow season and in our typical rainy season," Andrew Schwartz, lead scientist at the Central Sierra Snow Lab, said last week. "That means that while we're kind of scoring the touchdown in the first quarter of the game. Right now, we still have three-quarters left, and there's a lot that can happen."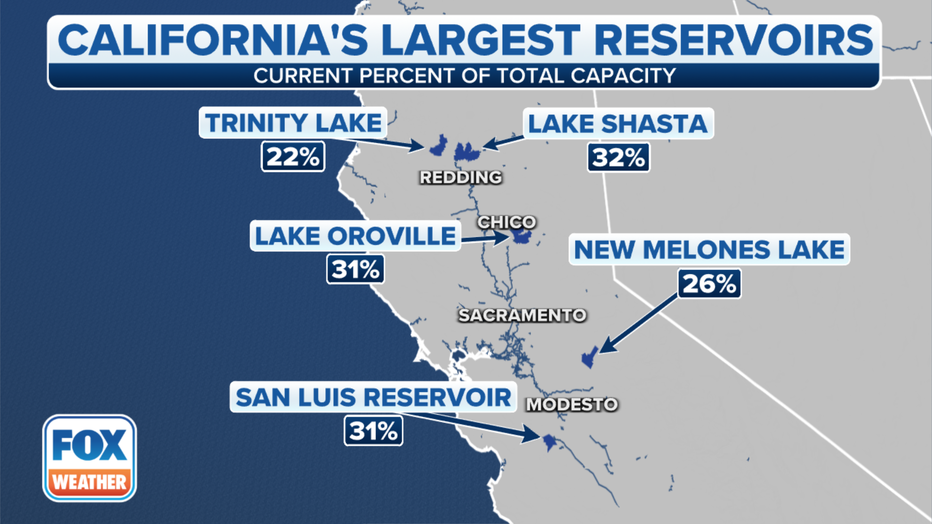 California Reservoirs / FOX Weather
EXTRA WINTER'S WORTH OF PRECIPITATION NEEDED TO BUST CALIFORNIA'S DROUGHT, SCIENTIST SAYS
Schwartz said last year's winter season started well with a record-breaking December mountain snowfall.
"But January through March kind of shut off, and we didn't see as much precipitation come through in that period as we would have wanted," he said.
Even an average snowfall season wouldn't be enough to get the region out of drought.
"At this point in time, we realistically need about an extra winter's worth of precipitation," Schwartz said. "So, it's not going to happen in one year. At minimum, we're probably looking at three to four of above average before we can really talk about getting out of the drought."
In an average season, the lab sees 30 feet of snow. An extra season's worth of snow would mean 60 feet in one year. He said it is a "high task to try to take on."
Get updates to this story from FOX Weather.
spacer
HERE IS SOME MORE VERY HELPFUL INFORMATION REGARDING EVACUATIONS.
spacer

An official website of the United States government
(Sorry, I can help mentioning that the globe they have on this page sure looks like a prison!!)
Plan to Evacuate
Many kinds of emergencies can cause you to have to evacuate. In some cases, you may have a day or two to prepare while other situations might call for an immediate evacuation. Planning is vital to making sure that you can evacuate quickly and safely no matter what the circumstances.
Before an Evacuation
Learn the types of disasters that are likely in your community and the local emergency, evacuation and shelter plans for each specific disaster.
Plan how you will leave and where you will go if you are advised to evacuate.
Check with local officials about what shelter spaces are available for this year.
Identify several places you could go in an emergency such as a friend's home in another town or a motel. Choose destinations in different directions so that you have options during an emergency.
If needed, identify a place to stay that will accept pets. Most public shelters allow only service animals.
Be familiar with alternate routes and other means of transportation out of your area.
Always follow the instructions of local officials and remember that your evacuation route may be on foot depending on the type of disaster.
Come up with a family/household plan to stay in touch in case you become separated; have a meeting place and update it depending on the circumstance.
Assemble supplies that are ready for evacuation. Prepare a "go-bag" you can carry when you evacuate on foot or public transportation and supplies for traveling longer distances if you have a car.
If you have a car:

Keep a full tank of gas if an evacuation seems likely. Keep a half tank of gas in it at all times in case of an unexpected need to evacuate. Gas stations may be closed during emergencies and unable to pump gas during power outages. Plan to take one car per family to reduce congestion and delay.
Make sure you have a portable emergency kit in the car.

If you do not have a car, plan how you will leave if needed. Decide with family, friends or your local emergency management office to see what resources may be available.
During an Evacuation
Download the FEMA app for a list of open shelters during an active disaster in your local area.
Listen to a battery-powered radio and follow local evacuation instructions.
Take your emergency supply kit.
Leave early enough to avoid being trapped by severe weather.
Take your pets with you but understand that only service animals may be allowed in public shelters. Plan how you will care for your pets in an emergency now.
If time allows:

Call or email the out-of-state contact in your family communications plan. Tell them where you are going.
Secure your home by closing and locking doors and windows.
Unplug electrical equipment such as radios, televisions and small appliances. Leave freezers and refrigerators plugged in unless there is a risk of flooding. If there is damage to your home and you are instructed to do so, shut off water, gas and electricity before leaving.
Leave a note telling others when you left and where you are going.
Wear sturdy shoes and clothing that provides some protection such as long pants, long-sleeved shirts and a hat.
Check with neighbors who may need a ride.

Follow recommended evacuation routes. Do not take shortcuts, they may be blocked.
Be alert for road hazards such as washed-out roads or bridges and downed power lines. Do not drive into flooded areas.
After an Evacuation
If you evacuated for the storm, check with local officials both where you're staying and back home before you travel.
If you are returning to disaster-affected areas, after significant events prepare for disruptions to daily activities and remember that returning home before storm debris is cleared is dangerous.
Let friends and family know before you leave and when you arrive.
Charge devices and consider getting back-up batteries in case power-outages continue.
Fill up your gas tank and consider downloading a fuel app to check for outages along your route.
Bring supplies such as water and non-perishable food for the car ride.
Avoid downed power or utility lines, they may be live with deadly voltage. Stay away and report them immediately to your power or utility company.
Only use generators outside and away from your home and NEVER run a generator inside a home or garage or connect it to your home's electrical system.
Last Updated: 09/27/2022
spacer
Southern Californians were urged to remain vigilant, and some were forced to evacuate, ahead of the anticipated overnight arrival of a massive storm that forecasters say will spawn dangerous surf, whip up heavy winds and drop at-times punishing rain across the region.
While the most profound impacts were expected in Northern California, officials warned of the risk for flash flooding across the southwestern swath of the state through Thursday.
"The heaviest rain may be focused on Northern California, but as far as the Southland is concerned, this will be the strongest storm this season so far, hands down," said David Sweet, a meteorologist with the National Weather Service in Oxnard. "It could be very hazardous."
Los Angeles County issued evacuation warnings for residents in two northern mountainous communities close to perilous burn scars. And in Santa Barbara County, officials on Wednesday ordered the evacuation of specified properties in and around areas previously scorched by the Thomas, Cave and Alisal fires, citing the risk of flooding and debris flows.
"We are in the beginning stages of a major storm — a powerful event that will be a multihour storm that has the potential to cause major problems across the county," Santa Barbara County Sheriff Bill Brown said during an afternoon news conference.
Gov. Gavin Newsom on Wednesday proclaimed a statewide emergency to "support response and recovery efforts" across the already-saturated state.
"This may be one of the most challenging and impactful series of storms to touch down in California in the last five years," said California Office of Emergency Services Director Nancy Ward. "If the storm materializes as we anticipate, we could see widespread flooding, mudslides and power outages in many communities."
The atmospheric river that moved into California on Wednesday is the second in a series of moisture-heavy storms, with more expected in the "next seven to 10 days," Ward said.
Officials across the state asked residents stay vigilant, heed local guidance and warnings and, if possible, stay home and off the roads during the worst of the storms.
"There's enough concern with this system that everyone needs to stay on guard," Sweet said of Southern Californians. "Significant flash flooding and debris flows are possible, especially in and below recent burn scars."
In L.A. County, the National Weather Service is most concerned about flooding in the Lake fire burn scar around Lake Hughes, north of the Santa Clarita Valley; and the Fish and Bobcat fires burn scars near Duarte.
Los Angeles County officials warned residents near the Lake fire burn scar and north end of the Bobcat fire burn scar in and around the Angeles National Forest to "be ready" for possible evacuations through Friday morning "due to the potential for mud or debris flows."
"This is a dangerous weather system, [with] a very significant flood situation developing later tonight and Thursday morning," said Eric Boldt, a National Weather Service meteorologist in Oxnard.
Karla Nemeth, director of the California Department of Water Resources, said flooding and heavy rainfall are major concerns, but called high winds the "signature" of this storm.
"This is an extreme weather event; we're moving from extreme drought to extreme flood," Nemeth said. "What that means is a lot of our trees are stressed after three years of intensive drought, the ground is saturated and there is a significant chance of downed trees that will create significant problems, potentially flooding problems, potentially power problems."
Light rain and scattered showers began falling in some parts of Southern California early Wednesday, but more intense rain was forecast for later in the evening and through rush hour Thursday morning.
"It's going to be a difficult commute Thursday morning," Sweet said. Rainfall in the L.A. area is expected to fall at a pace of up to 1 inch per hour Thursday morning, with the most intense period lasting about three hours, he said.
However, there is a chance those rates could reach up to 1.25 inches per hour in some parts of the Southland, which would heighten the risk for mud and debris flows in recent burn areas, Boldt said.

NWS Los Angeles
Throughout the storm, most of L.A. is expected to get 2 to 4 inches of rain, while the mountains could see up to 8 inches, Sweet said. Isolated rainfall totals of up to 10 inches are possible on the south slopes of the Santa Ynez Mountains and western Ventura County mountains.
The storm will also bring strong winds across the region, dangerous surf on the coast and significant snowfall in the mountains, Sweet said. A winter storm warning is in effect for the Los Angeles, Ventura and San Bernardino county mountains, with up to 2 feet of new snow expected for some of the highest regions, and gusts of wind reaching 60 mph.
"Even in the lower elevations, we'll be looking at wind gusts at 40 to 50 mph, very strong winds," Sweet said, which means possible power outages, downed trees and other debris concerns.
With the threat of flooding, Sweet said "there's a lot of opportunity for blocked roads, unfortunately."
High surf warnings are also in effect for much of the central and southwestern coasts through Friday, with waves potentially reaching up to 22 feet in some areas. There will be a chance of flooding and "some significant beach erosion, especially near times of high tide," Boldt said. Los Angeles County is offering sandbag pickup at a number of locations.
"Definitely be on the watch out for waves moving up onto the shore and flooding parking lots and walkways, and maybe even some pier damage if we get some big enough waves come into these areas," he said.
There will also be a slight chance of thunderstorms once the heaviest rains have passed Thursday, Boldt said.
"Those could create their own very brief heavy downpours, but those cells will be fast moving," he said. "The threat of flooding is still there, but we will be monitoring those closely for both potential heavy rain and gusty winds."
Nemeth said the state also continues to monitor additional storms expected this weekend and into next week.
"We have multiple storms in sequence," Nemeth said. "It doesn't require the same amount of precipitation to inflict significant damage, so we do need all Californians to be attentive to their local county emergency response services and if you do get the word to evacuate, you do need to evacuate."
This story originally appeared in Los Angeles Times.
spacer
God knows that Californians have suffered tremendously this past decade. I hope that people are beginning to make the spiritual connection.  I do think it is time for those who live in California to repent of their liberal, rebellious ways and turn to the Almighty God.  California is historically famous for Rebellion, Greed, Paganism, and SATANISM.  Sadly, we are all judged both individually and collectively.  We suffer for the sins of our individual States as well as our Nation.  A MASSIVE REPENTANCE before GOD is what we need right now.
spacer