The Bards of the Druids/MAGI  were the original masters of the MAGICK of theater.  They would weave the tales of the heroes of old and of their day.  They did not ever write anything down.  They were the keepers of what they called truth and history.  The people were only told what the Druids wanted them to know.  In that manner they controlled everything.  Not much has changed.  In this time of great knowledge…we are only fed what they want us to know.  They control how we see the world and perceive truth.
The world of VR – Virtual Reality is making great strides.  It is getting harder and harder to determine reality from fantasy.  This is by GRAND DESIGN.
If you are someone who likes to get out and see new things and hobknob with the general public, you may have already experienced some of this technology first hand.  If you are not or have not, let me introduce you to something that is changing us and the way we perceive things.  
DISCLAIMER: In my posts I normally collect a number of written articles and videos related to the topic.  I hightlight in red or black the parts of the articles that I think are important to note and try to leave it to the reader to come to their own conclusions. The object is to bring the facts/truths to your attention and cause you to look further into them yourself.  Why?  Because that is the only way to make the subject real to you.  When you view the available information, search it our on your own, hopefully guided by the Holy Spirit, YOUR CONCLUSION is exactly that YOURS.   It means something to you.  It may be similar to mine or it may be completely different.  We are all on our own course and in different places with our spiritual development.  I pray that GOD speaks to you in a way that touches you.  IF you see notes in green, those are my comments.  Anything else, you find the source links on the titles, and the author and date will be below the titles.  Just because I post an article or video in my articles, it does not mean that I agree with the author or support their stand.  It does mean that I felt there was worthwhile information to be gleaned.
We had such plans for 2020!

LUMA's sixth season was on track to be our most compelling yet. Still, when the COVID crisis struck in early March, we knew everything had changed. The health and safety of our artists and festival goers has always been our first priority. And it simply wasn't the right time to focus on a festival.

But as that challenging spring wore on, we began to see a place for LUMA in the fall–perhaps not as it had always been–but in some new form. Though we may be best known for projection mapping, we've always said that LUMA was a storytelling celebration before it was anything. There were so many innovative ways we began to imagine for artists to connect with audiences, even in the midst of the crisis. In fact, our work started to feel more vital than ever. We eventually settled on a program of five groundbreaking projects; each one aimed to reinvent a popular art form by developing online tools for a socially distant age that could deliver artists' work with nuance and depth.

That's when we ran into our second wrinkle.

A few of our amazing financial backers suddenly realized they wouldn't be able to come through with their 2020 commitments. It was an unprecedented situation.

For a third time, we were forced to start from scratch. But the adversity also brought clarity. One of the five projects felt the most important–the most innovative. The performing arts had ground to a halt because of COVID. Theatre, dance, opera, Broadway–none could function with audience packed in thousands at a time.

We began to imagine a way to present an online form of theatre that combined the bold production values of Broadway with the intimacy of a tiny immersive theatre. We teamed up with Tri-Cities Opera and Opera Omaha to develop the idea.

What emerged was Miranda: A Steampunk Theatre Experience. We hope you join us for an online presentation–either on YouTube or in VR–as we embark on a shared experiment with a team of world-class artists and are always open-minded audience.
It's trial by opera in this interactive murder-mystery.
There's been a murder! One of the city's wealthiest women has been found dead, but things don't quite add up. The circumstances of her death are shrouded in mystery. Three lives of three suspects are on the line and it's your job to unravel the riddle through a trial by opera.

Miranda: A Steampunk VR Experience is a first-of-its-kind collaboration between LUMA, Tri-Cities Opera, Enhance VR, and Opera Omaha that blends the worlds of theater, VR, opera, and a live motion-capturefor a unique experience that will have you putting on your sleuthing hat to solve a mysterious murder.
The moment you step into VR, you are transported to a dystopian future where you'll come face-to-face with a cast of colEverything from their movements to their emotions is replicated in real-time via a motion-capture suit, bringing an additional level of personality and uniqueness to each performance.This innovative avant-garde vision of theater comes from LUMA co-founder Joshua Bernard Ludzki, who became fascinated with the idea of creating a live theater experience that could be experienced remotely in VRafter the live theater industry was hit incredibly hard from the coronavirus pandemic.

Unlike a conventional in-person theater performance, each and every viewer will have a premium seat for Miranda as they enjoy the show alongside a few other audience members from one of several hundred virtual 'rows'.

To bring even more theatrical immersion to the experience, audience members actually serve as judge and jury in the story itself, leading to several interesting questions. Can you accept your own role at face value?Or has the game been rigged from the start?

Hmmmm…

The story, score, and foundation of Miranda is driven by the groundbreaking work of award-winning composer Kamala Sankaram, who has created musical theatrical works produced by the Washington National Opera, theLos Angeles Opera, and the Houston Grand Opera, and also has numerous vocal and instrumental chamber works on her resume.

Sankaram's music builds a tone that carries a retrofuturistic pop sound while simultaneously weaving in the rich sounds and lyricismthat one would expect from a traditional opera.

In order to build the world of Miranda, the creatives at Enhance VR worked closely with LUMA. Using Unity and Photon, the team pioneered a new software framework designed for producing live musicals and operas that could be used in future productions.

The technology is so new, in fact, Miranda will actually mark the world debut of this new software! Which is exactly why the team is presenting all nine performances free to the public. While they don't anticipate any problems, this is live entertainment baby; anything can happen. As such the team is asking for forgiveness in case something does go wrong.

There are several ways to jump into the world of Miranda. You can watch in standard 2D via YouTube, or you can participate in VR using the HTC Vive, Oculus Rift, or as a WebVR experience. The show is free, but you will need to reserve tickets! You can get yourshere.
NEW YORK—LUMA, the country's fastest growing festival for art, tech and storytelling, will leverage its worldwide network of talent to reimagine how musical theater and opera are presented live in the era of COVID-19.

On September 24, 25, and 26, LUMA will debut a fully immersive production of Kamala Sankaram'sdystopian courtroom dramaMiranda: A Steampunk Opera streaming live in two distinct formats: through a fully immersive VR theatre app built for Vive/Oculus headsets and via real-time computer animated film streamed live through YouTube. The production is co-created by Tri-Cities Opera and co-presented by Opera Omaha.

The show's leading cast members sing live as their full bodies are motion-captured in real time and mapped onto meticulously crafted digital avatars designed for this groundbreaking production.

Miranda: A Steampunk Theatre Experience combines the quality of performance and broad accessibility of a large Broadway theatre with the emotional connection that can only be achieved in a small, immersive production. The style of production also creates the possibility for live theatre to incorporate cinema-scale effects typically impossible to replicate on-stage. To present Miranda, Enhance VR and LUMA have developed an original live theater framework application built on industry-standard 3D gaming tools including Unity and Photon.

Miranda transports us to a dark American futurewhere growing class disparities have reached epic proportions and the criminal justice system serves only as a parody of what it once represented. A wealthy socialite has died and three suspects' lives are on the line. They'll each testify in aria for a chance at freedom. The live audience serves as judge and jury – but can they even accept their own role at face value? Or has the game been rigged from the start?

Sankaram's score balances apocalyptic pop beats with the lush lyricism of classic opera, adding a rich texture to a tale that explores themes of class, bureaucracy and self-determination.The work is being directed and adapted from its original 2013 production by Alison Moritz (Washington National Opera, Opera Omaha, Tanglewood Festival), working with lead designer Diego Martinez and Co-Executive Producer Tice Lerner. The production concept was developed by LUMA's Joshua Bernard and Tri-Cities Opera's John Rozzoni.
You must be careful and prayerful about what you put before your eyes, what you lift up, what your reverence, what you value,  what you hold dear, and what you bring into your home! 
Just to show you how far we have fallen as a people, I want you to see what they brought into this Church.  If you have not noticed Paganism has been on the rise for sometime now.  In fact, it has created such a stronghold that American consider themselves POSTMODERNISTS.   If you don't know what that means, I strongly suggest you look it up

.
This Presbyterian Church brought a PAGAN IDOL into the Chancel.   So this IDOL was placed next to the High Altar.  The Place of WORSHIP.   This particular god is the highest pan-Slavic god Perun, also responsible for war, fertility, and abundance, but who also may have been the god of the cardinal directions and the four seasons.
In Slavic mythology, Perun (Cyrillic: Перýн) is the highest god of the
pantheon and 
the god of sky, thunder, lightning, storms, rain, law,
war, fertility and oak trees.
Symbol: 
fire, oak, iris, eagle, hammer, mace or axe
by JOSIAH ADEN
September 12, 2019
A Presbyterian Church (USA) congregation in New York made news this week after it featured the sculpture of a pagan deityin its chancel.

The United Presbyterian Church of Binghamton hosted "the Sviatovid idol" which depicts a ninth-century Slavic deity,as part of a September 6-7 festival of lights.

Sviatovid (alternately known as Svetovid, Svantovit, Sventovit, or Svantevit) was a local Slavic god of war, fertility, and abundance in the Baltic region.

In the early twentieth century, an idol was discovered near the Zbruch River in Western Ukraine (accessible with free JSTOR account). This idol pictured was originally thought to be the local god Svantevit, mentioned above, and merely called "the Sviatovid idol" for reasons that are unclear or unstated. Later scholarship, however, decided that this idol, also called the Zbruch Idol, for geographical reasons, actually depicted the highest pan-Slavic god Perun, also responsible for war, fertility, and abundance, but who also may have been the god of the cardinal directions and the four seasons. As if this is not enough to keep track of, some scholars argue that Svantevit and "the Sviatovid idol" are the same as the head god Perun.

This is the deity Binghamton Presbyterian hosted in the form of a beautiful, mesmerizing sculpture, during the fascinating Luma Festival. In and of itself, a church hosting an art installation displaying the image of a long-defunct god is not sacrilegious, though it may raise a few eyebrows. The kicker is that, not only did the god "materialize on the altar" of the church each night, "[t]he church spire, pipe organ and stained glass inform[ed] the new work." Admittedly, and thankfully, the purpose of Sviatovid in this festive context is not worship, but mere interest. Yet, there is something inside that recoils at erecting an ancient Slavic deity in a church chancel of the same God who commanded, "You shall have no other gods before me" (Exodus 20:3, ESV).

Maybe Sviatovid was invited into the church in the spirit of multiculturalism. Perhaps it was a subtle nod to universalism. False teaching, but a desire for the best for (literally) everyone. To put a false god in the same spot as God's communion table, regardless of the fact that it was not during a worship service, raises questions of prudential judgment and is possibly sacrilegious.

English poet Philip Larkin, a famous agnostic, wrote a thoughtful poem on briefly stepping inside an empty church. It is worth quoting a few sections of "Church Going" here:

"Up at the holy end; the small neat organ;
And a tense, musty, unignorable silence,
Brewed God knows how long. Hatless, I take off
My cycle-clips in awkward reverence…

"Mounting the lectern, I peruse a few
Hectoring large-scale verses, and pronounce
'Here endeth' much more loudly than I'd meant.
The echoes snigger briefly. Back at the door
I sign the book, donate an Irish sixpence,
Reflect the place was not worth stopping for.

"Yet stop I did: in fact I often do,
And always end much at a loss like this…

"A serious house on serious earth it is,
In whose blent air all our compulsions meet,
Are recognized, and robed as destinies.
And that much never can be obsolete,
Since someone will forever be surprising
A hunger in himself to be more serious."

Larkin's agnosticism is displayed in the poem, but what is more apparent is his confused reverence for church. He acknowledges his failure to understand the draw of the church, and his deep-seated reverence for it, though he did not believe a word of the teaching therein.

If a famous agnostic such as Philip Larkin is careful of his appearance and behavior within a church, how much more should a Christian congregation be mindful of what goes on inside its building, every day of the week.

United Presbyterian has not commented on its choice to host the Sviatovid idol. The church affiliates with More Light Presbyterians and describes itself as a progressive congregation.

"We are a community of people questioning, learning, celebrating, connecting, risk taking, creating, and making music and art," the church describes on its web site. Statistics provided by the PC(USA) research service show that from 2013-2017, the congregation dropped from 220 to 178 members (-19%), while Sunday attendance declined from 64 to 53 (-17%). The congregation is not diverse, reporting only four nonwhite members, while 72% of members are age 65 or older.

Projections and illusions

"At the end of the day, what we do is create an illusion. It's not all about being strictly technically correct, but about the effect it has on the audience. We cast a spell.
lumen (n.)
unit of luminosity, 1897, coined in French 1894 by French physicist André-Eugène Blondel (1863-1938) from Latin 

lumen

 "light" (n.), from suffixed form of PIE root *leuk- "light, brightness."

Earlier it was used in anatomy for "an opening or passageway"

(1873).
Isn't that interesting?  A GATEWAY/PASSAGEWAY/OPENING for demonic entities!
LUMA  –  the Clairity/Intensity of Light   
English
Noun
luma (uncountable)
The brightness in an image, as opposed to the saturation or chroma.
Derived terms
luma á 

(

"

to keep something secretly; to have something up one's sleeve

"

)
Also, very interesting.  To keep something SECRETLY or OCCULTED! 
As the sun set Friday evening and crowds began to form in Downtown Binghamton, a line snakedoutside the Floyd. L Maines Veterans Memorial Arena.

Many spectators in the sold-out audience for "The Challenge," by Chicago-based multimedia performance group Freckled Sky, showed up about 45 minutes prior to the first showing, scheduled for 8:30 p.m.

As the lights went down inside the arena and the first few projections illuminated the room, an audience member cried "woah." The performance supported a common thread at this year's festival: a great impact can not only be found outside of walls, but within them.

When the projection arts festival began five years ago, all of its attractions were featured on the facade of historic Dowtown buildings. That model sill remains, but has been adjusted to also include indoor performance pieces.


Like "The Challenge," work such as "Phasing Rain," held in the bottom of the State Street Parking Garage, and "Sviatovid," at the United Presbyterian Church of Binghamton, demonstrated that the impact of projection art is even greater in a small space.It's as though the

energy

is bottled up, then left to bounce off the walls and

permeate through the crowd.

More: LUMA: Behind the scenes in Binghamton with Freckled Sky, featured on America's Got Talent

More: LUMA 2019 promises dazzling lights and spectacle to downtown Binghamton

The night's two ticketed features, "The Challenge" and "Phasing Rain," drew Mary O'Donnell and Greg Bumbray, both of Apalachin, to this year's festival.

"I liked it, I thought it was really well done," O'Donnell said following the first showing of "The Challenge" Friday evening.

All of Friday's attractions can be seen again when the festival returns Saturday evening.

Below are 5 highlights from this year's festival.

1. 'Phasing Rain' provides communal experience in the depths of a parking garage

The echo of rain droplets sounded in the basement of the State Street Parking Garage. Rods of bright white light lined the walls, a large silver structure stood at the garage's center. The lights flashed along with the rhythm of the droplets, soon speeding up and later transitioning to a searing red light.(Those who have a sensitivity to quick flashing lights should avoid this show.)

LUMA's Phasing Rain is held in the lower level of a Binghamton garage. Participants are encouraged to interact with the multimedia sensory space. Kate Collins, kcollins@gannett.com | @kcollins213

"Phasing rain," by Onionlab and Xavi Bove, of Barcelona, invited audience members to walk around the installation and explore water as both a source of light and destruction. The artists created the piece as a nod to the story of Noah's Ark and homage to composer Steve Reich.

The piece was a perfect fit for a town that has been devastated by several floods and is all too familiar with the brute strength of water.

Participants were free to roam the garage, observing how the lighting interacted with the audio elements during the 10-minute piece. This freedom to explore gave the audience the chance to watch each other.

During the 10:40 p.m. showing, one woman danced to the music. Some participants freely wandered the space, while others stood stoically.

Watching others interact with the work became a show in itself.

As Binghamton resident Joe Harvey left the parking garage, he longed to go back and experience it again.

"I was just trying to soak it all in," he said.

2. Artists use work to tackle social issues

During the conclusion of "The Awakening," by Brooklyn-based group Light Harvest, a message was displayed on 95 Court St.

"Mother Earth reclaims all."

The piece was a seething commentary on climate change, with a fiery Mother Earth seeking vengeanceon the human race and corporate America.

Light Harvest is no stranger to tackling contemporary issues. Last year, the group displayed "The Truth Shall Set You Free"on the same building. The piece used dancers to demonstrate how

truth stifled freedom.

Here's our coverage of last year's festival: LIGHT IT UP: LUMA Festival puts spotlight on downtown Binghamton

While "The Awakening" was the most political piece of the night, social issues also surfaced during Mural Mapping.

Projected on 34 Court Street, Mural Mapping gave local artists a chance to try their hand at projection mapping.

Two pieces stressed marriage equality,with one displaying in broad cursive letters: "Love Wins."

3. Local artists shine with 'Mural Mapping,' 'One Giant Leap'

"Mural Mapping" began last year, projected on the wall of Atomic Tom's on State Street. Local artists were given a template and challenged with creating a work of art that incorporated the building's architecture.

This year, artists were tasked with creating work to be projected on the former CVS on 34 Court St.


Both stagnant and animated work was featured in this year's show, which included about 20 pieces.

Across the street, local talent was also on display with "One Giant Leap" on 49 Court Street. The work was created by favorite color, LUMA's exclusively Binghamton-based group of artists.


The piece followed an astronaut as it boarded a rocket ship and jetted to the moon.Loud and vivid, this work was like watching an IMAX movie in the streets and received an enthusiastic response from gathering crowds.

4. Binghamton University students encourage play, audience interaction
"All Your Building Are Belong to Us" gave participants the chance to play retro video games on the side of 75-79 Court St.
The interactive experience was created by Binghamton University computer science majors and a 2019 graduate.

"That was very cool," he said moments after completing a round. "They obviously put a lot of effort into it and it turned out really well. It was really neat."

Mariel Flint, 13, of Vestal plays Minecraft at home, but thinks "All Your Building Are Belong to Us" is "way cooler" due to being projected on a building.

"You're not just looking at a screen," she said.

Her friend, 13-year-old Stella Tomancik, of Vestal, admits she was "really bad" at the game. But it was still "really cool."

"I was nervous when I got up there and I was afraid it was going to be sensitive, like the controller, but it was actually really easy," Mariel said. "It was easier than I thought it would be."

5. 'Sviatovid' melds sculpture with projection and sound

Shortly before 11 p.m. a long line formed outside of the United Presbyterian Church of Binghamton. Last year, the church was the site of "Transfiguracio," a collaboration between the Binghamton Philharmonic, Onionlab & Xavi Bové.

This year, it was the site of "Sviatovid" by the BARTKRESA studio.


The 15-foot-tall faceted totemis inspired by a ninth century Slavic deity and a medieval sculpture of the same name, according to LUMA's website.

The sculpture resembled a large head, with projections frequently rotating and synchronizing with music.

Audiences packed the church to watch the sculpture change state from a figure that resembled Darth Vader, to a starry galaxy to a floral landscape.

The sculpture flashed and changed, switched and morphed, while a captive audience sat, stood and stared.

Still to come

Saturday will feature LUMA Talks. At At 5 p.m., David Sloan Wilson, a distinguished professor of biological sciences and anthropology at Binghamton University, will present a LUMA Talk titled "The Evolution of Storytelling" at the Broome County Arts Council, 95 Court St.

At 6 p.m., Paul Schleuse, an associate professor of musicology at Binghamton University, will present a LUMA Talk titled "Patterns and Chaos: from Steve Reich to Phasing Rain" at the Broome County Arts Council.


At 11 p.m., "AfterGlow," a late-night party for the LGBT community, will be held at The

Cave

(53 Chenango St.). AfterGlow is hosted by Cherry Blase and features Paris Lurux  and Nuciphera. For more information, visit facebook.com/events/476371373200376

What's the schedule?

Saturday

5

p.m

.:

"

The Evolution of Storytelling

" LUMA Talk by David Sloan Wilson, Broome County Arts Council,  95 Court St.
6 p.m.: "

Patterns and Chaos

: from Steve Reich to Phasin Rain," LUMA Talk by Paul Schleuse, Broome County Arts Council,  95 Court St.
8:30, 9:10 and 9:50 p.m.: "

The Challenge,

" 1 Stuart St.
8:30 p.m.-12 a.m.: "

Phasing Rain

,"  142 State St.
8:30 p.m.-12 a.m.: "

Pandora's Box

," 79 Collier St.
8:30 p.m.-12 a.m.: "One

Giant

Leap," 49 Court St.
8:30 p.m.-12 a.m.: "

The Awakening,

"  95 Court St. 
8:30 p.m.-12 a.m.: "

DATANOVA

," 79 Exchange St.
8:30 p.m.-12 a.m.:

Sviatovid

, 42 Chenango St.
8:30 p.m.-12 a.m.: "All Your Buildings Are Belong to Us," 75 Court St.
8:30 p.m.-12 a.m.: "Mural

Mapping

," 34 Court St.
10:30 p.m.-12 a.m.: "Anahata," 236 Washington St.
11 p.m.: "AfterGlow," 53 Chenango St.
12 a.m.: "Sight Unseen, A Lights Out Dining Experience," various Binghamton restaurants

Follow Maggie Gilroy on Twitter @MaggieGilroy. Support our journalism and become a digital subscriber today. Click here for our special offers.

More: Freckled Sky, which was featured on America's Got Talent, will perform at LUMA Fest

More: LUMA 2019 latest: Festival touts P!nk award show collaborators, releases projection lineup

More: LUMA, Blues on the Bridge, Colorscape: What's happening this week around Binghamton
DATANOVA

Artist: Ouchhh, of Istanbul, and GrandSon Creative, of Los Angeles.
Where: Carnegie Library, 78 Exchange St. in Binghamton.
Tickets required: No.

Guided by the idea of a supernova, "DATANOVA" will illustrate a virtual explosion of New York star charts' data. "They aim to establish an audio and visual dialogue between the urban and stellar landscapes that surround us," festival organizers said. Note this underlying theme: The universe itself is guided by some unseen algorithm that brings all matter, both animate and inanimate, into harmony.

More 2019 festival news:Freckled Sky, featured on America's Got Talent, will perform at LUMA Fest

LUMA GROWS:How LUMA's lights will tell a worldwide story
Pandora's Box

Artist: Maxin10sity, of Budapest.

Where: Binghamton City Court, 38 Hawley St. in Binghamton.

Tickets required: No.

Inspired by Greek mythology, the piece will explore this theme: "Unintended ills sometimes come from well-meaning curiosity." It will draw on the story of Pandora, who finds a stolen box and upon opening it, releases evils into the world, many which will be represented visually in this projection.

The Awakening

Artist: Light Harvest, of Brooklyn.

Where: 95 Court St. in Binghamton.

Tickets required: No.

Light Harvest has used dance in the past to illustrate their projections. Look for this year's spectacle to illustrate how the downfall of ambition. "It's about a culture that makes us increasingly reticent to turn inward," organizers said, "when there may be no other way to find that which we most desperately seek."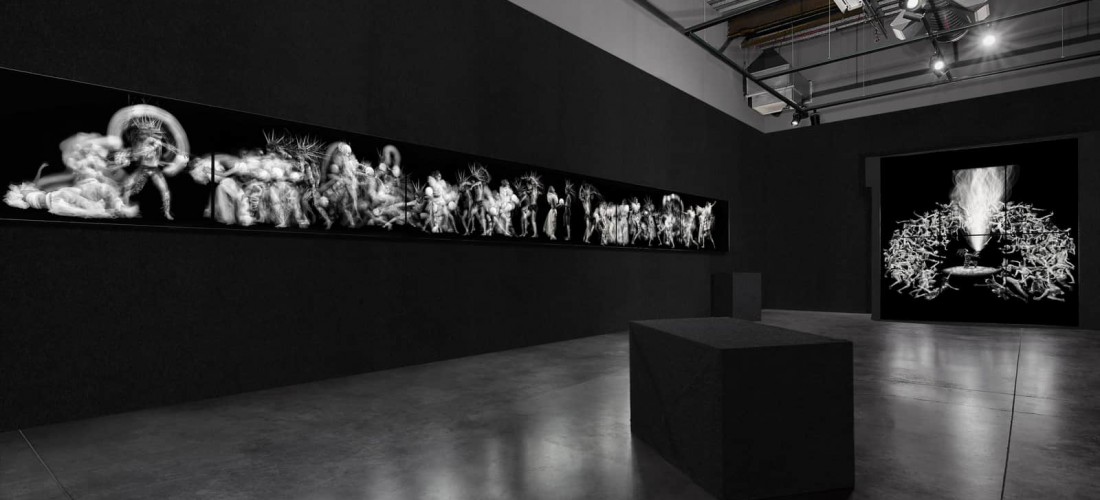 236 WASHINGTON STREET
SEPTEMBER 6, 2019 10:30 PM – SEPTEMBER 7, 2019 12:00 AM
SEPTEMBER 7, 2019 10:30 PM – 

SEPTEMBER 8, 2019 12:00 AM
Anahata is a photography-based project presented as an immersive installation on OLED electronic canvases, multimedia sculptures and traditionally printed photographs.These images are the result of an intimate collaboration between performers, choreographers, costume designers, makeup artists and technicians in which I acted as photographer and director. Choreographed movement was captured with an open-spectrum camera in a purpose-built, UV light studio where dancers performed in handcrafted costumes. The pictures are not the product of digital editing, rather a novel photographic process that produces images true to moments in time.Sanskrit for "unhurt" or "unbroken",the word Anahata corresponds to the energy of the heart, the "unstruck sound", and a harmonic resonance with the celestial realm.Dream-like imagery steeped in archetypal symbolism, mythology and mysticism directs a narrative that transports the viewer to an ancient, eternal place. Abstract but familiar, this place exists within every one of us. It is the provenance of dreams, devotion, prayer, dance, music and silence. The cocoon-like webs which connect us through our stories, journeys, compassion and grace. Anahata explores human relationships and their connection to the divine.
spacer
Updated Sep 05, 2019; 
Posted Sep 04, 2019
Once a year in Binghamton, the entire downtown glows and fantasy morphs into reality.

It's a spectacular outdoor experience where technology embraces the fine art of storytelling. The LUMA Projection Arts Festival takes over historical buildings and use them as canvases for projection mapping. By using powerful projectors and 3D animation, the event creates the illusion of huge structures magically transforming. City hall turns into a gingerbread house while the courthouse becomes a Stonehenge.

In its fifth year, the event takes place Friday and Saturday (Sept. 6-7) featuring seven visual storytelling performances. This year's lineup of artists come from Budapest, Barcelona, Istanbul, New York City, and more. Among the stories to see include Greek mythology with characters like Medusa and Pandora, Noah's Arc parable of global warming, and a hero battling sand giants.

Van Zandbergen Photography

What's the best thing about this festival?

Almost the entire event is free for the public to experience. This year, performances of "The Challenge"and "Phasing Rain," will require tickets which range from $5 to $7. Another great thing is mobility. You can walk around and view most of the art and projection mapping leisurely because they are on display on a loop for the entirety of the night, starting at 8:30 p.m. and running through midnight.

Guess what makes LUMA a one-of-a-kind festival?

Binghamton's LUMA is the only visual arts festival in the United States focusing primarily on projection mapping. It was founded in 2015 by a street photographer, a film editor and an event planner. When the festival began, they expected a crowd of 3,000. Yet,30,000 people came to this city with a population of about 45,000.

The event brings together artists, engineers, city workers, designers, and much more. Here's what the founders say on their site:

"We believe when we give artists the freedom to play, the results are incomparable. We believe that art is the foundation of livability and livability is the core of economic development. And we believe in bringing our partners serious value by creating an experience unlike any other."

LUMA Festival

What else is at the festival?

Video games! Yes, you will get the chance to play a building-sized video game designed by two Binghamton University students and a 2019 graduate. They teamed up to recreate some of old favorite school games with a twist: they're custom versions mapped to downtown Binghamton architecture.

Other things you can experience include live music, local vendors, late-night parties, and delicious food. There are a wide variety of food vendors. But, you might want to try what's called "Site Unseen: A Lights Out Dining Experience," where you can buy tickets to dine in the dark – we're talking pitch black.

You can also check out local artists' work at Mural Mapping, located on 34 Court Street. What is a mural mapping? It's a virtual mural that's projected onto a building that is perfectly shaped to the building's structure. Selected original works will also be displayed in non-projected form at the Cooperative Gallery at 213 State Street for the duration of LUMA and may be offered for sale by the artist with a standard gallery commission.

If you love dancing, there's Silent Disco. Tickets are $12. Join Lost Dog for Silent Disco featuring music by DJ Johnny Only, with special guests, DJ Mikayla from Johnny Only DJ Services and DJ Andy Papaleo from AP Entertainment. Everyone gets wireless headphones and the live DJs are broadcast directly to you.

For night owls, head to the AfterGlow, LUMA's late night party for the LGBT community, produced in cooperation with UHS PrEP. Celebrate after hours for a night of pop beats and LUMA-appropriate drag fashion and performance. Cost is $5.

LUMA Festival

Here are some performances and artists who will be featured at this year's LUMA festival:

"The Awakening," by Light Harvest

With the use of intimate, emotive dance performance, this mix explores the human experience with all the punch of larger-than-life spectacle. It's about distancing ourselves from the natural world and the harm that's wrought.

"Phasing Rain," by Onionlab and Xavi Bove

OnionLab, based in Barcelona, Spain, is teaming up with artist Xavi Bove to pay homage to Noah's Ark and the infamous flood. This production will transform the parking garage on 142 State St., and take you through the tides of an apocalyptic flood instigated by global warming. "Phasing Rain," will immerse you in 26 unique channels of audio, with an original score by Spanish composer Zincman. Cost is $5.

LUMA Festival

"The Challenge," by Freckled Sky

Founded in Chicago but seen around the world, Freckled Sky was a big audience favorite during their appearances on "America's Got Talent." More recently, they developed a bold production for P!nk's performance at the 2019 Brit Awards.

Follow the journey of a young hero in "The Challenge," with a supernatural ability to control the forces of nature around him. He battles with tall sand giants, tames unruly elemental energies, and levitates ancient stone pyramids. The fable is told through integration of state-of-the-art projection technique and world-class live performers. Cost is $7.

"DataNova," by Ouchhh & Grandson Creative

Artistic partners Ouchhh and GrandSon Creative have earned global acclaim for their imaginative and breathtaking data visualizations: Information as fine art. In this piece, they're guided by the idea of a supernova as they illustrate a virtual explosion of data gleaned from New York State star charts. It explores the concept that the universe is guided by some unseen algorithm which brings all matter, both animate and inanimate, into harmony.

LUMA Festival

"Pandora's Box," by Maxin10city

If a tiny 2,000 year old box could contain so much malevolence, imagine what darkness might lurk in a sealed five story building? From Medusa's problematic hair-do to a guest appearance by Pandora herself, it's sure to be building-sized adventure.

Free interdisciplinary talks

"The Evolution of Storytelling,"with David Sloan Wilson, Distinguished Professor of Biological Sciences & Anthropology, Binghamton University, at 5 p.m. Saturday, Sept. 7.

"Patterns and Chaos: from Steve Reich to Phasing Rain," with Paul Schleuse, Associate Professor of Musicology, Binghamton University, at 6 p.m. Saturday, Sept. 7.
spacer
As event professionals, we are under pressure to deliver on a number of fronts. Our events have to be productive and educational, but also memorable and inspiring. Attendees justifying the cost of attendance are looking for transformative experiences, and are more value-critical than ever.

While you never want to mistake bread and circuses for real value, there is a part of all of us that responds to wonder, to beauty.We like to be amazed, and moments of fascination and entertainment are par for the course when you're trying to pace your event and

deliver all the productivity

goodies without overwhelming or draining your audience.

If you have the budget, 3D projection mapping can be an amazing and delightful vehicle for the ROI-justifying value the attendees came for. And the budget requirement might not be as big as you think.

So if you need a little inspiration for new and exciting ways to engage guests and create memorable event experiences, we've got you covered.

Here's what we'll explore:
keyboard_arrow_right What is projection mapping?

keyboard_arrow_right How do you incorporate projection mapping into your event?

keyboard_arrow_right 12 projection   ideas
WHAT IS PROJECTION MAPPING?
Imagine the sails of the Sydney Opera House coming to life before your eyes. Imagine walking through the doors of a business function only to suddenly find yourself in a life-like forest. Such experiences would no doubt turn any mundane function into a creative escape.

Of course, the sails didn't come to life, and you didn't walk through an inter-dimensional door. 3D projection mapping lets event planners bring ordinary objects in a range of shapes and sizes to life using engaging 3D displays.

Projection mapping (or 'spatial augmented reality') uses technology to project imagery onto 3D objects instead of traditional flat surfaces. Projections can be as basic as stage lighting  or as complex as fully-mapped videos on industrial landscapes and buildings.

Think of it as painting with light – a way to evoke feelings within physical spaces and add colors, textures, and movement to otherwise mundane objects. In terms of what you can project, your options are limitless; you can project anything from 3D artworkto sponsor branding to complete lifelike environments.

And guess what?

You've probably come across this technology already in concerts, advertising, theatres, or even sporting events.
spacer
You know that light plays the all important role in how we perceived things.  Light is what gives us the ability to see.  It is VISION.  We also know that LUCIFER/THE FALLEN ONE/THE SNAKE/SATAN masquerades as an Angel of Light. Imagination is a powerful spiritual tool used by magicians since time began.  If they can get you to imagine something they have conquered you.  If you have done it in your mind… you have already done it.  That is what the bible says.  Sounds and symbols are also very powerful spiritual tools and major parts of any magic spell.
They call it mapping.  I find that very interesting.  Why that term?  
Emanuele Frixa (2018) contributed an essay on geographical approaches to a collection on "representations of origin of place"; the theme is an intriguing one, addressing as it does a combination of sense of place, personal origins, migration, children's acculturation, and the construction of "home."Within this broad concept, Frixa argued that maps are one means by which children can imagine and remember a distant home. In doing so, he ends up grappling with the (to me) fundamental realization that the ideal of cartography obscures the different ways in which humans think about and represent spatial relations.

The word map comes from the Latin mappa—though its origin is Phoenician; it was used by Quintilian to mean the tablecloth or napkin used by guests to wrap up left-overs to be taken with them. It is on these linen cloths—more resistant than paper—that for centuries terrestrial space was represented. Though the material used for maps has subsequently changed, the word has remained the same to this day.

The original meaning of the term—a piece of cloth used to take things away—is important, because it is precisely this kind of action that defines the representation of places of origin.Through their spatialization on paper and with the aid of memory that preserves some of the features of the places of origin, these maps become "objects which have the properties of being mobile, but also immutable, presentable, readable and combinable with each other." (Frixa 2018, 51, quoting Latour 1990, 26)  Source
spacer

Let me close by saying that their LOGO says it all.   Remember that the Butterfly is the Universal Symbol of MIND CONTROL.   MKULTRA Butterfly.
spacer