UPDATE: ADDED 11/26/22
We have been sounding the alarm for years now, advising everyone that MEDICAL TYRANNY was going to the gateway for the NEW WORLD TYRANNICAL GOVERNMENT.  I know that no one wants to believe that.  For years we have internationally put our faith in doctors and medicine.  In spite of the fact that they have failed us miserably.
Our governments have also failed us.  On many fronts.  They are about to betray us in the most devastating and destructive manner ever.  They are selling us out to the world's elite to become enslaved through medical mandates and chemical assault.
I know that most of you will not believe this.  I am sure you are convinced that it is just a conspiracy THEORY.  It is not.  It is well documented throughout my webpage and on many websites and videos throughout the internet.  The elite's propaganda machine has been doing a bang up job of calming and redirecting the masses.  They are pulling the wool over your eyes.  They are training your minds to reject the truth and embrace their lies.  You have to make the choice who you will believe.  I caution you to research, study to show yourself approved.  Find out who these people worship and follow the money.  Bottom line is, we are coming to the day of separating the wheat from the tares.  Judgement is very close.  Where will you stand ON THAT DAY?
Meanwhile.  once this treaty is sealed…they will enforce their medical tyranny and you will have no place to hide. When the entire EARTH is signed on with the enemy and death is declared for you… where can you go?
DO YOU BELIEVE IN FAIRYTALES??… HERE IS A GOOD ONE FOR YOU
spacer
UPDATE: ADDED 11/26/22
spacer
spacer
DO YOU BELIEVE IN FAIRYTALES?  Here's a real doozey for you…
A UN DSC Award-Winning Solution using blockchain, biometrics and mobile
Digital transformation is changing the way the United Nations manages its data, information, interactions and identities online. The UN Digital Solutions Centre (UN DSC), in keeping with its 'agile solutions for a modern UN system' has developed an innovative digital identity solution for UN personnel.
The UN DSC, a pilot project of the UN World Food Programme (WFP) and the UN High Commissioner for Refugees (UNHCR), with operational support from UNICC, aims to create a suite of digital solutions that can be shared among UN Agencies to transform common business operations and streamline time-consuming transactional tasks.
In the spirit of emerging technologies supporting the UN Secretary-General's Strategy on New Technologies, the UN Digital ID is harnessing blockchain, biometrics and mobility, making UN identity verification efficient, secure, transparent, immutable, portable and universal.
The UN Digital ID is a digital wallet for UN personnel, for their personal, Human Resources, medical, travel, security, payroll and pension data kept over time, from onboarding into the UN to parting or retirement.
This solution helps to solve the problem of data fragmentation, helping the UN system streamline information sharing, daily workflows and access to platforms and buildings, facilitating operations across Agencies.
The technology behind the UN Digital ID has been piloted by different Agencies including UN Pension Fund, where they've replaced current manual processes with certainty for who and where pension recipients say they are at any given time.
Imagine a world where onboarding does not take five days but only four hours. Where to prove you are eligible to receive your UN pension it only takes two minutes from the smartphone in the palm of your hand, compared to two months using the old regular post. The UN Digital ID is the same underlying engine that will power all these and many other use cases.

Massimiliano Merelli, Team Lead and Head of the SAP/ERP Service Team, WFP
UN together challenge winner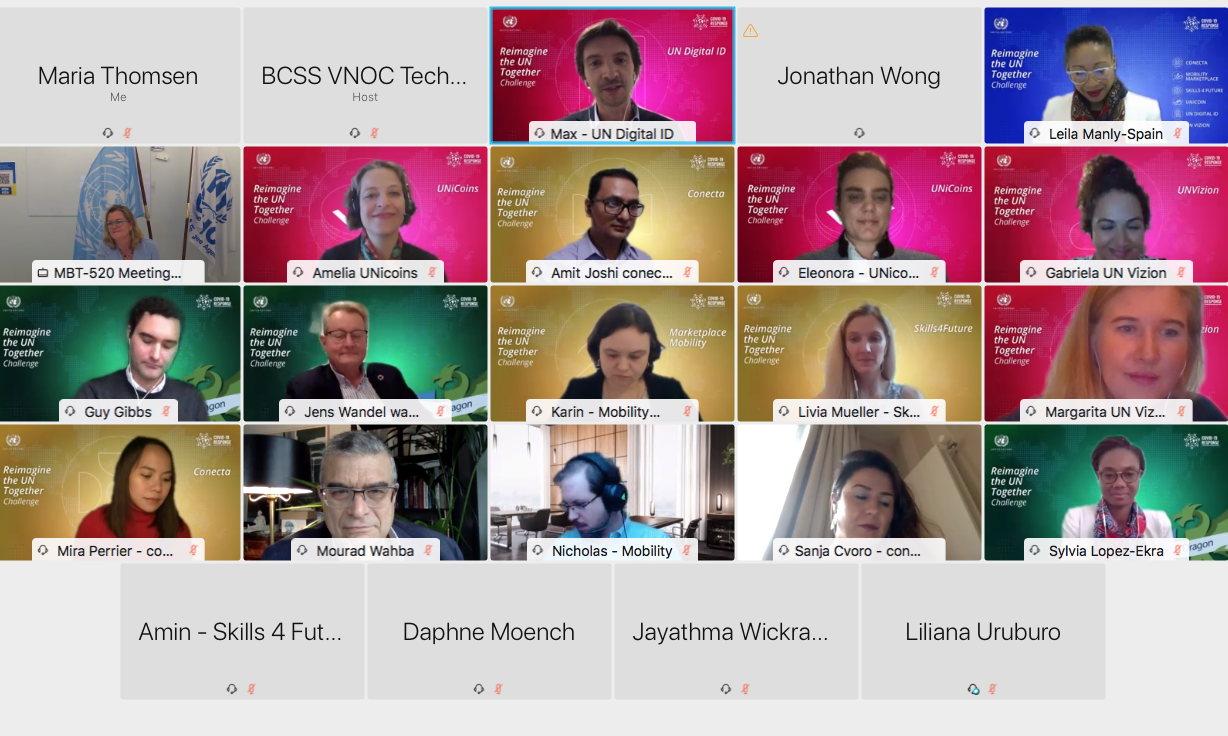 The UN Digital ID project is the winner of the Reimagine the UN Together Challenge. On Thursday 12 November, Massimiliano Merelli, Team Lead and Head of the SAP/ERP Services Team at World Food Programme (WFP), pitched the UN Digital ID to a jury in a virtual 3-minute presentation. And the UN Digital ID project won!
The Reimagine the UN Together Challenge is driven by an alliance of interested individuals, networks and departments across the UN system, such as the UN Development Coordination Office, the UN Innovation Network, #NewWork, the UN System Staff College, Young UN: Agents for Change, and the UN Office of Information and Communications Technology, in consultation with staff unions and other key bodies.
YES, I am fully aware this article states only states this ID is for UN Employees.  They are the test dummies. This Digital ID has been the plan for a very long time.  Long before the implementation of the Medical Billing Codes.  This has been the end goal of the elite throughout history.  They have been building it for longer than we can ever comprehend.  To be able to take FULL CONTROL of ALL LIFE on the this earth!!   Tracking our every move, controlling our food, water, work, pleasure, travel, interaction with friends and family, our religion, our HEALTH.  HEALTH IS THE KEY.  It opened the door.  NOW they have their FOOT IN IT!
spacer
End of Update
Even as much of the world continues to move past the covid-19 pandemic, the World Health Organization (WHO) is already looking ahead and preparing for the emergence of "other pandemics and other major health emergencies." To ensure that the world is adequately prepared for future pandemics, "the World Health Assembly" held a special session, on December 1, 2021, entitled The World Together.
The World Health Assembly is "the decision-making body of WHO" and "is attended by delegations from all WHO Member States and focuses on a specific health agenda prepared by the Executive Board." In this special session, which was actually only "the second-ever since WHO's founding in 1948," participants  agreed  to "draft and negotiate a convention, agreement or other international instrument under the Constitution of the World Health Organization to strengthen pandemic prevention, preparedness and response." This would come to be known as the Pandemic Treaty, which was the main focus of discussions at the Seventy-Fifth World Health Assembly, which was held in Geneva during May 22–28, 2022.
According to Dr. Tedros Adhanom Ghebreyesus, the first director-general of the WHO and who is not actually a medical doctor, this treaty represents an "opportunity to strengthen the global health architecture to protect and promote the well-being of all people." If passed, the Pandemic Treaty will allow the WHO to make radical changes to the healthcare systems of its member countries starting in 2024.
In particular, this agreement will grant the WHO the power to declare a pandemic, based on its own vaguely defined criteria, in any of its 194 member countries at any point in the future. It will also permit the WHO to unilaterally determine what measures will be imposed in response to these future declared pandemics, including lockdown policies, mandatory masking, social distancing, and coercing the population into undergoing medical treatments and vaccinations.
Contrary to popular opinion, the WHO is not an independent, unbiased, and ethical organization that aims to achieve the common good. In reality, its goals and agendas are set by its donors, including some of the world's richest countries and most influential (Billionaire, phoney, self-serving) philanthropists. For decades, "philanthropists and their foundations have [gained] increasing influence" when it comes to shaping the global health agenda by "placing people in international organisations, and gaining privileged access to scientific, business and political elites."
For example, as Jens Martens and Karolin Seitz explain in Philanthropic Power and Development: Who Shapes the Agenda?," the Gates Foundation and earlier the Rockefeller Foundation, have been shaping global health policies not only through their direct grant-making but also through the provision of matching funds, the support of selected research programmes, the creation of global health partnerships with Foundation's staff in their decision-making bodies, and by direct advocacy at the highest political level." In fact, back in 2006, The Guardian reported that "the Gates foundation is now the second largest donor to the World Health Organisation after the US, as well as one of the world's largest single investors in biotechnology for farming and pharmaceuticals."  Unfortunately, when philanthropists and their foundations advance their own interests, they do so at the expense of the common interests of society. There is no reason to believe that this dynamic will be any different in the case of the Pandemic Treaty.
The Pandemic Treaty has the potential to be extremely detrimental to the future of humanity, because it will allow the WHO's most powerful contributors to shape universal pandemic measures instead of recognizing the importance of developing specific policies and approaches based on the social, economic, and physical realities and needs of each individual country. The treaty will eliminate the national will and sovereignty of member countries, as it will dictate their health policies based on abstraction, as opposed to considering the realities that prevail in each place.
Even if the Pandemic Treaty genuinely aimed to achieve purely noble humanitarian outcomes, it still has to be opposed on the basis of liberal thought, which maintains that the individual alone must possess absolute responsibility for his own well-being, assuming that he is of mature age and of sound mind. That is to say, the individual is the only one permitted to make decisions that affect his body, his life, and his future, absent the coercive power of any external authority.
However, the Pandemic Treaty will not allow individuals to rely on their own physical, spiritual, and intellectual faculties in order to achieve their own well-being. Instead, it will impose treatments and vaccination on individuals against their own will, thereby violating bodily freedom on a global scale. History is a testament to the fact that violating bodily freedom leads to slavery and retrogression in society.
The Pandemic Treaty will also give the WHO the authority to issue dictates within the private spheres of individuals and to exercise control over their social and public lives, the institutions of their society, and their governments, all in the name of public health. In doing so, it will suppress civil liberties, economic freedom, positive freedom (freedom to), and negative freedom (freedom from). All these forms of freedom are intended to be constructive forces in society that contribute to the achievement of social progress. Once these freedoms are stifled, the foundations of progress and advancement also vanish.
Through the Pandemic Treaty, the WHO will impose its own value judgment on the world population, thereby ignoring the fact that values differ significantly between people, cultures, traditions, and nations. In other words, it will disregard the diversity of people when it comes to making decisions about their own bodies based on their own religious beliefs, commitments, views, commitments, and cultural and traditional values. It will also violate inclusiveness, as the imposition of a single value judgment; namely, the "One Health" approach, means that the WHO does not treat other value judgments, nor cultural and traditional practices, fairly and equally.
The Pandemic Treaty ignores the fact that, as Joseph Schumpeter noted, there is no "unambiguous standpoint with regard to the social whole, upon general welfare and so forth; nor would such a unitary standpoint exist if all individuals and groups wished to act and evaluate on this basis, since the general good and the social ideal appears differently to each and every one."1
When it comes to medicine, Schumpeter continues, even though people "sufficiently recognize what good health is and generally seek to achieve such a condition," "it cannot be proved to anyone that health should be positively valued," as health cannot "be unambiguously defined."2 In reality, people pursue "good health with very different levels of commitment, valuing this good in relation to others very differently; nor that their aims are not all exactly the same—the health regimes followed by the boxer and the singer are very clearly not identical."3 Even surgeons trained in the same area would not necessarily agree on the same treatment and operation.
For example, writes Schumpeter, "faced with the option of removing an ulcer, or avoiding the damage associated with surgical intervention, two physicians can argue about whether the one or the other would achieve the desired recovery in the same way."4 Moreover, within a particular nation-state, "between people of the same political, social, economic, and cultural interest and with the same perspective on the social world there can always be differences over what is worth striving for."5 Accordingly, why would any person or organization that purports to support liberal democratic values back the Pandemic Treaty?
Those that support the Pandemic Treaty ignore the core principles of liberal thought and the principles of democratic governance, as they do not , as Ludwig von Mises put it, "see any reason why they should not by means of force coerce other people to do what these people are not prepared to do of their own accord." The treaty's advocates believe that it is acceptable to employ large-scale central planning to coerce people into doing "the right thing" based on value judgments that are not theirs. It does not matter to them, continues Mises, that "the apparatus of physical compulsion resorted to in such endeavors is that of the government's police power or an illegal "picket" force whose violence the government tolerates…. What matters is the substitution of compulsion for voluntary action."
Supporters of the Pandemic Treaty should remember the words of John Stuart Mill:
Neither one person, nor any number of persons, is warranted in saying to another human creature of ripe years, that he shall not do with his life for his own benefit what he chooses to do with it. He is the person most interested in his own well-being, the interest which any other person, except in cases of strong personal attachment, can have in it, is trifling, compared with that which he himself has; the interest which society has in him individually (except as to his conduct to others) is fractional, and altogether indirect: while, with respect to his own feelings and circumstances, the most ordinary man or woman has means of knowledge immeasurably surpassing those that can be possessed by any one else.6
That is to say, the individual is in the best position to be the final judge of action when it comes to his bodily autonomy, his private sphere, and his freedom.
spacer
The WHO recently announced plans for an international pandemic treaty tied to a digital passport and digital ID system. 
Meeting in December 2021 in a special session for only the second time since the WHO's founding in 1948, the Health Assembly of the WHO adopted a single decision titled, "The World Together."
The WHO plans to finalize the treaty by 2024. It will aim to shift governing authority now reserved to sovereign states to the WHO during a pandemic by legally binding member states to the WHO's revised International Health Regulations.
In January of 2022 the United States submitted proposed amendments to the 2005 International Health Regulations, which bind all 194 U.N. member states, which the WHO director general accepted and forwarded to other member states. In contrast to amendments to our own constitution, these amendments will not require a two-thirds vote of our Senate, but a simple majority of the member states.
Most of the public is wholly unaware of these changes, which will impact the national sovereignty of member states.
The proposed amendments include, among others, the following. Among the changes the WHO will no longer need to consult with the state or attempt to obtain verification from the state where a reported event of concern (e.g., a new outbreak) is allegedly occurring before taking action on the basis of such reports (Article 9.1).
In addition to the authority to make the determination of a public health emergency of international concern under Article 12, the WHO will be granted additional powers to determine a public health emergency of regional concern, as well as a category referred to as an intermediate health alert.
The relevant state no longer needs to agree with the WHO Director General's determination that an event constitutes a public health emergency of international concern. A new Emergency Committee will be constituted at the WHO, which the Director-General will consult in lieu of the state within whose territory the public health emergency of international concern has occurred, to declare the emergency over.
The amendments will also give "regional directors" within the WHO, rather than elected representatives of the relevant states, the legal authority to declare a Public Health Emergency of Regional Concern.
Also, when an event does not meet criteria for a public health emergency of international concern but the WHO Director-General determines it requires heightened awareness and a potential international public health response, he may determine at any time to issue an "intermediate public health alert" to states and consult the WHO's Emergency Committee. The criteria for this category are simple fiat: "the Director-General has determined it requires heightened international awareness and a potential international public health response."
Through these amendments, the WHO, with the support of the United States, appears to be responding to roadblocks that China erected in the early days of covid. This is a legitimate concern. But the net effect of the proposed amendments is a shift of power away from sovereign states, ours included, to unelected bureaucrats at the WHO. The thrust of every one of the changes is toward increased powers and centralized powers delegated to the WHO and away from member states.
Leslyn Lewis, a member of the Canadian parliament and lawyer with international experience, has warned that the treaty would also allow the WHO unilaterally to determine what constitutes a pandemic and declare when a pandemic is occurring. "We would end up with a one-size-fits-all approach for the entire world," she cautioned. Under the proposed WHO plan, pandemics need not be limited to infectious diseases and could include, for example, a declared obesity crisis.
As part of this plan, the WHO has contracted German-based Deutsche Telekom subsidiary T-Systems to develop a global vaccine passport system, with plans to link every person on the planet to a QR code digital ID.
"Vaccination certificates that are tamper-proof and digitally verifiable build trust. WHO is therefore supporting member states in building national and regional trust networks and verification technology," explained Garret Mehl, head of the WHO's Department of Digital Health and Innovation. 

"The WHO's gateway service also serves as a bridge between regional systems. It can also be used as part of future vaccination campaigns and home-based records."
This system will be universal, mandatory, trans-national, and operated by unelected bureaucrats in a captured NGO who already bungled the covid pandemic response.
spacer
May 26, 2022
BILL
Sponsor:
Sen. Johnson, Ron [R-WI] (Introduced 05/26/2022)
Committees:
Senate – Foreign Relations
Latest Action:
Senate – 05/26/2022 Read twice and referred to the Committee on Foreign Relations.  (All Actions)
Tracker: 

Tip

This bill has the status Introduced

Here are the steps for Status of Legislation:

Introduced
Passed Senate
Passed House
To President
Became Law
More on This Bill
Give Feedback on This Bill
Text: S.4343 — 117th Congress (2021-2022)All Information (Except Text)
There is one version of the bill.
Shown Here:
Introduced in Senate (05/26/2022)
117th CONGRESS
2d Session
To require any convention, agreement, or other international instrument on pandemic prevention, preparedness, and response reached by the World Health Assembly to be subject to Senate ratification.
---
IN THE SENATE OF THE UNITED STATES
Mr. Johnson (for himself, Mr. Barrasso, Mr. Braun, Mr. Cotton, Mr. Cruz, Mr. Grassley, Mr. Hagerty, Mr. Hoeven, Mrs. Hyde-Smith, Mr. Lee, Mr. Marshall, Mr. Rubio, Mr. Scott of Florida, Mr. Tuberville, Mr. Daines, and Mr. Tillis) introduced the following bill; which was read twice and referred to the Committee on Foreign Relations
---
To require any convention, agreement, or other international instrument on pandemic prevention, preparedness, and response reached by the World Health Assembly to be subject to Senate ratification.
Be it enacted by the Senate and House of Representatives of the United States of America in Congress assembled,
This Act may be cited as the "No WHO Pandemic Preparedness Treaty Without Senate Approval Act".
Congress makes the following findings:
(1) On May 18, 2020, President Donald Trump sent a letter to World Health Organization (referred to in this Act as "WHO") Director-General Tedros Adhanom Ghebreyesus (referred to in this Act as the "Director-General"), announcing that—
(A) United States contributions to WHO would be halted due its mismanagement of the COVID–19 outbreak and its lack of independence from the People's Republic of China; and
(B) the United States would withdraw from WHO if it did not commit to substantive improvements within 30 days.
(2) President Trump's May 18 letter cited numerous instances of WHO mismanagement of the COVID–19 pandemic, including—
(A) unjustified delays informing member states about a potentially serious disease outbreak in Wuhan, China; and
(B) repeated grossly inaccurate or misleading claims about the transmissibility of the virus and about the Government of China's handling of the outbreak.
(3) On June 30, 2020, Secretary of State Mike Pompeo formally notified the United Nations of the United States decision to withdraw from WHO, which would have taken effect on July 6, 2021, under the terms of a joint resolution adopted by Congress on June 14, 1948 (Public Law 80–643; 62 Stat. 441).
(4) A Pew Research Center survey conducted in April and May 2020 indicated that 51 percent of Americans felt that WHO had done a poor or fair job in managing the COVID–19 pandemic.
(5) On January 20, 2021, President Joseph Biden sent United Nations Director-General António Guterres a letter retracting the United States notice of withdrawal from WHO.
(6) On December 1, 2021, at the second special session of the World Health Assembly (referred to in this Act as the "WHA") decided—
(A) "to establish . . . an intergovernmental negotiating body . . . (the 'INB') to draft and negotiate a WHO convention, agreement or other international instrument on pandemic prevention, preparedness and response, with a view to adoption under Article 19, or under other provisions of the WHO Constitution . . . ."; and
(B) that the INB shall submit a progress report to the Seventy-sixth WHA and a working draft of the convention for consideration by the Seventy-seventh WHA, which is scheduled to take place beginning on March 18, 2024.
(7) On February 24 and March 14 and 15, 2022, the INB held its inaugural meeting at which the Director-General proposed the following 5 themes to guide the INB's work in drafting the Convention:
(A) Building national, regional, and global capacities based on a whole-of-government and whole-of-society approach.
(B) Establishing global access and benefit sharing for all pathogens, and determining a global policy for the equitable production and distribution of countermeasures.
(C) Establishing robust systems and tools for pandemic preparedness and response.
(D) Establishing a long-term plan for sustainable financing to ensure support for global health threat management and response systems.
(E) Empowering WHO to fulfill its mandate as the directing and coordinating authority on international health work, including for pandemic preparedness and response.
(8) Section 723.3 of title 11 of the Department of State's Foreign Affairs Manual states that when "determining whether any international agreement should be brought into force as a treaty or as an international agreement other than a treaty, the utmost care is to be exercised to avoid any invasion or compromise of the constitutional powers of the President, the Senate, and the Congress as a whole" and includes the following criteria to be considered when determining whether an international agreement should take the form of a treaty or an executive agreement:
(A) "The extent to which the agreement involves commitments or risks affecting the nation as a whole".
(B) "Whether the agreement is intended to affect state laws".
(C) "Whether the agreement can be given effect without the enactment of subsequent legislation by the Congress".
(D) "Past U.S. practice as to similar agreements".
;
(E) "The preference of the Congress as to a particular type of agreement".
(F) "The degree of formality desired for an agreement".
(G) "The proposed duration of the agreement, the need for prompt conclusion of an agreement, and the desirability of concluding a routine or short-term agreement".
It is the sense of the Senate that—
(1) a significant segment of the American public is deeply skeptical of the World Health Organization, its leadership, and its independence from the pernicious political influence of certain member states, including the People's Republic of China;
(2) the Senate strongly prefers that any agreement related to pandemic prevention, preparedness, and response adopted by the World Health Assembly pursuant to the work of the INB be considered a treaty requiring the advice and consent of the Senate, with two-thirds of Senators concurring;
(3) the scope of the agreement which the INB has been tasked with drafting, as outlined by the Director-General, is so broad that any application of the factors referred to in section 2(8) will weigh strongly in favor of it being considered a treaty; and
(4) given the level of public distrust, any relevant new agreement by the World Health Assembly which cannot garner the two-thirds vote needed for Senate ratification should not be agreed to or implemented by the United States.
SEC. 4. ANY WORLD HEALTH AGENCY CONVENTION OR AGREEMENT OR OTHER INTERNATIONAL INSTRUMENT RESULTING FROM THE INTERNATIONAL NEGOTIATING BODY'S FINAL REPORT DEEMED TO BE A TREATY SUBJECT TO ADVICE AND CONSENT OF THE SENATE.
Notwithstanding any other provision of law, any convention, agreement, or other international instrument on pandemic prevention, preparedness, and response reached by the World Health Assembly pursuant to the recommendations, report, or work of the International Negotiating Body established by the second special session of the World Health Assembly is deemed to be a treaty that is subject to the requirements of article II, section 2, clause 2 of the Constitution of the United States, which requires the advice and consent of the Senate, with two-thirds of spacer
---
Let's dissect this manipulation by looking at just a few statements made by WHO's director general, Tedros Adhanom Ghebreyesus, at the World Health Assembly special session.
shutterstock.com
If the pandemic treaty were to come into effect in 2024, you can guarantee even higher global health surveillance using real-time sequencing for both diagnostics and epidemiology. This would be based on ever-more portable technologies with increasingly rapid turnaround times.
But don't just think mRNA injections or intranasals. Or gene editing technologies based on CRISPR for diagnostics. Think CRISPR to enhance the immune response will likely see an entry. This is a facet of transhumanism, as is digital surveillance.
To put it in the words of Klaus Schwab, founder of the World Economic Forum, there will be further attempts to fuse "the physical, digital and biological worlds, impacting all disciplines, economies and industries, and even challenging ideas about what it means to be human."
Following are just four things we've learned from this so-called pandemic, that suggest an even more rigidly, and constitutionally, controlled global response, would be entirely counter productive to the health of the people:
The nature, severity and duration of infection waves varies very greatly between countries depending on when and how many founder cases are detected, the health status of the populations infected, when in the timeline of the evolving pandemic outbreaks are experienced, and many other factors.
This variation demands decentralised, localised, targeted, proportionate responses that are shown to work, not one size fits all responses dictated from Geneva that seek to censor any dissent or bury information regarding effective early treatments.
The use of molecular surveillance via PCR and other antigen tests greatly misrepresents the impact of the pathogen on human health. One of the biggest ruses of the last two years was declaring deaths on the basis of their temporal association with positive PCR tests and applying measures according to cases of infection measured by unreliable molecular tests rather than by cases of severe disease. Case definitions for covid-19, or any other infectious disease, should reflect only cases of symptomatic disease, not cases of infection.
By playing with the semantics and context of the word "risk" the WHO has managed to maintain a false illusion of the risk to health. For example, Tedros claimed in relation to omicron the "overall global risk…is assessed as very high" before it knew that its virulence and risk to health was low.
What can we do?
You could do nothing and let Klaus Schwab and Trudeau's vision become a reality for future generations.
Or we can oppose every part of it that works contrary to what we see as the natural essence of humanity and the natural order of Nature.
So here's our top 5 suggestions:
Avoid participating in mass injection programmes (see separate piece on potentially undisclosed ingredients) that have failed to deliver on their promises and now cause more harm than good. This especially applies to the mass injection of children who are much more reliant on innate immunity that is eroded by covid-19 injections

Use your voting rights

to elect representatives at local and national level that support fundamental freedoms and oppose unnecessary restriction of liberties
Support the efforts of those in other countries that are opposing unnecessary restrictions on liberties, such as trucker convoys, 'defeat the mandates' protests, and similar

As the negotiations for a 'pandemic treaty' gather pace, engage with the many campaigns (ours included) that will develop to draw attention to its fallacies and the need for robust political opposition

Help others to understand the flawed basis on which a 'pandemic treaty' has been built by sharing this article as widely as you can. Thank you.
For more covid news visit covidzone.org
>>> Want more of this support? Want to expand your community and network with like-minded people? Yes? Great, why don't you join us as an ANH Pathfinder which gives you access to our private Pathfinder's network, a live monthly Q&A, our ANH Intention Circle and much more!