TAGS: Alaska, US Provocation, Chinese Aggression, Taiwan, South China Sea, Japan, Persecution, Christ in China, Chinese Believers, WAR, Communist Regime, Global Threat, Super Powers, Warships, US Coast Guard, Beijing,
China's People's Liberation Army Navy (PLAN), international law, International Waters, US Territorial Waters, Chinese Territorial Waters, Manmade Islands, surveillance ship, Japan Maritime Self-Defense Force,  guided missiles, Chinese Type 055 warship, China's Ministry of National Defense, Alaska's Aleutian Islands, U.S. territory of Guam,  freedom of navigation, US-led navy exercise off Hawaii, open Indo-Pacific, Taiwan Strait, P-8A Poseidon spy plane, USS Benfold, Chinese Attack,
spacer
Folks, I am not an alarmist, nor a fearmonger. I am not afraid and I do not want you to be afraid. I want you to be forewarned, alert, armed with the important information you need to know to keep yourself and your loved ones safe.
Chinese Warships spent three days in the waters off Alaska.  The Bering Strait/Aleutian Islands. Whether or not your are aware of the fact, we are involved in warfare behavior in the South China Sea, which has been escalating over the past several years.  The Chinese Ships were in the area between Aug 29 an Sept 1. The task force included, guided missile cruiser, a guided missile destroyer, a general intelligence vessel, and an auxiliary vessel. These are equipped helicopter, high tech surveillance equipment and stealth, long range guided missiles. This was not a benign visit or a scheduled military exercise. This story was blocked. By whom?? They are not telling.
China has come a long way!  In my youth, we used to laugh at the idea that the 200 million man army of the bible would be China.  We used to say, those backwards folks? How will they get here WALK?  Well, with the help of  U.S. traitors like the Clintons, they now have technology that far surpasses ours.  We buy most of our technology from them.  They are convinced that when war is declared they will defeat us very quickly.
The fact that the news of their presence on our shores was blocked from release is very troublesome.  I would think that the people of the United States have a right to know when dangerous enemy forces are that close to home. Don't YOU? If you are counting on your government to keep you informed of impending emergencies, YOU BETTER THINK AGAIN. My advice to you is to find a source of EMERGENCY INFORMATION that you CAN TRUST and link to it via internet and smartphone, keep their actual phone number written down in case you phone is disabled. Have an emergency escape route planned that does no include major highways which will be backed up in a matter of minutes, when an evacuation is recommended/ordered.
DO NOT TRUST the Main Stream Lamestream Media. Find an alternate source of information. Keep an emergency bag handy that includes a medical kit. Keep your shoes by your bed and be ready to move on a moments notice.
We are living in perilous times.
MOST IMPORTANT OF ALL, STAY PRAYED UP! Keep your ears open for the still small voice of the ALMIGHTY GOD! TRUST NO ONE BUT THE HOLY SPIRIT OF GOD to lead you. If you don't know HIM, you better get on your knees, repent and PRAY for GOD to fill you with HIS POWER!
Premiered 14 hours ago  9/14/21
US Coast Guard said at no point did the PLAN task force enter US territorial waters
Web Desk 
September 14, 2021 10:51 IST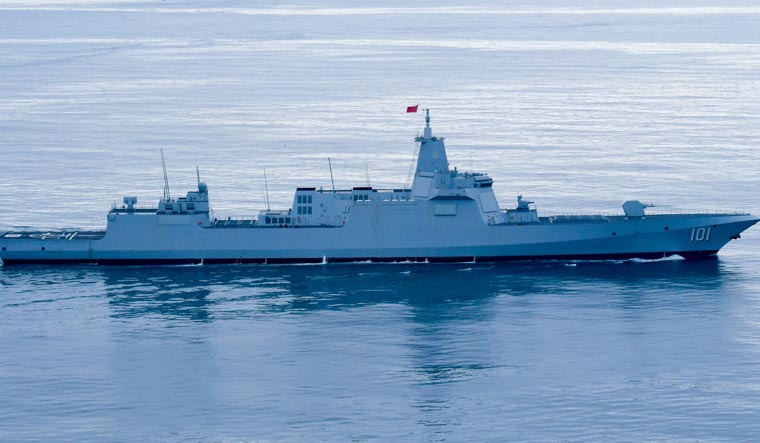 Conversation


China state-affiliated media
Hopefully when Chinese warships pass through the Caribbean Sea or show up near Hawaii and Guam one day, the US will uphold the same standard of freedom of navigation. That day will come soon.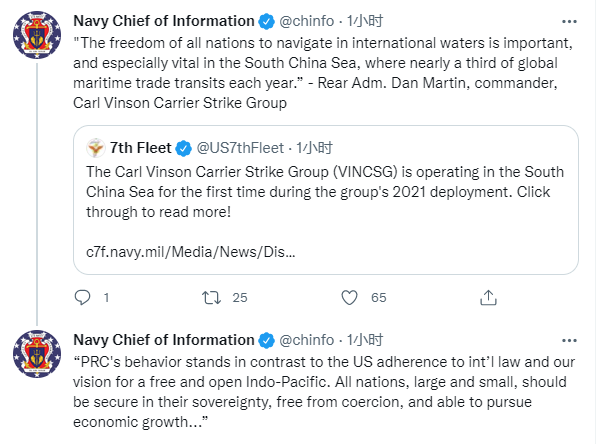 The US Coast Guard recently released images of a fleet of four ships of China's People's Liberation Army Navy (PLAN) sailing near a US Exclusive Economic Zone (EEZ) near Alaska's Aleutian Islands.
The action comes even as China opposes frequent passage of ships of the US Navy and its allies through contested waters of the South China Sea.

Navy Chief of Information
The
@USNavy
sails around the world in accordance with international law. All countries benefit from freedom of navigation in accordance with international law. Unfortunately, not all who benefit from freedom of navigation would extend that same freedom to others.
US defence website The Drive reported the images were shot between August 29 and 30, but were released only recently by the US government's Defense Visual Information Distribution Service (DVIDS). The Drive reported that the original caption provided by DVIDS stated, "the PLAN task force included a guided missile cruiser, a guided missile destroyer, a general intelligence vessel, and an auxiliary vessel."
Interestingly, the caption was subsequently modified to remove references to types of ships. The DVIDS caption now says, "During a routine maritime patrol in the Bering Sea and Arctic region, U.S. Coast Guard Cutter Bertholf spotted and established radio contact with Chinese People's Liberation Army Navy (PLAN) task force in international waters within the U.S. exclusive economic zone, Aug. 30, 2021. All interactions between the U.S. Coast Guard and PLAN were in accordance with international laws and norms. At no point did the PLAN task force enter U.S. territorial waters."
China's state-run Global Times reported the four ships were likely from a flotilla that passed east from the Soya Strait on August 24, which would have meant a course bringing them near Alaska. The four ships were identified as the "Type 055 destroyer Nanchang, the Type 052D destroyer Guiyang, a Type 903A supply ship with hull number 903, and a surveillance ship with hull number 799" by the Japan Maritime Self-Defense Force.
The US Navy classifies the Type 055 as a 'cruiser'. The Type 055 class of ships is the most advanced surface warship built by China, to date, and is equipped with an advanced radar system capable of engaging multiple targets in the air. With a length of around 180 metres and a displacement of around 13,000 tons, the Type 055 class is bigger than most surface combatants in the world, excluding aircraft carriers and amphibious assault ships.
Since 2020, China is believed to have inducted three Type 055 class vessels into the PLAN. A single Type 055 class warship can carry over 100 missiles capable of hitting targets in the air, sea, land and underwater. It is also equipped with artillery guns, torpedoes and helicopters. According to current US government estimates, the PLAN aims to have at least eight Type 055 warships.
The Global Times noted the passage of ships near Alaska "could also be seen as a countermeasure against US military provocations on China's doorsteps in the name of freedom of navigation".
Wei Dongxu, a Beijing-based military expert, told Global Times "The flotilla, led by the… Type 055 destroyer, displayed the PLA Navy's rapid development in far-sea capabilities as Chinese warships are expected to train in more distant, unfamiliar waters in the future."
The PLAN had made a similar passage off Alaska in September 2015. At that time, five warships were involved in the passage, which the US described as "innocent passage" passing within 12 nautical miles of the Aleutian Islands.
The following videos will give you an idea of what else has been transpiring between the US and China on the water and in the air.


spacer
uided-missile destroyer USS Kidd and Coast Guard's legend-class cutter Munro sailed through the waters between China and Taiwan. This was the eighth time that the U.S. Navy was sending a warship through the contested water. The ships' lawful transit through the Taiwan Strait demonstrates the U.S. commitment to a free and open Indo-Pacific, a statement from the Navy's Japan-based 7th Fleet said. The 127-meter-long Munro arrived in the region in mid-August for a month-long deployment. Earlier the week, Munro was seen training with a Japanese coast guard ship, the Aso, in the East China Sea.
#USmilitary
#southchinasea
#taiwanstrait
#chinaUS
spacer
War begins US warships start attacking Chinese man-made islands near the South China Sea The U.S. Navy sailed a warship near a Chinese-controlled island in the disputed South China Sea on Wednesday for the first time since Beijing began implementing a law requiring foreign vessels to give notice before entering waters it claims. The guided-missile destroyer USS Benfold "engaged in 'normal operations' within 12 nautical miles of Mischief Reef" in the Spratly chain of the strategic waterway, the U.S. Navy's 7th Fleet said in a statement.
WAR IS EMINENT!  THE WORD OF GOD SAYS IT IS COMING.  THE EVIDENCE IMPLIES IT IS ALREADY HERE.  WE KNOW THAT WE OFTEN FIGHT "UNOFFICIAL" or "UNDECLARED" WARS.  IF THIS IS NOT WAR, WHAT IS??
For More Information on our current situation, view my posts: