Are we totally insane?  I know we like to save money whenever possible.  It is bad enough that just about everything we purchase today comes from China.  From kids toys to the clothes on our backs, from plasticware to power tools.  BUT, for heavens sake, do we really trust China enough to be buying our medications from them??  Or, even allowing out medications, including our life saving antibiotics, to be manufactured in CHNIA??   Come on…
You know if we end up in a World War III, it is very likely that China and Russia will be united against us.  What will all the millions of Americans who are dependent on drugs to stay alive do, when they are cut off??  Even in peacetime, that gives CHINA way to much power.
Of course, the internet has been full of items over the past few years, warning us that our Government has sold us out the CHINA.  We have been scoffing at those folks who warned that we have been signed over the Chinese government in return for their purchase of our debt.  LOOKS more and more everyday like those people were not crazy and they were legitimately trying to save us.
This is an area where I am not qualified to contribute any valuable information.  I am clueless when it comes to drugs, their uses and their manufacture.  I don't use drugs, other than for pain relief.  It does seem however that I am affected, because our pain relievers are also from CHINA.  Let's see what we can learn from the following articles.spacer
spacer
Coronavirus: China 'has us by the throat.' Majority Of U.S. Drugs Manufactured Off-Shore
The onset of the deadly global Coronavirus is emboldening the Trump administration to re-examine the United States pharmaceutical industry, which manufactures the majority of its antibiotics, medicines and other medical products in China, Dr. Ramin Oskoui told The Sara Carter Show, on Thursday.

Dr. Oskoui, CEO of Foxhall Cardiology, said because 95 percent of all antibiotics are manufactured in China and this poses a very real national security threat to the United States, particularly when dealing with the global pandemic COVID-19.

He said that the pandemic has spurred important discussions on the failure of the United States pharmaceutical companies to manufacture the much needed and critical medicines, including medical equipment inside the country. Dr. Oskoui warned that outsourcing the manufacturing of much needed medicine leaves Americans extremely vulnerable and dependent on China.

"I think we need to have an open strong conversation not behind the scenes, not behind closed doors, but openly about drug companies re-shoring, making medications in the United States," said Dr. Oskoui. "It's unacceptable that the Chinese have us by the throat and make 95 percent of our antibiotics. And that's the critical thing that's got to change soon…actually make it a priority."

According to a recent article in the The New York Times, the Trump administration is preparing an executive order, "which could be released in the coming days, that would close loopholes allowing the government to purchase pharmaceuticals, face masks, ventilators and other medical products from foreign countries."

The paper noted that the increase the demand for American-made drugs and medical products should provide the American pharmaceutical companies the incentive to not outsource their manufacturing to countries, like China.

One example of possible backlash from China, said Dr. Oskui is recent newspaper reports emanating from China suggest

the Chinese government "may just flip the switch and stop stop our access to those things."

"The United States of America should never be in that position," he said. "I think we need to turn to people we know that worked for Pfizer, worked for Merck, work for Amgen, work for Gilead, worked for Bristol-Myers Squibb the U.S. drug companies and say 'you know we understand that you have few share obligations to your shareholders but you also have an obligation to your fellow Americans, as American citizens as an American drug companies' you need to start making it here just because you can make huge profits abroad we shouldn't be vulnerable to economic and political blackmail and vulnerable to the medical downside of these drugs being manufactured off our shores."

"There's no reason we can't be drug self-sufficient," he added. "We have the brain trust, we have the land to build these factories. We shouldn't be offshoring stuff like this and that that's really got to end and that needs to be a discussion that we have."
The coronavirus outbreak is a good time to ask why our leaders sat by as so much of the US pharmaceutical industry was shipped abroad.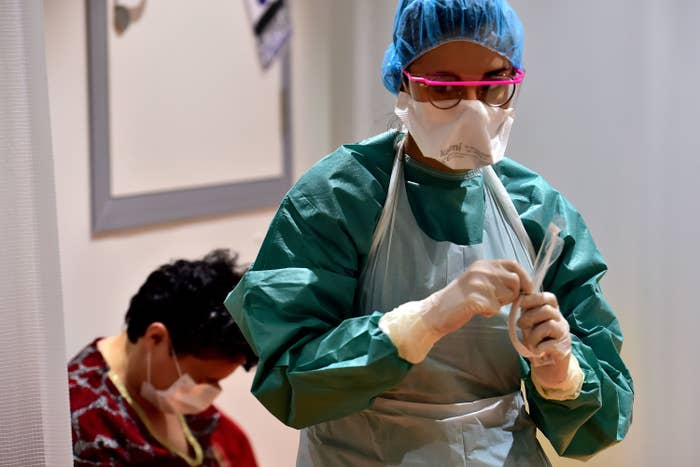 In 2018, a commonly used drug to treat irregular heartbeats was suddenly in short supply. "All of a sudden it gets taken away and I'm like, what is happening?" one New Hampshire cardiologist recalled to me recently. "I'm in the United States and I don't have Cardizem right now?"

As the coronavirus sweeps across the globe, that experience is a preview of what's to come: another round of what one trade publication called the "pharmaceutical version of The Hunger Games."

China's Hubei province is the epicenter of the global coronavirus outbreak. It's also home to at least 12 drug plants supplying the US with everything from painkillers to antibiotics. And beyond Hubei, an estimated 80% of pharmaceutical ingredients are sourced from China and India (which, in turn, sources nearly 80% of its drug ingredients from China).

Our ability to make and distribute medicine here in the United States is falling apart, and it's a direct result of the consolidation of the supply chains and factories that make it.

The Cardizem shortage of 2018 began when Hurricane Maria knocked out power to a handful of factories in Puerto Rico that produce saline bags used around the world for administering intravenous medications. Those few days of lost production in Puerto Rico caused Cardizem supplies to be backlogged for months. Pharmaceutical producers put most of their eggs in one basket, and the hurricane upset the basket.

The coronavirus could disturb a much bigger basket — the majority of pharmaceutical drugs globally.

Since at least 2005, hospital administrators and patients have experienced the fragility of the drug supply chain. Policymakers have failed to address the root cause. Why did we consolidate and thin out supply chains so aggressively?

The answer is found in the behavior of "power buyers," corporations in the drug supply chain that buy a lot of product and subsequently have the power to set prices. Power buyers like CVS or the group purchasing organizations (GPOs), which hospitals use to buy everything from surgical gowns to generic drugs, have consolidated the drug supply chain, squeezing manufacturers to get rid of all their redundant sources of supply — or, even riskier, ship off their production to China.

Indeed, it's consolidation all the way down: Many of these GPOs outsource even further, purchasing their generic drugs through separate power buyer entities. For example, Cardinal Health, the fifth-largest GPO in the country, runs a joint venture called Red Oak Sourcing with CVS Health, the largest pharmacy chain, to handle purchasing for Cardinal, CVS, Target, Omnicare (which sources for approximately 50% of all nursing homes), and OptumRx (the drug division of UnitedHealth Group). Other power buyers cover purchasing for Walmart, Walgreens, and Express Scripts. The market is so consolidated that just four of these power buyers control over 90% of generic drug purchasing for the entire country.

This consolidation might not seem like a bad thing. After all, generic drugs are cheap; a course of generic antibiotics may cost no more than $5 to the consumer. But power buyers have driven prices below a sustainable level for the producer. Their consolidated buying power — also called monopsony power — has lowered margins on generic drugs such that many manufacturers have consolidated to match their bargaining power or offshored their production lines to eke out whatever margin they can.

Drug shortages aren't the only consequence of this. Power buyers act similarly to the way Walmart handles purchasing for its more than 5,000 stores, demanding extremely low prices from suppliers and forcing them to either fold or move production to cheaper labor markets overseas. US factories close, production moves offshore, and the result is a loss of diversity and resiliency for the entire supply chain in return for slightly lower prices. Common goods, including garden hoses, TVs, air conditioner parts, and car parts are now all in shortage.

In the coming weeks and months, the coronavirus pandemic is likely to reveal the hidden risk embedded in the low consumer prices for medical supplies, just like the financial crisis forced hidden risks back on the balance sheet of major banks. Reports indicate the FDA is now carefully monitoring 150 drugs for anticipated shortages due to the outbreak.

As lawmakers and experts consider solutions to fix the fragile medical supply chain, many are focused on having the FDA gain visibility into our supply chain and relocating supply chains away from China. These approaches are a good start, but they also fail to address the root of the problem.

Rather than solely focusing on the country of origin of the supply chains, lawmakers and regulators should be focused on the market power issues that caused the problem. Regulatory solutions like breaking apart the power buyers of drugs and legislative solutions like banning contracts that guarantee massive purchasers the lowest possible price would allow the supply chain to rediversify. And diverse supply chains are better able to respond to a catastrophe.

We're far beyond just manageable shortages. The coronavirus is forcing lawmakers to confront the weakness of US supply chains; the solutions should go beyond the short-term crisis and address the concentrated corporate power that's at fault.
Why You Shouldn't Trust Anyone Who Claims 80 Percent of America's Drugs Come From China
A misleading statistic has made the rounds. But it's based on a misreading of a government report that says no such thing.
You can view the entire article by clicking the link.  I am sorry but this writer seems to me like one of the hired guns that muddies the water and confuses the minds of honest people to try and get their employer off the hook.  Through out the article he basically says there is no concrete documentation for anything.  That is what these big pharmaceutical companies do on purpose to cover up their evil deeds, as was already stated in the above article. They outsource everything to their financial advantage and cover their tracks by making sure it is difficult to tell how the finished product ends up in the hands of the consumer.  
One thing we know for certain.  These drugs are not being sources and manufactured here in the UNITED STATES, and have not been for a number of years. 
I ask you this… HOW SAFE DO YOU FEEL DEPENDING ON DRUGS THAT ARE LIKELY COMING FROM FOLKS WHO DON'T PARTICULARLY CARE FOR YOU OR HAVE ANY STAKE IN YOUR WELL BEING??
Which Countries Have the Biggest Pharmaceutical Markets?
The United States has the largest pharmaceutical market in the world, worth around 339,694 million dollars.
Countries With The Biggest Global Pharmaceutical Markets In The World
| Rank | Country | Value of Pharmaceutical Market (in millions of $) |
| --- | --- | --- |
| 1 | USA | 339,694 |
| 2 | Japan | 94,025 |
| 3 | China | 86,774 |
| 4 | Germany | 45,828 |
| 5 | France | 37,156 |
| 6 | Brazil | 30,670 |
| 7 | Italy | 27,930 |
| 8 | UK | 24,513 |
| 9 | Canada | 21,353 |
| 10 | Spain | 20,741 |
GET OUT OF TOWN!  ARE WE KIDDING???  THE USA consumes 3X as much pharmaceuticals as any other nation in the world!!!  That is insane.  We could probably provide jobs for half the unemployed just from this industry alone if we were growing the materials, manufacturing and finishing the drugs to market just to US citizens!!   Why are we jobbing out that industry???  
My greater concern is, WHY are the people in the US so much more dependent on drugs to maintain their lifestyle, than any other people group in the world???   If our healthcare is SUPPOSED to be the best in the world…(LOL) why are we so sick we all have to be taking medication??
JUST LOOK AT THOSE NUMBERS!!  IT REALLY TELLS A STORY!