END OF THE UNITED NATIONS AS WE KNOW IT, BUT WHAT DO THEY HAVE IN STORE?
They are steering us toward their goal.  The UN is useless.  But, what they are planning to replace it with is a nightmare.
I am scratching my head here.  Wasn't the United Nations created to resolve issues around the world peacefully and to PROTECT HUMAN RIGHTS?  What the Heck?  There is no disputing that CHINA has been forcibly taking people's organs while holding them in prison without cause.  There is no disputing that they are deliberately exterminating an entire race of people.  Now we have pictures of the NAZI like behavior holding people on a terminal blindfolded, shaved, and restrained waiting for the trains to take them to the concentration camps, where they will be starved, beaten and their organs extracted while they are still alive.   AND THE UN DOES NOTHING??? NOTHING???
WHY is the world not enraged?  Why is ANY NATION still conducting business with these people?  Why have we not disbanded the UNITED NATIONS altogether?   Why does anyone allow the United Nations to continue? I DON'T GET IT!
No matter whether you like Donald Trump or not… I have to give him credit for standing up.  He has continued to disconnect the US from the UN.  He has the courage to stand up to China.  He does speak up for human rights, in a world that seems to think that humans are less than animals. 
If you think the RULING ELITE care on twit about human rights… you are kidding yourself.  Wake up people the ROYALS created the UNITED NATIONS to enforce their will on the WORLD.
THERE NEEDS TO BE AN END TO THE UNITED NATIONS, That is for certain.  But, WE THE PEOPLE need to be the ones to declare it.  DO YOU REALLY WANT TO LIVE UNDER THEIR DOMINATION?
IF YOU HAVE NOT REVIEWED THE ARTICLE BELOW, YOU SHOULD!
Update 7/23/20
The influential and corrupt United Nations has been viewed for generations as the probable leader of a future one-world government, and now an eye-opening speech is laying out that power-grabbing visionfor the world to see.

"Now is the time for global leaders to decide," UN Secretary-General Antonio Guterres proclaimed in a July 18 speechthat suggested the COVID-19 pandemic has demonstrated the "fragility" of a world where worldwide inequalities have been exposed.

"Let's face the facts," the UN leader warned. "The global political and economic system is not delivering on critical global public goods: public health, climate action, sustainable development, peace."

He went on to urge countries to support a "New Global Deal" that is based on "fair globalization" and the rights and dignity of every human being.  (One World Organization is what got us into this mess.  The League of Nations and The United Nations have had long enough to show any good faith.  They have done NOTHING to improve the world situation, resolve any conflicts, or protect the rights of individual human beings or groups of human beings.  We have see how power corrupts.  We are not willing to sign our rights over to any individual or group of individuals who believe they have the right to make decisions that affect our lives without proper representation.  Not only no, BUT HELL NO!  We don't want a world government!)

The UN leader's speech complements 17 "Sustainable Development Goals" addressed by the UN, from "quality education" to "climate action."   (These Goals are just a power grab, see my other articles on the UN. They have never been about saving the planet or the people.  These Goals and the UN itself are the reason we are in the mess we find ourselves.  It is time to disband, dissolve and dispel the United Nations and any other idea of GLOBAL DOMINATION!) 

By the end of the speech, Gutteres had addressed income inequality, colonialism, racism, climate change, patriarchy, gender equality, corporate taxation and tax evasion, greedy billionaires, labor rights, hate crimes, and xenophobia.  (LOL, so they have done a bang up job so far, haven't they?  And they want us to give them a new lease, with greater power…. HELL NO!)

"Will you succumb to chaos, division, and inequality?" he continued. "Or will you right the wrongs of the past and move forward together for the good of all?" (No, we will not succumb to what you have created.  We will learn to live under the laws of GOD and take care of each other. We will remove all the current leadership, that was handpicked by the powers that be, and replace them with leaders of our own choosing. We will maintain our individual nations!)

Responding to the UN speech, End Times expert Jan Markell of "Understanding the Times" says the Bible clearly lays out what the world will look like.

"We know that the Bible in Revelation, particularly [chapter] 13, even in Daniel, we can see that there's coming a global government with a single leader and a one-world religion as well," she tells OneNewsNow.   (Yes, the reign of anti-Christ is coming.  That we know.  But, we do not have to invite him in.)

Markell studies Bible prophecy and holds an annual conference on the topic, which is known as Eschatology or "last things" as described in the Book of Revelation and the Book of Daniel.

The best-selling "Left Behind" book series imagined just such a scenario based on those prophetic passages. Authors Tim LaHaye and Jerry B. Jenkins created a charismatic Romanian politician as the Antichrist, who converts the UN to a "Global Community."  (If you had a pretty good idea the devil was about to visit your house, would you go out to greet him, walk him in and offer him cake?)

In past decades, some Christian leaders have cited a date for the Second Coming and some have suggested a powerful figure is the Antichrist, such as the long-dead Saddam Hussein, only to be mocked for such claims.

Markell states flatly that she doesn't know when those End Times events will unfold but insists the spread of COVID-19 – "pestilence" – is a warning that the clock is winding down to the Church being removed, then the UN's grand vision of a powerful one-world government will become true.

There is also a belief inside the Church known as Preterism, which suggests the Book of Revelation is really a first-century account of Rome, not biblical prophecy. So there is no rapture of the Church, no End Times, and no Antichrist according to that view.

Markell, however, insists the world will witness more and more calls for a one-world government as the time of Christ's return draws closer. (True, calls coming from the demonized elite, chomping at the bit for chaos and bloodshed.)

"These folks have gotten so bold in the last, I would say, ten years," she says of the UN, "that they're just out in the open, that this will be paradise when we know it won't."  (NO one world government will paradise.  Have you read about the Tower of Babel?)
A fire truck outside a Chinese consulate as workers 'burned top-secret documents' after the United States ordered the office to close its doors.
China Burns Evidence at Houston Embassy
To view the video click the link below:
https://www.liveleak.com/view?t=soSgM_1595405977
The US told China they had 72 hours to withdraw from the Chinese consulate in Houston. In this video, Chinese officials can be seen burning documents inside their Consulate. When firefighters responded, they were told they were not allowed to enter the building.
Added:By: meister2 (2998.70)
Tags: News, Chinese, Consulate, burning, documents
Location: Houston

  Views: 1550 Replies: 17 Score: 27
spacer
Episode Description: The guys open the show discussing some news surrounding the big C little v, including non-sterile tests being shipped to the UK and the Washington state

(from China)

CV emergency plan that coincidentally ends the DAY after election!

(So, were COVID 19 lockdowns about the election?)

Then the guys talk about Ghislaine Maxwell's secret husband and the illumination of Pinocchio's dark history

(Pedos and Disney).

For the main topic, the guys dive into the horrors happening in China surrounding the Uigher concentration camps.
THE VIDEO WAS CENSORED BUT YOU CAN LISTEN TO THE PODCAST AT THE FOLLOWING SITE:
spacer
TAIPEI (Taiwan News) — While the world is grappling with the Wuhan coronavirus pandemic and looking into China's role in the origin and spread of the disease, Reuters published an exclusive report on Monday (May 4), revealing that an internal Chinese document suggested that Beijing be prepared for a spike in global hostility towards the communist country — one that could eventually result in war with the United States

Citing undisclosed sources, the Reuters report said that the Chinese document was presented early last month by the Ministry of State Security to Chinese Communist Party Chairman Xi Jinping (習近平). The document included the striking assertion that "Global anti-China sentiment is at its highest since the Tiananmen Square crackdown."

The Reuters report said that the Chinese document emerged from the China Institutes of Contemporary International Relations (CICIR), which falls under the umbrella of the Ministry of State Security.

U.S.-China relations have been tense in recent months in the wake of the COVID-10 pandemic, which has been fueling U.S. President Donald Trump's longstanding push to bring manufacturing back from overseas.

In an interview with Fox News, Trump said that China had misled the world on the spread of the coronavirus: "I think, personally, they made a horrible mistake, and they didn't want to admit it."
Chinese Diplomats Started Burning Documents Hours After They Were Ordered to Leave the U.S.

The U.S. State Department informed Chinese diplomats at 4 p.m. on Tuesday that they had just 72 hours to pack up and leave their consulate in Houston.

Hours later, just after 8 p.m., police and firefighters surrounded

…

Sen. Marco Rubio, R-Fla., tweeted his support Wednesday for the shuttering of a Chinese consulate in Houston, claiming that

spying activity was carried out through the facility.

The U.S. directed the closure of the consulate on Tuesday. The Chinese government said Wednesday morning that they had been instructed to do…

Secretary of Defense Mark Esper warned Beijing on Tuesday that t

he US isn't "going to be stopped by anybody"

in the South China Sea,

stressing that US aircraft carriers will continue to sail these waters. His remarks follows a statement last week from Secretary of State Mike Pompeo rejecting many…

China on Wednesday vowed to retaliate against the U.S. shortly after learning it had 72 hours to close its consulate in Houston.

"China strongly condemns this outrageous and unjustified move. We urge the U.S. to reverse this incorrect decision immediately. Otherwise China will definitely take necessary legitimate actions," Foreign Ministry spokesman Wang Wenbin said in a statement to reporters.

Sen. Mitt Romney is calling for the U.S. to lead a coalition of countries that embrace fair trade to push China to stop its predatory pricing and theft of intellectual property. "There's no other nation that can provide the leadership that's necessary to develop a global approach to China's ambition,…   

(So, they care about trade…but what about all the Ulghars that are being cut up for body parts and put in camps or killed? Why aren't we demanding that something be done about that?  China told us to mind our own business, but I thought they wanted us to be all one!  What kind of a World will this One World BE?)

Ongoing tension in the South China Sea has reached a new tempo as China sends some flankers into contested claims.

This comes as the US sends a rebuke to all China claims as illegal.

Before this reaction of China, when the US initially sent the USS Theodore Roosevelt, Nimitz, and…

Beijing wants to bring Taiwan under its control within the One China policy

but experts have warned this could be the final ingredient to spark a war between Beijing and Washington. The South China Sea has seen both sides increase their military presence with many experts claiming a misstep in the region could spark a devastating clash. Michael Auslin, a fellow at Stanford University's Hoover Institution in California has pinpointed Taiwan's authority as the one scenario which could "precipitate" a full-scale conflict.

The United States said Wednesday that it has ordered China to close its consulate in Houston

"to protect American intellectual property" and the private information of Americans. China strongly condemned the move, the latest in a series of steps by the Trump administration as it ratchets up pressure on the…
China on Wednesday condemned what it called an "unprecedented escalation" by the United States

and threatened to retaliate after it was ordered to close the Chinese consulate in Houston.

Chinese foreign ministry spokesman Wang Wenbin said in a daily news briefing that the government had been told without warning Tuesday…
The volatile waterway rather than Taiwan may be the spark to military action between the two powers
Increasing number of encounters heighten risk Beijing and Washington could accidentally escalate into armed confrontation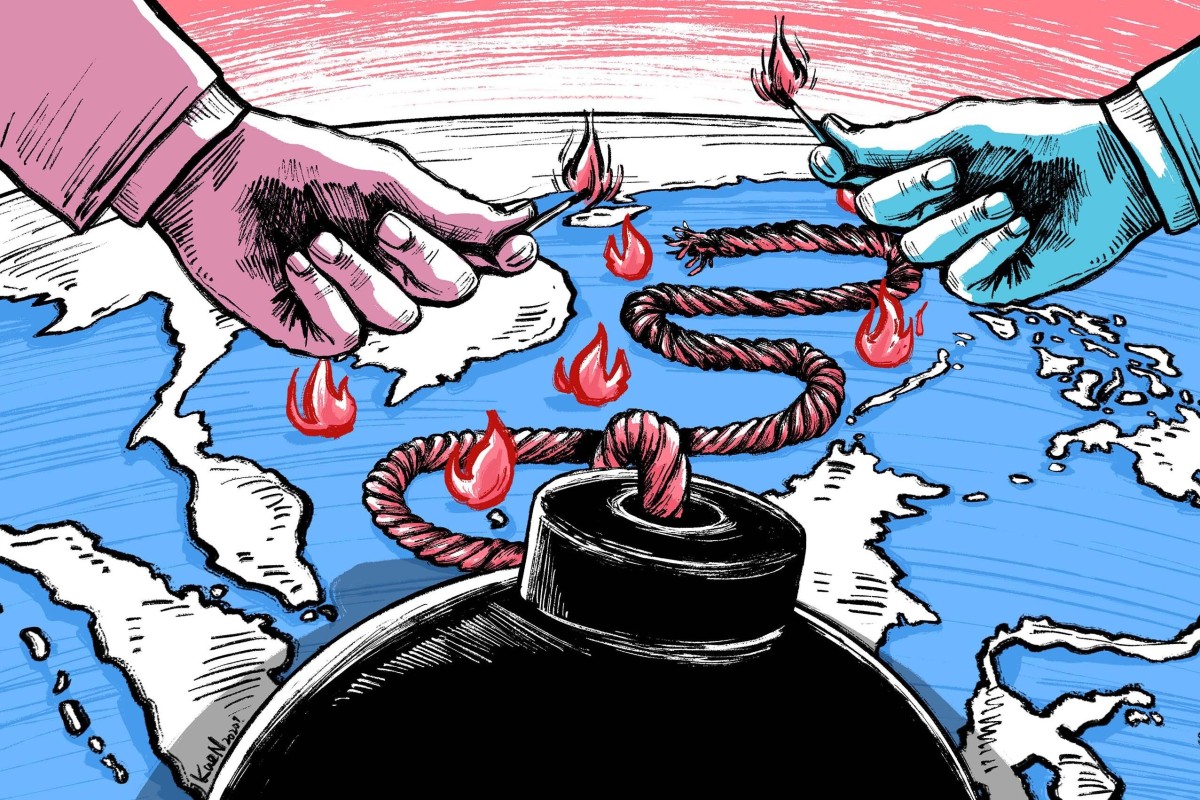 This is the second in a four-part series examining the growing tensions between China and the United States and how the situation could escalate into a full-blown military conflict. 

As diplomatic relations between China and the US deteriorate to their lowest point since they were established in 1979, a military conflict between the two countries no longer seems a far-fetched possibility.

Their last direct engagement was during the Korean war, from 1950 to 1953, at a time of sparse trade and no diplomatic relations between Beijing and Washington. The spark which set off that confrontation was fear among China's leadership of a unified Korean peninsula loyal to the US on the doorstep.

China did not enter the conflict – which began with a Soviet-backed invasion of the south – until North Korean forces were pushed back to the Yalu River, which forms the border with China, by a UN-backed force dominated by US troops.

The surprise offensive by the People's Liberation Army in October 1950 was the first of many attacks which eventually pushed the US-dominated forces back to the 38th parallel, where the border between North and South Korea has now stood for almost seven decades.

Unlike the Korean war, the spark of any direct clash between the US and China will probably be an accident rather than a deliberate military attack from either side and, specifically, it is likely to be an accident in the 

The South China Sea is one of the most coveted bodies of water in the world. Every year, one-third of the world's shipping passes through it, carrying more than US$3 trillion worth of trade. Abundant fisheries as well as potentially massive oil and gas reserves are some of the many other draws which also make it one of the world's most heavily-disputed areas.

While the US navy – with its bases in Japan, Philippines, and Guam – dominates much of the Pacific Ocean, China has long tried to counter this influence by occupying many of the islands in the South China Sea – or building its own – using historic claims to around 90 per cent of the waterway.

The track record of accidents around these disputed islands is why Auslin chose the South China Sea as the flashpoint for a US-China military conflict scenario he included in his book Asia's New Geopolitics, published in April.

Examples he gives include 2001, when a US intelligence aircraft and a Chinese fighter jet crashed 160km off the 

, an archipelago in the South China Sea controlled by China which is also claimed by Vietnam and Taiwan.

A Chinese pilot died in the accident and the US aircraft was forced to make an emergency landing in the Chinese southern island province of Hainan, handing then-US president George W. Bush his first major foreign policy challenge after his election the previous year.

Are Xi Jinping's China and Donald Trump's US destined for armed conflict?

There has not been a similar diplomatic crisis since, but there have been many close calls. The US navy regularly conducts freedom of navigation drills through waterways controlled by China, which frequently brings both sides' navies into close range.

, and a collision was only narrowly avoided. "What happens if a US ship is sunk? Would we not have to go to war because of that?" Auslin said.

From the US perspective, a fight with China over the South China Sea was more understandable than a fight over 

 – another potential flashpoint – according to Auslin, because the US had "clearer alliance commitments" to the Philippines than to the self-governing island as well as the concept of freedom of navigation.

"Taiwan is a different story. Everyone recognises that could precipitate a full out war with China if the US chose to uphold its commitments to Taiwan, which are ambiguous," he said. "But everyone is on a hair trigger when it comes to the South China Sea."

The Trump administration signalled a tougher stance with 

 which rejected most of Beijing's claims to the South China Sea and said the US would "not allow Beijing to treat the South China Sea as its maritime empire".

In response, Chinese foreign ministry spokesperson Zhao Lijian said one day later that China was committed to peacefully resolving disputes with other nations.

Hawkish commentators with links to China's military establishment have gone further, however. In December 2018, retired PLA major general Luo Yuan suggested hitting one or two US aircraft carriers in the South China Sea with missiles would break US morale in the region.

The outcome of any military conflict in the South China Sea looks unfavourable to the US on paper, according to David Ochmanek, a former military planner in the US defence department. In a 2019 talk he gave in Washington, he said that, when fighting China, the US "gets its ass handed to it".

Beijing 'is ready to counter US' as navies hold drills in South China Sea

Ochmanek, now a senior researcher with California-based think tank Rand, has been involved in many war games simulating large-scale conflict with China over the past 15 years and has seen how the capabilities of the emerging superpower have changed.

"So let's say it was 2005. If we were to run a scenario for 2010, Chinese capabilities weren't fully mature, and what you would see was a stand-off, not a clear-cut victory or defeat for either side, but still there were surprising numbers of casualties and losses to the United States. The lethality of Chinese forces was growing dramatically," he said.

"As we advance the clock forward, and start to look at the balance in 2020, 2025, 2030 … typically we were finding clear-cut victories for China."

One of the challenges for the US is that the advancements developed by the Chinese military have been tailor-made for the South China Sea, according to experts.

South China Sea airspace control plan in works by Beijing, PLA source says

Charlie Lyons Jones, a researcher with the Australian Strategic Policy Institute, said the PLA's strategy centred around denying the US military access to China's near seas or, at a minimum, challenging its freedom of movement within the "first island chain" – a term used by Chinese military leaders for the archipelagos fencing the seas controlled or claimed by Beijing, which includes areas of the East China Sea.

"The PLA's rapid build-up of missile forces, particularly those with anti-ship capabilities, is the natural outgrowth of (this) strategy," he said.

China's overall military strength – from submarines to space systems – has grown in recent decades, forcing the Pentagon to take notice. In 2015, Rand published a report commissioned by the Department of Defence comparing US and China military prowess on all fronts.

While noting that China's "technology and operational proficiency still lag behind those of the United States", the report said China was rapidly narrowing the gap.

The low-key South China Sea projects Beijing uses to cement its claims

15 Jul 2020

In 2018, Ochmanek wrote a report in which he pinpointed five of China's rapidly improving military capabilities that should concern the US: accurate long-range missiles; modern air force and anti-aircraft defence systems; systems for reconnaissance and targeting; cyberwarfare; and nuclear weapons that could target the US.

Even in areas where the US still holds a clear advantage, Chinese quantity could overcome American quality, according to Ochmanek.

"No naval officer would trade a US shipyard or ship for a Chinese shipyard or ship. Qualitatively, our ships are superior to any in the world, more survivable, more capable. But where the Chinese outstrip us is in sheer capacity, in part because they have such a large civilian industry," he said.

Geographically, China also has the upper-hand. As the 2015 Rand report noted, "China does not need to catch up fully in order to challenge US ability to conduct effective military operations near the Chinese mainland."

First made-in-China aircraft carrier, the Shandong, enters service

China's proximity to the disputed areas means Chinese ships have easily swarmed contested islands to intimidate other claimant countries in the past. Experts say the same advantages would play out in a clash with US forces.

"The South China Sea is the PLA's 'home turf' while the US forces have to travel long distances just to get there – and that's before the fighting starts. There are also huge challenges with sustaining a force over long supply lines and far away from your main bases," said Grant Newsham, a senior research fellow at the Japan Forum for Strategic Studies.

"And, as a general rule, when an enemy comes closer to your defences he's an easier target and it's easier to deploy forces against him."

Newsham also said the PLA's man-made islands would come in handy in the event of a military conflict, pushing China's first line of defence forward and increasing its ability to monitor the movement of US forces. These advantages were "particularly important during the so-called phase-zero where jockeying for position takes place".

However, the balance of the scales could tip towards the US if the military conflict were prolonged. Ochmanek from Rand noted that, in the event of a war, China's proximity to the flashpoints of the South China Sea could become a disadvantage.

"At the strategic level, it may be an advantage to fight a war on someone else's doorstep because if you're going to fight a war in the Taiwan Strait, in the South China Sea, or in the East China Sea, it is going to disrupt the Chinese economy, no merchant shipping is going to go into the conflict zone," he said.

Newsham, a former US marine officer and diplomat, said the playing field would be levelled if fighting expanded outwards. "If the fight is farther afield – say, outside the 'first island chain' and beyond – China's advantages – long range shore-based weaponry, surveillance, ability to amass large numbers of ships, submarines, aircraft, for example – fall off considerably," he said.

Auslin said it was unlikely a military conflict in the South China Sea would be anything more than a limited engagement between Chinese and American forces. "Both sides are worried about the escalation they can't control, China will be worried that it can't bear the full brunt of American forces, the Americans are worried about a nuclear escalation," he said.

South China Sea: beware US 'sabotage', Beijing warns Southeast Asia

21 Jul 2020

Hu Bo, director of the Centre for Maritime Strategy Studies at Peking University, said any conflict would "definitely not be large-scale but small-scale", but that some members of the US military might therefore think a "controllable conflict" in the South China Sea was desirable.

"The issue is that the consequences of these military conflicts cannot be imagined, it's impossible to control a war once it happens," he said.
NPR's Scott Simon speaks with China expert Adrian Zenz about his research uncovering evidence of birth prevention and mass female sterilization of Uighur Muslims in China.

SCOTT SIMON, HOST:

A new report in Foreign Policy says that China's suppression of Uighurs, Kazakhs and other chiefly Muslim ethnic minorities in northwest China now meets the United Nations definition of genocide, mass sterilization, forced abortions and mandatory birth control part of a campaign that has swept up more than 1.5 million people and what researcher Adrian Zenz calls probably the largest incarceration of an ethnoreligious minority since the Holocaust. Adrian Zenz joins us from Minneapolis. Mr. Zenz, thanks so much for being with us.

ADRIAN ZENZ: Thank you.

SIMON: Those words are stunning. Outline for us, if you can, what you found.

ZENZ: I was able to uncover dedicated policies by Beijing in the region to systematically suppress birthrates and depress population growth. I uncovered evidence that the Uighurs are subject to internment in camps if they violate birth control policies, have too many children. I also uncovered that there's tools to implement intrauterine contraceptive devices and other intrusive surgical birth prevention mechanisms in at least 80% of the targeted women.

SIMON: Eighty percent.

ZENZ: That's the minimum goal for 2019, but I personally believe that the actual was closer probably to 90%.

SIMON: It is notoriously difficult to do research on the Chinese government, and specifically their policies on the Uighur population. How did you conduct the research? Do you trust the data?

ZENZ: I do trust the data, which, as before, comes from different types of Chinese government documents, firstly from the Xinjiang National Health Commission, whose website has subsequently gone offline since the publication of my report, from local prefecture government websites and from county websites. We're talking budgets with very detailed target indicator figures, reports, policy documents.

SIMON: People need to be careful using the word genocide. Why do you think it's justified and important to use it now?

ZENZ: I have long argued that the atrocity in the region is a cultural genocide, not a literal genocide. I do continue to believe that, generally speaking, the Chinese government does not intend to physically eradicate the Uighurs and Kazakhs, just to integrate, subjugate, dominate and assimilate them. However, this is coupled with a policy of ethnoracial domination, as the government has brought millions of Han Chinese settler in the regions with promises of high salaries, jobs and free housing.

The reason why now this has changed – we do need to probably call it a genocide – is quite simply because the evidence now, for the first time, very specifically meets one of the five criteria set forth by the United Nations Convention for the Punishment and Prevention of the Crime of Genocide from 1948, which specifically says the suppression of birth.

SIMON: The U.N. has said that up to 1.5 million Uighurs are in internment camps in China. China says this is to contain the threat of terrorism and to reeducate people in the camps to become better Chinese citizens. Behind those statistics are real human lives that have been upended. I wonder what some of the stories you've been able to discover have reached into you the most.

ZENZ: Stories that are among the most harrowing, of course, are stories of abuse, stories of women being caught up by the police and, as they're being brought to the internment camp, the first thing is that they're told, you're going to go on the surgery table, and we're going to put an intrauterine contraceptive device into your body, because that's standard policy for women who are put into a camp. Other women report of forced sterilization, of abuse, even accounts of rape.

SIMON: A word like genocide is also supposed to provoke the world to act. What do you believe should or can be done, Mr. Zenz?

ZENZ: I think China needs to face consequences by exclusion or sanctioning from multilateral institutions, either political or possibly economic sanctions, given that we also have a situation of forced labor. I think the international community got to start to think real hard how, with what kind of actions it's going to back up its professed and supposed moral values.

SIMON: Adrian Zenz is a senior fellow in China studies at the Victims of Communism Memorial Foundation. Mr. Zenz, thanks so much for being with us.
ZENZ: Thank you.
The world is already used to the fact that there is a tariff war going on between Washington and Beijing, which periodically comes to the verge of a full-fledged financial war with mutual asset freezes and other measures to inflict severe economic damage.

However, two epidemics — the coronavirus and accusations against China, accompanied by attempts to "hang" on the PRC the obligation to compensate the US, Britain, or Germany for trillions of dollars of economic damage, make us think about whether the world will not approach a power confrontation.

Reuters published an exclusive article claiming that the leading think tank of the Chinese national security system has compiled an analytical report, the essence of which is to prepare for a real (not "cold," but "hot") war with the United States of America.

The British Agency refers to its sources in Beijing, who allegedly saw the document, but refused to hand over even fragments of it for reasons of their security. However, yet a brief retelling on the tape of a reputable Agency was enough to cause a shock in the Western info field. After all, a real war is not the most optimistic scenario against the background of a pandemic.

You could write off this info field on the fertile imagination of the London Agency, but two aspects prevent this from being done. First, history teaches us that vast empires often like to distract their populations from crises by directing widespread anger at external enemies, for the sake of fighting (probably armed) with which a nation can rally even around a relatively unpopular leader. Secondly, if we put aside excessive politeness, we can state that to start a war against the background of a pandemic is entirely American, and the principle "no crisis should be wasted" is quite suitable for describing the style of thinking of Washington strategists. And indeed, China is not Iraq or Iran, but a severe enemy, which will require earnest efforts to fight, and it will not be possible to make a full-fledged war or at least a fierce financial battle (with sanctions on the "Iranian model") supported by a significant part of society. This means that hard-liners of the anti-Chinese line can perceive the coronavirus epidemic (which, by a happy coincidence for the Washington hawks, was first discovered in China) as a unique opportunity, which will not be repeated and which must be used in the fastest and most decisive way.

In these circumstances, it is entirely rational to take into account the risk that Washington will "scratch its fists" in the form of aircraft carrier groups. This is a wholly logical approach on the part of the Chinese managerial elite, whose direct official duties are to mitigate national security risks.

If Reuters sources have seen such a document and it is not a fiction, then the very fact of its existence is not a sign of paranoia (which the Chinese "security officials" will necessarily accuse the Western media), but rather a pessimistic, but a somewhat realistic view of the American political elite. The latter may well consider that even the risk of a nuclear conflict with the PRC is an acceptable price to eliminate the main threat to American hegemony.

In a retelling by Reuters, it is indicated that Beijing perceives the growth of anti-Chinese sentiment, which is very skillfully stoked by the US, as one of the main factors contributing to the risk of a "hot" conflict.

The American edition of Vice formulated the conclusion more uncomplicated and more straightforward: "China believes that the response to (China's actions during the epidemic) of coronavirus could lead to a full-scale war with the United States."

It is unlikely that the United States will send carrier strike groups to attack the PRC right now. Practice shows that before any power conflict, an elaborate media ritual is first performed, in which a particular country is declared the center of universal evil, and the world is presented with either a test tube with "white powder," or "witnesses" of some terrible crime against humanity committed by another "authoritarian regime," or, at least, some scandal in which "highly like" representatives of the state participated, which is proposed to be bombed appropriately or at least "strangled with sanctions."

There are plenty of potential points for a military escalation with China. This includes Hong Kong, Taiwan, and numerous disputed Islands (with deposits of hydrocarbons) in the South China sea. If necessary, American diplomats can add even the European medieval plague epidemic to the list of alleged crimes of the Middle Kingdom, declaring it a forerunner of the modern pandemic — the world's media promoted more absurd theses in the name of supporting aggressive American foreign policy.

Perhaps supporters of a more sober approach to the surrounding reality will still be able to convince the "Washington hawks" that a full-fledged war with China is a terrible idea if only because it is a nuclear power and the consequences of such a conflict will be the most severe.
Health Europa Quarterly investigates the horrific practice of forced organ harvesting in Chinese prisons

In 2019, HEQ was contacted by representatives for survivors of the persecution, torture and forced organ harvesting of Falun Gong practitioners in China, hoping to raise awareness of their situation. Practitioners of Falun Gong, a Chinese spiritualist practice which consists of a combination of meditation and Qigong exercise, have been persecuted in China since 1999. The Chinese Communist Party have arrested countless members of the practice.

Many practitioners have reported that, while they were in China's extensive network of detention centres and forced labour camps, they were tortured. Evidence indicates that Falun Gong practitioners, Uyghur Muslims, Tibetans and other prisoners have been further subject to forced live organ harvesting. Due to the lack of voluntary organ donors within the country, China has taken extreme measures in order to provide transplants for its nationals and 'organ tourists'.

These 'organ tourists' travel from all over the world to buy an organ from a non-consenting prisoner for a minimum of around £5,000 (€5,857). Falun Gong practitioners who were imprisoned in China's detention centres and labour camps report undergoing unexplained medical examinations and blood tests as a precursor to live organ harvesting; while doctors who were involved in the practice report of basements filled with live prisoners whose organs were extracted on demand.

The China Tribunal

In June 2019 the China Tribunal, an independent judicial investigation into forced organ transplantation in China released its final judgement. The Tribunal's conclusion, based on an extensive array of evidence and testimony provided by more than 50 witnesses, found that crimes against humanity had been committed against China's Uyghur Muslim and Falun Gong populations.

Sir Geoffrey Nice QC, who chaired the Tribunal, emphasised that the only reason his ruling did not explicitly determine that genocide had been committed was that the Tribunal had been unable to prove beyond reasonable doubt the 'very specific intent' to exterminate Falun Gong and Uyghurs.

The Tribunal's final judgement stated: 'Forced organ harvesting has been committed for years throughout China on a significant scale and that Falun Gong practitioners have been one – and probably the main – source of organ supply. The concerted persecution and medical testing of the Uyghurs is more recent, and it may be that evidence of forced organ harvesting of this group may emerge in due course.

The Tribunal has had no evidence that the significant infrastructure associated with China's transplantation industry has been dismantled and absent a satisfactory explanation as to the source of readily available organs concludes that forced organ harvesting continues till today.'

The Human Rights Council

Counsel to the China Tribunal Hamid Sabi presented the Tribunal's findings to the United Nations (UN) Human Rights Council, saying: "Commission of crimes against humanity against Falun Gong and Uyghurs [has] been proved beyond reasonable doubt. Victim for victim and death for death, cutting out the hearts and other organs from living, blameless, harmless, peaceable people constitutes one of the worst mass atrocities of this century.

Organ transplantation to save life is a scientific and social triumph – but killing the donor is criminal. Government and international bodies must do their duty not only in regard to the possible charge of genocide but also in regard to crimes against humanity, which the Tribunal does not consider to be less heinous. It is the legal obligation of UN Member States and the duty of this council to address this criminal conduct."

Survivors and doctors speak out

HEQ spoke to two Falun Gong survivors of China's prisons and labour camps, both of whom reported horrifying treatment. We also interviewed bioethicist Professor Wendy Rogers and Professor Jacob Lavee, co-founder of Doctors Against Forced Organ Harvesting, who gave us an insight into the medical and ethical implications of forced organ transplantation.

Lavee was instrumental in the implementation of Israel's pioneering law forbidding Israeli citizens from receiving forcibly harvested organs, and Rogers has published research which has led to the retraction of several academic papers which relied on the use of unethically sourced organs.

The China Tribunal's final judgement concluded: 'Governments and any who interact in any substantial way with the [People's Republic of China]… should now recognise that they are, to the extent revealed above, interacting with a criminal state.' Since the judgement was handed down, very little has changed. More than a million practitioners of Falun Gong are believed to have been killed in China's notorious gulag system, and a further million ethnic Kazakhs and Uyghur Muslims are now imprisoned in labour camps.

Governments and corporations worldwide continue to conduct business with China. The survivors and academics we interviewed were clear that appalling human rights violations have been committed over the course of several years; and that these abuses continue to this day.

Please note, this article will appear in issue 12 of Health Europa Quarterly, which will be available to read i
We review the growing evidence coming out of china from several sources that the Chinese government may be burning corpses in mass. Some data suggest as many as 14,000 people cremated.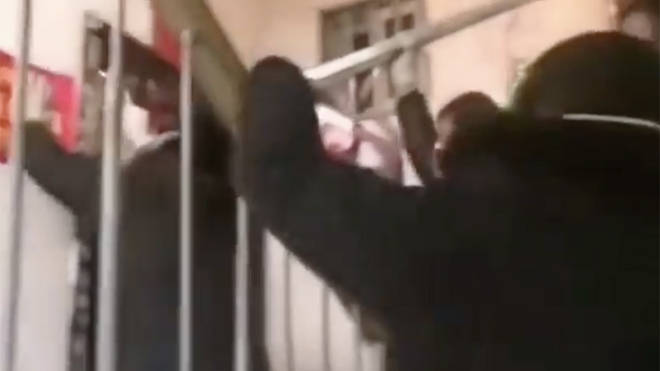 People in China are being sealed inside their own homes as part of desperate steps to try and contain the spread of coronavirus.

The first death from the disease outside China was confirmed today after a man died in the Philippines.

Eleven more British nationals are reportedly arriving in the UK from Wuhan later today missing the first evacuation flight on Thursday.

The second raft of evacuees from the coronavirus-stricken city is being flown into the UK via France.

Meanwhile shocking videos have been shared on social media in China showing residents being barricaded inside their own homes by groups of people using wooden boards and nails to keep their doors shut and prevent them from leaving.
Two videos show all floors of a residential building in Jiangsu-China were blocked by welding fence because a confirmed case found in it. #2019nCoV #WuhanCoronavirus #WuhanVirus pic.twitter.com/C5i4UMltjl

— 𝓟𝓪𝓬𝓸 🇸🇬 (@PacoHk) January 29, 2020
In one shocking video a metal bar appears to have been welded across a resident's front door with gap wide enough that food can be handed to residents, but too small for them to leave.

One person shared footage online writing: "Two videos show all floors of a residential building in Jiangsu-China were blocked by welding fence because a confirmed case found in it."

Another person said residents were being imprisoned in their own homes "by the police," sharing several videos of workmen sealing up doors with warning signs next to them.

The overall death toll from the disease has risen above 300 and the number of confirmed cases of infection has increased to more than 14,000.

A 44-year-old man from Wuhan, the province where the outbreak is believed to have originated, was admitted to a Manila hospital on January 25 with a fever, cough and a sore throat, the Philippine Department of Health said in a statement.

He developed severe pneumonia but "showed signs of improvement" in the days before his death, and the 38-year-old woman he was with has tested positive for the virus and remains in hospital isolation.

President Rodrigo Duterte approved a temporary ban on all travellers, except Filipinos, from China and its autonomous regions.

The death follows the World Health Organisation (WHO) calling on governments to prepare for "domestic outbreak control" if the virus spreads in their countries.

Beijing has criticised Washington's order barring entry to the US to most foreigners who visited China in the past two weeks.

Australian Prime Minister Scott Morrison announced similar measures on Saturday, following Japan and Singapore.

Meanwhile, South Korea and India flew hundreds of their citizens out of Wuhan, the city at the centre of an area where some 50 million people are prevented from leaving in a sweeping anti-virus effort. The evacuees went into a two-week quarantine. Indonesia also sent a plane.

The number of confirmed cases in China has surpassed the number in the 2002-03 outbreak of Sars (Severe Acute Respiratory Syndrome).

The virus's rapid spread in two months prompted the WHO to declare it a global emergency on Thursday.

That declaration "flipped the switch" from a cautious attitude earlier to recommending governments prepare for the possibility the virus might spread, said WHO's representative in Beijing, Gauden Galea.

Most cases reported so far have been people who visited China or their family members.

The agency acted out of concern for poorer countries that might not be equipped to respond, said Mr Galea. Such a declaration calls for a co-ordinated international response and can bring more money and resources.

The WHO said it was especially concerned that some cases abroad involved human-to-human transmission.

Among a growing number of airlines suspending flights to mainland China was Qatar Airways.

The Doha-based carrier said on its website that its flights would stop on Monday.

It blamed "significant operational challenges caused by entry restrictions imposed by a number of countries" for the suspension of flights.
– THE DARK SIDE OF TRANSPLANTS Originally posted: 7/10/16; updated 2/27/19 Though admittedly, many lives have been saved or prolonged through organ transplants, yet, I have to wonder, at what cost? Most likely the majority of those organ recipients are not even aware of the changes that have occurred and indeed are occurring inside of … Click Here to Read More
Are we totally insane?  I know we like to save money whenever possible.  It is bad enough that just about everything we purchase today comes from China.  From kids toys to the clothes on our backs, from plasticware to power tools.  BUT, for heavens sake, do we really trust China enough to be buying our … Click Here to Read More
COVID 19 is everyday manifesting the UN/ELITE/ROYAL Agenda.  I hope that you are awake and observant.  This year is going to be a very big year for you.  YOUR LIFE if you continue to have one, is NEVER GOING TO BE THE SAME AGAIN.  THAT IS A PROMISE!   Please as you review the items posted … Click Here to Read More
If you are not familiar with the UN Restructuring/Rewilding plans and their Map that lays out how land will be appropriated you need to be.  The map is includded in this article as well as my other articles on the topic.  If you take a good look at that map, you will be shocked. It … Click Here to Read More
This section of the Article is designed to bring you a little more in-depth information on REWILDING…but also to provide you with some excellent resources whether you just want to educate yourself on the topic or you want to actively become involved in the effort to maintain your freedom.   Agenda 21 Course Understanding Sustainable Development … Click Here to Read More
UN AGENDA TO DEPOPULATE THE WORLD USING WILD BEASTS Revelation 6:7-8  The Fourth Seal of Judgment "When the Lamb opened the fourth seal, I heard the voice of the fourth living creature say, "Come!"  I looked, and there before me was a pale horse! Its rider was named Death, and Hades was following close behind … Click Here to Read More
You may or may not have heard of the Rewilding Program.  They have tried their best to gloss it over at least in the public eye.  They have taken to referring to it as Conservation Biology.  It sounds more palatable.  Don't be fooled!  This the New World Agenda to CONTROL EVERY ASPECT OF YOUR LIFE.  … Click Here to Read More
Photo Credit Photo Credit August 9, 2019 by Cynthia Communism The similarity of the USSR emblem and the United Nations emblem is undeniable. A friend tells me a resemblance is also found on products and in commercials for Cadillac automobiles, Lenox china, George Dickel whiskey, Winston cigarettes, and on the design of "wheat" pennies. http://www.bibliotecapleyades.net/sociopolitica/codex_magica/codex_magica28.htm       Source: http://whale.to/c/united_nations_s.html Let me … Click Here to Read More
THE MAJORITY OF THIS DOCUMENT WAS WRITTEN/COMPILED BY A MINISTRY CALLED "THE CUTTING EDGE"  Kudos to them and many thanks.  Please visit their website by clicking.  HERE   I wish I had an update to this article because there has been an enormous increase in disasters since this article was written.  I am sure you can … Click Here to Read More
For those who are not aware of Agenda 21 or The Rewilding, here is a group of old posts that will lay it all out for you and demonstrate how the agendas of the UN and the World Elite have been playing out EXACTLY as they were laid out. There are many brave souls who … Click Here to Read More
Let me first make it very clear, this is not meant to stir up hatred for the Jewish people.  This is meant to make you aware of what is happening in the world.  These people do not represent all Hebrew/Jewish people.  These are extreme orthodox Talmudic Jews.  They are Jews who follow the teachings of … Click Here to Read More
I first read about the Noahide Laws way back in the early 1990s.  When I tried to share the information with friends and family, they thought I lost my mind.  The topic seemed to go underground for a while.  No one was covering it publicly, but there was plenty going on down low.  There were … Click Here to Read More
My brother, father, grandfather and yours went willingly into battle, sacrificing everything, for many of them even their lives, for our rights.  Including the right to life, liberty and the pursuit of happiness and many more.  I shudder to think how we have squandered so precious a gift.  May God have mercy on our souls. … Click Here to Read More
spacer