All you airheads, space-cadets, stoners and yogis out there, with John Lennon's anthem ringing in your ears, conjuring up visions of your perfect society.  I will bet this is not what you "Imagine"d.  
No, certainly you pictured a world full of sunshine, flowers, birds singing in blue skies, loads of delicious foods to eat, all the love you could ever need, and fun, fun, fun. 
And according to that great guru John Lennon, all you had to do to get there is give up any silly notions of private property, country, family or God.  I mean surely that would solve everything.  Right?  Cause then what would people have to fight about?  Nothing to kill or die for… isn't that what John promised??
Well my friend, my brother/sister… welcome to the REAL WORLD!  Because you have been fed a LOAD OF CRAP!  Those who have manipulated, programmed and steered you into giving up everything that made life truly worth living, have left you with NOTHING but emptiness, slavery and torture.  With no HOPE.  Nothing will await you but an eternity in HELL.
China is and always has been the incubation pond for whatever draconian policies and practices the NEW WORLD ORDER wants to implement.  Now that they are ready to bring this NEW ORDER to fruition, CHINA is being moved to the forefront.  The United States is being rendered harmless and unable to do anything to stop what is coming.  You had better open your eyes and take a good long look at what is going on in China, because before you know it everything that is happening there is coming HERE to your front door.  THAT is a FACT.  If you have not seen my article on the topic you can access it here: 
If you don't believe we are headed down this path, take another look at what is already happening to individual rights in this country.  Parents no longer have any rights to decide what is best for their children, individuals have no rights to freedom of speech, our rights to keep and bear arms are disappearing as we move closer to gun confiscation, we have no rights to privacy, our property can be ceased without cause, we are no longer free to move about without surveillance and restrictions, we have no rights to access real news or to speak the truth, and we are not free to worship as we choose.  We have no say in what is put into our food, our water,  the air that we breathe or how our tax money is spent.  If the swat team pounds on our door in the middle of the night, we have no right to refuse entry.  If the government comes to our house to take our children, we have no recourse. Our home is not ours, our children are not ours, our life is not ours.  We are much closer to the final dictatorship than you know … Click Here to Read More
spacer
China has created "an Orwellian surveillance state" that monitors and oppresses religious communities and other minorities living within its borders, a report by the U.S. Commission on International Religious Freedom (USCIRF) has said.

The USCIRF, in a virtual hearing, noted that the Chinese government under the Chinese Communist Party (CCP) is using surveillance and advanced data analytics technology to oppress religious groups. They referenced the hundreds of millions of surveillance cameras the government has installed across the country, as well as the facial and voice recognition systems it allegedly uses to distinguish and track cultural and religious minorities such as Uyghurs, Tibetans, and now, Christians.

"Authorities have systematically installed cameras in churches to identify and target anyone who attends services," USCIRF chairperson Gayle Manchin said. She added that religious freedom in China has only gotten worse under the leadership of President Xi Jinping.

Technology has made the CCP's religious persecution worse

In her statement during the hearing, Manchin noted that while the USCIRF has observed rampant religious persecution in China since its inception in 1998, nothing has come close to what they are seeing now under Xi's iron-fisted rule.

"Throughout the country, Chinese authorities have raided underground house churches, arrested Christians who refuse to join the state-run churches, and banned children younger than 18 years old from attending services," she explained. (Related: Google now colluding with Communist China to crush freedom of religion by rigging "religious freedom" search results.)

According to Manchin, while advancements in technology are often expected to be harnessed for the greater good and the advancement of society, the exact opposite is what's happening in China.

"The Communist Party is deliberately using technology to undermine religious freedom and other fundamental rights."

Commission Vice-Chair Tony Perkins, meanwhile, noted that the CCP is actively using artificial intelligence systems to combine important data from different sources such as surveillance footage, facial and voice recognition software, GPS tracking, and others, all in a bid to track the movements of "certain religious communities."

According to Perkins, this has gone to such an extent that state forces have even installed cameras on the pulpits of churches and other places of worship, in order to allow the CCP to identify and monitor anyone who attends religious services.

Chris Meserole, Deputy Director of Brookings Institution's Artificial Intelligence and Emerging Technology Initiative, agrees, adding that the CCP has harnessed digital technologies in order to make its repression of religion more effective.

Meserole stated that, while the CCP had long been able to repress public forms of religious organizations, practices, identities and beliefs in urban areas, privately-held religious rites such as the ones held in one's residence, were, until very recently, difficult to monitor.

Digital technology has changed all of that.

"As processors, sensors, and cameras have proliferated, the extent of religious life that the CCP can surveil has expanded dramatically," Meserole said, adding that Washington must start pushing back against the Party's religious persecution against minorities, which is part and parcel of its dangerous and repressive brand of "digital authoritarianism."   (There is nothing that Washington can do.  Look at the religious persecution that has been going on all over the world and no one has done anything to stop it.  America was the only country that used to stand up for human rights.   Now, we are so over extended dealing with our inner turmoil, protests, civil unrest, political upheaval, economic disaster, racial tensions and religious collapse we have nothing left to fight with, we have been rendered harmless.)

"We owe it to the victims of religious repression in those regions to ensure that their experiences remain an exception rather than a normalized form of social and political control."  (Wasn't the United Nations created for exactly this purpose? Weren't they supposed to settle differences peacefully and ensure human rights and freedoms? Somebody please tell me what good has come out of the United Nations.)

China: An incubator for religious persecution

This is not the first time that Beijing came under fire for its repressive stance on religion.

Two years ago, the Party's cadre in Jiangxi province launched a campaign urging those who live in the county's sprawling urban poor communities to take down religious imagery in their homes and replace them with portraits of Xi Jinping. Doing so, authorities said, will allow them to benefit from the Party's poverty-relief efforts.

Qi Yan, the person in charge of the poverty-relief drive, said the campaign was meant to serve as a reminder for Christian families about the efforts and sacrifices of the Party as well as the concern that Xi has for their well-being.

"Many rural people are ignorant. They think God is their savior … After our cadres' work, they'll realize their mistakes and think: we should no longer rely on Jesus, but on the party for help," Qi explained, adding that the removal of the images was "voluntary" and that they can still hang up images of Jesus inside their private rooms.

"They still have the freedom to believe in religion, but in their minds, they should [also] trust our party," Qi said in an interview with the South China Morning Post.

A member of the Three-Self Church – the CCP's official Protestant denomination – has confirmed that this practice is still happening today.

"Impoverished religious households can't receive money from the state for nothing – they must obey the Communist Party for the money they receive," the Three-Self member, who wished to remain anonymous, said, noting an incident wherein several families were told to hang up posters featuring Mao Zedong, who ruled China for 27 years as the head of the Communist Party.

As part of its mandate to "Sinicise" all religions to ensure their faithfulness to the state, the Party has also ordered the bulldozing of several churches, such as the one in Henan Province, which was razed to the ground by over 200 Party officials using heavy machinery.

U.S. Secretary of State Mike Pompeo has since condemned China for its ongoing "war on faith," citing the mass detentions of Uyghurs and the repression of Tibetans and Buddhists and Falun Gong and Christians as pertinent examples.

"The Chinese Communist Party is now ordering religious organizations to obey CCP leadership and infuse communist dogma into their teachings and practice of their faith," Pompeo said, citing the 2019 International Religious Freedom Report.

According to the report, Chinese government officials were found to have subjected members of religious groups to torture, abuse, illegal arrests and detentions, forced indoctrination and harassment due to their participation in activities related to their religious beliefs and practices.

Follow Tyranny.news to learn more about how China's oppressive regime suppresses dissent.

Sources include: Breitbart.com
UNCENSORED AND INDEPENDENT MEDIA NEWS
Anyone remotely familiar with the Chinese Communist Party knows that its leaders and members shun theocracy and religion because the only 'higher power' they want ordinary citizens to believe in, adhere to, and follow is CCP doctrine.

But they do more than simply 'shun' it: The CCP has a vile history of punishing citizens who believe in other deities and express faith in other entities. No one knows this better than members of the Falun Gong, a spiritual faith that is abhorrent to Communist leaders who cling to a policy of state atheism.

However, they aren't the only group religiously persecuted by Chinese authorities, as the National Review reported in April 2019:

Indeed, it's closer to the Spanish Inquisition — a convert-to-the-Communist-Party-or-die scheme that has spanned two decades and picked up four victim groups on the way: the Uyghurs in 1997, Falun Gong in 2001, Tibetans and House Christians in 2003.

And while thus far the number of 'believers' killed in pursuit and observance of their faith in recent years by Chinese authorities is nowhere close to the number of deaths in Nazi concentration camps, casualty rates could be about to skyrocket.

Bitter Winter, an online magazine that covers religion and human rights in China has reported that the CCP is now threatening "to take away the last means of survival from elderly believers," which are the government benefits of "housing, food, clothing, medical care, and funeral expenses."

So in other words, the CCP is telling elderly Christians (in this case) they must renounce Jesus and his teachings or starve to death, die of the elements, or perish from a preexisting condition.

"A Catholic from Fuzhou city in the southeastern province of Jiangxi has been receiving monthly 250 RMB (about $ 35) from the government since 2018, the year her husband died," Bitter Winter reported.

"At the end of 2019, local government officials threatened the woman, in her 60s, that the subsidy would be withdrawn unless she removes images of Jesus from her home," the online magazine continued.

"'Because the Communist Party feeds you,' they told the woman, 'you must only believe in it, not God.' Two months later, the pension was canceled because she refused to remove the symbols," said the report.

There's more.

The outlet reported that in late April, "community officials' in Fuzhou covered the image of a cross in the home of an 80-year-old Christian woman, threatening to cut off her subsistence allowance if she did not cooperate.

City officials then began "return" inspections to ensure that Christian religious imagery that had been ordered removed or covered remained that way.

"During one of them, Civil Affairs Bureau officials threatened a Sola Fide believer in a nursing home, who has been paralyzed for eight years, to drive him out of the residence if he continued his belief," the outlet noted further. (Related: Left-wing anarchist plan to scrub America of its founding history advancing rapidly as calls for removing Jesus from public areas now being heard.)

"His 'five-guarantees'—government aid in the form of housing, food, clothing, medical care, and funeral expenses to people who cannot work and have no income—would also be revoked," Bitter Winter noted.

This was after CCP officials removed images of Jesus from his room last year.

"The officials said that I am supposed to believe in the Communist Party since it feeds me, or else all my social benefits would be canceled," the believer noted. "I won't give up my faith no matter how the government pursues me. If it cancels my benefits, I will meet God earlier."

The outlet reported additional instances of Christians being threatened with removal of subsistence if they continued to observe their faith.

And make no mistake, there is already an element of this authoritarianism and cruelty building in the United States — in the Marxist-Communist Black Lives Matter and Antifa movements.

Sources include: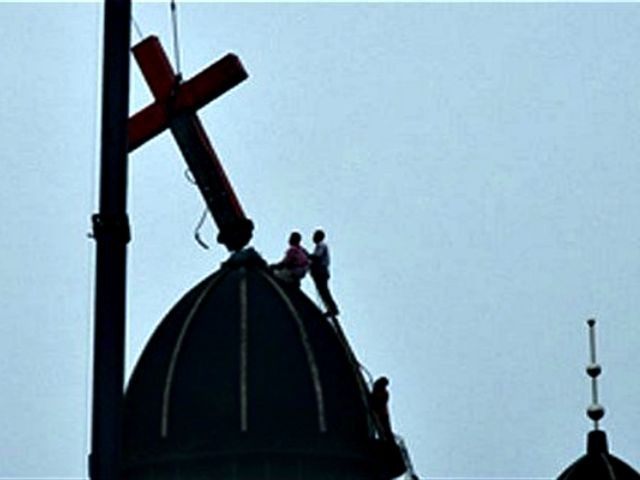 Chinese communist authorities have ordered poor Christian villagers to remove Christian images from their homes and replace them with portraits of Chairman Mao and President Xi Jinping or risk losing their welfare benefits.

The Chinese Communist Party (CCP) has continued its program of "Sinicization" of religion by channeling religious fervor in the country toward the Party rather than God, the Christian Postreported this weekend.

In May, an official in the eastern province of Shandong raided the home of a local Christian and hung pictures of Mao Zedong and Xi Jinping on the wall in place of Christian images.

"These are the greatest gods. If you want to worship somebody, they are the ones," the official told them.

This year, China's "social credit system" was scheduled to become fully functional, assigning points to each individual based on how much the Communist Party approves of them and using their rating to control their behavior and access to certain benefits..

"There are fears that China's new 'social credit system' – designed to reward good citizenship and punish bad – will be used to discriminate against Christians," wrote the Catholic charity organization Aid to the Church in Need in a 2019 report.

The fears are tied to "cash rewards for those who inform on underground churchesand other 'unofficial' places of worship," indicating that the government might also reward the persecution of Christians with high "social credit" scores.

According to the religious liberty magazine Bitter Winter, the CCP is now using state welfare benefits as leverage to coerce people into worshiping the Party rather than Jesus.

In April, for instance, party officials visited the homes of Christians in Linfen, in the northern province of Shanxi, ordering those who receive welfare payments from the government to remove crosses, Christian symbols, and images in their homes and replace them with portraits of China's communist leaders.

The officials threatened the Christians that non-compliance with the order would result in suspension of their welfare subsidies.

"All impoverished households in the town were told to display Mao Zedong images," a local house church preacher said. "The government is trying to eliminate our belief and wants to become God instead of Jesus."

Officials have often made good on their threats, ruthlessly suspending benefits to Christians who fail to give up their devotions.

Communist authorities cancelled the government subsidies of one elderly Christian woman from Shangqiu city in Henan after they found an image of a cross posted on the door of her home.

"They tore it down immediately," she said. "Afterward, both my minimum living allowance and poverty alleviation subsidy were canceled. I am being driven to a dead end. I have diabetes and need injections regularly."

Something similar occurred in in Xinyu city in the southeastern province of Jiangxi, when officials canceled the minimum living subsidy and a monthly disability allowance of 100 RMB (about $14) to a disabled Christian who disobeyed government orders and continued to attend worship services.

Another Christian living in Jiangxi's Poyang county — a woman in her 80s — reportedly stopped receiving government aid after she said "Thank God"after receiving her monthly 200 RMB (about $28) subsidy in mid-January.

"They expected me to praise the kindness of the Communist Party instead," she said.

In another case, local officials entered the home of a member of a state-sponsored Three-Self church and tore down all Christian images, including a calendar with an image of Jesus, and posted a portrait of Mao Zedong instead.

"Impoverished religious households can't receive money from the state for nothing — they must obey the Communist Party for the money they receive," the official declared.
So, this is why they want every one in America to be jobless, and dependent on the state.  To force you to worship the government and not GOD/Jesus Christ.   Diabolical
spacer
World Report 2020
It doesn't matter where I am, or what passport I hold. [Chinese authorities] will terrorize me anywhere, and I have no way to fight that.

—Uyghur Muslim with European citizenship, Washington, September 2019
China's government sees human rights as an existential threat. Its reaction could pose an existential threat to the rights of people worldwide.

At home, the Chinese Communist Party, worried that permitting political freedom would jeopardize its grasp on power, has constructed an Orwellian high-tech surveillance state and a sophisticated internet censorship system to monitor and suppress public criticism. Abroad, it uses its growing economic clout to silence critics and to carry out the most intense attack on the global system for enforcing human rights since that system began to emerge in the mid-20th century.

Beijing was long focused on building a "Great Firewall" to prevent the people of China from being exposed to any criticism of the government from abroad. Now the government is increasingly attacking the critics themselves, whether they represent a foreign government, are part of an overseas company or university, or join real or virtual avenues of public protest.

No other government is simultaneously detaining a million members of an ethnic minority for forced indoctrination and attacking anyone who dares to challenge its repression. And while other governments commit serious human rights violations, no other government flexes its political muscles with such vigor and determination to undermine the international human rights standards and institutions that could hold it to account.

If not challenged, Beijing's actions portend a dystopian future in which no one is beyond the reach of Chinese censors, and an international human rights system so weakened that it no longer serves as a check on government repression.

To be sure, the Chinese government and Communist Party are not today's only threats to human rights, as the Human Rights Watch World Report shows. In many armed conflicts, such as in Syria and Yemen, warring parties blatantly disregard the international rules designed to spare civilians the hazards of war, from the ban on chemical weapons to the prohibition against bombing hospitals.

Elsewhere, autocratic populists gain office by demonizing minorities, and then retain power by attacking the checks and balances on their rule, such as independent journalists, judges, and activists. Some leaders, such as US President Donald Trump, Indian Prime Minister Narendra Modi, and Brazilian President Jair Bolsonaro, bridle at the same body of international human rights law that China undermines, galvanizing their publics by shadow boxing with the "globalists" who dare suggest that governments everywhere should be bound by the same standards. (Now I see the role they have Trump playing.  He is supposed to be the bad guy fighting the "globalist who are only trying to protect our rights.  LOL LOL LOL…what a joke. The globalists are behind everything.  They will make the Communist Chinese Regime pale in comparison to the draconian Dictatorship they have in store.)

Several governments that in their foreign policies once could be depended upon to defend human rights at least some of the time have largely abandoned the cause. Others, faced with their own domestic challenges, mount a haphazard defense.

Yet even against this disturbing backdrop, the Chinese government stands out for the reach and influence of its anti-rights efforts. The result for the human rights cause is a (a well designed and executed) "perfect storm"—a powerful centralized state, a coterie of like-minded rulers, a void of leadership among countries that might have stood for human rights, and a disappointing collection of democracies willing to sell the rope that is strangling the system of rights that they purport to uphold.

Beijing's Rationale

The motivation for Beijing's attack on rights stems from the fragility of rule by repression rather than popular consent. Despite decades of impressive economic growth in China, driven by hundreds of millions of people finally emancipated to lift themselves out of poverty, the Chinese Communist Party is running scared of its own people.

Outwardly confident about its success in representing people across the country, the Chinese Communist Party is worried about the consequences of unfettered popular debate and political organization, and thus afraid to subject itself to popular scrutiny.

As a result, Beijing faces the uneasy task of managing a huge and complex economy without the public input and debate that political freedom allows. Knowing that in the absence of elections, the party's legitimacy depends largely on a growing economy, Chinese leaders worry that slowing economic growth will increase demands from the public for more say in how it is governed. The government's nationalist campaigns to promote the "China dream," and its trumpeting of debatable anti-corruption efforts, do not change this underlying reality.

The consequence under President Xi Jinping is China's most pervasive and brutal oppression in decades. What modest opening had existed briefly in recent years for people to express themselves on matters of public concern has been decisively closed. Civic groups have been shut down. Independent journalism is no more. Online conversation has been curtailed and replaced with orchestrated sycophancy. Ethnic and religious minorities face severe persecution. Small steps toward the rule of law have been replaced by the Communist Party's traditional rule by law. Hong Kong's limited freedoms, under "one country, two systems," are being severely challenged.

Xi has emerged as the most powerful leader of China since Mao Zedong, building a shameless cult of personality, removing presidential term limits, promoting "Xi Jinping thought," and advancing grandiose visions for a powerful, yet autocratic, nation. To ensure that it can continue to prioritize its own power over the needs and desires of the people of China, the Communist Party has mounted a determined assault on the political freedoms that might show the public to be anything but acquiescent to its rule.

The Unconstrained Surveillance State

More than any other government, Beijing has made technology central to its repression. A nightmarish system has already been built in Xinjiang, the northwestern region that is home both to some 13 million Muslims—Uyghurs, Kazakhs, and other Turkic minorities—and to the most intrusive public monitoring system the world has ever known. The Chinese Communist Party has long sought to monitor people for any sign of dissent, but the combination of growing economic means and technical capacity has led to an unprecedented regime of mass surveillance.

The ostensible purpose is to avoid recurrence of a handful of violent incidents several years ago by alleged separatists, but the venture far surpasses any perceptible security threat. One million officials and party cadre have been mobilized as uninvited "guests" to regularly "visit" and stay in the homes of some of these Muslim families to monitor them. Their job is to scrutinize and report "problems" such as people who pray or show other signs of active adherence to the Islamic faith, who contact family members abroad, or who display anything less than absolute fealty to the Communist Party.

This in-person surveillance is just the tip of the iceberg, the analog prelude to the digital show. Without regard to the internationally recognized right to privacy, the Chinese government has deployed video cameras throughout the region, combined them with facial-recognition technology, deployed mobile-phone apps to input data from officials' observations as well as electronic checkpoints, and processed the resulting information through big-data analysis.

Data it collects are used to determine who is detained for "re-education." In the largest case of arbitrary detention in decades, one million or more Turkic Muslims have been deprived of their freedom, placed in an indefinite detention of forced indoctrination. The detentions have created countless "orphans"—children whose parents are in custody—who are now held in schools and state-run orphanages where they, too, are subjected to indoctrination. Children in regular Xinjiang schools may face similar ideological training.

The apparent aim is to strip Muslims of any adherence to their faith, ethnicity, or independent political views. Detainees' ability to recapture their freedom depends on persuading their jailers that they are Mandarin-speaking, Islam-free worshipers of Xi and the Communist Party. This brazen endeavor reflects a totalitarian impulse to reengineer people's thinking until they accept the supremacy of party rule.

The Chinese government is building similar systems of surveillance and behavior engineering throughout the country. Most notable is the "social credit system," which the government vows will punish bad behavior, such as jaywalking and failure to pay court fees, and reward good conduct. People's "trustworthiness"—as assessed by the government—determines their access to desirable social goods, such as the right to live in an attractive city, send one's children to a private school, or travel by plane or high-speed train. For the time being, political criteria are not included in this system, but it would take little to add them.

Ominously, the surveillance state is exportable. Few governments have the capacity to deploy the human resources that China has devoted to Xinjiang, but the technology is becoming off-the-shelf, attractive to governments with weak privacy protections such as Kyrgyzstan, the Philippines, and Zimbabwe. Chinese companies are not the only ones selling these abusive systems—others include companies from Germany, Israel, and the United Kingdom—but China's affordable packages make them attractive to governments that want to emulate its surveillance model.

China's Template for Prosperous Dictatorship

Many autocrats look with envy at China's seductive mix of successful economic development, rapid modernization, and a seemingly firm grip on political power. Far from being spurned as a global pariah, the Chinese government is courted the world over, its unelected president receiving red-carpet treatment wherever he goes, and the country hosting prestigious events, such as the 2022 Winter Olympics. The aim is to portray China as open, welcoming, and powerful, even as it descends into ever more ruthless autocratic rule.

The conventional wisdom once held that as China grew economically, it would build a middle class that would demand its rights. That led to the convenient fiction that there was no need to press Beijing about its repression; it was sufficient to trade with it.

Few today believe that self-serving rationale, but most governments have found new ways to justify the status quo. They continue to prioritize economic opportunities in China but without the pretense of a strategy for improving respect for the rights of the people there.

In fact, the Chinese Communist Party has shown that economic growth can reinforce a dictatorship by giving it the means to enforce its rule—to spend what it takes to maintain power, from the legions of security officials it employs to the censorship regime it maintains and the pervasive surveillance state it constructs. Those vast resources buttressing autocratic rule negate the ability of people across China to have any say in how they are governed.

These developments are music to the ears of the world's dictators. Their rule, they would have us believe with China in mind, can also lead to prosperity without the nettlesome intervention of free debate or contested elections. Never mind that the history of unaccountable governments is littered with economic devastation.

For every Lee Kwan Yew, the late Singaporean leader who is often mentioned by proponents of autocratic rule, there are many more—Robert Mugabe of Zimbabwe, Nicolas Maduro of Venezuela, Abdel Fattah al-Sisi of Egypt, Omar al-Bashir of Sudan, or Teodoro Obiang Nguema Mbasogo of Equatorial Guinea—who led their country to ruin. Unaccountable governments tend to put their own interests above their people's. They prioritize their power, their families, and their cronies. The frequent result is neglect, stagnation, and persistent poverty, if not hyperinflation, public health crises, and economic debacle.

Even in China, an unaccountable system of government allows no voice to those left out of China's growing economy. Officials boast of the country's economic progress, but they censor information about its widening income inequality, discriminatory access to public benefits, selective corruption prosecutions, and the one in five children left behind in rural areas as their parents seek work in other parts of the country. They hide the forced demolitions and displacements, the injuries and deaths that accompany some of the country's massive infrastructure projects, and the permanent disabilities resulting from unsafe and unregulated food and drugs. They even deliberately underestimate the number of people with disabilities.  (They also don't mention the millions of people kept in prison for their organs harvested while they are still alive and without anesthetic.  Or the millions of people crammed into teeny tiny apartments with inadequate ventilation, over run with vermin and presenting outrageous fire hazards. Nor do the report the number of suicides.)

Moreover, one need not go back far in China's history to encounter the enormous human toll of unaccountable government. The same Chinese Communist Party that today proclaims a Chinese miracle only recently imposed the devastation of the Cultural Revolution and the Great Leap Forward, with deaths numbering in the tens of millions.

China's Campaign Against Global Norms

To avoid global backlash for crushing human rights at home, the Chinese government is trying to undermine the international institutions that are designed to protect them. Chinese authorities have long pushed back against foreign concern for human rights as an infringement on its sovereignty, but these efforts were comparatively modest. Now China intimidates other governments, insisting that they applaud it in international forums and join its attacks on the international human rights system.

Beijing seems to be methodically building a network of cheerleader states that depend on its aid or business. Those who cross it risk retaliation, such as the threats to Sweden after an independent Swedish group gave an award to a Hong Kong-based publisher (and Swedish citizen) whom the Chinese government had arrested and forcibly disappeared after he printed books critical of the Chinese government.

Beijing's approach puts it at odds with the very purpose of international human rights. Where others see people facing persecution whose rights need defending, China's rulers see a potential precedent of rights enforcement that could return to haunt them. Using its voice, its influence, and sometimes its Security Council veto, the Chinese government seeks to block United Nations measures to protect some of the world's most persecuted people, turning its back on the Syrian civilians facing indiscriminate airstrikes by Russian and Syrian planes; the Rohingya Muslims ethnically cleansed from their homes by the Myanmar army's murder, rape and arson; Yemeni civilians under bombardment and blockade by the Saudi-led coalition; and the Venezuelan people suffering economic devastation due to the corrupt mismanagement of Nicolas Maduro. In all of these cases, Beijing would rather leave the victims to their fate than generate a model of defending rights that might boomerang on its own repressive rule.

Beijing's methods often have a certain subtlety. The Chinese government adopts international human rights treaties but then tries to reinterpret them or to undermine their enforcement. It has become skilled at appearing to cooperate with UN reviews of its rights record while sparing no effort to thwart honest discussion. It prevents domestic critics from traveling abroad, denies key international experts access to the country, organizes its allies—many of them notoriously repressive themselves—to sing its praises, and often presents blatantly dishonest information.

Even when it comes to economic rights, Beijing wants no independent assessment of its progress because that would require examining not its preferred indicator—the growth in gross domestic product—but measures such as how the least favored in China are faring, including persecuted minorities and those left behind in rural areas. And it certainly wants no independent evaluation of civil and political rights, because respect for them would create a system of accountability—to civic activists, independent journalists, political parties, independent judges, and free and fair elections—that it is determined to avoid.

The Enablers

Although China is the driving force behind this global assault on human rights, it has willing accomplices. They include a collection of dictators, autocrats, and monarchs who themselves have an abiding interest in undermining the human rights system that might hold them to account. They also include governments, as well as companies and even academic institutions, that are ostensibly committed to human rights but prioritize access to China's wealth.

To make matters worse, several countries that once often could have been counted on to defend human rights have been missing in action. US President Trump has been more interested in embracing friendly autocrats than defending the human rights standards that they flout. The European Union, diverted by Brexit, obstructed by nationalist member states, and divided over migration, has found it difficult to adopt a strong common voice on human rights. Even as people have taken to the streets for human rights, democracy, and the rule of law in Algeria, Sudan, Lebanon, Iraq, Bolivia, Russia, and Hong Kong in an impressive wave of global protests, democratic governments have often responded with lukewarm and selective support. This inconsistency makes it easier for China to claim that concerns expressed about its human rights record are a matter of politics rather than principle.

There have been rare exceptions to this acquiescence to China's oppression. In July, at the UN Human Rights Council, 25 governments joined together for the first time in such numbers to express concern about the extraordinary crackdown in Xinjiang. Remarkably, fearing the wrath of the Chinese government, none was willing to read the statement aloud to the council, as is customary. Instead, finding safety in numbers, the group simply submitted the joint statement in writing. That changed in October at the UN General Assembly when the United Kingdom read aloud a parallel statement from a similar coalition of governments, but the initial hesitation shows the great reluctance of even the most committed countries to challenge China frontally. This fear underpins the impunity that China has come to enjoy in international circles despite the sweeping nature of its abuses.

Other governments were all too happy to embrace Beijing. In response to these two instances of collective criticism, the Chinese government organized its own joint statements of support, which shamelessly applauded its "counter-terrorism and de-radicalization measures in Xinjiang" that have led to a "stronger sense of happiness, fulfillment, and security." Up to 54 governments signed on, including such notorious human rights violators as Russia, Syria, North Korea, Myanmar, Belarus, Venezuela, and Saudi Arabia. This gallery of repressive governments may have little credibility, yet their sheer numbers illustrate the uphill battle faced by the few countries willing to confront China on human rights.

One would have hoped that the Organization of Islamic Cooperation (OIC)—the group of 57 mostly Muslim-majority nations—would come to the defense of the persecuted Muslims of Xinjiang, as they did for the Rohingya Muslims ethnically cleansed by the Myanmar military. Instead, the OIC issued a fawning panegyric, commending China for "providing care to its Muslim citizens." Pakistan—despite its role as OIC coordinator and its corresponding responsibility to speak out against abuses faced by Muslims—has championed such efforts.

Notably, however, OIC members Turkey and Albania have supported the call for an independent UN assessment in Xinjiang, while Qatar withdrew from China's counterstatement. In total, about half of the OIC member states declined to sign on to China's attempts to whitewash its record in Xinjiang—an important first step, but hardly sufficient in the face of such massive abuses.

OIC members and other states disinclined to challenge Beijing also participated in the propaganda tours of Xinjiang that the Chinese government organized to address criticism of its detention of Muslims. Mounting a Great Wall of Disinformation, Chinese authorities absurdly claimed that this mass deprivation of liberty was an exercise in "vocational training." They then arranged for delegations of diplomats and journalists to visit some of those in "training." What little opportunity there was to speak freely with the Muslim inmates quickly punctured the cover story. The staged exhibition was often so preposterous as to be self-refuting, as when a group of inmates was forced to sing, in English, the children's song "If you're happy and you know it, clap your hands!"

The point of these show tours was not to be convincing; it was to give governments an excuse not to criticize Beijing. They were a fig leaf to hide behind, an alibi for indifference.

World leaders who visited China, including those who see themselves as human rights champions, have not performed significantly better. For example, French President Emmanuel Macron visited China in November 2019 but made no public mention of human rights. Visiting leaders have typically excused such public silence by insisting that they raise human rights with Chinese officials in private discussions. But little if any evidence exists that this behind-the-scenes approach does any good.

Quiet diplomacy alone does nothing to shame a government that seeks acceptance as a legitimate and respected member of the international community. Instead, the photo-ops of smiling officials combined with the public silence on human rights signal to the world—and, most important, the people of China, who are the ultimate agents of change—that the VIP visitor is indifferent to Beijing's repression.

The Elements of China's Power

Chinese authorities orchestrate their attacks on human rights criticism in part through the centralized deployment of their economic clout. No Chinese business can afford to ignore the dictates of the Communist Party, so when word comes down to punish a country for its criticism of Beijing—for example, by not purchasing its goods—the company has no choice but to comply. The result is that any non-Chinese government or company seeking to do business with China, if it publicly opposes Beijing's repression, faces not a series of individual Chinese companies' decisions about how to respond but a single central command, with access to the entire Chinese market—16 percent of the world economy—at stake. For example, after the Houston Rockets general manager irked the Chinese government by tweeting his support for Hong Kong's pro-democracy protesters, all of the National Basketball Association's 11 official Chinese business partners—including a travel website, a milk producer, and a fast-food chain—suspended ties with the league.

The Trump administration is one government that has been willing to stand up to China, best evidenced by its October 2019 imposition of sanctions on the Xinjiang Public Security Bureau and eight Chinese technology companies for their complicity in human rights violations. But strong rhetoric from US officials condemning human rights violations in China is often undercut by Trump's praise of Xi Jinping and other friendly autocrats, such as Russia's Vladimir Putin, Turkey's Recep Tayyip Erdogan, Egypt's Abdel Fattah al-Sisi, and Saudi Arabia's Mohammad bin Salman, not to mention the Trump administration's own rights-violating domestic policies such as its cruel and illegal forced separation of children from their parents at the US-Mexican border.

This inconsistency makes it easier for Beijing to discount Washington's human rights criticisms. Moreover, the Trump administration's misguided withdrawal from the UN Human Rights Council because of concerns for Israel has paved the way for the Chinese government to exert greater influence over this central institution for the defense of rights.

An important instrument of China's influence has been Xi's "Belt and Road Initiative" (BRI)—a trillion-dollar infrastructure and investment program that facilitates Chinese access to markets and natural resources across 70 countries. Aided by the frequent absence of alternative investors, the BRI has secured the Chinese government considerable good will among developing countries, even though Beijing has been able to foist many of the costs onto the countries that it purports to help.

China's methods of operation often have the effect of bolstering authoritarianism in "beneficiary" countries. BRI projects—known for their "no strings" loans—largely ignore human rights and environmental standards. They allow little if any input from people who might be harmed. Some are negotiated in backroom deals that are prone to corruption. At times they benefit and entrench ruling elites while burying the people of the country under mountains of debt.

Some BRI projects are notorious: Sri Lanka's Hambantota port, which China repossessed for 99 years when debt repayment became impossible, or the loan to build Kenya's Mombasa-Nairobi railroad, which the government is trying to repay by forcing cargo transporters to use it despite cheaper alternatives. Some governments—including those of Bangladesh, Malaysia, Myanmar, Pakistan, and Sierra Leone—have begun backing away from BRI projects because they do not look economically sensible. In most cases, the struggling debtor is eager to stay in Beijing's good graces.

So rather than really being "no strings," BRI loans effectively impose a separate set of political conditions requiring support for China's anti-rights agenda. That ensures at best silence, at worst applause, in the face of China's domestic repression, as well as assistance to Beijing as it undermines international human rights institutions.

Pakistani Prime Minister Imran Khan, for example, whose government is a major BRI recipient, said nothing about his fellow Muslims in Xinjiang as he visited Beijing, while his diplomats offered over-the-top praise for "China's efforts in providing care to its Muslim citizens." Similarly, Cameroon delivered fawning statements of praise for China shortly after Beijing forgave millions in debt: referencing Xinjiang, it lauded Beijing for "fully protect[ing] the exercise of lawful rights of ethnic minority populations" including "normal religious activities and beliefs."  (OH MY GOD! Blatant lies. How helpless and hopeless those poor people in China must feel. No one cares!!!)

China's development banks, such as the China Development Bank and the Ex-Im Bank of China, have a growing global reach but lack critical human rights safeguards. The China-founded Asian Infrastructure Investment Bank is not much better. Its policies call for transparency and accountability in the projects it finances and include social and environmental standards, but do not require the bank to identify and address human rights risks. Among the bank's 74 members are many governments that claim to respect rights: much of the European Union including France, Germany, the Netherlands, Sweden, and the United Kingdom, along with Canada, Australia, and New Zealand.  

Subversion of the United Nations

"We thought this institution could protect our rights when the government violates them. But it is no different."

–A Chinese human rights defender about the UN, Geneva, June 2016

The Chinese government, allergic to foreign pressure about its domestic human rights problems, does not think twice about twisting arms to protect its image in international forums. Because a central purpose of the United Nations is to promote universal human rights, the UN has been a key target. The pressure has been felt all the way to the top. UN Secretary-General Antonio Guterres has been unwilling to publicly demand an end to China's mass detention of Turkic Muslims, while heaping praise on Beijing's economic prowess and the BRI.

At the UN Human Rights Council, China routinely opposes virtually every human rights initiative that criticizes a particular country unless it is watered down enough to secure that government's consent. In recent years, China has opposed resolutions condemning human rights violations in Myanmar, Syria, Iran, the Philippines, Burundi, Venezuela, Nicaragua, Yemen, Eritrea, and Belarus. China also seeks to distort the international rights framework by suggesting that economic progress should precede the need to respect rights and by urging "win-win cooperation" (subsequently renamed "mutually beneficial cooperation"), which frames rights as a question of voluntary cooperation rather than legal obligation.

When China's human rights record came up for a routine review in 2018 and 2019 at the Human Rights Council, Chinese officials threatened critical delegations while encouraging allies to heap praise. Beijing also flooded the speakers list reserved for civil society organizations with government-sponsored groups tasked with lauding its record. Meanwhile, its diplomats gave blatantly false information to the reviewing body, threatened delegations with consequences if they attended a panel discussion of abuses in Xinjiang, and sought to prevent an independent group focused on Xinjiang from speaking at the council. To top it off, Chinese authorities mounted a large photo display outside UN meeting rooms depicting Uyghurs as happy and grateful to them. (OH MY GOD!  The poor Uyghurs who are in prison camps where they are kept alive for their organs which are removed without anesthetic in open air?!! Are happy and thankful??  I have known about this for YEARS, you can't tell me the UN Membership does not know.)

At UN headquarters in New York, a major Chinese government priority has been to avoid discussion of its conduct in Xinjiang. Often working in tandem with Russia, China also has taken an increasingly regressive approach to any action on human rights in the Security Council, where it has veto power. For example, Beijing has been clear that it will not tolerate pressure on Myanmar, despite a UN fact-finding mission's conclusion that Myanmar's top military leaders should be investigated and prosecuted for genocide. Along with Russia, China opposed—though unsuccessfully—the Security Council even discussing Venezuela's humanitarian crisis. In September, as 3 million civilians faced indiscriminate bombing by Russian and Syrian jets, China joined Russia to veto a Security Council demand for a truce. (Can you see that the United Nations is a farce. Interested only in protecting big business interests?)

Global Censorship

"We self-police ourselves…. Everybody [who participates in the student salon] is scared. Just this fear, I think creating the fear, it actually works."

—University student, Vancouver, June 2018

In addition to longstanding practices such as censoring access to foreign media, limiting funding from overseas sources to domestic civil society groups, and denying visas to scholars and others, Beijing has taken full advantage of the corporate quest for profit to extend its censorship to critics abroad. In recent years, a disturbing parade of companies have given in to Beijing for their perceived offenses or for criticism of China by their employees.

Hong Kong-based Cathay Pacific airlines threatened to fire employees in Hong Kong who supported or participated in the 2019 pro-democracy protests there. Volkswagen's chief executive, Herbert Diess, told the BBC he was "not aware" of reports about detention camps holding thousands of Muslims in Xinjiang, even though Volkswagen has had a plant there since 2012. Marriott fired a social media manager for "liking" a tweet praising the company for calling Tibet a country, and vowed "to ensure errors like this don't happen again." The accounting giant PwC disowned a statement published in a Hong Kong newspaper supporting the pro-democracy protests said to have been placed by employees of the Big Four accounting firms. Hollywood is increasingly censoring its films for Beijing's sensibilities, such as the digital removal of a Taiwan flag from Tom Cruise's bomber jacket in the recent sequel to the 1986 movie "Top Gun."

This list is telling. First, it demonstrates how small and insignificant the perceived slights are that incur the wrath of various voices in China. Even though the Great Firewall prevents most people in China from learning of criticism abroad, and even though the Chinese Communist Party devotes enormous resources to censoring social media at home and spreading its propaganda there, powerful actors in China still bristle at foreign criticism. With that sensitivity in mind, companies seeking to do business with China often silence themselves and their employees even without an edict from Beijing.

Second, it shows that Chinese censorship is becoming a global threat. It is bad enough for companies to abide by censorship restrictions when operating inside China. It is much worse to impose that censorship on their employees and customers around the world. One can no longer pretend that China's suppression of independent voices stops at its borders.

Free-speech problems are also cropping up at universities worldwide. The goal of maintaining the flow of students from China, who often pay full tuition, can easily become an excuse for universities to avoid uncomfortable subjects. In Australia, Canada, the United Kingdom, and the United States, some pro-Beijing students have sought to shut down campus discussions about human rights abuses in Hong Kong, Xinjiang, or Tibet. In other cases, students from China who want to join campus debates on ideas that would be taboo at home feel they cannot for fear of being reported to Chinese authorities.  Universities have done little publicly in such cases to assert the rights of free speech.

That tendency is only compounded by Beijing's deliberate effort to enlist Chinese citizens abroad to propagate its views and to monitor each other and report any criticism of Xi Jinping's rule. For example, staff at the Chinese embassy in Washington met with and praised a group of students for censuring a Chinese student at the University of Maryland for criticizing the Chinese government in a commencement speech.
see my article: China – Chinese Police Establishing Presence in the USA? Are they hoisting the "Red" Flag?

Chinese authorities also routinely threaten relatives in China of dissidents abroad to silence their criticisms. A technology consultant in Vancouver said: "If I criticize the [Chinese Communist Party] publicly, my parents' retirement benefits, their health insurance benefits could all be taken away." A Toronto-based journalist for a Chinese-language newspaper whose parents in China were harassed for her work said, "I don't feel there is free speech here. I can't report freely."

Censorship is also a threat as Chinese technology extends overseas. WeChat, a social-media platform combined with a messaging app widely used by Chinese people at home and abroad, censors political messages and suspends users' accounts on political grounds even if they are based outside China. (This is already happening in the USA)

Rising to the Challenge

An extraordinary threat requires a commensurate response—and much still can be done to defend human rights worldwide from Beijing's frontal attack. Despite the Chinese government's power and hostility to human rights, its ascent as a global threat to rights is not unstoppable. Rising to this challenge demands a radical break from the dominant complacency and business-as-usual approach. It calls for an unprecedented response from those who still believe in a world order in which human rights matter.  (And it takes dissolving the United Nations and/or any such organization.  Returning to Nation's ruling over their own government and being responsible.  Obviously, power corrupts and giving worldwide power to any organization only leads to more corruption, worldwide.  Their is power in numbers and money. Letting people with both get together…is a big mistake!)

Governments, companies, universities, international institutions, and others should stand with those in and from China who are struggling to secure their rights.  (Yes, they should STOP doing business with China until China changes its ways.) As a first principle, no one should equate the Chinese government with the people of China. That blames an entire people for the abuses of a government that they had no say in choosing. Instead, governments should support critical voices in China and publicly insist that, in the absence of genuine elections, Beijing does not represent the people there.  (there will never be freedom in China as long as the rest of the world does business with China as usual.)

Just as governments have stopped promoting the convenient fiction that trade alone promotes human rights in China, so they should abandon the reassuring-but-false view that quiet diplomacy suffices. The question to ask of dignitaries visiting Beijing who claim to discuss China's human rights record is whether the people of China—the main engine of change—can hear them. Do those people feel emboldened or disillusioned by the visit? Do they hear a voice of sympathy and concern or see only a photo-op at the signing of more commercial contracts? By regularly and publicly calling out Beijing for its repression, governments should raise the cost of that abuse while emboldening the victims.

The Chinese model of repressive economic growth can be refuted by highlighting the risks of unaccountable rule, from the millions left behind in China to the devastation caused by the likes of Mugabe of Zimbabwe or Maduro of Venezuela. Calling attention to how dictators around the world claim to serve their people while in fact serving themselves accomplishes much the same purpose.

Governments and international financial institutions should offer compelling, rights-respecting alternatives to China's "no strings" loans and development aid. They should leverage their membership in such organizations as the Asian Infrastructure Investment Bank to push for the highest human rights standards in development rather than to enable a global race to the bottom.

Governments committed to human rights should be sensitive to the double standards of "China exceptionalism" that can creep into their conduct and enable Beijing to get away with abuses for which poorer and less powerful governments would be challenged. If they seek to hold Myanmar officials accountable for their abusive treatment of Muslims, why not Chinese officials? If they are attentive to Saudi or Russian efforts to buy legitimacy, why not similar Chinese efforts? If they encourage debates about human rights violations by Israel, Egypt, Saudi Arabia, or Venezuela, why not by China? They rightly challenged the Trump administration's appalling separation of children from their parents on the US-Mexico border, so why not also challenge the Chinese government's separation of children from their parents in Xinjiang?

Governments should deliberately counter China's divide-and-conquer strategy for securing silence about its oppression. If every government alone faces a choice between seeking Chinese economic opportunities and speaking out against Chinese repression, many will opt for silence. But if governments band together to address China's flouting of human rights, the power balance shifts. For example, if the Organization of Islamic Cooperation were to protest against the Chinese government's repression of Turkic Muslims in Xinjiang, Beijing would need to retaliate against 57 countries. The Chinese economy cannot take on the whole world.

By the same token, companies and universities should draft and promote codes of conduct for dealing with China. Strong common standards would make it more difficult for Beijing to ostracize those who stand up for basic rights and freedoms. These standards would also make matters of principle a more important element of the institutions' public images. Consumers would be better placed to insist that these institutions not succumb to Chinese censorship as the price to obtain Chinese business, and that they should never benefit from or contribute to Chinese abuses. Governments should tightly regulate the technology that empowers China's mass surveillance and repression—and bolster privacy protections to check the spread of such surveillance systems. (lol, fat chance of that… that was the whole purpose of the internet. Centralization of data for world dominance.)

Universities in particular should provide a space where students and scholars from China can learn about and criticize the Chinese government without fear of being monitored or reported. And they should never tolerate Beijing curtailing the academic freedom of any of their students or scholars.  (We should just stop taking students from China until human rights are respected there.  We can do nothing to protect Chinese foreign students.  China has spies everywhere that watch their every move. Their families back home have no where to turn when they are punished for what their children do or don't do. The only power we have to combat China's human rights violations is the power of the purse.  WE have to take the RIGHT steps and STOP doing business with China! Yes, it will cost us financially, but isn't it still the right thing to do?  Won't it be worth the price?  In my opinion, it is the ONLY thing to do.)

Beyond issuing statements, governments that are committed to human rights should redouble cross-regional outreach efforts with a view to presenting a resolution at the UN Human Rights Council establishing a fact-finding mission, so the world can know what is happening in Xinjiang. (The world KNOWS.  That is just a waste of time and money, and its been done over and over.  They will NEVER report the true findings and nothing will ever become of the "study". That is just a ruse to make people think they are doing something or that they care.) These states should also force a discussion of Xinjiang at the UN Security Council so Chinese officials understand that they will have to answer for their actions.

More fundamentally, UN member states and senior officials should defend the United Nations as an independent voice on human rights. For example, until a UN fact-finding mission is created, reporting by the UN high commissioner for human rights as well as the Human Rights Council's experts is crucial. If China succeeds in leaving the UN toothless on human rights, all will suffer.  (WE NEED TO JUST DISSOLVE THE UN!)

Governments committed to human rights should also stop treating China as a respectable partner. The red-carpet treatment for Chinese officials should be conditioned on real progress on human rights. A state visit should come with a public demand to give UN investigators independent access to Xinjiang. Chinese officials should be made to feel that they will never gain the respectability they crave so long as they persecute their people.  (Forget about the investigators, there is enough photographic evidence online to convict the Chinese as well as multiple other countries of crimes against humanity.  We don't need to question whether or not these exist.  WE KNOW China is abusing, torturing, imprisoning, mutilating for organs, and killing people! Anyone who doubts that is just hiding their eyes for profit.)

At a more targeted level, Chinese officials directly involved in the mass detention of Uyghurs should become persona non grata. Their foreign bank accounts should be frozen. They should fear prosecution for their crimes. And the Chinese companies that build and help run the detention camps in Xinjiang, and any company that exploits the labor of prisoners or provides the surveillance infrastructure and big data processing, should be exposed and pressured to stop.  (So, we know these things are going on.  No they should not be "pressured to stop" they should be shut down!)

Finally, the world should recognize that Xi Jinping's lofty rhetoric about establishing a "community of shared future for mankind" is really a threat—a vision of rights worldwide as defined and tolerated by Beijing. It is time to acknowledge that the Chinese government seeks to repudiate and reshape an international human rights system built on the belief that every person's dignity deserves respect—that regardless of the official interests at stake, limits exist on what states can do to people.

Unless we want to return to an era in which people are pawns to be manipulated or discarded according to the whims of their overlords, the Chinese government's attack on the international human rights system must be resisted. Now is the time to take a stand. Decades of progress on human rights are at stake.  (The UN is run by the OVERLORDS! It is in place to protect their financial interests.  DON'T BE A FOOL!  Stop supporting the system that is designed to destroy us.)
spacer
Religious liberty is the foundation of freedom of conscience.

Belief about the transcendent underlies support for any political, social, or economic order. Regimes which bar people from responding to a profound and powerful spiritual call will interfere with any and all individual desires. That is why totalitarian systems, which claim the whole person, are so

intent on destroying or coopting religion.

Unfortunately, in recent years the news on freedom not only to believe but live out those beliefs has been almost uniformly bad. The Muslim world is awash in not just repression but enslavement and slaughter of minority faiths. Authoritarian secular systems employ special brutality against those who seek to hold politicians to a higher standard.

Last year was no different. The United States Commission on International Religious Freedom has issued its latest report, which is filled with bad news. However, there is a proverbial silver lining, or at least a bit of good news amid the bad.

The most dramatic developments occurred in Sudan, pictures from which adorn the report's cover. In 1989 Gen. Omar Hassan Ahmad al‐​Bashir overthrew a democratically elected government that was negotiating with rebels in what is now independent, but war‐​torn, South Sudan. He imposed a repressive Islamic theocracy of the sort common in the Middle East and initiated years of war against dissident movements and peoples.

After three decades of misrule, noted the USCIRF:

A brave, grassroots protest movement brought down the Islamist‐​led regime of former president Omar al‐​Bashir in April, followed by the establishment of a joint civilian‐​military transitional government four months later. The transitional constitution no longer identifies Islam as the primary source of law, and it includes a provision ensuring the freedom of belief and worship. In November, the transitional government, which has engaged closely with USCIRF on religious freedom concerns, repealed the repressive public order laws that the former regime used to punish individuals, particularly women, who did not conform to its interpretation of Sunni Islam."

There is more to do, of course, and the revolution could yet go awry, given the continuing malign influence of the military. Nevertheless, for the first time in years Christians and other religious minorities, including secular‐​minded Muslims, can live their spiritual lives more freely.

The other dramatic improvement came in Uzbekistan. Although it remains a repressive state, like most of its Central Asian neighbors, a political transition in 2016 led to significant reforms. One of them was to relax religious controls. Reported the Commission, under the government of Shavkat Mirziyoyev "Uzbekistan took significant steps in 2019 to fulfill its commitments of the last few years to improve religious freedom conditions, also in close consultation with USCIRF." Again, the job of freeing religious believers is not finished. However, Uzbekistan has proved that positive change is possible.

Unfortunately, bad news is abundant. Perhaps the Commission's most striking judgment is to recommend that the State Department declare India to be a Country of Particular Concern. Narendra Modi's record in heading the state of Gujarat was one of extraordinary religious intolerance, inflaming anti‐​Muslim sentiments which led to riots that killed hundreds and perhaps thousands of Muslims. Since being elected prime minister six years ago his government has embraced and inflamed Hindu nationalism.

Reported USCIRF:

India took a sharp downward turn in 2019. The national government used its strengthened parliamentary majority to institute national‐​level policies violating religious freedom across India, especially for Muslims. Most notably, it enacted the Citizenship (Amendment) Act, which provides a fast track to Indian citizenship for non‐​Muslim migrants from Afghanistan, Bangladesh, and Pakistan already residing in India.… The national and various state governments also allowed nationwide campaigns of harassment and violence against religious minorities to continue with impunity, and engaged in and tolerated hate speech and incitement to violence against them.

However, India is but one bad actor. There are many, a number of which are highlighted by the Commission. Including India, 14 nations made the Countries of Particular Concern list.

Burma. There are few more tragic cases than Burma, officially renamed Myanmar by the military junta that ruled for more than a half century — and which now dominates behind the official government led by Aung San Suu Kyi. Reported USCIRF:

In 2019, the Burmese government continued to commit widespread and egregious religious freedom violations, particularly against Rohingya Muslims. Ethnic‐​driven conflict and degradation of other civil rights often coincide with religious differences, thereby severely restricting freedom of religion or belief.

For decades a succession of uniformed tyrants conducted brutal campaigns against insurgents seeking autonomy for various ethnic groups, including largely Christian groups, such as the Karen. More recently the military, or Tatmadaw, conducted a near genocidal campaign against the largely Muslim Rohingya, driving much of the population, more than a million people, from their homes and most out of Burma. Suu Kyi, a Nobel Laureate once lionized for her campaign for democracy that left her under house arrest for years, defended the military's behavior. She may not control the generals, but she unaccountably gave them cover for their crimes.

Other groups also suffer. Fighting has resumed in some ethnic areas. Moreover, observed the Commission: "Non‐​Buddhist religious communities routinely faced difficulties in getting permission to construct or repair houses of worship and continued to face harassment from local authorities and nonstate actors."

China. Richard Nixon's opening to the People's Republic of China did not result in a free, democratic China. But after Mao Zedong's long overdue death, the country changed dramatically, with an explosion of personal autonomy though not political freedom. Religious liberty was one aspect of that changing society, yielding more Christians than Chinese Communist Party members. In 2014 I was in traffic in Beijing and spotted a Christian "fish" on a car bumper. Religious observance was disfavored, but often tolerated so long as believers didn't attack the CCP.

That is no longer the case. General Secretary/​President Xi Jinping is reconstructing the totalitarian dictatorship of Mao, the "Great Helmsman." Repression as risen across the board, but especially against religious believers. Although Xi talks of China's greatness, he is scared of people who believe that all rulers, including him, are accountable to someone and something greater.

The Commission report's account of the PRC's crimes is chilling:

"The Chinese government has created a high‐​tech surveillance state, utilizing f

acial recognition and artificial intelligence to monitor religious minorities

."
"[B]etween 900,000 and 1.8 million Uighur, Kazakh, Kyrgyz, and other Muslims have been detained in more than 1,300 concentration camps in Xinjiang — an estimate revised upward since the previous reporting period.… Former detainees report that they suffered torture, rape, sterilization, and other abuses." 

(other abuses, as in forced organ "donation".)

"The Chinese government continued to pursue a strategy of forced assimilation and suppression of Tibetan Buddhism, as demonstrated by the laws designed to control the next reincarnation of His Holiness the Dalai Lama and those of other Tibetan eminent lamas. Monks and nuns who refused to denounce the Dalai Lama have been expelled from their monasteries, imprisoned, and tortured."
"Chinese authorities raided or closed down hundreds of Protestant house churches in 2019.… Local authorities continued to harass and detain bishops, including Guo Xijin and Cui Tai, who refused to join the state‐​affiliated Catholic association.

Several local governments, including Guangzho city, offered cash bounties for individuals who informed on underground churches.

In addition, authorities across the country have removed crosses from churches, banned youth under the age of 18 from participating in religious services, and replaced images of Jesus Christ or the Virgin Mary with pictures of President Xi Jinping."
"[T]housands of Falun Gong practitioners were arrested during 2019 for practicing the movement's meditation exercises or distributing literature about their beliefs. Human rights advocates and scientists presented evidence that the practice of harvesting organs from prisoners — many of whom are believed to be Falun Gong practitioners — continued on a significant scale."

There is no defense for such an appalling record.

Eritrea. This isolated, totalitarian North African state has been called the North Korea of Africa. Last year there were brief signs of hope for political liberalization, but little of substance changed. And the secular state remains as brutally repressive as ever. Many Eritreans flee; I have served as an expert in two asylum cases of Pentecostals who escaped the Eritrean prison state.

Reported the Commission:

In 2019, religious freedom conditions in Eritrea worsened, with increasing interference in and restrictions on religious groups.… Eritrea continues to have one of the worst religious freedom records in the world, and has shown little interest in concretely improving the situation. No new religious institutions were officially registered, and thus only four religious communities remain legally permitted to operate: the Coptic Orthodox Church of Eritrea, Sunni Islam, the Roman Catholic Church, and the Evangelical Church of Eritrea, a Lutheran‐​affiliated denomination.

Even groups nominally allowed to operate have little freedom. Noted USCIRF:

The government responded harshly to both registered religious groups as well as unrecognized ones, such as the Pentecostal and Evangelical Christian communities, and accused religious actors of political interference for defending their beliefs and human rights. Christians were arbitrarily arrested and detained, including in waves of arrests.

India. As noted earlier, the commissioners called out India. It long has belied its democratic status with non‐​state violence and state‐​level discrimination against religious minorities, usually Muslims or Christians. Unfortunately, under Prime Minister Narendra Modi the persecution has gone national. Last year, in a desperate attempt to win votes, the opposition Congress Party also catered to Hindu nationalist sentiments. And the Trump administration has turned a blind eye to the brutality even against Christians, whose electoral support he desires in the U.S. Perhaps because the bulk of India's victims are Muslim, the CPC designation garnered a political dissent normally more characteristic of the State Department from some commissioners.

Google capture

Iran. The administration has criticized Tehran for its sustained assault on religious freedom because doing so bolsters Washington's overall political and economic war against Iran. Religious minorities are publicly present — unlike in, for instance, Saudi Arabia — but suffer rigorous repression. Alas, little changed last year. Explained the Commission: "religious freedom conditions in Iran remained egregiously poor. As in years past, the government responded to calls for reform by systematically cracking down on religious minorities."

No one is safe from persecution. USCIRF noted "a particular uptick in the persecution of Baha'is and local government officials who supported them in 2019." Unsurprisingly, Christians, especially those who converted from Islam, "also were persecuted and imprisoned for practicing their faith." Among those imprisoned have been dual American‐​Iranian citizens.

President Hassan Rouhani once promised to improve treatment of religious minorities. That was then, this is now. Jews and Sufis routinely suffer. The Islamic Republic's brutal religious laws even victimize secular Iranians. Reported the Commission: supposedly moderate "Iranian Foreign Minister Javad Zarif claimed Iran's execution of members of the lesbian, gay, bisexual, transgender, and intersex (LGBTI) community was necessary according to 'moral principles.'"

Nigeria. Perhaps Africa's most important nation, possessing the largest economy and population as well as large oil reserves, Nigeria is divided almost equally by religion. However, the violence flows almost entirely one way.

The greatest problem has been caused by the radical Islamic group Boko Haram. It "targeted military posts and convoys, houses, farmlands, and mosques; abducted civilians; and killed hostages, including numerous humanitarian aid workers. Since 2009, Boko Haram has displaced more than two million people and killed tens of thousands," reported the Commission. Muslim Fulani groups also routinely committed murder and mayhem, targeting Christians especially. Moreover, "The federal government continued to detain the leader of a Shia minority group, the Islamic Movement in Nigeria (IMN), and violently cracked down on its members during religious processions and protests."

Nigeria is a functioning democracy, but sectarianism undermines the political process. Governments have been hampered by incompetence and corruption. The system's greatest failure is its inability to protect its people of all faiths. Explained USCIRF: "There were multiple reports of criminal attacks on religious and traditional leaders and houses of worship. In the surge of hundreds of kidnappings in 2019, media reported numerous incidents of kidnappings for ransom and the killing of Protestant and Catholic priests."

North Korea. There is one country that, though small and poor, routinely wins the world's attention. The latest guessing game was whether Kim Jong‐​un, the North's Supreme Leader, was alive, incapacitated, or dead. Pyongyang has nuclear weapons and is developing long‐​range missiles capable of hitting America.

The Democratic People's Republic of Korea also is one of the most repressive if not the most repressive nation on earth. Having elevated its rulers, of whom this Kim is the third generation, to near godly status, the regime is especially brutal to religious believers who view politics as secondary and politicians as subject to divine judgment. Unfortunately, the regime's isolation — China and Russia are its northern neighbors — makes it difficult for the outside world to discover reality within the DPRK.

Reported the Commission:

The government treats religion as a threat to the state‐​propagated ideology known as Juche, which preaches "self‐​reliance and self‐​development." Christians are especially vulnerable because the government views them as susceptible to foreign influence. Any expression of religion outside the limited number of state‐​sponsored houses of worship happens in secret. Anyone caught practicing religion or even suspected of harboring religious views in private is subject to severe punishment, including arrest, torture, imprisonment, and execution. The possession and distribution of religious texts remains a criminal offense under North Korean law.

Christians are believed to make up a sizeable proportion of the North's large labor camp population.


Pakistan. Sadly, several nominal American allies are among the worst religious persecutors. So it is with Islamabad. Although the government discriminates against religious minorities, violence is usually inflicted privately, with little effective response from the state.

Unfortunately, noted USCIRF, last year:

[R]eligious freedom conditions across Pakistan continued to trend negatively. The systematic enforcement of blasphemy and anti‐​Ahmadiyya laws, and authorities' failure to address forced conversions of religious minorities — including Hindus, Christians, and Sikhs — to Islam, severely restricted freedom of religion or belief.

At extraordinary risk are non‐​Muslim women. Explained the Commission:

In Hindu, Christian, and Sikh communities, young women, often underage, continued to be kidnapped for forced conversion to Islam. Several independent institutions estimated that 1,000 women are forcibly converted to Islam each year; many are kidnapped, forcibly married, and subjected to rape. Local police, particularly in Punjab and Sindh, are often accused of complicity in these cases.

Russia. President Vladimir Putin has sought to coopt the Orthodox Church for political purposes. However, the Russian Federation is not a welcome place for religious minorities.

Last year the situation worsened. USCIRF reported that

The government continued to target "nontraditional" religious minorities with fines, detentions, and criminal charges under the pretext of combating extremism. Russian legislation criminalizes "extremism" without adequately defining the term, enabling the state to prosecute a vast range of nonviolent religious activity. The Jehovah's Witnesses, whom the government banned outright as "extremist" in 2017, faced intensified persecution.

The problems reach further. For instance, in "the North Caucasus, security forces acted with impunity, arresting and kidnapping persons suspected of even tangential links to Islamist militancy, and harassing Muslims at prayer services." In Crimea, seized from Ukraine in 2014, "the occupation authorities continued to enforce Russia's repressive laws and policies on religion, which has resulted in the prosecution of peaceful religious activity and bans on groups that were legal in Crimea under Ukrainian law." Finally, "Russian separatists in eastern Ukraine pursue an exclusionary religious policy that privileges the Moscow Patriarchate of the Russian Orthodox Church."

Russia is the one majority‐​Christian country with the worst ranking.

People dig graves July 24 for victims of a suicide bomb attack in Kabul, Afghanistan. The U.S. State Department's annual report on international religious freedom highlights Muslim violence against other Muslims. (CNS photo/Jawad Jalali, EPA) See INTERNATIONAL-RELIGIOUS-FREEDOM-REPORT Aug. 11, 2016.

Saudi Arabia. The Trump administration has essentially subcontracted Mideast policy to Riyadh, turning the U.S. military into bodyguards for the Saudi royals. That is bad policy. It also is an insult to Americans, given the regime's brutal political and religious repression.

Observed the Commission:

[Riyadh] continued to engage in other systematic, ongoing, and egregious violations of religious freedom. The government prohibits public practice of any religion other than Islam, and no houses of worship other than mosques are allowed in the kingdom. Non‐​Muslims who gather in private houses are subject to surveillance and Saudi security services may break up their private worship services.

It is not just Christians who suffer:

Shia Muslims in Saudi Arabia continue to face discrimination in education, employment, and the judiciary, and lack access to senior government and military positions. The building of Shia mosques is restricted outside majority‐​Shia Muslim areas in the Eastern Province, and Saudi authorities often prohibit use of the Shia Muslim call to prayer in these areas. Authorities arrest and imprison Shia Muslims for holding religious gatherings in private homes without permits and reading religious materials in husseiniyas (prayer halls).

Despite its professed commitment to battle religious extremism, the regime continues to promote Wahhabism around the globe. This fundamentalist variant of Sunni Islam demonizes the other, tacitly justifying violence against Christians, Jews, Shia, and members of other religions. Shamefully, the State Department routinely waives sanctions on a regime that is murderous and totalitarian.


Syria. Few nations have suffered like Syria, enduring nine years of bitter civil war. Reported USCIRF: "religious freedom in Syria remained under serious threat, particularly amid the country's ongoing conflict and humanitarian crisis."

A secular dictatorship, Syria became a haven of sorts for Christians fleeing persecution elsewhere, most notably in Iraq. Many religious minorities backed President Bashar al‐​Assad to prevent a repeat of Iraq. Despite the Damascus government's poor human rights record, the Commission acknowledged that "there was less evidence in 2019 of explicit religious freedom violations in areas under regime control."

In contrast, "While it still actively controlled territory, ISIS' genocidal ideology and actions represented the single greatest threat to religious freedom for the country's myriad of religious minorities as well as the Sunni Muslim majority." Moreover, "reports emerged that the U.S.-designated terrorist group Hay'at Tahrir al‐​Sham (HTS), which operates in Idlib province, persisted in religious repression, including the assault and stoning of an Armenian woman in July." Nevertheless, the Trump administration opposed the Syrian government's attempt to retake territory from HTS and other radical groups which predominate there.

Tajikistan. A number of governments appear to hate religion primarily because it is another activity outside of state control. Tyrants fear any independent thought. Thus, all faiths suffer similarly. So it is in Central Asia.

Unfortunately, detailed USCIRF:

[I]n 2019 the Tajikistani government's already dismal record on religious freedom deteriorated. The regime of President Emomali Rahmon maintained its repressive policies, suppressing displays of public religiosity by individuals of all faiths and persecuting minority communities — especially actual and alleged Salafists, a term that is broadly applied. Authorities pursued a crackdown on various attributes of faith, including restrictions on wedding and funerary banquets, and pursued extralegal bans on beards and hijabs.

Reinforced by government, but nevertheless a separate problem, "Social tolerance for religious minority communities continued to decline. Members of less traditional faiths in Tajikistan, like Seventh‐​Day Adventists and Presbyterians, as well members of communities with ancient ties to the region, like Zoroastrians and Shi'a Muslims, all report a rise in pressure and hostility from family and community."

Turkmenistan. Tragically, there are worse Central Asian dictatorships. As with North Korea, knowledge of what is going on inside Turkmenistan is extremely limited, but what is known is bad.

Detailed the Commission:

[R]eligious freedom conditions in Turkmenistan remained among the worst in the world and showed no signs of improvement. Turkmenistan is an extremely closed society, described as an informational 'black hole' with an abysmal record on freedom of the press. This landscape makes it difficult to chronicle the actual extent of religious freedom abuses in the country, which are certainly more extensive than the limited number of reports indicate.

We do know that punishment is harsh: "Many religious prisoners are believed to be held at the notorious Ovadan‐​Depe Prison, located in the remote desert 50 miles north of the capital city of Ashgabat." Conscientious objectors receive among the harshest treatment.


Vietnam. Religious repression is not as bad as in times past but remains burdensome. The government enforces, and abuses, an onerous religious registration law, while harassing unregistered churches and organizations.

Moreover, reported USCIRF:

Ethnic minority communities faced especially egregious persecution for the peaceful practice of their religious beliefs, including physical assault, detention, or banishment. An estimated 10,000 Hmong and Montagnard Christians in the Central Highlands remain effectively stateless because local authorities have refused to issue identity cards, in many instances in retaliation against Christians who refuse to renounce their faith.

In addition, "the Vietnamese government continued to arrest and imprison peaceful religious leaders and religious freedom advocates." It is not just the national capital which threatens religious liberty, however. "Local authorities continued to expropriate or destroy property belonging to religious communities. For example, in January, authorities in Kontum Province demolished Son Linh Tu Pagoda, which had been affiliated with the independent Unified Buddhist Church of Vietnam."

These 14 states are merely the worst of the worst. Unfortunately, they have a lot of competition. And assessments aren't always easy to make. Violations of religious liberty occur on a spectrum. Not all countries unfriendly to religious liberty employ violent persecution. Some do little to prevent acts of private violence. Others institute pervasive discrimination and pressure. Sometimes social and political pressure merge.

The Commission placed 15 states on its Special Watch List: Afghanistan, Algeria, Azerbaijan, Bahrain, Central African Republic, Cuba, Egypt, Indonesia, Iraq, Kazakhstan, Malaysia, Nicaragua, Sudan, Turkey, Uzbekistan. Here as well, one commissioner, Johnnie Moore, curiously dissented from several designations largely on political grounds, undermining the body's supposedly objective role.

Twelve of the nations are Muslim, which reflects the fact that every majority‐​Muslim nation mistreats religious minorities. They often differ in degree and sometimes in kind. Nevertheless, that is the single most common characteristic of governments which persecute.

Second is authoritarianism, especially being a current or former communist state. Cuba and the three Central Asian Muslim states fall into this category. Nicaragua is a fellow traveler, at least. Which leaves the Central African Republic, a majority‐​Christian country in which blame for sectarian violence is shared but the violence was first triggered by the depredations of Muslim militias.

Finally, the Commission pointed to negative trends last year which threatened religious liberty. For instance, Beijing asserted its malign influence beyond its own borders. Anti‐​Semitism was on the rise in some countries. Despite widespread criticism of much‐​abused blasphemy laws, some governments increased penalties for violations. Religious freedom suffered due to government suppression of people of faith for social or political reasons. Houses of worship came under attack. Governments, most notably Saudi Arabia and Iran, exported their repressive religious systems.

The problems are great while the solutions are few. Washington has little ability to reach into other societies and end their grievous violations of religious liberty. Most administrations prioritize geopolitics, hence the president's shameful extended genuflection to the Saudi monarchy. The Trump administration also lets Bahrain, Egypt, and Turkey off easy for political reasons.

Even for a president who cared about international religious persecution, sanctions would be no answer, since governments rarely abandon fundamental political objectives because their people are suffering. Indeed, every Trump administration campaign highlighted by increased economic penalties has failed: Russia, Venezuela, Cuba, North Korea, Iran, and Syria. In several cases there is little more that the U.S. could do, having ramped up sanctions for other issues, such as nuclear nonproliferation. The final remedy, war, is no humanitarian instrument and there is no political support for wandering the globe in what would be perceived as a modern crusade against other faiths.

What Washington could do better, however, is not embracing, subsidizing, and defending repressive regimes except in exceptional circumstances. Such necessity is rarely present today. Moreover, the U.S. should stop promiscuously and carelessly intervening to create chaos in which religious extremism and tyranny flourish. The invasion of Iraq ousted a secular regime, triggered a sectarian conflict which largely destroyed the indigenous Christian community, and spawned an insurgent/​terrorist group which targeted religious minorities and Shia in both Iraq and Syria. Washington's support for insurgents in Syria, including more than a few radicals, threatened with destruction the Christian and Alawite communities there.

The government's failure should not stop Americans, in and out of churches, synagogues, and temples, from joining together to support the oppressed around the world. There is value in exposing and shaming persecutors. And embarrassing government officials whose policies undermine the right and opportunity of people of faith to live their beliefs.

We should stand by our brothers and sisters around the globe as they seek to understand the transcendent and respond accordingly. By protecting them, we defend human community that is both free and virtuous.
Spacer
America was the only voice for humanity and freedom.  The Chinese Totalitarian Regime is the mold for UN World Domination.  The World Rulers created the turmoil in US to prevent the US from having any power to intervene for human rights…ANYWHERE.
spacer
A woman sings hymns with fellow congregants from Beijing's unofficial Shouwang church, who were meeting outdoors in 2009 after being evicted from their place of worship. Credit: Beijing resident.
A February 2017 Freedom House report—"The Battle for China's Spirit"—examined the evolution of religious revival, repression, and resistance within China after Xi Jinping assumed the leadership of the Chinese Communist Party (CCP) in November 2012. The comprehensive assessment across eight major faith groups found that controls over religion had intensified under Xi and were seeping into new areas of daily life. At least 100 million people were estimated to belong to religious groups facing "high" or "very high" levels of religious persecution.

Despite that already dire picture, the situation since 2017 has continued to deteriorate, dramatically for members of some religions. Hundreds of thousands of Muslim believers in Xinjiang have been detained en masse for "re-education" or transferred to forced labor facilities. Even religious groups that from 2012 to 2016 experienced relatively low levels of religious persecution—like Chinese Buddhists or Hui Muslims—have faced tightening restrictions and expanding destruction of places of worship. Members of other faith communities that were encountering more optimistic trajectories despite ongoing persecution—like Catholics or Falun Gong practitioners—have found themselves at the receiving end of more attention from the security forces.  (Man, that is a huge understatement!  They are being geocided!  Locked up in detention camps, raped, tortured, starved and used for organs.)

​Why the decline?

Several dynamics at both the national and local levels may explain worsening religious persecution in China. First, religious groups have not been exempt from a broader tightening of CCP control over civil society under Xi Jinping. New religious restrictions imposed in recent years bear markers of Xi's particular mode of authoritarian governance: a "rule by law" emphasis on legislation, expanding grassroots security force presence, and the use of criminal penalties to rein in social media activity.

At the same time, certain government initiatives appear to be responses to developments in particular religious communities. Increased pressure on Catholics to join state-sanctioned churches and the detention of some underground clergy has followed a historic 2018 agreement between China and the Vatican on the appointment of bishops. In other cases, growing popularity of a particular faith or institution has triggered a backlash from the CCP, as demonstrated by growing restrictions on Protestant churches and tighter controls over the influential Larung Gar Tibetan Buddhist Academy.

In Xinjiang, the role of individual officials seems to have been especially influential. Chen Quanguo, the party secretary in Xinjiang since 2016, has been a key driving force in the intensification of repression and securitization in the region, drawing on previous experience in Tibet. But he is not alone. At least three other officials in Xinjiang, or who direct policy towards the region from Beijing, have experience in Tibet or in similar "transformation" campaigns targeting Falun Gong adherents. Leaked documents indicate that Xi Jinping himself laid the groundwork for the use of harsh tactics in the region, instructing officials in a series of private speeches to show "absolutely no mercy."

Internal party struggles and geographic variation add another layer of complexity. As cadres pushing for a more assimilationist ethnic policy edge out those favoring relative cultural autonomy, restrictions on Tibetan Buddhism and Islam have increased. Meanwhile, Falun Gong practitioners in some regions have benefited from the purge on corruption charges of top security officials who had overseen the anti-Falun Gong effort, with local officials taking a more lenient approach. But in provinces like Liaoning, security forces in 2018 nevertheless renewed campaigns to identify and intimidate residents who continue to practice the spiritual discipline.

Technological advancements have also opened up an array of new options for the regime to control religious practice and detect dissent. The past eight years have featured the proliferation of smartphones, ubiquity of applications like WeChat, expansion of facial recognition enabled video cameras, and emergence of a variety of databases for consolidating information on "key individuals." These technologies have been specifically deployed to monitor and punish religious activity in ways that would have been impossible a decade ago.

Lastly, intraparty incentives—such as criteria for promotion and de facto impunity for violence against perceived party foes—generally reward repressive actions and empower parts of the party-state apparatus that engage in violations of religious freedom. Just as Chen Quanguo was overseeing the early phases of mass detention of Muslims in Xinjiang, he was promoted in October 2017 to the powerful CCP Politburo. Such inducements encourage officials to rely on repressive rather than rights-based policy options when considering how to handle religious affairs.

​U.S. Responses

U.S. government action has, in some respects, tracked the worsening conditions for many religious believers in China. Various officials have taken previously unprecedented steps to support religious freedom in China.

Last summer, President Donald Trump and Vice President Mike Pence met with advocates for and relatives of Uighurs, Tibetans, Christians, and Falun Gong practitioners jailed in China. In October, a coordinated effort by the State and Commerce Departments led tovisa restrictions for Chinese officials and the addition of 28 Chinese governmental and commercial organizations to the Entity List, thereby constricting access to the United States or exports to those implicated in human rights violations against Muslim minorities in Xinjiang. Congress is also considering legislation—the Uyghur Human Rights Policy Act—that would guarantee even stronger action in response to the severe situation in Xinjiang.

Still, given the scale of religious persecution in China, as well as the worsening trajectory, more needs to be done. Congress should immediately pass this bill and the president should sign it into law. Even before its passage, Global Magnitsky and other applicable sanctions can and should be imposed on Chinese officials who have been involved in torture, sexual abuse, and deaths in custody of religious prisoners from across China. Additional resources should be devoted to better enforcing rules barring the importation of products made from prison labor, given the use of Uighurs, Falun Gong detainees, and other religious prisoners for forced labor in Xinjiang and other parts of China. And more efforts should be made by government officials and religious communities to support and protect survivors of persecution and relatives of victims in China who have fled to the United States.

The human cost of the CCP's controls and abuses is overwhelming. With each passing day, more Chinese citizens are swept into the party-state's repressive apparatus. Families are torn apart, injuries and psychological damage are inflicted, and lives are lost. The impact of these dynamics reaches far beyond the realm of religious policy, deeply affecting China's overall legal, social, political, and economic environment.

But even under such conditions, millions of religious believers defy official restrictions or engage in some form of direct protest, at times scoring significant victories. Serious, targeted policy measures by the United States and other democratic governments offer them both hope and critical support in their daily battle for China's spirit.

This article was first published by Berkley Center for Religion, Peace & World Affairs at Georgetown University on March 16, 2020.
They are very close now to locking down the ENTIRE WORLD!  Not a surprise.  The Bible tells us everything in advance so that we will know HE IS GOD.  NO ONE else can tell you the END from the Beginning!
11Behold, the days come, saith the Lord GOD, that I will send a famine in the land, not a famine of bread, nor a thirst for water, but of hearing the words of the LORD:

12And they shall wander from sea to sea, and from the north even to the east, they shall run to and fro to seek the word of the LORD, and shall not find it.  Amos 8:11&12
Spacer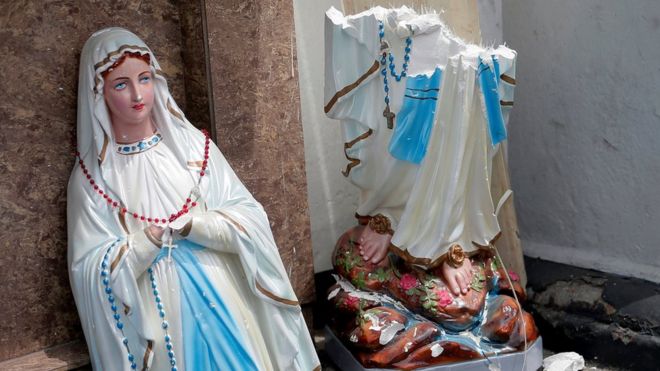 The persecution of Christians in parts of the world is at near "genocide" levels, according to a report ordered by Foreign Secretary Jeremy Hunt.

The review, led by the Bishop of Truro the Right Reverend Philip Mounstephen, estimated that one in three people suffer from religious persecution.

Christians were the most persecuted religious group, it found.

Mr Hunt said he felt that "political correctness" had played a part in the issue not being confronted.

The interim report said the main impact of "genocidal acts against Christians is exodus" and that Christianity faced being "wiped out" from parts of the Middle East.

It warned the religion "is at risk of disappearing" in some parts of the world, pointing to figures which claimed Christians in Palestine represent less than 1.5% of the population, while in Iraq they had fallen from 1.5 million before 2003 to less than 120,000.

"Evidence shows not only the geographic spread of anti-Christian persecution, but also its increasing severity," the Bishop wrote.

To view the following video click the link to visit the website: https://www.bbc.com/news/uk-48146305

Media caption

Prince Charles: "It is an indescribable tragedy that Christianity is now under such threat in the Middle East"

"In some regions, the level and nature of persecution is arguably coming close to meeting the international definition of genocide, according to that adopted by the UN."

The foreign secretary commissioned the review on Boxing Day 2018 amid an outcry over the treatment of Asia Bibi, a Christian woman who faced death threats after being acquitted of blasphemy in Pakistan.

Its findings come after more than 250 people were killed and more than 500 wounded in attacks at hotels and churches in Sri Lanka on Easter Sunday.

Image copyright

HANDOUT

Image caption

Mr Hunt, who is on a week-long tour of Africa, said he thought governments had been "asleep" over the persecution of Christians but that this report and the attacks in Sri Lanka had "woken everyone up with an enormous shock".

He added: "I think there is a misplaced worry that it is somehow colonialist to talk about a religion that was associated with colonial powers rather than the countries that we marched into as colonizers.

'Atmosphere of political correctness'

"That(Political Correctness) has perhaps created an awkwardness in talking about this issue – the role of missionaries was always a controversial one and that has, I think, also led some people to shy away from this topic.

"What we have forgotten in that atmosphere of political correctness is actually the Christians that are being persecuted are some of the poorest people on the planet."

In response to the report, the president of the Board of Deputies of British Jews, Marie van der Zyl, said Jews had often been the targets of persecution and felt for Christians who were discriminated against on the basis of their faith.

"Whether it is in authoritarian regimes, or bigotry masked in the mistaken guise of religion, reports like the one launched today remind us that there are many places in which Christians face appalling levels of violence, abuse and harassment," she said.

The review is due to publish its final findings in the summer.
spacer
CHRISTIANS are now the most persecuted religious group in the world and the religion could be wiped out in Iraq within three years, according to a report by a Catholic charity.
GETTY
Christian persecution is at an all time high according to a new report
The European-based Aid to the Church in Need described the current level of persecution against Christians as being "worse than at any time in history".

Examining the plight of Christians in 13 countries over the past 12 years, the group found the number of Christians in the Middle East had dropped drastically in the past year.

The report entitled 'Persecuted and Forgotten?' claims the number of Christians in Syria had dropped to just 500,000 from about 1.5m five years ago, when the Syrian civil war was only just beginning.

In Iraq, more than half of the country's Christian population became internal refugees and Syria's second city of Aleppo, which until 2011 was home to the largest Christian community, saw numbers dropping from 150,000 to barely 35,000 by spring 2017 – a fall of more than 75 percent.
The report predicts Christianity in Iraq could be effectively wiped out by as early as 2020if the population's decline continues at the same rate as it has in the past two years.

The report said: "While firm numbers are hard to come by … there is little doubt that the level of Christian persecution remains extremely high in a great number of places around the world."

Researchers estimate as many as 600,000 Christians may have suffered some form of persecution for their faith around the world last year.

Aid to the Church also accuses the UN for failing to help persecuted Christians and criticised the western media for failing to highlight the problemsfacing them.

Christians are in the minority in some of the Middle East

The charity said: "At a time in the West when there is increasing media focus on the rights of people regardless of gender, ethnicity or sexuality, it is ironic that in much of the secular media there should be such limited coverage of the massive persecution experienced by so many Christians."

The report said: "Governments in the West and the UN failed to offer Christians in countries such as Iraq and Syria the emergency help they needed as genocide got underway.

"If Christian organisations and other institutions had not filled the gap, the Christian presence could already have disappeared in Iraq and other parts of the Middle East."

Report editor John Pontifex said: "In terms of the numbers of people involved, the gravity of the crimes committed and their impact, it is clear that the persecution of Christians is today worse than at any time in history.

"Not only are Christians more persecuted than any other faith group, but ever-increasing numbers are experiencing the very worst forms of persecution."
GETTY

Christians in the Middle East have been subject to threats, intimidation and terror attacks

Persecuted and Forgotten? found that members of China's 127 million-strong Christian population have suffered increased persecution following new attempts to bring Christianity in line with Communist ideals.

More than 2,000 churches and crosses have been pulled down in China's coastal Province of Zhejiang – and clergy are still being routinely detained by authorities.

The paper highlights the "eradication" of Christians and other minorities as being the stated aim of Islamic extremist groups , particularly in Egypt and identified growing problems in certain majority Islamic countries and authoritarian states such as Eritrea and North Korea.

Only last month, Coptic Christians in Mina were forced to lock the doors of their church after a mob of more than 1,000 people gathered outside to intimidate and threaten worshippers.
If you had any doubt, I trust it is now erased, or soon will be.  For we have entered into the days of tribulation.  Many around the world are already suffering great persecution.  Don't be foolish enough to think it is not coming here.  
DId you know?  Were you aware at the level the persecution has reached worldwide??  Now you know.  You better hit your knees and pray, because if you don't hit your knees now to the ALMIGHTY GOD, you will be hitting your knees very soon to the TOTALITARIAN DICTATORSHIP!
Spacer
Bible Verses About Persecution
Bible verses related to Persecution from the King James Version (KJV) by Relevance
2 Timothy 3:12 – Yea, and all that will live godly in Christ Jesus shall suffer persecution.
John 15:18 – If the world hate you, ye know that it hated me before [it hated] you.
Matthew 5:44 – But I say unto you, Love your enemies, bless them that curse you, do good to them that hate you, and pray for them which despitefully use you, and persecute you;
1 Peter 4:12-14 – Beloved, think it not strange concerning the fiery trial which is to try you, as though some strange thing happened unto you: 13 But rejoice, inasmuch as ye are partakers of Christ's sufferings; that, when his glory shall be revealed, ye may be glad also with exceeding joy. 14 If ye be reproached for the name of Christ, happy [are ye]; for the spirit of glory and of God resteth upon you: on their part he is evil spoken of, but on your part he is glorified.
1 Peter 3:17 – For [it is] better, if the will of God be so, that ye suffer for well doing, than for evil doing.
1 Peter 3:14 – But and if ye suffer for righteousness' sake, happy [are ye]: and be not afraid of their terror, neither be troubled;
1 Peter 3:16 – Having a good conscience; that, whereas they speak evil of you, as of evildoers, they may be ashamed that falsely accuse your good conversation in Christ.
Matthew 5:10 – Blessed [are] they which are persecuted for righteousness' sake: for theirs is the kingdom of heaven.
Luke 6:22 – Blessed are ye, when men shall hate you, and when they shall separate you [from their company], and shall reproach [you], and cast out your name as evil, for the Son of man's sake.
1 John 3:13 – Marvel not, my brethren, if the world hate you.
Romans 12:17-21 – Recompense to no man evil for evil. Provide things honest in the sight of all men. 18 If it be possible, as much as lieth in you, live peaceably with all men. 19 Dearly beloved, avenge not yourselves, but [rather] give place unto wrath: for it is written, Vengeance [is] mine; I will repay, saith the Lord. 20 Therefore if thine enemy hunger, feed him; if he thirst, give him drink: for in so doing thou shalt heap coals of fire on his head. 21 Be not overcome of evil, but overcome evil with good.
2 Corinthians 4:8-12 – [We are] troubled on every side, yet not distressed; [we are] perplexed, but not in despair;   (Read More…)
spacer