If we have reached the point where Washington has to call the military in against the people of the United States and maintain a military camp around the city, than it is time for a new government.  If the current administration needs guns to maintain it, we the people need a divorce.  Government must be built on trust.  The people have to be able to trust the government, and the government has to be able to trust the people.  When that is gone… there is anarchy and/or military dictatorship.
This is what happens when you fill our country up with illegal immigrants who want to "CHANGE" the USA.  All the things that made the USA the place where everyone was free to pursue their happiness and prosperity, are gone.  WE have become a third world nation.  Now, our nation's capitol is a warzone and we the people are public enemy number one.  
The Officials in Washington, from both political parties, know they are in the wrong.  They know they do not have the support of the people, that is why they are gearing up for martial law.  You do realize, I hope, how close we are to that very thing.  THAT IS WHAT YOU SHOULD BE SCARED OF RIGHT NOW.  
We need to stop fighting each other over fake political divides of Right vs. Left, and Liberal vs. Conservative. The government and all of the actors that empower the government, which includes domestic as well as foreign players, these bad actors are our common enemy.  -Brian Shilhavy
by Brian Shilhavy
Editor, Health Impact News

This famous quote by Thomas Jefferson defines two different kinds of states of relationships between U.S. Government and the people they allegedly represent.

Either a state where the citizens of this country hold their government accountable to their oaths to uphold the Constitution, or a state where the nation falls into tyranny because the citizens fail to do their job and hold their government accountable.

There is no doubt which of these two states is the current state of the United States today, on January 11, 2021.

The citizens fear the government, and the country has now been seized by the tyrants.

And by "government" I am not simply referring to our "elected" officials, but also those who benefit from the government and control it, which today would be the Central bankers and Wall Street Billionaires, primarily using Big Pharma and Big Tech to enslave the population.

Here's the thing, however. While this group of "Big" Pharma, Tech, Government, etc. may appear "big" and "powerful," they really are not, and there is one thing they fear the most: YOU!

And because the English language does not distinguish between "you" plural and "you" singular, let me be even clearer: YOU singular, but also YOU together, unified, in plurality.

The government fears the people disobeying them and rising up against them, but right now we, the people, have given them nothing to be afraid of, and so they are making their boldest moves yet to enslave the American people.
View the article: MILITARY IN OUR STREETS
UPDATE 2/6/1
Most people are not aware that there were OVER 65,000 troops on the ground for the inauguration.  That is only the number of full fledged MILITARY… there are thousands more armed officers from mulitple government agencies on the ground:  military-style men in America's capital are disconcerting, in part, because absent identifying signs of actual authority the rows of federal officers appear all-but indistinguishable from the regular citizens as well as armed officers from any or all of the following agencies: nation's civilian federal law enforcement; Bureau of Alcohol, Tobacco, Firearms and Explosives; Drug Enforcement Administration; the federal government employed over 132,000 civilian law enforcement officers—only about half of which come from the major "brand name" agencies like the FBI, ATF, Secret Service, DEA and CBP; armed federal officers at the Environmental Protection Agency or the National Oceanic and Atmospheric Administration's Office of Law Enforcement; federal U.S. Capitol Police, the Park Police, the National Gallery of Art police, the Smithsonian Office of Protective Services, the Postal police, Amtrak police, the Bureau of Engraving and Printing police, the Supreme Court police, the Uniformed Division of the Secret Service, the Government Publishing Office police, and the Department of Homeland Security's Federal Protective Service; FBI Police or the U.S. Mint police. And that's not even counting the multistate Metro Transit police and the local D.C. Metropolitan Police; roughly 20,000 federal prison guards known formally as the Bureau of Prisons—whose riot units make up a sizable chunk of the officers imported to D.C. and who represent the single largest component of federal officers in the Justice Department; United States Police," the purposefully vague public name given to what is formally known as the CIA's Security Protective Services; Pentagon police, formally known as the Pentagon Force Protection Agency; Border Patrol; The Department of the Interior's Park Police, one of the agencies that has served as the front ranks of the riot security; The Federal Protective Service; The Executive Protective Operations Division of the USDA's Office of Safety, Security and Protection; U.S. Marshals Service.
IN SHORT THREE IS A STANDING ARMY IN OUR NATION's CAPITAL.  This should concern EVERY US Citizen!
NATIONAL GUARD STILL COMING TO D.C …
spacer
Ad·
https://www.theepochtimes.com/
The Epoch Times – Free from influence of any government, corporation, or political party. Subscribe Now & Support Independence for 1$ Read News. Open A Free Account.
Day After Inauguration – National Guard troops continue arriving to DC January 21 2021 Washington DC – The day after inauguration we saw additional 4 busses arrive in front of the Capitol, multiple groups of national guard were unloaded, one group was from Pennsylvania. Afterwards they marched to the Capitol Building. One group said they were deployed from Pennsylvania. ComputerChick Productions All Your Graphic and Streaming Needs
spacer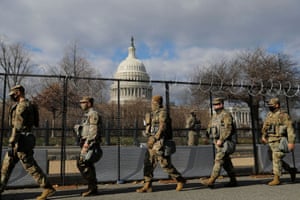 spacer
Streamed live on

Jan 31, 2021
CAPITAL STILL FENCED OFF AND FULL OF SOLDIERS  LONG AFTER THE INAUGURATION.
Biden's war on 'domestic terror' is wildly disproportionate and authoritarian.
SEAN COLLINS / US CORRESPONDENT
29th January 2021
spacer
National Guard in DC still lack end date as 5,000-plus to remain until mid-March
On a 36-degree, overcast Washington morning, some of the 13,700 Guard members in the capital huddled together near seven-foot perimeter fences. They wore black caps on their heads, some wore gloves, others hopped or stretched, and most had their hands tucked into their vests, breath visible as they spoke.

"I'd like to know that," one California Guard member told the Washington Examiner when asked when he can go home.

The young Guard member spoke through a light green gaiter mask while standing several feet behind a black, nonscalable fence. A five-year Army veteran who served in South Korea, he clearly wanted to tell his young daughter and son when their father would be home.

"If we're here, it's obviously a deterrent," he said when asked what threat, if any, he was protecting the Capitol against. "If we're not here, then what happens?"


A Capitol Police officer then asked a reporter outside the fence for press identification and said to direct questions to the agency's press office.
On the empty streets, where only an occasional jogger would jaunt by, U.S. Park Police K-9 units drove along the sidewalk at 3rd Street and Madison Avenue NW, hundreds of feet from the partially dismantled inauguration stage.

Three federal agencies and the National Guard still view a continued threat by right-wing groups who support Trump and see Democrats as dangerously corrupt as a threat to the District of Columbia, promising to keep 5,000 to 7,000 Guard troops on duty in support of law enforcement until mid-March, a decision that was made after the Jan. 20 inauguration of President Biden concluded.

More than 26,000 Guard members from all 50 states, three territories, and the District of Columbia were on duty providing security for the inauguration last week.  That does not even include the thousands of other armed officers from countless government groups.

A National Guard member provides security near a vehicle entrance to the U.S. Capitol Jan. 25, 2021. 

Photo by Abraham Mahshie/ Washington Examiner

"They're drawing down over the next couple of days," National Guard Bureau spokeswoman Nahaku McFadden told the Washington Examiner.

"A particular, singular individual may not know exactly when they may be leaving, but for the National Guard, we're staying here through mid-March," she added. McFadden explained that Guard members who needed to return home for family or work reasons would be allowed to do so.

The fencing and barbed wire that has gone up in recent weeks contain a vast perimeter that extends for blocks beyond the Capitol to include adjacent federal buildings.

The Guard previously stated that 800 of its citizen-soldiers, who have been taken from their families and day jobs, were protecting the Capitol building itself — but McFadden would not confirm how many members remain, citing operational security.

The National Guard deferred questions about the threat assessment requiring the protection to the FBI.

"It's interesting that they would push you to us for that one," an FBI official told the Washington Examiner.

"We do do threat assessment," the official clarified. "We're deferring to National Guard and Secret Service on whether National Guard thinks that they need to be out there."

In an email response, the FBI said it had no comment and referred questions to the Capitol Police or the Metropolitan Police Department.

In one scene at the Capitol perimeter, three Guard members quickly approached the fence where other Guard members were talking to a reporter.

"We're here to support the First Amendment," one of the Guard members said sternly. "That's all we're here to do."

Most Guard members who spoke to the Washington Examiner Monday morning said they were not allowed to answer questions or provide their names, states, and arrival dates. They also declined to describe their rest area inside the Capitol complex.

Even those who would not answer other questions made clear they had no idea when they could go home.

"No idea," answered one Guard member manning an entrance to the Capitol where black Chevrolet SUVs entered, and well-dressed young staffers with iPhone ear pods flashed their badges and scurried past Capitol Police.

Some Guard forces only got to Washington in recent days, with the idea they will replace others who are heading to their home states. Some state leaders, such as Republicans ones in Texas, Florida, Montana, and New Hampshire, have said they're calling their Guard troops home following thousands being moved by an unknown Capitol Police officer from the Capitol Visitor Center to a nearby parking garage, forcing them to nap on concrete floors and share a limited number of restrooms.

On the South Capitol Street side, two female Guard members from California said they arrived after last Thursday's controversial Guard rest area relocation from the Capitol to a nearby garage and back.

"They're taking good care of us," one woman said. As to when they would leave: "It's all up in the air."
spacer
First published at 03:32 UTC on February 2nd, 2021.
Bitchute Channel: https://bit.ly/2EU5c3a YT-Channel: DELETED by YT
✅ It's FAST, FREE AND PRIVATE! Use the BRAVE browser for 30 days, and they will support my channel with a bonus. https://brave.com/fre088
PLEASE ALWAYS SUPPORT THE CREATOR ( X22Report: http://www.x22report.com ) OF THIS VIDEO FIRST.
The patriots are now ready and prepared to go after the [DS]/MSM. In Myanmar the military decided to take over because of election fraud. Is this projection on election fraud here in the US? Trump and the patriots are ready to inject election fraud, treason, and crimes against humanity facts into the upcoming impeachment trial. Panic in DC, they don't know the plan of the patriots.
All source links to the report can be found on the x22report.com site.
Most of artwork that are included with these videos have been created by X22 Report and they are used as a representation of the subject matter. The representative artwork included with these videos shall not be construed as the actual events that are taking place.
Intro Video Music: YouTube Free Music: Cataclysmic Molten Core by Jingle Punks
Intro Music: YouTube Free Music: Warrior Strife by Jingle Punks
Fair Use Notice: This video contains some copyrighted material whose use has not been authorized by the copyright owners. We believe that this not-for-profit, educational, and/or criticism or commentary use on the Web constitutes a fair use of the copyrighted material (as provided for in section 107 of the US Copyright Law. If you wish to use this copyrighted material for purposes that go beyond fair use, you must obtain permission from the copyright owner. Fair Use notwithstanding we will immediately comply with any copyright owner who wants their material removed or modified, wants us to link to their web site, or wants us to add their photo.
The X22 Report is "one man's opinion". Anything that is said on the report is either opinion, criticism, information or commentary, If making any type of investment or legal decision it would be wise to contact or consult a professional before making that decision.
Use the information found in these videos as a starting point for conducting your own research and conduct your own due diligence before making any significant investing decisions.
To Watch this Video on BITCHUTE: CLICK HERE
spacer
First published at 04:06 UTC on

February 2nd, 2021.
To Watch this Video on BITCHUTE: CLICK HERE
She wants to make the riot on the 6th as melodramatic as possible. Democrats want to show Americans that they will kill anyone on the right who acts up. They have the military and the weapons. Currently, they are cleansing the military of conservatives.

Cuccinelli and anchor Martha MacCallum were discussing  25,000 National Guard troops in the nation's capital after the pro-Trump riot on Jan. 6.

CREW-MANNED MACHINE GUNS

MacCallum brought up the enormous number of troops in DC.

"You have a division," Cuccinelli said. "The last up of thousands of these troops was requested by the speaker through the Capitol Police. She even wanted crew-manned machine guns in Washington. That was rejected because there's simply no use for that in a security arrangement for a civilian undertaking. Just — so some of this has gone beyond any legitimate security need."

Cuccinelli defended the troops as "disciplined" and "professional." He said they will perform as expected, but added that the state capitol buildings are also important to defend.

"The world is not about Washington," he said. "It's supposed to be about everywhere else, which is what the Department of Homeland Security tries to keep secure."

The acting DHS deputy secretary confirmed that threats of individual attacks in different places are also "absolutely a problem" before criticizing those who focus only on Washington D.C.

"At the same time, where was this concern for the rest of America?" he asked. "But when their own butt was on the line, all of a sudden they want every troop and soldier they can find to protect them. And we're perfectly happy to contribute to keeping them safe. That's part of our goal and our job, but not at the sacrifice of the rest of America."

"Congressmen aren't more important than any other American," Cuccinelli added. "And everyone in this country should be kept safe and that's what the Department of Homeland Security has endeavored to do through this entire difficult year."

The plan is just an excuse to get conservatives out of the military so Democrat communists can re-educate them.

Watch:
We are living in strange times. America, once the most powerful country in the world is beginning to see its dominance challenged. Poverty is rampant. The number of unemployed is growing each day. We live in a world full of deception and evil. This blog is dedicated to exposing the truth. Check out the articles.

GOD said: "Concentration camps and martial law are coming your way. Seek Me and I shall bless you, My people, and I shall deliver you from these camps if you seek Me. And, I the LORD your GOD have spoken." I tested this message with the test of the spirits found in 1 John 4:1-4. I encourage you to seek God about this message and about what God wants you to know and do.

GOD said these words:

___________________________

"My people, I AM indeed the LORD thy GOD and I love you very much. My people, I have called you for such a time as this, to seek Me. You may know that I love you very much and that I have a plan for you and a purpose which I have called you to do. Seek Me and I shall bless you as you do so. The world does not know Me or love Me.

If the world knew Me, then it would have not crucified My Son. But, the world crucified My Son because it did not know Me or love Me. But, you know Me and you love Me, My people. Continue to seek Me and I shall bless you, My people. Your world has turned upside-down and evil is called good, and good is indeed called evil. When evil is promoted as being good, then the society is evil and very wicked. Your country has chosen to cast My laws out and has kicked out My principles for godly living and has treated Me as if I were filth.

The time that you have left on this earth is very short, My people. Seek Me while you still have time to seek Me, for your days are numbered. The wrath of God shall abide on your country and My judgment shall strike very soon. Those who abide in Me shall be safe, but those who do not abide in Me shall not be safe.

My people, seek Me while you still can. The time will come when no man may seek Me, but those who are seeking Me right now. The time will come when you will not be able to buy or sell, when you will be given your food as a ration in a concentration camp. The time will come when soldiers will patrol your barracks and your time will be spent in toil and hard labor clearing rocks, and digging ditches, and grinding flour, and washing clothes by hand, and cleaning out dead bodies which were killed during the destruction of your country.

This will happen if you do not seek Me with all your hearts, if idols are in your hearts, and if you refuse to get rid of them and give them to Me. Idolatry is rebellion to Me and it is an abomination to Me. Seek Me and give your idols to Me, and I shall bless you.

Do not seek after the world, for the world is passing away and it shall surely be destroyed very soon. Set your affection on Me and I shall bless you. Your country shall change very soon. War and chaos shall reach your shores, and destruction shall level your cities.

Village after village and city after city shall be removed and destroyed as your enemies, the Russians and the Chinese, enter your land and take down your country's great pride and humble your nation. Americans shall enter concentration camps as slaves and work hard under the oppression of the Chinese and Russians. They shall work for no money and no pay. They shall work until they die because of the wickedness of their hearts and because they refused to repent and seek My face.

Their hearts are hardened like stone, and like stone I shall break them, and they shall be ground to powder because of their rebellion and because of their pride against Me. Do not set your heart on this world, for it shall be destroyed. Judgment is coming because of rebellion and I shall surely destroy this nation which has become so evil before Me. Its heart has become blacker than the blackest sackcloth and its face has become set against Me like flint, and I shall surely destroy it. When I called out to it, none responded but those who were My sheep. None sought after Me but those who love Me.

I shall surely destroy this cesspool of iniquity until all its dross has been purged and its wickedness put out, and I the LORD have spoken. Seek Me and I shall bless you as you do this, My people, and I the LORD your GOD have spoken.

I shall deliver you from all those who seek to destroy you as you seek Me, My people. I shall deliver you from these concentration camps if you seek Me with all your hearts, My people. Look to Me and do not depend on your own understanding, and I shall guide you in the truth. I the LORD your GOD have spoken."

___________________________

I encourage you to seek God about this message. (If you have any questions, seek God.) We are living in serious times. The book of Revelation is very relevant for us today. God loves His people and wants them to be with Him. God is serious about the times we are living in. He wants a bride who is pure and clean, who hates sin and loves righteousness. God wants people to seek Him with all of their hearts and souls because they love Him. God wants us to be His friends. Jesus Christ said this about His friends…

John 15:14-15 14 Ye are my friends, if ye do whatsoever I command you. 15 Henceforth I call you not servants; for the servant knoweth not what his lord doeth: but I have called you friends; for all things that I have heard of my Father I have made known unto you.

Jesus also said this to His disciples (those who love and serve Him)…

Luke 14:25-27 (bold added) 25 And there went great multitudes with him: and he turned, and said unto them, 26 If any man come to me, and hate not his father, and mother, and wife, and children, and brethren, and sisters, yea, and his own life also, he cannot be my disciple. 27 And whosoever doth not bear his cross, and come after me, cannot be my disciple.

Jeremiah 33:3: "Call unto me, and I will answer thee, and show thee great and mighty things, which thou knowest not."

Jeremiah 29:13: "And ye shall seek me, and find me, when ye shall search for me with all your heart."
spacer