Global Elitists remind me of my Alcoholic Husband, ranting and raving, bullying and destroying house, home, and everything and everyone around him, all the while making you think the destruction HE causes is ALL YOUR FAULT! 
I am going to take this issue on one item at a time and it will probably take months to address all the ways the Globalists have been and still are destroying OUR WORLD.  Believe me, it is not the individual human beings driving their cars and burning coal, nor is it the cows and pigs farting that is destroying our atmosphere.  It is not even the trash that we throw away, though that is a factor.  The destruction of our planet has been perpetrated by the Global Elite in a combination of evil deliberation, and downright stupidity! 
Let us start out with the issue of NUCLEAR WASTE. And remember, this is only some of what we already know.  There are over 30 nations that have been dealing with nuclear waste for years now, and more obtaining nuclear capabilities every year.  This waste never goes away.  It must be contained permanently.  They are doing a horrible job of it.  And it is destroying our environment, making us sick and killing wildlife.  Eventually, it will be our end. 
UPDATE 6/8/19
This article was just published this may and I strongly urge you to read it.  It is very short, but I cannot post here.  They describe this thing as a "kind of coffin".  It is a concrete dome that was built in the 1970s to contain waste from atomic-bomb tests and it is now leaking radioactive material into the Pacific.  (we don't really know for how long)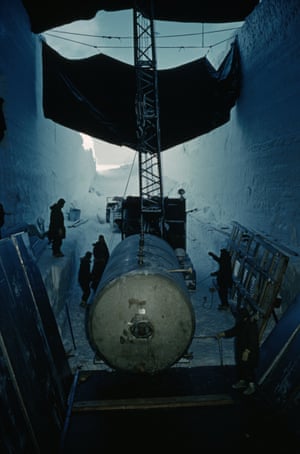 This next article contains more details, photos, and videos.  The truth is we have no idea what all was buried under the ice.  I personally find no reason to believe a word told by our government or the media. We also have no idea how much of the radioactive material is leaking or how much just the presence of those materials is warming the environment.  Nuclear material does radiate excessive heat.
See more information on Camp Century in this article
Maps Show Where Melting Glaciers Will Reveal Cold-War-Era Nuclear Waste     By Megan Gannon, Live Science Contributor | 
By 1977 they already knew the barrels were leaking and filling the oceans with radiation.  Scientists were already convinced there was no way to find an acceptable way to store this waste. They also were well aware that this was already causing serious health problems including CANCER, LUEKEMIA, and BIRTH DEFECTS!   Watch this…
Danger! Radioactive Waste — Full Program
Nuclear Waste in the Irish Sea