Boris Johnson is back to work, looking very much alive.  Both the Golden Boys continue two live parallel lives.  Neither one of them is fairing very well in the realm of public opinion.  Both of them appear somewhat incompetent. I believe this is just more staged distraction.   Both are under the gun… Johnson with Brexit looming, and Trump with the election just months away.    
spacer
Johnson: Government cannot say when lockdown eased – BBC News
The UK is at the moment of maximum risk in the coronavirus outbreak, Boris Johnson has said as he urged people not to lose patience with the lockdown.
spacer
In his address to the nation, the prime minister was maddeningly short on specifics about how we get out of lockdown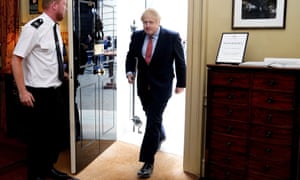 Boris Johnson's swift return to duty is welcome. He has clearly been through a personal nightmare. Given the pressures on him, he deserves sympathy and congratulations. In his address to the nation this morning he was characteristically Churchillian. He says Britain has come through coronavirus so far with flying colours. "Now we must prepare to win phase two as we have won phase one."

It is hard to know what news the prime minister has been watching or listening to. Johnson's language was opaque to the point of waffle. The British people are in the dark, more so than any in Europe. Though statistics are still desperately unreliable, all we do know is that Britain has not performed well during the coronavirus pandemic. It is now among the most dilatory nations in securing recovery.

The only strategy mentioned by Johnson was the need to "eliminate the risk of a second spike". There is no way such a risk can be eliminated, short of never taking it. But it is unacceptable to hamstring the entire economy indefinitely, as Johnson implied, merely to stop further infection "overwhelming our NHS". The unpreparedness of the NHS has contributed to Britain's plight. Its future "protection" is not a sufficient reason for the scale of cost now being imposed on the economy. If there is another spike, the NHS must be helped to face it.

Meanwhile the illogicalities of lockdown grow more absurd by the day: the banning of bench-sitting in parks, the closure of rural resorts and beaches, permitting supermarkets to open but not garden centres or small traders. Covid-19 is clearly lethal chiefly to specific sections of the community, yet the current one-size-fits-all shutdown ignores this. And if Scotland, Wales and Northern Ireland can have exit strategies, why not Cornwall or Yorkshire – or England? The government's lack of trust in English localism is pathological.

A number of hesitant conclusions can already be drawn from the statistics. The virus is highly infectious and sensible distancing seems to mitigate its spread. But national excess deaths above the seasonal average seem largely to relate to demographics, such as age balance, population dispersal and urbanisation. Except in a few atypical cases, widely differing suppression policies have not been reflected in mortality rates.

Britons must listen in agony as leaders in Berlin, Stockholm, Copenhagen, Brussels and Rome articulate their routes out of this mess. Johnson and his colleagues have articulated nothing.

• Simon Jenkins is a Guardian columnist
spacer
Donald Trump discussed a meeting with scientists where they talked about possible heat and light treatments for COVID-19, the President also mentioned 'injecting the body with disinfectant' as a cure. The study also showed that bleach and isopropyl alcohol killed the virus in saliva or respiratory fluids in a matter of minutes. The president suggested that coronavirus patients could be injected with disinfectants – which are extremely harmful to humans – or exposed to different types of light. Read more Donald Trump suggests injecting patients with 'disinfectant' and using UV light could treat coronavirus
https://www.thesun.co.uk/news/1146928…
Donald Trump amazed by coronavirus-hit Boris Johnson's 'tremendous energy' during phone call after leaving ICU
https://www.thesun.co.uk/news/1146999…
Trump calls out Joe Biden saying Democrat rival is 'hiding in a basement' while he fights coronavirus
https://www.thesun.co.uk/news/1146945…
VP Mike Pence says 'coronavirus epidemic could be behind us by JUNE' after Fauci and CDC boss warned of second wave
https://www.thesun.co.uk/news/1146914…
From Brexit breaking news to HD movie trailers, The Sun newspaper brings you the latest news videos and explainers from the UK and around the world. Become a Sun Subscriber and hit the bell to be the first to know Read The Sun:
http://www.thesun.co.uk
Like The Sun on Facebook:
https://www.facebook.com/thesun/
Follow The Sun on Twitter:
https://twitter.com/TheSun
Subscribe to The Sun on Snapchat:
https://www.snapchat.com/discover/The…
spacer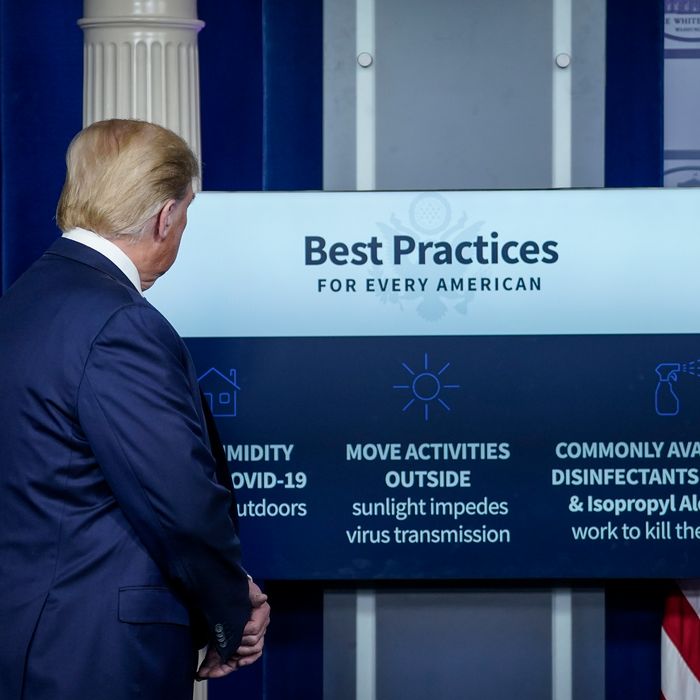 Perhaps this slide is where Trump got the idea. 

Photo: Getty Images
We're committed to keeping our readers informed. 
We've removed our paywall from essential coronavirus news stories. Become a subscriber to support our journalists. Subscribe now.

The president who once stared directly into a solar eclipse is now offering researchers ideas on how to treat the coronavirus. At his Thursday press conference, President Trump suggested that using disinfectants — which are generally harmful to the human body, or poisonous if consumed in large quantities — may help patients flush the virus from their system. Trump, who has said he has a "natural ability" for understanding public health, added that injecting heat and light under the skin may be effective in countering symptoms of a virus that has already killed around 50,000 Americans. To the reporters in front of him and public-health experts to his right, Trump addressed the following tip:
So supposing we hit the body with a tremendous, whether it's ultraviolet or just very powerful, light — and I think you said that hasn't been checked but you're going to test it — and then I said suppose you brought the light inside the body, which you can do either through the skin or in some other way. And I think you said you're going to test that, too. Sounds interesting.

Then I see the disinfectant where it knocks it out in a minute, one minute. Is there a way we can do something like that by injection inside? Or almost a cleaning, 'cause you see it gets in the lungs and it does a tremendous number on the lungs. So it'd be interesting to check that. So you're going to have to use medical doctors but it sounds interesting to me, so we'll see but the whole concept of the light. The way it kills it in one minute, that's pretty powerful.
At Thursday's presser, Washington Post reporter Philip Rucker called Trump out on the apparent misinformation. "People tuning into these briefings, they want to get information and guidance and want to know what to do. They're not looking for rumors." Trump replied, "I'm the president and you're fake news," adding that his recommendations "are just a suggestion." After mounting backlash Friday, he claimed that the remarks were made sarcastically.

On Friday, the British manufacturer of Lysol said its product should never be used internally. "As a global leader in health and hygiene products, we must be clear that under no circumstance should our disinfectant products be administered into the human body (through injection, ingestion or any other route)," Reckitt Benckiser said in a statement to NBC News.

Trump's former FDA Commissioner Scott Gottlieb also addressed the President's unorthodox suggestion, telling CNBC Friday that "there' no circumstance under which you should take a disinfectant or inject a disinfectant for the treatment of anything."

But White House Press Secretary Kayleigh McEnany said it was the media, not Trump, who was being careless. "President Trump has repeatedly said that Americans should consult with medical doctors regarding coronavirus treatment, a point that he emphasized again during yesterday's briefing," she said in a statement Friday. "Leave it to the media to irresponsibly take President Trump out of context and run with negative headlines."