I have to say that I am dumbfounded by the seeming stupidity of the American public.  They just don't seem to be able to use the mind that GOD gave them.  They are totally manipulated by the media, and totally clueless.  I know that is why the government wants to see the death of all citizens over 50.  We are the only ones left who know the truth.  We lived in a primarily Christian USA, where God was revered and honored and sanity ruled…for the most part.  We are the only ones who remember what true freedom is like and what it is worth.  We are the only ones who remember what the sky and the clouds and the weather used to look like.  We are the only ones who went to schools whose main purpose was to help you develop the ability to use your mind, not teach you how to cheat the system and regurgitate the mainstream agenda.  
It is my prayer that you will read this article and use your analytical brain if it is still able to function. 
Lets take a look at some numbers, starting with the Population of the United States.  Now, bear in mind that we can only go by what is published.  We have no way to verify their facts, so we have to take their word.  We also have to consider that we don't really know what those numbers are based on, or who is included in them.  For instance, we don't know if anywhere in their number they consider the ILLEGAL IMMIGRANTS.  Are they counted and included?   I am going to assume not, so we will look at them separately.  So here we go.
spacer
The most current numbers for the Population of the United States are as follows:
I am calling BULLSHIT on their population numbers.  We have illegal immigrants pouring into Texas, California and Florida every day, not to mention the truckloads of captives trafficked in on a regular basis.
Updated figures for 2022 added on 8/12/2022
8/6/22
The 
current
population
of
United States is  
338,308,043
based on projections of the latest United Nations data
.
The UN estimates

the July 1, 2022
population
 at 338,289,857. United States Growth Rate United States 
Population
 2022 (Live) Show Source United States 
Population
 Clock
Net increase of 1 person every 2 minutes
The 2020 Census resident population
of  
331,449,281
includes all people living in the 50 states and the District of Columbia
as of April 1, 2020.
Of the U.S. resident 
population
, 37.2% (123,425,864) lived in the five 
most
populous states in 2020 and over a quarter (27.2%) were in the three largest states: California, Texas, and Florida (Table 1).
spacer
According to:

https://www.worldometers.info/world-population/us-population/
The current population of the United States of America is 

329,008,678

 as of Wednesday, June 19, 2019, based on the latest United Nations estimates.
Now we are going to look at, what the MAINSTREAM LAMESTREAM is calling "The Measles Epidemic".  The number I decided to post here is the LARGEST TOTAL NUMBER OF CASES I found in my Online Research.   It is a number reflecting the totals as of JUNE 18, 2019, which was yesterday.  
The United States census of 
2000
, conducted by the Census Bureau, determined the resident 
population
 of the United States on
April 1, 2000
, to be
281,421,906
, an increase of
13.2
percent over the 248,709,873 people enumerated during the
1990
census. [1]
The United States census of 
1950
, conducted by the Census Bureau, determined the resident 
population
of the United States to be 150,697,361, an increase of
14.5%
  over the 131,669,275 persons enumerated during the
1940
census. [1] This was the first census in which: More than one state recorded a
population
 of over 10 million
The United States census of 
1900
, conducted by the Census Office on June 1, 
1900
, [1] determined the resident 
population
 of the United States to be 76,212,168, an increase of
21.01%
from the 62,979,766 persons enumerated during
the 1890 census
.
https://usacnnnews.com/2019/06/18/measles-cases-united-states-rise-1044/
by admin     June 18, 2019  in Health News   ALTH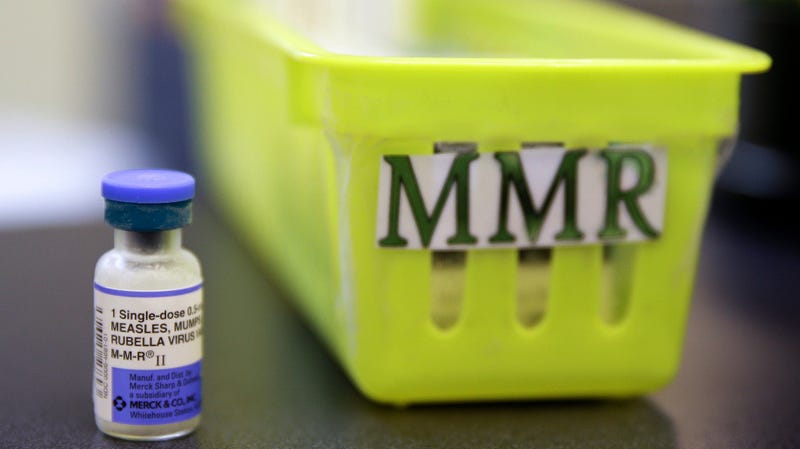 The Centers for Disease Control and Prevention said on Wednesday that 1,001 cases of measles have been reported so far in the U.S. throughout 2019.

That number is all but certain to continue climbing in the second half of the year. Last week, the CDC warned that U.S. measles cases had reached a 25-year high—with more measles infections reported than any year since 1994, when 958 cases occurred. The CDC said at the time that if the outbreaks continue to spread, the U.S. risks losing the elimination status it has held since 2000, when the agency declared that measles was effectively eradicated in the country due to the "absence of continuous disease transmission for greater than 12 months."
Ok, first of all, I don't see how they can declare that the measles had been eradicated when you can clearly see, from the CDC graph shown below, that there have been measles cases every year.  It is clear that the number of cases reported each Measles season fluctuates dramatically from year to year.  Some years we see very low numbers and others higher.  These variances can be brought about by a number of factors, so just looking at numbers does not tell us anything about why there is an increase or decrease at any given time. 
Per CNN, more than half of states have reported cases so far in 2019. But most of them have been in New York state, with major outbreaks centered around Orthodox Jewish neighborhoods in the New York City boroughs of Brooklyn and Queens (566 since September 2018, according to the New York City Health Department) as well as Rockland County further upstate. Nearly 700 of the cases reported this year are located in New York. Washington state's Clark County had the second largest outbreak at more than 70 cases, CNN added, while another outbreak of 44 cases in Michigan (all but four in Oakland County) was recently declared over by health officials.
OK, so wait a minute…  There are roughly 1,044 cases total, 700 of those were reported in NEW YORK and  44 reported in Michigan, but the Michigan outbreak is OVER.  So, that leaves 300 cases total across the rest of the United States.   And we don't really know if one or both of those locations was deliberately infected to promote the Vaccination Agenda.  Especially in the New York area where that Jewish population that was hardest hit is very vocally against vaccinations on the whole.  
Now when you take into consideration that we have a population of at least 329,008,678 people, even 1,044 is not a very high number. Now granted if your child or another family member is among that number that is devastating.  HOWEVER,  I don't know about you, but my brain tells me that this is NOT AN EPIDEMIC!!  
The public is being played here.  We are being fed a shitload of propaganda and for the most part, the public is swallowing it whole, regurgitating it and demanding FORCED VACCINATIONS and EVEN JAIL FOR THOSE WHO DO NOT OBEY!  Little children are being ostracized and forbidden entrance to public places, even if they do not have the disease, just because they have not been vaccinated.  
Measles was once a terror, with the CDC estimating that three to four million individuals in the U.S. came down with the virus annually before a vaccine was released in 1963, resulting in 48,000 hospitalizations and 400-500 deaths a year. Close to all children had a measles infection by the age of 15.
OK, wait just a minute!!!  P-LEASE!  "Measles was a TERROR???"  Are you kidding?   I lived through the years in reference here and I don't know of ANYONE who was terrified of Measles.  Now grant you, grown men would get nervous because if they got the measles it could affect their sperm count.  BUT most of them would NOT GET MEASLES because they would have ALREADY HAD THEM AS A CHILD!!  As stated above CLOSE TO ALL CHILDREN HAD THE MEASLES BY AGE 15!!   SO, I ask you, HOW DANGEROUS WERE THEY???   SERIOUSLY, CAN PEOPLE USE THEIR BRAIN??????   If ALL THOSE KIDS GOT IT AND LIVED WITHOUT SUFFERING ANY SERIOUS CONSEQUENCES… WHAT IS TO FEAR?  
IF the Measles has now become some horridly dreadful disease to be faced with fear and trembling than it is due to tampering by the Psychotic Scientific Community.  Someone has then tampered with the DNA of the disease and created something evil!  Which, would not surprise me in the least.  Just as they have tampered with EVERYTHING else.  NOTHING is as it was before.  They are creating a world that I don't even recognize.  Anything they can get their hands on they pollute and/or destroy.   My Dad used to joke about things that claim to be "NEW and IMPROVED".  Anytime you see that statement on a product RUN!!  That means that scientists have tampered with it and it is no longer safe! 
When I was growing up, Measles, just like any other childhood disease was nothing to be feared.  As a child our bodies were healthy and they were able to overcome any germs and once you recovered you were IMMUNE FOR LIFE!  It was just a normal part of growing up. Those who were not able to fight the diseases on their own, could seek assistance from the doctor or worst case the hospital.  RARELY, someone died.  That too is part of life. 
In 2014, the CDC estimated that vaccinations administered to children born during the 20-year era since the beginning of the Vaccines for Children Program in 1994 had stopped 21 million hospitalizations and 732,000 deaths in their lifetimes. That program was partially launched in response to hundreds of deaths from the measles virus over the years 1989-1991.
OK, well here I have to say that I have no faith in the CDC's estimated guess as to how many deaths they prevented.  In my opinion, their crystal ball is pretty shady.  They state their vaccination program was in response to hundreds of deaths over a three year period.  How many hundreds?  Even if it was a thousand… still not a large percentage of the population.  
Now, I have to ask you, why are we getting so worked up, and up in arms about some normal childhood disease, when people who have probably never been immunized, who are coming from countries dealing with all kinds of diseases and even truly deadly epidemics are pouring into our country illegally.  These folks we are embracing happily while paying their way to crisscross our nation, ensuring they spread any germs, viruses, fungi or bacteria they bring with them?  Does any of this make sense to you??
UPDATE 6/21/19
Office of the Texas Governor
Greg Abbott
*Family Unit represents the number of individuals (either a child under 18 years old, parent, or legal guardian) apprehended with a family member by the U.S. Border Patrol. In May, 132,887 people were apprehended between ports of entry on the Southwest Border, compared with 99,304 in the month of April and 92,840 in March.
"We are in a full-blown emergency, and I cannot say this stronger: The system is broken," said acting CBP Commissioner John Sanders.
By Julia Ainsley – June 5, 2019,  CDT
Border Patrol officers encountered more than 144,000 undocumented immigrants at the southwest border in May, the largest monthly total in 13 years, officials said Wednesday.
More than 132,000 were stopped while crossing the border illegally; the rest presented themselves at legal ports of entry, Customs and Border Protection officials said.
May marked the third month in a row that more than 100,000 immigrants were taken into custody at the border amid a surge of migrants heading north in large groups from the Northern Triangle countries of Guatemala, Honduras and El Salvador.
MAY 30, 2019  02:09

More than 19,000 immigrants are currently in CBP custody. Nearly 1,000 border patrol officers have been moved from northern ports of entry, airports, sea ports and elsewhere along the southwest border to assist border agents in areas experiencing the highest influx of migrants.

Of the 132,000 who were caught entering the country illegally, more than 84,000 were traveling as a family unit, 36,000 were single adults and 11,000 were unaccompanied children.

So far this fiscal year, 610,000 immigrants have been apprehended by CBP for illegally crossing between ports of entry. If the current numbers continue, they could surpass 2006 levels, said one official.

The monthly figures were released on the same day that American and Mexican officials are slated to hold high-level talks at the White House to discuss President Donald Trump's threat to impose tariffs on Mexican goods.
spacer