Wow, this is some very significant stuff.  Not being a fan of Fantasy Games or Shows, I have never even watched a single episode of Game of Thrones.  But, Yah made sure I did not miss this series of events.  Apparently, this promotion has been going on since March 19.  In preparation for the new season of the show, their 8th season they have been carrying on a "Quest for the Throne".  This was a GLOBAL Quest for 5 different thrones and online clues using themes and locations from the series.
As the CROWNING GLORY of this quest, they ask their fans "How far will you go for the Iron Throne?" and to "Bleed for the Throne".   Seriously!  They are not only asking,
is challenging their fans to offer their life's blood in sacrifice. "For several seasons you've watched characters lie, bleed and sacrifice for the Iron Throne.  As the final season approaches, ONLY ONE QUESTION REMAIN: HOW FAR WILL YOU GO?"  They have "built a war camp and staffed it with 80 costumed performers" to bring the fans into the World of their IDOLS, to donate their own blood, in sacrifice. This is absolutely sick, and the significance of this act will go undetected by the fans who are so wrapped up in this series they are dying to be part of it. 
 This week's celebrations also include an amazing Pyrotechnic Show, at the Bellagio Casino in Vegas, that included Viserion the Dragon and the Night King!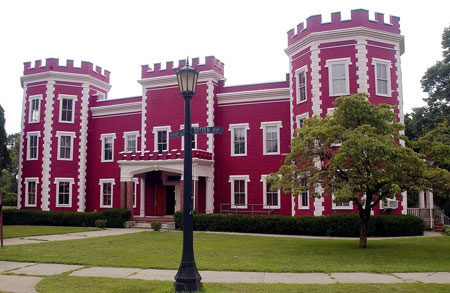 Never fear, the NWO Capital of New York City was not left out of the Celebration.  A Huge IRON Thrown appeared at Rockafeller Center (Naturally) right behind Prometheus (Appollo/The Golden Boy) surrounded by the flags of the Nations cutting through the air in the winds, declaring his glory.
Queens, New York, was also found to have installed their own smaller version of the Iron Throne in Fort Totten Park.  Very interestingly this location is home to a huge Red Castle.
The Queen of Queens. #ForTheThrone#ThroneoftheCrypt http://forthethrone.com/quest
"It's just a TV show but it's not, it's more than that." 
Surely you recall that Barack Hussein Obama starred in a video where he was seen seated upon this very IRON Throne. 
If you fail to recognize the significance of this series of events… I pray that YAH will open your eyes of understanding.  Bear in mind that EVERYTHING they present to you these days has Magick behind it.  The images, phrases, slogans, personalities they present are part of the Magic Working.  They are focusing YOUR energy into their Spells, making you part of your own destruction.  This series of events is preparing you to wage war, compelling you to violence against others and against yourself, to spill your blood…a sacrifice for the Throne of Satan.  Remember…the Life is in the Blood.  You are also being prepared to bend your knee and bow before the throne… not of the TRUE and Living GOD, but of the FAKE, Pretender, Charlatan, Deceiver, Imposter, Fraud, Joker that is AntiChrist. 
Don't you know that Antichrist is itching?  He knows better than anyone what time it is and in his mind… THIS IS HIS TIME.  He is so close to obtaining everything.  His shining moment has arrived and he is hungry to see the fruition of all of his efforts. 
The following is my personal opinion, to which I am entitled.  You can take it or leave it.  It is my right to express it.
AntiChrist is ready to OCCUPY the human of his election.  Let's take a look at Barack Hussein Obama – the PRIME, NUMBER ONE Candidate.
He is neither Man nor Woman…according to sources who witnessed his sexual preferences.
He is neither Black nor White… in fact he would be considered "GOLDEN".
No One really KNOWS his origin.  The facts are so muddled.  Who is his father? Where did he originate?
He is not a man of any one nation… but sees himself as a man for all nations… and all nations adore him.
He has no true allegiance to any God… He, like most elites, wants to be GOD!
Obama already sees himself as THE GLOBAL DICTATOR.  He has tried that IRON throne and he LIKED it.  He can't wait to sit on it in the official capacity, on a GLOBAL scale. Don't you know that spirit inside him just tingled with anticipation as he settled into that throne?
What human being on the earth today, would make a better host for the Spirit of AntiChrist, which I believe is already at work in him.  Again, all this is my opinion, to which I am entitled.
BUT THIS PART IS FACT: TIME IS UP folks… Honestly, we are in the final moments of Earth as we knew it. The world has been PRIMED and is ready for TOTAL Destruction, UTTER CHAOS, out of which the AntiChrist proposes to RISE.
'Iron Throne' is seen at the launch of the Game Of Thrones Exhibition at the Museum of Contemporary Art on June 30,
2014
, in Sydney, Australia. (Photo by Lisa Maree Williams/Getty Images)
Time to tap into our inner Sherlocks, Throneheads. HBO has a challenge for us. After urging us to "Bleed for the Throne" (for a good cause, no Red Wedding recreations, please), HBO has kickstarted the "Quest for the Throne" in anticipation of the April 14 premiere of Game of Thrones season 8.
I. Fucking. Love. It. Get excited folks. It's actually happening, Game of Thrones is coming back and to get people pumped up about it they plopped a giant Iron Throne down in Rockefeller. What a power move. I mean it, that's how you get the people going. Game of Thrones is one of the last shows where literally the entire world is watching it. People are walking by that big chair this morning and thinking in their heads, "Fuck yes. GOT is coming back and coming back soon." Obviously the show doesn't need any publicity so the Iron Throne at Rockefeller Center is clearly just a, "GET EXCITED STAY EXCITED" play. I do wish the Iron Throne was a little smaller so people could sit on it.

By the way, I've long been the face of the Stay Alive Until We See How Game Of Thrones Ends brigade but there's a real chance I have a heart attack and die as soon as the theme music hits on April 14th. It's all just too much. It's just a TV show but it's not, it's more than that. There's so much at stake and the hype is so high that I might just die as soon as the final season starts. That sounds dramatic but it's how I feel. There's just too much happening and I don't know if I can take it.
For example, they dropped this 1 minute trailer yesterday
Fight for the living. #GameofThrones pic.twitter.com/GpG7m53Nqg

— Game of Thrones (@GameOfThrones) April 2, 2019
Iron Throne Replica in Front of Rockafeller Center
A Game of Thrones fountain display in front of the world-famous Bellagio casino-resort in Las Vegas debuted on Sunday. The display is leading up to the debut of the series' final season later this month.
Link to Video: Click HERE
spacer
spacer
Someone call Daenerys, because a familiar blue-fire-breathing dragon has taken over the Bellagio in Las Vegas, and he isn't alone.
As part of the excitement leading up to the season eight premiere of Game of Thrones, HBO and water feature company WET Design have partnered to create a three-and-a-half-minute light and water spectacular. Even more exciting? One of our favorite villains is the star: the Night King!
"The Bellagio fountain is iconic," Game of Thrones composer Ramin Djawadi told the Associated Press. "It's known around the world, and so is Game of Thrones, so I think putting them together and seeing the music choreographed to a fountain like that is quite the spectacle."
The show starts out with tranquil music, scored by Djawadi, and soft blue lights to mimic the blizzards and cold of the long winter. Soon enough, though, the show's custom score transitions into the familiar climactic Game of Thrones theme song and Viserion swoops in to steal the show. "You'll feel and you'll see the shadows of those dragons, and then at the end when the dragon incinerates the ice wall, it catches our lake," Mark Fuller, CEO of WET Design, said in a press release video. "And, if you thought maybe water didn't burn, oh my gosh — you've got to see what this dragon does to the lake of the Bellagio."
As part of HBO's #ForTheThrone initiative, the show is complete with pyrotechnics, colorful lights, and shadow-like projections of both Viserion — Daenerys's dragon-turned-White Walker — and the Night King as he marches forward through the flames of battle (and possibly toward Casterly Rock). The most interesting detail? If the end of the fountain show is anything to go by, it looks like the fight for the throne is going to go down in flames.
The limited-run event will be on display twice nightly at the Bellagio at 8 p.m. and 9:30 p.m. now through April 13. Check out photos and a video of the entire flame-fueled fountain show below.
It didn't take long for fans to get a little too familiar with the Iron Throne at Rockefeller Center in New York City.
The throne landed in New York on Tuesday, ahead of the red carpet premiere of "Game of Thrones" Season 8 at Radio City Music Hall on Wednesday night. Security guard Michael David, who's tasked with protecting the structure, told Variety that he's had to keep people from climbing on it and trying to snap off pieces as a souvenir.
"Somebody already stole one of the swords," David said.