UPDATES: Article Added 12/19/22  Travel Alerts and Snow and Freeze Warnings
It looks like this Arctic Blast is a reality.  Much of the nation will have a WHITE CHRISTMAS they will likely never forget.
Advisories are warning everyone to prepare.  Have lots of warm clothes, blankets, heating options, cooking options and plenty of water on hand.  Charge up all your batteries, cellphones and radios.  I suggest you also have some entertainment options on hand.  Board games, reading material, needle craft, puzzles, etc.  Something to pass the time, your internet and TV will likely not be working and if you can keep your cellphones charged you will need them for communication.
It is VERY LIKELY that some or even ALL of the GRID will go down.  If this is part of the plan, which I suspect it may be, then they are going to try to freeze us out.
I strongly urge everyone to get as close to God as possible.  He is our hope, our protector and our provider.  If you are a child of GOD you are covered!!  Trust HIM.
We can ride this through, with the Help of the Lord!!spacer
spacer
spacer
END OF UPDATES
Oct 13, 2022
The Old Farmer's Almanac is predicting a divided nation — with 
harsh
winter
 in the East and mild weather in the West. Out West, even if temperatures are mild, the predicted above-average…
Winter—It's Coming!
The first day of winter and the shortest day of the year, officially arrives on December 21, 2022, but that doesn't always mean that the cold temperatures and snow storms will wait until then. So what's in store? Here's the Farmers' Almanac extended winter weather forecast for the winter of 2022-2023 in the United States. Read on.
The Farmers' Almanac 2022-2023 Extended Weather Forecast:
Got flannel? Hot chocolate? Snowshoes? It's time to stock up! According to our extended forecasts, this winter season will have plenty of snow, rain, and mush—as well as some record-breaking cold temperatures! We are warning readers to get ready to "Shake, shiver, and shovel!"
The first bite of winter should come earlier than last year's. December 2022 looks stormy and cold nationwide with an active storm pattern developing and hanging around for most of the season over the eastern half of the country. (Maybe there will be a white Christmas in some areas?)
What we hear more often than not is how much snow will you get? When will the winter storm warnings start? (And when will it end!?) Well, according to our extended forecast, there should be quite a few significant winter weather disturbances nationwide in 2022-2023. A few of these dates include:
1) The first week of January in the Rockies and across the Plains. During this time, we see good potential for heavy snow that may reach as far south as Texas and Oklahoma, followed by a sweep of bitterly cold air. 
2) January 16-23, we'll raise another red flag for bouts of heavy rain and snow across the eastern two-thirds of the country followed by what might be one of the coldest outbreaks of arctic air we have seen in several years. How cold? Try 40 degrees below zero!
Check out our 20 Best Life Hacks To Get You Through Winter
How Much Snow Will You See This Winter Season?
Winter 2022-2023 should be dominated by an active storm track in the eastern half of the country, running from the western Gulf of Mexico to the northeast, across the Virginias, and across interior New York State and New England.
Areas south of the storm track (much of the Southeast) will see frequent storms bringing cold rains and a wintry mix of wet snow, sleet, ice, freezing rain—as well as chilly temperatures.
The I-95 corridor can be included in this winter mix zone with places to the north of the track seeing the precipitation fall more as snow and at times, a lot of it. This may be especially true over the Ohio Valley and Great Lakes area.
Snow lovers will be happy in the North Central States as they will see a fair share of storminess during the winter season, which should mean plenty of snow for winter enthusiasts to enjoy (maybe even in time for a white Christmas?).
The South Central States are forecast to see some accumulating snow, especially in early January. The Far West and the Pacific Northwest will see about-normal winter precipitation; however, the Southwest will experience less than normal.
Winter is coming, and U.S. forecasters are predicting the extreme drought that is affecting more than half of the country will continue, especially in the West.
According to the National Oceanic and Atmospheric Administration's winter outlook, which was released Thursday by the National Weather Service, La Niña — a weather phenomenon caused by the natural cooling of seawater in the tropical Pacific Ocean — will return for the third consecutive winter.
The climate pattern affects the position of the jet stream, resulting in dry conditions in the southern half of the country and wetter conditions in the northern half. It's the opposite of El Niño, which occurs when water in the Pacific Ocean is warmer than average.
NOAA's US 2022-23 Winter Outlook Maps
Widespread extreme drought, which continues to persist across much of the West and Great Plains, will continue with La Niña in place.
"Parts of the Western U.S. and southern Great Plains will continue to be the hardest hit this winter," said Jon Gottschalck, operations chief of NOAA's Climate Prediction Center. "With the La Niña climate pattern still in place, drought conditions may also expand to the Gulf Coast."
However, drought conditions are expected to improve across the Pacific Northwest over the coming months — welcome news for people in Oregon and Washington who are choking on wildfire smoke that has covered the region.
NOAA's winter outlook calls for warmer-than-average temperatures for the South and Southwest and wetter-than-average conditions for areas of the Midwest, northern Rockies and Pacific Northwest.
The greatest chances for warmer-than-average conditions are in western Alaska, the central Great Basin and the Southwest, extending through the southern Plains, forecasters say, while wetter-than-average conditions are most likely in store for western Alaska, the Pacific Northwest, northern Rockies, Great Lakes and Ohio Valley.
The seasonal outlooks are meant to provide American communities with a rough guide for temperatures, precipitation totals and drought conditions for the 90-day period.
The winter outlook does not project seasonal snowfall accumulations, as those forecasts are "generally not predictable more than a week in advance," NOAA said.
spacer
A cold blast could have rampant effects across the country
Dec 16, 2022, 12:00pm CST
A blast of Arctic air is going to engulf the lower 48 states, dropping temperatures as much as 30 degrees below average.
No region is being spared, including the usually temperate South, the Great Plains and the Pacific Northwest.
The brunt of the blast is expected to arrive Dec. 21 and linger through Christmas, dropping temperatures into single digits or even below zero, according to weather.com.
Ahead of the extreme cold, some regions will be dealing with heavy snow, including the Northeast and the Great Lakes areas.
Homeless suffer: In Sacramento, the bone-chilling cold is driving the homeless into shelters in numbers officials say they have not seen before.
In all, the county has been assisting nearly 400 people a night for the past three weeks. It's the most people they've had during a weather activation by far, according to KRCA.
"The fact that there are more people unsheltered on the street definitely means that there are more people that need these services and I think that the duration of this cold weather event also plays a part," said Sacramento County's Janna Haynes who works with the Homeless Initiatives division, as quoted by KRCA. "We're seeing seven, eight, nine days where the temperatures overnight are really low."
Since 2020, the Sacramento County Coroner's office has recorded 14 hypothermia-related deaths among homeless individuals.
Industry preparing: The cold snap also has industry on its heels.
The Railroad Commission of Texas issued a warning on Thursday to oil and gas pipeline operators that next week will see "significantly colder temperatures."
A statement from the RRC of Texas cited the National Weather Service, which is predicting periods of colder temperatures for the latter part of next week. The RRC is recommending that oil and gas pipeline operators monitor weather reports, and secure all personnel, equipment and facilities to prevent injury, as well as prepare operations for potential impacts.
In February 2021, Texas found itself woefully underprepared for freezing temperatures. When Texas temperatures dip as low as they did then, the state relies heavily on natural gas. But its natural-gas-fired power plants faced myriad problems such as components freezing, forcing some shutdowns, according to Oilprice.com.
The cold hit Utah on Thursday and will linger for a few days. The Salt Lake International Airport was logging 22 degrees Friday morning.
More storm activity is forecasted for next week, leaving people hopeful there might be a fresh, white Christmas after all.
spacer
Colder-than-normal weather is brewing and is expected to hit the U.S. over the course of the next 10 days.
An Arctic blast is moving eastward, and cold air is collecting from higher-than-average snowfall in Alaska and Canada. The blast has started to merge into the lower 48 states. Northwestern states have already been subjected to frigid temperatures, with parts of Idaho and Wyoming experiencing temperatures more than 20 degrees colder than normal, and the cold is expected to grow even more brutal as the blast fully enters the country next week.
The extremely cold air will hit Montana first next Wednesday and continue to move southeast. It will take roughly two days before it reaches Texas, and the lengthy swath of cold air will remain in the northern states as well.
The uncharacteristic frigid temperatures have some Texans worried whether the power grid will be able to withstand the high demand. In February of 2021, three severe winter storms crippled the Texas power grid, pushing electricity offline for millions for several days as power organizations worked to remedy the issue. The Electric Reliability Council of Texas (ERCOT) declined an interview with Newsweek but said it is "monitoring the forecast and models closely."
"[ERCOT] will deploy all available tools to manage the grid reliably," ERCOT said in an email. "ERCOT expects sufficient generation to meet forecasted demand at this time."
Texas will experience the uncharacteristic cold air for only a few nights, according to AccuWeather Chief Meteorologist Jonathan Porter. It is not likely that the extreme cold will be accompanied by snow or ice, meaning the power grid has a better chance of persevering. Although any extreme cold is a test to the Texas power grid, Porter said the shorter timeframe of cold likely won't stress the grid as much as in February of 2021. However, he warned people to be prepared.
One forecast predicts that the Texas' panhandle and north-central cities in the state will receive the worst of the cold blast, with temperatures falling as far as 30 degrees below normal. That means some areas might plunge into single digits.
"It's going to be a notable change for Dallas and Fort Worth," Porter told Newsweek. "They have been running considerably above average in terms of temperatures, so dealing with this is going to be a big change."
The stretch will last much longer in the northern states. According to a forecast model tweeted by meteorologist Brad Panovich this week, by the time the cold air reaches Texas next Friday, northern Plains states will have experienced the Arctic blast for nearly a week and won't see temperatures rise until Christmas or the day after.
Montana, Wyoming, North Dakota and South Dakota will be hit the hardest. Some areas could experience temperatures more than 50 degrees lower than average. Porter said that could mean -35 to -40 degrees, potentially record-breaking cold in the Dakotas, Colorado and Wyoming.
As the blast moves eastward, it loses some of its potency once it hits Illinois. Central Illinois could experience temperatures as much as 36 degrees below normal. States east of Illinois will still feel the chill, with the forecast predicting Florida to see temperatures as much as 30 degrees below average for late December.
The blast is bookended by two warm periods, with slightly warmer-than-normal temperatures moving eastward from the Pacific Northwest beginning two days after Christmas.
The post Arctic Blast Will Hit These Areas Hardest as Texas Braces for Blackouts appeared first on Newsweek.
spacer
Texans could have a dark, cold Christmas if an Arctic blast headed east continues its path.
Texas suffered a massive power grid failure in February 2021 after three severe winter storms and frigid temperatures stressed the grid. The grid's failure resulted in millions of Texans losing power, leading to a lack of food, water and warmth. The failure proved fatal, and hundreds died because of the outage. The failure dealt a blow to the economy as well, resulting in a loss of at least $195 billion.
Since the 2021 power grid failure, other uncharacteristic storms have hit the Lone Star State, but none have threatened the grid to the same extent. According to one meteorologist, that could change by Christmas.
WCNC Meteorologist Brad Panovich shared a forecast depicting temperatures for the next two weeks. Much of Texas will be subject to much colder than normal temperatures for several days over Christmas.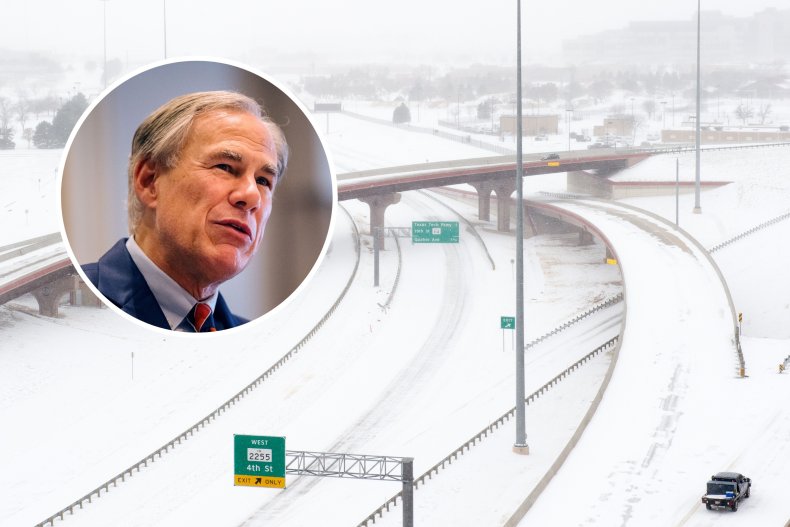 "The bigger story going forward is the Arctic blast that moves into the west first then pushing east for Christmas," Panovich tweeted. "The Texas Grid is going to be tested again."
The bigger story going forward is the Arctic blast that moves into the west first then pushing east for Christmas. These are departures from average. The Texas Grid is going to be tested again. #cltwx #ncwx #scwx #wcnc pic.twitter.com/IpFvd011fL

— Brad Panovich (@wxbrad) December 13, 2022
spacer
The forecast shows Texas experiencing a quick cold blast with temperatures as cold as 17 degrees lower than the average before returning to normal on December 19. Texas is expected to be hit with a warm spell roughly three days before Christmas, but the temperatures plunge beginning December 23 and continue to dip through Christmas.
The entirety of the state is expected to have colder than normal temperatures, with northern Central Texas subject to the coldest temperatures as low as 30 degrees colder than the state's average. Temperatures begin to ease after Christmas, but the state could still be subject to temps that are 14 degrees lower than the average for late December.
In 2021, the grid was pummeled by frigid temperatures, ice and snow, making it an especially dangerous environment for the southern state. In the days leading up to Christmas, AccuWeather Chief Meteorologist Jonathan Porter expects the storms to miss Texas on the days that frigid temperatures are felt throughout the state, but it's something the weather team is watching closely.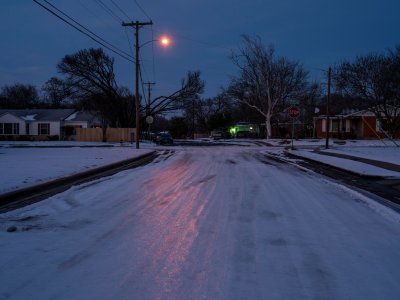 "There's going to be a notable surge of arctic air into Texas and it will be very chilly," Porter told Newsweek. "Single digits will be achieved some nights as far south as the suburbs of Dallas."
The extreme cold is only expected to last for one or two nights in Texas, which might allow the power grid to continue operating since the cold likely won't be accompanied by damaging storms forecasting ice and snow. However, Porter said the cold temperatures do stress the grid, and the upcoming cold nights will reveal how resilient the grid is to cold temperatures.
After the February 2021 failure, Harvard Kennedy School faculty spoke with energy expert Bill Hogan and sought answers to why the grid struggled during the severe weather. Hogan responded that the storms caused low temperatures statewide, which was an "unusual event".
"When the problem is large enough or everywhere is in trouble, the same instantaneous response can propagate the damage and produce a total system failure," Hogan said.
KUT radio station in Austin, Texas, published an article last month that acknowledges if the state falls victim to uncommonly severe winter storms and temperatures such as those experienced in February 2021, the grid could experience a repeat failure.
The report provided information from the Electric Reliability Council of Texas' quarterly Seasonal Assessment of Resource Adequacy, which found under the "most extreme conditions", there could be a lack of power again.
Over the summer, when heat records were set in the state, Abbott's press secretary, Renae Eze, told Newsweek this about Texas' power grid: "Since May, Texas has set and broken power demand records 26 times without any systemwide issues or disruptions for the more than 26 million Texans served by the electric grid.
"The ERCOT power grid has been able to meet those challenges and respond in record ways, providing more power than ever before and doing so more efficiently, in large part because of the reforms passed last session and the increase in power generation by more than 15 percent over last year."
spacer
Josh's Severe Weather discusses the attack of the coldest air in many winters next week, along with the possibilities for winter storms from coast to coast, leaving the potential for some Southerners to have a White Christmas!