RESTORED 2/22/22
SATAN HAS MANAGED TO TURN OUR WORLD UPSIDE DOWN.
WOW…  Our nation has been completely invaded by foreigners who hate America, who have forced their way in and want to change it to their liking.  We are not only welcoming them and providing them with support physically and financially but now we are taking on their Pagan Practices.  INSANITY!
Well, that is what we get for embracing the ROMAN authority.  ROME is getting what it rightly deserves. If you don't think that we are ROMAN, take a look again.  Everything about our nation is ROMAN!  Our laws, our language, our medical industry, our education system.  WE (the proverbial "WE" as a nation, not individually) ARE PART OF THE HOLY ROMAN EMPIRE.  UNDER THE GOVERNORSHIP OF ROME!  
Rome, in the interest of UNITY for their Conquered Empire, chose to compromise with the conquered and combined their pagan practices with the already compromised CHURCH of ROME.  After all, when you are POLYTHEISTIC what is the difference.  You can embrace ALL beliefs.  For the sake of unity, just integrate all the gods but call them by the ROMAN names, the same with all the feasts and "holydays".  That is where we get Easter, Valentine's Day, New Years, Christmas and HALLOWEEN.
Now, it seems that isn't enough.  Now the Pagans want to impose THEIR beliefs and practices on US!  It seems that everything is welcomed and embraced, everything that is EXCEPT BELIEF IN THE ONE TRUE GOD AND HIS WORD!  Anyone who believes that the Bible is the true, inspired WORD of the LIVING GOD is rejected, hated, called a terrorist and persecuted.   And you don't believe we are in the ENDTIMES??? 
HALLOWEEN is not enough WORSHIP OF DEATH??  NOW WE ARE EMBRACING "Día de los Muertos"???   With all the blood and gore in our society already between the TV SHOWS, MOVIES, and VIDEO GAMES we have already seen the EXPLOSION of Violence in our Streets.  The explosion of BULLYING and VIOLENCE in our homes and schools.   YET THE PEOPLE WANT TO BRING IN MORE WORSHIP OF DEVILS?  Yes, yes, I know it seems to you to be just innocent fun and dress up.   YOU ARE FOOLS!  The devil ALWAYS comes dressed as FUN!   Would you open the door if he showed his true self???  DO YOU THINK HE IS AN IDIOT??  He is very intelligent and has had thousands of years to develop his deception.  And he has used those thousands of years very effectively.  He knows that deception is his main tool.  Without it, he has nothing.  
Do you not realize that when you enter into these satanic activities, when you partake of these satanic offerings and activities you open yourself, your homes, your cities and your nation to DEMONIC ACTIVITY AND ULTIMATELY POSSESSION!  If you don't believe me, take a really good close look at what has happened in this nation in the last 30 years!!
WHAT MAKES ME EXCITED about recent events is that it is becoming EMINENTLY CLEAR that you cannot combine the doctrines of devils with FAITH IN THE LIVING GOD!  We have no fellowship with anything that compromises or waters down the WORD of GOD.  Recent events also make it VERY CLEAR that we are in a spiritual battle between GOOD and EVIL, between LIFE and DEATH.  They cannot hide that truth any longer.  I pray that everyone will choose life!  Choose the free gift of life, love and true freedom provided by the sacrifice of Jesus Christ.  DO NOT FALL into the trap of returning to slavery to sin and death disguised as freedom.
Please do not get me wrong.  I believe in freedom of religion.  I believe that everyone should be allowed to believe what they want and practice their beliefs as long as it harms no one else.  I DO NOT BELIEVE in so called "Christians" joining in with the practice of Paganism.   And anyone who thinks that true followers of Christ will do any harm, don't have a clue about the WORD of GOD.  Anyone who is behaving violently in the name of GOD, is not a true believer.   True Followers of CHRIST are only terrorists to DEMONS!  
Update  11/4/19
WHAT's THE BEEF?
Are you kidding?  When I tell people about Dallas's Dia De Los Muertos celebration they can't understand what is wrong with it.  ARE YOU KIDDING??  People got upset about the BAAL ARCHES as well they should, but they don't even recognize that this is no different.  
I WAS SHOCKED when I SAW on the NEWS for a couple days, they were showing the ALTAR that the city erected in downtown DALLAS so that people could come and make offerings!!!   ARE WE INSANE???   
PEOPLE DO YOU KNOW WHAT IT MEANS TO ERECT AN ALTAR???
Ask ANYONE who practices Santeria, or even ask ANYONE who is from MEXICO.  They know full well what it is.  Demonic Spirits have taken over Mexico.  Thanks to Santeria.  The gangs worship the DEMONS and make offerings to them.  They have become so powerful that the police gave up and decided to partake of the same witchcraft/magic to try and fight them.   
WHEN YOU ERECT AN ALTAR you are worshiping a SPIRIT.  You are giving place to devils/demons to come in.  YOU are putting something/someone else above GOD.  
TIJUANA, Mexico (Reuters) –

Police running scared from drug gangs in one of Mexico's deadliest cities are using bizarre rituals involving animal sacrifice and spirit tattoos to seek protection from raging violence on the U.S. border.
In secret meetings that draw on elements of Haitian Voodoo, Cuban Santeria and Mexican witchcraft, priests are slaughtering chickens on full moon nights on beaches, smearing police with the blood and using prayers to evoke spirits to guard them as drug cartels battle over smuggling routes into California.

Other police in the city of Tijuana, across the border from San Diego, tattoo their bodies with Voodoo symbols, believing they can repel bullets.

"Sometimes a man needs another type of faith," said former Tijuana policeman Marcos, who left the city force a year ago after surviving a drug gang attack. "I was saved when they killed two of my mates. I know why I didn't die."

Violence has exploded along the U.S. border since President Felipe Calderon set the army on drug cartels in late 2006. Turf wars have killed 19,000 people across Mexico over three years.

Badly-paid Mexican police have long prayed to Christian saints before going out on patrol in Mexico, the world's second-most populous Roman Catholiccountry after Brazil.  – (well there is the problem right there.   Praying to "Saints" will not bring GOD's protection.  They are praying to demons. If you want God's protection you must not pray to ANYONE BUT GOD through the NAME of Jesus.)  

Cops are part of a messy war between rival trafficking gangs and the army as cartels infiltrate police forces, offering officers cash to work and even murder for them or a bullet if they say no. More than 150 police are among those killed in Tijuana and the surrounding Baja California state since 2007.

Army raids on homes of police working for cartels have found ornately adorned Santeria-type altars covered with statues and skulls stuffed with money paying homage to gods and spirits.

"We all know that guns and body armor are useless against the cartels because they are well-armed and can attack any time. But this is something we can believe in, that really works," said a Tijuana-based policeman called Daniel.

A battle between top drug lord fugitive Joaquin "Shorty" Guzman and the local Arellano Felix drug clan has wrecked tourism in Tijuana and shuttered manufacturing businesses.

Small groups of police in the city started turning to strange rituals about 18 months ago, a practice spotted when municipal cleaners found a trail of dead chickens on beaches.

Priests and policesay the animal sacrifices release life to rejuvenate spirits that will shield officers against hitmen. They believe the effects are intensified on full moon nights.  ARE YOU KIDDING? The Priests are telling them to worship SPIRITS!!!!

Many police see a need to shield themselves from witchcraft used by drug gangs who mix Caribbean black magic and occultism from southern Mexico using things like human bones, dead bats and snake fangs to curse enemies and unleash evil spirits.     I got news for you.  They do much more than that to get the protection. THEY HAVE TO SACRIFICE HUMAN BEINGS.  Is that the next thing the Police will try???

Others worship the Mexican cult of "Saint Death", a skeletal grim reaper draped in white and carrying a scythe.  Saint DEATH aka SANTA MUERTA.   As in Dia De los SANTA MUERTA

The rituals are carried out by sometimes shadowy Mexicans who have menial day jobs and are priests by night. They claim to be trained in Voodoo, Santeria and other religions from time spent in the Caribbean and in Mexican towns like Catemaco, a center for witchcrafton the Gulf of Mexico.

Police have the quiet support of their superiors.  So their superiors know that the police are practicing witchcraft!! And they condone it. 

"

We know some agents use charms, saints and other methods for their protection

," said

Baja California federal police chief Elias Alvarez.

"

They look for something to believe in.

"

Mexico's often poorly armed police are intimidated by hitmen with automatic rifles, grenades and rocket launchers and despite low wages of around $300 a month some pay up to $160 for a tattoo of a Voodoo spiritlike the three-horned Bosou Koblamin who protects his followers when they travel at night.  Writing by Robin Emmott; Editing by Catherine Bremer and Kieran Murray
LET ME TELL YOU SOMETHING PEOPLE, THERE ARE NO SPIRITS YOU CAN CALL UP TO PROTECT YOU FROM DEMONIC SPIRITS OR DEMONICALLY CONTROLLED PEOPLE.   YOU ARE PLAYING WITH FIRE.   IF YOU WANT PROTECTION,  GET CLOSE TO GOD. HE IS THE ONLY ONE WHO CAN PROTECT YOU.  CALL ON OUR HEAVENLY FATHER IN THE NAME OF HIS SON.  HE WILL SEND HIS ANGELS TO WATCH OVER YOU.  BUT, DON'T BOTHER CALLING IF YOU ARE NOT WILLING TO GIVE UP YOUR LIFE OF SIN AND REBELLION.  
TATOOS ARE FORBIDDEN BY GOD.  TATOOS OF DEMONIC SPIRITS WILL OPEN YOU UP TO DEMONS!   BE WARE BEWARE BEWARE.  
It is unclear just how much any of this actually works, but it is certainly clear that the men truly believe it does. It gives them a sense of relief and hope in the face of the specter of death that they face every day, offering a degree of mental fortitude to carry out what they know must be done. The drug wars still go on in Mexico, claiming scores of lives both civilian and police, and it is interesting that even in these modern times there are those who would fall back on magic in these dark days in order to give them some sort of competitive edge when all seems lost. Whether it is out of true belief or plain desperation, whether this magic they are trying to conjure up works or not, it is certainly a strange tactic to take for law enforcement officers, but perhaps with the hopelessness they seem to face anything is worth a try, and that desperate times call for desperate measures.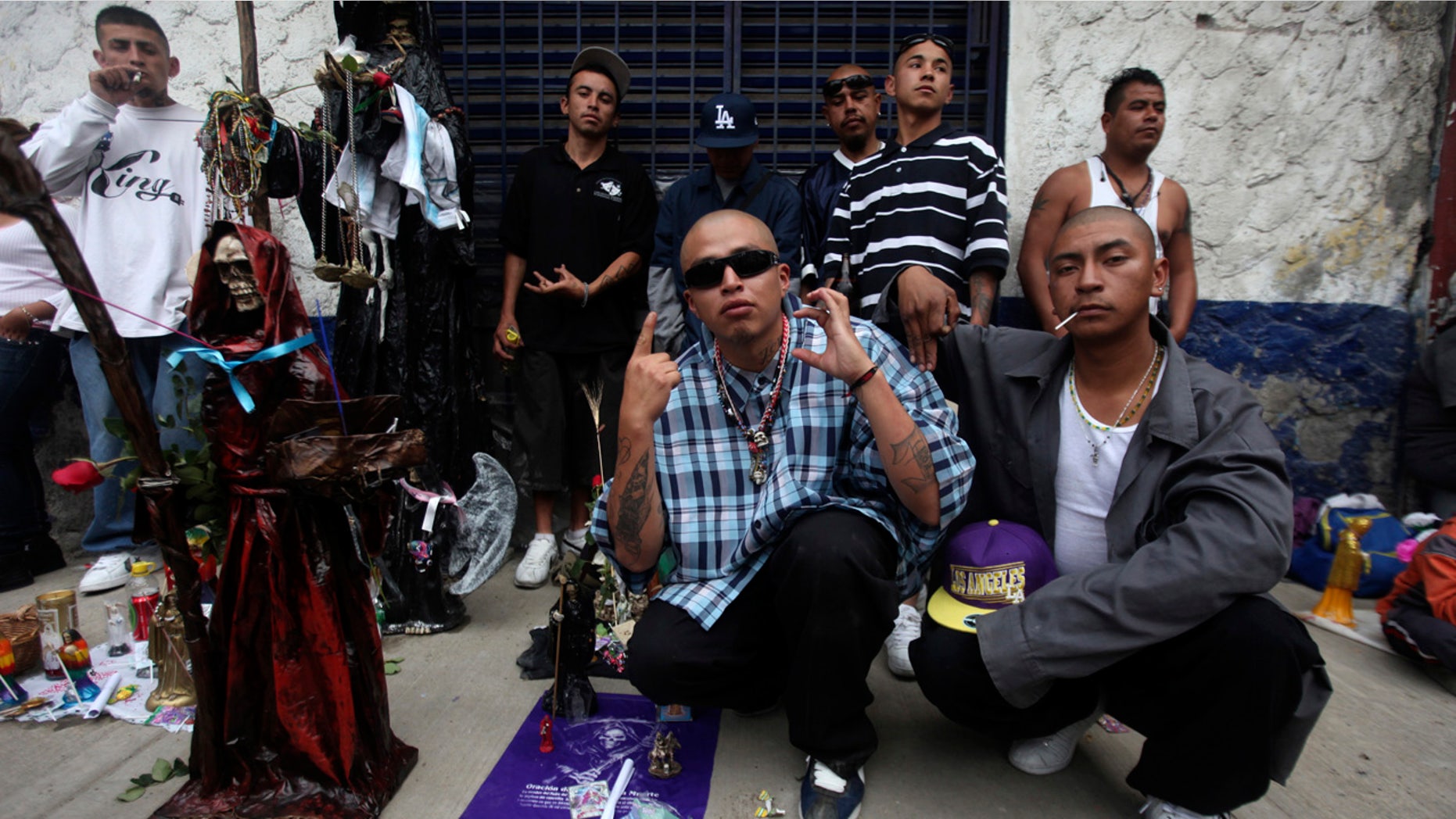 A Mexican folk religion involving human sacrifice and devoted to "Holy Death" is growing in popularity among drug traffickers and violent criminals, prompting Texas officials and the Catholic Church to warn about honoring the so-called "Saint Death."

Authorities are speaking out about the religion devoted to La Santa Muerte, which translates to "Holy Death" and "Saint Death," that has gained popularity steadily since the late 1980s among Mexican-American Catholics.

"She's not a saint. There is nothing good that can come out of praying to her," Sante Fe Archbiship John Wester said in February. "We have a lot of saints who represent the teaching of Jesus Christ. This is an aberration."

Clad in a black nun's robe and holding a scythe in one hand, Santa Muerte appeals to people seeking all manner of otherworldly help, from fending off wrongdoing and carrying out vengeance to people seeking protection for their drug shipments against law enforcement.

Devotees often use Catholic prayers and set up shrines in "her" honor.

The Catholic Church in Mexico and the U.S. denounces the skeleton "saint," and warns that worship is spiritually dangerous. In February, Wester, El Paso Bishop Mark Seitz and San Angelo Bishop Michael Sis in Texas joined their counterparts in Mexico in urging Catholics to avoid honoring the folk saint and called her "antithetical" to the teachings of Jesus Christ.

Law enforcement officials in Austin, Texas told KVUE the religion has become prominent among drug traffickers and violent criminals.

"We're seeing more and more criminals that are praying to Santa Muerte," Robert Almonte, a former narcotics detective, told the television station.

Almonte, who now gives seminars across the country educating law enforcement on the signs of the folk religion, said officers are now "encountering elaborate Santa Muerte shrines" when entering homes on drug search warrants.

Austin police told KVUE they haven't seen any ritualistic killings in the area, but in two separate incidents the names of a judge and probation officer were found written on a piece of paper.

"Their hope is to actually have the officer or detective or what not – something bad happen to them and they might be able to go free from their cases,"  an undercover officer told KVUE.

A 2008 kidnapping by Gulf Cartel members of rival members in the Sinaloa Cartel featured executions in public Santa Muerte shrines, according to a 2014 FBI law enforcement bulletin.

And a massacre earlier this month of more than two dozen prisoners in a Mexican prison may be tied to a ritual of Santa Muerte, the Catholic News Agency reported.

The killings of 28 prisoners at the Las Cruces jail in Acapulco included executions "in the middle of a ritual to Santa Muerte" led by drug traffickers, according to documents obtained by the Mexican newspaper Reforma.

State authorities refused to comment on the ritual aspect of the massacre, but Roberto Alvarez Heredia, security spokesman for Guerrero state, said in the statement the killings began because of "constant dispute between rival groups inside the prison."

The Associated Press contributed to this report.
Unfortunately, these people are deceived.  There are people all over the world who are suffering and find themselves in scary situations feeling helpless.  These people turn to witchcraft, voodoo, Santeria, all types of dark magic and dark spirits looking for relief, or looking for riches or love.  This has always been the way the devil traps people.  He draws you in with something that looks too good to resist.  Once you turn to him, you are trapped.  You may not know it for a while…but eventually you will learn opening the door was the biggest mistake of your life.  Once the spirits have you…they will make increasing demands of you.  
IF YOU CAN'T SEE YET THAT WE ARE IN A SPIRITUAL BATTLE. WAIT A LITTLE WHILE BECAUSE THIS INSANITY IS COMING TO YOUR DOOR!
WHAT IS HAPPENING TO AMERICA???   HAVE WE ALL LOST OUR MINDS???  HAVE WE BECOME PAGANS, AS THOSE WHO HAVE NEVER HEARD THE GOOD NEWS OF SALVATION FROM SIN AND DEATH????
THE BIBLE SAYS OVER AND OVER THAT GOD's PEOPLE PERISH/ARE DESTROYED FOR LACK OF KNOWLEDGE.   IF YOU DO NOT UNDERSTAND SPIRITUAL THINGS>>> YOUR ENEMY WILL WALK ALL OVER YOU!!   WAKE UP!
My people are destroyed for lack of knowledge;
because you have rejected knowledge,
I reject you from being a priest to me.
And since you have forgotten the law of your God,
I also will forget your children.
Job 36:12

 
Behold, God is mighty, and despiseth not any: he is mighty in strength and wisdom.
He preserveth not the life of the wicked: but giveth right to the poor.
He withdraweth not his eyes from the righteous: but with kings are they on the throne; yea, he doth establish them for ever, and they are exalted.
And if they be bound in fetters, and be holden in cords of affliction;
Then he sheweth them their work, and their transgressions that they have exceeded.
He openeth also their ear to discipline, and commandeth that they return from iniquity.
If they obey and serve him, they shall spend their days in prosperity, and their years in pleasures.
But if they obey not, they shall perish by the sword, and they shall die without knowledge.
Proverbs 10:21 
21 The lips of the righteous feed many,
    but fools die for lack of sense.
When the US was known as a Christian Nation and GOD was honored here, we lived under his grace, protection and provision.   AMERICA has turned it's back on GOD.  We are beginning to see what it is like to live without Him.  
Here are more US Cities worshiping this "Saint of Death" worshiped by Mexican drug gangs, and Mexican police, as well as the general public in Mexico.  And this is only the TOP 10, Lord knows how many others did not make the list. THIS WILL BRING THE WRATH OF GOD!! 
Día de los Muertos is a two-day long celebration of friends and family that have passed. Traditionally celebrated in Mexico, the festival has worked its way North thanks to a growing Hispanic population in the United States, and has exploded in popularity with the help of Disney's animated movie Coco and the vibrant aesthetic.
We looked to see where Día de los Muertos is popular in the US according to Google search data. Here are the Top 10 Cities Celebrating Día de los Muertos.
Chula Vista has some of the highest search volume per capita for Día de los Muertos. That combined with the proximity of San Diego to Mexico makes it a prime location for the festival. Where to Celebrate in San Diego
El Paso surged up the rankings to grab the #2 spot in 2018 and like many of the locations it has a strong representation of Mexican culture. Here's where you can find the celebration. Where to Celebrate in El Paso
Corpus Christi is a unique city on the coast of Texas. It also is the birthplace of Whataburger and a Día de los Muertos block party that spans 10-blocks and is attended by 35,000 people! Even the Corpus Christi Hooks, a AA-affiliate of the Houston Astros, are getting into it. CC Hooks Celebration
Santa Ana and San Bernardino helped make the LA metro area one of the top places to celebrate Día de los Muertos. There's no doubting LA's rich Mexican heritage, even if we have to vehemently disagree on CaliMex being better than TexMex. Where to Celebrate in LA
San Antonio is doing it big this year with two weeks of events from October 20th to November 3rd. If you can get to the Alamo City you won't want to miss it. Where to Celebrate in San Antonio
Tucson celebrates Día de los Muertos with an All Souls Procession, a full-blown parade to honor the occasion! Where to Celebrate in Tucson
Albuquerque has a number of events going on, including a Día de los Muertos Día de los Muertos party in Sunset Memorial Park. Where to Celebrate in Albuquerque
Fort Lauderdale has dedicated an entire downtown festival to Día de los Muertos, complete with a procession, mariachis, dance groups, art exhibits, and more! Day of the Dead Florida Event
Chicago? The Chicago up North? … yep! Chicago hosts the National Museum of Mexican Art who puts on a pretty awesome event. Xicago Day of the Dead Event
Sacramento is hosting the "Souls of the City" event to celebrate Día de los Muertos, in conjunction with Sol Collective and the Sacramento History Museum. Where to Celebrate in Sacramento
The event originated from a month-long Aztec festival to honor Mictēcacihuātl, the Goddess of the Dead, and her husband, Mictlāntēcutl. The latter is depicted in Aztec culture as a skeleton which likely gave inspiration for the skeleton aesthetic we know today.
When is Día de los Muertos?
The festival is celebrated for two days, starting on November 1st to mark the return of the children's spirits on Día de los Angelitos, or "Day of the Little Angels." On the second day, families are reunited with their ancestors with the return of the adult spirits on Día de los Muertos, or "Day of the Dead."
How do you Celebrate Día de los Muertos?
On October 31st, families will place offerings at an altar known as ofrendas. These offerings are typically things that their ancestors enjoyed like a favorite candy, toys, food, or even tequila or mezcal. They are also combined with calaveras, the iconic, vibrantly decorated skulls known in the US as "sugar skulls", and short poems also known as calaveras that poke fun at people. Altars are adorned with bright golden marigolds known as cempasúchil to guide spirits to the ofrendas.
The festival is celebrated differently across Mexico, but will often include a trip to the cemetery to clean up and decorate graves of relatives, public gatherings with candles, masks, and sometimes even floats.
It's an occasion that can be celebrated by anyone that wants to remember their ancestors. Just setup a small area in your home with pictures of family and things that they enjoyed or items they left and enjoy remembering times past. Get some masa and prepare some homemade tamales if you're seeking extra authenticity.
The Most Spirited Day of the Dead Celebrations in the United States
The vibrant Día de los Muertos festivities that occur annually in Mexico are now popularly celebrated in many parts of the world, including cities in the United States.
Outside of Mexico, some of the liveliest observances of Día de los Muertos take place in U.S. cities—and they're totally free to attend.

E

very year in 

Mexico

 during the days leading up to November 1 and 2, people gather to commemorate 

Día de los Muertos

, a cultural celebration honoring the cycle of life and death that can be traced back to the time of the Aztecs. As part of the deeply traditional festivities, participants decorate ornate 

ofrendas

 (altars) with offerings for ancestors, including marigolds, fresh-baked 

pan de muerto 

(sweet bread), and detailed sugar skulls. In addition, many revelers partake in candlelight processions with their faces painted as 

calaveras 

(the holiday's skeletal symbol).

Día de los Muertos is an integral part of Mexican and Chicano identities: In 2008, the ritual was added to UNESCO's list of Intangible Cultural Heritage, and today, the holiday is observed in many countries around the world. Some of the largest and liveliest Day of the Dead celebrations outside of Mexico take place in the United States—here's where you can find them.

San Francisco, California

Day of the Dead has been celebrated in

San Francisco's

 Mission District since the early 1970s. During the annual 

Festival of Altars

 on November 2, the general public is invited to bring flowers, candles, and mementos of loved ones to place on ofrendas decorated with Mexican folk art. (In 2019, the gathering begins in Potrero Del Sol Park at 4 p.m.) At 7 p.m. on the same day, a candlelight procession starts on the corner of 22nd and Bryant Streets and follows a quick route toward the site where the altars are displayed. Now in its 37th year, the 

processional walk

 (which is alcohol free) has previously welcomed approximately 15,000 people to the streets of San Francisco in full Día de los Muertos attire.

San Antonio, Texas

Mexican heritage runs deep in San Antonio: The city is located only three hours from the U.S.-Mexico border, and an estimated 64 percent of the population is of Mexican descent, according to statistics from the 2018 census. Every year, San Antonio hosts a major Day of the Dead celebration known as "Muertos Fest," which offers live music performances ranging from mariachi to electronic cumbia; displays of traditional altars and original folk art; puppet parades; live poetry performances; craftmaking workshops, and more. In 2019, the two-day event—which is free and open to the public—moves to downtown San Antonio's Hemisfair grounds, not far from the festival's previous site in La Villita Historic Arts Village. The event takes place October 26–27 this year.

Los Angeles, California




For over 30 years, the merchants of a Mexican market in Los Angeles have celebrated Día de los Muertos in a major way. The annual Olvera Street Día de los Muertos festivities (October 26 through November 2, 2019) incorporate traditional altars, children's workshops, calavera face painting, and live entertainment, all of which are open to the public to attend.

As part of the nine-day festival, you can also see nightly Novenario processions where participants pay respects to "the living dead" by marching with burning incense and photos of loved ones. After each procession, champurrado (a hot chocolate–like drink made with corn flour) and pan de muertos are handed out for free. (This year, the processions occur from October 25 through November 2, starting at 7 p.m.)

Fort Lauderdale, Florida

This year marks the 10th anniversary of Fort Lauderdale's annual Day of the Dead event, and the Florida festival has already cemented itself as one of the largest Día de los Muertos celebrations in the country. The free event, which takes place on November 2, features an afternoon of ofrenda admiring, puppet making, sugar skull face painting, and traditional Aztec and Mayan dance performances. A vibrant "Skeleton Processional" kicks off from Huizenga Plaza at 6:30 p.m., at which time more than 2,000 skeletons and 50 giant puppets (some reaching 18 feet tall) lead thousands of revelers along Fort Lauderdale's Riverwalk toward a street festival filled with food trucks, mariachi bands, and arts and crafts opportunities.

San Diego, California

Situated less than 20 miles from Tijuana, San Diego is about as close as you can get to witnessing a Día de los Muertos festival in Mexico without actually traveling to the country. In San Diego, annual celebrations take place in the city's Old Town (this year on November 2 and 3). The free-to-attend parade takes place on Saturday only (at 5 p.m.), but participants can admire life-sized skeleton displays, tour over 40 ofrendas, plus enjoy face painting, Aztec dancing performances, costume contests, and more throughout the duration of the Old Town Day of the Dead festival in Park Plaza.

Albuquerque, New Mexico

In Albuquerque, Día de los Muertos events occur over several weeks in October and November, but the annual

Día de los Muertos y Marigolds Parade

 has long been the largest. In previous years, the city has shut down an entire section of a major South Valley thoroughfare for paradegoers in Day of the Dead costumes. But earlier this year, parade organizers 

announced

 that the 2019 parade will be postponed because it's actually become too popular to sustain. The Muertos y Marigolds Parade committee says that it plans to use this year to address issues with the parade's growing size—but that floats decorated with marigolds and people dressed as calaveras will once again make their way through the streets of 

New Mexico's

 largest city to be met by food, music, and altars.
Honoring the past while celebrating the future.
Texas is known for its iconic mixing and combining of different cultures. Whether its a Russian festival in Austin or a German one in Munster, different cultural experiences can be found throughout the state. Continuing in that tradition, Al Dia, a news organization in Dallas, reported on prominent Mexican community leader Mauricio Navarro's announcement that the very first Dallas Day Of The Dead Parade will be happening this year. The parade will take place on October 26th from 5 p.m. to 7 p.m. in downtown Dallas.

They plan for the parade to be the largest in Texas, if not the entire United States. There will be tons of Catrinas (or Skull Catrinas) on site, which are traditionally people with beautiful and often colorful skull-painted faces. If you do show up in full Catrina gear, your entry will be free!

They hope to have around 30,000 participants at the parade and people of all cultures and backgrounds are encouraged to join in the fun. During the parade, there will be floats with altars to honor those who we have lost over the years in an attempt to keep their memories alive. The parade will be 1.3 miles long and will end in the same spot as it began.

Once the parade is over, guests will be able to enjoy Mexican food, music, and much more. Traditionally, the Day of the Dead is celebrated on November 1 and 2 but for this super awesome event, we can make an exception and celebrate it early.

Dallas' Dia De Los Muertos will take place in Downtown Dallas. To stay updated on the event, you can visit their Facebook page here.

Dallas Dia De Los Muertos Parade

Price: Free

Address: Downtown Dallas

Why You Need To Go: Dallas is having its very first Day of the Dead parade downtown where there will be music, food, and much more.