No matter whether or not Epstein is really dead, or if he killed himself or someone killed him, one thing is certain the TRUTH is dead and buried.  I personally don't care two twitts about Epstein.  The in this story is not only that he has escaped justice and the unknown number of his victims have been robbed of justice, but that the horrendous acts which he perpetrated and the ones he facilitated will continue.  
The Epstein case had the potential of bringing to light the depths of evil that exists among the wealthy and powerful, and the horrendous and inconceivable acts that they commit in secret.  The truth is so much deeper than a pervert miss using under-aged girls. The story of Epstein reaches depths of depravity that most humans can not even imagine, and a conspiracy so dark and destructive it can only spring from the very pit of HELL itself.   The elite had to devise a plan to keep this case from coming to public scrutiny, not to protect Epstein, but to protect themselves.  
I personally believe Epstein is still alive, but even if he is not…there are plenty of sick, evil people to keep the legacy alive.  Knowing what we do about his fascination with science and his colossal ego I suggest that his physical body may be dead, while his depraved mind, lives on in an alternate body.  Perhaps he cloned himself and they murdered the clone… or perhaps they moved his mind and memories to another body before they killed his own.  Or, perhaps they killed a substitute altogether.  
We will never know.  The evil cabal protects their secrets and their wealth.  If you did not believe in conspiracy before, you surely ought to see it now. 
Update 1/24/20
EPSTEIN…The FULL Story  –  by EntertheStars RELOADED
Understanding The Network Diagram Below
To put this complex network into a comprehensible structure, a diagram has been created with color-coded lines so that the connections can be fully understood. What does this represent? Antilles School would appear to be the hub of most of these connections. From there it filters out to the board members, most of whom have been on the board in varying positions for years. The ladies listed in the diagram, in connection with the school, are indicated in red. The founders and original 13 students of the school paint quite a picture as well, with one of the students being Epstein's attorney Paul Hoffman.
For example, Pamela Berkowsky is a Clinton appointee with a military background, who was made the former governor of the Virgin Island's chief of staff, until she abruptly resigned over a scandal. This was long after she had served as the assistant chief of staff to secretary of defense William S. Cohen. She is married to Adam Shapiro who operates several medical facilities in St. Thomas, is a plastic surgeon, has a transport pilot license, and was involved in the scandal with Berkowsky. Jeanne Brennan Wiebracht, is a licensed CPA who utilizes Epstein's address for her business, and is on documentation for an Epstein company that setup microwave radio transmission from St. Thomas to Little St. James Island. Claire Starkey is involved with the Clinton Global Initiative via her Fintrac company that was founded in 1990 and operates out of countries that overlap with the Clintons agendas. Marjorie Rawls Roberts was a campaign bundler for Barack Obama, assisted criminals in setting up tax breaks in VI, has worked with the Clinton Global Initiative, and is a political-power-wannabe who would likely do anything just to stand in their shadows. Roberts took Erika Kellerhals under her wing and showed her the ropes, before Kellerhals established her law firm – the firm that maintained the documents for Epstein's Gratitude For America Ltd. Foundation. Cecile de Jongh, former first lady to the Gov. was the manager for Epstein's Southern Trust Company, Inc., a company that donated to Antilles School. Amexa Rivadeneira, the director of foundation accounts for Catchafire, who works with the Clinton Global Initiative, used to serve in the senate office of Kirsten Gillibrand.
Oh what a tangled web they weave, and this is just a snippet of what this web has been up to. The details are in the backgrounds and affiliations, as well as locations they've operated in. All of these ladies diagrammed below, are not only serving the board of Antilles School, they are a tight-knit group, and are all friends on Facebook.
The Community Foundation of the Virgin Islands (CFVI) is another connecting point, that works with Antilles School, the Clinton Global Initiative, Fintrac, and Catchafire. Aside from serving on the board of Antilles School, Pamela Berkowsky, Clarie Starkey, and two other board members not diagramed here also served on the board of CFVI. Beginning to see the arms of control?
So why is former U.S. Attorney General Eric Holder indicated on this diagram? Holder was involved with big investigations into a financial criminal ring that went all the way up through legislatures, telecommunications companies, and the governor himself in the U.S. Virgin Islands. This corruption scandal dragged on for years, and it is alleged that Holder himself had put the brakes on it. The full story and the players involved is documented below.
Take a good look at the diagram below, study it, absorb everything that's been revealed above, and then scroll down to see the individual resumes of these folks with the key connecting points that ties this all together. The corruption scandal follows the resumes.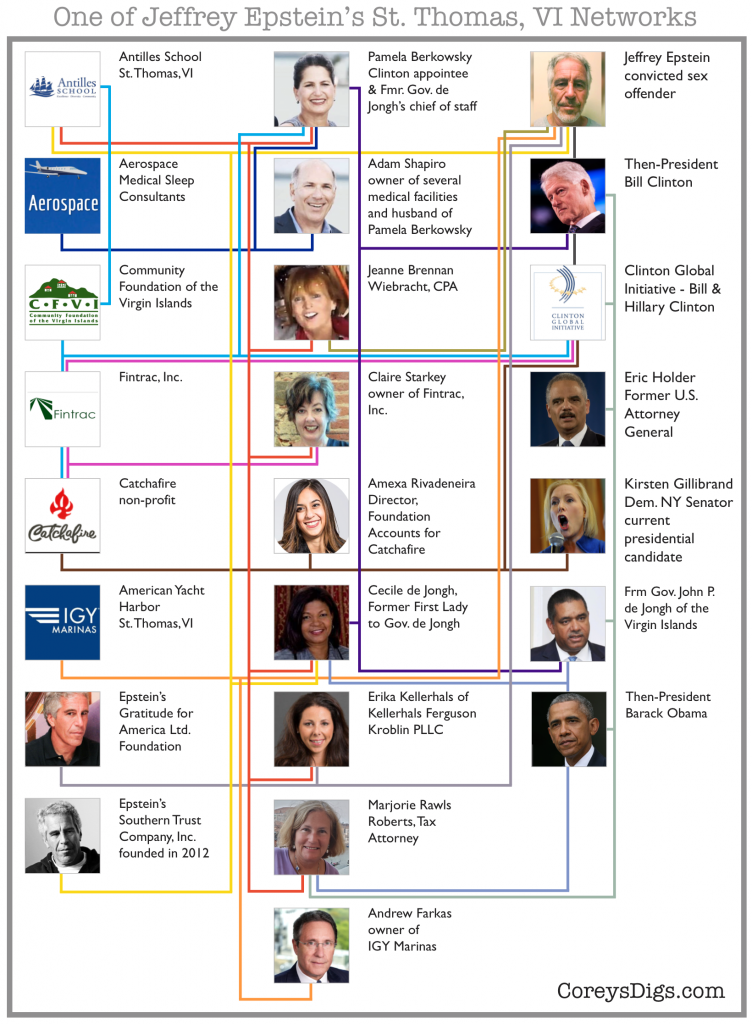 In 2008 Jeffrey Epstein pleaded guilty to soliciting a minor for prostitution in a plea deal that only required him to spend 13 months in jail, of which he served most of in his Palm Beach office on "work release." There were dozens of victims, a 50-page indictment on sex trafficking charges that was shelved, and a secret plea deal that concealed the full extent of his crimes and granted immunity to any potential co-conspirators. It stunk, and is now in the spotlight again. A judge recently ruled for the unsealing of up to 2,000 pages of judicial documents to show evidence of whether Epstein and his partner Ghislaine Maxwell were recruiting underage girls in an international sex trafficking operation.
The information in this video has been unmonetized and censored, while NAKED YOGA can be found right here on Youtube's server. Fight Youtube's unfair censorship policies, by liking and sharing this video. Why have none of these people been investigated or gone to jail under TRUMP. A MUCH closer look at Epsteins flight logs… ►TWITTER:
https://twitter.com/Enterthe5t4rz
Twitter does a much better job than YT of alerting you to my LIVE STREAMS and NEW UPLOADS. ►www.paypal.me/enterthe5t4rz ►Intentional misspellings keep free speech alive ►Voice your dissent about censorship by making this video viral. ►Get through long shows faster by clicking the gear in the video frame and increase speed to 1.5x. ►I've disabled ratings for this vid bc of AI ratings attacks, BUT your THUMBS UP are still counted and helps share the video. ►Even if you are subbed to my channel, Youtube will regularly UNSUB you without your knowledge . So, bookmark my page and check back often for new videos. ►Also, your subscription does NOT automatically give you upload notifications unless you click the BELL button in this video frame. Please, take a second to do this. Discovering deeper biblical interpretations, stolen from us by the enemy to keep us in bondage and asleep. Revealing the hidden agenda of the enemy in TV, film and music that is programming you for deception. Why does Hollywood's depiction of all sorts of horror, perversion, actor mockery, under the guise of art and fiction. thrive on You Tube. Yet, when we discuss the very same topics to reveal the deeper meanings, they try to censor us? A child could understand how ridiculous and unfair this is. People have the right to believe or disbelieve anything they watch on TV, the same as they would when seeing a Hollywood film. Will we shut down Hollywood because people could believe what they are seeing is real and could harm others because of it? Join me as we expose in high detail, the revelation of the method and rush to fictionalize the truth in current media. It is now obvious to me that the entire purpose of media is to fictionalize truth, in an attempt to subliminally obscure it from your discovery. You rationalize that it cant be true because it was depicted in media. And, who would tell on themselves like that?

This post first appeared at Fellowship of the Minds

On the morning of August 10, 2019, two weeks after billionaire convicted-pedophile (((Jeffrey Epstein))), 66, was placed on suicide watch after he had been found nearly unconscious in his cell with injuries to his neck from a supposed suicide-attempt, we were told Epstein was dead from "suicide" by hanging.

Around 7:30 a.m. that morning, a gurney carrying a man supposed to be Epstein was wheeled out of the Manhattan Correctional Center.

But as you can see in the comparison pics below, the gurney-man was not Jeffrey Epstein — the noses, hairlines, eyebrows and ears are different.

Not coincidentally, a day before Epstein's "death-by-suicide," some 2,000 documents were unsealed in Manhattan federal court, which reveal the names of dozens of powerful men, with some of whom Virginia Roberts Giuffre, who claims to be one of Epstein's sex-trafficking victims, said she had been forced to perform sex acts. Epstein's trafficked victims were as young as 14.

On September 19, 2019, on the Nutty Flavor Blog, a reader who calls herself ladyskipper102 claims Epstein did not die, but was wheeled out of the federal prison, alive, into a waiting van. She wrote:

I have taken a screen shot of a tweet that was only up for seconds before it was removed and never seen again from a guard allegedly on duty that night who said Epstein was wheeled out in a wheelchair, upright and alive, just after the 04:15am checks, and was taken away in a trip van that had a soldier escort in the back.

This tweet was posted at 08:41am day of by an anonymous guard who sounded to me like he was scared to death and afraid of being doxed who claimed to be a guard on duty that night who a) spoke to the tower guard who witnessed them leaving and said no doctors or ambulances arrived at all, b) they do not do transfers on weekends (this was Sunday) and c) no one logged in or out, no cars, no doctors, no medics. This guard who tweeted, not his buddy guard in the tower, also said he spoke with the medics on duty at the jail and none of them were called to rush to Epstein's aid, and none of them logged in or out of the block to see any inmate.

I was shocked when I tried to post this tweet everywhere I could think of and it just would not post….

The guards were fired I believe either later that day, or the next day, according to "the news"….

One more thing (sorry), the photo of Epstein's body on a stretcher was proven to be faked. It was actually taken at a drill at a NYC fire station years before, as proven by the stretcher rack on the wall behind the gurney his body was supposedly on. Jails and hospitals do not have these racks with plastic stretchers stacked on their walls in the exits or ambulance bays, only fire stations have them. The head shot (side view) was shown to be an old photo of Epstein, inverted and stuck on the head of what was a CPR dummy. The head proportion is way too big for the body and would make him 7 or 8 feet tall….

Epstein is a 33rd degree mason and they are sworn by blood oath to protect their brothers no matter what, with no reservations whatsoever, no questions or qualms, even against murder charges. Lastly, he was more dangerous dead than alive, due to his blackmail schemes in his safes and in the crypts at his island, and I think that's why only his address book, not his accounting, nor his date book nor receipts, nor damning photos, nor dna evidence, was published, to subvert and distract, but not to expose anyone for any crimes (pedos) specifically. And that's why no one else has been arrested – he's protected and the information he has is just too damning.

I can confirm ladyskipper102's account.

Intellihub reports that at 8:44 a.m. on August 10, 2019, 9 minutes before the mainstream news release at 8:53 a.m. of Epstein's death by "suicide," i.e., before anyone knew Epsten was dead, an anonymous person posted this message to 4Chan (post number: 222520257 on /pol/):

Not saying anything after this pls do not try to dox me but last night after 0415 they took him [Epstein] [to] medical in a wheelchair front cuffed but not 1 triage nurse says they spoke to him. Next thing we know trip vans show up? We do not do releases on weekends unless a judge orders it. Next thing we know, he's put in a single man cell and hangs himself? Here's the thing, the trip van did NOT sign in and we did not record the plate number and a guy with a green dress military outfit was in the back of the van according to the tower guy that let him through the gate. You guys I am shaking right now but I think they switched him out.

The Latest on Epstein…
The images show the chaotic state of Epstein's cell after he died in August at the Metropolitan Correctional Center in New York while awaiting trial on federal sex trafficking charges.

In one photo, a mattress sits on the floor and orange bedsheets are strewn around the room.

Another photo is a close-up of one of the bedsheets that had been tied into a noose. It's not known whether that noose was used in his suicide.

CBS reports the photos were taken by the Medical Examiner, but did not state how they obtained them, or how they confirmed the photos' authenticity.
Further, "60 Minutes" released images, which CNN is not publishing, of Epstein's corpse as well as a bloody mark stretching across the middle of his neck.

The TV news show also released a photo of a note, apparently written by Epstein, that was found in the prison cell.

"(redacted) kept me in a locked shower stall for 1 hr. Noel sent me burnt food. Giant bugs crawling over my hands. No fun!!" the note reads.

Images of the outside of his cell are also included in the piece. One photo shows the door of his cell marked off with police tape.

Epstein, 66, was found non-responsive in his cell with a noose around his neck on August 10, weeks after he was accused of running a sex trafficking ring for underage girls. He had pleaded not guilty to the charges.

Two prison guards who allegedly failed to check on Epstein the night he died and falsified logs saying they had done so were charged with federal conspiracy and filing false records. They have pleaded not guilty.

In the indictment detailing the charges against the guards, prosecutors say Epstein was alone in his cell all night, and internal surveillance video shows that no one entered the tier where Epstein was housed overnight.

Attorney General William Barr said in August that there were "serious irregularities" at the prison, and 

he removed Hugh Hurwitz

, the acting head of the Bureau of Prisons at the time.
Give me a break!!  Did you see all the sheets strewn around the cell they are claiming belonged to Epstein??  And this after he supposedly had already been found once  with a "strip of bedsheet around his neck"!!   Come on,   ARE THEY THAT STUPID??? OR DO THEY THINK WE ARE STUPID ENOUGH TO BUY THAT STORY???
It's next to impossible to kill oneself in jail—I know, because I've been there.
August 11, 2019 
Here are a few things I know firsthand about being in jail. First and foremost, you have virtually no control over your life and surroundings. You can't get so much as an aspirin without authorization. In most jails, you can't wear a belt, or shoelaces, or keep a razor in your cell. You have no privacy, no sense of dignity, and no rights. And in a well-run jail, high-profile prisoners have virtually no chance of killing themselves.

So the alleged suicide of Jeffrey Epstein, the 66-year-old financier with powerful American and foreign friends who was about to stand trial for allegedly sexually abusing dozens of girls, many of them underage, is particularly unfathomable—and outrageous. In a letter to the Justice Department, Republican Senator Ben Sasse of Nebraska called it inexcusable that Epstein did not live to face his accusers. "Obviously, heads must roll," he wrote. Attorney General William Barr clearly agrees. Saying that he was "appalled" to have learned that Epstein was found dead at 6:30 a.m. on Saturday morning at the Metropolitan Correctional Center (MCC) in lower Manhattan, Barr instructed the department's inspector general to investigate precisely how Epstein died at MCC, a long-troubled, pretrial detention facility.

Epstein was placed on suicide watch on July 23 after being found semi-conscious in his cell with marks on his neck, in what prison officials described at the time as a failed suicide attempt. He was removed from suicide watch six days later, on July 29, and returned to a segregated area of the prison with extra security known as the special housing unit. Why Epstein was removed from suicide watch is a focus of the DOJ investigation.

While officials from the department's Bureau of Prisons, which supervises the MCC and other federal prisons, have said little about Epstein's death other than to claim that Epstein hanged himself, officials told me Sunday that the prison's psychological team had evaluated Epstein on a daily basis after his alleged initial suicide attempt and had found him to be no risk to himself or to others. Officials said that Epstein had met for many hours each day with his legal team, and that both he and his lawyers had repeatedly assured the prison that he did not want to kill himself and had asked MCC to remove him from the suicide watch. The prison has yet to comment on whether prison officials believe that the initial July 23 incident that landed Epstein on the suicide watch was, in fact, a genuine effort to end his life.

Finally, officials said, at least one member of Epstein's legal team was with him until 6:30 on the Friday evening before his death. None of his legal team—Reid Weingarten, Marty Weinberg, Michael Miller, or Marc Fernich—would comment about their client's emotional and mental state the night before his death and during the last six days of his incarceration.

Officials said that under the prison's rules and procedures, Epstein was supposed to be given a cell mate and monitored by prison guards every 30 minutes, 24 hours a day after being removed from suicide watch. Prison experts believe that having a cellmate helps deter suicide. Neither officials nor Epstein's legal team would comment on whether those procedures were followed, but at least one official familiar with the episode said that they were not. Epstein had a cellmate before his initial alleged suicide attempt, but cellmate Nicholas Tartaglione, a former police officer facing murder charges, was not returned to share a cell with him after Epstein was placed on watch and then removed from the list, one official said. The official said that Epstein was alone in his cell for some time before his death—again, in violation of the prison's rules and procedures.

If confirmed, such disclosures about what appear to be failures in Epstein's detention at MCC can only intensify questions and suspicions about his death. "This facility is known for being deeply troubled," one official said, though others cautioned that the DOJ's and the prison's own investigation were in its initial stages and that facts could change as the inquiry progressed.

My own relatively small brush with America's justice system was profoundly different from Epstein's. Unlike him, I was jailed voluntarily. Then a journalist with the New York Times, I chose to spend three months at Alexandria Detention Center (ADC) near Washington in 2005 rather than identify my sources to an overzealous prosecutor pursuing the leaking of classified information. Epstein, having escaped real incarceration for years since his first conviction in Florida in 2008 on state charges of solicitation of prostitution from a minor, had no choice but jail. After his initial conviction in Florida, however, he brokered a much-criticized deal that enabled him to avoid federal charges and spend only 13 months behind bars. Even then, he was permitted to leave jail to work at his office for up to 12 hours a day, six days a week. Epstein was charged with new federal crimes on July 6 after he returned from overseas and was arrested at Teterboro airport; Federal District Court Judge Richard Berman deemed him a flight risk given his vast wealth, many residences, and high-powered social connections—among them, President Donald Trump, former president Bill Clinton, Prince Andrew of Britain, and Leslie H. Wexner, the retail billionaire—and denied him bail. Epstein was sent to await trial at MCC.

Unlike ADC, a Virginia-state-run jail, MCC is one of two federal pretrial facilities in New York City, this one in downtown Manhattan, two blocks from City Hall. Known as "Manhattan's Guantanamo" for holding prisoners charged with terrorist crimes, it has a poor reputation. In an article published by Gothamist last year, Jeanne Theoharis, a Brooklyn College political science professor who has written extensively about conditions at MCC, called the facility an American "gulag." She told Gothamist: "If I described these conditions—filthy, freezing, no natural light, isolation so extreme that you're punished for speaking through the walls, absurd rules like prisoners not getting to see the newspapers unless they're 30 days old, secrecy so deep that people are force-fed and lawyers can be punished for describing the conditions their clients are experiencing—you'd be forgiven for thinking that this was Iran or Russia."

While both ADC and MCC are high-security detention facilities that hold high-profile prisoners, my own experience as Inmate #45570083 has led me to conclude that Epstein—Inmate #76318-054—should have lived to face his accusers, and that in a well-run prison, he would have. The ongoing investigations by the FBI, DOJ inspector general, and the prison itself will explore whether MCC is among the nation's worst-run federal pretrial facilities, and/or whether Epstein may have had some desired (or unwanted) help in ending his life and escaping his day in court. I shun conspiracy theories—but based on the little that prison officials have said so far, and what I know of life in jail, Epstein's death is deeply troubling. No one should die of unnatural causes in jail. In a well-managed facility, no one would. However lurid the charges against him and perverse the nature of his alleged crimes, Epstein's death behind bars should trouble every American. The investigations must not rest until what happened is revealed.
PLEASE VISIT THE FOLLOWING WEBSITE FOR MORE REVELATION:
spacer