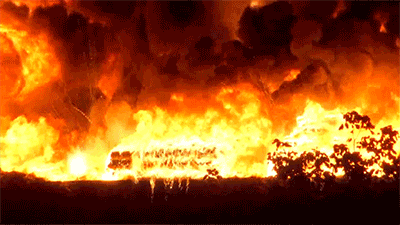 RESTORED AND UPDATED: 08/30/2021
TAGS: LASER BEAMS, Infrared, DEW, Directed Energy Weapons, Wildfires, Fire Captains, Marjorie Taylor Green, Dutchsinse, FlameThrower Drones, Land Grab, Particle Beams, Wildlife Refuge, Engineered Weather
This news article arrived in my inbox this morning.  My heart goes out to all those on the West Coast who are suffering under the burden of these fires.  I can't even imagine the nightmare in which they are currently forced to live.  How frightening! 
The BEASTS who run the world are so EVIL!  They continue to caste their spell over the masses telling them that this is all about climate change brought on by the irresponsible gluttony of the masses who they claim are destroying the climate with their waste and their flatulence!  When in reality, there is climate change alright…but it is DELIBERATE and DIABOLICAL.  We have proven time and time again by their own documents and their own gascony that they have the power to control the weather.   That they not only have that power but they have been employing it to suit their own agenda.  
For the sake of argument here, let's just say they did not set these fires, and they really care about the environment (it would be far to big of a stretch to think they care about the people).  IF indeed they do care about their "Mother GAIA" why are they not using their power to make rain fall on the those fires??  Or, at least on the area to prevent fires?  
In the article below, the writer quotes a mainstream mouthpiece named Charlie Warzel, a Times Opinion writer based in Montana.   One can only assume he is speaking for the elite, because NO MAINSTREAM MEDIA is allowed to say anything that is not approved by them.  He makes what seems to me to be a threat to those living in the EAST.  
I find his statements to be reminiscent of the a famous remark made by Ronald Reagan:
"I occasionally think how quickly our differences worldwide would vanish if we were facing an alien threat from outside this world."  ― Ronald Reagan
Funny how not long after that, the threat of alien invasion became an issue.  These maniacs will stop at nothing to force the "ignorant masses" into obedience.    Well, I have news for them.   The "ignorant masses" are not so ignorant.  They have been lulled to sleep by the magic spells of the elite, but they are waking up!  The masses have always been intelligent and capable. When given the TRUTH and the FACTS… they are quite capable of making reasonable and responsible choices.   
The elite don't want the masses to have information because they are threatened by the numbers alone.  They fear that if we know the truth, they will lose all control over us!   Well, they have every reason to fear, because it is time for their REIGN OF TYRANNY to come to an end! 
IT is time to stand up AMERICA!   Realize that the fight is against the forces of EVIL!  There is one who can deliver us from the hands of EVIL MEN…  TURN TO HIM!   We cannot stand against their sorcery, their weapons, and the powers they serve… BUT GOD CAN!   GOD can put an end to these fires. God can destroy the demonic forces that are driving the elite to destroy our world and all of us with it.  It is time to come together and repent of our ways and seek the face of GOD.  With ONE VOICE, let us GIVE HIM PRAISE!  OFFER up our worship to the ONE TRUE and LIVING GOD.  THEN WATCH HIM MOVE!
Or would you rather fall again into the hands of demonic powers to be forever at their mercy and to live under their oppression?  Those are the choices folks, because the FALLEN ANGELS are here again.  They are the ones who are behind the oppression of the New World Order that is at YOUR DOOR.  Believe me, they have power.  Power beyond human ability to stand.  This is the final conflict between good and evil, which will end in a final conflagration in which the world will BURN.
I am the god of hell fire and I bring you
Fire
I'll take you to burn
Fire
I'll take you to learn
You gonna burn, burn, burn
Fire
To destroy all you've done
Fire
To end all you've become
I'll feel your burn!
By David Leonhardt
spacer