Video Credit: The Haunted Walk 
I saw a post regarding an item related to one of these statues, which lead me down another rabbit hole.  I was surprised to learn how many Peter Pan Statues have been erected around the world.  In my research I have seen enough to lead me to the conclusion that Mr. Barrie was not only an evil man but he was driven, inspired, directed by demonic forces.  
Check out the items posted here.  Not only places where the statues have been erected, but how the book, the play, the musical, the concepts have continued to be promoted around the world!   Though the motives behind the story and the message within the story have been proven to be evil, this story continues to be promoted as something wonderful, and delightful for children.  
The Story of Peter Pan Peter Pan is a key example of a work which has had the full modern media treatment, with numerous print versions, films, animated features, TV programs, stage adaptations and merchandise.   What is posted below is only a small remnant of the enormous amount of promotion and tribute.
If this does not make you realize how the devil works, I don't know what will.  No matter how dark or evil a thing is, just slap a happy tune on it and weave a romantic story to go along and people will eat it up!!  Especially when it feeds their sinful, lustful, rebellious nature. 
Update 9/23/19
Posted in Denver September 19, 2017 by Annie
When you were a kid, did you ever read fairy tales and then dream about what it would be like to actually live in a whimsical and magical land far, far away? What if we told you that you (and/or your kids) don't have to dream anymore and that there is a real-life fairy tale land located right here in Denver? Intrigued? Follow us as we discover Neverland via this colorful Denver park:

Located just northwest of Denver in Westminster lies the Westminster Center Park; a gorgeous 10-acre park that features a small amphitheater, walking path, and amazing views of the nearby mountains.

Nicknamed "Peter Pan Park," Westminster Center boasts something different than other Denver-area parks, which is an epic playground with a theme of — you guessed it — Peter Pan!

Featuring numerous play equipment inspired by the timeless story, Peter Pan Park is home to themes like the Neverwood Forest, Captain Hook's pirate ship, and the Darling family home, which make for a fairy tale experience unlike any other.

As if the play equipment itself wasn't fun enough, Peter Pan Park also houses a small splash pad and shallow stream that is perfect for cooling off during those hot summer months.

(Need we even mention that visiting this epic place is completely FREE?!)
Peter Pan Skatepark Skate Park Address:

(Located in Peter Pan Park)

33rd and Xst Lincoln NE 68503
Peter Pan Skatepark Skate Park Hours:–
Sun up to Sun down. We teach private skateboard lessons at Peter Pan Skatepark. Contact us at 800 403 2405
Disclaimer
Go Skate does not own this skate park. Skateboard at your own risk. Wear proper head, elbow, elbow, and wrist protection at all times. Go Skate will not be liable for injury at these parks. For more questions about general regulations at this skateboard park, email the Lincoln recreation department employees.

Learn Skateboarding at Peter Pan Skatepark:
Go Skate offers skateboard classes at Peter Pan Skatepark. If you are not landing many skateboard trick then you may want to consider taking a lesson with Go Skate, The Country's Best Skateboarding Lesson Provider. Look at our pre-screened teachers, Lincoln, NE Skateboard Lessons

Directions to Lincoln Skate Park:

Map:
LOCATIONS OF PETER PAN STATUARY TRIBUTES:
Liverpool, England

London England 

Palm Beach, Florida

Emporia, Kansas

Camden, New Jersey

Ephemeral, New York




Oamaru, New Zealand




Whanganui, New Zealand




St. John's Newfoundland




Columbus, Ohio




Dumfries, Scottland




Weatherford, Texas
In some parts of the city, though, the imagination is engaged not by an esoteric piece of public art, but rather by something so simple it could capture the mind of a child. Take the corner of St. Clair and Avenue Road, where for almost 80 years a 14-foot statue has stood, boasting a figure that is as representative of imagination as any symbol in Western society.
The statue of Peter Pan was fashioned by Sir George Frampton, and is an exact duplicate of a statue that has resided in London's Kensington Gardens since 1912. The location in London is extremely symbolic: it was in those same gardens that author James Barrie met the children who were the inspiration for the characters and the tale that is so well-known and loved.
The statue came to Toronto when the city acquired the small square at the north-west corner of Avenue Road and St. Clair, which is now home to Glenn Gould Park. (So, he stands in the GLEN OF GOLD PARK or GOLDEN GLEN PARK as GOULD is a celt word for GOLD) The College Heights Association asked that the park become a children's garden, offering to raise the money to purchase a duplicate of the Peter Pan statue that was so popular with children in London. In fact, Toronto is not alone in boasting a duplicate of the statue; there are at least five others around the world, not including the original. It was installed in Glenn Gould park in 1929.
If you head to the park now you'll see the statue still standing there, with Peter Pan surrounded by animals and other figures from the
story. It really is an impressive sculpture: the animals and characters melt in and out of the base like the wisps of a dream, and Peter Pan stands above them all, looking off into the distance.
Look even closer and you'll see the signature of James Barrie himself, (a form of spell casting I am sure.) near the back, on the bottom of the base. It's a nice thought to think that this children's garden bears the writing of a man from whose mind such a popular tale sprang, as if his imagination could spring right out of the statue and spill on to the streets below.
2010  Frank Thompson 
Emporia, Kansas (Located on upland prairie, Emporia was founded in 1857, drawing its name from ancient Carthage, a place known in history as a prosperous center of commerce. Wikipedia)
Peter Pan Park ~ Emporia, Kansas
"Emporia is known for the eloquent small-town wisdom of editorials written by William Allen White, the late publisher of the Emporia Gazette… 'The name of this municipal park derives from an editorial White wrote after the death of his young [age 16] daughter, Mary, in a [horse] riding accident. 'She was a Peter Pan, who refused to grow up,' White eulogized, affirming that her enthusiastic spirit remained even after her body was laid to rest." – inscribed near White's memorial in Peter Pan Park.The White family deeded these 52 acres to the city of Emporia for use as a public park.
 2010 Copyright frank thompson photos. Do not copy, download, or reuse in any form (including blogs) without written consent of copyright holder.
spacer
It's Easy to be a Peter Pan in this Place
Emporia Convention and Visitors Bureau
EMPORIA, KS  – Peter Pan Park

For nearly 100 years, Peter Pan Park has been one of Emporia's largest and most beautiful parks, with over
50 acres to explore.
The park, one of several in use during the Glass Blown Open,  has a challenging 18-hole disc golf course with a variety of features and is a favorite of many disc golfers. Additional features include a splash pad, playground, a four-acre lake, tennis and horseshoe courts, a ball field, and plenty of picnic tables and shelters throughout the park.
The original land for this historic park was donated in 1927, by author and famous Emporian, William Allen White. His daughter, Mary, had been tragically killed in a horseback riding accident at age 16. White donated the land as a tribute to Mary, writing that "she was a Peter Pan who refused to grow up."  There is a memorial bust of William Allen White along with plaques telling Mary's story on the southeast side of the lake.
There are several historic limestone structures throughout the park that were WPA projects, including one that was known as "Monkey Island." Many decades ago, the Monkey Island structure was surrounded by a moat and housed several rhesus monkeys. Dynamic Disc's Monkey Island Open, held at the park in March, takes its name from this piece of history.
· Hosted by Emporia Parks
Wednesday, May 22, 2019 at 11:45 AM – 12:30 PM CDT
about 3 months ago
W Randolph Ave, Emporia, Kansas 66801
You are invited to join the City of Emporia for the Grand Opening of the Splash Pad in Peter Pan Park. Made possible by the generosity of the WS & EC Jones Testamentary Trust, Bank of America, N.A., Trustee, City of Emporia Special Park Fund,
Date Posted: 1/8/2011 6:02:14 AM
Peter Pan – Columbus, OH
Posted by:
Marine Biologist
N 39° 57.671 W 082° 59.420
17S E 330003 N 4425345
Quick Description: This Peter Pan sculpture is part of the George Peabody Munson Memorial Fountain located in front of the Main Library Branch of the Columbus Metropolitan Library in Columbus, Ohio, USA.
Location: Ohio, United States
Waymark Code: WMAF4Z
Published By:
silverquill
​
​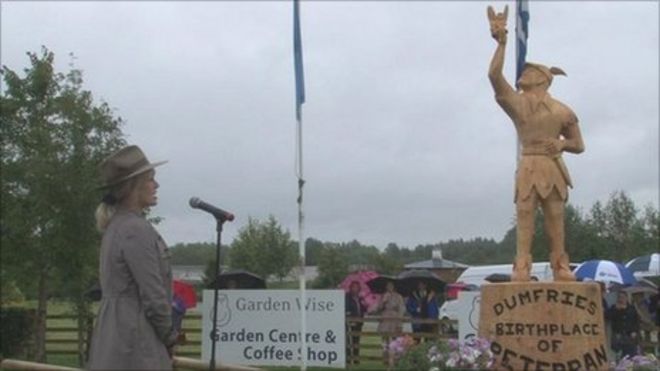 The actress Joanna Lumley has unveiled a statue of Peter Pan to recognise the part Dumfries played as birthplace of the children's classic story.
Author JM Barrie credited the gardens of the town's Moat Brae house as his inspiration for the work.
Ms Lumley unveiled a wood-carving of his most famous creation at the entrance to the town.
She is already a patron of the appeal launched last week to turn Moat Brae into a children's literature centre.
The Peter Pan statue was provided by the action group, the People's Project, which is working to improve the appearance and reputation of Dumfries.
Ms Lumley said she was amazed at the work which had gone into the wood-carving.
"I absolutely love it – I am so impressed that it is all made out of one enormous spruce tree trunk," she said.
"It is absolutely enchanting and it is standing outside the garden centre so everybody who is driving past on the road can see it."
Dumfries Peter Pan house project secures repairs funds

Dumfries Peter Pan house project launched

How Peter Pan's author invented celebrity cricket

Peter Pan mansion plans examined

Peter Pan mansion secured for £1
National Catholic REPORTER: THE INDEPENDENT NEWS SOURCE
  On this day, a century ago, James M. Barrie's Peter and Wendy, illustrated by F. D. Bedford, was published in England by Hodder & Stoughton and in the United States by Charles Scribner's Sons. Later editions would be titled Peter Pan and Wendy, and later still, just Peter Pan.The book was the novelization of Barrie's successful 1904 play, Peter Pan. On opening night, at the Duke of York's Theatre, Barrie "instructed the members of the orchestra to put down their instruments and clap when Peter appealed for help to save Tinker Bell's life and cried out, 'If you believe in fairies, clap your hands.' However, there had been no need for these instructions, for the audience clapped thunderously, causing Nina Boucicault, the actress playing Peter, to burst into tears."–from the Introduction to Peter Pan, Penguin Books, 2004, in which Jack Zipes summarizes the life of James M. Barrie and the effects he had on the Llewelyn Davies family. For more on Barrie's "desire to possess the family who inspired his most famous creation, Peter Pan," see "How Bad Was J. M. Barrie?" by Justine Picardie, in the Telegraph, July 13, 2008.The book Justine Picardie describes in the article is Neverland: J. M. Barrie, the Du Mauriers, and the Dark Side of Peter Pan, by Piers Dudgeon, Pegasus, 2011. Notice the Editorial Reviews and the Product Description. "Barrie later altered Sylvia's will after her death so that he could become the boys' legal guardian, while pushing several members of the family to nervous breakdown and suicide. Barrie's compulsion to dominate was so apparent to those around him that D. H. Lawrence once wrote: J. M Barrie has a fatal touch for those he loves. They die."The book may be sampled at Amazon and at Google Books.
It is interesting, after reading the Zipes Introduction, the Picardie article, and chapters of the Dudgeon book, to re-read Eugene Cullen Kennedy's two-part NCR article, "Set-Decorator Catholicism: Clericalism Thrives in a New Phase of the Sex Abuse Crisis." Part Two, in particular, "The Common Traits of Set-Decorators," gives specific and chilling details about "eternal boys" who "play with people".
Click here for the Wikipedia article on Peter and Wendy.
Click here for The Annotated Peter Pan, edited by Maria Tatar, published today for the Centennial by W. W. Norton.
posted on November 22, 2012 at 4:24 am
Chronicling an ever-changing city through faded and forgotten artifacts
You'd have to be pretty brazen (or very drunk?) to abduct a statue from a city park.
But there's something extra heartless about making off with Peter Pan, the boy who never grew up.
It happened 14 years ago in Carl Schurz Park, along the East River. There, a bronze Peter Pan has held court in the middle of a garden since 1975.
One morning in August 1998, however, Peter Pan vanished. "The statue was made by Charles Andrew Hafner in 1928 and showed the slender youth in his distinctive feathered cap and belted tunic sitting on a tree stump with a fawn, a rabbit and a toad at his feet," wrote The New York Times.
"It had been cut off its stone base and weighed about a thousand pounds, officials said."
Dozens of police officers investigated—this is the park that's home to Gracie Mansion, after all. The next day, a scuba team found it at the bottom of the East River.
After divers recovered the statue, Peter Pan went back up in his usual spot in the park, where he's been enchanting visitors ever since.
So who did it? Though no suspect was ever identified, "investigators said the disappearance of the beloved statue from Carl Schurz Park appeared, appropriately enough, to be the work of a band of overly high-spirited youths, perhaps latter-day Lost Boys who turned on their own icon," a follow-up Times article stated.
Tags: Carl Schurz Park, East River waterfront, New York City statues, Peter Pan Carl Schurz Park, Peter Pan New York City, Peter Pan statue, Peter Pan statue stolen, Upper East Side park, vandalism in New York City
"All the world is made of faith, and trust, and pixie dust."
-J.M. Barrie
This isn't Neverland ladies and gentlemen, but it is a statue of Peter Pan. This statute can be found in Camden and is one of Sir George Frampton's notable works.
Among Frampton's famous public sculptures; are the figures of Peter Pan playing a set of pipes, the lions at the British Museum and the Edith Cavell monument that stands outside the National Portrait Gallery, London.
The original statue of Peter Pan in Kensington Gardens, London, was commissioned by J.M. Barrie, author of Peter Pan, in 1912. Seven more casts were made of the statue, situated all over the world. However, the statute residing in Camden is the only one in the United States. (that is no longer true)
Picture of the Peter Pan Statue taken in the late 1930's in Camden.
This pulsating Peter Pan statue dedicated on September 24, 1926 to the children of Camden. It resides in Johnson Park. He enjoys sprinkling his fairy dust and key to the fountain of youth on his arriving visitors.
There are other noted works of bronze art in the Park. Some are by Philadelphia sculptor Albert Laessle. Some of Laessle's works were commissioned especially for Johnson Park, while others, including "Billy," a playful goat, were cast from the original mold. "Billy", "Dancing Goat", "Pan", and "Turtle and Duck" are among the whimsical additions to the park by Laessle.
Another famous sculptor by J. Otto Schweitzer, installed in 1930, is called,"Lily Pond Railing." It is a one-of-a-kind masterpiece depicting a marshland habit of reeds, graceful herons and arching fish.
This is incredibly spectacular to see in such a place like Camden. Treasured works-of-art preserved as part of our past. I really hope just one day Camden could be returned to its former glory. It was a beautiful city in its day.
Until our next adventure, my friends!
-The Yummygal
"Never say goodbye because goodbye means going away and going away means forgetting."   -J.M. Barrie (Author of Peter Pan)
spacer
DISNEY MOVIE MEALS CHALLENGE #13 – "PETER PAN"
 | 
We're headed to the second star to the right and then straight on 'til morning for our next Disney Movie Meal, Peter Pan.  Peter Pan has become synonymous with never growing up. Personally, I always thought it was far more impressive that he could fly, but to each his own.  Never having to grow up may sound appealing to some, however I should think it would get to be rather frustrating after awhile. I suppose it all depends on what age you are when you decide to join Peter's crew of Lost Boys (his group of young followers).  If you were a teenager and able to drive, that might be one thing, but to perpetually be a child is a different story.
Peter Pan seems to embrace every moment of his endless youth and goes on fantastical adventures in his home of Neverland.  Sword fighting with pirates, rescuing a
Native American princess, and flying a pirate ship makes Neverland life seem pretty exciting. Having a merry band of followers and a loyal pixie by your side must make things all the more fun!
Peter Pan and his pixie companion, Tinker Bell, are both available to meet and greet when you visit Walt Disney World. Tinker Bell can be found in the Town Square Theater, in her own little Pixie Hollow. Peter Pan prefers to be in Fantasyland, right next door to the attraction themed to his adventures, Peter Pan's Flight. You can even try a Peter Pan themed snack at Storybook Treats.
We honored Peter Pan and Tinker Bell with a Neverland dinner. In the movie, Peter Pan gets his nemesis Captain Hook to call himself a codfish in exchange for letting him go and promising never to return.
So we made "I (am not) a Codfish!" with a side of wild rice and balsamic roasted kale and butternut squash. To drink, a Pixie Punch! Our Pixie Punch was easy to make. We mixed lemon-lime soda with strawberry lemonade, then added some pixy stix crystals to sprinkle in as our fairy dust, then we used pixy stix to coat the rim of the glass before pouring in our punch. It certainly did not help us to fly but I hope Tinker Bell would approve of our recipe!
While we enjoyed our escapades with Captain Hook and Peter Pan, it's time for us to head home. Neverland is a wonderful place to visit, but I don't think I'd like to live there. Besides, we've got some furry friends to meet up with for our next Disney Movie Meal Challenge.
spacer
5 April 2013
Labels: Clapperton (Thomas J.), New Zealand, Oamaru, Peter Pan
'"WONDERLAND"
(BY THOS. J. CLAPPERTON R.B.S.)
––––––––
PRESENTED & DEDICATED
–––– TO THE ––––
CHILDREN OF OAMARU
–––––– BY ––––––
ROBERT MILLIGAN
MARCH 1927′
Thomas J. Clapperton's Wonderland in Oamaru Public Gardens is inspired by Sir George Frampton's 1912 statue of Peter Pan in Kensington Gardens in London, and is often called the Peter Pan statue. Instead of Peter Pan in a tunic at the top of the structure, though, here there is a young boy in short trousers with a young girl.
There are many similarities to the sculpture in London, and not least the essential pyramidal structure – and here, for instance, a fairy (albeit much smaller than Frampton's) is staring up at the male figure.
 Pan playing the pipes recalls J. M. Barrie's character's name.  (so this Pan is not Peter Pan, but the Goat God PAN)
(This Statue is not a reproduction of the original this one was created by another artist.)
And all around the metal base are fairies, rabbits and mice: it all seems so familiar, but it's still a feast for the eyes:
Below is a link to my earlier post for comparison:
This week's is the penultimate S5 episode of FOX's hit musical dramedy series Gleeand some very special surprises are in store – including a PETER PAN tribute courtesy of Chris Colfer!
GLEE star Chris Colfer penned the ep, titled "Old Dog, New Tricks" and took to Twitter to share his excitement about the various guest stars appearing, writing, "June Squibb, Tim Conway, and Billy Dee Williams are in the episode of Glee I wrote!!! #OldDogsNewTricks".
Additionally, Colfer recently posted a pic of himself in full Peter Pan garb alongside Squibb herself, captioning it, "It's a production of "Peter Pan" you'll never forget!#OldDogsNewTricks".
Additionally, Colfer recently posted some behind the scenes videos of his preparation to take flight as Peter Pan himself, as well.
Colfer shared, "My first time in the harness for #OldDogsNewTricks! Who's excited for Tuesday???" and later wrote, "Racked up some serious frequent flyer miles during #OldDogNewTricks rehearsal."
Follow Chris Colfer on Twitter here and Instagram here.
The official description of GLEE's "Old Dog, New Tricks" is as follows: "In an episode written by series star Chris Colfer, Rachel attempts to salvage her reputation among Broadway gossipers by hiring Santana as her publicist and creating a charity for rescue animals. Meanwhile, Kurt (Colfer) nabs the lead role in a retirement home production of Peter Pan."
View the behind the scenes videos of Chris Colfer taking to the air in PETER PAN onGlee below.
Photo Credit: Twitter
Peter Pan Statue – Weatherford, TX
The Peter Pan statue is located in front of the Weatherford Public Library at 1214 Charles Street, near Soldier Spring Park in Weatherford, Texas.
The statue is a bronze likeness of actress Mary Martin as the ever-youthful character of Peter Pan, a role she made famous on Broadway and two TV presentations of the play – one in 1955 and then again in 1960. Mary Martin won Tony Awards for performances in "Peter Pan" and later, "The Sound of Music." She continued in the 1960s with successful touring roles.
Sculpted by Ronald Thomason and cast by Metz Castleberry, the statue was dedicated on July 4, 1976. A plaque at the base of the statue reads: "A tribute to the genius of Weatherford's Mary Martin who brought a myth to life for America's millions."
There was an exhibit containing some original music scores, costumes, and other memorabilia on Ms. Martin within the Weatherford Public Library, but these items have since been incorporated into the Doss Heritage and Culture Center.
Years earlier, another statue was dedicated to Mary Martin. It was placed in Cherry Park at 300 S. Alamo Street not far from Martin's childhood home at 314 W Oak Street. According to one source, back in the 1970s, some Mineral Wells students tore the fiberglass statue down.
A September, 1963 newspaper article recorded this information about the statue dedication in Martin's hometown of Weatherford, Texas:
"MARTIN HONORED — Mary Martin, who floated through the air with the greatest of ease in the Broadway and television production- of "Peter Pan," will be honored today as the Texas town of Weatherford.

Today most of Weatherford's 15,000 residents will gather in Cherry Park, a block from her former home, to dedicate a statue of Peter Pan in her honor.

Mayor Jack H Borden has declared a town holiday, and proclaimed ' Mary Martin Peter Pan Day."

Mary Martin won't be in Weatherford as the high school band entertains with some of her most famous numbers. She's in Detroit, second and last stop for "Jennie" before the Broadway opening in Oct. 17th. Critics have pointed out many flaw in the musical since its first showing in Boston.

Her daughter, Heller 21 who appeared in the New York production of "Peter Pan" with her mother will address the crowd as the statue is unveiled. She'll read a portion of Mary Martin's unfinished autobiography in which the talented actress describes what living in the small Texas town as a child meant to her.

Weatherford, 25 miles west of Ft. Worth, has constructed a six foot stone pedestal from which the 10-foot statue of Peter Pan will look down on passersby and playing children. The plaque below the statue reads: Peter Pan – A tribute to the genius of Weatherford's Mary Martin who brought a myth to life for America's millions"

Mary Martin made her theatrical debut at the age of five in the annual Weatherford Fireman's Ball. A few years later, in the town's only movie house, she first saw – Peter Pan" in the silent film starring Betty Bronson.

Peter Pan gave her an opportunity to display all her singing, dancing and acting abilities, and the history of show business is likely to record that the story of the child who refused to grow up was Mary Martin s most famous and lasting role."
Among the many hugely popular movies in which Williams starred was the 1991 smash hit Hook, in which he played a grown-up Peter Pan who returns to Neverland following an extended absence and must rediscover his past before defeating Captain Hook.
​
Watching the film is a great way to commemorate the passing of the actor himself, although if you'd like to get a little closer to the legend that he helped bring to life then a trip to London could be in order.
More specifically, you'll need to head to Kensington Gardens, where the famous Peter Pan statue is located.
Author JM Barrie, who created the iconic character in 1902, commissioned the monument to be built just next to the Long Water, which is the exact spot where Peter Pan first appears in the story The Little White Bird.
Barrie lived close to Kensington Gardens, and used the location as the inspiration for the story, before later dedicating an entire novel to the boy who wouldn't grow up when he released Peter Pan and Wendy in 1914.
It is thought that he had intended to write a sequel in which Peter returns to Neverland as an adult, yet never got round to it. However, with the making of Hook many decades later, the story was finally completed, with Robin Williams playing the starring role in the Oscar-nominated hit.
Many other iconic London attractions, such as Westminster Palace, also appear in Hook, so if you'd like to relive the magic of the film then be sure to book yourself into a Luxury London hotel and visit all of these key landmarks.
Bos, Carole "Learning to Fly – Wendy Darling and Her Brothers" AwesomeStories.com.
Aug 01, 2015. Sep 01, 2019.
Photos, by Mike O'kane, online via the Otago Sculpture Trust Website.
Harold Richmond, a philanthropist, grew-up loving Sir Thomas Clapperton's "Wonderland" sculpture located in Omaru, a town located on New Zealand's South Island.
That "Wonderland" statue—seen below—depicts a boy and a girl, surrounded by fairies which are located at the base of the Oamaru sculpture.
Later in life, Richmond—remembering how much he loved Oamaru's "Wonderland"—commissioned Cecil Thomas—a Welsh-born, London-based sculptor—to create a statue for the Botanic Gardens in Dunedin, depicting Wendy and her brothers "Learning to Fly."
The image, at the top of this page, depicts that Dunedin sculpture—also known as "The Wendy Group"—which Thomas finished in 1968. At the foot of the tree is a depiction of Nana (the Darlings' dog), based on J.M. Barrie's pet Newfoundland (named "Luath").
Three years previously, Thomas had created a statute of Peter Pan (which is also located in Dunedin's Botanic Gardens).
Richmond wanted young children to experience what it is like to look down on a world filled with exciting things (like fairies), so the two-meter sculpture has lots of "wear marks" on it.
J.M. Barrie and Peter Pan, no doubt, would be pleased with such explorations!
| | |
| --- | --- |
| | |
In 1955 and '56, NBC aired live telecasts of the Broadway hit Peter Pan, starring Mary Martin. Critic Lloyd Schwartz calls the performances, now available on Blu-ray, a "tribute to freedom and youth."
TERRY GROSS, HOST:
This is FRESH AIR. In 1955, 65 million viewers watched a live telecast of "Peter Pan," a recreation of the hit Broadway musical starring Mary Martin and directed by Jerome Robbins. It was so popular it was repeated, also live, the following year. The 1956 version has now been released on DVD, and both versions have been released on Blu-ray. Our classical music critic Lloyd Schwartz has watched both telecasts and has this review.
(SOUNDBITE OF SONG, "I'VE GOTTA CROW")
MARY MARTIN: (As Peter Pan, singing) I've gotta crow. I'm just the cleverest fellow 'twas ever my fortune to know. I taught a trick to my shadow to stick to the tip of my toe. I've gotta crow.
LLOYD SCHWARTZ, BYLINE: I urge anyone who sat through even part of the deadly "Peter Pan Live!" on NBC television last year to see the original telecast of that musical that VAI has just issued on Blu-ray. What a difference to watch brilliant actors who actually seem to love what they're doing under the direction of someone who knows how to make a show come to life. Mary Martin was one of the great Broadway stars. She made her Broadway debut singing Cole Porter's naughty "My Heart Belongs To Daddy" back 1938 and created another sensation as the Army nurse Nellie Forbush in Rodgers and Hammerstein's megahit "South Pacific," singing "I'm Gonna Wash That Man Right Outa My Hair" while taking a shower on stage. Later, the role of Maria von Trapp in "The Sound Of Music" was written for her. She was a kind of sexy tomboy, slight of build with a piquant voice that carried to the back of the balcony. She was adorable and so sincere. How could you not believe every syllable?
(SOUNDBITE OF SONG, "NEVER NEVER LAND")
MARTIN: (As Peter Pan, singing) I have a place where dreams are born and time is never planned. It's not on any chart. You must find it with your heart, Never Never Land. It might be miles beyond the moon or right there where you stand. Just keep an open mind, and then suddenly you'll find Never Never Land.
SCHWARTZ: Martin said that her favorite role was Peter Pan, the boy who refused to grow up. Audiences in the theater loved to see her flying across the stage on nearly invisible wires. But she seemed lighter than air, even when she was on the ground. And this was perfectly captured on TV.
(SOUNDBITE OF SONG, "I'M FLYING")
MARTIN: (As Peter Pan, singing) I'm flying.
UNIDENTIFIED ACTORS: (As characters) Flying, flying, flying.
MARTIN: (As Peter Pan, singing) Look at me way up high. Suddenly here am I. I'm flying. I'm flying.
UNIDENTIFIED ACTORS: (As characters) Flying, flying, flying.
MARTIN: (As Peter Pan, singing) I can soar. I can weave. And what's more, I'm not even trying. High up and as light as I can be. I must be a sight lovely to see. I'm flying…
SCHWARTZ: Her partner in "Peter Pan," as both the stiffly respectable Mr. Darling and the villainous Captain Hook, was Cyril Ritchard, whose star turn arrived in the third act, as he celebrated his evil deeds with a hilarious waltz. Like "Never Never Land," this was one of the numbers added to the original score during its tryout period, with new music by Julie Styne and lyrics by Betty Comden and Adolph Green.
(SOUNDBITE OF SONG, "CAPTAIN HOOK'S WALTZ")
CYRIL RITCHARD: (As Captain Hook, singing) Who's the swiniest swine in the world?
UNIDENTIFIED ACTORS: (As characters, singing) Captain Hook, Captain Hook.
RITCHARD: (As Captain Hook, singing) Who's the dirtiest dog in this wonderful world?
UNIDENTIFIED ACTORS: (As characters, singing) Captain Hook, Captain Hook.
RITCHARD: (As Captain Hook, singing) Captain of villainy, murder and loot, eager to kill any who says that his hook isn't cute.
UNIDENTIFIED ACTOR: (As character) It's cute.
RITCHARD: (As Captain Hook, singing) Who's the slimiest rat in…
SCHWARTZ: This new Blu-ray disc includes both the original black-and-white kinescopes for the live 1955 and 1956 telecasts. The 1955 version, produced immediately after the Broadway run, is a hair more spontaneous, despite a few technical glitches. In 1960, "Peter Pan" was telecast again with the same stars but with some cast changes – the original Darling children were by then too old for their parts – and a different director. But a new technology called videotape had been introduced. And this later "Peter Pan" could be repeated annually and in full color. The astounding success of "Peter Pan" was certainly the inspiration for the live Broadway musicals NBC has produced over the past couple of years, "The Sound Of Music," "Peter Pan," and this year's better-received "The Wiz." Last year's "Peter Pan" had one significant musical change. In the original Broadway show, Peter's allies against Captain Hook's pirates were an Indian tribe led by the princess, Tiger Lily, played by the diminutive Sondra Lee. But the Indian stereotyping in one song is now too painful to perform. Last year, NBC substituted a more updated number, but it was awful. Watching these 1950s TV versions could be a good way for kids to confront racial insensitivities that have not entirely disappeared, even though the Indians here are good guys and are performed with zestful innocence and charm. I loved "Peter Pan" when I was growing up. My parents took me to see it on Broadway. And I even got Mary Martin's autograph. It's a joy to be able to see a great star at the height of her powers in this exuberant and touching tribute to freedom and youth.
| | |
| --- | --- |
| Photo Credit: 25 Year Anniversary  | Photo Credit: Hook Cast 25 Years Later |
The Lost Boys aren't boys anymore.
Steven Spielberg's classic film "Hook" is turning 25 this December and the cast reunited to celebrate.
Production company 22 Vision got the gang back together to honor the milestone with a photo shoot and, most recently, a video of what Peter Pan's kids and the Lost Boys are up to now.
Both Amber Scott, who played the adorable Maggie at the age of 6, and Charlie Kosmo, who played Peter Pan's son Jack, left acting to pursue academics — though Kosmo briefly returned to the big screen as a lead in the film "Can't Hardly Wait." Both went on to graduate college and Kosmo graduated from Yale Law School. He is now an attorney and law professor.
The young boy from the Bronx who played Don't Ask, James Madio, has continued a successful acting career, working with both Dustin Hoffman and Spielberg again since "Hook."
To catch up with the rest of the cast, check out the video.
spacer
The national magazine for the American not-for-profit theatre
Taking Flight: How Sarah Ruhl's 'For Peter Pan' Got Off the Ground
Excerpts included here.  You can review the entire article by clicking HERE.
Actors Theatre of Louisville brought ordinary reality to new heights in Ruhl's latest play, which is a tribute to her mother.
"And if it means I must prepare
To shoulder burdens with a worried air,
I'll never grow up, never grow up, never grow up…"
—Carolyn Leigh, from the 1954 musical Peter Pan
When is a person truly a grown-up? Is it when they get a real job, when they have a child of their own, when their parents die? Is "never" really an option?
These questions are at the heart of Sarah Ruhl's For Peter Pan on her 70th birthday, which takes the tale of the boy who never grew up for a new spin while telling a story about something we all have in common: death.
For Peter Pan, which ran March 8-April 10 as part of Actors Theatre of Louisville's Humana Festival of New American Plays, was inspired by Ruhl's mother, Kathleen, who played the character onstage as a teenager, and who is seen on the poster for the play looking perky in her green costume.
"When I was growing up, whenever I visited her family house in Iowa, there were these pictures of her as Peter Pan, in green tights, flying," Ruhl recalled. "So it was part of my association with my mother, and also part of my association with what theatre was."
The play opens with a 70-year-old Ann (Kathleen Chalfant), a sort of stand-in for Ruhl's real-life mother, directly addressing the audience about the joy of performing the role as a child. Ann is the oldest of five, with three brothers and a younger sister, all of whom are dealing in different ways with the impending loss of their father.
Ruhl tells the story in three "movements" without an intermission: First is the vigil at the hospital; then the informal, whiskey-fueled wake around the kitchen table; and finally a fantasy sequence in which the siblings jump into the world of Peter Pan—or rather, a children's play version of Peter Pan, but with their creaky knees and bad eyesight.
Most of the cast enjoyed hamming it up in the third movement, as the entire production took on a heightened feel, with underscoring (selected and arranged by sound designer Bray Poor) and sharper lighting. Frey described his lighting concept as "a place that is fantasy, memory, and a community theatre from over a half century ago—sometimes one of these things, and sometimes all."
Ruhl said she wanted that section to feel as if the characters were putting on a children's play, but also as if we're going "into their dream life or their unconscious. They're both children and adults at the same time." Accordingly the characters shift between acting their parts as the Darling children and commenting on their "real" adult lives. In performance the contrast was both jarring and funny.
Smart's set for this section was dominated by the huge nursery window, which she made even bigger than usual so that the adult performers looked a little smaller and more childlike. At the same time, the window piece was constructed to be extra-strong so that the flying actors could hold onto it and use it as a midstage anchor.
"The window represents light and dark, the home and family, escape from such, and later becomes a closed and locked gate (all very important symbols, especially for mind control)—the adult 'children' return to look longingly through it at the old house, now sold and owned by another family," Smart explained.
ZFX's Owens said the moment when Wendy flies up behind the window and looks in was a happy discovery during tech rehearsals. They didn't plan it, nor did Waters or Ruhl.
After all the magic of the third section, I was surprised to hear from several audience members that their strongest reaction was to the "authenticity" of the first two movements, especially the handling of the family's faith.
"I'm a Catholic, so I could relate to so many things," said Suzanne Higdon, a frequent attendee of the theatre. "It was so similar to how they handle very serious moments in their lives and turn to prayer."
"The death scene—like a lot of people, I've seen that room a lot of times, and it was really right on," said Tom Hay, another Humana regular, who added that he thought the second section, set around the dinner table, was too slow.
Waters said that that second part is intentionally uneventful—that it's meant to overturn a familiar trope of the American family drama, in which characters "get drunk and tear each other apart," and "something will be revealed and someone will say, 'Actually, I was abused by my father's uncle' or 'I'm your mother,' or whatever." In Ruhl's play, "It doesn't—it deliberately doesn't. It's a reminiscence. So that is actually very tricky to play."
For Peter Pan may have presented its production challenges, but for Ruhl it was all about audiences finding resonance with the characters and the universality of the story.
"I hope the audience brings their own personal experience to it, their own personal narrative about what it means to grow up, what it is to exist in a big family, what it means to lose the head of a big family," Ruhl said. "The play is not a message play. I don't think it reduces neatly that way, but I hope people connect with it emotionally."
"The depth of it, the fierceness of it, has been kind of a surprise that we've found," she said. That sounds like a pretty grown-up discovery.
Tara Anderson is an MFA student in writing at Spalding University and contributing editor of WFPL, Louisville, Ky.'s NPR station.
FOCUS ON BELGIUM
02/02/2017
© Corenthin Libois
The statue of Peter Pan, which is located at the Egmont Park in Brussels, symbolises the friendship between the Belgian and British children during the First World War.
Sir George Frampton has given the statue of Peter Pan to Brussels in order to emphasise the friendship between the British and Belgian children, who were playing in the Egmont Park during the First World War. The bronze Peter Pan is standing in the Egmont Park since 1924 and was classified as a monument in 1974. The statue is a copy of the original one in Kensington Gardens (London).
The statue was taken out the park for two months, but has returned to its familiar place since the second of June in 2010. During the restoration, they put back the panpipe of Peter Pan and the ears of the bunnies. The traces of bullets on the statue, dating from the Second World War, were also removed.
When I was little I grew up loving Disney's Peter Pan! I mean a boy who never grows up, teaches kids to fly, has his own island and gets to fight pirates…well sign me up! Then in middle school I had to write a short paragraph on an author and got assigned J.M. Barrie, the author of Peter Pan. As I researched for information on the author, via encyclopedia (pre-internet), I discovered that there was a statue in London of Peter Pan. So of course it went on the bucket list, and when we decided to visit London on our Honeymoon, guess where we were going.

O.K. so a little history first. J.M. Barrie lived close to Kensington Gardens in London, and it's there that he met the Llewelyn Davies boys. They inspired him to write about a baby boy who has magical adventures in the Kensington Gardens. Using Kensington Gardens for inspiration, J.M. Barrie published his first Peter Pan story in 1902. His first tale The Little White Bird, Peter, upon hearing his parents discuss his adult future, flies out of his nursery and lands beside the long water. The spot where Peter lands is the exact spot where the statue resides.
Sir George Frampton was commissioned by J.M. Barrie to build the Peter Pan statue in 1902. The bronze statue was erected in 1912 overnight to give the illusion that it appeared by magic. It was on May 1st, 1912 that the boy who would not grow up appeared in Kensington Gardens. ​
We arrived at Heathrow Airport in London, grabbed our bags and made our way to the Heathrow Express. The Heathrow Express (unfortunately not Hogwart's Express) is a train that will take you directly from the Heathrow Airport to Paddington Station inside London. This worked out for us because we had a room near Paddington Station the first night we arrived and yes it's the station where the infamous Paddington Bear is from. The station is also a few blocks north of Hyde Park so of course guess what our first adventure was!
It was a little bit of a rainy day when we arrived, but we didn't let that stop us. That didn't stop us, we grabbed our gear and headed into the park. Now Hyde Park is beautiful, like 350 acres of beautiful! It's home to the Kensington Gardens, the Serpentine Lake, and the Diana, Princess of Wales Memorial Fountain (which then conveniently serves as a memorial to the Goddess Diana, her namesake). We quickly followed the signs directly leading us to the statue and as we rounded a corner there it was. The statue is maybe 10 feet tall featuring Peter Pan standing atop what first appears as a gnarled tree, but as you approach closer you can see squirrels, rabbits, birds and fairies joining the fun. The bronze statue is magnificent, beautifully put together and captures Peter Pan in all his glory.
They even have an interactive feature where you can get a personal 'call back' from Peter on your smartphone. passers-by can swipe their phones a nearby tag and the audio will transport the listener to Neverland!
If you really want to get your Peter Pan fanboy or fangirl on you can take a brisk walk over to J.M. Barries house and see just how close he actually lived to the statue.     
___________________
Getting to see, in person, both where J.M. Barrie lived and the Peter Pan statue resided was a dream come true. It was a journey decades in the making and something every book fan, every Peter Pan fan, every Disney fan, and honestly every adventurer needs to make. It's closer than you think. 
​Second star to the right, and straight on till morning!
I posted the above article for a couple reason the most important is that it shows you how enamored an entire generation of children are to this character.  Peter Pan is the "hero" to millions if not billions of children across the Earth.  They are totally unaware that they are worshiping SATAN/BAAL in the guise of PAN.   PAN THE GOAT GOD, romanticized.
Part of what I like about this blog so much is its ability to crowdsource information.  Take my updated version of The Complete Listing of All Public Children's Literature Statues in the United States.  The post got a nice response and an even nicer series of statues I'd never even heard of.  A new How Do Dinosaurs Say Goodnight in Abilene, TX (the children's literature statue capital of America)? An Alice in Portland, OR? An L.A. Mother Goose?  I haven't had time to update the list with all of these yet, but one suggestion came in via email that I actually felt was so cool that I had to share.
The email was titled "One more Peter Pan sculpture…in Kansas, no less". Now, ladies and gentlemen, I was fairly certain I'd collected every last living Peter Pan statue in the States.  Carl Schurz Park (Yorkville, NY), Main Columbus Metropolitan Library (Columbus, OH), Eldridge R. Johnson Park (Camden, NJ), and Weatherford, TX.  If there are statues to be found in Kansas they're usually of the Dorothy variety, no?  But author Beverley Olson Buller had actually located a doozy of an image.  She wrote:
"Your updated list of kid-lit landmarks in SLJ was amazing, and I was glad to see Dorothy in Liberal, KS, included.  I was not surprised to *not* see Kansas' Peter Pan sculpture on the list but thought you might want to know about it.

It is located in Peter Pan Park in Emporia, KS.  The park was created from land donated to the city in the 1920's by Emporia's world-famous editor William Allen White who suggested its name.  When he editorialized his daughter Mary following her 1921 death, he stated, "She was a Peter Pan who refused to grow up."  Editorial can be found here: https://www.kshs.org/kansapedia/mary-white-obituary/10159

And here's a photo of Kansas' Peter Pan.  There used to be a tiny Tinkerbell by his right foot, but after the second time it was broken off, it was not restored."
Wow!  This was completely unknown to me.  Indeed, tracking down information about the statue and its sculptor has turned out to be more difficult than I'd anticipated.  I loved the detail about the missing Tink (Beverley told me she and her editor had to consult newspaper archives to discover the fact that Tink had ever even existed at all).
But almost as interesting is that tidbit of information about the statue's inspiration, Mary White.  Do be so good as to read her 1921 obituary.  In 2010 Beverly was so entranced with the child that she wrote a biography of her called A Prairie Peter Pan: The Story of Mary White. It's rare to find a kid sound charming in their own obit, but Mary's that rare exception.  Little wonder.  When you look at the obit's writer you see it was her dad.  And as Beverley told me, "Edna Ferber opined in the New York World in 1916 that Mary would someday be president."
Thanks for the info, Beverley!
Haunted Walks Inc.
____
On December 27th, 1904, play-goers in London were hesitant to go to the theatre. A new production called Peter Pan, or The Boy Who Wouldn't Grow Up was premiering and it was forecast to be a flop. The curtains opened and immediately the audience was enthralled. When Tinker Bell lay dying on stage from having drunk poison, and Peter Pan let the audience know that they could save Tinker Bell from impending doom if only they clapped their hands and believed in fairies. The audience let loose thunderous applause. The heartfelt response was so overwhelming, the actress playing Peter Pan burst into tears. Tinker Bell was saved and a children's classic was born.  (this is the most hideous aspect of the play.  Pulling on the heartstrings of the innocent and tricking them into committing to not only accepting but idolizing demonic beings.  Fairies evil spirits.  No matter how beautiful they may appear.)
The playwright, a man named J. M. Barrie, commissioned a statue of Peter Pan to be placed in Kensington Gardens in London. The gardens were where he had first met the children who became the inspiration for characters in the play. It took sculptor Sir George Frampton years to match Barrie's wild ideas, but eventually he come up with something that pleased the author. When it was finally cast in bronze, Barrie had it set up in Kensington gardens overnight so that it would look to the local children like the fairies had left it there, as if by magic….or pixie dust.
In total there were 7 casts made of the famous statue, one of which was purchased by the members of Toronto's College Heights Association. On September 14th, 1929, the statue of Peter Pan was unveiled in what is now known as Glenn Gould Park. It still stands there today, and if you choose to visit, you can find the signature of J. M. Barrie about half-way up the base.
The statue itself shows Peter Pan standing on a tree stump playing a flute while a collection of fairies, rabbits, squirrels and other little creatures hide in the nooks and crannies of the trunk. Look closely and you'll also find a frog, a lizard and some mice.
A neat little Toronto secret, hiding in plain sight.
Written by Jill Sullivan
Tour Guide
The Haunted Walk of Toronto
Posted by Stephen taylor    11 Aug 2017 09:05 AM,UTC
Peter Pan; Cecil Thomas; 1967; PA00031
Source: NZ Museums blog  –  No copyright infringement intended.  Educational use only
NO COPYRIGHT INFRINGEMENT INTENDED.   POSTED HERE FOR EDUCATIONAL PURPOSES ONLY!  CREDIT AND LINKS PROVIDED.
FromWhanganui District Council Public Art and Memorials
Name/Title
Peter Pan
About this object
Bronze statue of Peter Pan on a tree stump with New Zealand fauna and other characters from J.M. Barrie's plays and stories.
The Peter Pan statue in Virginia Lake is one of two versions made by Cecil Thomas some fifty years ago. The earlier copy was commissioned in 1965 as the Dunedin Botanic Gardens' first statue. Cecil Thomas (O.B.E., F.R.B.S.) was an English sculptor, selected due to his then contemporary prominence having designed the effigy on the Queen Elizabeth II Coronation Medal, among other achievements.
Whanganui residents Frank and Eleanor Burnet were inspired to commission a unique statue for the town by the same artist. Thomas visited the town, and over a period of several years, sculpted a new Peter Pan to stand in Virginia Lake. The unveiling took place in September 1967 in a ceremony presided over by Governor General Sir Bernard Fergusson.
Peter was designed to be child friendly, posed defiantly with hands on hips, on a strengthened bronze beech tree stump. Around the stump are the Lost Boys and Thomas has chosen to incorporate uniquely New Zealand creatures which Dunedin's statue did not feature – snails, penguins, a limpet, a fantail, a morepork, skink and a tuatara. The plinth was carved from Tākaka stone.
Stephen taylor 11 Aug 2017 09:05 AM,UTCI help Cecil make a rabbit to go around the bottom I was just a school boy and he help me to draw and told me stories he and his wife was so kind to me there house was Beautiful they lived in Brompton Road This brings so many memories back
NEW YORK TIMES
As a child, the director Christopher Alden was obsessed with the musical "Peter Pan." "My twin brother, David, and I begged our parents to let us audition to play the roles of the twins," Mr. Alden recalled recently. "They wouldn't let us do it."
Now, decades later, he gets to direct "Peter Pan."   (Do you see how this "FAIRY TALE" gets into your mind and does not let go!  This is a spiritual issue. Normal adults, mature and let childish things go.  They do not hold on to fairy dust. We have more than one whole generation that is living under demonic influence.)
Well, the other one.
The show Mr. Alden is staging as part of the Bard SummerScape festival at Bard College, starting on Thursday and running through July 22, is not the Mary Martin blockbuster of his youth but an earlier adaptation of J.M. Barrie's play with a wonderful, undeservedly obscure score by Leonard Bernstein, whose centenary is being celebrated this year. That production — which starred the unlikely combo of Jean Arthur as Peter and Boris Karloff as Captain Hook — closed in 1951 after a respectable 321 performances, but then essentially disappeared.
The pared-down Bard revival, in Annandale-on-Hudson, N.Y., appears to be the first New York presentation in 68 years. It is set in a dreamlike abandoned amusement park and features an eclectic cast led by the musical-theater baritone William Michals as Hook, the writer-performer Erin Markey as Wendy, and the comedian Peter Smith as Peter. Jack Ferver, whose recent piece "Everything Is Imaginable" revolved around its dancers' childhood idols, is handling the choreography — and playing Tinker Bell.
The project came about when Gideon Lester, the artistic director for theater and dance at Bard, searched for a rarity to celebrate Bernstein's centennial year and stumbled onto "Peter Pan."
"I was so surprised because I'd never heard of the show," Mr. Lester said. He was not the only one: Mr. Lester said that when he approached the Great Ormond Street children's hospital in London, which holds the rights to Barrie's play in perpetuity, the administrators did not seem aware of Bernstein's version.
It's hard to blame them, especially since the score's tortuous path limited its exposure. Wendy's 11-o'clock number, "Dream With Me"— a lovely song in the vein of "Some Other Time" from "On the Town" — was cut before the Broadway premiere. While "Who Am I?" (eventually covered by Nina Simone), is as close as the show gets to a standard, it's still under the radar of many Bernstein fans.
According to most sources, Bernstein was originally commissioned to compose only instrumentals, but became so enamored with the play that he volunteered songs, for which he also penned the lyrics. Unfortunately, there was a hitch: Ms. Arthur wasn't much of a singer. This is probably why only Wendy and Hook have solos.
It did not help that Bernstein was busy conducting abroad throughout rehearsals and previews, so a friend, the composer Marc Blitzstein, acted as his representative. Shortly after the opening in April 1950, Bernstein wrote his sister, Shirley: "I am shocked by the idea of my name in lights on this show!"
To make matters worse for Bernstein's legacy, new instrumentals by Alec Wilder took over on the recording. "That album has a lot of dialogue, and I think they may have needed music that was just more friendly to function under those spoken words, so they commissioned this other score only for the recording," said Garth Edwin Sunderland, vice president for creative projects at the Leonard Bernstein Office.
No matter the reason, large segments of the score went unheard until they were restored for the first complete recording in 2005, undertaken by the conductor Alexander Frey, with Linda Eder as Wendy. Some edited materials created for a 1980s production popped up on that album, but a few years later the discovery of the originals in the Leonard Bernstein Collection at the Library of Congress allowed for the creation (finally) of a performing edition. For Bard, Mr. Sunderland has created a new orchestration for five musicians.
"Although on the surface the music feels very simple, it is impressive how complicated a lot of it is," Mr. Sunderland said. "Structurally and technically there are a lot of things he is doing that are quite clever, which I think were just for himself."
"In a way," he added, "you could make a case that the score was a little bit of a study for 'Candide.' That show is entirely pastiche, and you can see the germ for that in 'Peter Pan,' particularly in 'Captain Hook's Soliloquy.'" (That song was actually written for the post-Broadway tour, which at one point paired the popular baritone Lawrence Tibbett's Hook with Veronica Lake's Peter).
The score evokes influences as diverse as Gilbert and Sullivan and Kurt Weill, and is often suffused with an evocative, melodic wistfulness. Bernstein "had such a strong feeling for his family, for needing to have a family and children, even though his life went in so many different directions," said Mr. Alden, who directed
an acclaimed production
 of Bernstein's opera "A Quiet Place" for New York City Opera in 2010. "I think the story really moved him on a very personal level. The childlike innocence, the naïveté he brought to this music are somewhat unique in his oeuvre."
Much of that mood is connected to Wendy, the show's key character; Mr. Alden has even written out her siblings and made her an only child. (The focus on the father-daughter relationship is also underlined by Mr. Michals play both Hook and Mr. Darling, Wendy's father.) Meanwhile, the casting of Erin Markey (who prefers Mx. as an honorific) reinforces the idea of a questing Wendy.
"I like the idea of Wendy, the traditional ingénue role, being played by somebody who has more teeth than the kind of person who's usually asked to play that role," said Mx. Markey, who took on Lynette Fromme in Stephen Sondheim's "Assassins" last summer. And Mr. Ferver brings his own neo-camp sensibility to the choreography; Mx. Markey and Mr. Michals both mentioned "Mommie Dearest" popping up as a reference during rehearsals.
Having actors and a creative team with different backgrounds, perspectives and training is very much in keeping with Bernstein's own approach.
"I think Bernstein's music for 'Peter Pan' is a great example of what he believed in, that there was no difference between high art and low art," Mr. Alden said. "This piece very much brings all those together in a rather organic, unpretentious way — natural but with a real feeling for pulling all these different branches of culture together."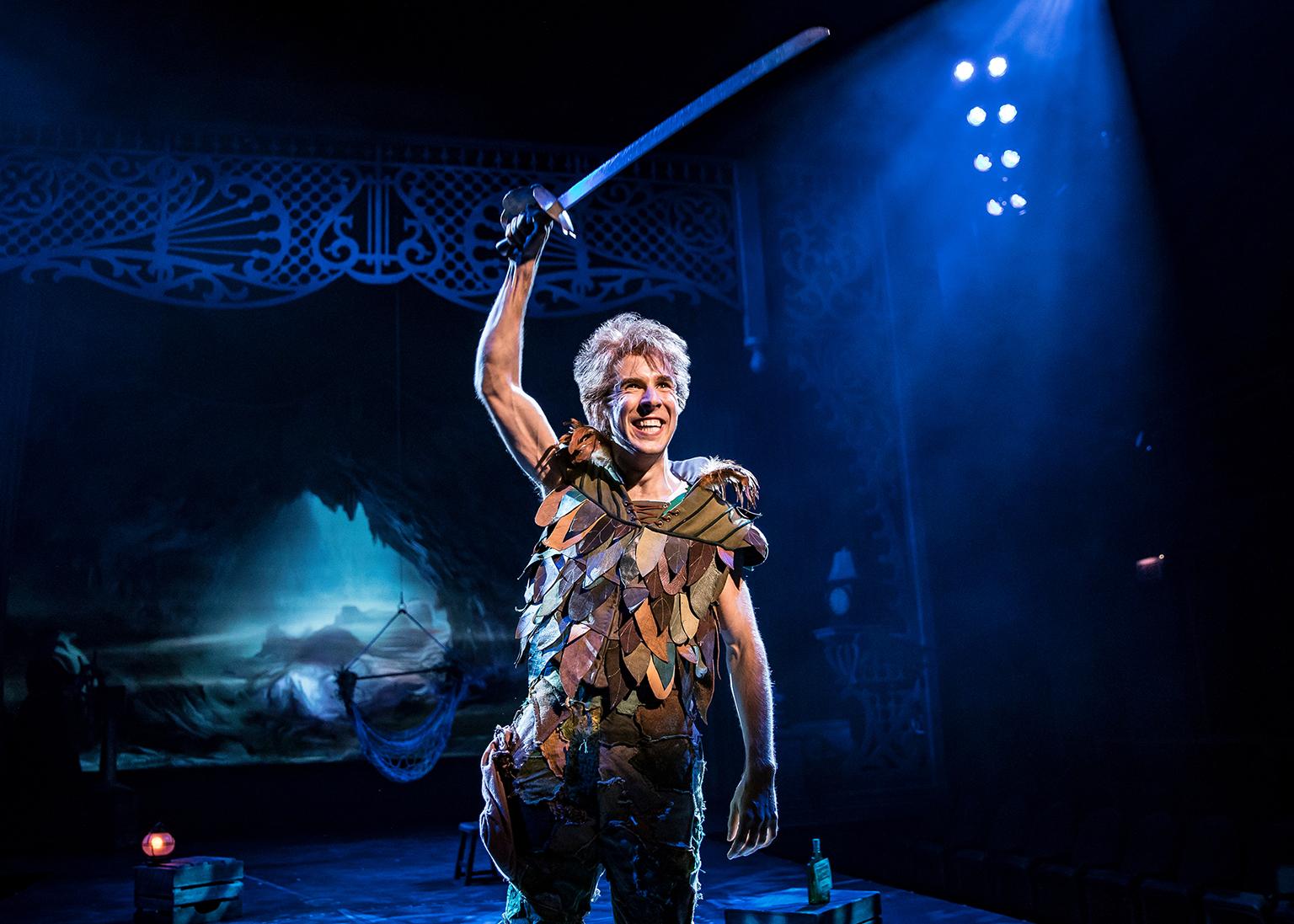 From the moment in 1904 when Scottish writer J.M. Barrie first put his character, Peter Pan, on a London stage, the boy who steadfastly refused to grow up, flew off to the island of Neverland to escape adulthood, and lived a life full of adventure, has been a mainstay of the theater, and later film and television. And each generation has found its own particular Peter, whether by way of actresses Mary Martin, Sandy Duncan or gymnast Cathy Rigby, a Disney animated film, or countless other iterations.
This summer, for its grand-scale family musical, the Chicago Shakespeare Theater has chosen "Peter Pan – A Musical Adventure," the 1996 version of the story that features a score by the British team of composer George Stiles and lyricist Anthony Drewe, with a script by Elliot Davis (based on a book by Willis Hall and the original play by Barrie).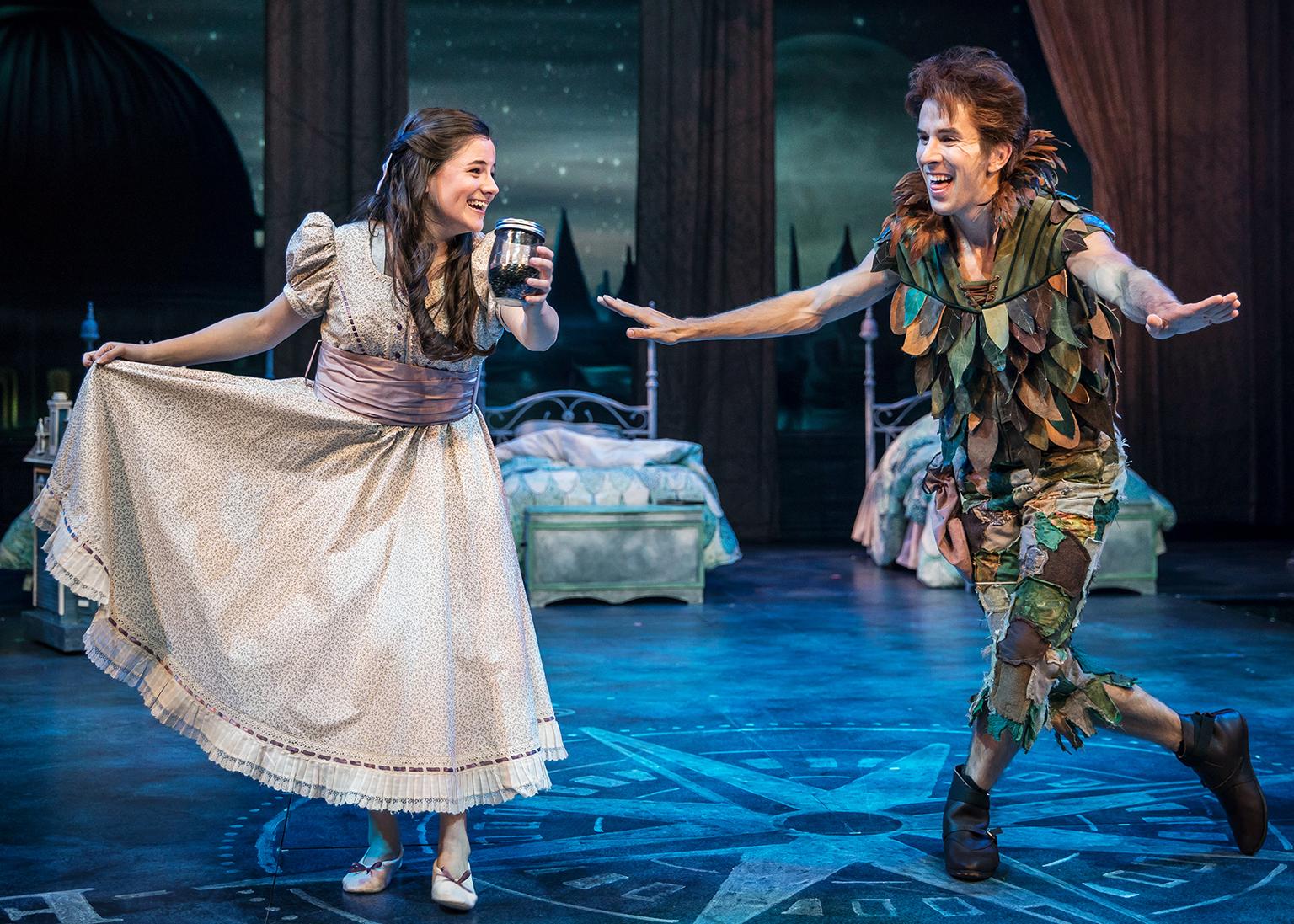 The elaborately produced 75-minute show – winningly directed and choreographed by Amber Mak, with music direction by Kory Danielson, exceptionally fine aerial work by ZFX Flying Effects, and an exemplary cast and design team – has all the energy and magic necessary to keep young audiences engaged. At the same time, the adult aspects of the story emerge with particular force and clarity – from the sense of responsibility that comes with marriage and parenting, to the sometimes differing attitudes of men and women in regard to those things, to a full acceptance of aging and mortality.
Although the familiar 1954 score by Mark "Moose" Charlap, Carolyn Leigh (and others) remains in a class all its own – and holds a certain nostalgic charm for me – there is a lovely lyricism and wistfulness to the songs in this Stiles-Drewe version. And the initial flying song, "Never Land," which is broken into two words here as opposed to one, even takes on a bit of a fresh meaning, becoming not just a place (Neverland), but an admonition to keep flying to new adventures in one's life.
In addition, Mak and her actors make the male-female dichotomy exceptionally clear, with the clueless Peter in search of a mother while Wendy is hoping for romance.
Johnny Shea, who resembles a young Benedict Cumberbatch, is not only a notably fleet and natural Peter who easily steers clear of cuteness, but he also is an exceptionally fine flyer who soars up to a perch on the theater's top balcony with easy confidence while singing in full voice.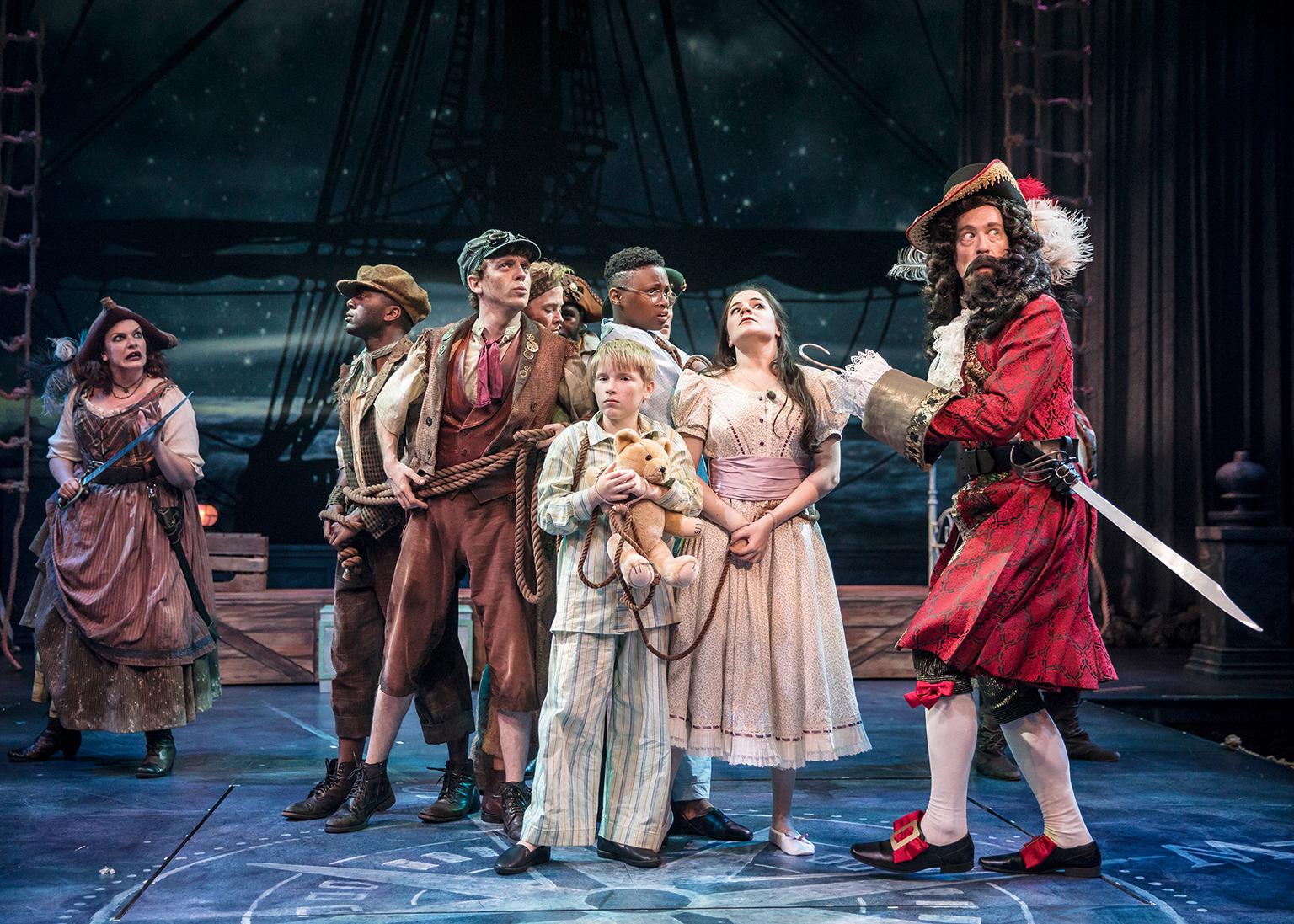 Elizabeth Stenholt's Wendy possesses both strength and warmth, and she does a fine job of mothering Peter and his rowdy pals, the Lost Boys (an exuberant quartet of singer-dancers that includes Colin Lawrence, Travis Austin Wright, Michael Kurowski and John Marshall Jr.), while maturing in full sight and realizing that she must return home. And as the Storyteller (and fully evolved Wendy), the elegant Rengin Altay brings a wise and bittersweet resolution to the musical.
The rich-voiced Roberta Burke is the ever-anxious mother of Wendy and her younger brothers John (Cameron Goode) and Michael (Carter Graf), and introduces the show's fervent anthem, "Just Beyond the Stars." And James Konicek morphs perfectly from the inept and comically narcissistic Mr. Darling to the self-important, vengeance-hungry Captain Hook, who commands his jaded assistant Smee (the earthy Sean Patrick Fawcett) and pirate crew (Christina Hall, Jonathan Butler-DuPlessis and Burke).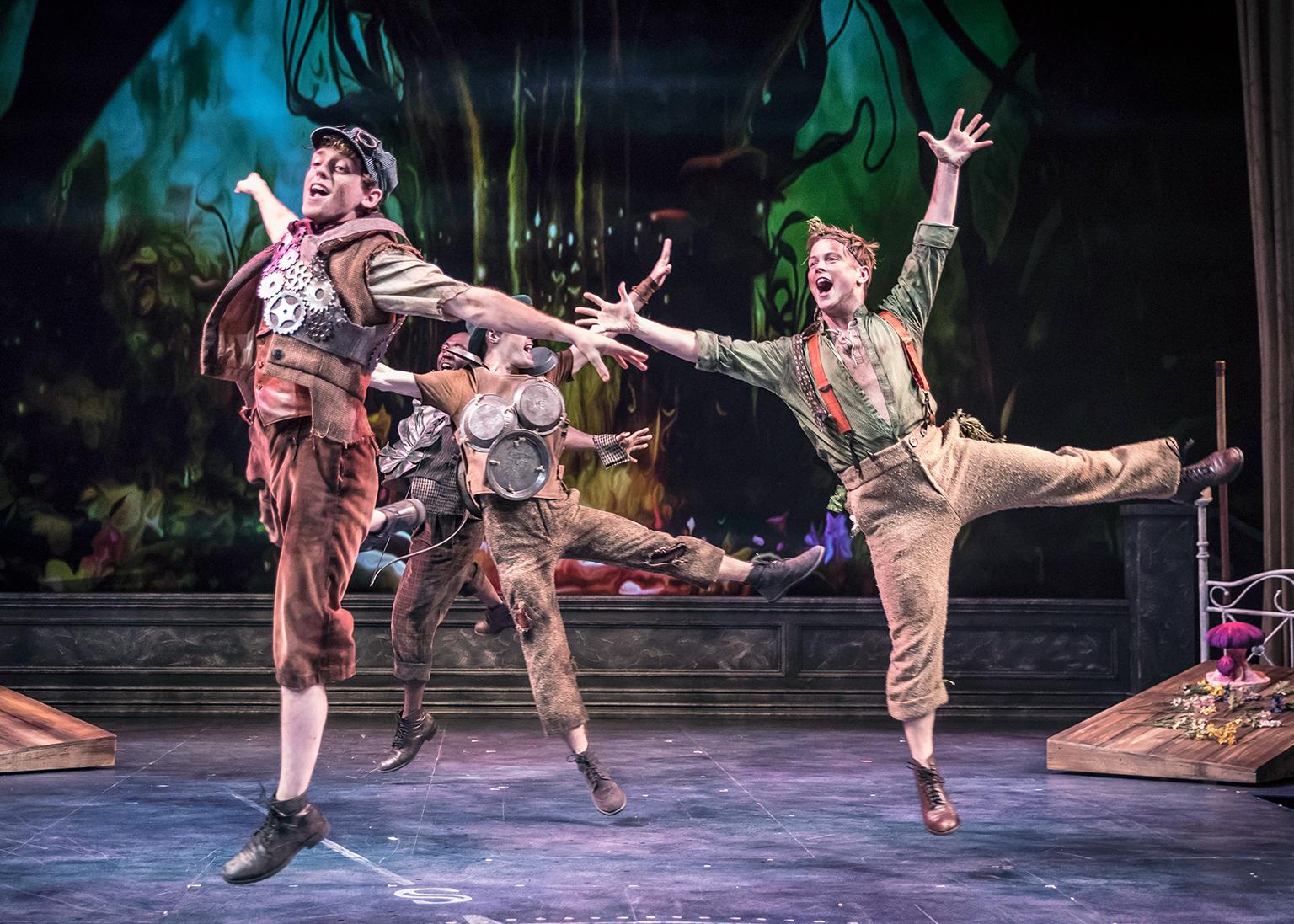 DuPlessis also easily steals the show early on as Nana, the Darling family's giant watchdog who is brilliantly costumed in shaggy gray fringe by designer Theresa Ham.
Conductor-keyboardist Danielson leads an excellent group of musicians (Julia Schade Armstrong, Dominic Trumfio, Dave Saenger and Ethan Deppe). Jerry Galante's fight choreography is full of daring. And the ever-masterful Jeff Kmiec – aided and abetted by Greg Hofmann's exquisite lighting and Mike Tutaj's projections – has devised an altogether magical set that moves with dreamy ease from London steeples, to island vegetation, to the deck of a pirate ship.
Mak has dedicated this production to her friend and mentor, Rachel Rockwell, the immensely talented director-choreographer who died of cancer earlier this year at the age of just 49. As the program notes, "Rockwell showed us [as Barrie wrote], that 'All the world is made of faith, and trust, and pixie dust.'"
A most fitting tribute.
Peter Pan is making another appearance in children's literature, more than 100 years since first springing from the pen of J.M. Barrie. And this time, there's a Newfoundland twist.
The Secret of Bowring Park was inspired by its author's visit to her childhood home, when Christine Gordon Manley took her then four-year-old daughter to the park to enjoy a favourite townie pastime: clambering all over the bronzed flora, fauna and fairies of its Peter Pan statue.
"I was watching her climb all over that statue, and the idea just kind of hit me: I said, there hasn't been a book with the statue. So I decided to write one," said Manley.
It was an ambitious idea for Manley, who had never written a children's book before. But as she followed up on her gut instincts and learned the history of the statue, she became convinced she was on the right path.
"The more research I did, the more fascinating the whole story behind it was to me," she told CBC Radio's Weekend AM.
Tragic past
The St. John's statue is dedicated in memory of three-year-old Betty Munn, a passenger aboard the SS Florizel when it sank in the waters off Cappahayden in 1918.
Heartbroken, her grandfather Sir Edgar Rennie Bowring commissioned a duplicate of the Peter Pan statue erected in London, England, and had it installed on land he had donated to the City of St. John's in 1911 to create the park.
The inscription, 'In memory of a little girl who loved the park' still graces the statue in 2018, and Munn's story lingered on in Manley's heart.
"I saw a photo of her face. I just couldn't get it out of my head," she said.
"I wanted to honour her, and write a book about the eternal magic of childhood."
'Magic inside of us'
The resulting book doesn't dwell on Munn's tragedy beyond an author's note, but does pay sly tribute to her through one of the character's names, Elizabeth. Elizabeth and her sister Natalie spend time in the park and experience the sculpture's magic in different ways.
The format is also different. As an early-reader chapter book, Manley said she recommends it for a wide age range — from four- to 10-year-olds. Manley said that even her daughter who inspired the book, who has long graduated to meatier novels, enjoyed the tale.
"Because she visited this statue first-hand, she still finds magic," she said, adding that echoes the overall theme of the book.
"That there's magic within us, and not to lose it even though we're going to grow up and be boring grown ups. But we can all remember that we have magic inside of us, and that's very powerful."
The Royal Parks
Celebrating Kensington Garden's famous fictional resident, the bronze statue features Peter Pan surrounded by squirrels, rabbits, mice and fairies.
You can find the Peter Pan statue to the west of the Long Water, in the same spot as Peter lands his bird-nest boat in the story, 'The Little White Bird.'
Peter Pan creator and local resident JM Barrie was inspired by Kensington Gardens. He commissioned Sir George Frampton to build the statue which has been a favourite feature of the gardens since 1912.
Bring the Peter Pan statue magically to life with your smartphone, as part of Talking Statues. Simply swipe your phone on the nearby plaque and get a personal call-back from Peter Pan.
A recent project at Peter Pan is now complete and Peter Pan re-opened on Wednesday 1st May – 107 years to the day that it was first unveiled in 1912. This involved:
restoring the Grade II* Peter Pan statue and its surrounding
enhancing the landscape setting creating a garden that evokes the 'magic' of Peter Pan
improving access for less able park visitors
improving the visibility and prominence of the statue from across the Long Water and the wider landscape of Kensington Gardens
WE'VE chased Tinkerbell around the nursery, stepped over crocodiles by a pirate ship and played with the mermaids by the lagoon.
But instead of flying to Neverland, we've taken the easier option — a short trip to Dumfries in Scotland to visit the newly opened Centre For Children's Literature. And we're not disappointed.
Moat Brae — the stunning Georgian riverside home where Peter Pan creator J. M. Barrie spent his childhood getting inspiration for his ­legendary stories — was once just three days from being bulldozed.
Now, thanks to fundraisers, it has been transformed into a shrine to the writer and his famous tales.
My wife and I are here with our two-year-old daughter, who immediately careers into the beautifully manicured gardens. Older kids are given a treasure hunt map to find ten sculptures of crocs hidden around the outside of the house.
Wannabe Lost Boys and Girls can play on a pirate ship, hang out in the sand with the mermaids and even hide from their parents in Tinkerbell's tiny house — which our daughter delighted in.
It was in these gardens, which Barrie described as "an enchanted land", where the writer played aged 13 to 18 in his friends Stewart and Hal Gordon's garden — imagining pirate ships floating down the ­neighbouring River Nith.
The house and gardens, which opened this spring, host plays by Barrie and other playwrights.
Inside the 250-year-old home you are taken through Barrie's life. You can take your kids to one of the regular storytelling sessions and little ones can gleefully chase an interactive Tinkerbell around the walls of its upstairs nursery.
All this left us with a hunger that was suitably satisfied in Moat Brae's fabulous art-deco cafe which has a great range of hot and cold food and drink. Our salmon, cream cheese and asparagus quiche and kids' lunchboxes hit the spot.
If your thirst for iconic Scottish writers has still not been quenched, you can pop into nearby Robert Burns House, where "Rabbie" wrote some of his best-known poems.
Dumfries and Galloway might not have the popular draw of the ­Highlands or the lure of the locks but it's rich in history and set in a stunning, untouched landscape.
We are here for three nights and our accommodation, Three Glens guest house — just outside pretty Moniaive — is a haven of tranquillity.
To get to it, we drive through a farm, up a stone track and find a stunning holiday getaway with jaw-dropping views over the countryside where the three glens Craigdarroch, Dalwhat and Castlefairn meet.
The house, built with 286 railway sleepers, 500 tons of local stone and 2,000 fleeces of sheep for insulation, is just as perfect for a party getaway as a quiet weekend with the family. After a fantastic freshly cooked breakfast we are spoilt for choice of what to do next.
CONTINUE TO: PETER PAN & THE LOST GENERATION – PART 4 – PAN THE GOAT GOD