UPDATE: 2/3/23
If you are paying attention you have to know that the world is headed for World War III, if we are not already in it.  Our world leaders all seem hellbent on making WAR!  There are those who try to blame Putin, and there are those who think that Putin is a warrior for the faith and truth.  BOTH of those are lies.
I don't know how much if any of the NEWS we can believe.  I would say not much.  We are lied to on a regular basis.  We used to condemn the communist nations for their propaganda.  Now, since Obama made it legal to use propaganda on US citizens, there is no truth in the NEWS.  The world leaders want to silence the independent News sources on the internet.  We all need to be praying that God keeps access to these sources open if we are ever to maintain sanity in the world.
Sadly, I don't believe any of these oligarchs have a clue why they think and do the way the do.  I believe that they are all manipulated if not fully possessed by demons.  Sometimes, I think that GOD is also manipulating them.  We know that World War III is coming.  It is in the WORD.  We know that Armageddon is coming.  Some think they are one and the same.  I don't really study that much.  But, I know one thing…there is going to be WAR and FAMINE, and PESTILENCE, and EARTHQUAKES, and DROUGHTS, and all manner of suffering and death.  I know, because the Word says so.
The following articles and videos will tell you much about the current conflict, where we stand, how it may develop and how it may play out, how it began and where it is progressing.  Of course, keep in mind that the NEWS is propaganda.  Try to read between the lines.  Ask God to reveal truth to you as you view the information.
If you ignore the warnings both from the people of the WORD and TRUTH, and from the servants of the DEVIL and LIES… you have no one to blame but yourself.  ALL the WORLD is warning of the coming WAR.  Scientists have even moved the Doomsday Clock closer to Midnight.
UPDATE: Things continue escalate rapidly.  Keep Alert!  The End is near!
This message was preached by Pastor Chuck Baldwin on Sunday, August 25, 2019, during the service at Liberty Fellowship.

The destruction of Jerusalem is one of the most significant events in world history. It is no hyperbole to say that the destruction of Jerusalem is the single most terrifying episode in the annals of military conquest. Between one and two million Jews lost their lives in this horrific Roman siege.

The destruction of Jerusalem is also one of the most prophesied events in Holy Scripture. Scores of prophecies in both the Old and New Testaments point to the destruction of Jerusalem. Sadly, these prophecies are almost universally ignored by modern clerics—or totally misapplied.

Tragically, the vast majority of Christians know next to nothing of the destruction of Jerusalem. The great truths that God taught through this seismic event are all but lost to today's Christians. The lack of knowledge and understanding about the destruction of Jerusalem is a sign of the great "falling away" that has taken place in the Church over the past one hundred years.

A proper understanding of the destruction of Jerusalem is the key to unlocking our understanding of how God symbolized the abolishment of the Old Covenant and His gift of the New, Better and Everlasting Covenant. Ignorance of what God did when He destroyed the city of Jerusalem in 70 AD is a root cause of the vast (and often crazy) misinterpretations of prophetic Scriptures running rampant today.

In this message, Pastor Chuck Baldwin expounds and explains not only the facts dealing with Jerusalem's destruction but also the great lessons and meanings that Jerusalem's destruction teaches the Church.

Pastor Baldwin considers this message to be one of the most important and powerful messages he has ever delivered.

Plus, this message contains a surprise ending that will shock most Christians. You will probably never hear another message like this one in your entire lifetime.

This message is truly a modern classic!

To order Pastor Chuck Baldwin's DVD message, The Destruction Of Jerusalem, go HERE.

——————————————————————————-

This message is a companion to the book The Destruction Of Jerusalem by George Peter Holford, which was written in 1805.

From Pastor Baldwin: "I strongly urge everyone to purchase the book The Destruction Of Jerusalem by George Peter Holford. The subtitle of the book is An Absolute And Irresistible Proof Of The Divine Origin Of Christianity.

"This book IS A MASTERPIECE. I quoted from Holford's book several times in this message. 

"If you don't read any other book this year besides the Bible, read The Destruction Of Jerusalem by George Peter Holford."

Order the book "The Destruction Of Jerusalem" by George Peter Holford HERE.

To watch the video message just click the play button below.

If you are having trouble viewing the video above please click on one of the alternative video locations in the links below.

Other Media Formats:
Download the free mp3 audio file
Order a DVD video disc
spacer
HEAR THE WORD OF THE LORD!
14 Therefore, son of man, prophesy and say unto Gog, Thus saith the Lord God; In that day when my people of Israel dwelleth safely, shalt thou not know it?
15 And thou shalt come from thy place out of the north parts, thou, and many people with thee, all of them riding upon horses, a great company, and a mighty army:
16 And thou shalt come up against my people of Israel, as a cloud to cover the land; it shall be in the latter days, and I will bring thee against my land, that the heathen may know me, when I shall be sanctified in thee, O Gog, before their eyes.
17 Thus saith the Lord God; Art thou he of whom I have spoken in old time by my servants the prophets of Israel, which prophesied in those days many years that I would bring thee against them?
18 And it shall come to pass at the same time when Gog shall come against the land of Israel, saith the Lord God, that my fury shall come up in my face.
19 For in my jealousy and in the fire of my wrath have I spoken, Surely in that day there shall be a great shaking in the land of Israel;
20 So that the fishes of the sea, and the fowls of the heaven, and the beasts of the field, and all creeping things that creep upon the earth, and all the men that are upon the face of the earth, shall shake at my presence, and the mountains shall be thrown down, and the steep places shall fall, and every wall shall fall to the ground.
21 And I will call for a sword against him throughout all my mountains, saith the Lord God: every man's sword shall be against his brother.
22 And I will plead against him with pestilence and with blood; and I will rain upon him, and upon his bands, and upon the many people that are with him, an overflowing rain, and great hailstones, fire, and brimstone.
23 Thus will I magnify myself, and sanctify myself; and I will be known in the eyes of many nations, and they shall know that I am the Lord.  Ezekiel 38
GET READY!  WE ARE LIVING IN THE TIMES THAT THIS WILL BE FULFILLED!
On today's Watchman Newscast, host Erick Stakelbeck breaks down Russia's heated reaction to a reported Israeli drone strike against a weapons factory inside Iran over the weekend. Russia's Foreign Ministry released a statement warning the "organizers" of the strike and "their backers." Was this a not-so-subtle threat against Israel and the United States? And what does the unraveling of relations between Israel and Russia mean for Bible prophecy? Watch now!
#Israel
#Russia
#Iran
#TheWatchman
End of Update
The announcement is the first since Russia's invasion of Ukraine.
Scientists revealed on Tuesday that the "Doomsday Clock" has been moved up to 90 seconds before midnight — the closest humanity has ever been to Armageddon.
Spacer
Our world leaders are ignorant of history and have now set us on a course for what our computer has been projecting – inevitable outcome – World War III. This hate and demonization of Putin is not only a cover for failing to understand history and what it shows us as the war to world peace by free international trade for once everyone benefits, nobody bites the hand that feeds them. Indeed, Henry Kissinger said back in the Washington Post on March 14, 2014, when Russia took back Crimea – "The demonization of Vladimir Putin is not a policy. It is an alibi for not having one." SOURCE
spacer
The war in Ukraine continues for the 339th day.
The best way to describe the current situation is like the calm before the storm. Both sides are amassing forces and weapon systems for large-scale offensive operations once the weather conditions improve.
Heavy Fighting in Ukraine
However, that doesn't mean that there isn't heavy fighting on the ground right now. The casualty figures alone can attest to the fierceness of the combat. As usual, the heaviest fighting is taking place around Bakhmut in the Donbas.
After the capture of Soledar in the north, the Russian forces are trying to breach the southern defenses of Bakhmut in the Donbas, cut the Ukrainian lines of communication, and surround the town. The Ukrainian defenses are holding on for the time being, but the Ukrainian forces are under pressure.
321 Heavy Tanks for Ukraine?
After several days of negotiations, Germany finally capitulated and agreed to send Leopard 2 main battle tanks to Ukraine. This decision opened the way for a great deal of military aid to Ukraine. Indeed, since then, security aid announcements to Ukraine from Western countries have been pouring in.
According to Ambassador of Ukraine to France Vadym Omelchenko, several countries have committed to sending a total of 321 heavy tanks to the Ukrainian military. The official didn't go into details on which countries are sending what, but this is what we know so far.
Poland is leading the way with 30 T-72, 30 PT-91 Twardy, which is a modernized version of the Russian T-72, and 14 Leopard 2A4 tanks. The U.S. is sending 31 M1 Abrams tanks. Germany is sending 14 Leopard 2A6 tanks. Finally, the U.K. is sending 14 Challenger 2 tanks.
These commitments bring the total number to 133 heavy tanks, but only 73 of which are Western weapon systems. There are several other countries that have shown a willingness to send main battle tanks to Ukraine, including France, Finland, Spain, Canada, Norway, Denmark, the Netherlands, and Portugal. However, there haven't been any concrete commitments thus far.
With more than 2,000 Leopard 2 tanks in the arsenals of NATO members and partners, the German decision to provide the main battle tank to Ukraine and also greenlight transfers by third countries can be a game-changer.
The Russian Casualties
The Russian forces are suffering heavy casualties on the ground. In the last four days alone, they have lost around 3,000 men killed and wounded, according to Ukrainian estimates.
Overall, the Ukrainian Ministry of Defense claimed that as of Saturday, Ukrainian forces have killed approximately 125,510 Russian troops (and wounded approximately twice to thrice that number).
Equipment destroyed includes: 293 fighter, attack, bomber, and transport jets, 284 attack and transport helicopters, 3,189 tanks, 2,188 artillery pieces, 6,344 armored personnel carriers and infantry fighting vehicles, 453 Multiple Launch Rocket Systems (MLRS), 18 boats and cutters, 5,027 vehicles and fuel tanks, 221 anti-aircraft batteries, 1,947 tactical unmanned aerial systems, 199 special equipment platforms, such as bridging vehicles, and four mobile Iskander ballistic missile systems, and 796 cruise missiles shot down by the Ukrainian air defenses.
MORE: Why Putin Fears the M1 Abrams Tank
MORE: I Went to War in the Leopard 2 Tank Ukraine Wants
MORE: World War III – Where Could It Start?
Video date March 3rd 2022. As an American I can say the truth hurts. This is a pretty good counter to the BS on the idiot box (TV). A box I don't have. No TV for me since 2017. The Covid and the Ukraine narratives are good example of why I don't watch Tel lie vision and get "programmed".
Source: Pay Attention: https://www.bitchute.com/video/DZFD9eziK27h/
More videos you may have missed:
Moon: The On Set Location. Old Studio Footage Including BUZZ Aldrin with Props & Scale Models
https://www.bitchute.com/video/MZ7C1sxd6ZKz/
spacer
Feb 24, 2022 President Joe Biden has been presented with a menu of options for the U.S. to carry out massive cyberattacks designed to disrupt Russia's ability to sustain its military operations in Ukraine,…
spacer
According to Deputy Chairman of the Russian Security Council, the world will become a stable place again when the United States abandons Europe and "what will be left from poor Ukrainians, unless it is too late"
Russian Presidential First Deputy in Military-Industrial Commission and Russian Security Council Deputy Chairman Dmitry Medvedev
© Ekaterina Shtukina/Press Service of the Government of the Russian Federation/TASS
MOSCOW, January 22. /TASS/. The West will be ready to make endless attempts at mauling or destroying Russia, and a new military alliance may emerge globally, Deputy Chairman of the Russian Security Council Dmitry Medvedev wrote on his Telegram channel on Sunday.
"The Ramstein meeting and heavy weapons supplies to Kiev leave no doubt that our enemies will try to maul or even destroy us endlessly. And they have enough weapons for that. They could also start producing new ones, if need be," Medvedev said as he came to two conclusions.
Firstly, "it would be very difficult," the politician said. Secondly, "in the event of a prolonged conflict, a new military alliance may appear at a certain moment in time, comprising those countries who will be annoyed with the Americans" and their allies, he added, referring to the history of long wars. According to him, the world will become a stable place again when the United States abandons Europe and "what will be left from poor Ukrainians, unless it is too late."
On Friday, defense ministers from some 50 countries met at Ramstein Air Base in Germany to discuss further assistance to Kiev. Germany's defense chief Boris Pistorius told the Phoenix TV channel that there was no unified coalition interested in supplying Leopard tanks to Ukraine. However, he did not rule out that such a decision could be made in the next few days.
Jan 15, 2022 According to US Air Force Chief of Staff Gen. David Goldfein, the answer is "yes." Speaking recently at a Mitchell Institute for Aerospace Studies Nuclear Deterrence event, Goldfein mapped out…
THE US could "rain destruction" on Russia with nuclear weapons if Vladimir Putin invades Ukraine, a senator has warned.
Senator Roger Wicker said he supports sending troops to the region and suggested a ground war with Russia was possible in comments to Fox News on Tuesday.
The Republican, who sits on the Senate Committee on Armed Services, was discussing defending Ukraine as Russian troops gather near the country's border.
"Military action could mean that we stand off with our ships in the Black Sea and we rain destruction on Russian military capability," Wicker said.
The Mississippi senator was sharing his thoughts on a two-hour call between President Joe Biden and President Vladimir Putin, during which Biden threatened sanctions over the situation with Ukraine.
"I hope there was a show of resolve," Wicker said. "That we think this would be a game-changer for free Europe and something the United States and our allies cannot tolerate."
Tens of thousands of Russian troops have reportedly descended near the Ukraine border, sparking fears of a potential conflict.
Wicker brought up the idea of a nuclear strike against Russian military power, saying, "We don't rule out first-use nuclear action."
He said while he doesn't think a nuclear attack would happen, he wants all options to remain under consideration.
"There are certain things in negotiations, if you're going to be tough, that you don't take off the table."
Wicker warned that Russia has "surprised the West twice," during the 2008 invasion of Georgia, then again in 2014 with Ukraine.
"He could very well surprise us again," Wicker said.
Newsweek reports a senior Biden official said on Monday that the US does not want a military conflict with Russia over Ukraine and hopes to deescalate the situation.
Wicker's comments about raining destruction on Russian military capabilities came after the Fox News host asked about his Republican colleagues' desire to see troops on the ground in the region.
A National Security Adviser said measures could include the deployment of troops to eastern European NATO allies, a move Wicker said he supports.
U.S. ground forces have become incredibly dependent on electronic communications without taking adequate steps to protect them from sabotage.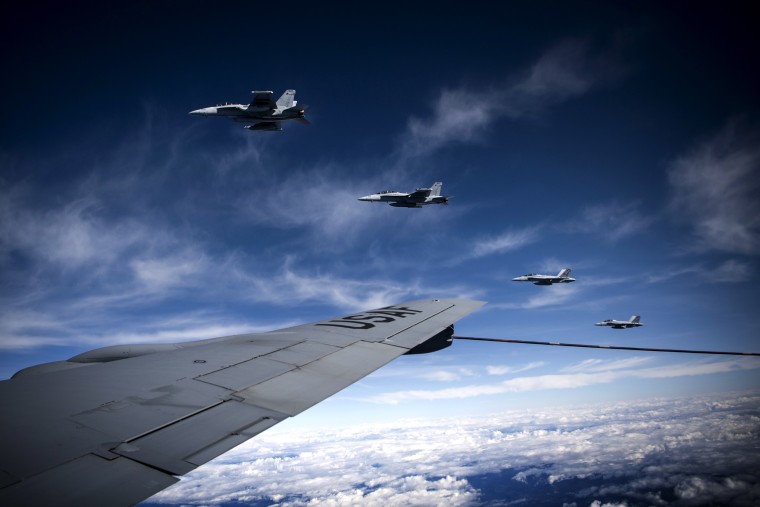 There's an invisible battle that the U.S. is losing to Russia right now, and like so much of our current domestic political turmoil, it both centers on and transcends Ukraine.
The U.S. has mostly focused on fighting non-state actors like the Taliban and Al Qaeda that lacked the technology to engage in electronic warfare, lulling the Pentagon into complacency.
Russia is currently dominating the arena of ground-based electronic warfare, the discipline dedicated to detecting and interfering with enemy radar and communication signals while protecting friendly forces from similar effects. This realm is essential to the modern battleground because militaries increasingly rely on radar, radio signals and satellites to track and relay the position of friendly and enemy forces, coordinate attacks between headquarters and those in the field across long distances, operate drone systems and guide weapons to targets.
Perhaps Russia's most successful deployment of this ability is in its ongoing conflict with Ukraine, where a 2017 Army study detailed the devastating effectiveness of its electronic warfare capabilities in shutting down Ukrainian FM radio and cellular networks. Jammers, which disrupt command signals, brought down over 100 Ukrainian drones, while signals intelligence was used to target deadly artillery strikes.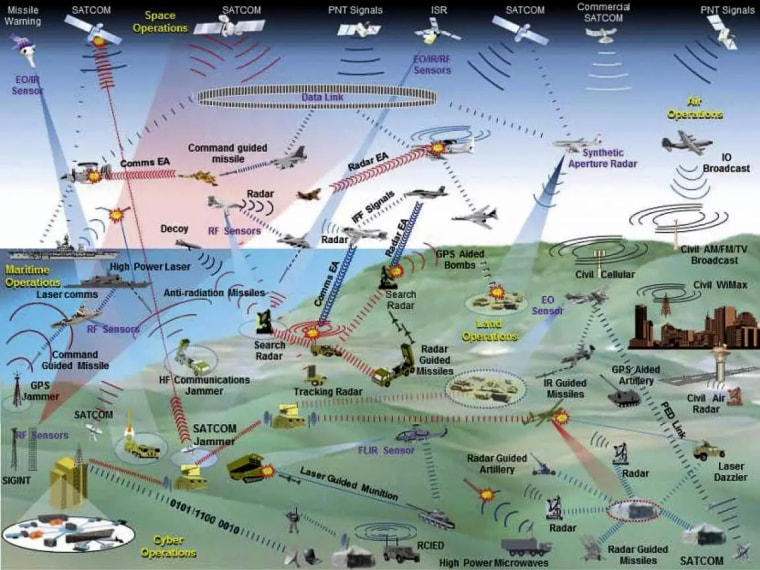 In other cases, the Russian systems emitted signals that caused artillery and missiles to prematurely detonate or veer off course. And in one particularly shocking operation, soldiers' families receive hoax texts stating, "Your son is killed in action," prompting calls and texts to the soldiers. Minutes later, artillery struck the location where a large group of cellphones was detected.
What Russia is doing to Ukraine it can replicate against the United States. That's because the U.S. has become incredibly dependent on electronic communications, and has focused attention on building up these capabilities without taking adequate steps to protect them from sabotage — making it the Pentagon's Achilles' heel.
The Army study warned that American reliance on electronic communications and GPS navigation means that even a short interruption of these abilities "can be disastrous to an operation," while drones — which occupy a prominent place in war planning — may become unusable in many circumstances.
Russia has reportedly already been launching electronic attacks on U.S. systems with some success over Syria. In 2018 an American general noted they were "knocking our communications down, disabling our EC-130s" — planes equipped with jamming pods. Other reports indicated they were blocking drones from using the GPS signals they rely upon.
China, too, has made rapid strides in electronic warfare aircraft as well as developed new GPS spoofing techniques, and has a separate military service specializing in space, cyber and electronic warfare. The fact that China recently showcased electronic warfare vehicles in a military parade in Beijing shows the importance it places on those capabilities.
The deficit is most acute in the Army, which largely retired its electronic attack assets, which allowed it to jam enemy radars and communication links, with the end of the Cold War. In part, this was based on the idea that the Air Force or Navy could provide those capabilities. But in a conflict against an enemy with powerful air defenses today, U.S. ground forces would need to have their own capabilities on hand.
Preparing for war using the electromagnetic spectrum also means training officers to learn how to do without the lavish sensors and communication links they've been able to use unimpeded in past combat operations in Afghanistan, Iraq and Syria. It also requires practice at reducing electronic and cyber footprints and avoiding antenna farms of communication systems at field headquarters, as is done now, that could make them big fat targets.
As the Army study warns, almost everyone that deployed to Iraq or Afghanistan has conducted a routine battle update over radio or phone. In a confrontation with Russian or their proxies, "this type of action will get units targeted through electronic warfare and then killed with artillery."
Today's network-centric warfare is less about hitting the enemy harder than it can hit you, and more about locating the enemy first while making it hard for it to do the same.
Trying to match China and Russia system for system might not be necessary, however. A recent Center for Strategic and Budgetary Assessments study argues that new systems should focus on being cheap and, preferably, expendable (i.e., unmanned) so that they can be fielded on a larger scale and employed more rapidly than the current premium assets that exist.
Selling the importance of electronic warfare can seem abstract when compared to obviously deadly weapons such as stealth fighters or tanks. But today's network-centric warfare is less about hitting the enemy harder than it can hit you, and more about locating the enemy first while making it hard for it to do the same. That's why troops in the field need to be trained and equipped for a war on the electromagnetic spectrum — a battlefield that Russia and China have recognized as key to victory in any future conflict.
American pundits and politicians often call the U.S. military the best fighting force in the world, and they are right. The United States spends far more money on defense than any other country, and its military capabilities outclass all rivals, with unmatched air and naval power. Most importantly, the United States has dozens of allies around the world that act as force multipliers, allowing Washington to project power in far-flung regions. Americans should not get cocky or complacent, however. Despite maintaining military supremacy—albeit by a smaller margin than in recent decades—the United States could still lose wars against China and Russia, both of which have developed concepts of defeating a more powerful America in armed conflict. This notion may sound crazy, but it is all too real. Indeed, Beijing and Moscow could actually triumph if the United States does not plan and adjust accordingly.
.