PORK/BACON

is BEING

HIGHLY PROMOTED!
2019
is the Chinese
Year of the PIG
, so I thought it was appropriate to post a couple of videos regarding that celebration. 
In today's culture, pork and especially pork in the form of bacon have been highly promoted. I don't know if you noticed it or not, but over the past few years they have been pushing bacon like crazy!! Bacon on everything. You can hardly find any fast food that does not contain bacon. Even high class restaurants put bacon in the sauces and on their salads. Promoters have even gone so far as to convince you that bacon should be in all your deserts! Ice cream, muffins, cheese bombs, sundaes, icing. It is absolutely insane!
At first, I thought all this promotion of pork was merely for the benefit of pork production. After all, most everything is all about the Money. But, now I see that they had a much more sinister motivation. Ever since they learned how to manipulate DNA, they have gone deeper and deeper into the DARK SIDE. They are not happy with merely changing our DNA through the food we eat. They have decided to create their own human/PIG hybrids.
You should know by now that EVERY LIE contains a BIT OF TRUTH, that is what makes it palatable and DANGEROUS! The devil never comes to you and flat out declares what he is up to. He always finds something that he can use, as a ruse, to convince you that it is for your own good, or for the good of society.
With all the multiple thousands of people suffering from diseases and deformities (mostly created by science and cultivated by the medical field) the people find themselves in dire need of transplants and cures. That is the ploy these maniacal scientists use to justify experimenting on animals and humans. They convince us that their experiments will be much more productive, if they have our permission to ignore any boundaries or confines. They wish to be free, to bypass any semblance of ethics or decency, and BOLDLY GO WHERE NO MAN HAS GONE. No matter what the consequences.
As if Americans were not fat enough! Remember, you are what you eat.
———————————-https://youtu.be/I6Al Roeker Loves Baco0at31fs————————-

Click the link above to view the video

Valentines Bacon

Click the link above to view the video—-
spacer
Bacon Everything: Bacon makes everything better! Hardcover –
April 20, 2021
spacer
Bacon may be the U.S.'s current favorite pork product, inspiring countless 21st-century memes and t-shirt slogans, from "You had me at bacon" to "Keep calm and put bacon on." But the passion for cured pork stretches far back through history—and to many other parts of the world.
Bacon in Ancient and Medieval Times
Salted pork belly first appeared on dining tables thousands of years ago in China. Pork curing methods spread throughout the Roman Empire, and Anglo-Saxon peasants cooked with bacon fat. Until well into the 16th century, the Middle English term bacon or bacoun referred to all pork in general. The word bacon derives from various Germanic and French dialects, including the Old French bacun, Old High German bacho (meaning buttock) and Old Teutonic backe, which refers to the back. But the cut typically used to make bacon comes from the side, or belly, of the hog. In modern England, a side of bacon is called a "gammon" and a thin slice of bacon is known as a "rasher".
Bacon in the New World
Queen Isabella sent eight pigs to Cuba with Christopher Columbus, but the National Pork Board credits Spanish explorer Hernando de Soto as the "father of the American Pork Industry." He brought 13 pigs to the shores of the New World in 1539; within three years his herd had grown to 700. Indigenous peoples reportedly fell in love with the flavor and readily accepted pigs and pork products as peace offerings. By 1653, a rapidly expanding, free-roaming and unruly swine population nearly thwarted Dutch construction of a wall on Manhattan Island meant to keep the British and Indigenous peoples out of New Amsterdam. The site later became known as Wall Street. Pigs continued to run wild in New York City into the 19th century.
Bacon on the Modern Table
In a health-conscious age, you might expect to find fatty bacon low on the list of preferred foods. But Americans are eating more pork now than they have in decades—and as anyone who dabbles in pork belly commodities can tell you, bacon can singlehandedly boost the pork market. Americans eat 70 percent of their bacon with breakfast, but the crispy, salty meat also stars as a sandwich ingredient and a favorite of chefs in fine dining establishments— causing bacon shortages and price hikes at times. Still, bacon remains a bargain when it comes to adding flavor. Bacon aficionados enjoy the cured meat in everything from classic dishes like chowders to more adventurous concoctions such as bacon ice cream, chocolate-covered bacon, and bacon jam. With low-sodium and lean varieties available, even a dieter can partake in moderation.
BACON IS AMERICA'S FAVORITE
A celebration of all things bacon. – Saturday, June 9, 2018  5-9pm
Pork Pavilion, Washington Fairgrounds
November 2 & 3, 10 am – 6 pm, 2019 in Easton, PA #PABaconFest2019
Located in historic Easton, PA, the PA Bacon Fest has grown into one of the region's most popular events. With 150+ vendors, 12+ musical acts, and several stages, the two-day festival attracts more than 80,000 attendees. PA Bacon Fest was named one of the TOP 300 Festivals in the world by FEST300.com!! Regionally, won a Townie Award from Pennsylvania Downtown Center. And locally, voted Best Culinary Event in Lehigh Valley Style magazine's Best of the Lehigh Valley contest. The Fest is held Rain or Shine!
BACON, BACON, & MORE BACON AT THE NJ BACONFEST NEWJERSEYISNTBORING FEATURED, OCEAN COUNTY, JULY 11, 2016
Bacon Fest 2019 Everything Goes Better with Bacon Saturday, August 17, 2019 at 3:00 PM FREE FESTIVAL Gates open at 3:00 PM FREE MUSIC IN THE PARK 3:00 PM – George Barrie Band 5:30 PM – Honey and Blue Band 8:00 PM – Pandora Effect Don't forget your lawn chair! Sorry, pets and coolers are not allowed.
Watch the challenge and get out to Baconfest Saturday in Slaton. If you have a challenge, email ibeatpete@kcbd.com.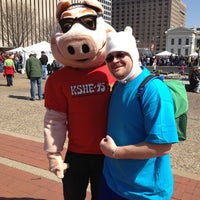 BaconFest Saturday, September 21, 2019 from 11:00AM – 3:00PM Hard Rock Hotel and Casino's Battery Park Siouxland Habitat for Humanity

Location: Devil's Lake State Park: Baraboo, WI Dates: May 17-19, 2019 Fee: $15 + bundle of wood
​
POSTED 10:40 AM
DECEMBER 6, 2018
BY ERINT228 You're invited to try some of the best bacon Indy has to offer at the annual BaconFest.  Q95's Gunner along with John Stanley and Karl Benko from Sullivan's Steakhouse talk about everything bacon.

Come to the lovely grounds of the Kelley's Island Wine Co. and celebrate a love of all things Pork.

Jul 21,  106.1 CHEZ Headquarters, 2001 Thurston Drive, Ottawa 106.1 CHEZ's most anticipated event of the year is back. Doc & Woody's 7th Annual
Baconfest: VIP Bacon Breakfast By Chaddsford Winery 632 Baltimore Pike, Chadds Ford, PA 19317
spacer


THE THIRD ANNUAL
SYRACUSE BACON FESTIVAL
IN AND AROUND CLINTON SQUARE
Saturday, August 17, 2019
Wisconsin's own award-winning Patrick Cudahy presents 102.9 THE HOG's BACONFEST MILWAUKEE 2019 on Sunday, February 17th at the Event Center inside Potawatomi Hotel & Casino.

Seventh annual Sacramento Bacon Fest brings the sizzle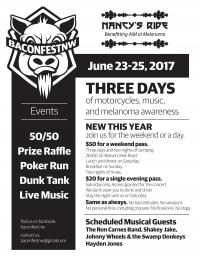 Bacon Bashes
If you fry it, they will come. Here's where to pig out around the region.
Feb. 16, Blue Ribbon Bacon Festival in Des Moines. The 11th edition of this blowout at the Iowa Events Center features four levels of bacon: a Bacon Education Center, the bacon-sampling hall, a Bacon Strip of six bars and a pop-up bacon nightclub. An after-party features a concert by Smash Mouth.
Feb. 17, Baconfest MKE in Milwaukee. In this city, famous for hogs of a different stripe, top chefs will create bacon cuisine at the Potawatomi Hotel & Casino.
March 16, Bacon and Beer Festival in Fargo, N.D. In the Fargodome, sample bacon dishes from20 restaurants plus more than 100 different beers. There's also a bacon-eating contest and mechanical-pig riding.
April 5-6, Baconfest Chicago. This is a major foodie festival, with tastings and demos from more than 160 chefs at UIC Forum.
June 8, Beer, Bacon and Cheese in New Glarus, Wis. The tasting in this Swiss town near Madison, in the middle of cheese country and home to one of Wisconsin's best breweries, is part of Polka Festival.
June 15, BACooN Ride Too from Waukee, Iowa. This bacon-themed 72-mile ride starts just west of Des Moines and follows the paved Raccoon River Valley Trail.
Treats along the route include bacon cinnamon rolls and bacon ice-cream sandwiches.
June 29, Bacon and Brews in Madison. This festival at Breese Stevens Field features hundreds of craft beers and live music as well as artisan bacon-infused dishes.
Late June through August, Beer & Bacon Cruises in St. Paul. On the Mississippi River across from downtown, the Padelford Riverboats offer these cruises on some Saturday evenings.
July, Bacon and Beer Classic in St. Paul. This festival at CHS Field includes more than 100 beers as well as 30 bacon dishes, a bacon-eating contest, lawn games and music.
Sept. 14-15, Bacon Bash in River Falls, Wis. In this western Wisconsin town, there are pig races, a pig-calling contest, costume contests, a pig-wing eating contest, an amateur bacon cook-off and many bacon dishes, including ice cream.
There's also live music, children's activities and a craft-beer tent.
REMEMBER YOU ARE WHAT YOU EAT! 
​96 Bacon Recipes That Are Seriously Addictive
Watch the civilized world teeter on the brink of anarchy in this hilarious comedy about the New World Order. Beset by falling approval ratings and a sagging economy, a desperate U.S. president and his closest advisors launch a campaign to turn America against its most unlikely enemy – Canada. However, Bud Boomer, an overly patriotic Niagara Falls sheriff and his band of misfit deputies actually invade Canada and set off a series of comedic events that leaves the President's plans and the New World Order in shambles.