RESTORED: 3/16/22
I know that there are many of you out there who find this all very hard to swallow.  It seems so ridiculous, even crazy.  I can relate.  When I first heard about this stuff my reaction was just the same as yours.  I poo pooed it for a long time.  Laughed it off and called those people crazy.  The things I was hearing, the stories I read, the videos I watched, they all seemed so bizarre, really far out of the realm of reality, and even scary.  However, over the years, I kept seeing evidence, hearing testimonies, watching videos obviously made by very intelligent people who seemed to be very sincere and concerned.  
When you have heard enough testimonies and seen enough evidence, to continue to deny the truth is idiotic.  I am not an idiot.  I spent the last 40 years of my life researching and working with others who have done the same. I am telling you that as impossible as these things may seem to you, they are real.  EVIL lurks in the dark occulted and secret.  They depend on that cover.  They like to brag. They like to shock and scare you.  In fact, they need that to work their magic.  Yes, MAGICK is real.  VERY REAL!  They use it on you everyday!  They have made you part of their magick workings.  You don't have to understand to contribute.  It is better for them, if you don't understand.
When I saw the story about TOM HANKS and the boy named Corona…immediately my senses went up.  I knew it was a ritual.  Come now think about it.  Doesn't it all sound contrived to you???
I want to know why they continue to refer to the virus as CORONA.  Now, it started out as the Wuhan Virus.  They insisted it need to have a medical name for the books.  They came up with the COVID 19 and said they had to distinguish it form other earlier forms of CORONA.  YET, they continue to refer to it as CORONA.  What do you think is the reason??   BECAUSE IT IS ALL ABOUT THE CROWN!!
Anyway, I have put together some articles that will show you what is really happening here.  At the end of this post are a couple of web pages that contain important information to help you understand more about the symbolism and how and why it is used.
spacer
REUTERS
Melbourne, Australia  /  Thu, April 23, 2020  /  05:50 pm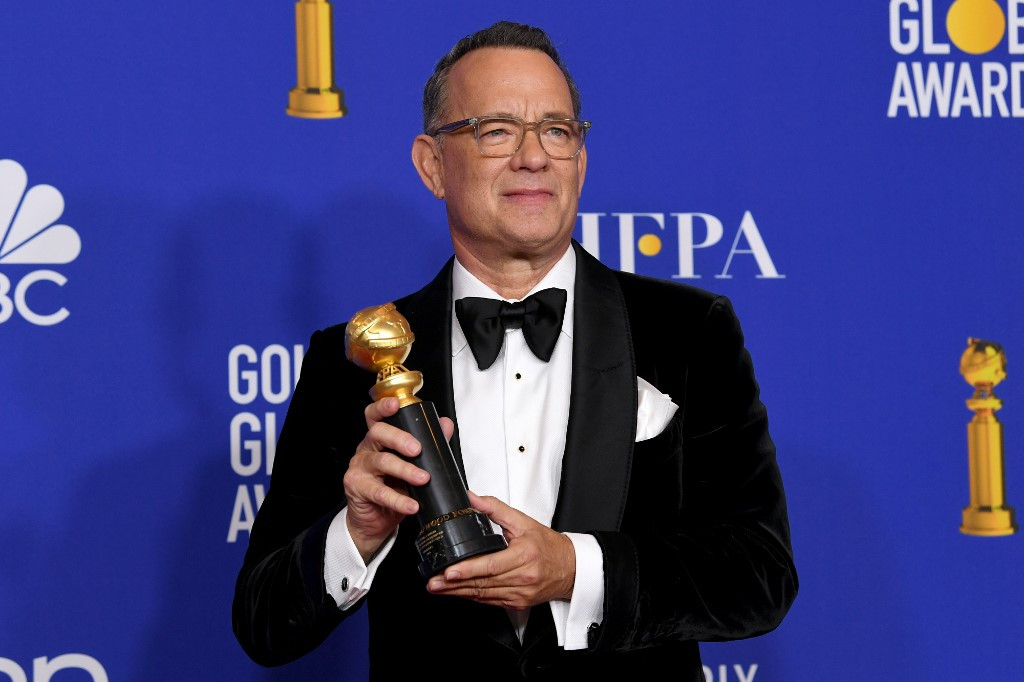 Tom Hanks, winner of the Cecil B. Demille Award, poses in the press room during the 77th Annual Golden Globe Awards at The Beverly Hilton Hotel on January 5, 2020 in Beverly Hills, California. (AFP/Kevin Winter)
Tom Hanks has sent a letter and a Corona brand typewriter to an Australian boy who wrote to him about being bullied over his name, Corona, Australian television networks reported on Thursday.

Corona De Vries, an eight-year-old from the Gold Coast in Queensland state wrote to the Hollywood star after he and his wife, Rita, had spent more than two weeks in quarantine after testing positive for COVID-19 in the Australian beach resort.

The boy had written to Hanks saying: "I heard on the news you and your wife had caught the coronavirus," Channel 7 News reported. "Are you ok?"

He said he loved his name but people at school called him the coronavirus, which made him "sad and angry".

Read also: Tom Hanks and wife back in US after contracting virus

"Your letter made my wife and I feel so wonderful!" Hanks replied in a letter typed on a Corona typewriter which he had taken to the Gold Coast.

"You know, you are the only person I've ever known to have the name Corona — like the ring around the sun, a crown," the double Oscar winner wrote to the boy.

"I thought this typewriter would suit you," an image of the letter aired by Channel 7 News showed. "Ask a grown up how it works. And use it to write me back."

Hanks handwrote at the end: "P.S.
https://youtu.be/k6fdFpy9als
spacer
First, we have some housekeeping. The FDA has issued a report that effectively covers their ass on Covid-19 diagnosis.

Results are for the identification of 2019-nCoV RNA. The 2019-nCoV RNA is generally detectable in upper and lower respiratory specimens during infection. Positive results are indicative of active infection with 2019-nCoV but do not rule out bacterial infection or co-infection with other viruses. The agent detected may not be the definite cause of disease.

This allows the authorities to load and bunch coronavirus in with other infections and illnesses that are the real cause of a death or a recovery. The vast majority of Covid-19 cases are recoveries. 80% of the time it is asymptomatic or mild.

Russ comment: I saw how this works first hand when my father died at age 96. I was surprised to see "prostate cancer" listed as the cause of death on his certificate. My dad had prostate cancer for a decade, but it was benign and stable enough that he was not even bothering to treat it. My dad died of natural causes old age- he was just ready, worn out and weak, not of prostate cancer. He also had pneumonia respiratory failure, sometimes referred to as "the old man blessing". How many Covid-19 co-infection cases of the elderly are being classified dishonestly?

If that is not enough comes a study published in the NIH indicating a false positive result in 80.3% of tests.

---

Tom Hanks is a very curious dude. Just when the sistema needed a coronavirus poster boy along comes Hanks and his wife. And also comes a very curious Instagram where Hanks describes his illness as the "blahs".

But the real jerking your chain black magik is when Hanks tells the world he traveled with and hauled his old Corona typewriter all the way to Australia. You can see it posed in his hospital room. Really? This is asking sucker born every minute plebs to accept full tilt cartoon world.

Next up is one Chet Hanks, the son of Tom Hanks. Chet's game is mocking sarcasm and Instagram again is the venue, and he leads off with this threat from "Illuminati headquarters." His words, not ours.

His video is classic gaslighting. The dude even has an Illuminism pyramid eye tattoo on his chest- you can't make this up.

We will let Chet's words speak for themselves. Like his pop he thinks he is a great wit- but we say he doth protest too loudly. Near the end he declares, "If you're talkin' shit on the Internet you're going to be the first people to be sent to the FEMA camps." In the current year there is no dark humor with this threat, Chet Hanks.
spacer
This video is no longer available
Updated: Fri 2:12 PM, Apr 24, 2020
MELBOURNE, Australia (CNN) – It's a particularly tough time to be named Corona.
A young boy named Corona wrote to Tom Hanks to wish him well and the actor responded by gifting him a typewriter. (Source: Nine News)
"Coronavirus. They just kept on saying that, and I get really mad," Corona De Vries said.

But the 8-year-old boy from Australia's Gold Coast didn't let that stop him from picking up a famous pen pal in Tom Hanks.

Corona De Vries wrote a letter to Hanks and his wife Rita Wilson after being teased about his name, knowing the famous couple had come down with the disease.

"Dear Mr. and Mrs. Hanks, my name is Corona. I heard on the news you and your wife have caught the coronavirus. Are you ok?" the boy asked.

Corona grew up knowing Hanks as Woody from "Toy Story," but after a package arrived at his house, the boy now knows the Oscar winner as something much more.

"I always feel like I'm famous," Corona said after getting a letter and Corona typewriter from Hanks. "He said, 'I'm a friend of him.'"

"Dear Friend Corona, Your letter made my wife and I feel so wonderful! Thank you for being such a good friend – friends make their friends feel good when they are down. … I thought this typewriter would suit you. I had taken it to the Gold Coast, and now, it is back – with you. Ask a grown up how it works. And use it to write me back." – Tom Hanks

The typed letter ended with a handwritten note: "P.S. You've got a friend in me."

Sitting in front of his namesake typewriter, an ecstatic Corona pumped his fists in the air and said, "I'm going to write back soon!"

Copyright 2020 Gray Media Group, Inc. All rights reserved.
spacer
Corona DeVries receives the Corona-brand typewriter from Tom Hanks
. [image: CNN]
Legendary actor Tom Hanks has a new penpal: an 8-year-old Australian boy called Corona, who says he has been bullied because of his name.

Corona DeVries, from Queensland, first wrote to the actor and his wife, Rita Wilson, after hearing that they had tested positive for coronavirus while in Australia.

In his letter, shown on air Thursday by Australian news channel 9News, DeVries wrote that he heard on the news that Hanks and his wife had caught the coronavirus and asked them if they were ok.

Earlier this month, DeVries told 9News that he had recently been called "coronavirus" at school.

DeVries says he wrote to Hanks and Rita Wilson, wishing them well and saying he knows what it's like to feel down.

It wasn't long before Hanks, responded- sending DeVries a typewritten letter and the Corona-brand typewriter he had brought with him and used in Australia.

Hanks addressed his note to "Friend Corona" and expressed his gratitude for the 8-year-old's concern about his and Wilson's health.

Hanks thanked DeVries for being such a good friend and told him friends make their friends feel good when they are down. And at the bottom of his letter, Hanks added the handwritten postscript "You got a friend in me!" — the name of the "Toy Story" theme song.

[Source: CNN]
spacer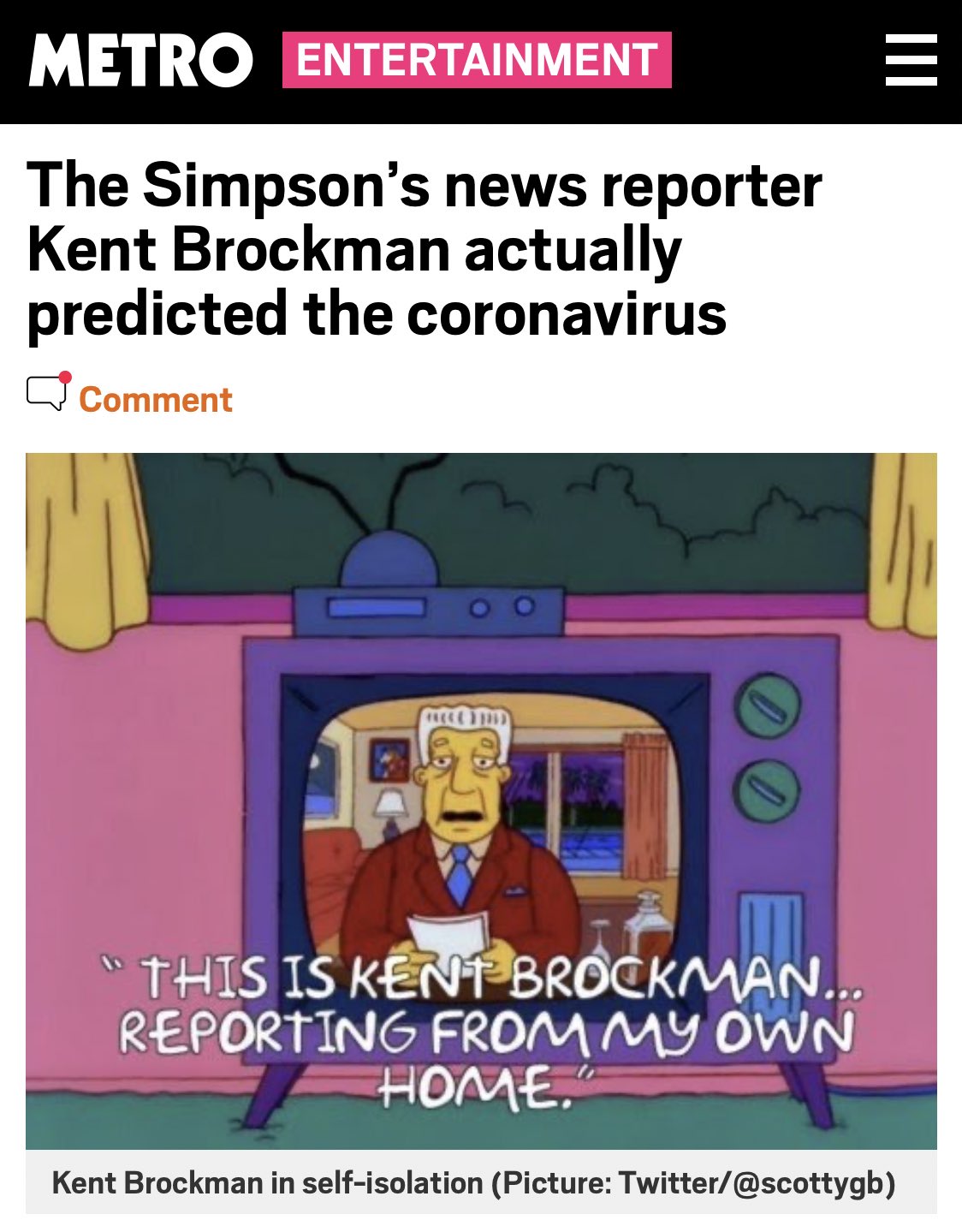 spacer

Fans are adding Tom Hanks' recent coronavirus diagnosis to the never-ending list of things The Simpsons has freakishly predicted.
Did Simpsons Predict Coronavirus?
Coronavirus conspiracy theorists point to the Simpsons Movie (2007) in which Tom Hanks guest stars as himself and says:

"This is Tom Hanks saying if you see me in person, please leave me be."

While Simpsons did do a 1993 episode "Marge in Chains" about a deadly virus outbreak, it was based on earlier outbreaks in the headlines. If the Tom Hanks gag had been in that episode, then the theorists would be onto something.

But all they have now is a serious stretch…

"Ever since the Simpsons predicted my dad being the spokesperson for the coronavirus, even though they didn't predict anything. It's been troublesome to say the least. I guess I'm going to have to work extra hard at my human sacrifices. I'm late for one right now. And I'm a little hungry, so I might eat someone's pineal gland on the way."

The conspiracy theory community is obsessed with the brain's pineal gland. A widespread conspiracy theory is that the pineal gland is a transmitter between humans and the spiritual world, and that governments have put flouride in the water to harden our pineal glands with flouride and cut us off from our souls. Chet Hanks concludes:

"But just know that we're watching you. And if you're talking s**t on the Internet, you're going to be the first people sent to the FEMA camps."
Los Angeles Times
"The Simpsons" apparently did it again. It inadvertently foresaw the future.

Bill Oakley, a writer on the long-running animated TV show, recently admitted in a tweet that yes, he and some of his colleagues predicted some disturbing events of 2020.

First up was the coronavirus crisis and now the "murder hornets" from Asia that were recently spotted in the U.S. and threaten honeybee populations.

"OK fine i guess we did," Oakley replied Wednesday to a tweet of a clip from an old "Simpsons" episode that seemed to comment on our current crises. That tweet has already amassed more than 7 million views and 373,000 likes since it was posted Tuesday.

The clip comes from the same 1993 episode that sparked the initial speculation in February that "The Simpsons" predicted the coronavirus. From Season 4, "Marge in Chains" depicted a strange virus from Osaka, Japan, that sweeps through the Simpsons' town of Springfield.

In that episode, an assembly-line worker in Japan falls ill with the flu and sneezes into boxes carrying a hot new item that will be shipped to numerous Springfield residents, including Homer Simpson.

The town's inhabitants become scared and panicked, demanding a cure — a placebo, even. In their anger and desperation, they knock over a truck hoping to find a treatment, but instead release a hive from a box marked "Danger: killer bees."

Oakley's tweet on Wednesday suggested he's come around on some of the conspiracy theories, which he originally disputed. Oakley had expressed frustration with internet users who implied his work foresaw the pandemic.

"I don't like it being used for nefarious purposes," Oakley told the Hollywood Reporter of the episode he co-wrote with Josh Weinstein. "The idea that anyone misappropriates it to make coronavirus seem like an Asian plot is terrible. In terms of trying to place blame on Asia — I think that is gross."

The outbreak and killer bees aren't the only current events "The Simpsons" seemed to predict. It apparently foresaw the Disney-Fox merger and Donald Trump's presidency, too.
Alright, now I know what you are probably thinking.  Oh, that is so ridiculous.  Those "predictions" don't mean anything.  People are just reading something into nothing at all.  Well, that may be the logical conclusion, if the Simpsons or even Cartoons in general were the only thing to consider.  However, anyone in the truther movement knows it does not end there. Magazines, Games, Illuminati Card Game,  Movies, Television, Commercials, Songs, Stage Productions, Awards Ceremonies, Album covers, Artwork, Billboards, Architecture, Street layouts… ALL of these things and more are used by the Illuminati to show forth their plans, and call things that are not as though they are.  That is what MAGICK is all about, calling into existence what you want to occur.  There are steps that must be taken, sacrifices that must be made and rituals that must be performed to make that happen.  AND how does it happen?? THROUGH SPIRITS!  It is all about working together with the SPIRIT REALM to cause things to happen.   Witches, Wiccans, Magicians, Shamans, Seeers, Spiritualists, Satanists, Fortune Tellers, Freemasons, Fraternities, Sororities, Wizards, Illuminists, etc… they are all working the same game.  THE SPIRITS ARE IN CHARGE.  
It is no great wonder that the ILLUMINED ONES can predict the future.  First of all they plan it.  They withhold information from the general public as to how far advanced they have gotten over what they show us.  They have been planning for centuries and know exactly what they have in store for us.  Secondly, working with the spirits they have access to knowledge that we do not, because spirits are not limited to time and space.  They know what has been and to some extent what will come. 
spacer
Well, the truth is that Tom Hanks is a member of the Freemason Brotherhood.  He is obviously recognized by the elite, as he appears to be hand picked to be their spokes person for more than just the Corona Virus.  
Saved by Cara Brock
Saved from youtube.com
YouTube
List of Freemason Celebrities: The Brotherhood
www.pinterest.cl › pin
Jul 27, 2019 – Weird. Tom Hanks one eye Symbolism and the clock with 6 hotdogs and hamburgers… … QNR ProductionsFreemason · Pin on idi Vatican City …
spacer

AN AGENT FOR CONSCIOUSNESS EVOLUTION
spacer

UNDERGROUND NEWS AND TECH BLOG

Is Tom Hanks a pedophile? Did Tom Hanks kill Isaac Kappy after Isaac said Tom Hanks is involved in the Hollywood pedophile ring?

There is much talk about how Tom Hanks is evil and part of the illuminati cult.

Between the creepy Tom Hanks cryptic messages, as you will see below, to the mysterious death of Isaac Kappy, it's pretty obvious Tom Hanks is evil and not what you think he is.

Tom Hanks, Ellen Degeneres, Obama, Oprah and many others in this Hollywood pedophile circle are evil. Tom Hanks is a not what you think he is.

In early 2020, Ellen Degeneres incurred the wrath of social media by joking that being quarantined in her $27-million mansion during the coronavirus pandemic was "like being in jail."

Crew members of the Ellen Degeneres show took a 60 percent reduction in pay even though the show continues to air amid the plannedemic.

Ellen Degeneres hired cheap contract workers to run her show, remotely, while her regular crew were out of jobs. Social media went on to call her 'very nasty' and 'a garbage human being' for not taking care of her employees. 

A former staff member told NY Post earlier this month that Ellen DeGeneres is one of the rudest celebrities in the world and that "the stories are all true! It irritates me that people think she's all sweetness and light and she gets away with it," the ex-employee said. 

Ellen Degeneres is nothing more than a puppet of the illuminati and part of the pedophilia ring in Hollywood and politics.

Ricky Gervais calls out Hollywood at the awards. Notice Tom Hanks and many others not laughing, but smirking. As each month goes by, this video makes more and more sense. Ricky had a lot of courage to say what he said.

Ricky Gervais calls out Hollywood at the Awards. Most ACTORS AREN'T LAUGHING

Ellen's show isn't cancelled because she is bad to employees. Ellen Degeneres had her show cancelled because she, the Obama family, bushes, clintons, oprah, tom hanks, kimmel, fallon and hundreds of others drank baby blood (adrenochrome), molested, tortured little kids and babies.

Ellen Degeneres has now been indicted and is mostly likely dead or in Gitmo. Does this sound crazy to you? READ ON!

Ellen Degeneres under house arrest. Nice ankle bracelet Ellen

Tom Hanks And Ellen Degeneres appear To Be Official Illuminati Spokespeople For the covid19 fake virus agenda. Chet Hanks (Tom Hanks's son) has a Giant Illuminati Tattoo. Tom Hanks Visited Epstein Island.

What is Tom Hank's position within the deep state machine?

It is obvious Tom Hanks is sending coded messages/instructions in his social media platforms and on the media. Tom Hanks is evil and is quite a bit more involved in the Hollywood pedophile ring than most people think. He is not just a messenger, he is one of their grand masters.

Tom Hanks is in the perfect position as an influencer, as most "stars" in Hollywood, as he transcends the worlds of entertainment, government and the public. He travels the world regularly and knows everyone in Hollywood. Let's NOT FORGET WHAT HOLLYWOOD IS.

Hollywood is an occulted machine designed to steer the herd and keep people imprisoned in a structured narrative. People love and worship their Hollywood idols. How could Woody from Toy Story be a bad person? Read on.

On May 2, 2020 Tom Hanks gave what seemed to be a "Double" speech full of double meanings and double speak.

It was obvious his speech was carefully crafted to provide two different meanings to two very different audiences.

On one hand you had a speech written and directed to the graduating class of 2020. This was written for the graduates of Wright State University and meant for all graduating classes across the nation. On the other hand, you have the Covert, ESOTERIC meaning. 

For those with the eyes to see and the wisdom to understand, the speech meant something entirely different.

Once you're aware of who and what Tom Hanks is, it's not hard to understand the double meaning behind his cryptic speech.

The speech by Tom Hanks addresses the breakdown and restructuring of our nation that we are all collectively currently undergoing with covid and civil unrest.

In the video below, there are 13 blocks behind Tom Hanks. 13 = York rite of Freemasonry and the number of rebellion. Is this coincidence? Remember, you're dealing with secret societies here. They plan everything and let us know what they're doing AS THEY DO IT! Everything is hidden in plain sight.

Tom Hanks cryptic messages to his pedo members and the cult
There is a connection between Tom Hanks and the elite who navigate our world.
True power lies in the ability to make magnificent (and evil) things occur. The greater one's ability to do this (money), the greater one's power. Bill Gates is such a man. George Soros is such a man.
Remember that Tom Hanks was the first celebrity to come down with covid, followed by a very public display of the situation.
When celebrities come down covid, that is code for they have been arrested or executed. Bill Gates on the other hand is at the alleged forefront of the war on the corona-virus attempting to forcibly vaccinate the entire world. Or, should I say the Bill Gates double. The real Bill and Melinda Gates are dead.
The pretext is that "Gates" is playing off of Tom Hanks' "Any Questions" theme of the original skit.
Seeing that Gates' skit was produced as an ad for his Reddit r/IAmA "Ask Me Anything" thread, one would think that that's all there is to this.
Everything you see has multiple meanings and is intended for multiple audiences. Bill and Melinda Gates have been executed. The Bill and Melinda Gates you see are doubles.
What are the odds that "Bill Gates" just so happened to follow what Tom Hanks said, a couple of years before the whole CoronaVirus outbreak, only to be the first celebrity to come down with COVID19? Literally astronomical!
Remember, secret societies such as the illuminati, Rockefeller family and bilderberg group have been around for generations
Secret societies, by their sick and twisted rules, must warn us of what they are going to do before they do it. This is a foreshadowing of alliances and events to come. These skits were meant for "those with the eyes to see and the wisdom to understand."
Isaac Kappy, a Hollywood actor, exposes Hollywood and "commits suicide" a few days later. Coincidentally, Tom Hanks takes creepy photos of where Isaac Kappy "threw himself off an overpass."
Isaac Kappy exposed the elite and others in Hollywood who are involved in pedophilia. A few days later, Isaac Kappy is found dead on rt 66, (he was "suicided") by "jumping" from an overpass to the road below, May 13, 2019, Bellemont, Arizona, U.S.
Isaac Kappy has stated in videos that he will not kill himself and that what he is exposing is risking his life.
This next Instagram photo was posted the day of Isaac Kappy's death, May, 13th, 2019, on the Tom Hanks instagram account. It is of a red handkerchief.
Within the world of high profile occultic murders/suicides, there is the ever-present theme of the "red scarf."
High profile people are found hanged, often with red scarves, including Kate Spade and L'Ren Scott. David Spade is also part of the Hollywood pedophile cult and showed no remorse when talking of his sister's death.
The red scarf has become known as a symbol for those who have been "suicided" for talking too much or those who were about to talk. All these people tie back to pedophilia.
Has anyone thought to ask why somebody would custom order a bespoke kerchief with an RV camper on it? Isaac Kappy was supposedly heading to RV camping world before his death.
Of all the things one could put on a kerchief, someone orders a custom kerchief with a huge RV in the high desert. Has anyone thought to point out that "Hanks" name is right over the top of the blood-red kerchief?
EVERYTHING THE OCCULT DOES IS HIDDEN IN PLAIN SITE
This Kerchief was CUSTOM MADE PER ORDER
What are the odds that the man who ran over Isaac on Route 66 was named "Forrest" Scott Proctor Who's name means "Manager of the Forest." RUN FORREST RUN!
Are you beginning to put the pieces of the puzzle together on how Tom Hanks is evil and part of the Hollywood pedophile ring?
Tom Hanks' reaction to the death of Isaac Kappy? Absolutely nothing. Tom Hanks has not acknowledged the hundreds of people visiting his creepy instagram and accusing him of being complicit in the murder of Isaac Kappy.
Tom Hanks instagram posts are full of comments accusing him of the truth including all points above.
Tom Hanks has not removed the photos or commented on them. One would think he would have a publicist or good friend encourage him to take the photos down, as they are bad publicity. One would think Tom Hanks would make a statement about grand coincidences, but it never happened.
The occult and secret societies MUST let us know what they do, in plan site, per their rules. This is probably why the photos and all the coincidental evidence remains online.
The Illuminati HIDE IN PLAIN SIGHT all over Hollywood movies, music, entertainment and games, usually through satanic signs and symbols. And because they are placed with increasing boldness, they become "NORMAL" to the unaware masses, which is just what the Illuminati want! But when we can see and understand what is happening, THEIR BRAINWASHING HAS NO POWER! Intro by RavenProDesign
Inside info you won't hear on the news:
Prime Minister Justin Trudeau was served a criminal indictment by the US for corporate; financial crimes. Media owners were instructed to historically brainwash everyone that the Prime Minister has Corona Virus with his wife and that they won't be leaving their house for a while.
Coronavirus is a hoax, used as a front for the arrests and executions of famous people in 2020.
Tom Hanks was arrested for Pedophilia. He was kept in a hotel room in Australia, refusing to fly back to the USA. Next celebrity arrests will be Celion Dion, Madonna, Charley Barkley, Kevin Spacey – all will claim Corona virus infections to avoid humiliation. It's all part of the plan for arrests and executions for those involved in pedophilia and treason against the United States.
Pizzagate is code for the massive pedophilia ring and adrenochrome drug in Hollywood and politics. Hotdog is code for boy and Pizza is code for girl.
Italy's airports have been completely shut down as over 80 of Vatican and financial officials have been served same criminal indictments for financial crime, pedophilia, child trafficking and sex abuse.
Beyond Kings and Queens Part 8   Video is available click the arrow to watch on this page or click the link to watch on site.
United Emirates have completed mass arrests of their own Royal Family & affiliates.
Convicted Hollywood rapist Harvey Weinstein agreed to a deal in exchange for his testimony against hundreds of top Hollywood celebrities and their involvement in the drug business, pedophilia and child trafficking.
Instead of a 55 year sentence, Harvey Weinstein received a 23 year sentence in exchange for testimonials against some of the most powerful names involved in this worldwide satanic pedophile ring.
Some of the names on Weinstein's list include Prince Andrew of UK, former president Bill Clinton, former vice president Joe Biden, Tom Hanks, Oprah, Ellen DeGeneres, Quentin Tarantino, Charlie Sheen, Bob Saget, Kevin Spacey, John Travolta, Steven Spielberg, Podesta, NXIVM and PIZZAGATE sex trafficking clubs.
Hundreds more were directly involved with Jeffrey Epstein. In exchange of Jeffrey Epstein's testimony, Epstein was allowed to make a deal and have his suicide in prison faked.
CEOs of some major world corporations have been indicted / arrested and some forced to resign in the last 30-60 days, such as CEO of NBA, Harley Davidson, Gates Foundation, Intel, McDonald's, Cesar Awards, Vatican Chief of Police, Disney and more. Approximately 700-800 more resignations are coming.
Lab-created Corona Virus is a cover up for the mass mandatory vaccination agenda
The largest covert US Intelligence operation is coming. This mass 158,000 arrest operation will remove & capture the biggest evil & corrupt politicians, celebrities and CEOs, including global elites and bankers such as George Soros, UN officials and founders of GRETA INC.
Trump will win 2020 elections and arrests of former US presidents will occur in early 2021.
All major arrests will be covered by media as an accident or conspiracy theory.
All arrested individuals will be given "Rommel Death," meaning choice between suicide or accidental death reported to the public, in return for assurances that his / her reputation will remain intact. The other option would be to face criminal trial, which would result in public disgrace.
Some top religious leaders will be arrested or forced to resign, some will get "sick" suddenly. The Vatican will be the first and the Pope will be removed in 2020. Production of human extracted Adrenochrome will be revealed and Hollywood and the Vatican will be directly responsible for it.
There will be a 2 month complete shut down of the worlds most common operations such as schools, stock exchanges, some Banks, airports, shipping, travel, events, galas, expos, sport games, sport championships, music award ceremonies, NBA / NHL / Baseball games and ship cruises.
WHAT'S TO COME WITH THE COVID19 HOAX
There will be a staged food shortage and staged electricity power loss. Gas prices will go down, food costs will go up, insurance will go up, Gold / silver stocks will fall, many corporations will either bankrupt or take a significant financial loss (Air Canada, Disney and Coca Cola.)
We've been watching a majority of these things play out right before our eyes. While some of these things may not happen, a majority of it has, and will.
They "tried" to release H5N1 Hentavirus… pay attention.
Tom Hanks is evil and just a small part of the puzzle. These cult members in Hollywood are nothing but actors in real life. Most are not as rich as you think. It's all a scam, all a front, to get people to do what they want.
The ones in power use Hollywood actors and pop stars as puppets so people have someone to worship, believe and follow. Politicians and bankers know people aren't interested in politics. This is where the entertainment puppets come in to play.
Tom Hanks and the lizard Queen are Related. Most of the people involved are related. There is no luck involved regarding a career in Hollywood; it's all planned out. You must be part of the family and willing to do evil things with no remorse.
Ellen Degeneres and Kate Middleton are 14th cousins, twice removed. Ellen Degeneres is also related to Madonna, 11th cousins.
IT'S ALL PART OF THEIR PLAN. Ellen Degeneres didn't have her show canceled because she is bad to her employees, she is part of the plan and was taken away.
Something big is about to happen and COVID-19 may have been the "Fried Fish"Madonna was yapping about to deflect from this massive earth shattering scandal.
Ellen Degeneres has obviously been wearing an ankle bracelet for some time now.  She's also been talking strangely in coded language, similar to David Spade and Tom Hanks. Forrest on her shirt? She wears codes on her clothes all the time, mostly satanic. Looks like more messages to Tom Hanks that they are coming for him.
I hope this post on how Tom Hanks is evil (and most in Hollywood) opened your eyes a bit to what is going on. There's more to what's going on in the world today than wearing masks (ridiculous) to protect against a virus that doesn't exist.
Thousands are killed quarterly from the standard flu and the world didn't shut down. This is not the Black Plague, this is a scandal we have a front row seat to. SPREAD THE WORD!
Subscribe to get updates when new posts are published
Thanks for reading!
Spacer
Tom Hanks. A Freemason pedophile? Other actors?
First published at 17:06 UTC on April 18th, 2020.
Ok, let's take a look at Tom and Rita's son and what he has to say about all of this.  
Tom Hanks' son Chet has a warning for the coronavirus conspiracy theorists: "You're going to be the first people sent to the FEMA camps."
Tom Hanks' son, Chet Hanks, roasted COVID-19 conspiracy theorists in an Instagram post over the weekend.
Tom Hanks and his wife were among the first major celebrities to go on quarantine after contracting coronavirus.
Conspiracy theorists are claiming Hanks is the "coronavirus spokesperson." But his son has something to say about that.

While Tom Hanks quarantines and chills with his wife in Australia, his son Chet Hanks is taking on conspiracy theorists. Chet took to Instagram over the weekend with a video responding to their bizarre theories about Tom Hanks and COVID-19:

Hey guys, I'm really stressed out right now. It's been coming to my attention that a lot of Trump supporters have been figuring out the truth about me in my family. You know, being in the… [displays "All Seeing Eye" tattoo on chest]. You know what I'm talking about. And I don't know what to do right now.

As an aside, this is a common misconception among conspiracy theorists and the general public. The All Seeing Eye of Providence (which is on the One Dollar Bill) is not an Illuminati symbol. It's an American Masonic symbol. The symbol of the Bavarian Illuminati was the Owl of Minerva perched on a book with a laurel wreath in its talons.

In the new video, Chet jokingly acknowledges the theories are true:

Everything's starting to come to light. I mean these extremely reliable websites, like 4Chan, 8Chan have been exposing s**t. And it's like if somebody wrote it on the Internet, you know it must be true. And it is true. So it's like I don't know how this is going to affect our whole New World Agenda.
  CHET HANKS – TWITTER CHAT
After Tom Hanks announced in an Instagram and Twitter post that he had coronavirus, Chet posted a video update about them.
But he wasn't wearing a shirt, and his conspicuous All Seeing Eye tattoo really got the conspiracy Internet worked up over coronavirus:
While talking about why he got the tattoo, Tom Hanks' son Chet Hanks added that he did it because he is "extremely spiritual". He said that he believes in God and also "that God oversees everything, has a plan for everything". Chet Hanks is talking in reference to an Eye of Providence tattoo that he got inked on his chest.   Source
Well, a lot of people are "spiritual" and a lot of people believe in A God that controls their lives.  However, it is clear by your tattoos as well as your actions that you worship a different god than the people of the WORD of GOD do.  It does not matter if it is Lucifer, Satan, Buddha or any other foreign god.  There is only one TRUE GOD, and his symbol is not now, nor has it ever been the Eye of Horus, or the Mason's Square and Compass, or the SOL INVICTUS that you have on your arm.  And just what is your hanged man tattoo all about?  I suppose you are going to tell me that is St. Peter.  Even if you believed that, it would still be wrong to make an idol and even more wrong to have a tattoo.   Both forbidden by the true and living GOD.
If you don't know anything about the symbolism of the "All Seeing EYE" or just want to learn more, or if you would like to see more evidence of movie stars and music idols who employ it. … keep reading.
Hello and welcome to IlluminatiWatcher.com- your home for conspiracy theories and exploring "Illuminati" symbolism. In this article we'll take a journey into one of the most common forms of Illuminati symbolism and attempt to understand its origins. Some of the pieces to this puzzle fit together if you follow closely…

The symbolism of the eye is referenced by practically every conspiracy theorist on the planet. Its prevalence in the world of entertainment and various forms of media begs for an interpretation and explanation. I've attempted to produce a succinct, yet thorough guidance into the various forms of the eye and the symbolism it represents.

I'll start off with one of the most ancient interpretations of the eye and the concept of a deity watching over us. The idea of an omnipresent being watching over us is referenced the Bible several times (1 Peter 3:12 and Proverbs 22:12) and this also includes the Biblical reference to The Watchers, aka the Nephilim. These were the hybrid offspring of extraterrestrials who were called the 'sons of God' in Genesis and the daughters of men at the time on Earth (Ancient Aliens had an episode in season 6 called Alien Breeders that covers some of this). The Nephilim were said to be giants, approximately 300 cubits, or 450 feet tall, based on the translation of the Hebrew Bible and the Book of Enoch.

Genesis 6: 1-4:

Now it came about, when men began to multiply on the face of the land, and daughters were born to them, that the sons of God saw that the daughters of men were beautiful; and they took wives for themselves, whomever they chose. Then the LORD said, "My Spirit shall not strive with man forever, because he also is flesh; nevertheless his days shall be one hundred and twenty years." The Nephilim were on the earth in those days, and also afterward, when the sons of God came in to the daughters of men, and they bore children to them. Those were the mighty men who were of old, men of renown.

The tie-in with The Watchers is found in the Book of Daniel and again in the Books of Enoch, as they are described similar to the Nephilim in that the Watchers were sent to Earth to watch over the humans, only to succumb to lust for the women and procreate with them and create the Nephilim-giants. At this point God decides to get rid of this undesirable race so the Great Deluge occurs, with Noah being the one held responsible to maintain the human race while the flooding occurs.

Theorists such as David Icke hint that the Watchers and/or Nephilim are part of the Illuminati shape shifting reptilian bloodline (and I can't forget to mention L.A. Marzulli; arguably the most 'expert' theorist on the Nephilim). The symbol of the eye is actually satanic in nature since the reptilian bloodline is evil in nature (reptilians are also known as the Archons in Gnosticism). Many cultures believed in a malevolent 'evil eye' that was able to place a curse on another person. This evil eye is the antithesis of the 'third eye' (which is discussed later). The Greek Medusa mythological character was known for turning people into stone upon seeing her, and this was because she was the physical incarnation of the evil eye.

You can find jewelry to this day that has an eye on it, which actually represents the talisman to ward off the curse of the 'evil eye.'<

Kim KardashianMiranda Kerr

This talk of occult talismans is covered in my post about Occult & Illuminati holiday traditions:

The unicorn's horn was attributed with healing powers, and was considered one of the most valuable things on earth. The Inquisition would torture those that wouldn't acknowledge the strength and existence of the unicorn and its horn. The unicorn horn spirals (just like the ziggurat of the Tower of Babel), and is yet another reference to Moloch. The horn gives you blessings if you could acquire it as well (again, same logic for the Moloch sacrifices). The leprechaun shillelagh was just another representation of the horn of Moloch with its powers.

Infowars.com posted a similar idea about the evil of the eye from John Daniel's Scarlet and the Beast, Vol. III where we see some of the origins of the pineal gland worship (as well as Luciferianism):

The Serpent promised Adam and Eve that their eyes would "be opened" if they ate of the fruit of the tree of knowledge of good and evil. The key word in this passage is eyes, which in Hebrew can be translated "knowledge." Opened can be translated "broadened." What the Serpent promised Adam and Eve was that knowledge would be broadened if they ate of the forbidden fruit. But the most foreboding aspect of this scripture emerges from the fact that the Hebrew word for "eyes" is not plural, but singular. What the Serpent actually told Adam and Eve was that their "eye" would be broadened by knowledge.

The "eye" that Scripture wants us to consider is not the physical organ of sight, but the eye of the mind or the soul. This singular "eye" is called the "third eye" of clairvoyance in the Hindu religion, the eye of Osiris in Egypt, and the All-Seeing Eye in Freemasonry.

We've also seen the some symbolism of the forbidden fruit by Lady Gaga in her Illuminati symbolism filled video for G.U.Y.- An ARTPOP Film:

Whether you want to believe that these were literally angels, giants, reptilians, or the offspring of Seth & Cain; the point is that the concept of a big eye in the sky watching over us is a common thread, lying subtlety below the radar to the uninitiated.

The ancient Egyptians had the Eye of Horus, which is also known as the Eye of Ra. This 'wedjat' is a symbol of life because in Egyptian mythology, the god Horus had his moon eye torn out by Set, only to have Thoth invoke magic spells of the falcon to restore it (I could segue into the falcon being symbolism of the American eagle or the phoenix, but I'll save that for another time).

   

The Eye of Horus would continue to be used as a symbol of a protective amulet, including its use on the tombs of Egyptians to assist in the afterlife. Here's the Eye of Horus in the post about the Illuminati symbolism behind Katy Perry & Juicy J's video for Dark Horse:

And Lady Gaga:

The third eye was a conceptual symbol used by the ancient Egyptians and Hindus as a reference to the pineal gland. This chakra is believed to be the gateway to higher consciousness and sense of enlightenment. You've surely heard the phrase "open up your third eye" which means to become aware of the world around you.

The Theosophists believed that the pineal gland was literally a third eye with a physical and spiritual purpose, but evolution worked it back into our heads into a present day pineal glands (as did the ancient Egyptians; according to some Egyptologists- see The Pyramid Code). It's no wonder that Theosophist Helena Blavatsky had such a powerful influence over Adolf Hitler and the Wizard of Oz's creator Frank L. Baum.

You can see connections of Theosophy and the Eye of Horus being presented in my post about Lady Gaga's Wizard of Oz performance of Applause:

This society was based on a philosophy presented by Helena Blavatsky, who is sort of infamous for being the one who Adolf Hitler used as motivation for his racial and occult beliefs. He was known to keep her book called The Secret Doctrine close by his side. So anyhow, Gaga did up the single in the likeness of The Wizard of Oz and gave us a shot of the one all seeing eye of Horus:

The US dollar bill has the Great Seal on its reverse which was designed by Pierre-Eugene du Simitiere in 1776, who also included the Latin phrase E pluribus unum ("Out of many, one"). Pierre was a member of the American Philosophical Society along with Benjamin Franklin. This social club included many of the American founders who all supported this theme of liberty, freedom, and justice for all. While these ideas are great and all; it's important to consider the root of the concepts when delving into this realm of conspiracy theorizing. I summed this up previously in my post about Arcade Fire's Reflektor Illuminati symbolism:

The 'Age of Reflection' refers to the Romanticism period (1800-1840) of thought, both scientifically and intellectually. It essentially sought to unify man and nature through science; an opposition to the Age of Enlightenment that sought to divide out the two. Granted, the Age of Enlightenment had prominent Illuminati-Freemasonry ties and historical connections, considering how the two had roots through prominent intellectuals like Isaac Newton (known Freemason), Robert Boyle (known Freemason), John Locke (probable Freemason), and Francis Bacon (rumored Freemason).

So one could say the Age of Reflection is in opposition to the practices of the Age of Enlightenment, and therefore the Illuminati. But I'm not going to. And the reason why is because the Age of Reflection believed in a concept of a 'Golden Age'. Romanticism had four basic principles: "the original unity of man and nature in a Golden Age; the subsequent separation of man from nature and the fragmentation of human faculties; the interpretability of the history of the universe in human, spiritual terms; and the possibility of salvation through the contemplation of nature.

The Age of Enlightenment gave birth to the scientific process and with it, the ideals of liberty and independence, as we can see on the Seal of Delaware (also created by Pierre-Eugene):

Getting back to the Great Seal on the dollar bill; we can see Latin phrases that could take an ominous tone if you wanted to believe in some of the paranoid schools of thought that are presented here. Annuit Coeptis means "He approves our undertakings", or even more nefariously "it is favourable to our undertakings". We can also see Novus Ordo Seclorum which means "New Order of the Ages."

The "New Order of the Ages" is the 'New World Order' that the Illuminati is believed to be orchestrating, and has been revealed to us through many speeches by prominent politicians.

The eye on the Great Seal is featured on top of a pyramid with thirteen steps, which represent the original 13 colonies. The pyramid is significant here, as I've explained in my post about the symbolism behind the triangle/pyramid:

The upright triangle represents solar power, or in the Hellenic tradition, the element of fire. The ancient deities that were affiliated with the sun were done so in order to convey the symbolism of strength and power (e.g. the Egyptian gods Horus and Ra, or the goddess Isis). The association of power and the sun eventually finds its way into a symbol for male power. This is appropriate since patriarchal-dominated societies are known for wars, primal urges, aggression and instantaneous flare ups. The lunar association with the goddess is tied into the inverted triangle; but we'll get into that later.

There is also the year 1776 written in Roman Numerals underneath the pyramid, which is implied to mean the year of America's independence, when one could actually argue that it is referring to the secret society of the Illuminati, which was also formed in 1776. Shortly after this time, the Freemasons (which were also many of the prominent founding fathers) also started using the logo of the Eye.

There are various interpretations of what it means, including the idea that it represents the All Seeing Eye of God (whom they call the "Great Creator" or "Great Architect"- the 'G' you see on the compass & square), who is always watching us.

The Freemasons believe the Supreme Being represented by the eye symbol is a reminder that he watches over their every deed. It is often times encased in a triangle, which is covered by the post about triangles and the significance of the number 3 in Freemasonry. From my Illuminati symbolism on the triangle:

As an example for the use of 3 and 4 in symbolism, we can take a look at the infamous Square and Compass of Freemasonry (again, I'm using material from Marty Leeds; check him out). A triangle is Freemasonry symbolism for a representation of the higher power; the 'G' in Grand Creator. The trowel used in Freemasonry symbolism is also triangular, while the 32nd degree initiates are symbolized with the triangle. The symbols can be explained as the duality of our purpose in life. The compass represents the spirit realm, or our soul, and this is purposefully drawn above the square to show its importance.

Thomas Smith Webb's The Freemasons Monitor wrote in 1797:

"although our thoughts, words and actions may be hidden from the eyes of man, yet the All-Seeing Eye, whom the Sun, Moon and Stars obey, and under whose watchful care even Comets perform their stupendous revolutions, pervades the innermost recesses of the human heart and will reward us according to our merits.

Officially, nobody on the design committee was a Freemason, so to claim the pyramid and eye on the Great Seal is of Freemason origin is false. The root of this debunked theory comes from 1884 when a Harvard professor named Eliot Charles Norton, wrote that:

"(it) can hardly look otherwise than as a dull emblem of a Masonic fraternity."

Although, I'd like to counter argument and say that even if the Seal was designed before the Freemasons started using; they certainly embraced it well:

The LDS church has roots in Freemasonry, with Joseph Smith's membership and conducting of black magic rituals to find the golden tablets, and you can see the All Seeing Eye on the Salt Lake Temple in Utah:

Aleister Crowley became the figure of attention for pushing the Illuminati-occult agenda into the 20th century. I wrote more detail of his agenda in the Aleister Crowley & the Illuminati magick trance on the entertainment industry post:

After his stint at college he further pursued his interest in alchemy and the occult, joining the Hermetic Order of the Golden Dawn, which performed magic and drug rituals. The Golden Dawn's three founders were Freemasons, and their masonic influence is present in Golden Dawn because it follows a similar initiation and hierarchy before gaining any true insider knowledge. Crowley identified himself as a Freemason, and followed the teachings which were based on the Kabbalah, astrology, tarot and geomancy. Golden Dawn temples were established in London, Scotland, and Paris; all key points of interest for Illuminati rituals Crowley was always a prominent member of the Ordo Templi Orientis (OTO), and introduced homosexual sex magick initiations for high degree members. He was promoted through the ranks very quickly because of his ritual experience and contacts made with the spiritual world in Egypt.

Shortly after buying the Boleskine estate, Crowley and his wife spent time doing rituals in Egypt and believed they communicated directly with the Egyptian god Horus A few weeks later he was contacted by his Holy Guardian Angel named Aiwass ("Aiwass means "Lucifer" in Gnostic terms) while in Egypt, who dictated to him the document that would later form the Thelema religion, The Book of the Law. This book is where Crowley discusses the "Aeon of Horus," a time in which the people will "Do what thou wilt" (reinforcing the concept of freedom). Crowley believed that Horus wanted him to be the prophet that was to inform the human race of the entrance into this Aeon of Horus era, ushering in the 20thcentury. Thelema religion says human history can be divided into eras of different magical and religious expressions.

The first era was the Aeon of Isis; the second was Aeon of Osiris, and the third is the Aeon of Horus (what we're experiencing now; since Crowley's introduction into it). Here's where we can see the tie-in between the Ancient Egyptians, the occult, and the modern day "Illuminati": Aeon of Isis: This was known as the era of Goddess worship (e.g. Egyptian goddess Isis). The emphasis at this time period was on matriarchal values, and the balance of human nature. Aeon of Osiris: This occurred during the medieval times with male god worship (e.g. Egyptian god Osiris). The emphasis during this time was on patriarchy and male dominated values. Aeon of Horus: This is the modern time with child god worship (e.g. Egyptian god Horus). This current Aeon of Horus that Crowley believed he was intended to usher in is why we see the musicians doing the symbol for the all seeing eye, or the Eye of Horus (on the US Seal on the dollar bill pyramid). This symbol for the eye is found in Freemasonry as the Eye of Providence as well.

There's also a variation of the eye symbolism known in various circles as the '666' hand gesture (it is also more familiarly known as the 'ok' hand symbol). I mentioned this in the post Is Khloe Kardashian in the Illuminati?:

Chapter 24 of Texe Marrs' Codex Magica book goes into detail about this controversial symbol. He says the 'OK' sign has the 'O' which is symbol for the sun, while it also symbolizes the female genitalia. In tantric yoga this gesture shows spiritual and physical ecstasy. I already showed how Aleister Crowley was into yoga in my post devoted to his magick trance on the entertainment industry: Getting back to Crowley, his interest in the occult and magick continued and he proceeded in seemingly innocuous activities such as yoga and Tantra.

These activities are practiced by celebrities and are viewed as some kind of New Age, peaceful actions; but their roots are more evil than that. Even though yoga is good for clearing the mind, it pushes an anti-Christian concept of finding God within you, which abandons Christian teachings of following the true Creator and glorifies the person themselves. The Tantric practices are another form of sex magick, which is simply a ritual. These themes will come up again, since Crowley was able to push this agenda of promoting the importance of "self" over religion.

The three extended fingers are claimed to represent the connection to the divine, or the feminine triple goddess. The Satan worshipers are believed to think the three fingers show the unholy trinity between the horned god (aka Moloch, or Ba'al), the goddess (aka Semiramis or Whore of Babylon),  and their offspring: the Antichrist. The Satan worshipers would view the circle as the symbol for their sun deity; Lucifer, or the illuminated one. They call this the symbol of the Divine King, and make reference to it on the dollar bill with the Latin phrase 'Annuit Coeptis', which means 'He approves our undertaking.' 

And of course, you can see that the image appears to show us three overlapping 6's, perhaps giving it more cred as a satanic symbol. Now, generally you'll see this '666' hand gesture placed over one, or both of the eyes; giving it an appropriate placement in this post since we're talking about eye symbolism (you'll see a slew of images here in a minute…).

And now we've come back to present day where our culture is inundated with symbols of the eye from various entertainers in music and film. We continuously ask why they would do such an out-of-place gesture, but when you consider the historical path of the occult and Illuminati symbolism, it becomes quite clear; the symbol is not intended for the masses to understand, but rather to become a part of the ritual and a pawn in the grand scheme of the Illuminati.

It's all over the and they're doing their best to subconsciously implant this image/energy into your mind:

Bush Family Devil Horns

Nikelodeon Pyramid All Seeing Eye

Star Wars the Force Awakens posters All Seeing Eye Illuminati

Be sure to follow the on going debate ; conversation on social media and sign up for that free "Watcher" newsletter:

IlluminatiWatcher on Social Media

Here you can follow me on Facebook:

The IlluminatiWatcher1 YouTube channel:

Here's the Twitter jump for @IlluminatiEyes:

And here's the Isaac Weishaupt page for Pinterest as well:

Thanks for visiting,

-Isaac

P.S. If you're already prepared to take the journey of magic, the occult, and learn about the Illuminati infiltration of hip hop; it's all in
SACRIFICE: MAGIC BEHIND THE MIC:  click to view on webpage 
 spacer

The Eye of Ra: When we talk about myths and ancient symbols, we have to be very careful about how we read the information since some of the ancient religious symbols are used more than once but have different purposes.

This is true for the Eye of Horus and the Eye of Ra, they are basically the same symbol, but they have different purposes behind them. The Eye of Horus was seen more as a protective spirit, while Ra had different attributes to it.

Origin of the eye of Ra

The eye is represented in amulets capable of repelling all negative energy and restoring harmony. That's why the pharaohs used them to defend themselves against any element or enemy that tried to destabilize their government.

One must be careful when invoking its energy because it can get out of control and become very violent. The amulets were painted with a dark red color and also work to protect against evil entities or spells and attract good health.

---

Some mythology about The Eye of Ra

It was said that the Egyptian sun god Ra sailed in his boat across the sky during the day and transported it back to the underworld at night.

There is a myth that the human Ra was old and very weak and because he was vulnerable, his people began to ignore his laws and instructions. He sent his daughter, the lion's eye of Ra, to punish his people. The eye became angry and destroyed humanity. The gods feared that the eye would kill all humans. Ra used red beer to get his eyes drunk and passed out. Then the eye was calm again and returned to Ra.

Another myth says that he has Ra's eye to obtain information, sometimes that purpose is used along with the previous one and he administers his from justice with the information collected by his eye.

A more benign purpose for the eye can be seen when Ra acts as a loving father and sends his eye to search for his two lost children.

Another representation of the eye of Ra is the symbol of a cobra wrapped around a solar disk. Although there is a problem with this symbol and that is that it is also used to represent another goddess. She also has a relationship with the eye as her symbol.

Eye of Ra power

The eye is represented in amulets capable of repelling all negative energy and restoring harmony. That's why the pharaohs used them to defend themselves against any element or enemy that tried to destabilize their government.

One must be careful when invoking its energy because it can get out of control and become very violent. The amulets were painted with a dark red color and also work to protect against evil entities or spells and attract good health.

How the eye of Ra came about?

How the eye of Ra came about is also due to a myth. When the children of Ra were lost, he sent his eye to look for them. During the absence of Ra's original eye, another one grew. When the first eye successfully returned with the children, he became jealous and very upset.

To solve his problem, Ra simply placated the first eye by turning it into a uraeus and placing it over the other eyes on his forehead. A final representation of Ra's eye is seen in the form of a cat.

This cat Bastet was often used to protect Ra from a snake called Apep. This representation can also be confusing since the cat is linked to at least 7 other Egyptian gods.

---

Symbol of the Eye of Ra

Many people believe that the Egyptians symbolize the Eye of Ra with the same image that used to symbolize the Eye of Horus. Some scholars think that the solar disk surrounded by two cobras uraeus was the Egyptian symbol for the Eye of Ra. The Egyptians saw several goddesses as personifications of this symbol, including Bastet, Hathor, Mut, and Wadjet.

---

Meaning of the Eye of Ra

Meaning of Egypt of Ra: The eye of Ra represented the sun to the Egyptians. It was often associated with the destructive power of the sun, but the Egyptians also used it to protect buildings and themselves. The eye of Ra was a symbol of royal authority.

The eye of Ra was painted on amulets. It had a protective power for the Egyptian pharaohs, perhaps as a kind of ancient weapon [ Read more about ancient Egyptian Wars ].

---

The difference between the eye of Horus and Ra

The eye of Ra is often confused with the eye of Horus [ Read more about Eye of Horus meaning ]. However, the two are quite distinct. The eye of Ra represents the right eye, and the eye of Horus the left eye. Ra is the sun god, his power is quite close to the almighty gods of the monotheistic religions. In this sense, his power of vision is thus unlimited, his eye is called "the eye that sees everything". This is not the case with Horus, whose powers are limited and whose protection is mostly linked to physical integrity.
A protective symbol

The difference is that the eye of Ra is drawn as a right eye, while the eye of Horus is drawn as the left eye of Horus.


The eye of Horus is a strong protective symbol, used for thousands of years by the Egyptians. It is associated with vision (especially the power of vision between the afterlife and the world of the living), the protection of physical integrity and health. Worn as an amulet around the neck, it protects the wearer.

It should be noted that the Eye of Horus symbol corresponds to the location of the Third Eye, represented by the sixth chakra. The sixth chakra represents the seat of intuition and clairvoyance (including the ability to "see" things usually hidden).

A thousand-year-old talisman used since antiquity, the eye of Horus has been able to cross the centuries to come and protect us. Wear it as a jewel to benefit from its health protection. Displayed in a house, it will protect its integrity. Don't forget that the eye of Horus is symbolized by a left eye, the right eye is the eye of Ra. It is a powerful symbol of protection.
spacer