Originally Posted 1/30/86; Updated 3/4/19; 2020-05-27;

Restored: 8/15/22
The following clip presents a quote from Richard Seed, Physical Human Cloning Researcher:
"We are going to become GODs, period"
"We are going to become Gods period. If you don't like it, get off. But, if you are going to interfere with me becoming God, we're gonna have big trouble. We will have warfare. The only way you can prevent me in this is to kill me, you kill me, I will kill you. God made man in his own image. God intended for man to become one with God. We are going to become one with God. Cloning and the reprogramming of DNA is the first serious step, in becoming one with God."  Richard Seed Source: Wikipedia
Listen to the following testimony of someone who has walked this path.
Bill Cooper & Guest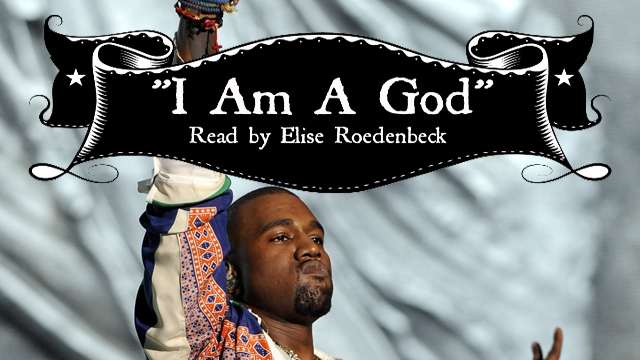 This is the oldest lie ever told. Satan has not had to change his strategy at all! Man's ego is so strong, he is eager to believe the lie. Satan is a created being. He is foolish enough to assume that he is smarter than the Creator. Satan could not even save himself from eternal damnation.
Out on a Limb – I Am God
A fragment from the 1987 mini-series called "Out On a Limb" –  w/ Shirley MacLaine and John Heard.
OUT ON A LIMB – Shirley MacLaine 
"I AM GOD!"
To those "who think they will someday become Gods of their own realms, we ask, "Did you make the heavens and the earth?" If not, consider the following passages from Jeremiah 10:10, 11:
"But the Lord is the true God, He is the living God, and an everlasting king: at His wrath the earth shall tremble, and the nations shall not be able to abide his indignation. Thus shall ye say unto them, The gods that have not made the heavens and the earth, even they shall perish from the earth, and from under these heavens."
If the Lord is the only true God then will you be a false god? If He is the only living God, will you be a dead God? If you hope to become a God but did not make the heavens and the earth, according to the above passages, you can expect to perish. It may be argued that this verse refers to pagan idols. However that may be, let us not forget Psalm 96:5, which says that God considers all the gods of the nations as idols, whether they are hewn from wood, or stone, or "exalted" through good works. All will perish."  Source
What does God hate most? When man does what is right in his own eyes. When he turns his back on the creator and works to manipulate life to suit his own will. That is the root source of all that is evil, and called sin.
Judges 21:25 "In those days there was no king in Israel: every man did that which was right in his own eyes". So we see that these people were wanting to do right. They were not evil. But, they wanted to choose for themselves what was right. They said "I want to do right, but I will decide what's right." Proverbs 21:2, "Every way of a man is right in his own eyes: but the LORD pondereth the hearts." Hebrews 4:13 says: "Nothing is hid from the eyes of the Lord". God sees our very thoughts and pondereth our heart (Psalms 139:1-7).
This was the cause of the fall of the Angels. Evil came into fruition when the Angels decided that they would make their own way, that they would be "as God". When man was formed in the Garden of Eden, the fallen one was there to immediately plant that seed in his/her mind.
We are all born with a hunger for knowledge. We desire to understand the world around us. We seek after what we perceive to be "success". Our nature enjoys comfort, beauty, pleasure. God's word says, in 1st John 2:15-17 "15 Do not love the world or anything in the world. If anyone loves the world, love for the Father is not in them.16For everything in the world—the lust of the flesh, the lust of the eyes, and the pride of life—comes not from the Father but from the world.17 The world and its desires pass away, but whoever does the will of God lives forever."
What is wrong with enjoying life? You might ask. Nothing. However, making the things of this world your focus is completely wrong. God loves you. He wants to give you joy. Real joy. He wants you to know what is truly valuable.
Crowley says, "Do what thou wilt is the whole of the law." But the one who Created the Universe is the one who has a right to make the law. Here is what He has to say about it.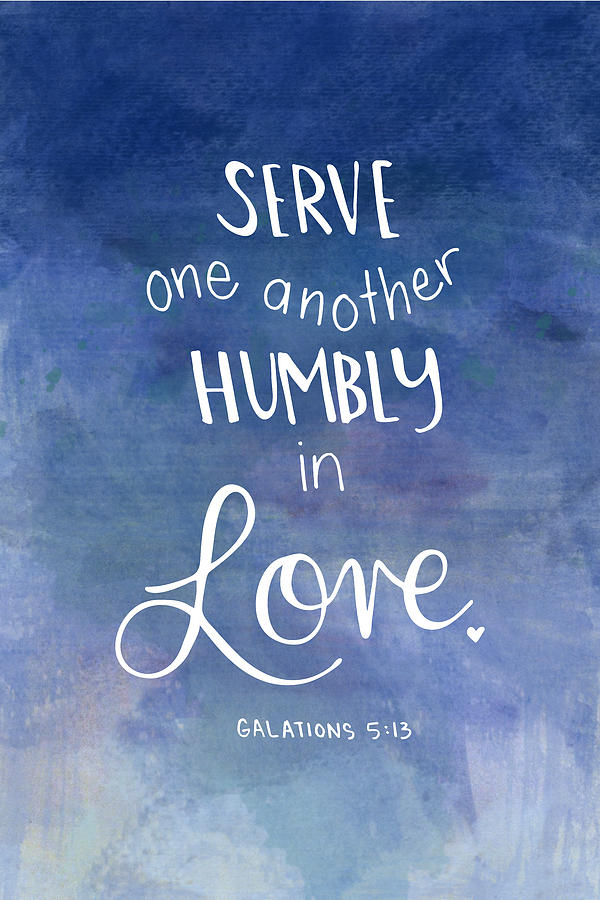 "You, my brothers and sisters, were called to be free. But do not use your freedom to indulge the flesh; rather, serve one another humbly in love. For the entire law is fulfilled in keeping this one command: Love your neighbor as yourself. If you bite and devour each other, watch out or you will be destroyed by each other. So I say, walk by the Spirit, and you will not gratify the desires of the flesh. For the flesh desires what is contrary to the Spirit, and the Spirit what is contrary to the flesh. They are in conflict with each other so that you are not to do whatever you want. But if you are led by the Spirit, you are not under the law. The acts of the flesh are obvious: sexual immorality, impurity, and debauchery; idolatry and witchcraft; hatred, discord, jealousy, fits of rage, selfish ambition, dissensions, factions, and envy; drunkenness, orgies, and the like. "I warn you, as I did before, that those who live like this will not inherit the kingdom of God. But the fruit of the Spirit is love, joy, peace, forbearance, kindness, goodness, faithfulness, gentleness, and self-control. Against such things, there is no law." Galatians 5:13-22
If you haven't noticed, those who turn away from God and to Satan, promote all those things mentioned in verse 5:19 above. Sexual immorality, impurity, and debauchery; idolatry and witchcraft; hatred, discord, jealousy, fits of rage, selfish ambition, dissensions, factions and envy; drunkenness, orgies. They see no wrong in this. Yet it is obvious to anyone in their right mind, that they things lead to all kinds of evil, destruction and death.
Taken again from Aleister Crowley's definition of Magick: "He supplicates no higher power: he sues the favour of no fickle and wayward being: he abases himself before no awful deity. Yet his power, great as he believes it to be, is by no means arbitrary and unlimited. He can wield it only so long as he strictly conforms to the rules of his art, or to what may be called the laws of nature as conceived by him. To neglect these rules, to break these laws in the smallest particular is to incur failure, and may even expose the unskillful practitioner himself to the utmost peril. If he claims a sovereignty over nature, it is a constitutional sovereignty rigorously limited in its scope and exercised in exact conformity with ancient usage."
The allure of the Occult and Magic is the promise to the seeker to fulfill all their wildest dreams and to set them free from the LAW. To "supplicate to no higher power". To be your own GOD. This my friends would be laughable if it was not so tragic. Foolish people fall prey to this illusion. Only to find themselves hopelessly trapped in the end. You can see from the passages you just read, Magic does not free you from LAW… it only moves you from God's Law which brings life, to Satan's Law which brings death. It does not make you a GOD nor are you free from submission to any GOD. Once you are committed to the Occult and Magick, you are a slave to Satan and his demons. Not only in this life but forever, throughout eternity. Satan will give you what you thought you wanted. For a time. You will likely find it is not what you thought it would be at all, and it surely is not worth the price.
Don't take my word for it. Search it out for yourselves. Do some research of your own. Listen to the testimonies of people who have escaped from the web. Or, even those who are still practicing. You will see that Satan is a hard master. That you will have to sacrifice far more than you could ever dream. If you ever have the unfortunate opportunity to learn what it is like to serve him… You will discover that the Laws of our Creator are not so heavy a burden.
spacer
Selfie Obsessed ~ (click to sign in and view on Youtube)
NBC Nightly News W/ Brian Williams
spacr spacere
spacer
(Click the Title Link Above to view on ABC website.)
It's me, myself and I for an American culture enthralled with cell phone self promotion.

spacer
Scientists Link ‪Selfies‬ To Narcissism, ‪Addiction‬ & Mental Illness
Monday Jan 2019
Source: Scientists Link ‪Selfies‬ To Narcissism, ‪Addiction‬ & Mental Illness
According to psychiatrist Dr David Veal: "Two out of three of all the patients who come to see me with Body Dysmorphic Disorder

since the rise of camera phones

have a compulsion to repeatedly take and post selfies on social media sites."
"Cognitive behavioral therapy is used to help a patient to recognize the reasons for his or her compulsive behavior and then to learn how to moderate it," he told the Sunday Mirror.
Is it possible that taking selfies causes mental illness, addiction, narcissism and suicide? Many psychologists say yes, and warn parents to pay close attention to what kids are doing online to avoid any future cases like what happened to Bowman.
A British male teenager tried to commit suicide after he failed to take the perfect selfie. Danny Bowman became so obsessed with capturing the perfect shot that he spent 10 hours a day taking up to 200 selfies. The 19-year-old lost nearly 30 pounds, dropped out of school and did not leave the house for six months in his quest to get the right picture. He would take 10 pictures immediately after waking up. Frustrated at his attempts to take the one image he wanted, Bowman eventually tried to take his own life by overdosing, but was saved by his mom.
"I was constantly in search of taking the perfect selfie and when I realized I couldn't, I wanted to die. I lost my friends, my education, my health and almost my life," he told The Mirror.
The teenager is believed to be the UK's first selfie addict and has had therapy to treat his technology addiction as well as OCD and Body Dysmorphic Disorder.
Scientists have determined that the answer to this 
one question can determine if — 
You will likely be shocked at your own response. 
NARCISSISM
A textbook definition of narcissism is described as, "extreme selfishness, with a grandiose view of one's own talents and a craving for admiration, as characterizing a personality type." A psychoanalytic definition is stated as "self-centeredness arising from failure to distinguish the self from external objects, either in very young babies or as a feature of mental disorder." 
—
In our Technical society, we have seen an ever-increasing line of self-promotional products. From self-portraits, polaroid cameras, disposable cameras, flip phones, webcams, to the popular Cellphones with front-facing camera.
Myspace was the birth of the selfies. Recently we were introduced to the I-PHONE and I-Pad with front facing camera which carried us into the Golden Age of the "selfie" generation. We have become obsessed with self: self-promotion, self-gratification, self-absorption, self-love, and self-esteem. I wonder what it would be like if we were focused on our inner-self as much as we are on our exterior-self. What condition is your soul in today? Would you find it worthy of posting online? Man looks on the outer appearance but God looks upon the heart. How can we glorify God when we are focused on self?
What do you imagine we could accomplish if we were to reverse this self-centered mindset and turn it into a selfless mindset? Isn't that what we are encouraged to do throughout the Bible? Matthew 10:39 "Whoever finds their life will lose it, and whoever loses their life for my sake will find it." Matthew 23:11 "The greatest among you will be your servant."
When we die to self and allow his love to flow to others – that is something that is rare and beautiful.
This New Age would have us believe that it is all about self. This is totally opposite of what the Bible teaches. Re-evaluate what is truly precious in life and decide to reflect a God-focused mindset in a Self-Centered World.
You're obsessed with your own social media profile—and so is everyone else.
Yesterday, I crafted the perfect Instagram story: I snapped a few artfully angled photos, wrote some quippy captions, added the appropriate number of Boomerangs and emojis, and then I sat back and tapped through the whole thing, admiring my little movie. And then I watched it again, trying to view it as a third-party observer would, looking for flaws. And then, for good measure, I watched it again. And again. By the end of the day, I had flipped through my story almost a dozen times, perking up at each new comment and view count like a proud stage mom.

This admission should, in an ideal world, feel unrelatable and confusing, maybe even a little pitiful. You're probably throwing me some shade right now—oh my god, she's so full of herself—but I'm willing to bet you've done the exact same thing, probably even today, maybe even in the time since you started reading this article. Because this is the age we live in now: the age of digital self-obsession. When we're not watching and reading posts by celebrities and friends and frenemies, we're spending our time fixating on ourselves, marveling at the online persona we've skillfully crafted for the world.

"What used to be thought of as narcissistic, vain, and self-centered behavior is now the guiding norm of society," says Elias Aboujaoude, M.D., clinical professor of psychiatry and behavioral sciences at Stanford University and author of Virtually You: The Dangerous Powers of the E-Personality. "We're living in an era where humans are putting forth these edited and inflated versions of their lives, this 'idealized self,' and then they are, quite literally, falling in love with themselves."

That's not to say we're all harboring a secret desire to take our Instagram profiles out on a hot date, but rather that we're obsessing over our online personas as if we were actually in love. "This person, this you-but-not-you, seems sexier, healthier, and cooler, because they're made up of only the good memories, and so you end up lusting after them because you admire how much more likable they are," says Dr. Aboujaoude. Mix the rose-colored glasses with a bit of nostalgia (I look so happy in last year's vacation photos) and ta-da—you've got a recipe for some weird, modern-day crushing.

Of course, vanity itself is nothing new (just ask Carly Simon). The difference today, though, is that now we're so unabashedly proud of—or at least accustomed to—our own self-absorption. It's commonly accepted that whatever selfie makes it online will have first been cropped, filtered, and scrutinized to death, and that a significant chunk of your time will be spent gazing at your face afterward, waiting for the likes to roll in. "Even as we're inwardly judging others for posting unrealistic content, we're doing the exact same thing to varying degrees, curating an image of ourselves that we want people to see, while softening or omitting the stuff we'd rather keep hidden," says Keith Campbell, Ph.D., professor of psychology at the University of Georgia and author of The Narcissism Epidemic.

But before you hate on your coworker for posting yet another Boomerang of herself blowing a kiss, know that her self-obsession isn't really her fault. Or yours. Or mine. Because people today aren't actually more narcissistic than previous generations (really—there are studies to prove it); they were just taught to look at themselves more from an early age.

Not only have technological advances made it easier to stare at ourselves—lookin' at you, front-facing camera phones—but celebrities have showed us that being in love with our alteregos can also bring us fame and fortune. "Vanity has become accepted, even applauded, thanks to regular people like Kim Kardashian getting famous for taking attractive selfies and looking good," Dr. Campbell says. "It kind of democratized the industry and sent a message that normal people can achieve fame just by putting together the right look."

We were, essentially, groomed to be a generation of self-obsessed humans looking for validation. And, when you examine the psychology behind the phenomenon, it makes sense as to why it became one so quickly. "People really crave social affirmation," says Erin Vogel, Ph.D., a post-doctoral psychiatry fellow at the University of California, San Francisco. "When everyone around you has a strong social media presence, even if it's clearly fake, it can create major internal anxiety," she continues. "Crafting a persona that's filled with only positive information—like an embellished Instagram profile or an exaggerated Snapchat story—will create a positive self-acceptance that's very stabilizing and soothing."

So what we end up showing the world is the version of ourselves we actually like, rather than the full picture of who we are. My reaction to hearing this statement was an immediate, "Gross; I don't do that." But then I realized I had Instagrammed my fancy breakfast that morning, but hadn't included that I had such horrific, nauseating cramps that I ate none of it. I Snapped a selfie of my new lipstick, but I added a filter to hide my rosacea flare-up. And I absolutely did not Facebook Live my therapy session, though I made sure to post a picture of the New York skyline on my walk home.

And it's in this quiet omission that we redefine and reshape our image into one that we're proud of—one that we want to watch all the time. "You're putting forth the highlight reel of your life, and when you tap through your Instagram story or scroll through your Facebook profile at the end of the day, you're reliving the best moments of it," says Dr. Campbell. "The stress is stripped down, you're looking at yourself in the way you want other people to see you, and your brain says, 'Hey, I had a good day, and I'm a decent person.'" The element of pride we feel isn't narcissism, he notes, but instead a very normal, very basic need to feel good about ourselves.

Whereas fibbing in the real world can get you into trouble, fibbing in social media gets you likes, comments, followers, and, in some cases, fame. You know that your Facetuned waist and thighs are fake, and that your "candid" photo actually took 15 attempts, but any inklings of guilt are inevitably squashed by positive reinforcement. "We start to believe our own illusions on social media, because we see other people believing them, too," says Dr. Vogel. "So not only are we falling in love with our online persona, but so are our followers, which creates this self-perpetuating cycle of validation."

And if you've ever posted a photo that's gotten hundreds of likes—and then posted one that received no attention at all—you know how painful that comedown is, and how addictive it can be to chase the high of approval once again. Though the neuroscience hasn't officially been studied, every expert I spoke with agreed that there could be a level of addiction that comes with social media. "In terms of drugs, we know that the faster something reaches your brain, the more addicting it is, since it lights up your brain's reward system so quickly," says Dr. Vogel. "Social media engagement is instantaneous; you upload a photo, you get validation, you want more."

Scroll through my own Instagram and you can see a clear delineation between when I didn't care about my social media presence and when I definitely started to care: My photos went from poorly lit and silly, to crisp, white, minimalist—what the life of an editor "should" look like. In my Instagram life, everything is perfect. In my Instagram life, there are no 70-hour work weeks, or bouts of anxiety and crying jags, or grief, or loss, or sadness—there are only celebrity selfies, cookies, and lipstick. And who wouldn't want to spend time reliving that happy Instagram life, especially in moments when real life is, well, sucking?

Of course, all this self-obsession is less than ideal. "When we lust over this person, this other 'us,' the end game is to believe this is who we really are," says Dr. Aboujaoude. "But when something happens that reminds us that our real lives aren't as rosy as our social media personas, it can be hard to accept. It can feel like you're stuck living the worst version of your best life."

Not only does this lead to the obvious feelings of anxiety, depression, and stress, but it can cause an even greater desire to "escape into that idealized life," as Dr. Aboujaoude puts it, by re-watching our highlights reel, chasing that high. If we're not careful, we'll find ourselves living in a perpetual state of nostalgia, which can only lead to more sadness. "Our brains didn't evolve to know how to handle these technologies, so we don't have a template for how to deal with this in a healthy balanced way," he says.

Yet not one of the experts I spoke with suggested stopping social media, or even really stopping our current habit of stalking ourselves all day long—because it's fully unrealistic to expect. "We're all existing in a culture that has turned self-worth into a competitive, measureable unit that gets displayed to the world," says Dr. Campbell. "To be successful today, you often have to have your own brand and a network of connections and followers, so of course you're going to be invested in yourself; of course you're going to do what you can for the likes and comments and followers, even if that means having a persona."

"Just being aware of how these technologies are affecting you and then approaching them with a more informed and balanced mindset can really help," says Dr. Aboujaoude. That awareness can be as simple as deleting Facetune from your phone, or only checking your Insta stories twice a day, not 20. "In the end, you just have to live your life," he says, "and try to focus on the one that actually matters." Which, in case you forgot, is the one that's happening right now.
spacer
Time to power down, people.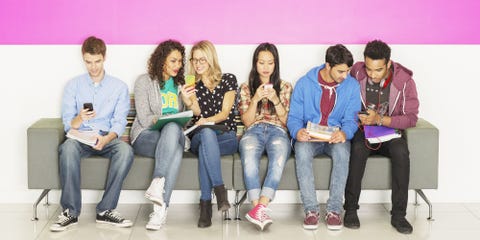 If something isn't documented on Instagram, did it really happen? If you and your significant other aren't 'Facebook official', can you really be sure the relationship exists?

Very few of us can imagine a day without sharing some portion of our lives on at least one of the social media apps that dominate our iPhone screens. We post to show off our cool lives, our chic clothes, our sweet romances, our enviable squads. The resulting one-upmanship mentality is impossible to ignore, and the pressure to stay relevant and worth following can take its toll—especially with a younger, more impressionable set of users.

As if adolescence weren't enough of an emotional roller coaster, the increased prevalence of social media use in teens is making things even harder. According to a study published in the journal Cyberpsychology, Behavior, and Social Networking, the more frequently teens use social media, the bigger the negative impact on their mental health.

Researchers at Ottawa Public Health studied 750 students in grades seven through twelve, finding that those who spent as little as two hours a day on social media were more likely to report "poor self-rated mental health, psychological distress, suicidal ideation, or unmet need for mental health support."

While causality is indeterminate in the relationship between social media use and psychological issues, the data does suggests that youth with poor mental health are greater users of social networking sites.

"It could be that teens with mental health problems are seeking out interactions as they are feeling isolated and alone," Dr. Hugues Sampasa-Kanyinga, the study's lead author, told The Huffington Post. "Or they would like to satisfy unmet needs for face-to-face mental health support."

Either way, it's clear we could all stand to disconnect now and then.

SARAH LINDIG Senior Digital Editor, Special Projects
'Snapchat Dysmorphia' causing young people to seek plastic surgery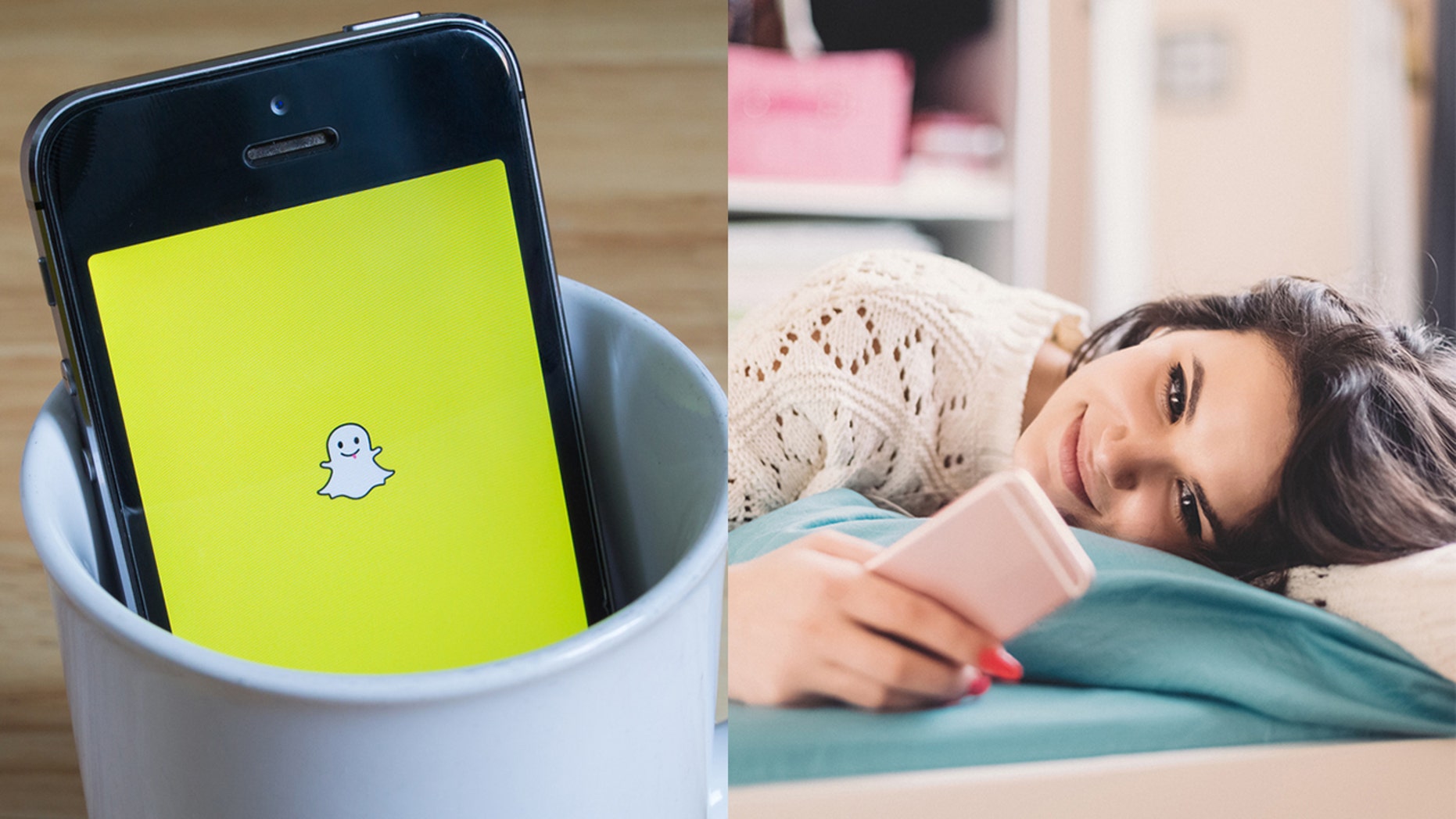 Snapchat and Instagram filters are changing the way young people look at themselves.

A new phenomenon of using filtered selfies as a guide for plastic surgeons is on the rise, and has been coined "Snapchat Dysmorphia" by Dr. Matthew Schulman, a board-certified plastic surgeon in New York City.

The filters – an effect that can transform the users facial features, typically by smoothing skin and enlarging eyes and lips – have been accused of making people forget what they truly look like.

MOM BLAMES PLASTIC SURGERY ADDICTION ON 'SELFIE DYSMORPHIA'

"There's an issue with losing perspective on what you actually look like, and it's not something we talk about much," Renee Engeln, professor of psychology at Northwestern University, and author of Beauty Sick: How the Cultural Obsession with Appearance Hurts Girls and Women, said to the Huffington Post.

"It's not enough [to] have to compare yourself to these perfected images of models, but now you've got this daily comparison of your real self to this intentional or unintentional fake self that you present on social media. It's just one more way to feel like your falling short every day," Engeln added.

"We're at a new level when we actually lose touch with our own face or look surprised when we look in the mirror," she said.

So more are turning to plastic surgery to make that Snapchat filter face a permanent look.

"Everybody basically is using a filter on their own and they're either taking that next step to bring it to me saying, 'Hey, this is what I want to look like,' Schulman said to the Post.

Though Engeln points out, seeking smooth and blemish-free skin isn't a new concept from the social media age.

FOLLOW US ON FACEBOOK FOR MORE FOX LIFESTYLE NEWS

"They're not changing the content of our beauty standards," she said to the Post. "They're just making images of it more widely available."

Dr. Michelle Yagoda, a facial plastic surgeon in New York City, told the Post that constantly seeing altered selfies could have serious negative effects on people's self-esteem, but doesn't think that many will be affected by the syndrome.

"I think any time you're able to shade out imperfections and make a better picture of yourself, it affects the way we see each other and the way we see ourselves," she said. "I think this is a real problem, but I doubt that it's going to be significantly affecting more people than regular body dysmorphic disorder does."

Currently body dysmorphia disorder affects 1.7 to 2.4 percent of the population.
spacer
spacer
Scientists are trying to become GOD. They are playing with the DNA and altering all types of creatures, including human beings. They plan to build superhumans who can live forever. This is exactly what was going on in the days of Noah. The fallen angels and their offspring were cross breading everything imaginable, polluting the DNA and destroying God's creation.  If you live by God's plan, you will live and reign forever, in God's kingdom.  Satan is trying to fool you by promising you eternal life his way.  If you spend some time researching the truth about their plans for you… you will get a rude awakening.  Just remember one thing…SATAN HATES YOU!  He cannot save himself from the end already in store for him, so he wants to take you down. Misery loves company.  Satan is the most miserable.  GOD LOVES YOU!!  His plans for you are always for the good.   
Do You Believe in Magick continues – Part 25 – Disclosure Now
spacer