Originally Posted 1/30/16; Updated 12/16/18; RESTORED 2/24/22
 The Magical Mystery Tour

Peace, Love, Joy, Happiness, Brotherhood
Promises, promises, promises. ALL empty. There can never be peace on earth until the Prince of Peace brings it. Man's heart is wicked and evil. And mankind has an adversary that is working diligently to deceive and destroy all that is good and belongs to God. The Anti-Christ is coming, disguised as an angel of Light. He is the one who stands in the place of Christ, pretending to be Christ.
The World is embracing these teachings and they will accept the Anti-Christ because God has given them over to a reprobate mind that they might believe the lie. Why would God do that? Because mankind has rejected God and His TRUTH.
There is nothing new under the sun. Everything that has been done before will be again.
Ecclesiastes 1:9
What has been will be again, what has been done will be done again; there is nothing new under the sun. Is there anything of which one can say, "Look! This is something new"? It was here already, long ago; it was here before our time. No one remembers the former generations, and even those yet to come will not be remembered by those who follow them.
Everything that is happening today, has happened before. Our history has been hidden from us, because if we had known our history, we would be far less likely to repeat it. This new world order is nothing new. It was tried ages and ages ago, at the Tower of Babel. One World, One Religion, One Language. You should be aware of what happened at the Tower of Babel. If you are not, I suggest you research it. We are about to revisit another story out of the bible. The Bible says that in the end times it shall be as it was in the Days of Noah.
9 Core Beliefs of the NEW AGE
1. Evolutionary optimism -New Agers believe that the world is poised to explode into a New Age of enlightenment. They are convinced that this "new world order" will be united under a one world government and initiated by a quantum leap in humanity's spiritual evolution.
2. Monism – Monism means "oneness." New Agers believe that we are all one with each other and the universe. We are all connected by the common cord of the cosmos.
3. Pantheism – New Agers do not believe in a personal God. They believe that the totality of all the "oneness" in the cosmos can collectively be called "god". Some call it "the force". Others call it "consciousness". But by any label, it is the deification of the universe and everything in it. That's why Shirley MacLaine can proclaim, "I am God." She believes that as part of this cosmic consciousness, she is god and so are you.
4. Transformation of Consciousness – New Agers believe that the New Age must be experienced to be transformational. Through meditation, drugs, yoga, martial arts, or cosmic experiences, the goal of the New Ager is to become one with the universe. The goal is a state of mind that is at peace with oneself and at one with one's universe.
5. Create your own reality – In the New Age movement, morals are subjective. Since there is not an external objective standard of authority when it comes to behavior then you are free to create your own moral reality. The New Age encourages its participants to experiment and experience their own morals on their journey toward oneness.
6. Unlimited human potential -New Agers are convinced that all the power of the universe is available to every person. The more that we can know the god within us the more we can unleash the cosmic force to achieve the unachievable. (ESP, Telepathy, Out of Body Experiences and Psychokineses [moving or manipulating objects with one's mind] are all evidence of their belief in unlimited human potential.
7. Spirit Contact – New Agers believe that there is an army of spirit guides, extraterrestrials, and entities who are seeking to communicate with humans through mediums or channelers. These channelers are humans who are in touch with the cosmic consciousness and are used by these spirit guides to communicate universal truth to others. These cosmic truths routinely contradict Biblical teachings.
8. Masters from Above – New Agers believe that UFOs and those who have had extraterrestrial encounters prove that there is not only life on other planets, but that these more evolved species have much to teach us.
9. Religious Syncretism -As Douglas Groothuis writes in his book, Confronting the New Age, "New Age spirituality is a rather eclectic grab bag of Eastern mysticism, Western occultism, neopaganism, and human psychology". Many New Agers claim to be Christian. Most Americans today are New Age in at least some areas of their belief system. The whole contention, "it doesn't matter what you believe, it only matters that you believe," flows from the New Age belief system. Source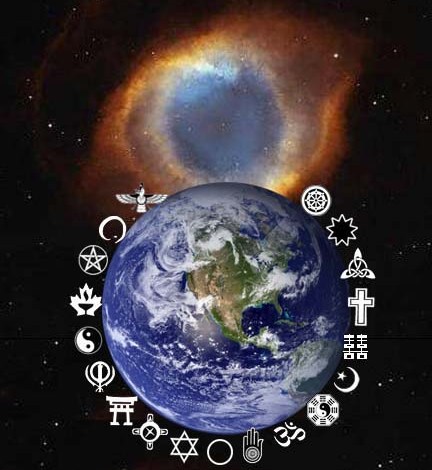 Rest assured, there is something for everyone in this NEW AGE. Multiple Paths to Euphoria. After all, all roads Surely, that must be true. After all, that is what Ted Turner says, so it must be true. Makes sense right? Why can't we all accept and love each other? isn't that what God would want? Let me ask you if you believe in one Creator God, the God of the Bible, how can you embrace a religion that worships nature (the creation instead of the creator), or one that worships the Sun, or one that worships multiple Gods and Goddesses? How about one that worships Lucifer/Satan? Or, worse yet, one that sees God as a force? Not an intelligent being who created us purposefully and designed us intricately? And a religion that sees God as a force that is equally present in everything rocks, water, animals, plants, puts no special value on human life. The Creator in the Bible says He created Man in His image. This would demand that human life be revered as sacred. How can all these diametrically opposed faiths be one?………….lead to the same place, right? There is only One God and we all find Him/Her/It in our own way, right? It's all good.
THE SECRET – Power of Attraction
Once you have the "SECRET", the WORLD IS YOURS! Surely you know that you CREATE your own reality. It is all in the power of your mind, your will, and your faith! If you can imagine it, you can create it.
According to Rotten Tomatoes: "Scientists, authors, and philosophers propose the secret to leading a happy and successful life." The Power of Positive Thinking and the Law of Attraction. That is all you need to get all you want.
But, Genesis 6:5, states: "And GOD saw that the wickedness of man was great in the earth and that every imagination of the thoughts of his heart was only evil continually." Jeremiah 17:9 says: "The heart is deceitful above all things, and desperately wicked: who can know it?
YES, indeed.  You will find something for everyone in the New Age.  You can pick your poison.  If one option does not appeal to you, don't worry, there is plenty to "tickle" your fancy.  
ANGELIC BEINGS
The New Age Teaching would have you believe that you can look to Angels for guidance. They have all kinds of teachings, and suggestions on how to reach your ANGEL GUIDES. I give you one guess what angels you would be contacting. Though Angels are messengers of God and he often sends them to give encouragement and protection, they are not at our beck and call. There is a veil between us and the spirit realm for a reason. It was placed there by GOD himself. He is the one who decides when and if we have any interaction with His angels. THE FALLEN ANGELS and their progeny, are the ones who are going to and fro in the earth looking for souls with whom they can interact. They are restricted in some ways, one of those being that at this time, they must gain permission from humans. Now, humans can give permission ignorantly, if they are unwise and allow themselves to be deceived. Don't buy into this deception.
This has been going on since the beginning. The fallen angels have been deceiving mankind throughout history. This is especially true in these last days. They know that we are coming to the end of Time. They are pulling out all the stops, in their last-ditch effort to win the spiritual battle, or at least destroy as much as they can. Haven't you noticed that evil is running rampant? People who are practicing yoga, angel worship, Wicca, and Satanism are calling in these demons whether knowingly or unknowingly.
spacer
ASCENDED MASTERS  

According to New Age, an "Ascended Master is a Being of Light, who has had many lives in a physical body, just like you – and through these lives and their own free will and hard work have raised their vibration and consciousness. They have attained mastery over themselves and the elements through time and space. They have left the cycle of rebirth. They have all passed the 6th initiation and some have passed higher initiations. These great Beings continually strive to come less of who they are and more a Being of total purity and Light."
http://www.alphaimaging.co.nz/themasters.htm
Channeling or Connecting with what is known as Ascended Masters, or Ancestors is the same as Angel Worship. These are Demonic entities. Do not be fooled. The Bible tells us that there is no way for the living to contact the dead.
http://www.aetherius.org/ascended-masters/
ANCIENT ANCESTORS
The ancestors are ones who intimately know what it is like to take the human incarnation and share your spiritual and/or physical DNA. They can have great empathy, compassion, and sensitivity for what it is like to be in a personal earth journey. They can provide helpful teachings, guidance, protection, healing and forgiveness from the spirit dimension. Ancestors may also have their own continued healing work and evolution to do as a spirit and are still considered part of the sacred hoop of life.
There are other types of ancestors, including Territorial Ancestors (aka Land Ancestors) and Spiritual Ancestors. Territorial or Land Ancestors are beings that incarnate on a piece of land and are now connected to the land as spiritual guardians and stewards. Your family ancestors can also be your Territorial Ancestors if you are living/working on ancestral lands. Your Spiritual Ancestors are lineages of spirit beings that your soul repeatedly chooses to work with. This could be Archangel Michael, Buddha, Quan Yin (aka Guanyin), White Buffalo Calf Woman, Star Beings from the Pleiades, or the Egyptian wisdom spirits- the sky is the limit. There are infinite possibilities and a particular ancestor could be in multiple "categories".
Be open to whatever comes. Spirit can come as a whisper or as a cosmic smack upside the head. And sometimes it comes immediately and sometimes it comes when you least expect it. What matters most is your intention, attention, and purpose. The seeds you have planted will grow if tended with an earnest heart. Trust the process. May the ancestors be with you.   SOURCE   These Spirits are not your dead family members, they are DEMONIC spirits, that can take any form they choose, and who know EXACTLY what form YOU will accept. 
ANIMAL SPIRITS OR TOTEMS
A "Spirit Animal" is an animal spirit who will present life's lessons. The Spirit Animal is the one who comes to you in order to show you, through its own unique nature and skills, how to deal with the manifestations of your Spiritual Journey. Spirit Animals do not necessarily guide you, but they come to teach you that which you need to learn, in order to know how to meet the challenges of your journey.
A "Totem Animal" is an animal spirit that you call upon or invoke, as an individual or a group, for its special powers and survival skills, to serve as a guardian or protector when facing adversity.
Once again, these are demonic forces making contact with humans in whatever form they can find acceptance.
Deut 18:9-13 "When you enter the land the LORD your God is giving you, do not learn to imitate the detestable ways of the nations there. Let no one be found among you who sacrifices his son or daughter in the fire, who practices divination or sorcery, interprets omens, engages in witchcraft, or casts spells, or who is a medium or spiritist or who consults the dead. Anyone who does these things is detestable to the LORD, and because of these detestable practices the LORD your God will drive out those nations before you. You must be blameless before the LORD your God." NIV  Find more good scriptures on this topic HERE
It is no wonder that they have erased all the video of the Qlimax event that was attached above.  IT WAS SO EVIDENTLY CLEAR that these events are totally DEMONIC, designed, developed and executed by DEMONS.  It was equally evident that their intent is to demonize everyone in attendance at these RAVES.   WAKE UP, PEOPLE!   YOU HAVE BEEN HAD!! 
Folks, if you are not familiar with any of the above "Raves/concerts/festivals", I suggest you research them.  WATCH the videos linked above.  BE SURE NOT TO MISS THE ONE NAME QLIMAX ABOVE.  It is from 2006 and is the BEST example of the demons that are being unleashed on those who attend these RAVES.  You will be shocked and amazed. These events are attended by thousands and thousands of young people every year. They are rampant with sex, drugs and heavy metal/rock music. But, more importantly, they are filled with demonic entities and mind control practices designed to indoctrinate those in attendance. They are conditioning our young people to believe the lie and accept the spirits. Don't take my word for it CHECK IT OUT. They have so much sex going on at these events that they keep medical staff onsite to perform D&Cs to clean the girls up before they go home to mom and dad.
These next two videos were filmed at the Qlimax concerts in the Netherlands. Qlimax was actually the first of these types of festivals and started the movement/craze. Check this out. There is no denying the Satanic nature of these events. Watch and see for yourself. PLEASE PRAY FIRST! Pray that the Holy Spirit will protect your mind and spirit and prevent any demonic entities from entering your home while you watch
spacer
TomorrowWorld 2013 – The Opening of the Book
spacer
spacer