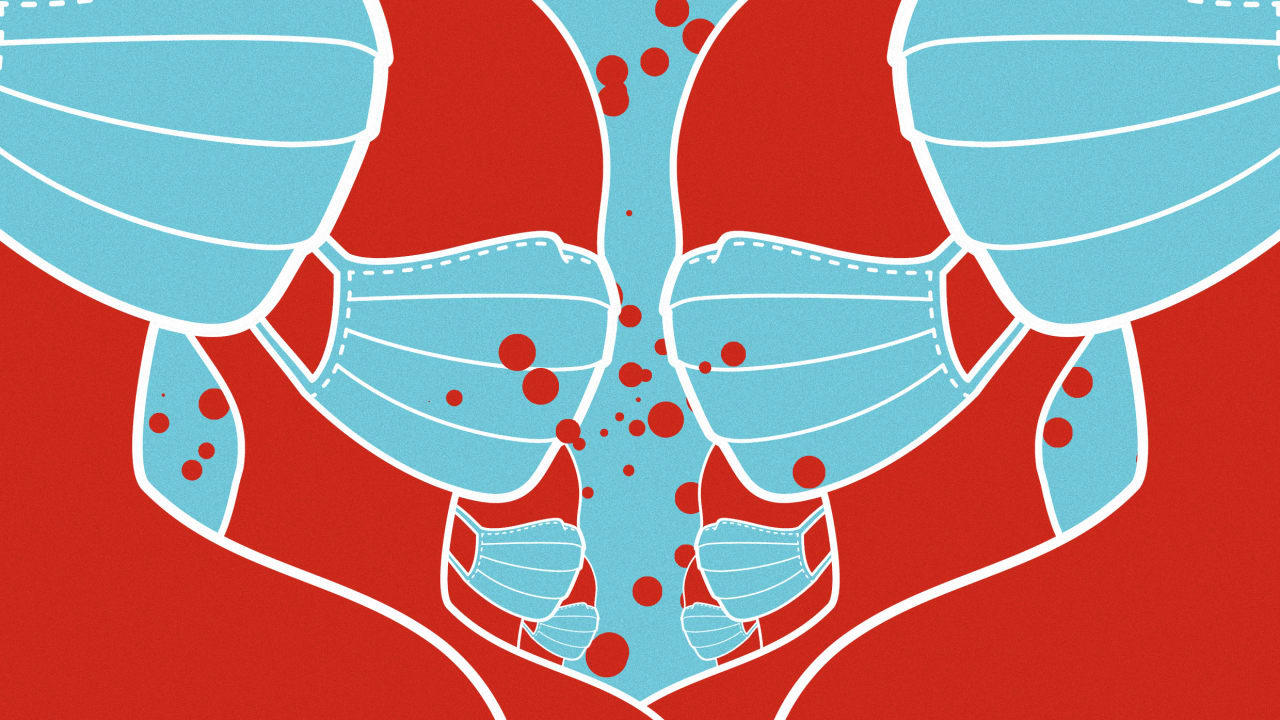 Some things you may not know about FaceMasks and our current situation, which you might want to consider before you decide whether or not you should be wearing them.
A security guard's murder is among several confrontations over face coverings.
Masks have been a contentious issue throughout the novel coronavirus pandemic.Should you wear one? Who should wear one? What type? Do they protect you or others or both? How effective are they?

Now a dark new front has opened up in the battle over face coverings, which in recent days became flashpoints in a series of violent encounters across the nation, including a security guard who authorities say was killed after telling a woman to leave a store because she was not wearing a mask.

The heartbroken mother of 43-year-old Calvin Munerlyn, a father of eight killed at a Flint, Michigan Family Dollar store on Friday, had strong words for those defying laws to wear masks during the pandemic, which has killed more than 73,000 people in the United States and more than 264,000 worldwide.

"All you people just have to do is listen to the law, listen to the governor. Just stay home," Bernadette Munerlyn told mourners at a vigil on Sunday night for her son. "If you don't have to come out, then you wouldn't need a mask unless you're out getting groceries or necessities."

Incidents first popped up in February, as the pandemic was raging in China and several people who were wearing masks in the U.S. were accosted — highlighting fears of bias against Asian and black Americans. At the time, government and public health officials were recommending against wearing masks, saying that they did not protect citizens from coronavirus and should be reserved for medical professionals.

But as governors across the country, including Michigan Gov. Gretchen Whitmer, have mandated citizens wear masks when out in public and the Centers for Disease Control and Prevention advised wearing them when social distancing was difficult, the number and severity of those incidents, while still isolated, has escalated.

The escalation coincides with growing tensions over government restrictions surrounding the pandemic, including stay-at-home orders and keeping businesses closed.

And some law enforcement officials say these confrontations also highlight a tension between personal liberty and public safety, but warn that there are more appropriate avenues for free expression.

'Everyone has felt a total loss of control'

In Holly, Michigan, the police chief, Jerry Narsh, recounted another headline-grabbing incident surrounding masks.

On Tuesday night, Holly police officers arrested 68-year-old Rex Gomoll on an assault charge after he allegedly wiped his nose and mouth on a Dollar Tree store clerk's shirtwhen he was told to wear a mask, Narsh said.

"There's been fear and apprehension, but I think the greater issue is that everyone has felt a total loss of control in their adult lives and as they begin to be allowed to go back into open society, there's this sense of empowerment, a sense of 'taking control of my life again,'" Narsh said.

However, he added that resisting laws and requests from businesses for people to wear masks "is the wrong battle to pick to feel in control again."

Gomoll was arraigned on Wednesday via video conference on a misdemeanor charge of assault and battery, Narsh said. A judge set bail at $2,500 and ordered Gomoll to be placed on home confinement.

The suspect did not immediately respond to a request for comment from ABC News.

Narsh said there were signs posted at the entrance to the Dollar Tree advising customers are required to put on masks before entering the store.

'Extreme disturbance'

In February, as the virus was beginning to spread from hot spots in China and Europe, a series of confrontations occurred in the United States in which people wearing masks were targeted. No arrests have been made. At the time, the virus appeared to be largely contained overseas and there were fears of anti-Asian bias as a result of the virus's origin in China.

An Asian woman wearing a mask was attacked by two men and called "diseased" in a subway station in New York City's Chinatown, according to the New York Police Department (NYPD). Four people were arrested in March in Hilton, New York, after they allegedly punched and taunted a woman for wearing a respirator mask in a store, according to the Monroe County Sheriff's Department.

Men of color have faced a particularly daunting choice during the outbreak — don't wear a mask and potentially put yourself or others in danger from COVID-19 or wear a mask and potentially make yourself appear threatening.

In Wood River, Illinois, two young black men, Jermon Best and Diangelo Jackson, recorded a viral YouTube video in March of a police officer not wearing a mask following them around a Walmart and then kicking them out for wearing masks. "We're being asked to leave for being safe," Best said in the video. The incident is under investigation.

Now attacks are occurring over people not wearing masks:

— On Friday, a 56-year-old man was arrested in Decatur, Illinois, after he allegedly shoved a gas station clerk who asked him not to enter the station's mini-market without a mask on, Sgt. Brian Earles of the Decatur Police Department told ABC News. Earles said the incident escalated when the suspect was told the station didn't have change for a $100 bill the man was using to pay for gas and the man attempted to leave without paying. He said the clerk ended up punching the man leading police to arrest both men on battery charges. Neither have entered pleas.

— The Mayor of Stillwater, Oklahoma, last week reversed an emergency proclamation requiring shoppers to wear face masks after the mandate prompted a flurry of threats of violence. Mayor Will Joyce amended the policy on Friday after employees at businesses allowed to reopen were "threatened with physical violence and showered with verbal abuse" in the span of three hours, Stillwater City Manager Norman McNickle said in a statement. There was one threat of violence using a firearm, he added.

— On April 21, a 20-year-old woman in Wilkes-Barre Township, Pennsylvania, was arrested for creating what police described as an "extreme disturbance" by allegedly attacking a store manager who barred her from entering for not wearing the mask she had dangling around her neck. The suspect was arrested on suspicion of obstructing justice, disorderly conduct, providing false identification, and violating health department orders to wear a mask, Wilkes-Barre Township police said in a statement.

— And on April 26, a 33-year-old woman was arrested for allegedly attacking a grocery store employee in St. Clair Shores, Michigan, after being ordered to leave for not wearing a mask, according to the Macomb County Prosecutor's Office. The woman was charged with assault and battery, felony obstructing police officers and refusing to be fingerprinted.

Jean Cloud, the acting Macomb County prosecutor, described the incident in St. Clair Shores as "incomprehensible" and an insult to essential workers, adding that the suspect also allegedly spit on police officers, requiring them to get tested for COVID-19.

"With everybody out there trying to provide a service that is so desperately needed during a time when everybody is in lockdown, you'd think they would be praised and put on a pedestal," Cloud told ABC News. "And then you have these people who are absolutely above and beyond disrespectful and committing criminal behavior abusing the people who are just trying to provide a necessary service to the public. This is the very behavior that nobody wants to see during a pandemic or at any time."

Mixed messages

The violent incidents have also come amid the backdrop of open-the-economy protests in Michigan and throughout the nation, in which demonstrators have defied stay-at-home orders, many showing up at rallies not wearing masks and refusing to practice social distancing. Some have even carried rifles.

Many of the Michigan protesters have vented their anger at Gov. Whitmer, who has imposed some of the most stringent stay-at-home orders in the nation, including banning the use of motorboats and travel to and from vacation homes in the state, and naming landscaping companies and plant nurseries among the non-essential businesses that must remain closed.

It remains unclear if any of the violent incidents that have erupted over masks in Michigan stemmed from Whitmer's orders.

Mixed messages from government leaders may have fueled some of the backlash against wearing masks. The CDC and the White House Coronavirus Task Force initially advised against wearing masks unless people were showing symptoms of the disease, then later flipped and advised people to wear face coverings in public when social distancing is difficult. States also changed their stances on masks, with New York recently requiring face coverings in public and maintaining a 6-foot distance from others.

President Donald Trump, who has refused to wear a mask in public, has expressed support on Twitter for anti-lockdown protesters, some who have displayed re-elect Trump signs at rallies. Vice President Mike Pence, who is spearheading the White House Coronavirus Task Force, stepped into a controversy last week when he was photographed at the Mayo Clinic in Minnesota not wearing a mask.

At their daily coronavirus briefings, New York City Mayor Bill de Blasio and New York Gov. Andrew Cuomo have emphasized the importance of people wearing masks to avoid spreading the virus (the rule became effective April 17). The two leaders have also expressed outrage and exasperation over people who still prefer not to wear a mask despite the virus having already accounted for nearly 14,000 confirmed deaths in the nation's largest city alone.

De Blasio has gone so far as to announce that the city is handing out 7.5 million free face coverings to New Yorkers through May 12.

"Just wear a mask. It's the responsible thing to do. It's the right thing to do," Cuomo said on Tuesday. "I don't understand why people think it's a burden to wear a mask."

He 'lost his life needlessly and senselessly'

Genessee County, Michigan, Prosecutor David Leyton said Calvin Munerlyn certainly should not have lost his life in Flint for telling someone to do the responsible thing and cover their face in public.

On Monday, Leyton announced that three people had been arrested and charged with murder, including Sharmel Lashe Teague, 45, the woman who police allege traded heated words and spit on Munerlyn when he told her to either wear a mask or leave the store, Leyton said at a news conference. After Munerlyn kicked Teague out of the store, the woman returned with her husband, Larry Edward Teague, 44, and son, Ramonyea Travon Bishop, 23, Leyton said.

He said Bishop allegedly gunned down Munerlyn.

"Decisions like staying home when we can, wearing a mask when going to the store and staying a safe distance from those around us, these should not be political arguments. They don't necessitate acts of defiance and we simply cannot devolve into an us-versus-them mentality," Leyton said.

"We really need to make a commitment as a community … to doing the things necessary to allow us to stay healthy and turn the page on this crisis altogether," Leyton added. "If not for ourselves, we should do this for Calvin Munerlyn, who has lost his life needlessly and senselessly."
spacer
People are in such a panic that they are acting crazy.  Afraid of exposure they are attacking people for not wearing a mask.  Some people are already aggressive this just gives them an excuse for those feelings and they feel justified in acting on them in a violent manner.  It is amazing that with all the screaming about "Being Kind" and "Acceptance" that today's society seems to be THE MEANEST, MOST JUDGEMENTAL, LEAST ACCEPTING bunch of hypocrites I have ever seen.  
If people feel like you are putting them at risk by not complying with the current recommendations while they are cowering in fear believing that you are wielding a weapon of death at them, they lash out . Reasonable or not, that is what they are being conditioned to do.  Of course, they are being told if they see someone not complying to report it.  This gives them a sense of authority.  In their eyes, they are doing the right thing by ENFORCING  the current policy.  
A mask gives one a feeling of power and anonymity.  People wearing a mask feel that they can get away with things that are out of the norm.  The feel power over others because they cannot be recognized.  They do things wearing a mask that they would not normally do, just like they do when they are in a crowd.  
On the other hand you have people who think this is all a scam and that people who buy into it and don the mask are idiots.  These people are also under pressure.  Not able to carry on with their daily lives, unable to provide for their families because they have lost their job temporarily or permanently due to this "pandemic".  Their anger is intensified by the UNKNOWN.  Will we ever return to normal?  Will their ever be work for them again?  How are they going to live?  In their minds, those who comply are part of the problem.  They lash out and shame people.
spacer
As a culture war rages across the nation over whether to wear protective masks, closer to home the battle is spilling over into store aisles and shopping center parking lots with alarming frequency — and at times violent consequences.

Los Angeles police this week announced the arrest of two brothers who allegedly assaulted store employees and a security guard who attempted to escort them from a Target in Van Nuys for refusing to wear masks. The guard sustained a broken arm in the brawl captured on video that has since gone viral.

Elsewhere in Southern California, many are reporting hostile encounters with complete strangers over face coverings — the latest line of demarcation in the polarizing debate over stay-at-home orders and moves to reopen the economy. And the dispute has exposed the confusion that exists over the effectiveness of masks to combat the spread of coronavirus and the patchwork of government and retail requirements over their usage.

For 17-year-old Mia Walls, a resident of Spring Valley Lake near Victorville, that boundary was crossed during a frightening incident on May 7.

Walls, who didn't have a mask because hers was at home being laundered, had just parked her pink 1994 Ford Probe and was entering a local post office to pick up a package containing the cap and gown she intended to wear for her senior class portrait.

Walls, who is white, said she opened the door for a middle-age African American man who was wearing a  head covering, a protective mask, sunglasses and black gloves.

She added that after entering the post office the man walked behind her and murmured that "white people don't wear masks." "We then both separated and I brushed it off," Walls said.

But they soon met up again on the way out of the post office.

Walls said the man's disparaging racial comments intensified as he followed her halfway to her parked car. Mortified and shaken, she got inside the vehicle and broke down.

"I was hysterical," said Walls, who immediately phoned her mom and best friend. "It was scary. I am the last person to be racist toward anyone. It was heartbreaking."

Coincidentally, 55-year-old Stephanie Gaulin of Huntington Beach was also heckled in a parking lot late last month. She pulled her Toyota RAV4 into a space at Stater Bros. grocery store in Huntington Beach, put on a mask, pulled on a pair of pink gloves honoring breast cancer survivors, and got out her car.

Gaulin had only walked a few feet when a woman standing nearby suddenly began shouting at her. "What are you afraid of? The virus?" the woman asked, sarcastically. "She was laughing at me like I was some sort of freak."

Beverly Young, an 63-year-old Anaheim Hills resident, was shopping at a Costco last week in Yorba Linda when a customer tried to enter the store without a mask before she was stopped by an employee. When the woman acknowledged she didn't have a covering, the worker handed her one.

"The woman put it on, took a few steps and then pulled it down around her neck," said Young, who was stunned. "She did it on purpose. It wouldn't have hurt her to wear it."
spacer
We have always been and will always be surrounded by germs, some of the deadly.  The scientific community is always creating newer, stronger, and more toxic germs.  They have it in their power to make this a permanent state.  Are we going to allow them to put fear on us?  Or are we going to walk by faith?  We are intelligent human beings.  We can make our own choices about how to protect ourselves and our families.  There are ways to build up our immunity and ways to deal with illness when it presents itself. We don't have to live in constant fear of what "could happen".  cer
spacer
click the link above to watch the video
How coronavirus masks became political
06:49

London (CNN)As Western nations begin the slow crawl out of lockdown, it's increasingly clear that we're some way off society returning to anything resembling pre-Covid life.

To the surprise of many politicians, Western populations have largely obeyed instructions to remain indoors. In fact, lockdown efforts in many countries have been so effective that governments are now pondering how to gradually lift restrictions without freaking out compliant citizens.

"As part of coming out of the lockdown, I do think face coverings will be useful," Johnson said at the start of this month, claiming that masks will help give the public "confidence that they can go back to work."

But the prospect of a new society in which the public conceals their faces from one another has wide-ranging implications for crime and security, as well as social interaction.
"The main problem that people wearing masks throws up is the sheer volume of people suddenly covering their faces," said Francis Dodsworth, senior lecturer in criminology at the University of Kingston, near London. "It could create opportunities for people who want to cover their face for nefarious reasons. They could potentially now do so without raising suspicion."

This might seem overdramatic to some in Asian countries that suffered the SARS and other outbreaks, where masks have been worn for over a decade. But evidence is already emerging of crimes being committed by masked offenders in the United States and Western Europe.

A high-profile instance took place in Spain, where the interior ministry said last month it had arrested an ISIS terrorist who had allegedly been hiding in the southern town of Almeria since fleeing Syria. The statement said he'd adapted his behavior because of the pandemic, scarcely going out. When he did, it was "always with a mask to avoid being detected."

Facial recognition becomes a new art

Experts said mass mask-wearing could also complicate crime investigations, as facial recognition becomes an increasingly important part in tracking criminals.

While human beings are very good at recognizing familiar faces and facial recognition algorithms have got better at identifying patterns, masks throw new headaches into the mix.

"A lot of witnessing is already problematic," Dodsworth said. "Even when a group of people witness the same crime, one person will see someone with a mustache and a hat, while another will see someone with a beard and sunglasses."

CCTV footage is sometimes the only piece of evidence in an investigation, said Eilidh Noyes, lecturer in cognitive psychology at the University of Huddersfield in northern England.

"At the moment we do not know exactly how facial masks will affect accuracy of human or algorithm face identification," she said.

One Chinese firm has already claimed it has developed software that can accurately identify people, even if they are wearing masks. However, experts still think we are a way off this becoming a norm that can be used in all circumstances.

"I think it's important that if we see claims around a specific algorithm, we don't then apply it to all algorithms because each has its own strengths and weakness. We still need to do a lot more research," Noyes said.

Obscuring faces creates other problems for law enforcement, particularly when it comes to establishing what constitutes suspicious behavior.

It was only last year that places like Hong Kong and France were passing laws making it illegal to obscure your face during a protest.

Now, police will have to make difficult judgments on people's motivations for covering their faces, Dodsworth said.

"What constitutes someone behaving suspiciously is hard enough to define as it is. The police will have to balance public health advice when justifying stopping someone and searching them."

Given that police in much of the world have already been criticized for being needlessly heavy handed and overly zealous during the pandemic, any new criteria will be a concern for minority groups who are already more likely to be stopped, questioned and even shot at by police.

Adapting to new social cues

Of all the Covid-prevention measures, the mass covering of faces is, at least visibly, among the most dramatic.

Masks are not mandatory in most Western countries amid fears about human rights concerns and invasion of privacy, and the stigma has generally been against those wearing face coverings. It's possible that may now shift to those who don't.

"People are being asked to be on their own and having it suggested that they should wear masks. Normally, if you were walking on your own and saw someone in a mask, you might be concerned and avoid them. But now it's less clear when and if you should be afraid," Dodsworth said.

In the US, Jorge Elorza, mayor of Providence, Rhode Island, went as far as saying citizens should "socially shame" the maskless "so they fall in line."

But the fact that mask-wearing can be exploited by violent criminals could put law-abiding citizens on edge. Whether someone wishes to cause harm or not, being unable to see someone's face conceals crucial emotional cues that humans rely on for survival.

"When you see a face you do two things at once. You try to work out the identity: Do I know them? How do I know them? And you try to read their emotions," Noyes said.

"Emotion recognition is important from an evolutionary perspective as it helps us gauge threat and can also facilitate positive social interactions. That's true of both people we know well and those we have never met."
I

f mask-wearing is taken up in a big way, this will inevitably affect how humans interact and could lead to greater tension between members of the public, with personal security implications.

"For survival reasons, you need to know what someone's intentions are when you meet them. Not being able to do that easily will naturally make people more cautious and defensive, which in some cases could, unfortunately, lead to violent confrontations," said Ian H. Robertson, professor of psychology at Trinity College Dublin.

Clearly, any move towards a faceless society will be a huge deal for Western nations. As Dodsworth said, "we may initially become extremely distrustful of one another."

"It's not a culturally familiar to us to and we may adapt to it by avoiding one another."

However, he adds that all hope is not lost. "Predatory crimes are increasingly uncommon and we may find other ways of reading one another."

The University of Reading's Kate Gray, who specializes in emotion-processing, said she thought people would likely adapt quickly.

"I think we'll quite quickly get used to picking up social and emotional cues from voice cues or body language," she said.

So while mask-wearing has been common for years in some Asian countries, mass uptake among Westerners will be a big shift for citizens who value personal freedoms and are unused to heavy-handed governance.

However, the readiness with which these populations took on lockdown measures suggests that if face-covering becomes commonplace, herd mentality could kick in. There will be a new great unknown: How will countries cope with populations that are more jittery in each other's company and suspicious of their fellow citizens?
spacer
Masks have always represented that which is hidden, occult and evil.  Evil would not be able to function without the ability to remain secret, hidden from view.  When one sees a mask they are instantly affected emotionally.  They may feel a bit of mystery say, at a masquerade party among friends.  In a crowd or with a stranger there is instant fear or dread.  When a person in a hood and mask approaches you on the street you are most likely going to expect they are there to rob you.   I have a picture of a medieval soldier with a helmet on my laptop desktop.  It is there to remind me of the armor of GOD.  It gives me encouragement, but when my 3 year old Grandbaby caught sight of it, she cried and ran away.  Why because the MASK instills fear.  For the wearer it gives protection  But to others…it brings fear.   
Much has been done, in our past, to address this very problem.
spacer
spacer
(a) No person or persons over 16 years of age, while wearing any mask, hood, or device whereby any portion of the face is hidden, concealed, or covered as to conceal the identity of the wearer, shall:

(1) Enter upon, be, or appear upon any lane, walk, alley, street, road highway, or other public way in the District of Columbia;

(2) Enter upon, be, or appear upon or within the public property of the District of Columbia; or

(3) Hold any manner of meeting or demonstration.

(b) The provisions of subsection (a) of this section apply only if the person was wearing the hood, mask, or other device:

(1) With the intent to deprive any person or class of persons of equal protection of the law or of equal privileges and immunities under the law, or for the purpose of preventing or hindering the constituted authorities of the United States or the District of Columbia from giving or securing for all persons within the District of Columbia equal protection of the law;

(2) With the intent, by force or threat of force, to injure, intimidate, or interfere with any person because of his or her exercise of any right secured by federal or District of Columbia laws, or to intimidate any person or any class of persons from exercising any right secured by federal or District of Columbia laws;

(3) With the intent to intimidate, threaten, abuse, or harass any other person;

(4) With the intent to cause another person to fear for his or her personal safety, or, where it is probable that reasonable persons will be put in fear for their personal safety by the defendant's actions, with reckless disregard for that probability; or

(5) While engaged in conduct prohibited by civil or criminal law, with the intent of avoiding identification.
With more people donning face masks to curb the spread of the coronavirus, some criminals are taking advantage of the situation.

"Being anonymized has always been associated with more deviant and criminal behavior," ranging from bank robberies to the Ku Klux Klan, said Bryanna Fox, a former FBI Agent and associate professor in the University of South Florida's criminology department.     

(Left) DC police have released an image from surveillance video showing a masked person of interest in a robbery. (Courtesy MPD)

Fox said studies have found "people who wear masks feel more enabled and empowered to do things that they normally wouldn't have done if their face was seen in public."

She said that for someone who otherwise wouldn't commit a crime, "this could be an opportunity that they take up because they feel more protected."

And, of course, this makes those who would have committed crimes anyway harder to identify.

"The big issue is you have both of those happening at the same time," Fox said.

Scattered robberies involving suspects wearing medical-style face masks have been reported across the country.

DC police have released an image from surveillance video showing a masked person of interest in a robbery. (Courtesy MPD)

In a surveillance image released by D.C. police, a suspect can be seen wearing one of the masks during a robbery in the 1300 block of Massachusetts Avenue NW on March 30.

In D.C. and Virginia, there are laws against using masks to conceal one's identity.

Virginia Gov. Ralph Northam said at a news conference earlier this week that police will not issue citations to people who wear masks for medical protection.
spacer
THE FIRST AMENDMENT ENCYCLOPEDIA
PRESENTED BY THE JOHN SEIGENTHALER CHAIR OF EXCELLENCE IN FIRST AMENDMENT STUDIES
Members of the Church of the American Knights of the Ku Klux Klan march around the Madison County Courthouse in Canton, Miss. Klan members argued that if their masks were removed they would face harassment. Opponents contended that most anti-mask laws violate the equal protection clause because they make exceptions for Halloween masks, masquerade ball masks, and masks worn for medical reasons, but not masks for political acts. (AP Photo/Rogelio Solis, used with permission from The Associated Press)
The earliest laws banning masked demonstrations date back to the antebellum era. In 1845 New York made it illegal to appear "disguised and armed." Most anti-mask laws were passed, however, in response to the Ku Klux Klan, whose members used masks to hide their identities as they terrorized their victims.

Around 15 states have anti-mask laws

Around 15 states have anti-mask laws, as do many counties and municipalities. Most anti-mask laws do not target specific groups explicitly. Instead, they use neutral language, typically banning mask wearing that intimidates others.

Supporters of such laws argue that wearing masks emboldens people to commit crimes and makes those crimes more frightening to the victims.

Opponents argue mask laws impair freedom of association

Opponents, in turn, make three arguments.

First, they invoke freedom of association, claiming that mask laws deprive wearers of the anonymity needed to express their views. They rely on NAACP v. Alabama (1958), which held that because its members feared harassment from opponents of civil rights, the NAACP did not have to reveal its membership list unless Alabama could supply a compelling state interest.

Klan members argued that if their masks were removed, they would face harassment. The Klan's unpopularity added fuel to this argument. For example, in American Knights of the Ku Klux Klan v. City of Goshen (N.D. Ind. 1999), a court found that Klan members had indeed suffered harassment, through vandalism and bomb threats, and ultimately invalidated the city's anti-mask law.

The Second Circuit Court of Appeals, in Church of the American Knights of the Ku Klux Klan v. Kerik (2d Cir. 2004), held that harassment of Klan members was irrelevant because the Constitution guarantees only the right to speak, not the conditions under which one speaks. Furthermore, in most cases involving the Klan, courts held that protecting citizens from intimidation was a compelling state interest.

Non-Klan mask wearers generally fared better when making freedom of association claims. In Aryan v. Mackey (N.D. Texas 1978) and Ghafari v. Municipal Court (Ct. App. 1978), political opponents of the shah of Iran successfully argued that they needed masks to avoid reprisals from the shah's security forces.

Anarchists convicted under New York's anti-mask law failed, however, to raise a constitutional claim in People v. Aboaf (Crim. Ct. 2001) because they could not show any harassment beyond famous anarchists having been persecuted in the past.

The earliest laws banning masked demonstrations date back to the antebellum era. In 1845 New York made it illegal to appear "disguised and armed." Some 15 states have anti-mask laws, as do many counties and municipalities. Most anti-mask laws do not target specific groups explicitly. Instead, they use neutral language, typically banning mask wearing that intimidates others. In this photo, members of the Anonymous group wear Guy Fawkes masks in Los Angeles, California. (Image via Vincent Diamante on Flickr, CC BY-SA 2.0)

Some have argued masks constitute symbolic speech

Second, opponents of anti-mask laws argued, largely unsuccessfully, that masks constitute symbolic speech.

In Klan cases, courts held that the masks added little to the expressive content of the rest of the Klan regalia. They also ruled that the state's concerns about safety and avoiding intimidation easily satisfied the substantial state interest test for symbolic speech cases.

Distinguishing between threatening and nonthreatening masks

Third, opponents contended that most anti-mask laws violate the equal protection clause because they make exceptions for Halloween masks, masquerade ball masks, and masks worn for medical reasons, but not masks for political acts.

These arguments convinced the California court in Ghafari but not the Georgia Supreme Court in State v. Miller (S.E. 2d 1990), which defended Georgia's exemptions as distinguishing between threatening and nonthreatening masks.

Overall the general trend has been toward upholding anti-mask laws, at least where mask wearers cannot show direct, specific evidence of harassment.
spacer
If your objective is to bring CHAOS, this is an excellent strategy.  With one action you can accomplish so much!  What better way to dehumanize human beings than to force them to all wear masks?? Wearing masks instills both fear and inhibition!  Releasing the sin nature that resides in every human being without GOD, at the same time instilling the fear of the unknown in all of us.
spacer
Criminals are exploiting the social acceptance of face masks due to the coronavirus in order to stage a series of armed robberies in southern California.

Last week, two men, one wearing a mask, robbed a gas station in the city of Santa Ana at gunpoint. 

"We're sitting here not knowing who's going to walk through that door," Elias Khawan, the owner, told CBS Los Angeles.

"It's horrible," he said. "I mean, I know we have to take certain measures because of what's happening with COVID-19, but it's the perfect script or manual for a robber — the mask, the sunshade, and a hoodie."

He added his staff are now terrified to work the late-night shift.

"It's the norm," Cpl. Anthony Bertagna, with Santa Ana PD, told CBS Los Angeles. "So we're seeing more and more suspects wearing the mask and using that to their benefit." 

Santa Ana police added that robberies had increased by 50% since the lockdown. The release of some inmates, previously from the area, due to the pandemic could be behind the crime wave, local police believe.

Across the United States crimes are being pulled off in no small part because so many of us are now wearing masks, according to the Associated Press.

In March, two men held up the Aqueduct racetrack in Queens, New York wearing the same kind of surgical masks as many racing fans. At gunpoint, they robbed three workers of the $250,000 they were moving from gaming machines to a safe.

Other robberies involving suspects wearing surgical masks have occurred in North Carolina, Washington, D.C., and elsewhere in recent weeks.

"In the past if you did a search warrant and you found surgical masks, that would be highly indicative of something (suspicious)," said FBI Special Agent Lisa MacNamara, who investigated the string of robberies in Connecticut, told AP.  "Now everybody has masks or latex gloves."

Bryanna Fox, a former FBI Agent and associate professor at the University of South Florida's criminology department, said that a side effect of the widespread wearing of masks to protect against COVID-19 would be more deviant behavior in society.

She told WTOP News, based in Washington D.C., that studies have found "people who wear masks feel more enabled and empowered to do things that they normally wouldn't have done if their face was seen in public."

"Being anonymized has always been associated with more deviant and criminal behavior," ranging from bank robberies to the Ku Klux Klan, she said.

With the social acceptance of masks, people could be tempted to commit crimes for the first time, while hardened criminals would become even more emboldened, she warned.

Meanwhile, there have been at least three cases of people wearing KKK-style hoods and masks emblazoned with swastikas to go shopping.
The scene, the FBI contends in a court document, was repeated by Lopez in four other gas station stores over eight days before his April 9 arrest. It underscores a troubling new reality for law enforcement: Masks that have made criminals stand apart long before bandanna-wearing robbers knocked over stagecoaches in the Old West and ski-masked bandits held up banks now allow them to blend in like concerned accountants, nurses and store clerks trying to avoid a deadly virus.

"Criminals, they're smart and this is a perfect opportunity for them to conceal themselves and blend right in," said Richard Bell, police chief in the tiny Pennsylvania community of Frackville. He said he knows of seven recent armed robberies in the region where every suspect wore a mask.

Across the United States, masks have become more and more prevalent, first as a voluntary precaution and then as a requirement imposed by governmental agencies and businesses. And people with masks — as well as latex gloves — have found their way into more and more crime reports.

Just how many criminals are taking advantage of the pandemic to commit crimes is impossible to estimate, but law enforcement officials have no doubt the numbers are climbing. Reports are starting to pop up across the United States and in other parts of the world of crimes pulled off in no small part because so many of us are now wearing masks.

In March, two men walked into Aqueduct Racetrack in New York wearing the same kind of surgical masks as many racing fans there and, at gunpoint, robbed three workers of a quarter-million dollars they were moving from gaming machines to a safe. Other robberies involving suspects wearing surgical masks have occurred in North Carolina, and Washington, D.C, and elsewhere in recent weeks.

The problem isn't limited to robberies. In the troubled Cook County Jail in Chicago, the virus has led to at least nine deaths and sickened hundreds of inmates and correctional officers. Staffers must wear masks and inmates are issued a new one every day — a policy that helped one inmate escape on May 2nd.

Jahquez Scott, jailed on a gun charge and for violating his bond in a drug case, has tattoos of a small heart on one cheek and what looks like a blood-dripping scar on the other. But when he wore a mask, he posed as Quintin Henderson — who doesn't have tattoos on his face and was scheduled to be released, authorities said.

Scott made it out, though he was captured a week later.

In addition to rare jailbreaks, the prevalence of masks in society has created other problems for law enforcement. Before life in a pandemic, masked marauders had to free their faces immediately after leaving a bank or store to avoid suspicion once in the general public. But it came with the risk of being photographed and identified through omnipresent surveillance cameras and cellphones.

These days, they can keep the masks on and blend in easily with or without being "captured" in images.

"The video is much less useful if we are unable to see a face," said Carlos Marquez, a detective division commander in the Los Angeles County Sheriff's Department, in an email.

It's leaving law enforcement without a crucial crime-solving tool.

"Guys are like, 'OK, I have to wear a mask, the police are not going to stop me on the way to a crime and back from a crime wearing a mask,' " said Brendan Deenihan, chief of detectives for Chicago Police Department. "Now if you are going to commit a crime you can leave your house with a mask on and drive for an hour."

With everyone basically incognito, would-be witnesses might not notice someone acting differently, and that would make it harder to get a good description or identification of the suspect, said Eric Nunez, chief of the Los Alamitos Police Department in Southern California and president of the California Police Chiefs Association.

It's less likely now that other shoppers would "stare at them, just making mental notes of what they look like," Chief Nunez said. "If they look like everybody else walking in, they may not do that at all."

It's a real problem for clerks and tellers, such as Tiffany Becker, who manages a Valero convenience store in Shenandoah, Pa., where a number of stores in the area have been robbed by mask-wearing gunmen recently.

"Before I would have called the police because having a mask wasn't normal. Now it's normal," Ms. Becker said. "It's scary because you can't tell who is safe and who's not."

Even when investigators identify suspects, the protective gear makes putting cases together all that much more difficult. The same latex gloves more people are wearing to protect themselves from picking up the virus will mean fewer fingerprints at crime scenes.

"In the past if you did a search warrant and you found surgical masks, that would be highly indicative of something (suspicious)," said FBI Special Agent Lisa MacNamara, who investigated the string of robberies in Connecticut that led to the arrest of Rosario Lopez. "Now everybody has masks or latex gloves."

But the reverse can also be true.

Special Agent MacNamara and her team's investigation was made easier when his alleged accomplice went into the stores "acting as a lookout or 'casing' robbery locations."

The accomplice hadn't worn a mask.
When Solimar Rodriguez Gonzalez messaged her stepfather on Facebook last month asking for surgical masks and gloves, he assumed she wanted them—like just about everyone else in the world right now—for protection against coronavirus.

However, the FBI says her boyfriend, William Rosario Lopez, in fact used the highly sought-after protective gear to disguise his face and fingerprints during an eight-day crime spree that ended with the couple's arrest on April 9.

Under normal circumstances, walking into a store wearing a surgical mask in the US would be grounds for suspicion. But with many people now wearing some sort of face covering to avoid catching or transmitting the novel coronavirus, more Americans than ever are obscuring their features when they leave home.

Thieves appear to have capitalized on this trend. They became eager early adopters, using surgical masks during the commission of various crimes, seemingly recognizing an opportunity weeks before the Centers for Disease Control on April 3 issued its first official recommendation to cover your face when going outside. Face masks are so coveted at this point they can sell on the black market at premiums of up to 1,500%.

"No one would be alarmed at this now, compared to just a month ago," said retired NYPD detective sergeant Joseph Giacalone, who teaches police procedure at New York's John Jay College of Criminal Justice, referring to the number of people wearing masks in public.

Lopez and Gonzalez appeared to understand this. Shortly before 10pm on March 18, a clerk at a Connecticut gas station was cleaning a coffee pot when Lopez, wearing a surgical mask and blue latex gloves, entered the store. According to a criminal complaint filed in Connecticut federal court, Lopez pointed a silver gun at the clerk, grabbed him by the collar, and marched him over to the cash register, hitting him in the back of the head with the weapon along the way. After the terrified clerk handed over $1,188, Lopez fled in a dark-colored Honda Accord.

US DISTRICT COURT FOR THE DISTRICT OF CONNECTICUT

Four nights later, Lopez—again in a surgical mask—allegedly robbed another gas station in the area, getting away with $200. Apparently disappointed with the paltry take, he kicked the clerk and ordered him to the floor before fleeing the scene. He then robbed two other nearby gas stations, getting away with $500 in the first but coming up empty-handed in the second.

US DISTRICT COURT FOR THE DISTRICT OF CONNECTICUT

He hit a fifth gas station a few days after that, carrying the same silver gun and again hiding his face behind a surgical mask.

"Because another customer was in the store, the masked male perused store shelves and picked up several items, including a box of saran wrap and fruit snacks," the complaint says. "After the other customer left the store, the masked male approached the counter, pointed a small silver pistol at the clerk and demanded money."

US DISTRICT COURT FOR THE DISTRICT OF CONNECTICUT

Police circulated the surveillance video among several different law enforcement agencies. The footage not only included clear shots of Lopez wearing a surgical mask during the robberies, but also a woman with bright red hair who appeared on camera shortly before two of them. After casing the place, the woman—Gonzalez—can be seen texting someone.

US DISTRICT COURT FOR THE DISTRICT OF CONNECTICUT

A New Haven cop eventually recognized the pair from an unrelated disturbance call. During that incident, police captured body cam footage of the two, the Honda Accord, and the car's license plate number.

US DISTRICT COURT FOR THE DISTRICT OF CONNECTICUT

Surveillance video also caught them—in surgical masks—outside a Connecticut Walmart after store security accused them of shoplifting.

US DISTRICT COURT FOR THE DISTRICT OF CONNECTICUT

Gonzalez's parents positively identified the couple for investigators, and showed them Facebook Messenger conversations in which Gonzalez asked for masks and gloves they figured she needed to protect herself from coronavirus.

"Call me cynical, but it occurred to me at the outset of the increase of people wearing face masks due to the coronavirus pandemic, there would be criminals who would capitalize on the situation," retired FBI agent Dennis Franks told Quartz. "This must also create increased trepidation on the part of store clerks and other potential locations for robberies."

Police arrested Lopez and Gonzalez last week. Lopez is now detained pending an April 23 court date. Gonzalez is under home detention, awaiting her next appearance in court, scheduled for April 30. Lawyers for the two did not respond to requests for further details. The Department of Justice declined to comment.

KING COUNTY, Wash. — The very item meant to keep people safe during the pandemic is now giving thieves the perfect cover.
The King County Sheriff's Office says more crimes are being committed by people wearing face masks. While it may have been a red flag before the pandemic, face covering inside businesses are the "new normal," and Sgt. Ryan Abbott says criminals are taking advantage.

"We're starting to see the same trend with almost any type of crime you could think of," he said, "because now people can wear masks everywhere and they're not looked at strangely."

Detectives say it's happening nationwide.

In Santa Ana, California, robbers with face coverings recently terrorized a series of stores, like Elias Khawan's gas station.

"It's horrible. I know we have to certain measure because of COVID-19, but it's the perfect script or manual for robber," he said. "Mask, sunshade and a hoodie, that's it. You don't know who's coming, who's walking in."

While it creates difficulty tracking suspects down, the King County Sheriff's Office says it's continuing to investigate and make arrests in these crimes.

"You can't change the way you walk, the way you talk, your mannerisms and that type of thing," Abbott said. "We're still able to identify a lot of these people, but it could take a little bit longer."
spacer
A bill that bans the wearing of masks during a riot or unlawful assembly and carries a maximum 10-year prison sentence with a conviction of the offence became law today.

Bill C-309, a private member's bill introduced by Conservative MP Blake Richards in 2011, passed third reading in the Senate on May 23 and was proclaimed law during a royal assent ceremony in the Senate this afternoon.

Richards, MP for Wild Rose, Alta., said the bill is meant to give police an added tool to prevent lawful protests from becoming violent riots, and that it will help police identify people who engage in vandalism or other illegal acts. The bill is something that police, municipal authorities and businesses hit hard by riots in Toronto, Vancouver, Montreal and other cities in recent years, were asking for, according to Richards.

"The provisions of my bill are effective immediately, which means police officers across Canada now have access to these tools to protect the public from masked rioters," Richards said in a statement being released today.

The bill creates a new Criminal Code offence that makes it illegal to wear a mask or otherwise conceal your identity during a riot or unlawful assembly. Exceptions can be made if someone can prove they have a "lawful excuse" for covering their face such as religious or medical reasons.

The bill originally proposed a penalty of up to five years, but the House of Commons justice committee amended it and doubled the penalty to up to 10 years in prison for committing the offence.

Richards noted in his statement how rare it is for a private member's bill to become law and said that its final passage is the culmination of two years of work and a lot of consultation with police and business owners.

Bill comes into force immediately upon royal assent

"We can all rest easier tonight knowing our communities have been made safer with its passage," said Richards.

The bill didn't have unanimous support, and was opposed by some who are concerned about its effect on freedom of expression and privacy. Critics said the measures are unnecessary because the Criminal Code already includes a section about wearing disguises while committing a crime.

Civil liberties advocates argued the measures could create a chilling effect on free speech and that peaceful protesters can unintentionally find themselves involved in an unlawful assembly. They also noted that there are legitimate reasons for wearing masks at protests; some may be worried about reprisals at work, for example, if sighted at a political protest.

"Any law that infringes upon civil liberties needs to be held to a test of absolute necessity, and I don't think that test has been met in this instance," said Michael Byers, a political scientist at the University of British Columbia and a board member of the B.C. Civil Liberties Association, in an interview. Byers testified at the Commons justice committee that studied the bill.

Byers said freedom of expression was not properly factored into the design of the bill and that its measures could deter acts of political expression.

Richards argues that his bill will actually help protect the legitimate right to protest because it will help prevent illegitimate protesters from infiltrating a peaceful event and causing trouble. He also said police told him the existing Criminal Code provision about disguises is more geared toward armed robbery offences and is difficult to apply in protest situations.

In a recent interview, Richards said there is a lot of misunderstanding about his bill and that there will always be people who disagree with it.

He said he is proud to have identified a problem and created a solution. The bill becomes law when it receives royal assent.
spacer
On Friday, October 4, Hong Kong leader Carrie Lam announced protesters were banned from wearing face masks, as she tried to deter violent protests that have been going on for four months.
Hong Kong isn't the only place to have banned masks at demonstrations. It's happened in the United States in response to tenant farmers back in 1845, and in the 20th Century in response to the Klu Klux Klan in the US.
On Friday, Hong Kong Leader Carrie Lam announced an immediate city-wide ban on protesters wearing face masks.

She said it had to be done, because most of the protesters vandalizing the city were doing it with their faces covered. The ability to hide their identity meant protesters could evade the law and act more daring, she said.

Protesters wear the masks because they fear reprisal from China's ever-ubiquitous surveillance of dissidents, aided by the government's widespread use of facial recognition technology.

The ban was passed under an emergency law from the colonial era. It's the first time it's been used since 1967, and it was originally passed to stop a seamen's strike in 1922.

Banning masked protesters has also happened in the US, Europe, and Russia in the last two centuries.

Here are some of the places where masks or face coverings are banned in public.
spacer
Unfortunately, in this time of orchestrated unrest, there are good reasons to wear a mask at public gatherings.  Naturally the main one being to protect yourself from exposure to the virus while among crowds, another is to protect yourself from noxious fumes and poisonous gases that may be released either by protestors or the police/military trying to maintain control.
spacer
This makes it more likely that a person could contract a very high level of the virus, not to mention the other complications associated with them.
Every Karen on Facebook is shaming her neighbors for not wearing a face mask. We are being told by governors that if we don't wear masks we are selfish, horrible human beings with no souls who want Grandma to die a horrible death. Police are tackling people who don't wear face masks properly in the subway. Grocery stores are throwing maskless people out and denying them service.

But now, there's another doctor weighing in—besides Dr. Fauci, bonafide sex god and ruler of us all, who also said face masks are largely security theater and of no use to the healthy.

Dr. Russell Blaylock, a neurosurgeon, has written an editorial saying that "masks pose serious risks to the healthy."

First, Blaylock says, there is no scientific evidence that masks are effective against COVID-19 transmission. Pro-science people should care about this.

As for the scientific support for the use of face mask, a recent careful examination of the literature, in which 17 of the best studies were analyzed, concluded that, "None of the studies established a conclusive relationship between mask/respirator use and protection against influenza infection."   

Keep in mind, no studies have been done to demonstrate that either a cloth mask or the N95 mask has any effect on transmission of the COVID-19 virus. Any recommendations, therefore, have to be based on studies of influenza virus transmission. And, as you have seen, there is no conclusive evidence of their efficiency in controlling flu virus transmission.

It is also instructive to know that until recently, the CDC did not recommend wearing a face mask or covering of any kind, unless a person was known to be infected, that is, until recently. Non-infected people need not wear a mask.

When a person has TB we have them wear a mask, not the entire community of non-infected. The recommendations by the CDC and the WHO are not based on any studies of this virus and have never been used to contain any other virus pandemic or epidemic in history.

Beyond the lack of scientific data to support wearing a mask as a deterrent to a virus, Blaylock says the more pressing concern is what can and will happen to the wearer.

Now that we have established that there is no scientific evidence necessitating the wearing of a face mask for prevention, are there dangers to wearing a face mask, especially for long periods? Several studies have indeed found significant problems with wearing such a mask. This can vary from headaches, to increased airway resistance, carbon dioxide accumulation, to hypoxia, all the way to serious life-threatening complications.

There are studies to back that claim up.

In one such study, researchers surveyed 212 healthcare workers (47 males and 165 females) asking about presence of headaches with N95 mask use, duration of the headaches, type of headaches and if the person had preexisting headaches.

They found that about a third of the workers developed headaches with use of the mask, most had preexisting headaches that were worsened by the mask wearing, and 60% required pain medications for relief. As to the cause of the headaches, while straps and pressure from the mask could be causative, the bulk of the evidence points toward hypoxia and/or hypercapnia as the cause.

That is, a reduction in blood oxygenation (hypoxia) or an elevation in blood C02 (hypercapnia). It is known that the N95 mask, if worn for hours, can reduce blood oxygenation as much as 20%, which can lead to a loss of consciousness, as happened to the hapless fellow driving around alone in his car wearing an N95 mask, causing him to pass out, and to crash his car and sustain injuries.

I am sure that we have several cases of elderly individuals or any person with poor lung function passing out, hitting their head. This, of course, can lead to death.

A more recent study involving 159 healthcare workers aged 21 to 35 years of age found that 81% developed headaches from wearing a face mask. Some had pre-existing headaches that were precipitated by the masks. All felt like the headaches affected their work performance.

Blaylock says studies have also shown that face masks impair oxygen intake dramatically, potentially leading to serious problems.

The importance of these findings is that a drop in oxygen levels (hypoxia) is associated with an impairment in immunity. Studies have shown that hypoxia can inhibit the type of main immune cells used to fight viral infections called the CD4+ T-lymphocyte.

This occurs because the hypoxia increases the level of a compound called hypoxia inducible factor-1 (HIF-1), which inhibits T-lymphocytes and stimulates a powerful immune inhibitor cell called the Tregs. . This sets the stage for contracting any infection, including COVID-19 and making the consequences of that infection much graver. In essence, your mask may very well put you at an increased risk of infections and if so, having a much worse outcome.

In other words, if you wear a face mask and contract some sickness, you will not be able to fight it off as effectively as if you had normal blood oxygen levels. The mask could make you sicker. It could also create a "deadly cytokine storm" in some.

There is another danger to wearing these masks on a daily basis, especially if worn for several hours. When a person is infected with a respiratory virus, they will expel some of the virus with each breath.

If they are wearing a mask, especially an N95 mask or other tightly fitting mask, they will be constantly rebreathing the viruses, raising the concentration of the virus in the lungs and the nasal passages. We know that people who have the worst reactions to the coronavirus have the highest concentrations of the virus early on. And this leads to the deadly cytokine storm in a selected number.

How about cancer, heart attacks, and strokes? Blaylock says face masks can make all of those conditions worse.

People with cancer, especially if the cancer has spread, will be at a further risk from prolonged hypoxia as the cancer grows best in a microenvironment that is low in oxygen. Low oxygen also promotes inflammation which can promote the growth, invasion and spread of cancers.

Repeated episodes of hypoxia has been proposed as a significant factor in atherosclerosis and hence increases all cardiovascular (heart attacks) and cerebrovascular (strokes) diseases.

If that's not bad enough, how would you like COVID-19 in your brain?

It gets even more frightening. Newer evidence suggests that in some cases the virus can enter the brain. In most instances it enters the brain by way of the olfactory nerves (smell nerves), which connect directly with the area of the brain dealing with recent memory and memory consolidation. By wearing a mask, the exhaled viruses will not be able to escape and will concentrate in the nasal passages, enter the olfactory nerves and travel into the brain.

Why is it that we only listen to dire predictions from Dr. Fauci and we don't consult other experts in the field of medicine?

Is Anthony Fauci the only qualified person to talk about this virus? Furthermore, if he is, he agrees with Dr. Blaylock that only sick people should wear them and he said so on 60 Minutes. So why aren't we listening to him?
Neurosurgeon Expresses Concerns Over Wearing Masks
spacer
SO, tell me, after reviewing all of this, DO YOU REALLY THINK THEY ARE TRYING TO PROTECT YOU???
spacer
spacer

People called them "flu fences" and "chin sails." Gala attendees fastened theirs with gaudy earrings. Smokers cut flaps in them, and movie houses gave them away with tickets.

During the influenza pandemic of 1918, officials often advised Americans to wear face masks in public. Doctors believed that masks could help prevent "spray infections," according to historian John M. Barry in his book, "The Great Influenza: The Story of the Deadliest Pandemic in History." Enforced by local health officials, the facial coverings grew routine. Often, Red Cross chapters fashioned and distributed the masks that were "seen everywhere and would become a symbol of the epidemic," Barry wrote. Americans used the masks as a method of retaining some normalcy, and as the only aspect of the epidemic discussable with any sense of play.

If directed to wear a mask, homemade worked. "Take a piece of gauze the size of a sheet of typewriter paper," said instructions in the Atlanta Constitution. "Fold it twice, so that it will fit an envelope. Then attach strings to the four corners and tie these strings at the back of the neck. The mask covers the nose and mouth, so that the wearer breathes through four thicknesses of gauze. A clean handkerchief is just as good as the gauze."

Now, amid the novel coronavirus pandemic, the Centers for Disease Control and Prevention is debating whether it should recommend that people wear masks when they go outside. In 1918, with a different virus, it didn't help.

Iowa's State Board of Health reminded those sewing masks to add some "colored worsted [a type of yarn] or tape" on the part of the mask that would be the outside. The upper margin was to be drawn tightly over the bridge of the nose, right under the eyes. Masks were to be washed after each use, not touched once they were tied on, and boiled for five minutes before wearing again.

The masks disrupted lives in unexpected ways. A San Francisco fisherman said "bandits" in flu masks robbed him. A woman taking a train from Chicago to Pasadena, California, reportedly experienced a break from sanity when she disembarked and "beheld the masked city," according to a story in the Los Angeles Times. And columnist Fay King bemoaned the new mustaches. Men who formerly "couldn't bear to have [a] hairy lip classed with a tooth brush" were growing facial hair, now hidden behind the masks.

On Nov. 1, 1918, Eugene C. Caley became the first man in Oakland, California, to be arrested for not wearing a mask. He was released on bail, although similar scofflaws in San Francisco had been sentenced to up to 10 days in jail. (Departments donated revenue from fines to the Red Cross.)

"This is only the beginning," said the chief of police, according to the Oakland Tribune. "We are going to enforce this mask ordinance if we have to pack the city jail with people. This epidemic is too serious to be taken as a joke, and men arrested … will find that it's no laughing matter when they face the police judges."

Some complained that the masks were "unsanitary," and bureaucratic confusion could stymie whether they were worn. In Alexandria, Louisiana, a sanitation leader for the Army ordered flu masks be worn. But waiters removed theirs because their local public health official said that the masks prevented "free breathing," according to the Town Talk.

Tobacco-chewing workers were "kept busy putting the masks on and off" to spit, reported the Fort Wayne Sentinel, while smokers became creative. One cigar vendor made doors in masks so that her wares could be enjoyed, reported the Oakland Tribune. One man fashioned a cigarette holder from a long rubber tube, and another simply shoved his mask up over his forehead.

"I am 75 years old and have been living in this state 67 years," a man named E. Piercy told a police court, according to Los Angeles' Evening Express. "I must have my smoke, and I'm not going to give up my tobacco for a cheesecloth muzzle!"

Touting their ability to distract an anxiety-ridden public, movie houses remained open, as long as viewers wore masks. At the Riley in Greenfield, Ind., if you had your own mask, admission was 6 and 11 cents. If you needed the theater to provide one, admission went up to 10 or 15 cents.

The Riley, its advertisement said, had been disinfected. So had the Coliseum dance hall in Rock Island, Illinois. "Aseptic spray, etc.," said its advertisement, which reminded dancers to bring their masks. "Don't forget the big Duck and Goose call this Saturday."

Through the attempts to make wearing masks seem normal, positioned at stores alongside everyday things such as tobacco, mustache grooming and dancing, the grim truth persisted.

"The masks worn by millions were useless as designed and could not prevent influenza," Barry wrote. "Only preventing exposure to the virus could."
For more information on MASKS
Also, check out my article on RED NOSE DAY: