These Fallen Ones, who were the Heroes of old, and who gave the secret knowledge to humans are still active in the world today.  Most emphatically they are working through the medical field.  I promise you that medical care is the tool that they will use to bring in the NEW WORLD ORDER.  I work in the Health Field and I know what I am talking about.  
Hippocrates – From Wikipedia, the free encyclopedia
Died: c. 370 BC – (aged c. 90) – Larissa, Ancient Greece
Title: The Father of Western Medicine
Hippocrates of Kos (/hɪˈpɒkrətiːz/; Greek: Ἱπποκράτης ὁ Κῷος, translit. Hippokrátēs ho Kṓos; c. 460 – c. 370 BC), also known as Hippocrates II, was a Greek physician of the Age of Pericles (Classical Greece), who is considered one of the most outstanding figures in the history of medicine. He is often referred to as the "Father of Medicine"[1] in recognition of his lasting contributions to the field as the founder of the Hippocratic School of Medicine. This intellectual school revolutionized medicine in ancient Greece, establishing it as a discipline distinct from other fields with which it had traditionally been associated (theurgy and philosophy), thus establishing medicine as a profession.[2][3]
However, the achievements of the writers of the Corpus, the practitioners of Hippocratic medicine and the actions of Hippocrates himself were often commingled; thus very little is known about what Hippocrates actually thought, wrote, and did. Hippocrates is commonly portrayed as the paragon of the ancient physician, and credited with coining the Hippocratic Oath, which is still relevant and in use today. He is also credited with greatly advancing the systematic study of clinical medicine, summing up the medical knowledge of previous schools, and prescribing practices for physicians through the Hippocratic Corpus and other works.[2][4]
The Oath: Meaningless Relic or Invaluable Moral Guide?

The Hippocratic Oath is one of the oldest binding documents in history. Written in antiquity, its principles are held sacred by doctors to this day: treat the sick to the best of one's ability, preserve patient privacy, teach the secrets of medicine to the next generation, and so on. "The Oath of Hippocrates," holds the American Medical Association's Code of Medical Ethics (1996 edition), "has remained in Western civilization as an expression of ideal conduct for the physician." Today, most graduating medical-school students swear to some form of the oath, usually a modernized version. Indeed, oath-taking in recent decades has risen to near uniformity, with just 24 percent of U.S. medical schools administering the oath in 1928 to nearly 100 percent today.

Indeed, a growing number of physicians have come to feel that the Hippocratic Oath is inadequate to address the realities of a medical world that has witnessed huge scientific, economic, political, and social changes, a world of legalized abortion, physician-assisted suicide, and pestilences unheard of in Hippocrates' time. Some doctors have begun asking pointed questions regarding the oath's relevance: In an environment of increasing medical specialization, should physicians of such different stripes swear to a single oath? With governments and health-care organizations demanding patient information as never before, how can a doctor maintain a patient's privacy? Are physicians morally obligated to treat patients with such lethal new diseases as AIDS or the Ebola virus?

Other physicians are taking broader aim. Some claim that the principles enshrined in the oath never constituted a shared core of moral values, that the oath's pagan origins and moral cast make it antithetical to beliefs held by Christians, Jews, and Muslims. Others note that the classical Oath makes no mention of such contemporary issues as the ethics of experimentation, team care, or a doctor's societal or legal responsibilities. (Most modern oaths, in fact, are penalty-free, with no threat to potential transgressors of loss of practice or even of face.)

With all this in mind, some doctors see oath-taking as little more than a pro-forma ritual with little value beyond that of upholding tradition. "The original oath is redolent of a covenant, a solemn and binding treaty," writes Dr. David Graham in JAMA, the Journal of the American Medical Association (12/13/00). "By contrast, many modern oaths have a bland, generalized air of 'best wishes' about them, being near-meaningless formalities devoid of any influence on how medicine is truly practiced." Some physicians claim what they call the "Hypocritic Oath" should be radically modified or abandoned altogether.

Below, see classical and modern versions of the oath.

*Orr, R. D., N. Pang, E. D. Pellegrino, and M. Siegler. 1997. "Use of the Hippocratic Oath: A Review of Twentieth-Century Practice and a Content Analysis of Oaths Administered in Medical Schools in the U.S. and Canada in 1993." The Journal of Clinical Ethics 8 (Winter): 377-388.
So, here we see that everyone clearly recognizes the Pagan origin of the oath.  Sadly, we also see that NO ONE takes the oath seriously.  They feel no obligation to follow its tenets.  We also see that in today's society, a patients information is demanded by so many entities, itis impossible to maintain their privacy.  This is true, even though the HIPAA -Health Insurance Portability and Accountability Act that was passed by Congress in 1996, was touted as being established to protect the patient's right to privacy.  It has done nothing of the kind. In fact, the one person who has the hardest time accessing their private medical information is the patient.  So many other entities both in the medical field and out can access the patient's complete data file in seconds.  However, a child's parents have no right to access their own child's file without the child's permission. The same is true for spouses. 
If you were under the impression that Medical personnel had scruples, moral character and were sworn to "do no harm", I hope you see your trust was unfounded.   These are arrogant, proud, egotistical maniacs who believe they are gods because they hold the power of life and death.  They do not believe in the Creator, they believe only in the intellect, and they believe themselves to be above everyone else.  They do not believe in LAW other than what is determined by men, who change with the winds. They do not believe in the concept of sin. There is no good or evil in their minds. They make up their own mind what is right or wrong. They do not put any sacred value on life. They see human beings as nothing more than guinea pigs used for experimentation.  Do you really want to trust your life in their hands?  
Let's take a look at the original "Hippocratic Oath"…


History of Medicine  Division/National Library of Medicine/National Institue of Health

The Hippocratic Oath (Ορκος) is perhaps the most widely known of Greek medical texts. It requires a new physician to swear upon a number of healing gods that he will uphold a number of professional ethical standards. It also strongly binds the student to his teacher and the greater community of physicians with responsibilities similar to that of a family member. In fact, the creation of the Oath may have marked the early stages of medical training to those outside the first families of Hippocratic medicine, the Asclepiads of Kos, by requiring strict loyalty.

Asklepieion in Kos, Dodecanese: The Asklepieion is an ancient medical center placed 4 km to the southeast of Kos Town, beyond Platani village. It dates from the first half of the 3rd century BC and it was built to honor the god of health and medicine, Asklepios, after the death of the famous ancient Greek physician, Hippocrates. The characteristic symbol of this institution was a snake, as Greeks honored this animal due to its ability in terms of selecting curative herbs, and it can still be seen.
The physicians of this hospital were also priests and a sanctuary was available for everyone who wanted to pray. Despite the changes caused on the structure by the earthquakes, it is easy to tell apart the different rooms that were part of this building. The first terrace is enclosed by a portico with the shape of a Pi (Greek letter P), which leaves the south side open. This portico is said to hold a medical school, although this is not proven. On its east side, there is a complex of Roman baths, dating from the 3rd century AD and with some porticoes as well, which used to have precincts for the patients and their families. The second terrace holds the oldest structure of this construction, the ruins of an altar dating from the 4th century BC. To the south, it can be found an area called where patients expected to see Asklepios apparition, in order to cure them during their dreams. To the left and the right of the altar, the ruins of two smaller temples lay as well. There are also some restored columns belonging to the Ionic Temple of Apollo (II Century BC).
Finally, on the third terrace, the remains of the Doric Temple of Asklepeion, dating from the 2nd century BC as well, can be seen. Asklepieion's center also holds a church dedicated to Panagia Tarsou, built during the early Christian period. This period may have influenced the disuse of the Asklepieion in the sense that it was never reconstructed after the earthquake, as it has many idolatry elements. What remains from this church is just a capital with the initials ICXP, meaning Jesus Christ. Source: www.greeka.com

Panagia (Greek: Παναγία, fem. of panágios, pan- + hágios, the All-Holy; pronounced Greek pronunciation: [panaˈʝia]) in Medieval and Modern Greek, also transliterated Panayia or Panaghia, is one of the titles of Mary, the mother of Jesus, used especially in Eastern Catholicism and Orthodox Christianity.

Panagia is also the term for a particular type of icon of the Theotokos, wherein she is facing the viewer directly, usually depicted full length with her hands in the orans position, and with a medallion showing the image of Christ as a child in front of her chest.[1] This medallion symbolically represents Jesus within the womb of the Virgin Mary at the moment of the Incarnation. This type of icon is also called the Platytéra (Greek: Πλατυτέρα, literally wider or more spacious): poetically, by containing the Creatorof the Universe in her womb, Mary has become Platytera ton ouranon (Πλατυτέρα τῶν Ουρανῶν), "more spacious than the Heavens". This type is also sometimes called the Virgin of the Sign or Our Lady of the Sign
Source: Wikipedia

So, continued pagan worship…only the name has been changed.

Hippocratic Oath

I swear by Apollo the physician, and Asclepius, and  (root from which we get
hygene) and Panacea (which is the word for a remedy that cures all) and all the gods and goddesses as my witnesses, that, according to my ability and judgement, I will keep this Oath and this contract:

To hold him who taught me this art equally dear to me as my parents, to be a partner in life with him, and to fulfill his needs when required; to look upon his offspring as equals to my own siblings, and to teach them this art, if they shall wish to learn it, without fee or contract; and that by the set rules, lectures, and every other mode of instruction, I will impart a knowledge of the art to my own sons, and those of my teachers, and to students bound by this contract and having sworn this Oath to the law of medicine, but to no others.

I will use those dietary regimens which will benefit my patients according to my greatest ability and judgement, and I will do no harm or injustice to them.

I will not give a lethal drug to anyone if I am asked, nor will I advise such a plan; and similarly I will not give a woman a pessary to cause an abortion.

In purity and according to divine law will I carry out my life and my art.

I will not use the knife, even upon those suffering from stones, but I will leave this to those who are trained in this craft.

Into whatever homes I go, I will enter them for the benefit of the sick, avoiding any voluntary act of impropriety or corruption, including the seduction of women or men, whether they are free men or slaves.

Whatever I see or hear in the lives of my patients, whether in connection with my professional practice or not, which ought not to be spoken of outside, I will keep secret, as considering all such things to be private.

So long as I maintain this Oath faithfully and without corruption, may it be granted to me to partake of life fully and the practice of my art, gaining the respect of all men for all time. However, should I transgress this Oath and violate it, may the opposite be my fate.

Translated by Michael North, National Library of Medicine, 2002.
Panacea is a remedy believed to cure all disease and prolong life that was originally sought by alchemists; a cure-all while alchemy is (uncountable) the ancient search for a universal panacea, and of the philosopher's stone, that eventually developed into chemistry. Source
OK, so we see that, though it has been called the "Hippocratic Oath" and Hippocrates has been called the father of Modern Medicine.  There is nothing in the Oath or about the oath that supports that.  But, wait there is more…  Let's conduct a little study into the Ancient Gods related to medicine and actually mentioned in the oath.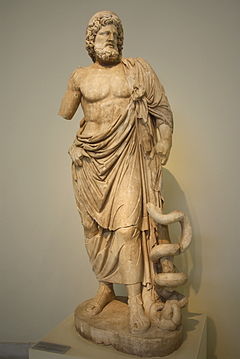 Asclepius
 

was the ancient Greek god of medicine, son of the god Apollo and Coronis, the daughter of Phlegyas, King of the Lapiths. He was married to Epione, the goddess of soothing; together, they had a number of children; their daughters were Panacea the Greek goddess of Universal remedy/medicines), Hygeia (goddess of health), Iaso (goddess of recuperation), Aceso (goddess of the healing process), Aegle (goddess of radiant good health and immortality, also of beauty and adornment). They also had four sons; Machaon and Podalirius were legendary healers who fought in the Trojan War; Telesphorus who accompanied his sister, Hygeia, and symbolised recuperation; and Aratus.
A hypocrite, or one who wears a mask,
Hypocrite someone who deliberately deceives you.  Wears a mask.
Old French ypocrite (Modern French hypocrite), from Ecclesiastical Latin hypocrita, from Ancient Greek ὑποκριτής (hupokritḗs, "actor, hypocrite"), from ὑποκρίνομαι (hupokrínomai, "I answer, act, feign").
hypocrite – Noun (plural hypocrites)  Someone who practices hypocrisy, who pretends to hold beliefs, or whose actions are not consistent with their claimed beliefs. [from early 13th c.]
The word hypocrite ultimately came into English from the Greek word hypokrites, which means "an actor" or "a stage player."The Greek word itself is a compound noun: it's made up of two Greek words that literally translate as "an interpreter from underneath."

A hypocrite is someone who wears a mask – who pretends to be one person on the outside even though he is another person on the inside. A hypocrite lack integrity. He isn't who he says he is. And there are two types of religious hypocrites today. Type #1: The legalistic hypocrite. This is the most commonly identified hypocrite.

Hypocrite is derived a compound Greek word hypokritēs(hoop-ok-ree-tace'). Formed from Hypo- meaning under, and -kritikē meaning judge or critic. This word was commonly used to refer to stage actors, meaning performer under a mask.

He is writing to Janus and Tiresias, to someone who is one and many at the same time. He is writing to a hypocrite, who can wear just one mask at a time to express the flow of faces that life entails. "La conscience est dans le mal" or at least in the awareness of the inevitability of our hypocrisy. BOOKS ON THE TOPIC

But anyone who denies me here on earth will be denied before God's angels. Anyone who speaks against the Son of Man can be forgiven, but anyone who blasphemes the Holy Spirit will not be forgiven." (Luke 12:8-10). A hypocrite believes that he is nothing unless human beings acknowledge him as something – so he puts on the mask they want to see.

Hypocrisy: "The masks we wear…" 1. Do you remember your first taste of hypocrisy? 2. Do you remember your first taste of hypocrisy with organized religion? 3. Do you remember the first time you saw hypocrisy operating in your own life? 4. Did you ever wonder why God is so adamantly opposed to hypocrisy among His people?

A hypocrite, or one who wears a mask, claims to be free from faults. A Christian, on the other hand, freely admits the fact that he or she is a sinner. The next verse, 1 John 1:9 describes the difference between a hypocrite and an honest sinner: "If we confess our sins, he is faithful and just and will forgive us our sins and purify us from …
Aratus Software was founded in April 2015 by 5 directors with the aim of creating innovative software solutions for business and professionals.

It all started when an Occupational Health provider, Asclepius OHS needed a new software to manage their business as they found the software currently available did not meet their needs.  They met with Luke- a deployment specialist, and he introduced them to Dan, a web developer. After meeting they made a plan and Apollo.Direct was born! They soon realised that they were not the only business who needed innovative software so Aratus was formed.

When naming the newly founded company, a few ideas were discussed. But one theme remains consistant- Greek mythology. Asclepious is the greek God of medicine and Aratus is believed to be his illegitimate son so this name fitted perfectly. From there on the team needed to name the software. They choose Apollo the Greek God of Science and healing. (Apollo – The antiChrist who will rise up from the abyss).