Tags:  Space Race, VIRGIN GALACTIC, BLUE ORIGIN,  NEW SHEPHERD, SPACE X, EDGE OF SPACE
You know the space program was dead for decades.  While all the trekkies filled their minds and imaginations with Science Fiction and Hero worship of the "Astronauts" and learned all about our  "VAST UNIVERSE" in school.
Suddenly, in recent days, the RACE for SPACE has been given new life.  Our "5 Dimension"  Generation X, Post Modern,  Computer NERDS are all excited.
Don't you realize that this all by design?  The SPACE RACE has always been a fabulous Fund Raiser!  They need money and lots of it for their real Technology to bring in their NWO.  SO, why not rely on what has worked in the past.  It also is a very effective and convenient distraction from the reality that is about to fall upon us.
Much like all the Phony Philanthropy,  all the "charitable causes" generous and caring people fall so easily prey to.  They are bleeding you dry of all your money and possessions to build their POST HUMAN EMPIRE.
Don't you understand that their TRANSHUMAN WORLD is a POST HUMAN WORLD?  YOU are not only completely expendable… you are a useless eater.  A CLOG in their machine.    WAKE UP!
Jeff Bezos announced last month that he would go to space on July 20, along with his brother and two other people, on his company's New Shepard.
Branson had been expected to take a Virgin Galactic flight later this year, but

after Bezos said he was blasting off, Branson leapfrogged to an earlier launch date

.
Unlike a traditional launch, Virgin Galactic uses a special "mothership" to fly the rocket plane up to approximately 50,000 feet. The rocket-powered plane will then be dropped from the mothership, light its rocket and zoom to the edge of earth's atmosphere — about 50 miles in altitude.
The crew will experience a few minutes of weightlessness before the plane plummets back to earth and lands in New Mexico.
Company: Blue Origin
Launch date: July 20
Space flight: New Shepard Rocket
New Shepard, Blue Origin's rocket was named after astronaut – Alan Shepard, the first American to go to space. The sub-orbital rocket offers flight to space over 100km above the earth (20km more than Virgin Galactic's flight) and accommodation for payload. In general, the rocket is designed to take astronauts and research payloads past the Karman line. spacer
There is debate over whether the Virgin Galactic flight path will actually reach "space." Due to its design, the top altitude of Branson's craft falls short of the Karman line recognized internationally as the altitude at which space begins – about 62 miles above sea level (although that definition itself is also under review).
Bezos' Blue Origins flight will go above that line, briefly.
The company's Twitter account posted less-than-subtle statements on Friday about the elevation differential.
"From the beginning, New Shepard was designed to fly above the Karman line so none of our astronauts have an asterisk next to their name," Blue Origin tweeted.
Elon Musk plans to send civilians to low-earth orbit this year.
Launch date: NA
Space flight: Super Heavy and Starship
Elon Musk, who wants to die on Mars plans to send civilians to low-earth orbit this year. Unlike Blue Origin and Virgin Galactic, SpaceX's space journey will last up to four days involving passengers orbiting the planet before the splashdown. Jared Isaacman, the founder of Shift4 Payments, has purchased a rocket ride to orbit from SpaceX. Out of the four, two seats are considered a donation.
Accompanying him on the trip is Sian Proctor, 51, a community college professor from Tempe, Ariz., Christopher Sembroski, 41, of Everett, Wash., and Hayley Arceneaux, a former patient of St. Jude, who now works as a physician assistant there, reports NYTimes.
It's worth mentioning that Musk's SpaceX has already taken a crew to the International Space Station. Elon Musk also said that he would fly Japanese billionaire Yusaku Maezawa around the moon with its upcoming Starship rocket in 2023.
However, Elon Musk's primary goal is to colonise Mars and create a self-sustaining city by 2050.
Right from the dawn of civilisation, we humans have always been interested in the universe and even devised plans to reach Mars, the Moon, and stars. Finally, the touristy trip to space is happening as anticipated. But is it worth all the extravaganza?  
spacer
THIS IS NOT A RACE… DO YOU SEE THEM LINING UP?  SWEATIN OVER WHO GOES FIRST?  NO, these BILLIONAIRES are all part of the SHOW.  They are there to keep you distracted.  TO keep you focused on what and where the Controllers want you focused.  They are scripted out to each get their little piece of the "Glory" while they keep everyone else stringing along.  They are spaced out according to the MASTERPLAN for the NWO.
If you believe their fairy tales… I got a piece of property I want to sell you.
Billionaire Branson soars to edge of space in his Unity rocket plane
11 Jul, 2021 14:43 

/ Updated 23 hours ago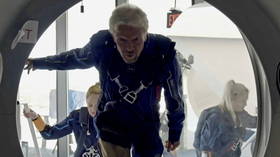 Richard Branson's Virgin Galactic is launching its first fully crewed suborbital mission. The company is in a race with Jeff Bezos' Blue Origin to secure a share of the lucrative emerging space tourism market.
Branson and five other people are riding the VSS Unity, an air-launched rocket plane, for a 90-minute flight voyage to the outer reaches of Earth's atmosphere. The mothership, VMS Eve, is based at Virgin Galactic's Spaceport America in New Mexico, the same location where the VSS Unity is set to land.
The test flight comes just nine days before the first crewed flight of Blue Origin's New Shepard capsule. The company launched barbs at its competition shortly before its test, implying that Virgin Galactic's plane is not actually a spaceship and saying that New Shepard offers a better experience to customers.
ALSO ON RT.COMBillionaires' space race: Bezos' Blue Origin dunks on Branson's Virgin Galactic ahead of crewed flight, saying it doesn't countIf you like this story, share it with a friend!
spacer

"Suborbital" is a term you'll be hearing a lot as Sir Richard Branson flies aboard Virgin Galactic's VSS Unity winged spaceship and Jeff Bezos flies aboard Blue Origin's New Shepard vehicle to touch the boundary of space and experience a few minutes of weightlessness.
But what exactly is "suborbital"? Simply put, it means that while these vehicles will cross the ill-defined boundary of space, they will not be going fast enough to stay in space once they get there.
If a spacecraft – or anything else, for that matter – reaches a speed of 17,500 mph (28,000 km/h) or more, instead of falling back to the ground, it will continuously fall around the Earth. That continuous falling is what it means to be in orbit and is how satellites and the Moon stay above Earth.
Anything that launches to space but does not have sufficient horizontal velocity to stay in space – like these rockets – comes back to Earth and therefore flies a suborbital trajectory.
Why these suborbital flights matter
Although the two spacecraft launched in July 2021 will not reach orbit, the accomplishment of reaching space in private spacecraft is a major milestone in the history of humanity. Those aboard these and all future private-sector, suborbital flights will for a few minutes be in space, experience a few minutes of exhilarating weightlessness and absolutely earn their astronaut wings.
A well-thrown baseball
Conceptually, the flights that Branson and Bezos will be on are not terribly different from a baseball thrown into the air.
The faster you can throw the baseball upward, the higher it will go and the longer it will stay in the air. If you throw the ball with a bit of sideways velocity as well, it will go farther down-range.
Imagine throwing your baseball in an open field. As the ball rises, it slows down, as the kinetic energy inherent in its velocity is exchanged for potential energy in the form of increased altitude. Eventually the ball will reach its maximum height and then fall back to the ground.
Now imagine that you could throw the baseball fast enough to reach a height of perhaps 60 miles (97 km). Presto! The baseball has reached space. But when the ball reaches its maximum height, it will have zero vertical velocity and start to fall back to Earth.
The flight may take several minutes, and during most of that time the ball would experience near weightlessness – as will the newly minted astronauts aboard these spacecraft. Just like the hypothetical baseball, the astronauts will reach space but won't enter orbit, so their flights will be suborbital.
[The Conversation's science, health and technology editors pick their favorite stories. The Conversation, a nonprofit news site dedicated to sharing ideas from academic experts. It was written by: John M. Horack, The Ohio State University.
Read more:
John M. Horack does not work for, consult, own shares in or receive funding from any company or organization that would benefit from this article, and has disclosed no relevant affilia
spacer
Updated On: 12 Dec 2019 By Ashish
I recently watched a video that featured dozens of fighter jets engaged in a fierce dogfight (an aerial battle between fighter aircraft). The jets continued to climb through the bluish-white sky as they fired missiles at their opponents, but suddenly, the sky became pitch-black, indicating that they had entered 'space'!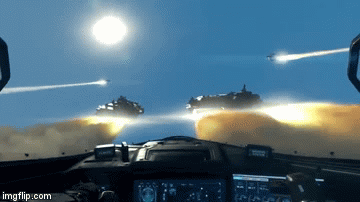 Credit: Call of Duty: Infinity War (Official Trailer)
The second thing that I wondered while watching that transition (the first thing I thought was WHOA!) was whether aircraft could actually reach outer space if they continued going up? And how close/far is 'space' in the first place?
That answer depends entirely on what you call 'space'; and yes, if you have a special aircraft that can manage to achieve such high speeds, you could actually reach space!
However, let's tackle the most basic question first…
What is 'space'?
That might seem like a dumb question at first, right? Space is where the rest of the solar system and the broader expanse of the universe is located. It's where astronauts go, and it's what you see at night when you look up at the sky. None of these definitions are incorrect, but they don't do much to help define the boundary between our planet and the vacuum of space.
From the perspective of Earth, space is where the atmosphere becomes thin – even to the point of non-existence. This is obviously a very simplified and subjective definition of 'space', but for the scope of this article, it will suffice to understand the distinction between the Earth and space itself.
How high is space?
Many would answer this by saying that, 'space starts where the atmosphere ends'. Although this is not incorrect, it doesn't really answer the question, as it leads to an inevitably follow-up question (imagine having a really curious kid pulling at your sleeve): where does the atmosphere end?
Again, this is not an easy question to respond to, in that it doesn't have a definite answer. You see, the atmosphere that covers our entire planet is not a single entity; instead, it is a collection of a number of gases and dust particles. This layer of gases continues to thin as you go higher up in the sky. This is why most commercial airplanes can't fly beyond 28,000-35,000 feet above the ground.
Here's a picture to visualize the situation a bit better: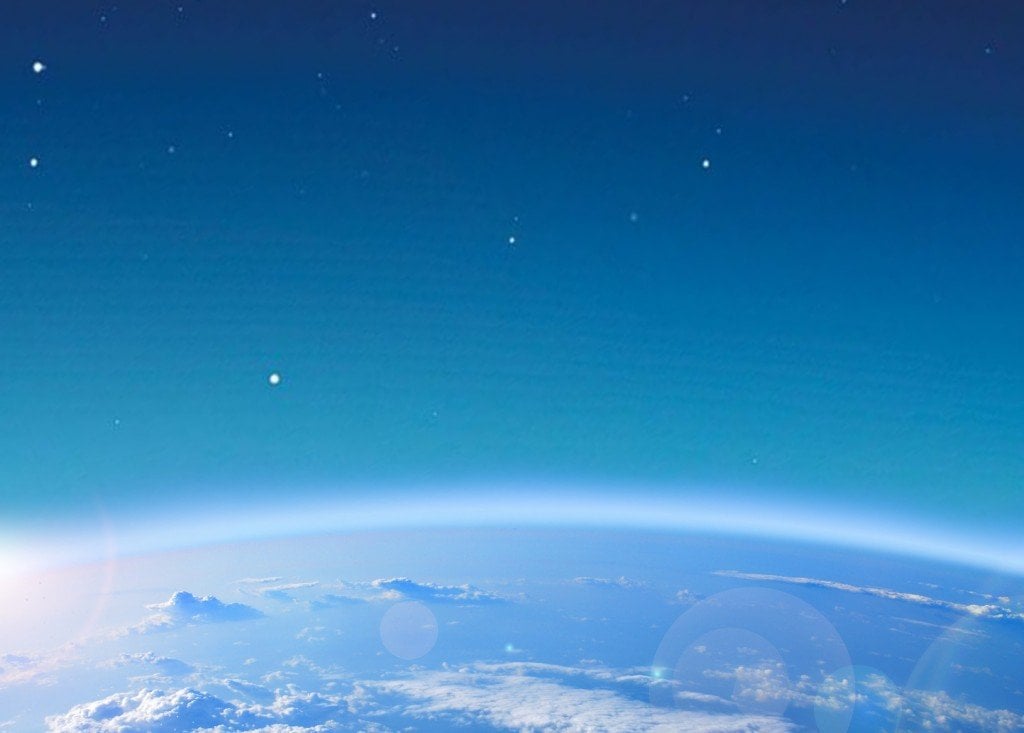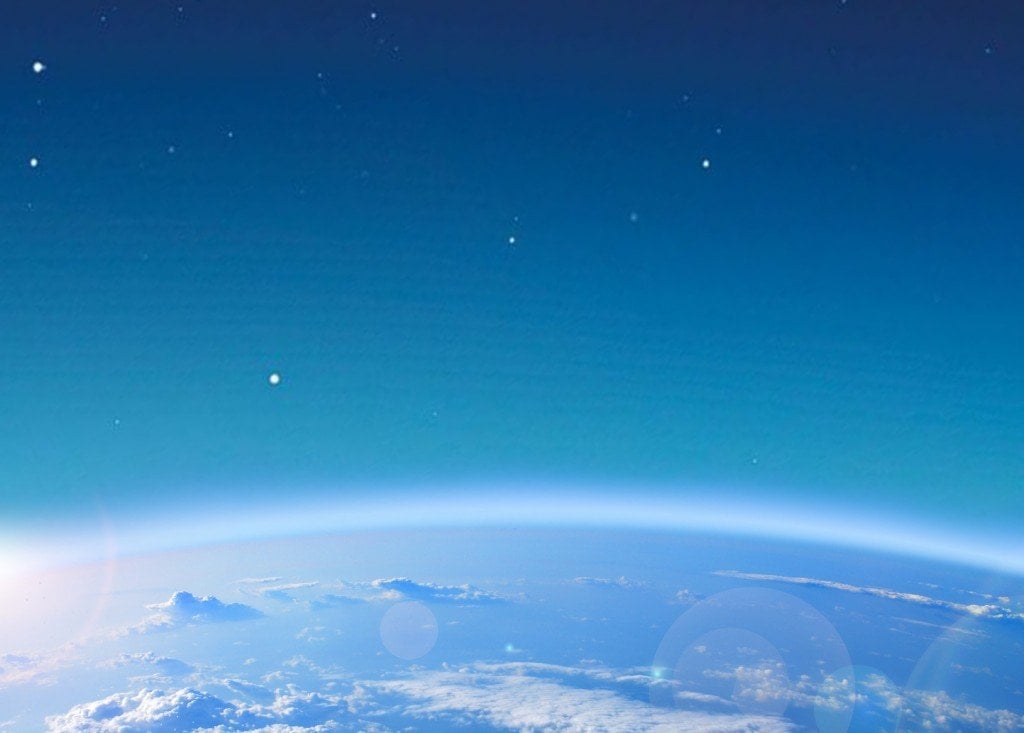 This is how the atmosphere looks. Now, can you pinpoint – with exact certainty – the altitude at which the atmosphere ends? Probably not, because as you can see, the atmosphere is a collection of progressively thinning layers of gases, rather than a well-defined entity, so it doesn't have an exact boundary.
How high do you have to go to be in 'space' officially?
Although there is no definite boundary where space starts, there is a limit, and if you crossed it, you would have entered space… at least, officially. This boundary is known as the Karman line (also spelled Kármán line), which is often referred to as the 'edge of space'.     10,000 km =  6213.712  miles
The Karman Line is an imaginary boundary that lies 100 kilometers above Earth and is widely considered the boundary between the outer space and Earth's atmosphere. The line owes its name to Theodore von Karman – a Hungarian American physicist who was the first to determine that around this altitude, the atmosphere became too thin to support aeronautical flights. In simple terms, this means that at this altitude, an aircraft cannot operate using regular flight tech to generate aerodynamic lift and expect to stay airborne above this altitude (it would instead require rockets). This definition is accepted by the Fédération Aéronautique Internationale (FAI), an international body that sets standards for astronautics and aeronautics.
Note that the atmosphere still exists beyond the Karman line; in fact, tiny particles of the exosphere (the outermost layer of the atmosphere) can be found 10,000 kilometers above the surface of Earth! From that perspective, the International Space Station, which orbits at only 330-435 kilometers above the Earth, isn't even worthy of its name.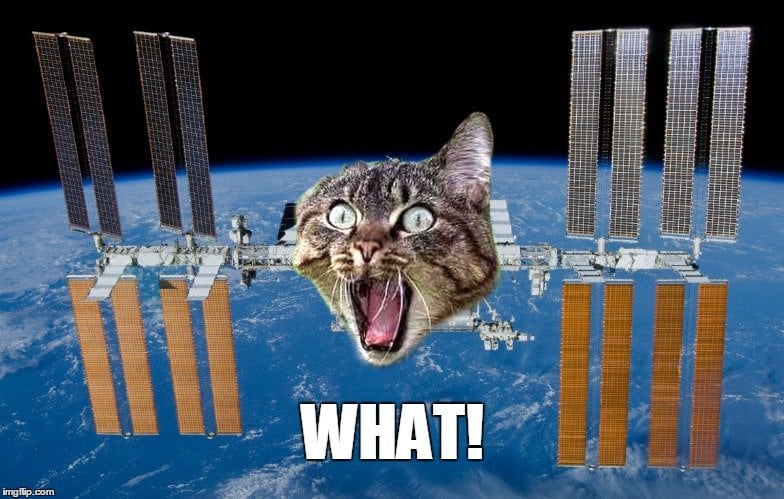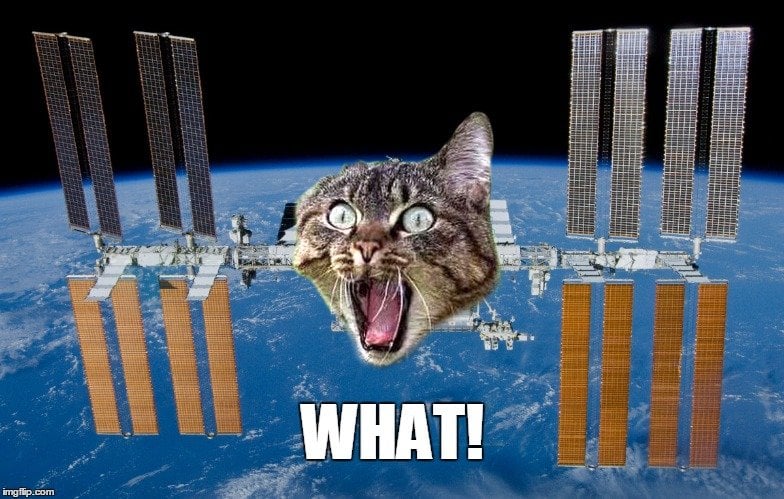 So, it's not that the atmosphere ends at the Karman line, it's simply that at that altitude, it becomes too insignificant to support flights that rely on 'air quality'. Here's a fun fact: you don't have to fly beyond the Karman line to officially be considered an 'astronaut'; according to the US Air Force's definition of an 'astronaut', all you have to do is fly more than 50 miles (80 km) above mean sea level to earn that title!
Spacer
Stunning animation shows the Earth's Van Allen radiation belts
On March 17, 2015, an interplanetary shock &
#8211
; a shockwave created by the driving force of a coronal mass ejection, or CME, from the sun &
#8211
; struck Earth's magnetic field, called the magnetosphere, triggering the greatest geomagnetic storm of the preceding decade. Nasa was lucky enough to have a satellite in operation in the area, and researchers found the Van Allen belt became 'supercharged' for days after.
spacer
 spacer
 The Van Allen Belts Are Lethal, This is how Astronauts Fly Through Them
The radioactive Van Allen belts posed a serious challenge for space travel. NASA had to figure out a way for astronauts to fly through them without being exposed to deadly doses of radiation. To learn more about NASA's Van Allen belt calculations, check out these links:
https://spacemath.gsfc.nasa.gov/earth…
https://www.nasa.gov/feature/goddard/…
"Sixty years ago today, the United States launched its first satellite into space. Dubbed Explorer 1, the spacecraft followed just months after the Soviet Union's Sputnik 1 and 2 spacecraft commenced the Space Age. Data captured by the Geiger counter aboard Explorer 1 heralded the emergence of space physics and ushered in a new era of technology and communications." 6 Surprising Facts About the First Manned Space Mission
https://www.livescience.com/33185-yur…
"Reaching unprecedented speeds for manned travel, the spacecraft broke free of the Earth's gravitational pull and entered orbit around the planet, circling once before re-entering the atmosphere and landing back on Soviet soil."
More about the discovery of the radiation belt. The Earth's Radiation Belts The Earth has two regions of trapped fast particles. The inner radiation belt discovered by Van Allen is relatively compact, extending perhaps one Earth radius above the equator (1 RE = 6371 km or about 4000 miles). It consists of very energetic protons, a by-product of …
A Van Allen radiation belt is a zone of energetic charged particles, most of which originate from the solar wind, that are captured by and held around a planet by that planet's magnetosphere. Earth has two such belts, and sometimes others may be temporarily created. The belts are named after James Van Allen, who is credited with their discovery. Earth's two main belts extend from an altitude …
the Earth radius (1 Re=6378 km). The Inner van Allen Belt is located at about 1.6 Re. The Outer van Allen Belt is located at about 4.0 Re. At a distance of 2.2 Re, there is a 'gap' region in between these belts. Satellites such as the Global Positioning System (GPS) orbit in this gap region where radiation effects are minimum.
The numbers along the horizontal axis give the distance from Earth in multiples of the Earth radius (1 Re=6378 km).The Inner van Allen Belt is located at about 1.6 Re. The Outer van Allen Belt is located at about 4.0 Re. At a distance of 2.2 Re, there is a 'gap' region in between these belts.Satellitessuch asthe Global Positioning System (GPS) orbit in this gap region whereradiationeffectsare minimum.
Two giant swaths of radiation, known as the Van Allen Belts, surrounding Earth were discovered in 1958. In 2012, observations from the Van Allen Probes showed that a third belt can sometimes appear.
YOU KNOW, THE DEADLY RADIATION BELT THEY DID NOT EVEN KNOW EXISTED WHEN THEY SUPPOSEDLY LANDED OUR GUYS ON THE MOON
The radiation belts are not the only structures surrounding Earth. Starting from about 1,000 km, at the very edge of the inner radiation belt, and partially pushing into the outer belt, there is a…
Van Allen Radiation Belt is a double torch formed of particles of energy (plasma) around Earth, retained by its magnetic field. Under the action of Lorentz electromagnetic forces, these particles describe the spiral trajectories between the two magnetic poles of the Earth.
Unexpectedly, the probes revealed a new radiation belt surrounding Earth, a third one made of super-high-energy electrons embedded in the outer Van Allen belt about 11,900 to 13,900 miles (19,100…
The radiation belts are not the only structures surrounding Earth. Starting from about 1,000 km, at the very edge of the inner radiation belt, and partially pushing into the outer belt, there is a…
The near-Earth space environment is a complex interaction between the magnetic field of our planet, cool plasma moving up from its ionosphere, and hotter plasma coming in from the solar wind; these…