RESTORED: 8/12/22
We are so assuredly in the ENDTIMES.  How far in… I would not dare to guess.  NO ONE can put GOD in a BOX.  EVERYTHING will be in HIS TIME.
I am fully aware that in the all inclusive and all embracing time in which we live it is NOT politically correct to speak of FIRE AND BRIMSTONE, or anything else from the Word of GOD.   However, no servant of the Lord worth their salt can fail to WARN of the impending events.
We have no need to be afraid.  We can take great comfort in KNOWING that God told us from the beginning what was coming in the End.  Now as we see things playing out EXACTLY as He foretold, we KNOW that HE IS GOD!  All His Promises are TRUE and VALID and about to be FULFILLED.  We can TRUST HIM, because HE NEVER FAILS.  We can prepare ourselves, because we have been forewarned.
For those who KNOW HIM, He is well able to keep us.  For those who DO NOT KNOW HIM, there is no HOPE.  Hell, fire and damnation are the lot in store for them.  There is no way to change that or avoid it.
His WORD says that Immense Heat, Fire and Brimstone is heading this way.  You can take that to the bank.  Just as he protected the Hebrews in the desert HE will keep those who belong to Him.  If any are called to be martyred or suffer torment, you can rest assured He will get you through it MIRACULOUSLY, because HE IS A GOD of MIRACLES.  He created all things and HE is in control.
God's Word tells us what is coming.  It does not specify how or whose hand.  I know that the "Science" and Military communities are causing the global warming.  If you are following my posts as well as those of other truthers, you can surely recognize that they are controlling our weather, bombarding our atmosphere, creating artificial suns and colliders that create EXTREME HEAT. We also have shown evidence that they are creating these fires using directed energy weapons.  So, there are definitely evil forces at work.  At the same time, the people of earth have turned their back on the God of creation and judgement is coming.  Whether the burning heat and deadly fires will be at the hand of the evil ones or the hand of GOD, is beyond our understanding.  Though we know that GOD is in control ALWAYS, and HE is the SMITH and HE creates the FIRE.  That is the whole purpose of our existence here on Earth.  To separate the evil from the good.  It is time for Judgement and the fire is reserved for the EVIL ONES.  All who fail to come to the Knowledge of GOD will suffer wrath.
Check out these posts for more information:
spacer
Jul 20, 2022 

According to estimates by the National Weather service, heat has been the single largest contributor to weather related deaths over the last 30 years.
spacer
Jun 20, 2022
Excessive heat causes more weather-related deaths in the U.S. than hurricanes, flooding and tornadoes combined.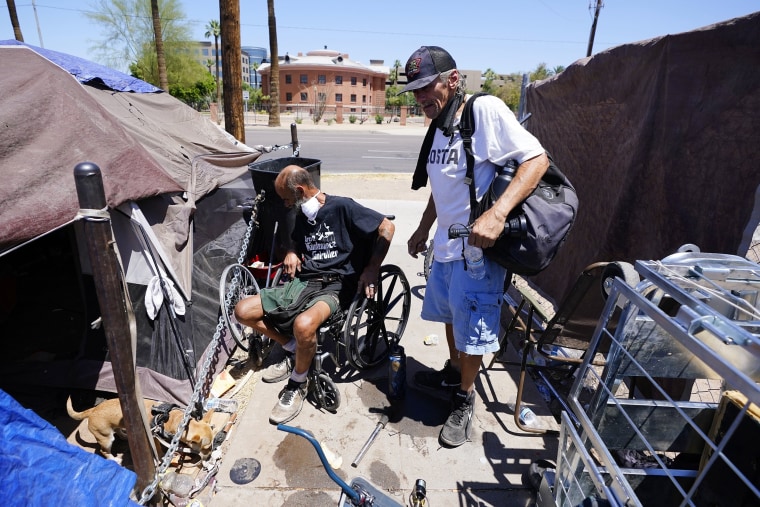 "Cueball," left, talks about his dog Lindsay with neighbor Terry Reed at their tents in Phoenix on May 20.Ross D. Franklin / AP file
PHOENIX — Hundreds of blue, green and grey tents are pitched under the sun's searing rays in downtown Phoenix, a jumble of flimsy canvas and plastic along dusty sidewalks. Here, in the hottest big city in America, thousands of homeless people swelter as the summer's triple digit temperatures arrive.
The stifling tent city has ballooned amid pandemic-era evictions and surging rents that have dumped hundreds more people onto the sizzling streets that grow eerily quiet when temperatures peak in the midafternoon. A heat wave earlier this month brought temperatures of up to 114 degrees (45.5 Celsius) — and it's only June. Highs reached 118 degrees (47.7 Celsius) last year.
JUNE 21, 2022  /03:14
CLICK HERE TO WATCH THE VIDEO: HERE
spacer
"During the summer, it's pretty hard to find a place at night that's cool enough to sleep without the police running you off," said Chris Medlock, a homeless Phoenix man known on the streets as "T-Bone" who carries everything he owns in a small backpack and often beds down in a park or a nearby desert preserve to avoid the crowds.
"If a kind soul could just offer a place on their couch indoors maybe more people would live," Medlock said at a dining room where homeless people can get some shade and a free meal.
Excessive heat causes more weather-related deaths in the United States than hurricanes, flooding and tornadoes combined.
Around the country, heat contributes to some 1,500 deaths annually, and advocates estimate about half of those people are homeless.
Temperatures are rising nearly everywhere because of global warming, combining with brutal drought in some places to create more intense, frequent and longer heat waves. The past few summers have been some of the hottest on record.
Just in the county that includes Phoenix, at least 130 homeless people were among the 339 individuals who died from heat-associated causes in 2021.
"If 130 homeless people were dying in any other way it would be considered a mass casualty event," said Kristie L. Ebi, a professor of global health at the University of Washington.
It's a problem that stretches across the United States, and now, with rising global temperatures, heat is no longer a danger just in places like Phoenix.
This summer will likely bring above-normal temperatures over most land areas worldwide, according to a seasonal map that volunteer climatologists created for the International Research Institute at Columbia University.
Last summer, a heat wave blasted the normally temperate U.S. Northwest and had Seattle residents sleeping in their yards and on roofs, or fleeing to hotels with air conditioning. Across the state, several people presumed to be homeless died outdoors, including a man slumped behind a gas station.
In Oregon, officials opened 24-hour cooling centers for the first time. Volunteer teams fanned out with water and popsicles to homeless encampments on Portland's outskirts.
A quick scientific analysis concluded last year's Pacific Northwest heat wave was virtually impossible without human-caused climate change adding several degrees and toppling previous records.
Even Boston is exploring ways to protect diverse neighborhoods like its Chinatown, where population density and few shade trees help drive temperatures up to 106 degrees (41 Celsius) some summer days. The city plans strategies like increasing tree canopy and other kinds of shade, using cooler materials for roofs, and expanding its network of cooling centers during heat waves.
It's not just a U.S. problem. An Associated Press analysis last year of a dataset published by the Columbia University's climate school found exposure to extreme heat has tripled and now affects about a quarter of the world's population.
This spring, an extreme heat wave gripped much of Pakistan and India, where homelessness is widespread due to discrimination and insufficient housing. The high in Jacobabad, Pakistan near the border with India hit 122 degrees (50 Celsius) in May.
Dr. Dileep Mavalankar, who heads the Indian Institute of Public Health in the western Indian city Gandhinagar, said because of poor reporting it's unknown how many die in the country from heat exposure.
Summertime cooling centers for homeless, elderly and other vulnerable populations have opened in several European countries each summer since a heat wave killed 70,000 people across Europe in 2003.
Close three Virginia prisons with deadly heat conditions!
by Uhuru B. Rowe
Have you ever opened the door to a hot oven and felt dizzy and overwhelmed from the intensity of the heat hitting you in the face? That is how it feels for people incarcerated at Augusta, Nottoway and Buckingham Correctional Centers in Virginia every summer, but especially during the current heat wave sweeping the country.
But get this: Prison staff at these facilities do not experience excessive heat conditions because the areas in which they work and frequent – the control booths, school areas, medical department, education department, administration offices etc. – are all equipped with air conditioning (AC).
While the U$ and other parts of the world, like Western Europe, are experiencing unprecedented deadly heat waves, people trapped in prisons, jails and detention centers not equipped with AC in the areas where they are housed are suffering exponentially from these sweltering conditions.
For instance, if it is 100 degrees for those of you on the outside, the temperature is always several degrees higher for those of us confined in prisons not equipped with AC. With the lack of AC, poor ventilation, substandard medical care, unsafe drinking water, big slabs of concrete that trap heat, antiquated sewage systems that regularly back up and spew raw sewage into the cells and housing units and the persistence of COVID-19, which is still spreading and infecting people at these facilities – all of these conditions on top of record high temperatures create unbearable conditions that are tantamount to the kind of cruel and unusual punishment prohibited by the eighth amendment to the U$ constitution. Sick and elderly people confined under these conditions suffer the most.
This is a blind spot that will cause incarcerated and detained people to suffer and die in silence and invisibility during future heat waves.
So, is there a need for an intersecting movement for prison abolition? The short answer is, "Yes," because when environmentalists talk about how climate change is caused by the burning of fossil fuels and how the impact of this is felt most by people in third world countries least responsible for climate pollution, the ways in which climate change impacts people in confinement are often left out of conversations about climate justice.
This is a blind spot that will cause incarcerated and detained people to suffer and die in silence and invisibility during future heat waves.
Of course, I believe prisons in general should be abolished and demolished, but right now, due to the immediacy of the current situation, we need prison abolitionists and climate justice activists to unite, and once united, collectively raise your voices to bring awareness to this issue and demand change to prevent the needless suffering and death of incarcerated human beings amid record high temperatures due to global warming.
Send our brother some love and light: Uhuru B. Rowe, 1131545, Buckingham Correctional Center, P.O. Box 430, Dillwyn VA 23936. Read more of his work at www.consciousprisoner.wordpress.com.
Men are much more likely to die from the heat than women — for every three heat deaths, two are male. Many people who died also had underlying heart disease. States with the highest death rates were Arizona, Nevada and Missouri.
MEN HAVE HIGHER CLOT RISK? A review of 15 studies published in Lancet this week suggests that men are more likely than women to suffer a second blood clot after a first episode. Australian researchers included information on more than 5,400 patients in their analysis. Overall, risk of a second blood clot is high, about a one in four chance of suffering a second clot over a five-year period. Of the people who suffered a second clot, 64 percent were men and 36 percent were women.
WATCHING TV TAKES AWAY FROM EXERCISE? Harvard School of Public Health researchers examining people living predominantly in low-income/minority-group housing found that TV watching appeared to reduce a person's amount of exercise. For each additional hour a person spent in front of the TV, he or she walked an average of 144 fewer steps during the day. Also, researchers are always quick to blame TV or video games, but other studies show that people who like watching TV will just find other ways to sit around if the TV is off, such as reading, board games and crafts. Turning off the TV to get exercise only works if you go exercise. These findings were published this week in the American Journal of Public Health.
spacer
Heat is one of the leading weather killers in the U.S., according to the National Weather Service. While everyone can be vulnerable to heat, young children, older adults, pregnant women and those with chronic medical conditions are at higher risk. While the study found a decrease in the number of people 65 and older who died because of heat, the number was offset by men ages 45-64, particularly in the south and the southwest U.S., dying from heat at higher rates. The study appeared in Weather, Climate and Society, a peer-reviewed scientific journal published by The American Meteorological Society. It was written by a team of researchers, including Dr. Grady Dixon, a geoscience professor and dean of The Werth College of Science, Technology and Mathematics at Fort Hays State.
Read more at: https://www.kansas.com/news/local/article251496818.html#storylink=cpy
The human body can't withstand extra-hot temperatures for very long. A healthy person can tolerate 95 degrees Fahrenheit of combined heat and humidity for a few hours, but prolonged exposure causes weakness, cramps, confusion, dizziness, and dehydration. After a certain point, vital organs like the brain begin to swell.
The US has managed to do better when it comes to helping people get through the winter. The vast majority of states have policies that forbid power shutoffs during a winter freeze. Most states also require heating for multifamily homes. But policy governing cooling in the summers is a patchwork that lets the most vulnerable slip through the cracks. Federal buildings, housing, and prisons have standards for heat, but no guarantee of AC. And only eight states have any kind of requirements that utilities keep the power on during a heat wave, according to data compiled by Energy Justice Lab of Indiana University and shared with Vox.
"We understand the public health implications if a person has an apartment that's too cold, especially for the elderly," said energy economist Mark Wolfe, executive director of the National Energy Assistance Directors Association and the Energy Programs Consortium, an organization that assists low-income consumers. "We have rules that require that multifamily building owners must provide adequate heat. There's no gray area."
The nation doesn't have an accurate picture of just what the lack of any coherent cooling strategy costs the public. Some low-income consumers have to choose between turning on the AC or buying food. For some, it means utilities have cut off their power for falling behind on an unpaid bill, even in life-threatening heat.
Reports are just starting to trickle in on how fatal the current heat wave is. Many of these deaths are entirely preventable. That's especially true when heat-related deaths and illnesses happen inside the home, where we spend most of our time. When Oregon faced a triple-digit heat wave last summer, officials reported many of the people who had died were found indoors without AC or a fan. According to Arizona Department of Health Services numbers, roughly a third of heat-caused deaths happen inside the home.
Cooling policies have not caught up to a hotter planet
One thing we can count on: More heat are waves coming. The world has already warmed by 1.1 degrees Celsius, a seemingly small shift in the climate that results in extreme heat becoming more common and more frequent. There are more extremely hot days, and fewer extremely cold ones, across the globe.
In the US, Climate Central identified 126 locations that now have an extra week of extremely hot days annually compared to 1970 (places like Phoenix and Austin are worst off, now seeing weeks above 100 degrees). And summer nights are warming nearly twice as fast as daytime temperatures, leaving people with no respite from the heat.
The health consequences of that 1-degree shift are showing up in mortality data: Arizona's Maricopa County has reported a mid-season record of 222 suspected deaths from heat, 29 of them confirmed. At least 25 of these happened in the past week. These numbers are roughly in line with what studies have estimated: More heat waves mean more deaths and illnesses from heat stress. For every additional day of extreme heat per month, one investigation in the Journal of the American Medical Association found, there are 7 additional deaths per 10 million people.
spacer
You don't have to live in a traditionally hot climate to face risks. Historically cooler states face even greater challenges. Fewer residents have AC, and people are less acclimated to the heat. A 95-degree day in Washington state can be more deadly than the same temperature in Texas. Last summer, more than 500 people died in Oregon, Washington, Idaho, and Canada when temperatures shattered records in the triple digits.
The answer to hot weather is to get people out of the heat. That's especially true for the most vulnerable populations, which have lower tolerances. This includes older adults, very young children, people with chronic conditions like high blood pressure, and people who are overweight.
Cooling tends to be overlooked at every level of government. The designated federal program to help low-income consumers, the Low Income Home Energy Assistance Program (LIHEAP), spends 85 percent of its funds on heating in winter, rather than cooling in summers, Wolfe explained. Biden last week announced $385 million in more funding for LIHEAP, but Wolfe estimated its needs for cooling to be about $3.8 billion, equal to its heating budget.
Even cities with robust climate plans have been slow to change. Chicago, for instance, only recently passed a requirement this summer for assisted living homes to provide AC. Some traditionally hot places have these protections in place, but not all. And the problem is that climate change is blurring the lines between hot and cold climates.
Indoor heat deaths are entirely preventable
There's one policy the US can pass today that can also save lives: stopping utility shutoffs in the summertime because a customer has missed one or more payments.
Right now, only 18 states have any protections that prevent utilities from shutting off a customer's power in a heat wave because of missed payments, while 41 states have these protections for the cold. That leaves most of the population vulnerable to utility shutoffs during the deadliest extreme weather window of the year.
Utility disconnections have been getting more attention. During the first year of the Covid-19 pandemic, some states prevented any utility disconnections for nonpayment. A Center for Biological Diversity report found that since the pandemic began in January 2020 through December 2021, households had their power shut off more than 3.6 million times. Florida, Georgia, Indiana, Pennsylvania, and Illinois accounted for the most disconnections.
The size of the population affected by utility cutoffs is hard to pin down. Some utilities voluntarily suspend power shutoffs above certain temperatures, but there is no oversight or even reporting in many states. Indiana University researchers are attempting to collect data for the first nationwide database that gets at the scope of this problem. David Konisky, Indiana University's co-director of the Energy Justice Lab, estimated the number to be in the tens of thousands every summer.
Arizona is one of the few states with a policy to protect its residents from utility disconnects in the heat. In 2018, 72-year-old Stephanie Pullman died after Arizona Public Service (APS) cut her power amid a 107-degree heat wave. Pullman fell short of her payment by about $50 that month. Her death didn't become public until Phoenix New Times reporter Elizabeth Whitman published an article in 2019.
Pullman's case built support for Arizona to finally ban these kinds of utility disconnections in the summer. In 2022, Arizona's utility regulator made its temporary rules permanent for utilities like APS. The rule prevents some Arizona utilities from shutting off power in summer months or when temperatures pass 95 degrees.
Stacy Champion, a climate activist who lives in Phoenix in Maricopa County and advocated for the new rule, argues the policy is still riddled with loopholes. First of all, it does not apply to the state's second-largest utility, Salt River Project, because it's not regulated by the same body. The state legislature could fix that with a law that governs all utilities. Second, the rule itself sets a relatively high temperature threshold that's limited to summer months, which means early-season heat waves aren't covered.
Champion has advocated for even stronger heat protections that are temperature-driven, pointing to her years of submitting records requests from Maricopa County on heat-related deaths. She sees reports on heat-related deaths start to crop up as soon as temperatures rise past 85.
Setting the threshold for utilities at 95 degrees may not even be enough to protect the most vulnerable. Indiana University's Konisky thinks there's a more chronic problem even when the temperature is milder. "We tend to focus on [disconnections] during heat waves, or during cold spells, or during natural gas price spikes, but this is happening all the time," he said. "It's not just the very poor who get disconnected more frequently, but it's people of color, people with young children, people with medical disabilities."
Filling this policy gap on utility disconnections doesn't have to be left to the states. "Congress could pass a law tomorrow that says utilities cannot disconnect anyone for nonpayment" at certain times of the year, Wolfe said. Whether it's states or Congress that fills the gap, there isn't any more time to waste.
"Twenty years ago, maybe once during the summer you'd have this very bad heat wave," Wolfe said. "This summer it is just continuous. Our society is not ready for this. Our programs aren't ready for it. People aren't ready for it."
looking for and hastening the coming of the day of God, because of which the heavens will be destroyed by burning, and the elements will melt with intense heat!  2 Peter 3:12

Men were scorched with fierce heat; and they blasphemed the name of God who has the power over these plagues, and they did not repent so as to give Him glory.  Revelation 16:9
NASA | LANCE | Fire Information for Resource Management System provides near real-time active fire data from MODIS and VIIRS to meet the needs of firefighters, scientists and users interested in monitoring fires. Fire data is available for download or can be viewed through a map interface. Users can subscribe to email alerts bases on their area …
YREKA, Calif. —Roger Derry, 80, and his son have lived together in the tiny scenic hamlet of Klamath River in Northern California for more than 40 years.
They know most of the town's 200 or so residents.
Now, they're one of the few families left after California's largest and deadliest wildfire of the year raged through the modest homes and stores of the riverside town.
"It's very sad. It's very disheartening," Derry said. "Some of our oldest homes, 100-year-old homes, are gone. It's a small community. Good people, good folks, for the most part, live here and in time will rebuild. But it's going to take some time now."
The McKinney Fire that erupted last Friday remained out of control, despite some progress as firefighters took advantage of thunderstorms that dumped rain that temporarily took a bit of heat out of the parched, scorched region not far from the Oregon border.
The area saw another thunderstorm Tuesday that dumped heavy rain and swelled rivers.
The fire has burned nearly 90 square miles (233 square kilometers), and is the largest of several wildfires burning in the Klamath National Forest.
But several thousand people remained under evacuation orders, 100 buildings ranging from homes to greenhouses have burned and at least four bodies have been found in the region.
The destruction of a small community has sadly become a real possibility as wildfires become fiercer in the Western United States.
Wildfires in Montana, Idaho and Nebraska have destroyed some homes and continue to threaten communities.
Just four years ago, a massive blaze in the Sierra Nevada foothills of California virtually razed the Butte County town of Paradise, killing 85 people.
Scientists have said climate change has made the West warmer and drier over the last three decades and will continue to make weather more extreme and wildfires more frequent and destructive.
When it began, the McKinney Fire was only a couple hundred acres and firefighters thought they would quickly have it under control. But then, a thunderstorm cell came in with ferocious wind gusts that within hours had pushed it into an unstoppable conflagration.
Roger Derry and his son, whose name is spelled Rodger Derry, decided not to evacuate when the fire broke out and said their home, which they'd tried to safeguard by trimming away nearby bushes, survived. Firefighters also showed up and dug firebreaks around the neighborhood.
But they could see the fire as it tore its way through the places around them.
"When that fire came over that ridgeline, it had 100-foot flames for about 5 miles and the wind was blowing. It was coming down like a solid blowtorch," Roger Derry said. "There was nothing to stop it,"
The fire destroyed most of the homes, including those in a trailer park, along with the post office, community hall and other scattered businesses.
The cause hasn't been determined.
In northwestern Montana, a fire that started Friday near the town of Elmo on the Flathead Indian Reservation has burned some structures, but authorities said they didn't immediately know if any were homes. The blaze measured 25 square miles (66 square kilometers) on Tuesday, with 10% containment, fire officials said. Some residents were forced to flee Monday as gusting afternoon winds drove the fire.
The Moose Fire in Idaho has burned more than 85 square miles (220 square kilometers) in the Salmon-Challis National Forest while threatening homes, mining operations and fisheries near the town of Salmon. It was 23% contained Tuesday, according to the National Interagency Coordination Center.
And a wildfire raging in northwestern Nebraska led to evacuations and destroyed or damaged several homes near the small city of Gering. The Carter Canyon Fire began Saturday as two separate fires that merged. It was more than 30% contained by Tuesday.

spacer
Then the Lord rained on Sodom and Gomorrah brimstone and fire from the Lord out of heaven,  Genesis 19:24

Upon the wicked He will rain snares;
Fire and brimstone and burning wind will be the portion of their cup. Psalm 11:6

A third of mankind was killed by these three plagues, by the fire and the smoke and the brimstone which proceeded out of their mouths.  Revelation 9:18

And the fourth angel poured out his vial upon the sun; and power was given unto him to scorch men with fire. Revelation 16:8
4 And saying, Where is the promise of his coming? for since the fathers fell asleep, all things continue as they were from the beginning of the creation.

5 For this they willingly are ignorant of, that by the word of God the heavens were of old, and the earth standing out of the water and in the water:

6 Whereby the world that then was, being overflowed with water, perished:

7 But the heavens and the earth, which are now, by the same word are kept in store, reserved unto fire against the day of judgment and perdition of ungodly men. 
2 Peter 3:3-7s
pacer
END OF THE WORLD fears are being stoked by a Christian evangelist who has bizarrely claimed the heavens could soon light up with the fires of the Apocalypse.
Pastor Paul Begley warns 'the earth is going to be shaking'
The warning comes from Christian evangelist and doomsday preacher Paul Begley, who has urged his followers to prepare for the return of Jesus Christ. Pastor Begley, who preaches the gospels from West Lafayette, Indiana, US, believes we are already living in the end times. He has now told his more than 337,000 followers on YouTube to prepare for natural disasters and cataclysms, which he predicts will precede the Second Coming of Christ.
spacer