Stakeholders, you know, the rich, spoiled, high handed experts who sit in their luxury hotels making decisions about how you and I should live while they munch away on fine foods and demand that we eat bugs to save the world. These are the people whose interest all parties are protecting.  They do not care about the health and safety of the masses.
When making determinations on anything decisions are made based on how much money it will cost and how much time it will need to be invested.  The bottom line is all that matters.  You know, Bill Gates' favorite thing…NUMBERS.  That is the number on their minds.  Profit – (cost + time) =  DIVIDEND/NET.
Whether you want to believe it or not, they consider the masses/general public as worthless eaters.  They plan to do away with at least 90% of us very quickly and very soon.  If you have not heard this from their own mouths you have not been listening.  This is not a "conspiracy theory" this is their DECLARED PLAN for their New World Order which they are about to implement.
What happened to the people in East Palestine, Ohio was not an accident.  The so called clean up that followed was carried out with full knowledge of the toxicity of the chemicals that were spilled and then burned.  They knew exactly what happens when you burn vinyl chloride.  Not that vinyl chloride was the only chemical involved.  The people of East Palestine and all the surrounding areas have been poisoned and will develop serious diseases and other problems as a result of this event.  Farmers and their crops and livestock in the surrounding areas are contaminated to some degree.  NOTHING will ever be the same as it was for those victims of this horrendous and avoidable tragedy.
I wish we could believe that this will be the end of this kind of disaster.  I wish that we could count on our civil servants to do right by us and we could see positive changes nationwide.  Sadly, things are only going to get worse from here.  If we are not already in the Tribulation we are in the beginning of sorrows.   Devastation, Famine, Plagues, Death are heading our way.
spacer
THE EAST PALESTINE TRAIN DERAILMENT OCCURRED ON FEBRUARY 3, 2023
2/1-2/3  – Mysteries of Persephone Groundhog/Imbolg day. A night requiring human sacrifice
2/2         – Candlemas (Imbolc/Imbolg) Brigid's Day/mother goddess (bride) (blood) animal or human sacrifice
spacer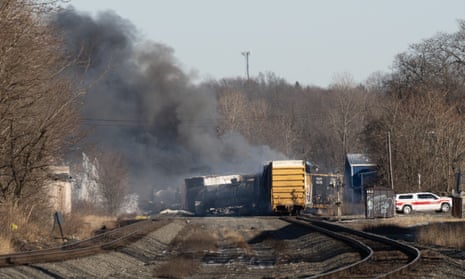 The agency is familiar with dioxins, having researched its adverse effects, and if they test the soil in East Palestine for it, they will find it
It is well documented that burning chlorinated chemicals like vinyl chloride will generate dioxins. "Dioxin" is the name given to a group of persistent, very toxic chemicals that share similar chemical structures. The most toxic form of dioxin is 2,3,7,8-tetrachlorodibenzo-p-dioxin or TCDD. TCDD is more commonly recognized as the toxic contaminant found in Agent Orange and at Love Canal, New York and Times Beach, Missouri, both sites of two of the most tragic environmental catastrophes in US history.
Dioxin is not deliberately manufactured. It is the unintended byproduct of industrial processes that use or burn chlorine. It is also produced when chemicals such as vinyl chloride are burned such as occurred in East Palestine.
The organization I work for, the Center for Health, Environment & Justice, has worked with communities affected by dioxins for over 40 years. We have seen the impact of exposure to dioxins in communities from Love Canal and Times Beach to Pensacola, Florida. And now, we are asking, why isn't EPA testing for dioxins in East Palestine, Ohio? Are dioxins present in the soil downwind from the site of the accident?
At a townhall meeting in East Palestine last week, people talked about what it was like when the black cloud reached their property. One person who lived 15 miles away described burned ash material from the fire that settled on her property. Another who lived 3 miles away described how the black cloud completely smothered his property. Repeatedly people asked: was it safe for my kids to play in the yard? Is it safe to grow a garden? What is going to happen to my farm animals?
These are important questions that deserve to be answered. Today there are no clear answers. Why? Because no one has done any testing for dioxins anywhere in East Palestine. No one. And, it seems, that the EPA is uninterested in testing for dioxins, behaving as though dioxin is no big deal.
This makes no sense. Testing for dioxin, a highly toxic substance, should have been one of the first things to look for, especially in the air once the decision was made to burn the vinyl chloride. There is no question that dioxins were formed in the vinyl chloride fire. They would have formed on the particulate matter – the black soot – in the cloud that was so clearly visible at the time of the burn. Now, the question is how much is in the soil where people live in and around East Palestine. Without testing, no one will know and the people who live there will remain in the dark, uncertain about their fate.
This is important because of the adverse health effects associated with exposure to dioxins. Exposure to dioxins can cause cancer, reproductive damage, developmental problems, type 2 diabetes, ischemic heart disease, infertility in adults, impairment of the immune system and skin lesions.
The EPA is very familiar with dioxins. For more than 25 years, the agency evaluated and assessed the risks posed by exposure to dioxins. They published multiple draft reports on the health effects caused by exposure to dioxins. They published an inventory of dioxin sources and devoted an enormous amount of time to studying dioxins. The agency knows this chemical very well.
So why is EPA unwilling to test for dioxins in the soil? My guess is because they know they will find it. And if they find it, they'll have to address the many questions people are asking. It will not be easy to interpret the results of the testing for dioxins in soil, but to avoid testing is irresponsible. The EPA's mission is to protect human health and the environment. Clearly the situation in East Palestine is the place where EPA should follow its mission and do right by the people who live in this town. EPA must test the soil in East Palestine for dioxins.
The people who live there need to know so they can make informed decisions about their future.
spacer
Exclusive: employee says manager told her to stop marking cars for repair, as Ohio derailment brings hard look at industry's record of blocking safety rules
The disclosure comes as federal agencies investigate the derailment in East Palestine, Ohio. A wheel-bearing failure was cited as the cause of the crash in a preliminary report released by the National Transportation Safety Board.
In late 2016, Stephanie Griffin, a former Union Pacific carman, went to her manager with concerns that she was getting pushback for tagging – or reporting for repair – railcars. Her manager told her it was OK to skip inspections.
Griffin asked if the manager could put that in writing. "That's weird," said the manager. "We have 56 other people who are not bad-ordering stuff out there. You're definitely not going to get in trouble for it."
Griffin said: "He refused to bad-order [mark for repair] cars for bad wheel bearings. My boss took issue with it because it increased our dwell time. When that happened, corporate offices would start berating management to release the cars."
Dwell time refers to the time a train spends at a scheduled stop without moving. "It's very obvious that management is not concerned with public safety, and only concerned with making their numbers look good," Griffin said.
Griffin also claimed she and other workers did not receive any formal training to inspect and repair railcars, and were left to learn from an older worker and figure the rest out from American Association of Railroads and Federal Railroad Administration handbooks. Griffin suggested all major railroad carriers operate similarly.
As part of her job at the railyard, Griffin was to inspect all railcars on inbound journeys for defects and put a tag on them to send the cars to the railroad yard repair shop. On outbound journeys, workers were supposed to check the cars' air brakes and make a final inspection. But, she said, management, at the behest of corporate, undermined workers' effectiveness on the job.
She said: "The regulation at the time stated that a wheel bearing was bad when it had 'visible seepage'. But that was very vague, and the bosses used that vagueness to their advantage. For me, it was whenever oil was visible on the bearing. For my bosses, they wanted actual droplets and proof it would leak on the ground.
"Most railroad workers are fighting against an entire system that only exists as a money-making apparatus to the wealthy. Those trains run through our towns, but they do not run next to rich folks' homes, nor next to our politicians' homes. This is a top-down problem."
A spokesperson for Union Pacific said in an email: "Nothing is more important than the safety of Union Pacific employees and the communities we serve. Union Pacific does not have the alleged recording and cannot comment on its authenticity."
It added: "Employees are expected and encouraged to report concerns, and have a number of avenues to do so, including a 24/7 anonymous hotline and they are firmly protected from retaliation."
The East Palestine derailment has prompted a wave of scrutiny into the railroad industry's record of deregulation and blocking safety rules.
Train-brake rules were rolled back under the Trump administration and have not been restored; hazardous material regulations were watered down at the behest of the railroad industry; and railroad workers have been decrying the safety impacts incited by years of staffing cuts, poor working conditions and neglect by railroad corporations in favor of Wall Street investors.
The rate of train derailments has increased over the past decade, with two derailments per every 1m miles traveled on the railroads, compared to 1.71 derailments in 2013. There were 818 derailments reported in 2022, with 447 train cars carrying hazardous materials either damaged or derailed.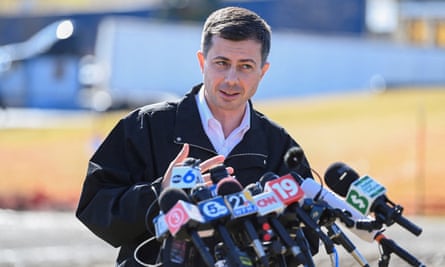 "The railroads have opposed any government regulation on train length; they have sought waivers to eliminate having trained inspectors monitor railcars; and they have pushed back on the train crew staffing rule." said Brotherhood of Locomotive Engineers and Trainmen (Blet) national president Eddie Hall in a statement after the NTSB preliminary report on the East Palestine derailment.
"The railroads and their trade association the Association of American Railroads (AAR) employ armies of lobbyists on Capitol Hill who are there not to promote safety regulations but to slow the implementation of federal safety regulations – or attempt to eliminate them altogether."
Edward Wytkind, who served as president of the Transportation Trades Department (TTD) at the AFL-CIO, which represents the unions in the railroad industry, said that throughout his 25 years at the TTD, the railroad industry blocked all attempts to pass legislation or advance regulation on safety.
"From attempts to address worker fatigue, lack of coherent mandatory safety plans, increasing transparency to the public and first responders about what trains are carrying, the dangers of such long trains, or establishing floors for minimum train crew, the railroads blocked everything," said Wytkind.
"It took a horrific derailment in Ohio that is now raising major public health alarms to get the public to understand this is a very important industry. Obviously our economy depends on it, but it's also a dangerous industry that needs to be regulated."
A signal maintainer on the railroads who requested to remain anonymous for fear of retaliation said that in recent years staff has been cut and the region signal maintainers are forced to cover has been extended as a result of "precision scheduled railroading", a cost-cutting system that has resulted in class 1 railroads cutting their workforce by 30% since 2016.
"We've lost a signal maintainer, relief maintainer, and they've extended from 80 miles to over 100 miles of tracks," they said. "We're overworked. They keep adding more tasks for us to do and cover and it's getting to where all we're doing is just testing and not doing much maintenance any more."
They said they have worked hundreds of hours of overtime so far this year because of short staffing and the high workloads, and this has created safety concerns, because there is no time to keep up with the workloads or properly train newer employees.
"There's a big opportunity to miss and overlook things. There is a big opportunity for something to fail. Missed switches, something with crossings being overlooked … could cause train derailments. Or people could get hit at railroad crossings," the employee added.
"There could be many opportunities for catastrophic failure between train departments that are shorthanded, maintenance workers that are shorthanded and overworked, the signal department that's overworked and understaffed.
"It's just an opportunity for a big failure to happen. We don't have as many eyes or as many hands on like we used to."
Jeff Kurtz, a retired locomotive engineer of 40 years in Iowa, said the railroad industry talking points on safety in response to the East Palestine derailment have been misleading, as the industry has trended toward adding several more railcars to trains, making them much longer, which can make derailments more damaging when they do occur. This trend has been pursued to further cut costs and increase efficiency, despite safety concerns.
"What most people aren't talking about that would have either mitigated a lot of the damage, and it may have prevented the derailment, is reducing the size of these trains," said Kurtz. "Because the in-train forces are increased exponentially when a train's length and weight is increased, the chance of derailments and the increase in damage is exponentially increased."
The size of the train that derailed in East Palestine, Ohio was 150 cars, more than twice the average length of trains operated by major railroads from 2008 to 2017. There is currently no limit imposed by the Federal Railroad Administration on train length. The industry has dismissed safety concerns on the issue.
"A derailment with a 5,000-ton train with [a small amount of] hazardous material is a whole different animal than a derailment of an 18,000-ton train loaded with hazardous material. Plus, a long, heavy train is easier to derail," Kurtz added.
"Secretary [Pete] Buttigieg said that there are about 1,000 derailments a year. If we let the carriers run these monster trains loaded with hazardous material, cut the number of derailments to 300 a year, but blow up a town or city every other year: is that acceptable?"
spacer
Check out the track in the following video.  When you think about how many sections of track like this our trains have to run on it is a wonder there are not a lot more derailments.  Certainly, if these rails continue to be neglected many more "accidents" are inevitable.  They can hardly be called accidents when they are due to this kind of neglect. 
spacer
spacer
I happened up on the following video.  It is not  related to the railroad, but it is related to negligence and deliberate failure to inspect infrastructure.  This one is related to the oil industry.  Take a look at how horrifying these events can be.  These industries must be regulated properly and there must be regular oversight to assure they are following regulations. 
spacer
spacer