The mere fact that this is called CHRISLAM ought to prove to the world that this is a joke to the Muslims.  There is no Christ in the Abrahamic House of DuBai.  You cannot believe in Jesus Christ as God in the flesh, you cannot preach the blood of Jesus for the Redemption of the sinner, you cannot share your faith with anyone, and you cannot display a Cross.  Seriously, how stupid have the masses become?
If you want to know just how "TOLERANT" the Muslims are ask anyone living under their archaic, barbaric, totalitarian regime.  Every day they torture, imprison and execute people for any religious practice that does not met with their approval.
Here are just a couple recent examples of the brutality at the hands of the Iranian Moral Police.
4 Beloved, do not believe every spirit, but test the spirits to see whether they are from God, for many false prophets have gone out into the world. 2 By this you know the Spirit of God: every spirit that confesses that Jesus Christ has come in the flesh is from God, 3 and every spirit that does not confess Jesus is not from God. This is the spirit of the antichrist, which you heard was coming and now is in the world already.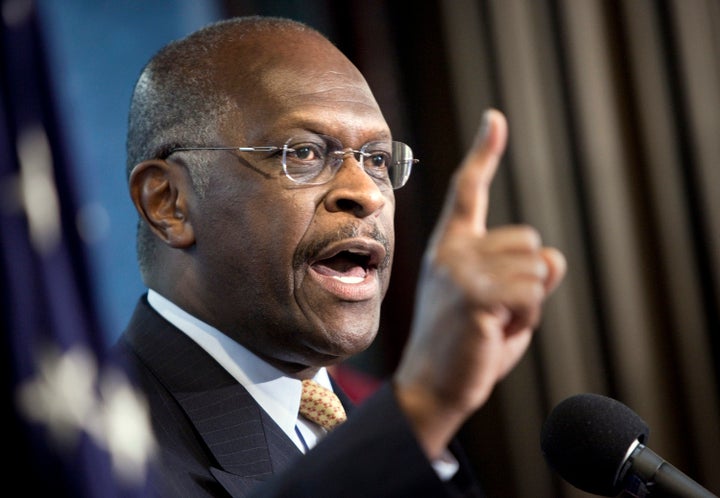 Potential GOP presidential candidate Herman Cain made controversial remarks about Muslims in an interview on Monday, suggesting that followers of Islam were driven by an objective to "kill" or "convert" others.
The role of Muslims in American society is for them to be allowed to practice their religion freely, which is part of our First Amendment. The role of Muslims in America is not to convert the rest of us to the Muslim religion. That I resent. Because we are a Judeo-Christian nation, from the fact that 85 percent of us are self-described Christians, or evangelicals, or practicing the Jewish faith. Eighty-five percent. One percent of the practicing religious believers in this country are Muslim.

And so I push back and reject them trying to convert the rest of us. And based upon the little knowledge that I have of the Muslim religion, you know, they have an objective to convert all infidels or kill them. Now, I know that there are some peaceful Muslims who don't go around preaching or practicing that. Well, unfortunately, we can't sit back and tolerate the radical ones simply because we know that there are some of them who don't believe in that aspect of the Muslim religion. So their role is to be allowed to practice their religion freely, just like we should be allowed to practice our religion freely, and not try to convert the rest of us.
Cain is the former CEO of Godfather's Pizza, an associate Baptist minister at an Atlanta-area church, and one of the few likely Republican candidates to have formed an exploratory committee for a possible White House run. Cain also delved into religious issues last week, when he criticized President Obama for not invoking God more frequently in public speeches.
spacer
Muslims actively force people to convert to Islam or loose their heads.  But, they don't want Christians to even peaceably share their faith with others.  Let me tell you that centuries of this being ingrained in them and drilled into their hearts and minds from birth means they are not likely to change.  Not in our lifetimes.  Wake UP!
spacer
NEWS   ABU DHABI,  CHURCHMOSQUESYNAGOGUE
Tensions are still high in the Middle East, but there is hope: Plans have just been unveiled for a new massive interfaith complex in Abu Dhabi, encompassing a mosque, a church and a synagogue.
The facility, to be known as the Abrahamic Family House, will be located on Saadiyat Island in the United Arab Emirates' capital city, right next to the new Louvre Abu Dhabi. Abraham of the Old Testament is considered a holy prophet in all three religions.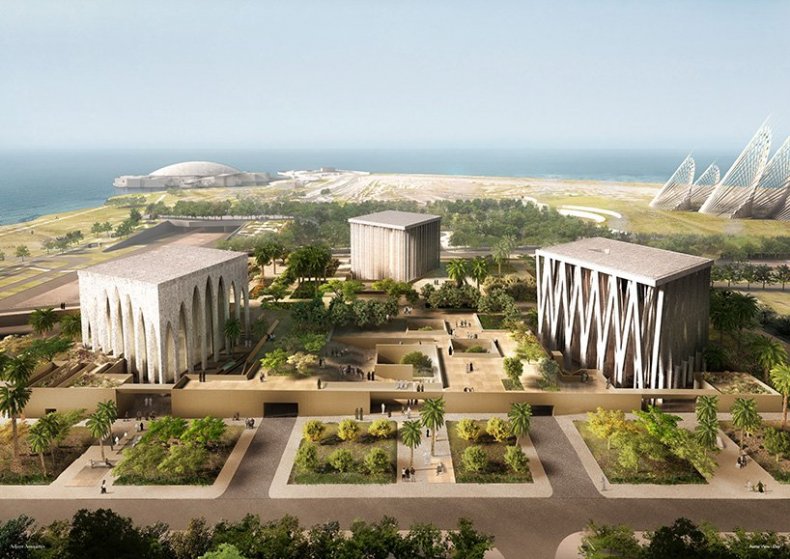 The initiative follows Pope Francis's historic trip to the UAE in February, the first time a pontiff has visited the Arabian peninsula. While there, he met with Ahmed el-Tayeb, Grand Imam of al-Azhar, to discuss interfaith harmony in the Arab world and across the globe. The duo released "A Document on Human Fraternity for World Peace and Living Together," which urged political leaders and influencers to "work strenuously to spread the culture of tolerance and of living together in peace."
Sheikh Mohamed bin Zayed, Crown Prince of Abu Dhabi, commemorated the historic meeting by ordering the construction of a building dedicated to interfaith harmony. "The new landmark will symbolize the state of coexistence and human fraternity experienced by people from various ethnicities, nationalities and beliefs in the UAE," (right…people in UAE feel about as safe, harmonious and accepted as those in communist China) according to statement from the government-run news agency Wam, which praised the center as launching "a new era of rapprochement and amity among the different peoples, communities and religions."
spacer
On September 20, the initial designs for the complex were presented at an event at the New York Public Library in midtown Manhattan. British firm Adjaye Associates won the contract to design the center, which will consist of three large buildings arranged around a central garden, under which will sit a museum and education center.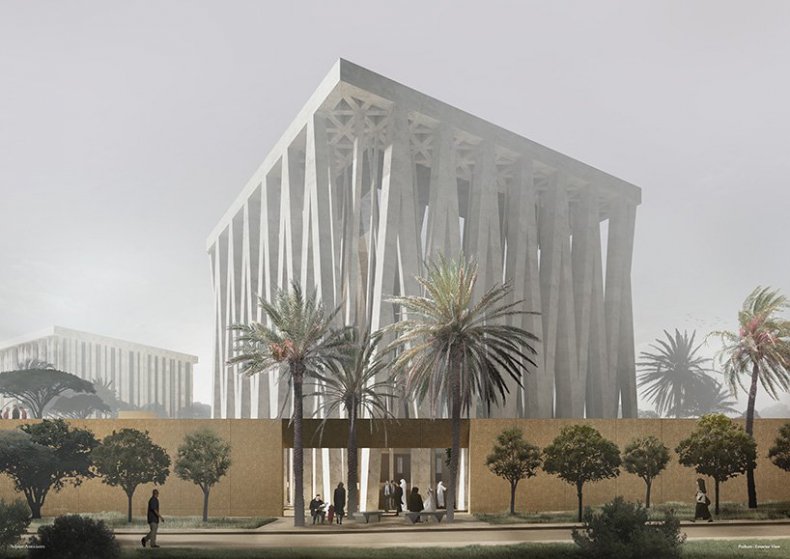 "We were led towards these powerful plutonic forms with a clear geometry, three cubes sitting on a plinth — though not aligned, they each have different orientations," Sir David Adjaye told designboom. Each of the three buildings share a similar silhouette, but the facades have different architectural design and detailing, communicating the shared origins of the three religions, as well as their cultural and historical differences.
Adjaye, who also designed the Nobel Peace Centre in Oslo and the National Museum of African American History in D.C., says he saw the garden, "as a powerful metaphor, this safe space where community, connection and civility combine."
"There has never been a building that has the three faiths in one form," Adjaye told The National. "The design is very contemporary but it is rooted in the histories of all three faiths."
The mosque will be orientated toward Mecca, for example, while the synagogue's bema will face Jerusalem and the church's altar will point east towards the sun. Each will have its own individual street entrance, but the ground will slope up into a podium in the center, allowing visitors in the garden to see into all three.
"I think as Americans we need to use this [event] as an opportunity to hold up a mirror to ourselves: what are we doing about religious tolerance?" Rabbi Yehuda Sarna, the recently appointed first chief rabbi of the UAE, told Religion News Service at the New York unveiling. "At the grassroots, yes, it's largely there. But on the national level? I would use this as a mirror. How does this reflect back on me?"
As the UAE modernizes, it has worked to present an image of religious tolerance. Although Sharia law is written into the nation's legal code, the practice of other religions is not penalized. However, apostasy—attempting to convert a Muslim to another religion—is a punishable crime.
Notice they said they are "presenting an image (a facade) of religious tolerance". They are not changing anything about their beliefs or their practices or teachings.  Sharia Law is still the law of the land.
spacer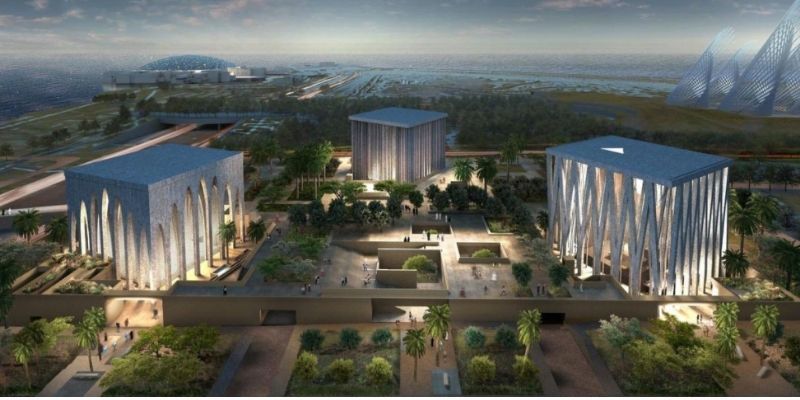 The cultural landmark is the structural proof of the incredible co-existence here in the UAE and it's expected to open doors in 2022.
The trip of buildings; a mosque, a church, and a synagogue were endorsed by Pope Francis, and the Grand Imam, and the building is supervised by the Higher Committee of Human Fraternity.
It's a perfect example of harmony between faith, the stunning building is designed by David Adjaye and it's well underway toward completion, the first of its kind, to house three major religions in one location. (This is a lie. There are other buildings across the globe that house all three religions and more.)
Named individually; "Imam Al-Tayeb Mosque," ​​"St. Francis Church," and "Moses Ben Maimon Synagogue" it will open doors in 2022
New details on the design of the historical #AbrahamicFamilyHouse: A cultural landmark that epitomizes #humancoexistence and preserves the unique character of each #faith.  (Lie)

Opening in 2022, the Abrahamic Family House inspired by the #DocumentonHumanFraternity and constructed on Saadiyat Island in #AbuDhabi, the capital of the #UAE, is endorsed and closely followed by #PopeFrancis and the Grand Imam. The project is supervised by the Higher Committee of Human Fraternity. (#HCHF)

أعلن اليوم عن تفاصيل جديدة حول تصميم مشروع "بيت العائلة الإبراهيمية" التاريخي المنبثق من وحي "#وثيقة_الأخوة_الإنسانية"، والذي يحظى بمتابعة وثيقة من كل من فضيلة الإمام الأكبر شيخ الأزهر وقداسة بابا الفاتيكان، ويجري العمل على إنشاء المشروع الذي تشرف عليه #اللجنة_العليا_للأخوة_الإنسانية، على جزيرة السعديات بالعاصمة الإماراتية #أبوظبي، وينتظر افتتاحه في عام 2022. ويضم تصميم المشروع الذي نفذه المُصمم العالمي ديفيد أدجاي مسجدًا وكنيسةً وكنيسًا يهوديًا، ويتميز تصميم "بيت العائلة الإبراهيمية" بعمارته الهندسية البديعة التي تتكون من ثلاث مكعبات تستحضر ملامح العمارة التقليدية الخاصة بالديانات الثلاث وتبرز في ذات الوقت عناصرها الجمالية والهندسية المتفردة. كما تم الكشف رسميًا عن الأسماء التي من المقرر أن تحملها أماكن العبادة الثلاثة، حيث يرفع المسجد اسم "الإمام الطيب" فيما أطلق اسم "القديس فرنسيس" على الكنيسة، أما الكنيس اليهودي فيحمل اسم "موسى بن ميمون".
_________________
@franciscus @mohamedbinzayed @officialazhareg @vaticannews
The Abrahamic Family House is located on Saadiyat Island and is recognisable by three

cube

–

shaped

houses of worship
This landmark will be a place for learning, dialogue, and worship – open to all and a true reflection of the UAE's belief in tolerance and hospitality.  (now that is true.  It clearly demonstrates how they view Christianity – not allowed.)
Within the houses of worship, you'll find the opportunity to learn about religious services and experience sacred rituals. There will also be a fourth cube dedicated to religious education. The buildings will honour tradition and celebrate communal gatherings, worship and congregation rituals.
Why even bother having a service in a building that does not allow any preaching of the truth of the Word of GOD.  No mention of the Redeeming Blood of our Savior Jesus Christ/Yeshua HaMaschiah, no cross, no sharing your faith with others.
It embodies the 'highest meanings of human fraternity'
https://www.instagram.com/tv/CQeCSXzpG2U/?utm_source=ig_embed&utm_campaign=loading

Mohamed bin Zayed ordered 

the

 construction of 

the

 

Abrahamic

 

Family

 

House

 in 2019

محمد بن زايد

الإمارات العربية المتحدة حساب حكومي رسمي

Mohamed bin Zayed orders the construction of the Abrahamic Family House in Abu Dhabi to commemorate the historic visit of Pope Francis and Grand Imam Ahmad Al Tayyeb, and to reflect the peaceful coexistence of different communities in the UAE.

Find the Abrahamic Family House here

"When we build bridges

(Pontificate)

, we start to understand each other better"

The Abrahamic Family House goes beyond being a symbol of multifaith dialogue. When we build bridges to bring people from different backgrounds/places together, we start to understand each other better. This is the global paradigm shift we need for a more peaceful, tolerant world. pic.twitter.com/2fHEbr14aY

— Mohamed محمد 🇦🇪 (@mohamedistyping) September 22, 2019

"…contend earnestly for the faith that was once for all delivered to the saints" (Jude 3).


'Chrislam Cross' (Vatican News)


A reader sent me a link to the following from Vatican News:

It has only been two weeks since award-winning architect Sir David Adjaye Obe received the news that the plans he submitted for the Abrahamic Family House had been selected. The project was first announced in February by Abu Dhabi's Crown Prince. It is the first initiative to embody the ideals of the Document on Human Fraternity. Sir David Adjaye Obe was introduced and his model for the project was unveiled at the Celebration of Human Fraternity in New York City on Friday. Groundbreaking is expected to take place in 2020. The project may be completed by 2022.

Three buildings, one foundation

A church, a synagogue and a mosque will share the same foundation. (Our foundation is the ROCK known as Jesus Christ/Yeshua HaMaschiah all other ground is sinking sand!)  It will be a landmark in the United Arab Emirates, located on Saadiyat Island in Abu Dhabi. Above all, it will mark a significant transformation in human history. As Msgr. Yoannes Gaid explained, it will turn what has been used in the past as a means of division among peoples, into a point of contact. 09/21/19 https://www.vaticannews.va/en/world/news/2019-09/abrahamic-family-house-document-human-fraternity.html

If the foundation was truly the word of God, there would not be three separate buildings.

The Jews, for example, prefer tradition over scripture, which is why they do not accept the New Testament nor do they accept Jesus as the Messiah. But if they would examine the portion of scripture that they do accept, plus certain of their written traditions that they overlook, the logical conclusion is that Jesus is the prophesied Messiah.

As far as Islam goes, it claims that Christians and Jews changed the Bible, so it cannot be relied upon. Hence, Islam does not truly have a biblical foundation (see also Differences Between Islam and the Continuing Church of God). Muslims also do not accept New Testament teachings about the divinity of Jesus–for more details, check out chapter six of the free online book: Proof Jesus is the Messiah.

Now, what seems to be happening between the Catholics and Islam is being called Chrislam. And while there has long been a Nigerian version of that, the Vatican has been producing its own version.

The prophet Amos was inspired to write:

3 Can two walk together, unless they are agreed? (Amos 3:3)

The answer to that question is "No."

While true Christianity and Islam are biblically incompatible, let's see some statements from the Catechism of the Catholic Church from the Vatican's official website http://www.vatican.va/archive/ccc_css/archive/catechism/p123a9p3.htm accessed February 14, 2019:

841 The Church's relationship with the Muslims. "The plan of salvation also includes those who acknowledge the Creator, in the first place amongst whom are the Muslims; these profess to hold the faith of Abraham, and together with us they adore the one, merciful God, mankind's judge on the last day."330

842 The Church's bond with non-Christian religions is in the first place the common origin and end of the human race:

All nations form but one community. This is so because all stem from the one stock which God created to people the entire earth, and also because all share a common destiny, namely God. His providence, evident goodness, and saving designs extend to all against the day when the elect are gathered together in the holy city. . .331

843 The Catholic Church recognizes in other religions that search, among shadows and images, for the God who is unknown yet near since he gives life and breath and all things and wants all men to be saved. Thus, the Church considers all goodness and truth found in these religions as "a preparation for the Gospel and given by him who enlightens all men that they may at length have life."332

So it is not just Pope Francis, the Vatican officially claims that the Muslims and Catholics adore the same deity–so whatever foundation they share, we know it is not the Bible. They are NOT working on a building with Jesus the Christ as the foundation–which is what real Christian leaders do (cf. 1 Corinthians 3:9-14).

It is a non-biblical type of 'Chrislam' that the Vatican and various others wish to promote.

Here are some comments from Michael Synder about the Abrahamic House and Chrislam:

The Catholic-Muslim Interfaith Council Created By Pope Francis Announces New Chrislam Headquarters Opening In 2022 That Combines A Mosque And Church According To Signed Covenant

The announcement of the Abrahamic Family House, on the Saadiyat Island in Abu Dhabi, follows a visit by Pope Francis to the UAE in February, the first by a pope to the Arabian Peninsula. …

As far as advancing the end times timeline goes, 2019 has been a banner year for Pope Francis and the coming One World Religion. We told you back in February that the pope has travelled to Abu Dhabi where he met with Sunni Muslim leader Sheikh Ahmed al-Tayeb. There the two men signed a global peace covenant called the Document On Human Fraternity For World Peace.  From that covenant, the Higher Committee of Human Fraternity was created to implement this end times religious peace treaty. Now that committee has announced that there will be a fancy new headquarters for this endeavor. The shiny, new center of global Chrislam opening in 2022.

"Because ye have said, We have made a covenant with death, and with hell are we at agreement; when the overflowing scourge shall pass through, it shall not come unto us: for we have made lies our refuge, and under falsehood have we hid ourselves: Therefore thus saith the Lord GOD, Behold, I lay in Zion for a foundation a stone, a tried stone, a precious corner stone, a sure foundation: he that believeth shall not make haste." Isaiah 28:15,16 (KJV)

The end times are unfolding before our very eyes, people, things are speeding up very quickly, if you blink you'll miss it. This is Chrislam, it will be the foundation of the coming One World Religion the Bible says will assemble in the last days.  …

An interfaith council to oversee projects advancing tolerance was formed as a result of the declaration, and named the Higher Committee of Human Fraternity. The Abrahamic Family House is its first initiative.  …  (This will be the new "Morality Police" that Muslims have had for years. But now, it will be global.)

The design for the Abrahamic Family House, by the renowned architect David Adjaye, was unveiled during a meeting in New York this week, the second for the committee. According to Gulf News, it will take three years to complete.

The UAE is already home to a synagogue, in Dubai, formed in 2008. Though it receives quiet support from the Emirati authorities, its members have largely kept a low profile. The new state-sanctioned synagogue would mark a significant step forward for public worship of Judaism in the Gulf state. 09/22/19 https://www.nowtheendbegins.com/catholic-muslim-interfaith-council-created-by-pope-francis-announces-new-chrislam-headquarters-in-2022-that-combines-mosque-church/

The interfaith movement is going forward, and for a time, Islam will tolerate it (but that will end–cf. Daniel 11:40-43).

Earlier this year, we put together a related video related to the signing in Abu Dhabi:

On February 4, 2019, at the ' Global Conference on Human Fraternity,' Pope Francis and leading Sunni Imam Sheikh Ahmed al-Tayeb signed a document that some suspect may lead towards a "one world religion." The World Council of Churches (WCC) General Secretary, Dr Olav Fykse Tveit, who also attended, pushed for religious leaders and institutions to push towards a particular cooperative agenda to help bring world peace. Will there be real peace or just a temporary one? Will destruction come to the USA and nations in the Middle East and North Africa? What will be some characteristics of this "one world religion'? Will all have the same religious practices? Might it have commonalities with the ancient Roman Empire? The Grand Mosque in the UAE was renamed "Mary, Mother of Jesus." Will Catholic, Islamic, and even Hindu reverence for Marian figures play a role? Is that part of the plan? Should real Christians support the interfaith and ecumenical agendas or remain separate from them? What does the Bible teach? What did Jesus teach? Dr. Thiel addresses these issues and more.

Here is a link to that video: Pope Francis signs 'one world religion' document!

The Bible warns:

14 Do not be unequally yoked together with unbelievers. For what fellowship has righteousness with lawlessness? And what communion has light with darkness? 15 And what accord has Christ with Belial? Or what part has a believer with an unbeliever? 16 And what agreement has the temple of God with idols? For you are the temple of the living God. As God has said:

"I will dwell in them
And walk among them.
I will be their God,
And they shall be My people."

17 Therefore

"Come out from among them And be separate, says the Lord. Do not touch what is unclean, And I will receive you. 18 'I will be a Father to you, And you shall be My sons and daughters, Says the Lord Almighty." (2 Corinthians 6:14-18)

If that is not strong enough language to discourage real Christians from Chrislam, perhaps the following will get even professors of Christ to consider it as a problem:

4 Adulterers and adulteresses! Do you not know that friendship with the world is enmity with God? Whoever therefore wants to be a friend of the world makes himself an enemy of God. (James 4:4)

1 One of the seven angels that had the seven bowls came to speak to me, and said, 'Come here and I will show you the punishment of the great prostitute who is enthroned beside abundant waters, 2 with whom all the kings of the earth have prostituted themselves, and who has made all the population of the world drunk with the wine of her adultery.' 3 He took me in spirit to a desert, and there I saw a woman riding a scarlet beast which had seven heads and ten horns and had blasphemous titles written all over it. 4 The woman was dressed in purple and scarlet and glittered with gold and jewels and pearls, and she was holding a gold winecup filled with the disgusting filth of her prostitution; 5 on her forehead was written a name, a cryptic name: 'Babylon the Great, the mother of all the prostitutes and all the filthy practices on the earth.' 6 I saw that she was drunk, drunk with the blood of the saints, and the blood of the martyrs of Jesus; and when I saw her, I was completely mystified. (Revelation 17:1-6, NJB)

9 'This calls for shrewdness. The seven heads are the seven hills, on which the woman is sitting…18 The woman you saw is the great city which has authority over all the rulers on earth.' (Revelation 17:9,18, NJB)

This year the Vatican released what I have referred to as the 'Chrislam cross' logo related to an interfaith gathering to be held in Morocco next month. Here is some information about it:

The official logo of the Pope's visit was chosen from about 50 entries in a competition. An explanatory note accompanying the logo's release says that a cross and a crescent in the logo are symbols of Christianity and Islam which highlight the inter-religious relations between Christians and Muslims. …

The logo has the colours of the two countries: green and red for Morocco, yellow and white (background) for the Vatican.

Pope Francis said that his visit to the 2 predominantly Muslim countries, "represent two important opportunities to advance interreligious dialogue and mutual understanding between the followers of both religions, in this year that marks the eight–hundredth anniversary of the historic meeting between Saint Francis of Assisi and Sultan al-Malik al-Kāmil." https://feliciancjpo.wordpress.com/2019/01/10/pope-francis-servant-of-hope/

The first of the two visits mentioned above was in the United Arab Emirates, where Pope Francis and Sunni Imam Sheikh Ahmed al-Tayeb signed a document that some suspect may lead towards a "one world religion" on February 4, 2019. It has been called "the most important interfaith document in history."

Now let's notice the following on the Chrislam cross:

… the Vatican rolled out a new logo for Pope Francis' upcoming visit to the Muslim nation of Morocco, and what is the design? Chrislam.

"And there came one of the seven angels which had the seven vials, and talked with me, saying unto me, Come hither; I will shew unto thee the judgment of the great whore that sitteth upon many waters: With whom the kings of the earth have committed fornication, and the inhabitants of the earth have been made drunk with the wine of her fornication." Revelation 17:1,2 (KJV)

The pope's new logo shows a New Age style cross that is encircled about with the crescent moon of Islam, with the colors of yellow and white for the Vatican, and red and green for Islam. That, my friends, is not only the pope's new logo, it will also serve as the official logo for Chrislam. 02/10/19 https://www.nowtheendbegins.com/vatican-officially-releases-chrislam-logo-for-pope-francis-upcoming-servant-of-hope-tour-to-the-muslim-nation-of-morocco/

It was interesting to me, at least, that the crescent in the Chrislam cross almost completely encircles the Vatican's cross symbol. This would appeal to Muslims who believe that Islam needs to dominate the world, as well as to try to get them to be less fearful of the cross symbol–which is a fear they have had since the Crusades. The word crusader means 'cross bearer.' But now the Vatican is showing Muslims that its cross can be encircled by Islam.

We put together a related video related to the Chrislam Cross and the interfaith movement:

What is Chrislam? What are the two forms of it? Did the Vatican unveil the Chrislam Cross? How does it look? Are Christianity and Islam theologically compatible? What does the 'Catechism of the Catholic Church' say? What about the Bible and the Quran? Did Pope Francis and Sunni Imam Sheikh Ahmed al-Tayeb sign an important interfaith document on February 4, 2019? Do biblical and Islamic prophecies point to a deal between the Europeans and Arabs that will be broken? Do Catholic and Islamic writings support the view that Mary and/or apparitions of 'Mary' may lead to temporary cooperation between the Arabs and Europeans? Will such cooperation bring lasting peace or war? Have any of the Eastern Orthodox warned of the danger in using 'Mary' to push the interfaith and ecumenical movements? Is there a 'Mary, Mother of Jesus mosque? Should you wish to be part of the Chrislam movement? What does the Bible teach? Dr. Thiel addresses these issues and more.

Here is a link to the sermonette video: The Chrislam Cross and the Interfaith Movement.

Here are the colors from an esoteric perspective, clipped from:

Color Magic: A Witch's Guide to Color Meanings and Energies

Yellow –  Color of the SUN 

Associated with abundance and joy, yellow is the shade I work with when I'm feeling down, dealing with depression, or just need a burst of sunlight in my life. "Yellow is an injection of happiness," Potter says. From ancient nature-based religions to modern day patriarchal practices, the sun is literally a source of life.  In religions such as Hinduism and ancient Egyptian, yellow is often associated with their deities.

Negative Associations
Despite its association with cheerfulness and warmth, yellow carries a surprising number of negative connotations. Yellow is a symbol of cowardice, of sickness, and of mental illness. It's the color of sensationalism and even of excess. Yellow is universally a symbol of caution.

Red – Color of Sacrifice

Passion is often associated with the color red, and for good reason. It's often used in love and seduction magick and is wonderful to add to your life if your sex life has been a bit lackluster, you want to attract a new lover, or simply want to feel like a sex god. If you're in a long-term relationship, lighting red candles or sprinkling red roses over a bed promises a night of passion. It's true — there's a reason red roses are a cliché.

Meaning Of Red: Color Psychology And Symbolism
Red symbolizes the extreme. Red speeds up our heart rate, blood flow, and body temperature. Red stimulates our senses of smell and taste, making us more sensitive to our environments. Red also stimulates the adrenal gland, making us more prone to take action and giving us more energy. Red is a physical stimulant. Red is the color of heightened emotion, strength, and power. 

Green – Color of Life

Green is the color of Earth, growth, and therefore also of earthly possessions. Hell yes, it's also the color of cash, and that's no coincidence. Likening the color green to a walk through the woods, Potter says, "It's also the color of fertility or starting a new business  (starting anything new, like a "NEW HUMANITY"?)."

Meaning of the Color Green: Symbolism, Common Uses, & More
Jul 27, 2022In the Middle East, green symbolizes luck, fertility, and Islam. In Brazil, green is associated with nature and hope. In Ireland, the color green is a symbol of patriotism, and it also represents St. Patrick's Day. In Israel, green is a sign of bad news. In Egypt, the color green conveys hope and fertility. In China, green means infidelity.

White – The Color of Light

White is useful in magick, as it can act as a stand-in for any other color. It's essentially a blank slate. If I wanted a red seduction candle, but only had white, I'd just toss some red glitter on the white candle to achieve the same effects. It's cleansing and purifying, so it's great for clearing away old energies and bringing in fresh, new, happy ones.

Color Meaning: Meaning of The Color White – Bourn Creative
White, an inherently positive color, is associated with purity, virginity, innocence, light, goodness, heaven, safety, brilliance, illumination, understanding, cleanliness, faith, beginnings, sterility, spirituality, possibility, humility, sincerity, protection, softness, and perfection. The color white can represent a successful beginning.

While I do not expect this Chrislam cross symbol to be the Mark of the Beast, its use of the type of cross is reminiscent of the claimed cross in Emperor Constantine's vision in the fourth century. It was described as:

A long spear, overlaid with gold, formed the figure of the cross by means of a transverse bar laid over it. (Eusebius. Life of Constantine, Chapter XXXI. Internet Medieval Source Book. Accessed 02/14/19)

So, it was not what would have been the implement used to kill Jesus. Nor is the 'Chrislam cross.'

Anyway, it was the result of that vision that Emperor Constantine ordered his troops to paint crosses on their shields–a practice that was retained throughout the time of the Crusades (see also What is the Origin of the Cross as a 'Christian' Symbol?).

As far as deals between the Catholics of Europe and the Muslims of the Middle East and North Africa go, that is foretold in biblical as well as Islamic prophecies.

The Bible tells of a deceptive deal that will be made between the European King of the North and the Middle East/North African King of the South:

15 … the king of the North … 25 … king of the South …

27 Both these kings' hearts shall be bent on evil, and they shall speak lies at the same table; but it shall not prosper, for the end will still be at the appointed time. (Daniel 11:15,25,27)


So, a deceptive deal will be made (this could also be related to the deal of Psalm 83:3-8). This would at least partially be related to the following deal:

26 And the people of the prince who is to come
Shall destroy the city and the sanctuary.
The end of it shall be with a flood,
And till the end of the war desolations are determined.
27 Then he shall confirm a covenant with many for one week;
But in the middle of the week
He shall bring an end to sacrifice and offering.
And on the wing of abominations shall be one who makes desolate,
Even until the consummation, which is determined,
Is poured out on the desolate (Daniel 9:26-27).

This is a deal confirmed by a European (it was troops from the ancient Roman Empire that destroyed Jerusalem and its temple in 70 A.D.). The deal is confirmed for one week, which, for centuries, various prophecy analysts have said means a seven year deal (see also The 'Peace Deal' of Daniel 9:27).

Perhaps these deals could be considered 'political Chrislam.' Or as LifeNews called it 'Chrislamism' — not trying to merge Christianity and Islam, but accepting some type of false near equivalency. Islam is not a near equivalency to true Christianity.

As far as Chrislam and the interfaith movement goes, it is not just the Vatican and some Muslims who are involved.

The World Council of Churches (WCC), United Nations, and various others are involved in this as well (see Pope and Muslim leader sign interfaith agreement towards a one world religion: Will this lead to both peace and the Great Tribulation?).

This United Nations' interfaith agenda is supposed to be fully implemented by 2030 and is also called the 2030 Agenda for Sustainable Development. It aims to solve ailments facing humanity through regulation, education, and international and interfaith cooperation. While many of its objectives are good, some of its methods and goals are evil (cf. Genesis 3:5).

True Christianity and Islam are not compatible. But the Vatican and some within Islam keep pushing for it.

We are getting closer to the end of this age.

Some items of possibly related interest may include:

Will the Interfaith Movement Lead to Peace or Sudden Destruction? Is the interfaith movement going to lead to lasting peace or is it warned against? A video sermon of related interest is: Will the Interfaith Movement lead to World War III? and a video sermon is also available: Do You Know That Babylon is Forming?
The Mark of Antichrist What is the mark of Antichrist? What have various ones claimed? Here is a link to a related sermon What is the 'Mark of Antichrist'?
Mark of the Beast What is the mark of the Beast? Who is the Beast? What have various ones claimed the mark is? What is the 'Mark of the Beast'?
Why Should American Catholics Fear Unity with the Orthodox? Are the current ecumenical meetings a good thing or will they result in disaster? Is doctrinal compromise good? Here is a link to a related video Should you be concerned about the ecumenical movement?
Beware: Protestants Going Towards Ecumenical Destruction! What is going on in the Protestant world? Are Protestants turning back to their 'mother church' in Rome? Does the Bible warn about this? What are Catholic plans and prophecies related to this? Is Protestantism doomed? watch the video Charismatic Kenneth Copeland and Anglican Tony Palmer: Protestants Beware! and World Council of Churches Peace Plan.
Mary, the Mother of Jesus and the Apparitions Do you know much about Mary? Are the apparitions real? What happened at Fatima? What might they mean for the rise of the ecumenical religion of Antichrist? Are Protestants moving towards Mary? How do the Eastern/Greek Orthodox view Mary? How might Mary view her adorers? Here is a link to a YouTube video Marian Apparitions May Fulfill Prophecy. Here is a link to a sermon video: Why Learn About Fatima?
Fatima and the 'Miracle' of the Sun On October 13, 1917, tens of thousands of people witnessed what they considered to be a miracle in the sky in Fatima, Portugal. Was this a miracle from God? Can you be certain? A video of some related interest is Fatima and Pope Francis. Here is a link to the sermon: Fatima and the 'Miracle of the Sun'.
The 'Lady' of Guadalupe: Any Future Ramifications? It is claimed that a female apparition appeared near Mexico City on December 12, 1531. How has it affected the world? What might it suggest about the future? A video of related interest is titled: The 'Lady of Guadalupe' and Prophecy.
Pope Francis: Could this Marian Focused Pontiff be Fulfilling Prophecy? Pope Francis has taken many steps to turn people more towards his version of 'Mary.' Could this be consistent with biblical and Catholic prophecies? This article documents what has been happening. There is also a video version titled Pope Francis: Could this Marian Focused Pontiff be Fulfilling Prophecy?
Feast of the Immaculate Conception? Did early Christians teach Mary had an immaculate conception and led a sinless life?
Origin of the Marian Dogmas: Where Do Catholic Scholars Say The Four Dogmas of Mary Came From?
Assumption of Mary Did Mary die? Was she taken to heaven on August 15th? What is known? What does the Bible show?
Do Certain Catholic Prophecies About Antichrist Warn Against Jesus? Will the final "Anti-Christ" be Jewish, insist on Saturday, be opposed to the trinity, and bring in the millennium? Certain Catholic writings indicate this, while others take a different view, but what does the Bible show? A related sermon is Will Jesus Christ be called the Antichrist?
Which Is Faithful: The Roman Catholic Church or the Continuing Church of God? Do you know that both groups shared a lot of the earliest teachings? Do you know which church changed? Do you know which group is most faithful to the teachings of the apostolic church? Which group best represents true Christianity? This documented article answers those questions.
Some Similarities and Differences Between the Eastern Orthodox Church and the Continuing Church of God Both groups claim to be the original church, but both groups have differing ways to claim it. Both groups have some amazing similarities and some major differences. Do you know what they are?
Orthodox Must Reject Unity with the Roman Catholics Unity between these groups will put them in position to be part of the final end time Babylon that the Bible warns against as well as require improper compromise.
United Nations: Humankind's Last Hope or New World Order? Is the UN the last hope for humanity? Or might its goals end up with sinister results? A related video would be United Nations and Vatican Are Planning the New World Order.
Laudato Si: Pope's Agenda or Kingdom of God? Pope Francis' 2nd encyclical is titled 'Laudato Si.' In it, he goes over his views related to environmental, economic, social, moral, agricultural, and spiritual issues. He advocates international cooperation to solve various problems he believes are affecting humanity. Is that Pope's agenda the solution? What about the Kingdom of God? does the Bible teach? Two related articles include Laudato Si: Will Pope Francis' economic actions match his words? and Laudato Si: A call for a one-world government?
The Prophesied 'Islamic' Confederation Where is an Islamic caliphate prophesied? Will one happen? Should you be concerned about it? A related video is Will an Arabic Calphiphate Destroy the West?
How Will Middle East Peace be Brought About? Can humans bring peace to the Middle East? Here is a link to a related video: Middle East Peace? When?
Why Terrorism? Is Terrorism Prophesied? What does the Bible teach? Which nations may be affected? Here is a link to a related sermon: Terrorism, Christianity, and Islam.
Is the Future King of the South Rising Up? Some no longer believe there needs to be a future King of the South. Might Egypt, Islam, Iran, Arabs, or Ethiopia be involved? Might this King be called the Mahdi or Caliph? What does the Bible say? A YouTube video of related interest may be: The Future King of the South is Rising.
The Arab and Islamic World In the Bible, History, and Prophecy The Bible discusses the origins of the Arab world and discusses the Middle East in prophecy. What is ahead for the Middle East and those who follow Islam? What about the Imam Mahdi? What lies ahead for Turkey, Iran, and the other non-Arabic Muslims? An item of possibly related interest in the Spanish language would be: Líderes iraníes condenan la hipocresía de Occidente y declaran que ahora es tiempo para prepararse para el Armagedón, la guerra, y el Imán Mahdi.
The Muslim Brotherhood and the Rise of the King of the South The Bible tells of the formation of a power of nations that are in the Middle East and North Africa that are part of the final "King of the South" (Daniel 11:40-43) The Muslim Brotherhood wishes to have an Islamic empire with basically the same nations. This YouTube video explains what to expect from such a confederation.
Differences Between Islam and the Continuing Church of God What are some of the main differences? Are there any similarities? A video of related interest is titled: Islam: Any Christian Concerns or Similarities?
The Gospel of the Kingdom of God This free online pdf booklet has answers many questions people have about the Gospel of the Kingdom of God and explains why it is the solution to the issues the world is facing. Here are links to three related sermons: The World's False Gospel, The Gospel of the Kingdom: From the New and Old Testaments, and The Kingdom of God is the Solution.
The 'Peace Deal' of Daniel 9:27 This prophecy could give up to 3 1/2 years advance notice of the coming Great Tribulation. Will most ignore or misunderstand its fulfillment? Here is a link to a related sermon video Daniel 9:27 and the Start of the Great Tribulation.
Beware: Protestants Going Towards Ecumenical Destruction! What is going on in the Protestant world? Are Protestants turning back to their 'mother church' in Rome? Does the Bible warn about this? What are Catholic plans and prophecies related to this? Is Protestantism doomed? See also World Council of Churches Peace Plan.
USA in Prophecy: The Strongest Fortresses Can you point to scriptures, like Daniel 11:39, that point to the USA in the 21st century? This article does. A related sermon is titled: Do these 7 prophesies point to the end of the USA?
Who is the King of the West? Why is there no Final End-Time King of the West in Bible Prophecy? Is the United States the King of the West? Here is a version in the Spanish language: ¿Quién es el Rey del Occidente? ¿Por qué no hay un Rey del Occidente en la profecía del tiempo del fin? A related sermon is also available: The Bible, the USA, and the King of the West.
Who is the King of the North? Is there one? Do biblical and Roman Catholic prophecies for the Great Monarch point to the same leader? Should he be followed? Who will be the King of the North discussed in Daniel 11? Is a nuclear attack prophesied to happen to the English-speaking peoples of the United States, Great Britain, Canada, Australia, and New Zealand? When do the 1335 days, 1290 days, and 1260 days (the time, times, and half a time) of Daniel 12 begin? When does the Bible show that economic collapse will affect the United States? In the Spanish language check out ¿Quién es el Rey del Norte? Here is a link to a video titled: The Future King of the North.
The Great Monarch: Biblical and Catholic Prophecies Is the 'Great Monarch' of Catholic prophecies endorsed or condemned by the Bible? Two sermons of related interest are also available: Great Monarch: Messiah or False Christ? and Great Monarch in 50+ Beast Prophecies.
Does God Have a 6,000 Year Plan? What Year Does the 6,000 Years End? Was a 6000 year time allowed for humans to rule followed by a literal thousand year reign of Christ on Earth taught by the early Christians? Does God have 7,000 year plan? What year may the six thousand years of human rule end? When will Jesus return? 2027 or 20xx? There is also a video titled 6000 Years: When will God's Kingdom Come? Here is a link to the article in Spanish: ¿Tiene Dios un plan de 6,000 años?
When Will the Great Tribulation Begin? 2019, 2020, or 2021? Can the Great Tribulation begin today? What happens before the Great Tribulation in the "beginning of sorrows"? What happens in the Great Tribulation and the Day of the Lord? Is this the time of the Gentiles? When is the earliest that the Great Tribulation can begin? What is the Day of the Lord? Who are the 144,000? Here is a version of the article in the Spanish language: ¿Puede comenzar la Gran Tribulación en 2018 o 2019? ¿Es el Tiempo de los Gentiles? You can also see the English language sermon videos: The Great Tribulation from the Mount of Olives and Can the Great Tribulation begin before 2020? A shorter and newer video is: Might the Great Tribulation start in 2019?
The Times of the Gentiles Has there been more than one time of the Gentiles? Are we in it now or in the time of Anglo-America? What will the final time of the Gentiles be like? A related sermon is available and is titled: The Times of the Gentiles.
Armageddon Who is involved and when will this gathering happen? Here is also a video from Dr. Thiel, from Tel Megiddo in Israel: Armageddon. Other videos include: Armageddon Will it come on Trump's watch?, Iraq, Armageddon, & Prophecy, Freemasonry, Armageddon, and Rome, Is China paving roads to Armageddon?, and Jordan, Petra, and Armageddon.
What is the Origin of the Cross as a 'Christian' Symbol? Was the cross used as a venerated symbol by the early Church? Two related YouTube videos would be Beware of the 'Ecumenical Cross' and Origin of the Cross.
Proof Jesus is the Messiah This free book has over 200 Hebrew prophecies were fulfilled by Jesus. Plus, His arrival was consistent with specific prophecies and even Jewish interpretations of prophecy. Here are links to seven related sermons: Proof Jesus is the Messiah, Prophecies of Jesus' birth, timing, and death, Jesus' prophesied divinity, 200+ OT prophecies Jesus filled; Plus prophecies He made, Why Don't Jews Accept Jesus?, Daniel 9, Jews, and Jesus, and Facts and Atheists' Delusions About Jesus. Plus the links to two sermonettes: Luke's census: Any historical evidence? and Muslims believe Jesus is the Messiah, but … These videos cover nearly all of the book, plus have some information not in the book.

"The Form is translated from the three faiths, we use the lens to define what is similar as opposed to what is different and we use the power of that revelation to make the form."

A MOSQUE HONORING 

TRADITION AND CELEBRATING

 COMMUNAL GATHERING

The mosque celebrates both collective congregation and vital provision of privacy. It uniformly gifts users with opportunities to observe the customs of Islamic prayer, once again using articulated thresholds to allow viewing to occur separately to the act of joining.

The building promotes sequence, layering, and a rhythmic journey that begins with observing, is followed by spiritual ablution, and culminates in prayer. This building has been designed not in service to typology, but in an earnest pursuit to represent its contemporary congregants. Its lofty, vertical vaults uplift its visitors, allowing them to feel enveloped in a space of veneration and historic belief.

A CHURCH DESIGNED FOR DIFFERENT 

CHRISTIAN DENOMINATIONS

 TO WORSHIP

Communal ceremony and togetherness are given priority, with a water element existing outside the church's entrance and manifesting as a ritual of crossing over, as opposed to the sequence of descent occurring in the mosque and synagogue.

Throughout the day, the entirety of the interior is constantly in luminous flux, reminding visitors of their proximity with that which is transcendent and divine.

A SYNAGOGUE CHAMPIONING THE VIRTUES OF 

CONGREGATION AND RITUAL

As the first purpose-built synagogue in the United Arab Emirates, the synagogue presents a series of architectural thresholds that culminate in a shrouded, sanctified built representation of communal prayer. The multi-layered facade of the Synagogue recalls the Jewish Sukkot festival, where palm trees are harvested and communities build tents in their gardens as designated areas for gathering and eating.

The ritual of assembling the Sukkot is celebrated through the rhythmic hierarchy of columns, between which visitors are invited to explore and learn about the Jewish faith. The overriding aim of the Synagogue is to bring people together and the synagogue features a series of interwoven spaces that work in service of human scale interactions.

In 2007, as part of MIT's Jerusalem 2050 Program competition, the Abrahamic Peace Centre was advanced for consideration.

*Christian, Islamic and Judaic harmony is integral to the development of a just, peaceful and sustainable Jerusalem. Accordingly, it is proposed the Abrahamic Peace Centre (APC) be constructed, on or before 2050, as a point of peaceful convergence between the three Abrahamic religions which characterise and dominate Jerusalem.

It is envisaged the Abrahamic Peace Centre (APC) will give prominence to the historic and moral commonality of *Christianity, Islam and Judaism without in anyway negating or, indeed, diminishing the unique qualities and identity of each religion; the intention of the Abrahamic Peace Centre (APC) is not religious unification – it is religious, ethnic and civil harmonization within Jerusalem.  (THAT IS A BOLD FACED LIE.  THE CERTAINLY DEMINISH, IN FACT NEGATE THE TRUE FAITH OF BIBLE BELIEVING CHRISTIANS!)

I will take this opportunity to briefly articulate the proposed physical construction of the Abrahamic Peace Centre (APC) as demonstrated in the accompanying diagram. The central structure of the Abrahamic Peace Centre (APC) consists of a dome (like the dome on Islam;s Mosques or Masjids?)  which will be predominantly, or perhaps even entirely, glass to emphasise openness and a striving for light and peace amongst visitors; whether the term worshippers is appropriate will be an interesting and significant point of discussion for a balanced and learned group at a later stage.

In some traditions, the 

dome

 symbolizes the vault of heaven. The interior of a 

dome

 is usually highly decorated with floral, geometric and other patterns.

The main dome of a mosque usually covers the main prayer hall of the structure

. Some 

mosques

 may have secondary 

domes

, 

as

 well. Prayer Hall Sultan Selim 

Mosque

, Konya.

spacer
The interior of the Abrahamic Peace Centre (APC) will be strictly neutral and in no way favour any single one of the three Abrahamic religions which characterise and dominate Jerusalem. It is proposed a circular table upon which a candle of peace is constantly alight be elevated at the centre of the dome.

Introduction

There are pages, sentences, sayings, phrases, words, and letters, all true, which radiate the light of the Qur'an. The Essence of the Holy Qur'an, by Ayatullah Pooya, is one of them! The Qur'anic simile of "light" furnishes a source to secure peace and felicity in this world and the hereafter and stimulates the heart and mind to achieve it.

"Allah is the Light of the heavens and the earth. The similitude of His Light is a niche wherein is a lamp. The lamp is in a glass. The glass is, as it were, a shining star. (This lamp is) kindled from a blessed tree, an olive neither of the east nor the west, whose oil would almost glow forth (of itself) though no fire, touches it. Light upon Light, Allah guides unto His Light whom He will. And Allah speaks of humankind in allegories, for Allah is Knower of all things. (This lamp is found) in houses which Allah has allowed to be exalted and His name shall be remembered therein. Therein do offer praise to Him at morn and evening." (24:35 – 36)

This "eternal Light" has been transmitted through His messengers from Adam to the Last Prophet Muhammad, peace be upon him and his household,

"so there may not remain any argument for people against Allah." (4:65)

The inseparable chain of Light passed from the Holy Prophet to Ali, the first Imam (the divine leader), and his 11 descendants as Imams, and their mother Fatima, the daughter of the Prophet, of whom he declared, "al-Fatimatu-bidh'tu mini" (Fatima is a piece of my flesh and blood, i.e., personality). They are all infallibles (Ma'soom) as conferred by the Qur'an (33:33), and a permanent proof of Tawheed Nabuwat, and the continuity of Imamate until the Day of Resurrection.

It exists as the inner reality of the Prophet (Haqiqat-e Muhammadia), and all the signs of Allah exist in it. The Qur'an warns the believers, "even if they desire, they could not extinguish the Light." Allah "will perfect it." (41:8). This is the overall view of Islam.

The portrait of the late Agha Pooya (may Allah bless him) appears among "those (who possessing minds) remember Allah standing and sitting and reclining on their sides and think (seriously) on the creation of the heavens and the earth, saying, 'Oh our Lord, You have not created all this in vain! Glory be to You. Save us then from the (hell) fire.'" (3:191). It is an inimitable description of a person who remember Allah with all sincerity and humbleness.

Encircling the central, strictly neutral elevation, there should be an area of seating and, if considered prudent to encourage worship, there could also be an area for pews and prayer mats too. The overriding priority must be to ensure the central dome of the Abrahamic Peace Centre (APC) does not alienate or offend the sensibilities of any one of the three Abrahamic religions which characterise and dominate Jerusalem. An unwavering determination to ensure balance and even-handedness between the three religions must be a prime focus.

It is further proposed a garden surround the central dome providing a space of natural tranquility. Surrounding the dome and garden a hexagonal construction would be created to act as an aesthetic delineator. Connected to three separated sides of the hexagonal construction, a *Church, Mosque and Synagogue would be linked via three passages of peace. The passages would connect to the rear of the *Church, Mosque and Synagogue as demonstrated in the accompanying diagram.

The construction of the *Church, Mosque and Synagogue would necessitate attunement to the sensibilities of the varying denominations, groups and sects which exist within the three Abrahamic religions which characterise and dominate Jerusalem; the *Church would neither favour *Orthodox, Protestant nor Roman Catholic, the Mosque would neither favour *Shi'ite, Sufi nor Sunni, and the Synagogue would neither favour *Conservative, Orthodox nor Reform. The *Church, Mosque and Synagogue would each aim to accommodate a broad spectrum of *Christian, Jewish and Muslim worshippers, and would therefore have a simple and generic internal and external appearance. This will naturally involve stripping away any symbolism likely to offend or discourage denominations, groups or sects within the three Abrahamic religions.

The three remaining sides of the hexagonal construction surrounding the central Dome could act as exits and perhaps one side could act as an entrance for people not affiliated to the three Abrahamic religions which characterise and dominate Jerusalem. This, however, is proposed as no more than an interesting point of discussion and perhaps investigation at a later stage.

By highlighting the common history and moral characteristics of the three Abrahamic religions which characterise and dominate Jerusalem, but in no way negating or diminishing the unique qualities and identity of each religion, it is hoped the Abrahamic Peace Centre (APC) will foster deeper respect and understanding between the people of Jerusalem. Undoubtedly, *Christian, Islamic and Judaic harmony is integral to the development of a just, peaceful and sustainable Jerusalem.
(There is no way to foster understanding when each group is not allowed to practice their faith, and/or display the symbols of it, which speak without words. This is just a way to do away with Faith in God completely! Water down, silenced religion is NO FAITH AT ALL! The TRUTH offends the fallen nature of man!  There is no way around that.)

Today, there are approximately 3.8 billion followers of the various Abrahamic religions throughout the world (Preston Hunter, Major Religions of the World Ranked by Number of Adherents), hence Abrahamic religions account for more than half the world's total population. Furthermore, a UN report predicts the world's population will be approximately 9 billion by the year 2050 which indicates a parallel-projection of over 5 billion followers of the various Abrahamic religions by the same year. Accordingly, Jerusalem has a unique and significant importance in promoting international peace, reconciliation and justice both today and into the future.
(So, they are afraid that FAITH in GOD will grow and people will see through the deception.)

Mitigation, and eventual elimination, of enmity and polarisation which currently exist between the three Abrahamic religions is undoubtedly a prime motivation for the majority of fair-minded *Christians, Jews and Muslims the world over. The Abrahamic Peace Centre (APC) would act as a point of peaceful convergence between the three Abrahamic religions and promote deeper respect and understanding between the people of Jerusalem and beyond. The Abrahamic Peace Centre (APC) would have the capacity to redefine the relationship between the three Abrahamic religions which characterise and dominate Jerusalem by providing a tangible point of harmony for *Christianity, Islam and Judaism alike.

(This is human effort to bring peace by force.  That is NOT POSSIBLE.  ONLY GOD can bring true peace. You see that they are stating that by going along with this ill fated plan, people are surrendering their rights to choose their own relationship with GOD to these NON BELIEVERS.  The APC will define what you can and cannot practice, share or even believe!!  Just as "science" has wiped out faith in the Word of God about CREATION and the COSMOS, these folks want to wipe out all FAITH in the WORD OF GOD. They want to KILL the idea of RELATIONSHIP with the TRUE and LIVING GOD that was opened to us by the sacrifice on the CROSS.)

spacer

A One World Religion Headquarters is set to open in 2022. The headquarters will be called The Abrahamic Family House and is being built on an island in the middle eastern city of Abu Dhabi.

The headquarters is being done in collaboration with Pope Francis and Sunni Muslim leader, Sheikh Ahmen al-Tayeb, after they both signed a global peace covenant called the Document of Human Fraternity for World Peace.

The stated purpose of the Abrahamic Family House is to bring understanding and tolerance among the faiths, but there are a couple of notable challenges. First, Abu Dhabi is a part of the UAE where it is illegal for Christians to proselytize and conversion from Islam is prohibited. The Pope represents Roman Catholicism where Christians are free to convert to Islam (not really.  The Pope says we should NEVER try to encourage anyone to convert), but citizens of Abu Dhabi are not free to choose Christ.

Perhaps, like the Abrahamic Family House that promises tolerance and understanding, the UAE constitution also guarantees freedom of religion "in accordance with established customs," but the devil is in the details. Though certain practices (like conversion from Islam) are directly prohibited, penal code for the UAE defers to Sharia Law, which strictly prohibits apostasy.

The One World Religion Headquarters will have three buildings; one building each representing the mosque, church, and synagogue. However, the church is not permitted to have a cross on the building as a method of identifying it, as it is illegal to display a Christian cross on a building in the UAE.

Though usually not enforced, teaching that Jesus is the only God is considered to be an act of insulting Allah or the Prophet Muhammad and offenders can be subject to imprisonment for five or more years, fined from 250,000 dirhams ($68,100) to two million dirhams ($545,000), and Christians may be deported.

To add to the confusion of bringing understanding and tolerance, Sunni Muslim leader, Sheikh Ahmen al-Tayeb, who is widely touted as a 'moderate' Muslim, strongly believes that Muslims who convert from Islam to any other religion (including Christianity) should be killed.

So, if the idea of the One World Religion Headquarters is to bring tolerance and understanding, then why build it in a Muslim country where conversion is illegal and why do it together with a Muslim cleric who teaches that Muslim apostates should be killed? Isn't that the opposite of tolerance and understanding?

Connected to this construction project will be an interfaith council to oversee projects which aim to advance tolerance, but perhaps the tolerance will be only one directional.

In December 2020, the United Nations passed an anti-blasphemy law that most Christians are not aware of. The loosely translated law, as embraced by the UAE, prohibits any teachings against Islam, including Biblical teachings which could be considered offensive.

Most Christians understand the term "One world religion" to refer to the merging of all religions, including Christianity, into a single global religion. Many Christians believe that a "One world religion" is directly linked to the last days when the Antichrist will establish a one world religion which will be associated with a one world government and lead to the mark of the beast.

What role will China play in the establishment of a one world religion, one world government, and mark of the beast? In our new book, CHINA AND END TIME PROPHECY, we outline the role that China is playing in the end times and what to look for during the last days

spacer