They are deadly serious about achieving their NWO by 2024.  This year is going to be a majorly eventful year.  The Pandemic Treaty plays a HUGE role in their plan.  This is the culmination of all the preliminary work they have been laying over the past few decades.  This is what the credit cards the UPC codes, the Electronic Health Records,  the International Classification of Diseases (ICD), the Digital ID, the social credit system and medical passports are all about.  THIS is how they will enforce the NWO.
PAY ATTENTION! STAY AWAKE.
I personally do not believe we can do anything to stop it.  The Bible says it will happen.  So, all the praying in the world will not change it.  What we can pray is what GOD told us to pray,  That we will be found worthy to escape all that is coming.
Meanwhile, you can make your voice heard. You can let your congressmen know where you stand.
This Pandemic TREATY is TRYANNY!
spacer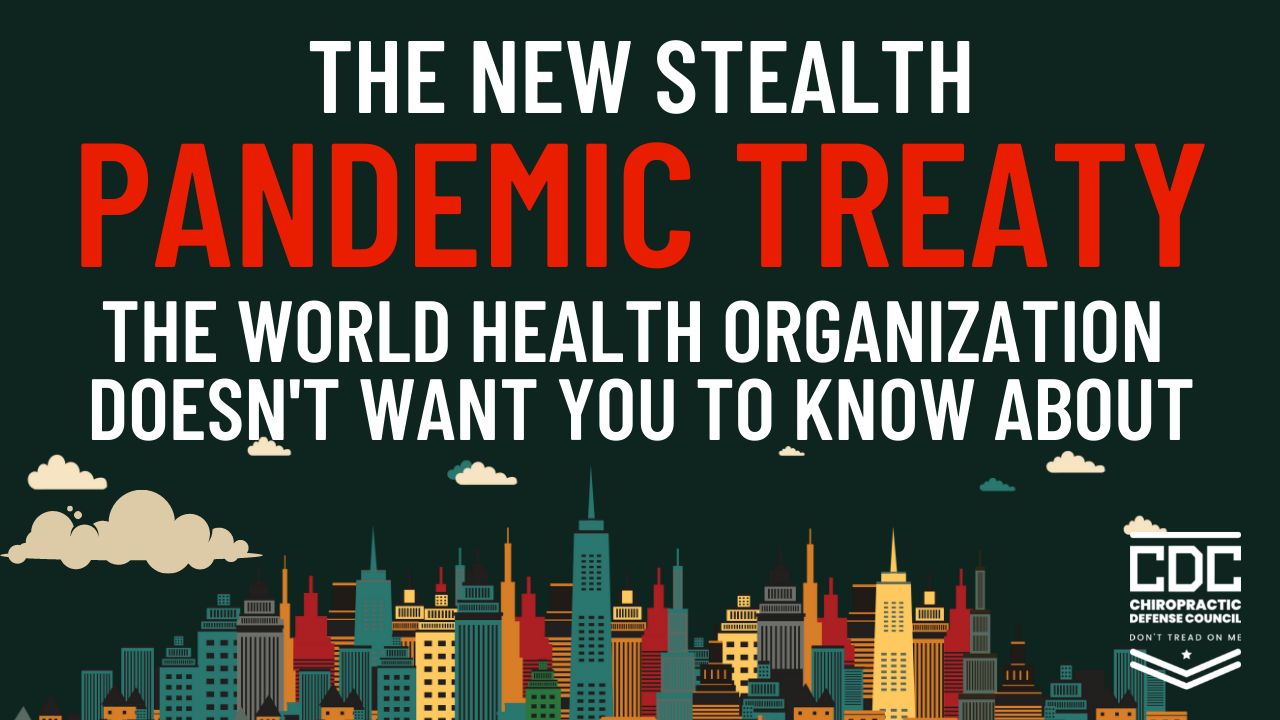 The Pandemic Treaty Is a Spreading Plague- Analysis by Dr. Joseph Mercola
(Fact Checked March 30, 2022) 
STORY AT-A-GLANCE
The globalist cabal wants to monopolize health systems worldwide, and a STEALTH ATTACK is already underway in the form of an international pandemic treaty, proposed by the World Health Organization.
The treaty is a direct threat to a nation's sovereignty to make decisions for itself and its citizens, and would erode democracy everywhere. Not only would the treaty empower the WHO to mandate COVID jabs and vaccine passports globally, it could potentially also expand the WHO's power to dictate all health care policy worldwide.
The treaty would also give the WHO the power to censor health information worldwide. This would be disastrous, as the WHO has a long history of corruption and health policy failures that are intrinsically linked to conflicts of interest.
When people are harmed by the WHO's health policies, there's no accountability because the WHO has diplomatic immunity.
Bill Gates, the second largest funder of the WHO, has also been funding pandemic exercises, including Event 201 and the Nuclear Threat Initiative's exercise on international response to deliberate biological events. This scenario involved a deliberate release of a genetically engineered bioweapon — a pneumonic plague — for which there is no available treatment. Both exercises were held in 2019.
The globalist cabal wants to monopolize health systems worldwide, and a stealth attack is already underway in the form of an international pandemic treaty. The negotiations for this treaty began March 3, 2022.
As reported by The Pulse;
"Coming off the back of the COVID-19 pandemic, the World Health Organization is proposing a new pandemic treaty they're hoping will be accepted by enough member countries to become a reality by 2024." According to Director-General Tedros Adhanom Ghebreyesus, "me-first" approaches "stymie the global solidarity needed" to address global threats. His solution? Give the WHO all the power. "The pandemic treaty is a direct threat to a nation's sovereignty to make decisions for itself and its citizens, and would erode democracy everywhere."
Over the past two years, in the name of keeping everyone "safe" from infection, the globalists have justified unprecedented attacks on democracy, civil liberties and personal freedoms, including the right to choose your own medical treatment. Now, the WHO wants to make its pandemic leadership permanent, and to extend it into the health care systems of every nation.
Treaty Threatens National Sovereignty
As noted by The Pulse, "there are a number of things in the treaty that the people of the world need to consider before going down this path." In the featured video, The Pulse's Joe Martino interviews Shabnam Palesa Mohamed, a member of the steering committee of the World Council for Health, who points out that the treaty gives the WHO: "… an inordinate amount of power to make decisions in sovereign countries as to how people live and how they deal with pandemics, from lockdowns to mandates over treatment."
In short, it would create a one-size-fits-all approach to disease, without regard for all the varying situations found in individual countries, and this is something we already know doesn't work. The treaty is a direct threat to a nation's sovereignty to make decisions for itself and its citizens, and would erode democracy everywhere. At the same time, it would cost each member country millions of dollars to participate in this process. As explained by Mohamed, the treaty will need to go through a voting process at the World Health Assembly in 2023. They need a majority for it to pass and, if passed, all member countries will be bound by it.
Click here to DOWNLOAD the rest of Dr. Mercola's Analysis.
-Story credit goes to Dr. Joseph Mercola-
spacer
I

n December, delegates from more than 180 countries met in Switzerland t

o discuss the International Treaty for Pandemic Prevention,

Preparedness, and Response, which had initially been proposed in December 2021. Support for it gained traction as the Covid-19 pandemic highlighted concerns about global vaccine inequity, genomic data-sharing, and more. The December talks productively focused on these issues and concluded with

delegates agreeing to 

another round of negotiation 

in February.
Despite its seemingly blasé and technocratic focus, the pandemic treaty has come under fire in the United States.

Conservative commentators have

 attacked the treaty 

as an attempt by a biased World Health Organization to impose endless lockdowns and curtail Americans' rights.

In Congress, any future pandemic accord will likely face stiff resistance in the Senate, as

right-wing analysts

 have expressed concerns 

that a treaty could constrain American national sovereignty

.

Such opposition has derailed a number of treaties, ranging from the U.N. Convention on the Rights of the Child to the U.N. Convention on the Law of the Sea.   

(Thank God!)
We find much of the opposition to the treaty hard to fathom. It is not an attempt to restrict America's national sovereignty

 

(Sovereignty 

is the right to self determination; to make decisions and determinations without outside interference. So yes they are obviously trying to restrict our national sovereignty) 

or curtail citizens' rights (as citizens of the USA we have a right to self determine.  We have the right to decide for ourselves and for our children what is the best course of action in any given situation including our health care.  We have a right to refuse vaccination or hospitalization or any medical plan or action.  So, yes they are trying to usurp our rights.) . Instead, it could provide an important avenue for the U.S. to strengthen global health — which has direct effects on Americans' health — as well as resolve concerns over WHO bias and bolster the influence of America's values worldwide.
I think the world has had its fill of the USA forcing or enforcing anything on it.  Sorry, the UN's values and programs are far from those of the people of the USA.  We are not interested in their "GLOBAL" PLANS, or their Vaccine AGENDA, or their POLICIES ON HEALTH. 
We certainly do not want the UN forcing their lockdowns, quarantines, medical treatments, drugs or vaccines on anyone, especially not us!!
Based on the current draft,

the new pandemic treaty would greatly aid health around the globe.

(That is what the UN want us to believe.  However we have seen that this is not the case. NO ONE in their right mind thinks that what has occurred in the last couple years was good for ANYONE!  The strong armed policies that were enforced completely destroyed our economy and was totally unmerited and unproductive. The vaccines have done more harm than good.) 

 In 2020, poor data-sharing between countries at the onset of the pandemic allowed Covid-19 to spread rapidly, including in the U.S. Later on, shortages of vaccines in sub-Saharan Africa and Latin America fueled the rise of the Omicron variant that eventually surged in the U.S. and greatly prolonged the pandemic. Together, these costly mistakes cost more than 1 million American lives and trillions of dollars of damage to the economy. 

(Ya, tell us another fairy tale.)
This pandemic treaty, however, could help avoid such calamities. Provisions to facilitate data-sharing  (In my opinion there has been entirely too much data-sharing in the world already!  The computerized health records were supposed to protect our information.  In reality, it made our personal information and health records available to everyone and anyone and expose us to negative social consequences.). between countries could help U.S. scientists and public health officials make quicker and more informed decisions (again, that is just the point.  We don't want anyone, especially scientists and public health officials making decisions for us.) to limit the spread of a disease, while clauses on ensuring an equitable global distribution of vaccines could prevent the rise of dangerous variants of a pathogen.
Beyond these benefits, this treaty could resolve many complaints that conservative critics have about the WHO  (Sure you bet, they will make it illegal to disagree or to speak against any of their policies, thereby eliminating all those pesky right-wing dissenters)  in the first place. For example, some have argued that a pandemic treaty would empower the organization that many see as being anti-American and influenced by foreign governments.  (If this treaty was not meant to "empower the organization" why do you think they have spent so much time and money to get it passed? What are they trying to get out of it if not the power to enforce their policies?  National Sovereignty is the MAIN obstacle they are looking to demolish.  EVERY NATION that stands sovereign is the target of their campaign.)
If the WHO was biased against the U.S., a pandemic treaty would be a useful way to rectify the issue. It would give the U.S. a powerful seat at the table, allowing it to use its diplomatic and economic weight to support the promotion of American and allied civil servants at the WHO. These personnel often greatly influence international institutions — one study found that international personnel at the United Nations often exercise significant discretionary authority on everything from arms control negotiations to financing post-civil war reconstruction efforts. America's influence on personnel appointments via the pandemic treaty could ensure that WHO officials remain friendly to American values and assuage concerns about anti-American bias.
IF WE JUST MAINTAIN OUR SOVEREIGNTY WE DO NOT COME UNDER THEIR AUTHORITY.  So, what? Are they threatening that if we don't join the treaty they could employ the force of their union in a manner that is not friendly to American values?  
Many of the arguments proliferating against the pandemic treaty have little merit. A pandemic treaty would not turn over final decision-making power on public health or lockdowns to the WHO — such authority would remain in the hands of the American people and their representatives. Also, concerns about a treaty limiting America's national sovereignty are misleading, as it is unlikely that restrictions on national sovereignty would find their way into a treaty given the number of countries expressing similar hesitations and desiring a more moderate approach.   The entire idea is against National Sovereignty!  Who are they kidding??  All nations have a right to be concerned and should NOT sign on to such a thing for any reason.  They have nothing to gain and everything to lose.
spacer
Signing onto the pandemic treaty would be a valuable opportunity to bolster American influence in the developing world. For decades, the U.S. has systematically undervalued diplomatic and economic engagement with sub-Saharan Africa, Latin America, and other developing regions. The result has allowed other nations to make substantial inroads, whether that means China's rapid investments in Latin America or Russia's massive arms sales to nations in sub-Saharan Africa. As projections show that some of these countries are likely to have double-digit economic growth and exert serious clout in the future, the U.S. can no longer afford to ignore these countries if it is serious about upholding its global leadership.
Good-faith participation in the pandemic treaty represents a salient way to increase U.S. influence in these regions. Gross global inequities in the distribution of vaccines and therapeutics have left many low-income countries and their citizens distrustful towards Western institutions and more eager to look elsewhere, giving countries like China and Russia valuable opportunities to build support. But if the U.S. effectively used a pandemic accord to support the development of health care systems in low-income countries, the result could greatly improve regional public opinion about the U.S. and foster closer bilateral relations.
DO YOU really buy any of that crap?? Excuse my french.  The US has collapsed largely in part because as a Nation we have been controlled and manipulated by European Elites, used as the Enforcer for their policies and allowing their policies to collapse our economy while using our money to build up China and other nations who have no respect for our Nation or interest in our well being.  Our nation became great because we were a Christian Nation Blessed by GOD.  We turned our back on him and allowed man's wisdom to rule.  We need to get back to the basics and quit aligning ourselves with the ungodly.  The UN has been working hard to steal the wealth of the USA to build up the nations they choose.
Closer relations could help American investors and security planners build new partnerships in these regions, while improved public opinion of the U.S. could fuel the rise of pro-American leaders in the long term.  (LOL, LOL, LOL)  A pandemic treaty is key to reaping these benefits. The long-lasting, society-wide nature of the Covid-19 pandemic made health care a uniquely salient issue to many in low-income countries, so U.S. support on this vital issue would exceptionally benefit its diplomatic reputation worldwide.
U.S. support for the International Treaty for Pandemic Prevention, Preparedness, and Response is good for both global health equity and promoting America's values abroad.  (The Pandemic Treaty has NO AMERICAN VALES CONNECTED WITH IT.  IT IS TOTALLY UNAMERICAN AND ANTI FREEDOM.  It is not good for any nation.  It seeks to make slaves of all peoples.) Rather than reject a treaty under vague national sovereignty concerns and conspiratorial fears, American policymakers should embrace good-faith participation in this new pandemic treaty. The world — and the U.S. — will be healthier and wealthier for it.   (Anyone who has paid attention to what is said and done at the WORLD ECONOMIC FOREM should have no doubt as to the goals and aspirations of the elite and their plans for the masses.) 
Sergio Imparato is a lecturer on government at Harvard University and author of "The Sovereign President" (Pisa University Press, 2015). Sarosh Nagar is a researcher in the Department of Economics at Harvard University.r