UPDATE ADDED: 2/24/23
We are still unraveling the mess that is the Norfolk Southern Rail Disaster.  Sadly, we will not know the full impact for years, even decades to come.  What is obvious here is that this is just the pinpoint of a much greater underlying problem.
We owe it to the victims of this event, and to ourselves to keep this issue in the public eye until something HUGE springs out of it that brings about a real change in our system.
Continue to pray for all those not only in the immediate area but everyone who will feel the impact of this event anywhere the poisons travel through the air and water.  Keep lifting up our first responders and the clean up crews who willing put themselves in danger to protect us,  God Bless and protect them.
spacer
The Rail system is only part of the infrastructure of our nation that is crumbling from neglect.  One of the other very important and dangerous parts of our infrastructure that holds imminent danger to lives and property is our system of Dams.  If you have not seen my posts on that topic, check them out below:
All the posts in this series:
spacer
spacer
UPDATE ADDED: 2/24/23
The NTSB report came out today and "SURPRISE" it did not say anything that has not already been said.  MORE BS.  They have nothing new to add so I am not even going to post the video.
In the following video you will hear a reporter sharing how the Trump visit went down.  She states that the media did not even know he was coming, and when they did discover that fact they had a very hard time trying to find out where he was going to be.  SO, Trump was not grandstanding or campaigning.  As this reporter states, he was there for the people, showing that he genuinely cared about what was happening to them.   If anyone is making this a political event it is the Democrats constantly trying to point the finger at Trump.  Listen to what she has to say about what she saw and experienced in East Palestine.
spacer
NORFOLK SOUTHER is the worst offender as far as railroads go.  THEY NEED TO BE HELD ACCOUNTABLE.  There should be no mercy shown.  They have been profiting for a very long time by cutting corners, disregarding safety standards, failing to maintain their equipment properly, covering up the dangers connected with their "accidents", denying compensation to those affected, overworking and underpaying their employees, and forcing workers to work when they are sick or lose their jobs.  This in a time of a "pandemic".  
We need to hold their feet to the fire and force them to clean up their mess, compensate the people, and CHANGE their business practices. Make them an example of what will happen to any railroad that continues to practice as they have until now.  
spacer
spacer
UPDATE ADDED: 2/23/23
spacer
The people of Palestine OHIO are not going to let this slide.  We need to support them in any way we can.  It is looking more and more like this was a deliberate act perpetrated on this very strategic part of the country.  Let's get to the bottom of this and uncover the full extent of the corruption and deceit.  Support the folks who are laboring out in the field to bring you the REAL NEWS from Palestine.
spacerspacer
spacer
spacer
spacer
spacer
spacer
spacer
To View the video in the above twitter click here: https://twitter.com/i/status/1628469529327071234
spacer
"Oddly, 'Trump Water' is what his diaper valet calls it," anti-Trump PAC founder Rick Wilson wrote
Liberal Twitter influencers stormed the social media platform yesterday after former President Donald Trump donated water and other supplies to the residents of East Palestine, Ohio.
The former president's visit came just days after a train carrying toxic chemicals derailed in the small Ohio town, causing anxiety in some residents about the safety of local drinking water.
As a result, Trump donated water and other supplies to East Palestine, including his namesake "Trump Spring Water," which he jokingly called "Trump water."
But some Twitter influencers expressed anger at the news. 
TRUMP HANDS OUT 'TRUMP WATER,' SPEAKS TO THE 'FORGOTTEN' AMERICAN IN EAST PALESTINE: 'WE STAND WITH YOU'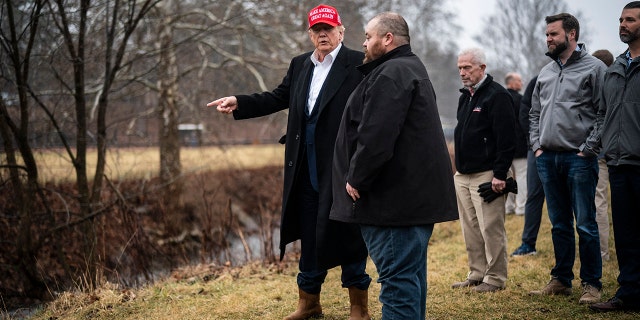 Anti-Trump PAC The Lincoln Project blamed Trump for the toxic train disaster in Ohio. 
"Trump shredded the safety regulations that could have kept East Palestine residents safe and then rolled into town with Trump water and a campaign slogan. He's as useless now as he was as a president."
Lincoln Project founder Rick Wilson mocked Trump for donating water to residents Wednesday.
"Oddly, 'Trump Water' is what his diaper valet calls it."
BUTTIGIEG TORCHED FOR SAYING SOUTH BEND CRISES PREPARED HIM FOR OHIO DERAILMENT: 'COULDN'T EVEN FIX POTHOLES'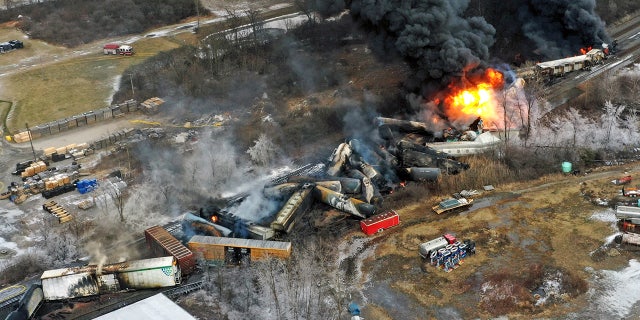 Leftist Twitter influencer "Jo" accused Trump of causing the train derailment, cursing out the former president online.

"'I brought you whatever I had left of my s—– a– trump water, did my little point at boring things photo-ops & threw some red hats at McDonald's workers, what a hoot! Have fun with the rail disaster I helped to facilitate!!'"
"We stand with you. We pray for you. And we will stand with you and your fight to help ensure the accountability that you deserve."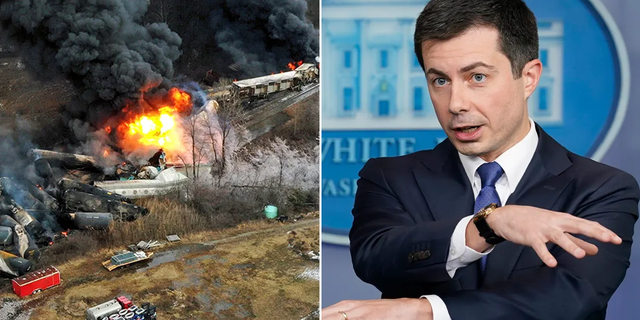 Transportation Secretary Pete Buttigieg has announced that he will visit East Palestine, Ohio, on Thursday, 20 days after the train first derailed in the state. 
Buttigieg has previously refused to answer questions about the toxic train derailment, telling a reporter Tuesday that he was taking "personal time."
(in the middle of a transportation disaster?  The head of transportation is taking "personal time"???)
Fox News' Brian Flood and Brandon Gillespie contributed to this report. 
Story tips can be sent to jeffrey.clark@fox.com.
Norfolk Southern train was carrying flammable and carcinogenic vinyl chloride — a class 2 flammable gas — as well as other gases and "combustible liquids," according to the company.

Class 2 Dangerous Goods Gases

Little Pro on 2016-01-07109050

Class 2 dangerous goods are gases. It covers compressed gases, liquefied gases, dissolved gases, refrigerated liquefied gases, mixtures of gases and aerosol dispensers/articles containing gas. There are 3 sub-divisions:

Division 2.1: Flammable gases
Division 2.2: Non-flammable, non-toxic gases
Division 2.3: Toxic gases

Class 2 Dangerous Goods Examples & Labels

Commonly transported class 2 dangerous goods include oxygen, natural gas, carbon dioxide, lighters, and aerosols.

Class 2 Dangerous Goods Label

The picture below shows hazard symbols for Class 2 dangerous goods. More info about the marking and labelling of dangerous goods can be found here.

Government officials asked residents living within a mile of the accident to evacuate, warning that the flammable materials in the rail cars could explode and launch "deadly shrapnel as far as a mile." As a result, crews on Monday released the vinyl chloride and burned it, creating a toxic mushroom cloud.

And yet, federal officials told The Lever that the train was not classified as a "high-hazard flammable train," under the more limited definition outlined by the 2015 Obama rule.

"The train did not qualify as an HHFT under the regulations," said an NTSB spokesperson. An FRA spokesperson seconded that.

"The definition of an HHFT is too narrow if it does not include a train like the one that derailed last Friday [in] East Palestine, Ohio," Ditmeyer, the former FRA official, told The Lever. "In fact, it defies logic that the train was not defined as an HHFT."

According to federal investigators, the derailment was caused by a mechanical issue with a rail car axle. Ditmeyer and two other experts told The Lever that ECP braking probably would have reduced the damage caused by the derailment by bringing the train to a halt more quickly and stopping all of the cars simultaneously.

"If the axle breaks, it's almost certain that the train is going to derail," said John Risch, a former BNSF engineer and national legislative director for the Sheet Metal, Air, Rail, and Transportation Union. "ECP brakes would help to bring the train to a stop. What they do is activate the brakes on each car at the same time immediately. That's significant: When you apply the brakes on a conventional train, they brake from the front to the rear. The cars bunch up."

Risch said that ECP brakes are the "most remarkable advancement" he ever encountered in his 31-year career as a railroad worker, adding: "It needs to be implemented."

But instead of investing in the safety feature, the seven largest freight railroad companies in the U.S., including Norfolk Southern, spent $191 billion on stock buybacks and shareholder dividends between 2011 and 2021, far more than the $138 billion those firms spent on capital investments in the same time period.

The same companies also slashed their workforces by nearly 30 percent in that timeframe as part of what they called "precision scheduled railroading." Such staffing cuts are likely contributing to safety issues in freight railways. In a recent investor presentation, Norfolk Southern disclosed an increase in train accidents over the past three consecutive years.

"The massive reduction in the workforce, attendance policies that encourage people to come to work when they're sick or exhausted, lack of access to [paid] leave, the stress that is constantly put on workers because of how lean the workforce has become, it creates a negative culture in terms of safety," Greg Regan, president of the Transportation Trades Department of the AFL-CIO, told The Lever.

Last fall, President Joe Biden and Congress helped the industry crush an effort by rail workers to win paid sick leave by intervening to block a strike.

As the industry has resisted safety measures and shed staff, rail companies have increased the length of trains. Norfolk Southern was the leader in this category as of 2021, with an average train length of over 7,000 feet — which is 1.3 miles, or more than 100 rail cars. The Norfolk Southern train that derailed in Ohio was 9,300 feet long, or nearly 1.8 miles.

"Our push for efficiency led to record train weight and record train length in the quarter," a Norfolk Southern executive bragged on a 2021 earnings call.

Concerns about train length and public safety prompted federal funding for a study on the issue in the 2021 infrastructure bill. On Tuesday, residents of East Palestine filed suit against Norfolk Southern in a U.S. District Court, alleging negligence.
As Corporations and the wealthy elite line their pockets with the proceeds from the blood, sweat and tears of America's working class, and government officials and political fat cats continually enjoy the good life as the award themselves pay raises and benefits; the Infrastructure of our nation which was supposed to be maintained by our taxes is collapsing before our very eyes.  When these types of disasters occur due to neglect, the fatcats do nothing to render aid or compensate the victims or provide funds for the ongoing devastating effects. 
spacer
All I want to say is THEY DON'T REALLY CARE ABOUT US!
spacer
spacer
It's all ok in Ohio…
spacer
In an attempt to bolster confidence in the safety of the drinking water in East Palestine, Ohio, Governor DeWine and EPA administrator Michael Regan toured a home and drank glasses of tap water to show their confidence in the testing that's being conducted in the area.
Like: 'Hey look, I didn't die from that one sip I took. Clearly it means it's safe!'
It's probably safe to drink one gulp. But not as your daily source of water in food and drinks.
spacer
Video/ Ohio Train Derailment: Gov. DeWine, EPA Director drink tap water from a home in Palestine, Ohio
Just keep in mind that during another Vinyl Chloride train derailment back in 2012 in New Jersey, residents were evacuated from Paulsboro for 3 weeks although they had been exposed to 9x less poison than in Ohio…
Former President Donald Trump visited East Palestine. "Biden and FEMA said they would not be sending federal aid to East Palestine. As soon as I announced that I'm going, he announced a team will go,"
Trump announced on his social media platform Truth Social. "Hopefully he will also be there. This is good news because we got them to "move." The people of East Palestine need help. I'll see you on Wednesday!"
In preparation for Trump's appearance, East Palestine City Schools announced that they will be closed on Wednesday due to "heightened security measures" and the "significant number of street closures."
This is what Trump delivered before arriving in E. Palestine…
Trump paid for all of the tens of thousands of pounds of goods, food, water being delivered to the people of East Palestine, Ohio…
TENS OF THOUSANDS OF POUNDS OF GOODS, FOOD, WATER BEING DELIVERED TO THE PEOPLE OF EAST PALESTINE, OHIO RIGHT NOW BEFORE TRUMP'S VISIT.

TRUMP PAID FOR ALL OF IT.

NUMBER OF GOODS DELIVERED FROM THE BIDEN ADMINISTRATION: 0  PIC.TWITTER.COM/QQADQZL9UY

— BENNY JOHNSON (@BENNYJOHNSON) FEBRUARY 22, 2023
Meanwhile, Alan Shaw CEO of Norfolk Southern, who was paid $4,362,801 in 2021, offered inhabitants of East Palestine an amazing  $1000 each. Unbelievable!  All that is  required is for them to sign a paper (I would really read the fineprints before doing anything)…
Friday, activist Erin Brockovich will hold a town hall in East Palestine. Brockovich served as the subject of the 2000 biographical film in which Julia Roberts won an Academy Award for best actress for portraying her.
spacer
spacer
spacer
spacer
Always remember folks that "tests" just like "statistics" CANNOT BE TRUSTED!!  They can ALWAYS be manipulated to produce the desired results.  
spacer
spacer