UPDATE ADDED 2/13/23
Amazingly there has been little in the news about the Train Derailment, subsequent explosion and toxic chemicals released in the air and water.  Hmmm.  Apparently there have been a lot of lies and deceptions connected with what Ohioans have been told.
Please pray for everyone in the area surrounding this derailment.  You know that the authorities and the Corporations don't care about people or animals.  They are animals.  They live for nothing but the mighty dollar.  These explosions and fires happening at an epidemic level across our nation and the world, they are not naturally occurring.  They are do to neglect or deliberate manipulation.  The aftermath of these events will be a force we will have to contend with for years to come.  They know that.  They want to close things up and declare it safe for people to return as quickly as they can.  Because first of all they don't want to be liable for the expense of keeping people while they are not allowed to return home.  But, more importantly, they want the long term affects to depopulate and they don't want anyone to be able to point to the event as the cause of the health issues that will turn up years from now.
This even in Ohio is not an isolated incident these kinds of things have been happening more and more frequently and they will continue to do so.
Next time, it might be your neighborhood.
spacer
All the posts in this series:
spacer
spacer
Video Available on the Website: Click Here
A video showing the moment a NewsNation reporter was arrested by Ohio police on Wednesday while live broadcasting during a press conference about last Friday's train derailment in East Palestine has gone viral on social media, with many asking for an explanation.
The reporter, Evan Lambert, was charged with criminal trespass and disorderly conduct, Lt. Seth Fraser of the Columbiana County Jail in Ohio said. According to several reports, the correspondent was arrested for being too loud after all reporters present were asked to remain quiet while Ohio Governor Mark DeWine, a Republican, was speaking.
In a video of the incident shared on social media, the NewsNation reporter can be seen face to the ground as two officials restrain him. He's then accompanied out by the same two officials while handcuffed.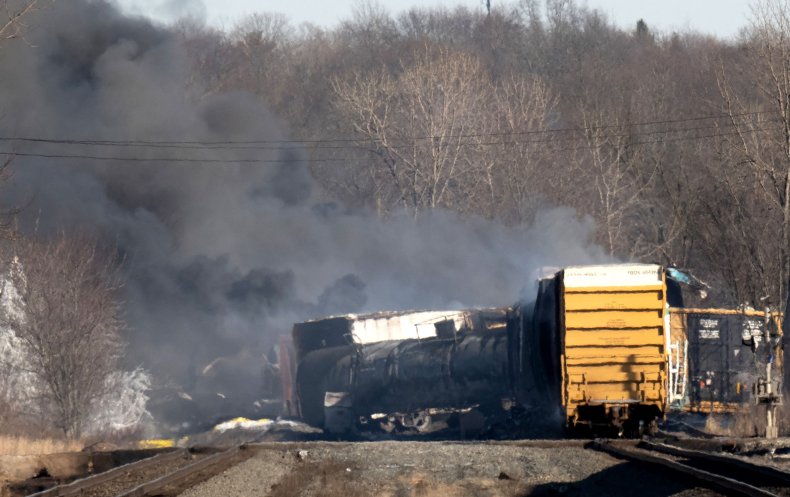 "Doing a live shot gets you arrested in America in 2023," Lambert said. "I got arrested because I was trying to do a live report about what people need to know," he added.
NewsNation's Washington Bureau Chief Mike Viqueira told the channel's "On Balance" host Leland Vittert on Wednesday that Lambert behaved professionally while being "manhandled." He added that Lambert was talking very quietly to the camera and reporting on a "very critical story" of interest to the public.
"We know from the tape that he did nothing wrong," said Vittert, who said Lambert's arrest was "stunning" to him.
Commenting on Lambert's arrest, NewsNation host Nichole Berlie—with whom Lambert was talking during the live shot—said she was struggling to understand how the correspondent was found to be trespassing when he was "a journalist doing his job in a room full of other journalists doing their job."
Former Detroit Police Chief Ralph Godbee told NewsNation that Lambert's arrest was "completely baffling" and "makes absolutely no sense." He added that disorderly conduct is usually a catchall for contempt of cops, but even not knowing what happened off camera, the arrest of the journalist didn't make any sense.
Governor DeWine said that Lambert's arrest is nothing he authorized and added that he's fine with people doing a live broadcast while he's talking during a press conference. "I'm certainly very, very sorry that that happened," he said. I don't know all the facts but he or she—whoever was arrested—had every right to be reporting and do what they do every single day."
Lambert was held in custody at the Columbiana County Jail but was released late on Wednesday night, according to reports from WTAE-TV Pittsburgh. According to NewsNation, the reporter will be arraigned on Thursday.
"I'm doing fine right now," Lambert said in a video released by NewsNation. "And it's been an extremely long day. I have to be careful about what I say, but as you can see I'm out. […] I was just trying to do my job, as I am continuing to do now."
The East Palestine Police Department and the Columbiana County Sheriff's Office didn't immediately respond to Newsweek's calls seeking comment.
The derailment of the tanker train last Friday caused toxic fumes to be released in the air surrounding the scene of the incident in East Palestine, some 50 miles away from Pittsburgh. Evacuated residents were allowed to return to their homes on Wednesday
spacer
Vinyl
chloride
is a gas with a sweet odor
.
It is highly toxic,
flammable, and carcinogenic.
It
can be formed in the environment when soil organisms break down chlorinated solvents.
Vinyl
chloride
that is released by industries or formed by the breakdown of other chlorinated chemicals
can enter the air and drinking water supplies
.
A) Vinyl chloride has produced gastrointestinal, liver (including angiosarcoma), and kidney tumors and skin and appendage tumors in rats; respiratory system, liver, vascular and/or skin/appendage tumors in mice; and lymphomas and skin/appendage tumors in hamsters. 0.2.22 GENOTOXICITY
Days after crews released and burned toxic chemicals transported by a wrecked train in Ohio, residents remain concerned about the toxic substances that could be lingering in their evacuated neighborhoods.About 50 cars, including 10 carrying hazardous materials, derailed in a fiery crash Friday in East Palestine, according to rail operator Norfolk Southern and the National Transportation Safety Board. Vinyl chloride was slowly released into the air Monday from five of those cars before crews ignited it to get rid of the highly flammable, toxic chemicals in a controlled environment, creating a dark plume of smoke.Residents in the immediate area there and nearby in Pennsylvania were evacuated beforehand because of health risks from the fumes and can't yet return Wednesday, as the impact of burning vinyl chloride is a concern.WHAT IS VINYL CHLORIDE?The gas is used to make the polyvinyl chloride hard plastic resin in plastic products. It is found in products such as credit cards, furniture and car parts, but is most notably used in PVC plastic piping, a common material for plumbing.IS IT DANGEROUS?

Vinyl chloride is associated with increased risk of liver cancer and other cancers

, according to the federal government's National Cancer Institute.

EXACTLY, not an effect that will show up immediately, these direct effects of exposure to this substance can take years to develop and/or manifest.  

The effect was studied in PVC pipe makers, who breathed in vinyl chloride and developed rare liver cancers, said Ruth Lunn, who studies carcinogens at the National Institute of Environmental Health Sciences."If you worked longer, you had a higher risk, and

if your exposure levels were high

, you had a higher risk," Lunn said.

Vinyl chloride is dozens of times less toxic per molecule than the U.S.-banned insecticide DDT but more dangerous per part than ammonia and natural gas, according to federal regulations that dictate acceptable levels in the air.

Gee, I feel so much better knowing that it is less hazardous that DDT.  AN EXTREMELY TOXIC MATERIAL THAT THEY LIED TO US ABOUT FOR YEARS.  WE DON'T EVEN KNOW HOW MANY PEOPLE SUFFERED AND/OR DIED FROM DDT!   Many of us are still carrying it in our system.  

MORE DANGEROUS than Ammonia or natural gas.  TRY BREATHING EITHER ONE OF THOSE DIRECTLY especially after they are mixed with other toxic material… you won't be breathing long!!

WHAT HAPPENS WHEN IT BURNS?

Officials warned the controlled burn would send phosgene and hydrogen chloride into the air. Phosgene is a highly toxic, colorless gas with a strong odor that can cause vomiting and breathing trouble and was used as a weapon in World War I.

Phosgene is considered safe at 0.1 parts per million during an eight-hour exposure, or 0.2 ppm for a 15-minute exposure. The eight-hour exposure threshold would have to be even lower when measuring inside people's homes, where residents often spend more than eight consecutive hours.

Hydrogen chloride is a colorless to yellowish gas with a strong odor and its primary effect on humans is skin, eye, nose and throat irritation. It is considered safe at 5 ppm for an eight-hour exposure.

WHAT IS BEING MONITORED?

James Justice of the U.S. Environmental Protection Agency said a network of air station monitors inside and outside the evacuation zone was collecting samples and that none of their readings found anything to be concerned about. "We want to make sure that's not going to change," he said.

Justice said the agency is still working with experts to determine safe levels for various gasesbefore reopening the evacuation zone. The incident response team did not specify what substances they are monitoring.
That is a BIG RED FLAG!!  What are they hiding?  And what other VARIOUS GASES do they suspect might be present.  We have no idea what kinds of materials burned in that fire.  Ask any fireman, there are all kinds of toxic fumes in a fire.  What the cars were made of, the seats, everything in them, what people were carrying with them, what was in or had been all the freight cars, and the tracks.  

The gases that experts suspect are in the area are heavier than air, which means they could be sitting in low-lying areas if not completely dissipated.

Or, it means that they settled into the ground and inside houses on furniture and clothing, or in our water supply. If they fall to low lying areas… they are not likely to be carried away in the air.

National Guard members wearing protective gear are taking readings inside homes, basements and businesses, Major General John Harris Jr. said.

The EPA also sampled nearby rivers to determine whether there has been any water contamination and is awaiting results.

WHEN WILL THE RISK BE OVER?

Whatever chemicals are in the air, gases largely dissipate fairly rapidly when out in the open, said George Gray, a public health professor at George Washington University. "Sunlight can change that, the movement of air can change that, temperature can change that," Gray said.

Residents are concerned about long-term effects of low-grade exposure.
And they should be!

"There's all that smoke and all those chemicals in there," said Mason Shields, who lives in East Palestine and visited an aid center outside the evacuation zone. "I'm wondering if it's even going to be safe for people to return within the next week or month or however long."

That is why they should be identifying everyone who was in the area and recording their names and addresses.  They need to hold the responsible parties to accountability on a long term basis.  When the after affects of this event start materializing…people need to have recourse.  They need to be able to prove they were there and they need to be compensated!!
How many people were left to suffer from Asbestos with no recourse?  Or how many babies lives were affected by Johnson and Johnson products but cannot prove it?  Or women, who suffered because of talcom powder or birth control?  The list could go on and on.  How often the public has been lied to and paid the cost.
EAST PALESTINE, Ohio —The U.S. Environmental Protection Agency detected what one expert called "significant" levels of fine particles in the air during the hours following the controlled release of vinyl chloride from train cars that derailed in East Palestine, Ohio.
But chemicals that could have posed much greater risk to human health were not detected at dangerous levels, a University of Pittsburgh scientist who reviewed the EPA data confirmed.
Results from those studies of the air in and around East Palestine were released publicly as they became available between Tuesday and Friday.
They show nothing "threatening or concerning" in the air, according to University of Pittsburgh School of Public Health associate professor of environmental and occupational health James Fabisiak.
Pittsburgh's Action News 4 first reached out to Fabisiak, who directs the Center for Health Environments and Communities at the University of Pittsburgh, on Tuesday evening in hopes of understanding what chemicals may be lingering in the air or water surrounding the train derailment in East Palestine.
When the Norfolk Southern train derailed on Feb. 3, five of the cars that left the tracks contained vinyl chloride, a chemical used to make the plastic more commonly known as PVC.
On Monday night, officials at the scene – concerned about the potential for a violent explosion – deliberately vented the vinyl chloride, resulting in a fiery column of smoke.
The controlled release prevented a catastrophe, but officials acknowledged that venting vinyl chloride into the air also came with a major risk: gases so dangerous they can kill entering city streets, homes and businesses.
Fabisiak explained that vinyl chloride, which is a gas at room temperature, also transforms into other chemicals when it catches fire. Several of those combustion products of vinyl chloride are potential health dangers, he said.
Among the dangers are gases called phosgene and hydrogen chloride.
Phosgene, Fabisiak said, had the potential to be immediately dangerous if it was present. After all, he said, it had been used as a deadly chemical warfare agent in the trenches of World War I.
He said phosgene was likely present to some extent. But the question was: how much?
"We never burn things very efficiently," Fabisiak said Tuesday. "And that large cloud of smoke that you saw says that you're not burning things efficiently. There's obviously something there besides carbon dioxide and water."
That's where the EPA – and the agency's work to find it – come in.
How the EPA tested for phosgene and hydrogen chloride
In the hours following Monday's controlled release, the information provided to the public about air monitoring was limited.
On Tuesday, East Palestine's fire chief joined officials from several agencies charged with monitoring the air and water to brief residents. Among them was James Justice, spokesperson for the EPA's Midwest region.
"We monitored through the duration of the night through the burn and following the burn. We did not detect anything of significance on site," Justice said that evening.
But when asked to specify what chemicals they were measuring, and what levels of those chemicals they were looking for, he did not provide specifics.
"We're still developing those from our subject matter experts at the health agencies," Justice said Tuesday.
Information released later in the week made it clear there were already several chemicals the EPA had known to look for, including phosgene and hydrogen chloride.
Roughly 24 hours later the evacuation ended, Justice joined a press conference led by Ohio Gov. Mike DeWine. He revealed there that the EPA had, in fact, been searching for vinyl chloride, along with its toxic byproducts.
"Both very toxic chemicals," Justice said Wednesday of phosgene and hydrogen chloride. "That's why that controlled burn the other night was so important to get right. There was a potential for those contaminants to be released."
Justice went on to say that monitoring had shown a small burst of "detections" at the site of the controlled release, but all below the level the EPA had determined to be a danger to human health.
A spokesperson for the EPA later clarified that while the agency did not collect samples at the scene to test for either phosgene or hydrogen chloride, staff at the scene did use monitors with chemical-specific equipment to look for them.
On Friday, Charles Rodriguez, a community involvement coordinator for the EPA, said in an email that the EPA did detect some phosgene, but not enough to be dangerous.
"U.S. EPA did monitor for phosgene and only had a short-term detection of around 3 parts per billion immediately downwind and at the initiation of the control burn," he wrote.
And he provided some monitoring specifics: While tools the EPA used to check for vinyl chloride itself – known as photo-ionization detectors – could not specifically search for phosgene or hydrogen chloride, the EPA used different instruments to check for them.
Online, the EPA provided more details. To check for phosgene, hydrogen chloride and other possible contaminants, the EPA used a plane-mounted spectrometer to take readings from the air, and a gas monitor on the ground was configured to check specifically for phosgene and mineral acids, including hydrogen chloride.
Fabisiak looked at data released by the EPA from the East Palestine train derailment monitoring on Thursday night.
He said EPA ground monitoring results showed high levels of particulates in the air and some hydrogen chloride.
But while fine particulate matter – visible as soot and smoke at the scene of the fire – was present in what Fabisiak called "significant levels," he said readings were not unexpected for a burn that size and dispersed relatively quickly.
"Everything appears relatively safe," he wrote in an email.
From the air, he said spectral readings taken from a plane were likely "insignificant" from a health point of view.
"Bottom line: nothing immediately stands out as threatening or concerning and these findings do support a decision to allow people to return home. With, I hope, at least some measure of follow-up on community health," Fabisiak wrote in an email.
Lingering concerns
For some residents living in and around the area evacuated due to the train derailment a week after the derailment, concern about toxic contaminants lingering in the environment continued.
By Friday evening, two separate lawsuits related to the derailment and controlled burn had emerged, including one calling for ongoing court-supervised health monitoring.
And Janet Hill, who lives 1.4 miles away from the derailment, also called for expanded air testing in homes within the evacuation zone.
spacer
Animals are falling sick and dying near the site of a hellish Ohio train derailment last Friday which released toxic chemicals into the air, according to reports — sparking fears of the potential health impacts the crash could have on humans.
VIDEO AVAILABLE ON THE WEBPAGE: CLICK HERE
Taylor Holzer, owner of a dairy farm just outside the evacuation zone in East Palestine, told WKBN several foxes he keeps on his property have become mortally ill.
"Out of nowhere, he just started coughing really hard, just shut down, and he had liquid diarrhea and just went very fast," Holzer told the outlet of one of his animals.
He said others have developed watery eyes and puffy faces, and have uncharacteristically refused to eat for several days.
"Smoke and chemicals from the train, that's the only thing that can cause it, because it doesn't just happen out of nowhere," Holzer said. "The chemicals that we're being told are safe in the air, that's definitely not safe for the animals … or people."
A cocktail of deadly chemicals — including highly toxic vinyl chloride and hydrogen chloride — spilled out after 50 cars on a Norfolk Southern Railroad train derailed en route to Pennsylvania.
Inhaling vinyl chloride fumes can induce dizziness, nausea, headache, and breathing complications, University of Toledo environmental engineering professor Ashok Kumar told ABC News.
Professor Kevin Crist, the director of Ohio University's Air Quality Center, noted that the chemical can also cause cancer of the liver and other organs.
"Breathe those in under heavy concentrations, and it's really bad for you," Crist told the network. "It's like an acid mist. It's not something that you want to be around in high concentrations."
Officials conducted a controlled burn in the area to avoid a "catastrophic tanker failure" that could have set off a gigantic explosion.
Video shows billowing smoke after train derailment in Ohio
Evironmental Protection Agency official James Justice said the agency has been conducting constant air-monitoring tests that did not show any toxic threats, and residents were told it was safe to return to their homes after a three-day mandatory evacuation this week.
But scattered reports of dead animals well outside the original evacuation zone continue to stoke fears.
"My video camera footage shows my chickens were perfectly fine before they started this burn, and as soon as they started the burn, my chickens slowed down and they died," said Amanda Breshears of North Lima. "If it can do this to chickens in one night, imagine what it's going to do to us in 20 years."
A previous spillage of vinyl chloride after a train derailment occured in Paulsboro, New Jersey, in 2012. That state's Department of Health compiled a fact sheet on the potential effects of exposure to humans that year which said stated: "It is not known whether short-term exposure to vinyl chloride can cause long-term health effects."
The Wisconsin Department of Health Services also has a more recent information sheet on vinyl chloride which said: "Human and animal studies show higher rates of liver, lung and several other types of cancer.
"Being exposed to vinyl chloride can affect a person's liver, kidney, lung, spleen, nervous system and blood. People exposed to [extremely high] levels … may have an increased risk of miscarriage and birth defects. Damage to male sperm-producing organs has occurred in laboratory animals."
spacer
The Following Video is available to view on TWITTER.  Click HERE
A huge environmental disaster happened in East Palestine, Ohio. This is how the sky looks around the incident site. Open your eyes, people. There's no point in talking about UFOs or aliens, they are just distractions from the real issues. #ufotwitter #EastPalestineIncident #USA pic.twitter.com/sckYpSm4cc

— Judgy Emoji (@JudgyEmoji) February 12, 2023
Industry lobbyists have successfully blocked strict safety regulations on trains carrying toxic vinyl chloride.
Did you know that Truthout is a nonprofit and independently funded by readers like you? If you value what we do, please support our work with a donation.
Last week a train derailed in East Palestine, Ohio, sending 50 cars carrying toxic chemicals careening off their tracks. The resulting fire burned for days, forcing hundreds of evacuations and blanketing the small village on the Ohio-Pennsylvania border in smoke. Runoff from the site contaminated two streams nearby. Over the next week, as officials worked to avoid a deadly explosion that could launch "deadly shrapnel as far as a mile," they slowly released vinyl chloride, a colorless gas linked to various cancers, from five of the railcars that were transporting it to its destination.
The blaze is now under control, and residents were allowed to return to their homes late Wednesday, five days after the train derailed.
So, it has been burning and billowing smoke for five days.  Still not completely out.  Smoldering but under control and they think the area is ready for humans and animals to return???  Again, it looked to me like the fire itself and at least the smoke billows were greater than a mile wide.  
Local authorities say the air and water are safe. The Environmental Protection Agency, or EPA, has been conducting air monitoring in the area. On Wednesday, the agency reported that its monitors detected volatile organic compounds, a class of toxic chemicals, but that their levels were below thresholds that trigger public health concerns. It also reported detecting particulate matter, the fine soot that makes up smoke and causes respiratory issues, above public health thresholds.
The disaster is a reminder of the health and safety risks that accompany reliance on fossil fuels. Vinyl chloride, the chemical released from the railcars, is a petrochemical produced from the hydrocarbon ethylene. Its primary use is in making polyvinyl chloride, or PVC, a type of plastic that is widely used to make pipes, flooring, wire insulation, and a slew of single-use medical devices.
Plastics are "so pervasive in our economy," said Judith Enck, a former EPA regional administrator and current president of the environmental group Beyond Plastics. "Wherever a range of plastic products are being made, you will often have to transport vinyl chloride to the facility, and it's not without its risks, as we've seen this past week."
Posted at
 4:14 PM, Feb 11, 2023
— The fiery derailment of a train carrying toxic chemicals — sending a huge plume of smoke in the air and forcing residents of a small Ohio town to evacuate — has highlighted the potentially disastrous consequences of train accidents and raised questions about railroad safety.
LOTS OF GOOD INFORMATION IN THIS ARTICLE.  I STRONGLY SUGGEST YOU CHECK IT OUT!
Story by Patrick Reilly • Wednesday
The evacuation order was lifted after air and water samples were analyzed overnight and deemed safe, East Palestine Fire Chief Keith Drabick told reporters at a press conference on Wednesday.
The Norfolk Southern train carrying toxic chemicals derailed while traveling from Madison, Illinois, to Conway, Pennsylvania, on Friday in the tiny Ohio village of about 5,000 people near the Pennsylvania border. 
Of the more than 100 cars, about 20 were carrying hazardous materials, according to the National Transportation Safety Board, which said 10 of those cars derailed, including five that were carrying the dangerous chemical vinyl chloride.  
Ok, now I am confused.  We were told there were 10 cars carrying vinyl chloride.  If the others cars were carrying other types of "HAZARDOUS MATERIALS" what kind were they carrying?? It is neccessary that the public know what materials, and what happens when those materials burn or explode.  They are being very evasive and deceptive in their release of information.
spacer
Although people were told it's safe to go home
, some
residents are still worried about how safe their homes really are
. Ohio's Governor gathered experts to answer residents questions.
Thursday, February 9th 2023, 12:05 AM EST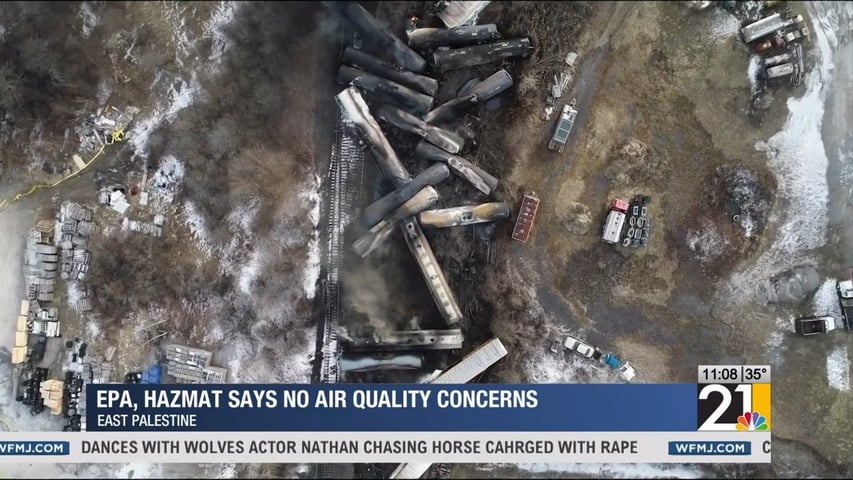 Although people were told it's safe to go home, some residents are still worried about how safe their homes really are.
Ohio's Governor gathered experts to answer residents questions.
They talked about tests of air in the former no go zone and long term monitoring.
WFMJ News has requested the data to review the test results for both air and water. 
East Palestine officials breathed a sigh of relief that loss of life was prevented during what could have been a catastrophe.
But people eager to get back in to their homes are still worried.

We have been requesting copies of the data to see the actual test results that officials based their decisions upon. 
Governor Mike DeWine gave the news that officials with the US EPA, Ohio EPA, and the National Gaurd Civil Support Team have determinend testing shows it's safe for people in the one mile evacuation zone to go home.
"They can go right now, or they can chose to wait until after their homes are tested," Governor Mike DeWine said.
They say the tests for toxic butyl acrylate are back to normal levels.


Well, now that is VERY SPECIFIC.  That still does not tell us anything.  There are so many other toxins that could be present.  And just what is "Normal Levels" according to these experts??  So, they are testing the air, what about surfaces?  What about people's lungs?  What about pets?  What about other things in humans that may already be affected that won't show up for a while?
And they add hydrogen chloride and phosgene byproducts produced during the burn off
and controlled explosion
of
vinyl chloride are

almost

back to normal levels
prior to the Norfolk Southern train derailment six days ago.
Phosgene is a gas that seeks the ground and lower lying levels such as basements or valleys.
Folks concerned can call this hotline number

234-542-6474
to reach a toxicologist to discuss concerns.
Business owners with losses, and people forced to evacuate their homes can seek help from Norfolk Southern

at the support center open from

10 a.m. to 8 pm. 
Lodging, meals, clothing and other items folks needed to buy who live in the one mile radius evacuation zones will be reimbursed for those expenses.
Businesses who lost revenue while being forced to close along with folks who lost paychecks due to work being closed in that no go zone can seek reimbursement from Norfolk Southern at the Family Support Center.
SO, the reason why they are so anxious for people to get back home is because they do not want to be accountable for the expenses for an extended period.
All train cars have been cleared from the tracks and Norfolk Southern will be removing them from the site.   

GOOD BECAUSE THEY ARE SURELY CONTAMINATED!
"
The

grossly contaminated

material

should

be getting collected
.
The liquids

should

be getting collected and containerized for disposal.
Then again the sampling during the remediation phase, they'll come in where they do collect soil samples,
they will compare it, with that is the best option for the long term clean up phase," Ohio EPA's Emergency Response Team Leader Kurt Kollar said.
Then long term clean up will continue.
Governor Mike DeWine explains

who will pick up the costs

for clean up
,
and continuing long term testing.
"Norfolk Southern will pay for it," Governor Mike DeWine said.
"I think we expect Norfolk Southern to have answers to exactly what happened and candidly to explain that they are going to do to prevent that from happening here or someplace else in the future. The burden is on them to assure the public what they do is safe," DeWine emphasized.
The National Transportation Board is continuing it's investigation into the cause of the train derailment.
On social media sites some
residents who went home state they are leaving and

warn others to not return yet due the smell of chemicals in their homes.
Others complain about side effects such as headache, coughing, a sore throat, and breathing issues.
They warn others not to go home permanently yet.
EAST PALESTINE, Ohio — Evacuated residents can safely return to the Ohio village where crews burned toxic chemicals after a train derailed five days ago near the Pennsylvania state line, East Palestine Fire Chief Keith Drabick said Wednesday.
Authorities in East Palestine had warned that burning vinyl chloride that was in five of the derailed tanker cars would send hydrogen chloride and the toxic gas phosgene into the air. They said Wednesday subsequent air monitoring hasn't detected dangerous levels inside or outside the mile-radius evacuation zone, which stretched into Pennsylvania. Drabick said air and water samples taken Tuesday from the evacuation area show it's now safe, and the evacuation order is lifted. He thanked state and federal officials and agencies that helped with the emergency response over the past few days.
Ya, like all the promises that the medications were safe, that our water was safe, that baby food, baby formula and baby powder were safe, that microwaves were safe, that vaccines were safe, that DDT was safe and asbestos…  Symptoms and complications take time to show up, by then these folks will be long gone and you will be paying the medical expenses because you can't prove the source.
Who you gonna believe??
James Justice of the U.S. Environmental Protection Agency said around-the-clock air monitoring has shown normal, un-concerning levels. Hundreds of data points from that "show that the air quality in the town is safe," he said.
He reiterated that there was a robust air monitoring system in place and data from that showed nothing at a level that would be cause for health concern. Monitors did detect toxins in the air during the controlled burn at the derailment site, but other samples outside that area did not.
Many nearby residents left shortly after the derailment, and others were ordered out before the controlled release of the chemicals because of concerns about serious health risks from it.
The commander of the Ohio National Guard previously said that members wearing protective gear would take readings inside homes, basements and businesses as officials aimed to ensure the air was safe before lifting the evacuation order.
Some residents have said they were worried about returning even if authorities say it's OK to go home.
The train, en route from Illinois to Pennsylvania, derailed on Friday and set off a massive fire that authorities are still contending with as of Monday morning
Officials are ordering the evacuation of thousands of people in northeastern Ohio due to the potential of a major explosion from a train that derailed in the area three days earlier.
Late Sunday, Ohio Gov. Mike DeWine issued a statement on Twitter regarding the fluid situation, which involves toxic chemicals and "deadly" shrapnel that could endanger residents who live within one mile of the accident.
"Within the last two hours, a drastic temperature change has taken place in a rail car, and there is now the potential of a catastrophic tanker failure which could cause an explosion with the potential of deadly shrapnel traveling up to a mile," DeWine, 76, said in the statement.
The governor also activated the Ohio National Guard to deploy to the scene to assist local authorities, which include the Ohio State Highway Patrol, Ohio Emergency Management Agency and Ohio Environmental Protection Agency.
Columbiana County Sheriff Brian McLaughlin said in a statement that authorities will enforce the one-mile evacuation zone in East Palestine, and that residents may be arrested if they do not comply.
"There is a high probability of a toxic gas release and or explosion," he said. "Please, for your own safety, remove your families from danger."
Wreckage from the derailment was still on fire Sunday, leaching a burning chemical identified as vinyl chloride from the train's cars.
Never miss a story — sign up for PEOPLE's free daily newsletter to stay up-to-date on the best of what PEOPLE has to offer, from juicy celebrity news to compelling human interest stories.
"This catastrophic failure, if it occurs, it will produce hydrogen chloride and phosgene gas into the atmosphere," Fire Chief Keith Drabick said, according to CNN. He added that the one-mile radius around the derailment may be extended.
National Transportation and Safety Board officials on the scene said at a news conference Sunday that they had "not confirmed vinyl chloride has been released other than from the pressure release devices."
The 150-car Norfolk Southern train was shipping cargo from Illinois to Pennsylvania when it derailed on Friday,according to NBC News.
Fire departments from Ohio, West Virginia and Pennsylvania responded over the weekend, as well as federal investigators, who are working to determine the cause of the derailment.
As of Monday morning, authorities say the water supply and the air quality in the area remains safe, per NBC News.
spacer
The evacuation area includes parts of Ohio and Pennsylvania.
A controlled vent and burn of toxic chemicals at the train derailment in East Palestine, Ohio, went "as planned," and "no concerning" air and water quality readings have been detected, Pennsylvania Gov. Josh Shapiro said Monday night.
"For now, out of an abundance of caution, Pennsylvanians who live within two miles of East Palestine, where this derailment occurred, should just continue to shelter in place this evening and keep your windows and your doors closed," Shapiro said.
Crews monitoring air quality "have not seen anything" unexpected, the Environmental Protection Agency said during an evening press conference with local officials.
Now that is pretty vague. Leaves all kinds of room for interpretation. Just what was expected? For all we know, this was planned and they knew darn well what would be released!
"So far, so good. And we're going to continue to monitor until the fire's out," James Justice of the EPA said.
A large ball of fire and plume of black smoke could be seen earlier Monday as the burn took place.
First of all, no matter what, they should be more concerned with those humans in the area.  This is at best a tragic and highly toxic event.  Not only because of the dangers related to Vinyl chloride, but all the other materials and fluids that were/are involved in the fire.  We don't even know what kind of chemicals were in those flames.  Then, of course, the effects of the smoke itself both to the atmosphere and to peoples belongings, as well as their respiratory system.  And what about the trauma to those who were on the train, their families, and those who were in the area both visitors and residences.  
The attitude of the authorities is inconceivable, cold hearted and arrogant!!
A controlled release of toxic materials is conducted following a train derailment in East Palestine, Ohio, Feb. 6, 2023.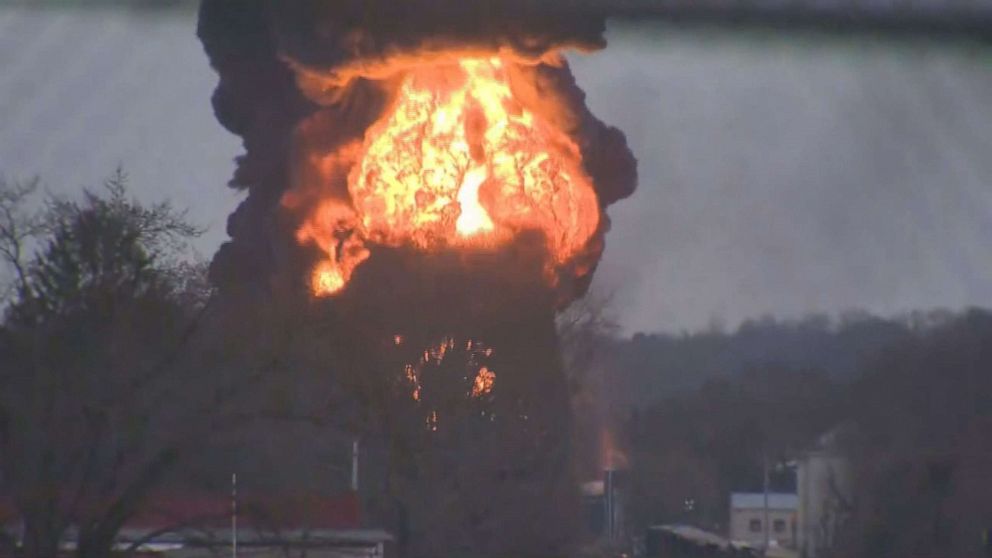 The news comes after officials made urgent calls for evacuations as they planned to burn off the chemicals from the Norfolk Southern train in order to avoid a major explosion.
A 1-mile mandatory evacuation zone remained in place around the derailment Monday night, with no timeframe for when residents will be allowed back in, according to East Palestine Mayor Trent Conaway.
In an earlier statement to ABC News, Norfolk Southern called the controlled release a success and said materials were burning off according to plan.
The railroad also said it is monitoring air quality with the Ohio EPA.
Sure they are testing the air, but for what?  They certainly have a measurement they are using as a plume line.  But, we don't know what level of toxicity they find acceptable.  Nor do we know what is not included in their testing.  We don't even really know what is included in their testing.  All we can do is take their word…and brothers and sisters, their word is not worth a plug nickel!
Residents in a 1-mile by 2-mile area surrounding East Palestine — which includes parts of Ohio and Pennsylvania — must evacuate immediately, Ohio Gov. Mike DeWine had said.
Wow, so they think the smoke filled with toxic chemicals will not travel more than 2 miles??  Heck, from the photos, the billowing smoke  appears to be at least the large, maybe larger.  
"The vinyl chloride contents of five rail cars are currently unstable and could potentially explode, causing deadly disbursement of shrapnel and toxic fumes," the governor's office said in a statement. "To alleviate the risk of uncontrollable shrapnel from an explosion, Norfolk Southern Railroad is planning a controlled release of the vinyl chloride at approximately 3:30 p.m. today."
I hope you noted that the planned release is to prevent the risk of uncontrollable shrapnel, no mention of it helping to prevent toxic fumes!! Or even to minimize them. 
Officials released a map showing a red zone and a yellow zone, downwind from the burn, with Norfolk Southern saying anyone who remains in the red area will be exposed to deadly toxins and anyone in the yellow area could suffer "skin burns and serious lung damage."
Those are ONLY the immediate effects.  They have no way of predicting the LONG TERM effects of this disaster.  Those chemicals that have been released have seeped into our atmosphere, the water supply, furnishings, hair, pet's fur, human skin and internally there is no telling how it has effect human and animal bodies, or how it will affect them LONG TERM.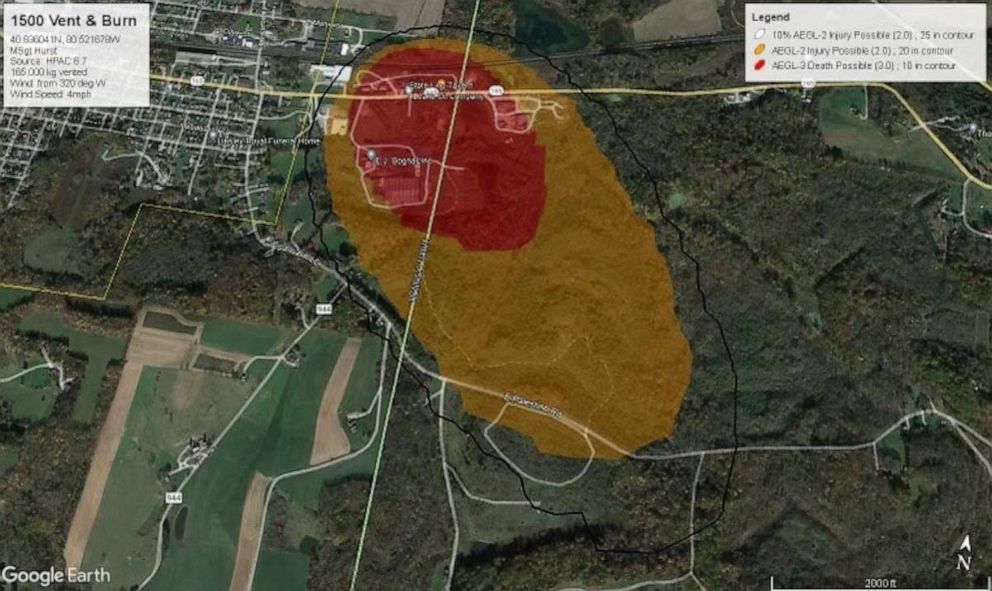 The train, traveling from Illinois to Pennsylvania, derailed around 9 p.m. Friday, ignited and prompted a response from more than 50 fire departments across three states, according to Conaway.
Janet Meek, who lives about one block from the railroad tracks, said she heard a "loud boom" around 9 p.m. Friday. Her husband reported seeing a "billowing ball of fire" while walking their dogs.
So they were in the area, and outdoors.  How many others were also?  Are they monitoring all those people for effects?  Have they been in contact with them to keep a record in case there are symptoms and/or complications that appear at a later date??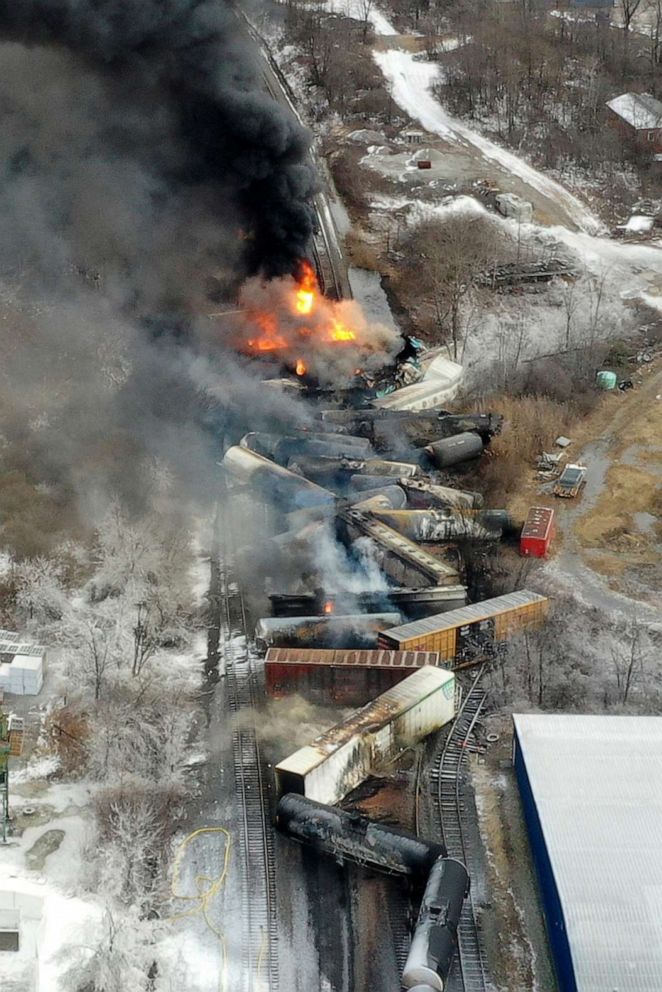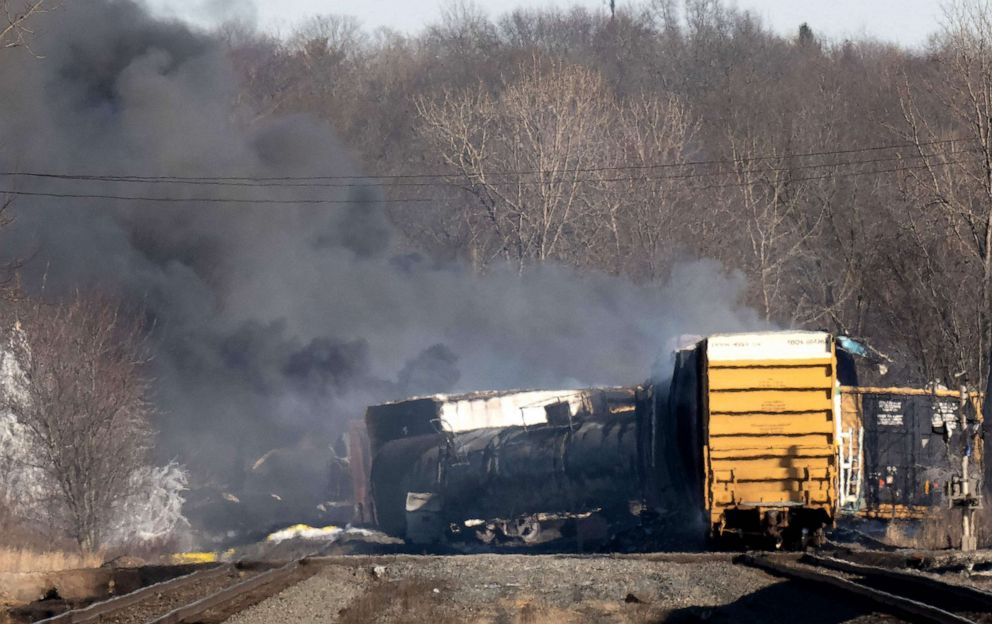 The National Transportation Safety Board said Sunday that two videos show preliminary indications of mechanical issues on one of the rail car's axle. The train's emergency brake was activated after crews said an alarm went off, according to the NTSB. There were no injuries, the agency said.
Fire chief Keith Drabick told reporters Saturday that the train was carrying hazardous substances but could not confirm if the fire impacted the train cars carrying the hazardous goods. Drabick said the odor permeating East Palestine was not harmful at current levels, but representatives from the Environmental Protection Agency were monitoring the situation.   
Oh, ya, for sure… we have every reason to trust the EPA…  NOT!!!!  We need private experts not controlled by government, special interests, or corporations.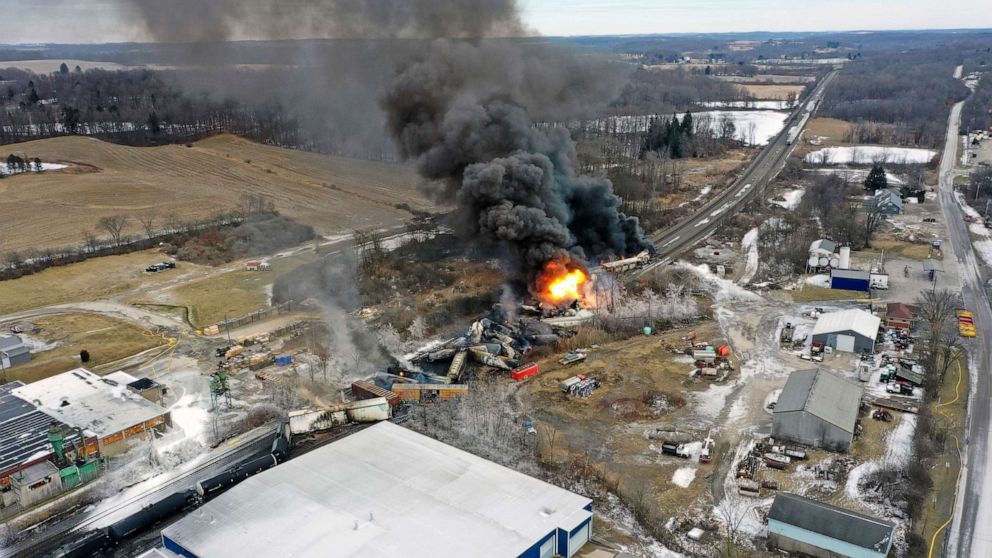 East Palestine is a small village on the border of Pennsylvania and Ohio with roughly 4,700 residents.
Efforts to contain the fire stalled Saturday night when firefighters withdrew from the blaze due to concerns about air quality and explosions.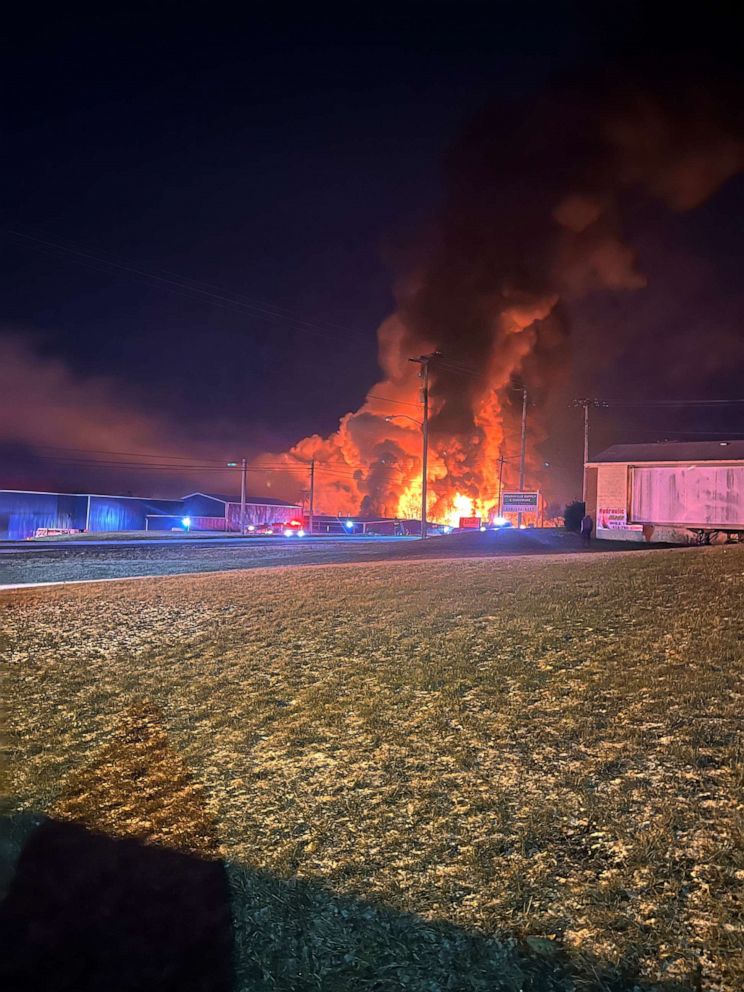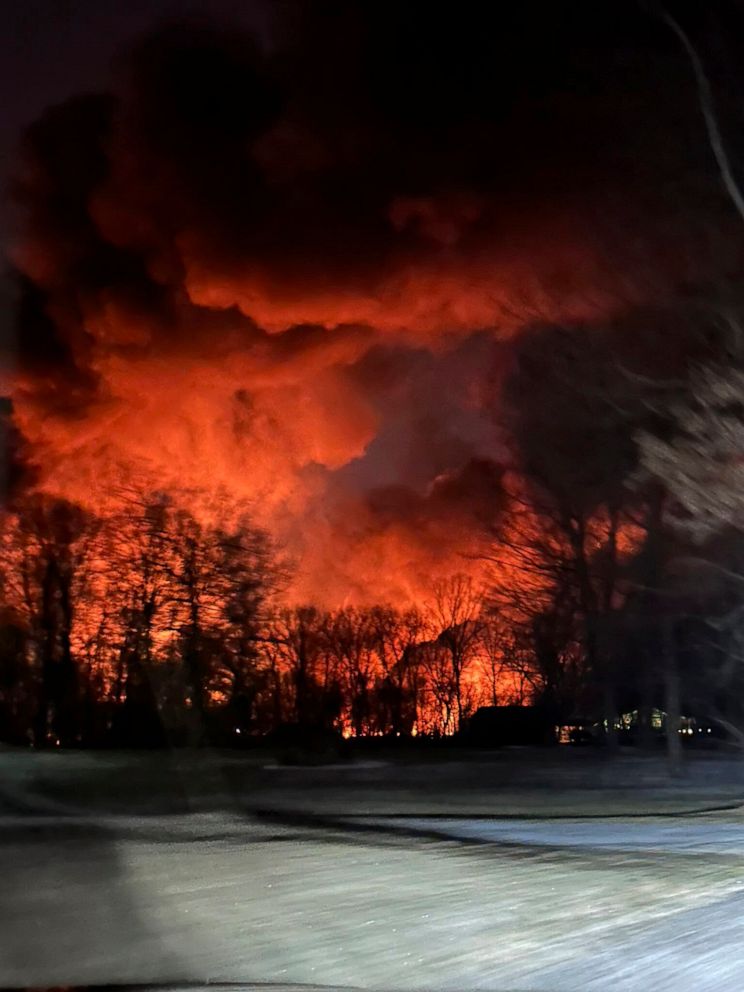 Conaway said firefighters withdrew from the fire Friday night due to concerns about air quality, with a plan to reengage once they get a "better grasp of what exactly is what chemical is burning." At Saturday's press conference, Drabick said there had been multiple explosions overnight, which posed a risk to firefighters.
ABC News' Darren Reynolds, Matt Foster, Teddy Grant and Melissa Gaffney contributed to this report.