UPDATES ADDED 3/8/23
This event is so much more significant than any of us realize.  I bet you are getting tired of hearing about it.  DON'T let the devil cause you to tune it out.  Trust me, I am not thrilled about the time and energy I find myself compelled to dedicate to this one event.  I do have other things that are pressing and require my attention.  But, when GOD lead you to do something… you do it.
There are so many aspects of this event it will take years to uncover them all, or for them all to play out.  But, GOD is using this News Story to bring a lot of thing to light.
Please stay with me.  You have so much to gain.  What is happening in OHIO is EXTEMELY RELATIVE to ALL of us. Pay attention.
spacer
All the posts in this series:
spacer
spacer
THIS TRAIN DERAILMENT OCCURRED ON FEBRUARY 3, 2023
2/1-2/3  – Mysteries of Persephone Groundhog/Imbolg day. A night requiring human sacrifice
2/2         – Candlemas (Imbolc/Imbolg) Brigid's Day/mother goddess (bride) (blood) animal or human sacrifice
UPDATE ADDED 3/8/23
spacer
Well, we have already seen that BIDEN does not care about the people.  BUT ON TOP OF THAT HE IS SIDING WITHT HE RAILROAD and the people of East Palestine are going to be railroaded.  Biden wants to make it impossible for the victims to sue for damages!
If the ruling favors the railroad giant, Norfolk Southern could find it easier to block pending and future lawsuits, including those from the major derailment earlier this month in East Palestine, Ohio. 

Norfolk Southern — the railroad giant whose train derailed and caused a toxic chemical fire in a small Ohio town earlier this month — has asked the U.S. Supreme Court to throw out a 2017 lawsuit filed by a cancer-afflicted former rail worker — and the Biden administration is siding with the corporation, reporting from The Lever revealed last week.
If the high court, dominated by six right-wing justices, rules in favor of Norfolk Southern, it could be easier for the profitable rail carrier to block pending and future lawsuits, including from victims of the ongoing disaster in East Palestine.
Moreover, it "could create a national precedent limiting where workers and consumers can bring cases against corporations," wrote two of the investigative outlet's reporters, Rebecca Burns and Julia Rock.
Former Norfolk Southern worker Robert Mallory was diagnosed with colon cancer in 2016. The following year, he filed a lawsuit alleging that his illness stemmed from workplace exposure to asbestos and other hazardous materials and that the rail carrier failed to provide safety equipment and other resources to ensure he was adequately protected on the job.
Although he had never worked in Pennsylvania, Mallory filed his lawsuit in the Philadelphia County Court of Common Pleas because his attorneys were from the state and "he thought he would get the fairest access to justice there," Ashley Keller, the lawyer representing him before the Supreme Court, told The Lever.
As Burns and Rock explained:
"Pennsylvania has what's known as a 'consent-by-registration' statute —something states have had on the books since the early 19th century — which stipulates that when corporations register to do business in the state, they are also consenting to be governed by that state's courts. Norfolk Southern asserts that being forced to defend the case in Pennsylvania would pose an undue burden, thereby violating its constitutional right to due process.

Even though Norfolk Southern owns thousands of miles of track in the Keystone State, the Philadelphia county court sided with the railroad and dismissed the case. Mallory appealed, and the case wound its way through state and federal courts before landing at the U.S. Supreme Court last year."
The rail carrier is asking the high court "to uphold the lower court ruling, overturn Pennsylvania's law, and restrict where corporations can be sued, upending centuries of precedent," the journalists noted.
"If the court rules in favor of Norfolk Southern, it could overturn plaintiff-friendly laws on the books in states including Pennsylvania, New York, and Georgia that give workers and consumers more leeway to choose where they take corporations to court — an advantage national corporations already enjoy, as they often require customers and employees to agree to file litigation in specific locales whose laws make it harder to hold companies accountable."
Unsurprisingly, the American Association of Railroads (AAR) and other powerful corporate lobbying groups such as the U.S. Chamber of Commerce, the National Association of Manufacturers and the American Trucking Association want to undercut the ability of workers and consumers to file lawsuits in the venue of their choosing. AAR, the rail industry's biggest lobby, filed a brief last September on behalf of Norfolk Southern.
Meanwhile, the U.S. Department of Justice (DOJ) also filed a brief siding with the railroad giant. The Supreme Court is expected to issue a decision in the coming months.
"This is totally insane," The Lever's editor, David Sirota, wrote on social media.
"Wow. Just wow," Pennsylvania Sen. Katie Muth (D-44) tweeted in response to the report. "Sadly, this isn't that surprising, but WTAF."
"Should Norfolk Southern prevail, the company could use the ruling to challenge other lawsuits on the grounds that they're filed in the wrong venue," The Lever reported, citing Scott Nelson, an attorney with the Public Citizen Litigation Group, which filed a brief backing Mallory.
"Such a decision could affect lawsuits filed by residents exposed to hazardous chemicals as the result of accidents in other states," including victims of air or water pollution caused by the recent derailment in East Palestine, five miles west of the Pennsylvania state border.
"[Norfolk Southern] might say, 'You can only sue us in Ohio or Virginia [where Norfolk Southern is headquartered],' even if you were injured at your home in Pennsylvania from an accident that took place five miles away in Ohio," Nelson told the outlet.
In its brief, AAR argued that if the high court rules in favor of Mallory, he and other plaintiffs suing railroads under the Federal Employers' Liability Act (FELA) — a law protecting rail workers injured on the job—"could have a wide range of jurisdictions to choose from."
However, Burns and Rock reported, "groups weighing in on Mallory's side pointed out that 'forum shopping' is the norm for corporations," including when companies with no physical presence in Delaware register in that state to dodge taxes or when firms file bankruptcy cases in states more likely to hand down favorable opinions.
Notably, "Norfolk Southern freely utilizes the Pennsylvania courts to enforce its rights," the Academy of Rail Labor Attorneys, a group of lawyers who represent rail workers, pointed out in a brief.
"The railroad certainly is not prejudiced in any way by defending lawsuits in the state. For purposes of jurisdiction, there is no valid reason that a corporation such as Norfolk Southern should be treated differently than an individual within the state."
During oral arguments in the case last fall, Supreme Court Justice Elena Kagan, a liberal appointed by former President Barack Obama, asked Deputy Solicitor General Curtis Gannon why the Biden administration decided to involve itself in this case.
In response, Gannon said, "We pointed out not just that… the excessive availability of general jurisdiction could cause international concerns for trade with the United States and our commercial interests, but also the petitioner had called into question the constitutionality of a federal statute, and so we thought that it was important to make sure that the court's decision here wouldn't implicate the constitutionality of federal statutes."
The Biden administration's contention that Pennsylvania's law amounts to an overreach of state authority and calls into question the constitutionality of a federal statute is nonsensical, Keller, the plaintiff's lawyer, told The Lever.
"The United States relies on consent-by-registration statutes [like the Pennsylvania law] to obtain personal jurisdiction over various foreign entities," said Keller. "If it's unconstitutionally coercive when Pennsylvania does it, why isn't it unconstitutionally coercive when the United States does it?"
Burns and Rock warned that the high court's decision could have implications for future lawsuits as well as pending ones.
At least five class-action negligence lawsuits have been filed in Ohio against Norfolk Southern since the company's Feb. 3 freight train crash in East Palestine.
While progressive advocacy groups and lawmakers have demanded that U.S. Transportation Secretary Pete Buttigieg move immediately to improve rail safety rules in response to that unfolding environmental and public health catastrophe, The Lever reported last week that Buttigieg is actively considering an industry-backed proposal to further weaken the regulation of train braking systems.
Another Norfolk Southern train carrying hazardous materials careened off the tracks on Thursday near Detroit. Union leaders and Sen. Bernie Sanders (I-Vt.) have described the recent derailments as the predictable result of Wall Street-backed policies that prioritize profits over safety.
As Sirota, Burns, Rock and Matthew Cunningham-Cook of The Lever pointed out in a Friday op-ed in The New York Times, the U.S. is home to more than 1,000 train derailments per year and has seen a 36 percent increase in hazardous materials violations committed by rail carriers in the past five years.
The rail industry "tolerates too many preventable derailments and fights too many safety regulations," the journalists wrote. "The federal government must move quickly to improve rail safety overall."
"It shouldn't take a chemical cloud over a community in the American heartland to compel the government to protect its people," they added. "If we want to get train derailments much closer to zero, the rail industry must evolve."
Jake Johnson is a staff writer for Common Dreams.
This article is from  Common Dreams.
The views expressed in this article and may or may not reflect those of Consortium News.
spacer
TOO LITTLE TOO LATE!!
Norfolk Southern has agreed to give one of its unions the paid sick days it demanded for members in negotiations last year, and is in talks to grant sick days to its other unions as well.
The announcement comes hours after the company's chief financial officer, Mark George, told investors that it is still struggling to fill the open positions it has at almost all 95 locations where staff is based. George also said the company may have cut staff too deep during the early days of the pandemic, and that it has had trouble bringing back laid-off staff members.
"Norfolk Southern's success is built upon the incredible work our craft railroaders perform every day, and we are committed to improving their quality of life in partnership with our union leaders," said Norfolk Southern CEO Alan Shaw in a statement announcing the deal.
The deal is with the Brotherhood of Maintenance of Way Division, the union representing 3,000 track workers at Norfolk Southern, and the third largest union at the railroad behind the unions representing conductors and engineers. Norfolk Southern has about 19,000 employees total and about 15,000 of whom are union members. But that's down more than 20% from the 24,600 employees it had — including nearly 20,000 union members — in 2019, ahead of the pandemic.
The agreement, announced by the railroad late Wednesday, also comes as the company struggles with the bad public relations caused by a derailment of one of its freight trains in East Palestine, Ohio, which led to the release of toxic chemicals into the air and water.
The company has pledged to give affected residents about $6.5 million in compensation and assistance, and says it will comply with a demand by the Environmental Protection Agency to pay for the cleanup.
But it's still facing criticism for spending nearly $18 billion on share repurchases and dividends over the last five years, more than 2,500 times what it has pledged to residents and the community.
Norfolk Southern's concession comes two weeks after another railroad, CSX (CSX), reached a deal with two of its unions to provide four sick days a year. The Norfolk Southern deal also provides four sick days a year, and it allows three personal days already in the contract to be used without the prior 48-hour notice requirement. The company says that means members now have up to seven sick days per employee.
Norfolk Southern and the nation's other major freight railroads all faced criticism last year for refusing the unions' demands for paid sick days for their members.
Many of the union members voted to reject tentative labor agreements that offered them an immediate 14% raise, including backpay, because of the lack of paid sick days. The unions argued that seven sick days a year for all their members would have cost all the railroads $321 million annually, a small fraction of the record profits they were reporting.
But the railroads refused to give in and eventually Congress imposed the unpopular contracts on the unions without the sick day provision, even though a separate sick day provision had the support of most member of Congress.
spacer
Seeking improvement in operating ratio, railroad anticipates most of increased traffic with same number of trains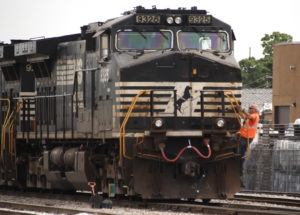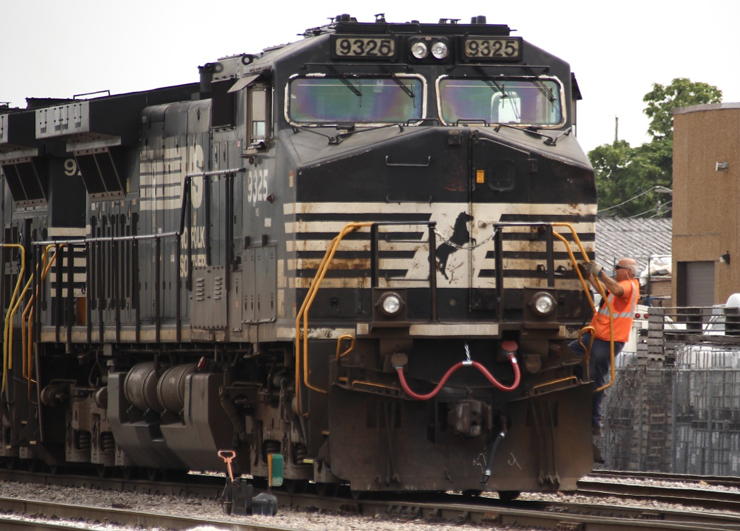 NORFOLK, Va. — After idling the humps at six yards over the past two years under its shift to a Precision Scheduled Railroading operating model, Norfolk Southern now is turning its focus to further boosting train length.
The changes aim to help NS close the operating ratio gap with the rest of the industry by reducing the railroad's fuel, labor, and locomotive-related costs.
"During the fourth quarter, we saw volumes continue their climb from pandemic-induced lows earlier in the year. So the mission of the operating team was handling more business while reducing resources and improving productivity," Chief Operating Officer Cindy Sanborn said on the railroad's earnings call Wednesday. "Our push for efficiency led to record train weight and record train length in the quarter. These larger trains, combined with our strategy of better matching train size and locomotive horsepower, drove us to record fuel efficiency and enabled us to get the job done with a smaller workforce and a record low count of locomotives."
Traffic in the fourth quarter, while up from the third quarter, was down 1% compared to a year ago. But NS moved its tonnage with 16% fewer locomotives and 15% fewer crews as train length and weight both grew 10%. A combination of record train sizes and storing older locomotives improved fuel efficiency by 3%.
The result of all this: An 8% reduction in operating expenses for the quarter.
Expect more of the same this year. "We are preparing for significant volume growth in 2021," Sanborn says.
With intermodal and merchandise volume outside of energy-related commodities expected to increase by 7% to 9%, NS aims to tack virtually all of the growth onto existing trains. Executives expect the railroad's employment levels to hold steady or decline slightly this year.
"Traffic coming back is both our challenge and an opportunity," Sanborn says. "We can and will add resources to meet customer needs, but first we must explore every option to fully utilize our existing crews and locomotives."
NS plans to take several steps to efficiently handle volume growth, including rebalancing traffic between existing trains and running extras only when necessary.
"Full pin is a technique used to optimally match train size with the pulling power of locomotives," Sanborn says. "While volume fluctuations can make this challenging, full pin drives fuel efficiency, controls crew starts, and improves asset turns."
NS will increase the blending of different types of traffic in the same trains, which Sanborn says supports full pin and minimizes the number of road train starts.
By blocking traffic for the most distant points on the network, NS will minimize the number of times cars are handled en route, which reduces yard costs while improving velocity.
And Sanborn says NS will minimize its hiring needs by retraining furloughed employees for work in other crafts.
"We will continue to look at yards and see how we can speed up cars. The real mission around terminal capability and terminal footprint is around keeping cars moving, or not pushing cars into terminals, moving cars faster. So I think there's still quite a bit of room there," she says. "But you've seen us pivot now a little bit more into looking at our train length and locomotive utilization with full pin. And that's really our primary focus right now."
The operational changes NS made in the fourth quarter, just prior to the holiday peak shipping season, contributed to increased terminal dwell and lower train speeds as volume picked up. The pandemic also played a role in the deterioration of the fluidity metrics, Sanborn says, as some NS employees were out sick or were quarantined under COVID-19 protocols.
During the fourth quarter, cars spent 16% more time in yards while average train speeds fell 5%.
"We've gotten a lot better. We're not at 2020 levels, but we are much, much better," Sanborn says.
Norfolk Southern's operating ratio has improved for a fifth straight year but at 64.4% lags rival CSX Transportation by 5.6 points. CEO Jim Squires says the railroad remains focused on closing the gap and aims for a 60% operating ratio by the end of this year.
spacer
A Scripps News investigation found Norfolk Southern gave top leaders millions of dollars in awards after they hit a controversial financial target.
Posted at
 4:39 AM, Feb 28, 2023
and last updated
8:51 AM, Feb 28, 2023
While concerns have been building across the railroad industry for years about the growing length of trains, our Scripps News investigation found that Norfolk Southern's top executives personally pocketed millions of dollars in incentives and cash rewards after the company hit a controversial financial target and made its trains longer. Critics from within the industry say the specific financial metrics the executives were incentivized to hit can pressure them to cut costs — potentially at the expense of safety. The Norfolk Southern train that derailed just outside the small Ohio town of East Palestine stretched nearly two miles long. 
A National Transportation Safety Board (NTSB) preliminary report said trouble with the train began with a suspected wheel bearing that overheated on the 23rd car.
When that car came off the rail, it set in motion a disaster that has put a national spotlight on the potential dangers of increasingly long trains. Scripps News has learned the length of the train in East Palestine is being investigated as a potential contributing factor to the crash.
In Norfolk Southern's 2019 annual report, the company told shareholders that it had launched a major overhaul in its operations, saying it had begun "running fewer, heavier trains."
That same year, Securities and Exchange Commission (SEC) documents Scripps News examined show Norfolk Southern began to make big changes in how top executives could qualify for large cash awards, tying more of those payouts to a number known on Wall Street as the operating ratio.
It is calculated by dividing operating costs by operating revenues, and records we discovered show that it has grown in significance at Norfolk Southern in recent years.
"Railroads are seeking to have that number be the smallest, lowest number possible," said Steven Ditmeyer, the former director of research and development at the Federal Railroad Administration. "You want to squeeze the costs and increase the revenues."
Ditmeyer is among those industry experts who say the drive to lower operating costs can be directly linked to longer, more dangerous trains.
"The longer they make it, the per-car-cost of labor is less. And the longer trains have greater damage done, greater, larger pileups, fires and so on," he said.
"This sharp emphasis on operating ratio and how that's driving behavior on railroads is a severe disappointment to me," he said.
Ditmeyer says while longer trains increase his concerns about safety, they can push the operating ratio down. And with millions of dollars in payouts to executives on the line, SEC filings reveal the importance of that operating ratio had grown at Norfolk Southern to account for 60% of its cash awards by 2020 – surpassing every other performance measure combined. And the incentives worked — each year, the ratio dropped.
In 2021, when Norfolk Southern hit a record low operating ratio, it helped then-CEO James Squires land nearly $3.5 million in cash — almost three times what he'd earned the year before. At least four other executives got more than a million dollars each, including Norfolk Southern's current chief executive officer Alan Shaw, who was executive vice president at the time.
Scripps News showed Jared Cassity, safety director of the nation's largest railroad union, how under Norfolk Southern's rules driving down the operating ratio by just a fraction of a percent could lead to huge cash payouts.
"You're showing me numbers that I've not seen and that's — it really is disgusting," said Cassity, who worked as both a train engineer and conductor prior to taking on his national safety position for the SMART Union. "What that tells me is the railroads are going to keep flirting with danger or flirting with disaster as long as people are getting rich."
Cassity said the families in East Palestine are paying the price and he believes more communities are at risk.
"You have these executives that are getting rewarded. And so the instructions keep coming down. No matter what happens. I want more. I want more. I want more. And that's why you see the railroad saying that the train length is going to continue to grow no matter what," Cassity said.
NTSB is formally consulting Cassity's team in its ongoing investigation. Cassity says investigators are now looking into contributing factors to the East Palestine crash.
He says the train's length is a big one.
"If you look at East Palestine, that one car that's bad ultimately is going to derail and when it stops, it's going to stop like that (snaps). And then everything else behind it comes crashing in. It exacerbates the damage. It exacerbates the likelihood that a car is going to be breached and leak hazardous materials into a community."
There is currently no limit on train length, but the Federal Railroad Administration is studying the issue and noted this past December that "train lengths increased before infrastructure, technology, equipment, and operating practices could accommodate them."
An executive with Norfolk Southern testified on Capitol Hill this past year and defended the value of long trains, saying that "running longer trains is — is allowing us to more efficiently move what we can move and safely."
When we asked the company about how these long trains tie into its compensation for executives, a spokesperson wrote: "our incentive compensation is based on financial performance" and "not predicated on things like train length, weight, and speed."
But that is not what we found the company told the Securities and Exchange Commission in a proxy filing when it touted its 2021 "record performance for train length and weight" to justify one reason why corporate executives earned a cash payout that year.
When we shared the document we found with Norfolk Southern, a spokesperson offered another explanation, acknowledging that train length was a factor in cash awards, but said it was not the only one.
Norfolk Southern did not agree to an interview with Scripps News and never responded to our questions about the biggest factor in those cash awards: the company's "operating ratio." A spokesperson did tell us part of the company's incentives were also for improving safety.
This past December, when the Government Accountability Office reported on Norfolk Southern's accident rate, it found the company had hit a 10-year high in 2021.
"This isn't about doing what's safest. And it's it's extremely concerning when you when you see the fallout and what's happening," Cassity said.
Legislative records obtained by Scripps News show Norfolk Southern has spent tens of millions of dollars over the years lobbying Congress and federal agencies — numerous times trying to block potentially costly safety reforms, including fighting against whistleblower protections and speed limits for high-hazard flammable trains. They also are opposing a current federal effort to require a minimum number of crew members on a train. Just this past December, the company told the Federal Railroad Administration that running trains with one-person crews is safe.
Cassity, who is also the union's alternate national legislative director for their transportation division, believes there is a direct correlation between what the company is lobbying for and against, and their incentive structure.
"You see the payouts. That is what is driving their decisions," he said.
After Norfolk Southern said it produced an "industry-leading total shareholder return," it gave its then-C-E-O $8.5 million in stock and options on top of his cash award, bringing his total 2021 compensation to more than $14 million.
"What we experienced is not okay," said Cassity. "And I don't want to say that we dodged a bullet in East Palestine, but the next one may be in a major urban area. It may be in a downtown Chicago. It may be in a downtown New York City," he said.
Norfolk Southern told Scripps News, "We are going to learn from this terrible accident and work with regulators and elected officials to improve railroad safety."
So far, they say they've set aside $5.8 million for East Palestine families.
Contact the lead reporters on this story at mark.greenblatt@scripps.com and carrie.cochran@scripps.com.
spacer
UPDATE ADDED: 3/7/23
spacer
END OF UPDATE
spacer
spacer