Disasters are hitting like bullets from an automatic weapon.  Frequency, Intensity, fatalities, and devastation are amplifying with every event. These catastrophes are leaving countless multitudes of victims who are left homeless and helpless if they survive at all.  They find themselves unable to find shelter, food or clothing for themselves and their loved ones.  Cut off from family and friends because they have no phone, no money, and no transportation.  Even if they have a place to go, they can't get there.  They lose their jobs, which guarantees their despair will be extended if not permanent. 
Believe me, this could be you or me, at any moment.  These disasters hit out of the blue.  There is no way to predict or prepare.  Sure, you can maintain general preparation.  As, well you should.  Keeping water, food, sanitation, and medical supplies on hand. But, how do you know what calamity will befall you and yours?  A flood or fire can wipe out your supplies or cut you off from them.
My best advice to you is to first make sure you are right with GOD.  Repent for any sins and ask HIS forgiveness.  Plead the Blood of Jesus/Yeshua over your life, your family and your home.  Anoint yourself, your family, your home and your property and pray for GODS covering and protection.   Then you can address the practical, physical side of things.
Most of the victims say that had only a few moments notice.  A few moments to get your head straight, find your loved ones and grab what is most important for your survival.  That is not much time!   I strongly urge everyone to be prepared.  Have your immediate needs packed and ready to grab.  Just in Case! 
If you are among the countless people who every day are finding themselves among the jobless and/or homeless in the USA, the following link offers free information on places you can turn for assistance:
A look at available programs and resources to help those facing homelessness.
Update 9/28/20
Have an evacuation plan.  Practice it!  Be sure everyone in your home knows how to get out and where to go.  Keep the family together.  
Emergency kit
Prepare an emergency kit, with 4 days worth of supplies for your family members and pets.
Below are some things that should be in a standard emergency kit;
A portable bag

Cash

Phone and power bank

Radio

First aid box

Water

Torchlight and a couple of batteries

Non-perishable food  (Protein bars)

Pet food

Towel

Blanket

Candles and matches
Your emergency safety bag should only contain items that are critical to your survival if hell breaks loose.
During a wildfire
Keep the following in mind when you are aware that a wild/forest fire is approaching your neighborhood.
Wet your roof
Unless you receive strict information from the local fire department to limit your water use, consider using a sprinkler to wet your property and soak your roof. Doing this will prevent flying embers from starting a fire in your property.
Monitor the news
Since evacuation notices and important directions are relayed on the news, it is important that you pay close attention to the warnings announced on by the several authorities on the news. Promptly obey the instructions given by the authorities and governments.
Shut your windows and doors to reduce your exposure to smoke
Do you know that the smoke emanating from a wildfire a couple of miles from home can negatively affect your health? So keep your windows and doors tightly closed until the fire is extinguished. If you have time, consider covering other openings like vents with plywood and tapes.
Be prepared to evacuate
Don't wait till the fire is a mile or two from your home before taking action. As soon as an evacuation notice is issued by the local authorities, take prompt action and prepare to leave. Don't forget to pack things you can't live without or important documents (medication). Ignore replaceable items.
Fuel your car and park it in a position that will be easy for you to zoom off quickly.
After a wildfire
Follow these steps when the authorities say it is safe to return to your home.
Before heading back home, head to the mall or store in your area to get the following;
Bottled water

Gloves

First aid kit

Flashlight 

Batteries

A camera

A cell phone

Garbage bags

Closed-toe shoes

Face Masks
Walk around your home before going inside.
Look out for, loose debris, out of place wiring and gas smells. If you notice a gas smell or downed power lines, quickly call your gas or power company before entering your home.
Turn off the main power before going in.
Turning off the main power will save and reduce the odd of an electrical accident occurring. Take fuel burning devices like a charcoal grill or generator from your home and keep them in a ventilated area.
Don't drink the water
Regardless of how thirsty you are, don't drink the water until your local officials say it is safe to drink. Don't try to purify it or take any steps to make it drinkable. Instead, drink only bottled water.   Also, don't flush the toilet until you are sure that the septic system is working properly.
Throw damaged items out
Carefully remove any damaged items from your living quarters. Canned items that don't look damaged should be wiped thoroughly to remove chemical residue and ash. Throw out perishable food and drinks that were in your freezer if your home lost power during an extended period.
Keep in mind that your home insurance policy could cover for the expense of replacing the food you have to throw out. Take a clear picture of things you are throwing away, just in case your insurance company needs details.
Take pictures
Take pictures of the damages in your home before cleaning up. This is surely going to make it easier for your insurance company to get a picture of the extent of the damage so that they can process your claim.
Contact you're your insurance broker
If your home or property is seriously damaged, your broker will contact your insurance company to help get your repairs started.
These are just a handful of steps you can take during, before and after a wildfire to protect your home and loved ones. To learn more about how an insurance policy can cover your property in the event of a wildfire, visit a reputable insurance company in your area.
Final note
Preparation is the key to surviving a wildfire. While everything is still ok, it is wise that you stock on supplies you will need and take steps to protect your home. Always listen to the news especially during the dry season when wildfires are common to get first-hand information on fire safety and evacuation warning.
PREPARE FOR
WILDFIRE

While in your vehicle:
Stay calm.

Park your vehicle in an area clear of vegetation.

Close all vehicle windows and vents.

Cover yourself with wool blanket or jacket.

Lie on vehicle floor.

Use your cell phone to advise officials—call 911.

While on foot:
Stay calm.

Go to an area clear of vegetation, a ditch or depression on level ground if possible.

Lie face down, cover up your body.

Use your cell phone to advise officials—call 911.

While in your home:
Stay calm, keep your family together.

Call 911 and inform authorities of your location.

Fill sinks and tubs with cold water.

Keep doors and windows closed, but unlocked.

Stay inside your house.

Stay away from outside walls and windows.
Update 8/27/19
Know what to do before, during & after a hurricane: –> http://bit.ly/2xakv61
25 Things You Can Do To Prepare Now For When Disaster Strikes
25 Things You Can Do To Prepare Now For When Disaster Strikes | List25 Want more? Check out the Hacks, Tips, & Tricks Playlist: http://bit.ly/2frn4oE If you like this video subscribe to List25: http://bit.ly/1rPhSQH Stuff happens. NYC has random blackouts; snow and ice storms take down power or pipes freeze. Hurricanes, floods, earthquakes …
Kiplinger's David Muhlbaum details the steps to take to recover from a calamity.
WHAT WILL YOU DO? Millions of people are living this nightmare NOW. 
April 11 (UPI) —

An early spring blizzard churned through parts of the Rockies and Midwest on Thursday, leaving thousands without power and forcing the cancellation of hundreds of flights.The record-breaking storm dumped up to 18 inches of snow in parts of Wyoming and South Dakota, up to 9 inches in Colorado's mountainous regions, and 6 inches in Minneapolis. The totals were expected to increase as the storm progressed east.

As the storm departed Colorado, officials canceled a blizzard warning in Denver, but not before the weather disrupted flights at Denver International Airport.

FlightAware reported some 900 flight cancellations and 2,286 delays into, out of or within the United States as of late Thursday afternoon. The majority of the cancellations, 266, originated out of Minneapolis/St. Paul International, and 103 were out of Denver

Meanwhile, some 89,000 customers in Iowa, South Dakota, Minneapolis, Wisconsin and Michigan were without power after ice caused more than 100 power poles to fall in Minnesota.

Meteorologists said the blizzard's reach spans 700 miles in six states.

The National Weather Service issued wind and snow advisories for 22 states, from the Rockies to the Ohio Valley. Snow fell up to 2 inches per hour in some places.

The storm closed several businesses in Colorado and Wyoming. Interstate highways throughout the Midwest were impacted by the heavy snow.

"Road conditions are getting worse and we encourage folks to avoid travel," Colorado Gov. Jard Polis tweeted.

Professional baseball and soccer games in Colorado were postponed.

In South Dakota, Gov. Kristi Noem closed government offices in 52 counties and power outages hit Sioux Falls.

Minnesota activated the National Guard to rescue stranded motorists, officials said. Hundreds of crashes were reported and at least 15 big rigs had jack-knifed. Minneapolis predicted up to 23 inches of snow overnight with a layer of ice on top. Winds there were expected to reach 50 mph, forecasters warned.

"Falling and blowing snow with strong winds and poor visibilities are likely," the National Weather Service said. "This will lead to whiteout conditions, making travel extremely dangerous. Do not travel."

Snowfall was reported as far south as Kansas and as far north as Wisconsin.

The storm system was expected to continue its northern trek into the Dakotas and Minnesota. Iowa, Illinois and Indiana could also see severe weather like thunderstorms, damaging winds, hail and possibly tornadoes.

Forecasters say the system will move to the Great Lakes by Friday.
A series of severe storms swept through the South and Midwest USA from 30 April, 2019, bringing tornadoes, strong winds, hail, heavy rain and flooding.

Two fatalities were reported in separate incidents in Oklahoma. Several tornadoes were reported in the states of Texas, Oklahoma, Missouri, Arkansas and Kansas. There were also reports of large hail in some areas of Texas.

The recent heavy rain has increased river levels and the National Weather Service (NWS) warned that the Illinois, Missouri, and Mississippi Rivers are forecast to reach moderate or major flood stage at many locations. Parts of the Mississippi River have already reached record levels.

Further heavy rain and severe thunderstorms are forecast. NWS said "An elongated front that stretches from Texas and the Mid to Lower Mississippi Valley into the Ohio Valley and Northeast will produce strong to severe thunderstorms and locally heavy rainfall; heavy rain will also be possible in Florida."

Heavy rain is forecast over the coming days to 04 May 2019. Image: NWS

Flash Flooding

Flash flooding was reported in areas from Texas to Michigan from 30 April. A state of emergency has been declared in parts of Oklahoma and Michigan.

Oklahoma

Oklahoma Governor Kevin Stitt declared a state of emergency on 01 May, 2019 for 52 Oklahoma counties as a result of severe storms that brought strong winds and heavy rain. NWS Norman said that areas around Atoka, Coalgate and Coleman recorded almost 7 inches (177.8mm) of rain in 24 hours to 01 May.

One man died when his vehicle was swept away by flood water in Tulsa late on 30 April, 2019. A second fatality was reported after strong winds destroyed a house near Bokchito. Over 20 people have been injured as a result of severe weather in the state.

Flash flooding is occurring all over the metro. Do not drive into high water. Turn around, don't drown.

#

okwx

Michigan

Michigan Governor Gretchen Whitmer declared a state of emergency in Wayne County, which includes parts of Detroit, in response to flooding resulting from heavy rainfall. According to NWS, around 3.65 inches (92.71mm) of rain fell in seven hours to early Wednesday, 01 May, 2019.

The rain flooded homes and closed a stretch of the Southfield Freeway. Wayne County Executive Warren C. Evans said the flooding had damaged approximately 3,000 homes in the county.

"Heavy rains this week on top of an already wet April have caused flooding and extensive damage in several Wayne County communities," Evans said. "With thousands of homes flooded or damaged, we don't have the resources locally to deal with this amount of damage and thousands of our residents are going to need help."

Some of the hardest hit areas include: Allen Park, Dearborn Heights, Ecorse, the Grosse Pointes, Inkster, Lincoln Park, Romulus and Taylor.

"There was just too much rain, in too short of time given already elevated water levels in many bodies of water, like the Ecorse Creek," Evans said. "Since the rainfall we've been working with our local partners to assess the flooding and damage, which is likely to increase, particularly if there's more precipitation."

Texas, Arkansas and Missouri

Flash flooding was also reported in Texas, Arkansas and Missouri, among others.

Heavy rainfall from storms on 02 May flooded roadways and caused closure throughout Central and East Texas. Four people were rescued from a vehicle stranded in flood water in Rusk County. Flooding was also reported in Waco, where the Fire Department carried out water rescues at multiple locations.

Some roads were closed in the Kansas City area after flooding on 30 April. NWS said that Kansas City recorded 2.99 inches (75.95 mm) of rain in the last 3 days of April.

Surface flooding was reported in North Little Rock, Arkansas, prompting the police to issue a warning drivers.

Captain Stanley says there's only one thing a driver should do when approaching a flooded roadway. Turn around, don't drown. https://tinyurl.com/yy7k24c3

Infant, child, and two adults saved in Rusk County water rescue

Two adults, a child, and an infant were rescued after their car was stranded in flooded waters at CR 1114, according to the Rusk County Office of Emergency Management.

easttexasmatters.com

See KETK AnnaLise Coble's other Tweets

Flash flooding and areal flooding continues across the area right now, with some closed roads

. 

Many rivers throughout the central United States are now close to or above flood stage and parts of the Mississippi River have reached record levels.

Several rivers were already swollen from unusually high snowmelt and heavy rain during March this year.  Recent rainfall has caused levels to increase further, a situation predicted by NOAA back in March.

As of 03 May, there were over 30 locations along the Illinois, Missouri, and Mississippi rivers at or above major flood stage.

Earlier this week a breach of a levee in Davenport, Iowa, flooded part of the downtown area. The Mississippi River at Rock Island (Davenport) climbed to it's highest ever level of 22.70 feet late on 02 May, beating the previous high of 22.63 set in 1993.

Rivers at or above flood stage in Midwest, USA, 03 May 2019. Image: NWS / NOAA.
Purple: Major flood stage; Red: Moderate flood stage; Orange: Minor flood stage

A Coast Guard Sector Upper Mississippi River Western Flood Punt team responds to areas affected by a levee failure in Davenport, Iowa, May 1, 2019. The Coast Guard is working with Scott County Emergency Operation Center to coordinate efforts. (U.S. Coast Guard courtesy photo)
Published on Mar 22, 2019
California: thousands displaced in the wake of the "Camp Fire"
The "Camp Fire," California's worst ever wildfire, has killed at least 29 people and destroyed 6000 buildings, mainly residences. The victims have been evacuated and have not yet been allowed to return to the scene.youtube.com   1:00   5 months ago   
Photo: Mark Mulligan, Staff Photographer / Mark Mulligan / Houston Chronicle


Homes in the Cinco Ranch area are surrounded by water from Barker Reservoir, Saturday, September 2, 2017, in Houston.
Residents and business owners whose properties upstream of the Barker and Addicks reservoirs were flooded after Hurricane Harvey argued in Houston federal court Monday that authorities knew for decades that the lakes would likely not be contained during a major flooding event and did nothing to prevent it, resulting in property damage for which they should now be compensated.

The case in the U.S. Court of Federal Claims focuses on 13 test-case properties that the parties agreed upon that were surrounded by rising waters in the wake of the catastrophic 2017 storm. The first batch of lawsuits to go to trial involves what are known as the upstream properties, which were severely flooded as water built up in two "flood pools" west of Houston.

Hundreds have sued the federal government for damages, and other property owners may also reap the benefits should the court find the federal government liable. The Army Corps of Engineers maintains the dams.

UNWELCOME SURPRISE Many homeowners unaware they lived in reservoir 'flood pools'

"People lost everything. People lost possessions, memories," said Daniel Charest, an attorney for the residents and business owners, as he clicked through a slideshow of people fleeing their homes in makeshift rafts.

William Shapiro, an attorney for the Justice Department, countered that Harvey, which dumped up to 51 inches of rain on some parts of the Houston region, was a "historically large rainfall event." Between the two reservoirs, Shapiro said, this was a 770-year to 840-year flood event.

"Flooding in a storm of this size was inevitable," said Shapiro, representing the Army Corps. "Dam failure would have risked hundreds of thousands of homes and structures and hundreds and thousands of lives."

Properties downstream were also flooded after officials released water amid concerns that the dams could fail. Downstream flood damage is the subject of another batch of federal lawsuits that has yet to go to trial.

To read complete coverage, visit houstonchronicle.com

The Associated Press contributed to this report.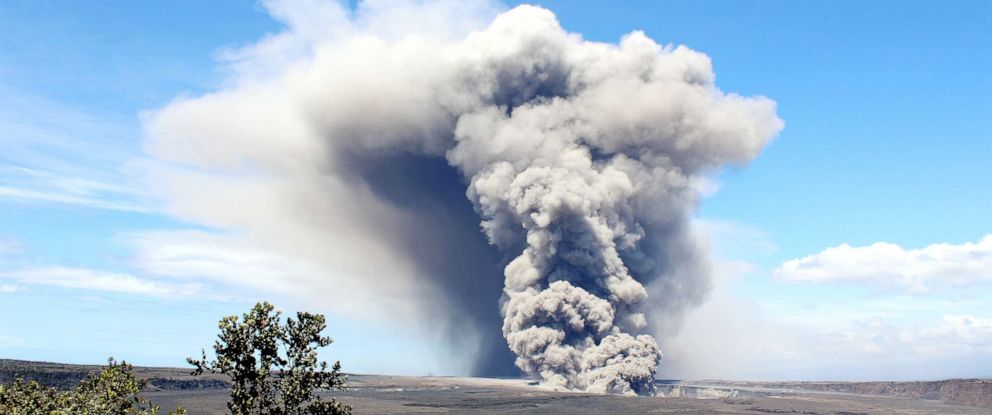 One year after the Kilauea Volcano began a months-long eruption on Hawaii's Big Island, many residents are still struggling to return to normal.

Interested in Volcanoes?

Add Volcanoes as an interest to stay up to date on the latest Volcanoes news, video, and analysis from ABC News.

On May 3rd, 2018, the volcano began an eruption that would last more than 100 days, sending lava billowing out of the ground and out toward the Pacific Ocean — enveloping homes and roads and anything else that crossed its path.

Volcanic smog, known as "vog," emitted by the fissures threatened nearby residents with dangerous sulfur dioxide. Explosions and the release of giant ash plumes prompting evacuations of homes.

USGS

Last Dec. 5, officials announced that 90 days had passed without surface lava activity on Kilauea – meaning it had reached the milestone set by the Smithsonian Institution's Global Volcanism Program to certify the end of continuous volcanic activity. At last, the recovery could begin.

In total, the lava flow destroyed more than 700 homes, and displaced more than 2,000 people. There were no deaths, but some were injured by debris, including Darryl Clinton, whose leg was shattered after lava hit his shin. A tour boat was also hit by a lava bomb, a large rock tossed through the air in a volcanic explosion, injuring 23 people at the site where the lava from the volcano was spilling into the ocean.

Nancy Seifers, a resident of the Kapaho neighborhood that was inundated by the flow of lava, was one of a few dozen people in the area who did not lose her home. But while her home is standing, it is unlivable, and there is no water or electricity in the area, she said.

When officials reopened the neighborhood, the roads were covered in lava and the only way Seifers could access her property was to charter a helicopter, at a cost of up to $450, or brave a 90-minute hike over hardened lava.

Seifers adding that she and her neighbors who have homes still standing have chipped in more than $7,000 to build a temporary road on private property so they can access more easily access their homes.           

"It's been a blessing to be able to go back in there, but without services or help, we can't all really return," Seifers told ABC News. Seifers did not have insurance and, at the age of 70, she has had to return to work as an educator in order to put a roof over her head.

She says she loves the area and wants to return to her home one day.

USGSLava from the Kilauea Volcano flows over Hawaii's Lower East Rift Zone, July 2018.Susan Kim had just purchased a home in Kapoho Vacation Land in February, and by June, it was consumed by lava. She says she knows it was a risk buying property in the area, but "everywhere you go on the Big Island is different and it's something about the air, the clouds, the climate that is very special there." A lot of the community wants to rebuild, but many people will want to take a buyout if one is offered. Kim said.

Meanwhile, the county is working to complete temporary road construction on Highway 132 by early October, according to Alexandra Slous, the Kilauea disaster recovery program coordinator.

The current estimate for damage to infrastructure, including roads, water-lines, and parks, is more than $236 million, and there is a large economic impact as well from the loss of farms, small business decreased revenues and closures, and decreased tourism revenue.

USGS  In this July 11, 2018, photo lava from Kilauea flows into the Pacific Ocean

The county expects to have a long-term recovery framework laid out by the end of 2019, said Slous.

The county secured $22 million from Hawaii's governor and $60 million in state legislature funds, as well as more than $2 million in federal grants to kick-start the recovery process. But residents say they are still waiting to see those funds be put into action.

Meanwhile, while most of Hawaii Volcanoes National Park has now reopened, the summit overlook remains closed because of damage from thousands of earthquakes, including a 6.9 magnitude quake during the first week of the eruption.

Scientists are still on the ground studying the months-long event, and will be processing data from it collected from this event for years to come, they say. Officials with the U.S. Geological Survey continue to go into the field, monitoring the ground cracks and checking for any signs of change, as well as monitoring gas emissions, which remain below detectable limits at this time.

J. Ferracane/NPS PhotoTourists walk around a road damaged by earthquakes in Hawaii's Volcanoes National Park.

More than one billion cubic yards of lava flowed during the event, creating 875 acres of new land – larger than Central Park in New York.

But while the volcano is currently in a "quiet" stage, geologists say it remains very much an active volcano and note that it has been erupting for more than 30 years.

"Just because it's quiet now, we must not lose site of the fact that Kilauea is an active volcano and it will erupt again," said Janet Babb, a geologist with the U.S. Geological Survey at the Hawaiian Volcano Observatory.
May 20, 2014

On a quiet Monday afternoon in Moore, Okla., a year ago, the tornado struck. It would arrive shortly before 3 p.m. in the suburb of Oklahoma City and not dissipate until it had finished carving up a path that stretched 17 miles. For 39 minutes, the storm ravaged homes and schools with winds that topped 200 mph. For 39 minutes, it tore through the area, killing two dozen people, destroying more than 1,000 homes and damaging hundreds more.

WATCH: Reuters – Scenes of devastation from the Moore, Oklahoma tornado

Tuesday, May 21, 2013 – 01:51

The tornado erupted on May 20, 2013. A year later, the people of Moore are still recovering. People injured in the storm are still healing, those who lost homes continue the work of rebuilding. Like so many disasters, it was a relatively brief flash of terror and pain and danger followed by the long, slow process of recovery.

"It's never going to be the same here ever again," Julie Lewis, who survived the storm and had to rebuild her destroyed home, told the Tulsa World. ""This is our new normal."

Moore's pain was visible nationwide, the damage frozen in images like this one that blared out from front pages after the storm:

The tornado killed 24 people — a death toll that, unusually for a destructive event like this, actually went down after authorities had time to survey the damage. The state medical examiner's office had initially said

51 people

, including 20 children, were confirmed killed; the toll was

lowered

 to 24 people after officials said they had double-counted the dead.

Since the tornado, there has been a push to provide all of the state's public school buildings with tornado-safe rooms. That ballot initiative has stalled over funding. Meanwhile, the city has issued more than 500 permits for new single-family homes in the area that was hit by the tornado.

Alise Newby, who lived near the Plaza Towers Elementary School that was demolished by the storm, told KOSU she had initially planned on leaving after the tornado.

"I know that it's been a year and now I kind of look at it differently," she told the public radio network. "There's a strong sense of community in Moore. Now moving away is a little more difficult."

Moore will remember the catastrophe with a ceremony on Tuesday morning. This event will be held at the site of the former Moore Medical Center, a 45-bed hospital that was destroyed in the tornado, a ceremony that will serve as the groundbreaking for a new health-care facility. Oklahoma Gov. Mary Fallin (R) and city officials will talk about the tornado, its victims and what has been done in the last year.
Be careful: You never really know when you might be swallowed alive by a sinkhole. AP Photo/Courtesy Golfmanna
March 13, 2013
1. The Florida sinkhole that swallowed a man: Jeff Bush, a 37-year-old husband and father, was in his Florida bedroom on Feb. 28 when the Earth opened up, swallowing him and everything in his room whole. The expansive hole was about 20 feet wide, and had been almost completely hidden by the house as it grew and shifted. The five other people in the home escaped unharmed. Jeremy Bush tried to save his brother by jumping into the hole, but then had to be rescued himself. Three days later, the search for Bush's body was called off, as the ground was considered too unstable and dangerous to continue. The house (see it above) was razed, and nearby homes were evacuated. "There's hardly a place in Florida that's immune to sinkholes, says Sandy Nettles, a geology consultant in Tampa. "There's no way of ever predicting where a sinkhole is going to occur." (Edward Linsmier/Getty Images)

**

2. The Guatemalan sinkhole 30 stories deep: On May 30, 2010, a massive sinkhole "crashed into being" in Guatemala City, Guatemala, killing at least one man and swallowing an entire three-story building. The hole, which measured about 60 feet wide and 30 stories deep, may have been months or even years in the making. But experts suspect Tropical Storm Agatha, which swept through the country and dumped more than 3 feet of rain water, was likely the final trigger. (AP Photo/Moises Castillo)

**

3. The Texas tar pit: Daisetta, Texas, has the unfortunate geological distinction of sitting on top of a salt dome. And that likely caused sinkholes in 1969, 1981, and, most recently, in 2008. The latest opening started off modestly enough, at just 20 feet wide. But throughout the day, the phenomenon appeared to have an unsatiable appetite for land, growing to about 900 feet across and 260 feet deep. Nearby residents watched as the ravenous sinkhole consumed oil field equipment, trees, and vehicles — creating what looked to be a menacing tar pit thanks to the mixture oil and mud at its center. Luckily, the sinkhole eventually stabilized, and no one was injured. (AP Photo/The Beaumont Enterprise, Dave Ryan)

**

4. Oklahoma's sinking ghost town: Located in the northeastern corner of the state, Picher, Okla., was once the most productive lead and zinc mining field in the area. Nearly a century later, it's a ghost town. All that mining severely damaged the town's geology, rendering it unlivable due to the plethora of sinkholes, like this one (pictured in 2008), as well as lead-laced mountains or rock and tainted water. (AP Photo/Charlie Riedel)

**

5. The hurricanes' wrath: 2004 was a rough year for the people of Deltona, Fla. They suffered through three of the state's four hurricanes. And then in December, a sinkhole opened up, swallowing a busy four-lane thoroughfare and threatening the surrounding residential area. Within moments of appearing on Dec. 13, the sinkhole consumed trees, chunks of sidewalk, a utility pole, and blinking roadside sign. Growing to at least 225 feet wide and 50 feet deep, the cavern, brought on by the storms, was one of the largest to appear in central Florida in decades. (AP Photo/Barbara V. Perez)

**

6. Severing San Diego: After an underground pipe ruptured on Feb. 23, 1998, a hole opened up just west of Interstate 15, severing at least two major roads and crippling local businesses. It was dark and raining when the hole first appeared, and one commuter drove his Honda right into the ditch. He managed to escape unscathed, though his car did not, and he was able to warn other oncoming motorists about the hole, helping two women to narrowly escape the same fate, jumping from their pickup truck moments before it fell into the hole. The thoroughfare was closed for at least five months, forcing some 30,000 motorists through lengthy detours. (REUTERS)

**

7. Breaking the city bank: In 1995, a heavy rainstorm broke down the soil under a 100-year-old brick sewer in San Francisco, causing the sewer, which was under reconstruction at the time, to rupture. Then a massive sinkhole measuring 240 feet long, 150 feet wide, and more than 40 feet deep consumed a mansion and damaged nearby homes in the city's upscale Seacliff district. While no one was hurt, the city took a huge financial hit in repairs, cleanup, and claims by adjacent property owners. (AP Photo/George Nikitin)
Published on Apr 18, 2016
By Associated Press
May 24 2017 10:45 AM EDT
weather.com
A hailstorm that hit eastern Colorado on May 8 caused an estimated $1.4 billion in damage.
If confirmed, it would be the costliest hail event in the state's history.

An early-May hailstorm that dumped huge hailstones all across eastern Colorado could end up the costliest such event in the state's history, according to the Rocky Mountain Insurance Information Association.

The Denver Channel reports that the May 8 storm caused insurance claims estimated at a total of $1.4 billion. The insurance association is estimating more than 150,000 auto insurance claims and 50,000 homeowners' insurance claims.

(MORE: A Look Back at the Damaging Denver Hailstorm)

The only other storm that caused more than billion dollars in insurance claims came in July of 1990. That storm led to $1.1 billion in claims.

The hailstorm came during evening rush hour and pummeled Denver's western suburbs with baseball-size hail, damaging thousands of homes and cars. A shopping mall in Golden remains closed.
It seems that Earthquakes are no longer limited to California.  They occur all over the Earth.  The site below has more details on how to understand and use the maps, just click the link on the title.
Here are the areas where they are currently known across the United States:
Request for Hazard Modeling Contributions
The USGS requests that the earthquake hazard community bring to our attention new earthquake source and ground motion data or models that could be included in the National Seismic Hazard Model (NSHM) updates. In addition, workshops are held for feedback and comments. The next update of the NSHM for the conterminous U.S. (CONUS) will be in 2023.
Learn About Earthquake Hazards
What are the USGS National Seismic Hazard Maps and how are they used? What do I need to know about earthquake hazards? What does "earthquake hazard" mean?
Faults in the U.S.
Interactive fault map and information on known or suspected active faults and folds in the United States. Also, generalized fault data used in the hazard maps.
Learn About Earthquake Hazards
What do I need to know about earthquake hazards? What does "earthquake hazard" mean? What are hazard maps?
Faults
Interactive fault map and comprehensive geologically based information on known or suspected active faults and folds in the United States. Also, generalized fault data used in the hazard maps.
Seismic Hazard Maps and Site-Specific Data
U.S. Seismic Hazard Maps, hazard tools, and other products.
Design Ground Motions
Ground motion parameter values for the design of buildings, bridges, and other structures.
Earthquake Scenarios
Earthquake scenarios describe the expected ground motions and effects of specific hypothetical large earthquakes.
Workshops
Workshops are conducted periodically for input into the hazards products.
Hundreds of Organizations Call on Congress to Pass Disaster Recovery Legislation
Feb 07, 2018
Washington DC – More than 340 national, state, and local members of the Disaster Housing Recovery Coalition (DHRC) issued a letter to Congress urging the immediate passage of a robust disaster relief bill that includes basic safeguards and housing resources to help low income seniors, people with disabilities, families with children, veterans, people experiencing homelessness, and other vulnerable populations recover and rebuild after the 2017 hurricanes and wildfires.

One of the top priorities after a disaster is making sure that all displaced families have a safe, accessible, and affordable place to live while they get back on their feet. To this end, the organizations that make up the DHRC urge Congress to amend the House-approved disaster relief bill to stand up the Disaster Housing Assistance Program (DHAP), a proven solution to the longer-term housing needs of low income disaster survivors; to collect and make public data to ensure that the recovery reaches all households; and to provide housing-specific resources to ensure that the severe shortage of affordable rental homes in disaster-impacted communities is not worsened.

Significant barriers prevent low income people from accessing hotels through FEMA's Transitional Shelter Assistance (TSA) program, and state-run disaster housing programs have faced significant delays and have been unable to address the full scale of the housing needs. Despite the clear need, FEMA has not set up the DHAP program, which provides low income survivors with a stable, affordable home as they recover. Without DHAP, these families now face the impossible decision either to live in unhealthy and unsafe homes or to pay far too much of their limited incomes on rent, making it harder to meet their other basic needs.

Disaster recovery data are also needed to ensure that federal resources are being spent fairly and equitably to meet the needs of low income people and communities and that recovery efforts are balanced among homeowners, renters, and people experiencing homelessness. Specifically designated housing investments, including into the national Housing Trust Fund and other programs targeted to low income renters, are necessary to prevent the already severe shortage of affordable rental homes in disaster-impacted communities from getting worse.

"It has been five months since the first hurricane made landfall, and Congress still has not provided the resources and tools necessary to ensure that all disaster survivors, including those with the lowest incomes, have a safe, accessible, and affordable place to live as they recover," said Diane Yentel, president and CEO of the National Low Income Housing Coalition, which leads the DHRC. "Further delay in providing these critical resources and safeguards is unacceptable and will only make it more difficult for low income survivors to fully recover."

Read the letter to congressional leaders at: http://bit.ly/2E4sDos

Established in 1974 by Cushing N. Dolbeare, the National Low Income Housing Coalition is dedicated solely to achieving socially just public policy that assures people with the lowest incomes in the United States have affordable and decent homes.
Emergency Shelter: Housing for the Age of Mass Displacement
Illustration © Evgenia Barinova
Today, forced displacement affects more people than any crisis or conflict.
FINAL THOUGHTS FOR THIS ARTICLE:
NO MATTER WHAT…DO NOT DESPAIR…DO NOT LOSE FAITH!   TRUST GOD!   Whatever you are going through ALWAYS REMEMBER, GOD can get you through it.  IT is NEVER AS BAD AS YOU THINK IT WILL BE…BECAUSE GOD IS IN IT WITH YOU!   He will comfort you and give you ALL THAT YOU NEED to get through!  TRUST HIM!   I am speaking from experience.  GOD CAN GET YOU THROUGH ANYTHING!
BE SAFE! BE BLESSED! KEEP LOOKING UP FOR YOUR REDEMPTION DRAW NEAR!!