You know the elite are very clever.  Once they realized that they had the ability to create a ZOMBIE APOCALYPSE, they created all the hype about "monster zombies" feeding the horror fans and providing the unwashed masses an opportunity to laugh it off, while at the same time planting the fear in the back of their minds.
The truth is ALWAYS stranger than fiction. Though there are millions of people who are just unwilling to open their eyes and recognize it, the truth is still the truth.  On this particular topic, the truth is beyond horror.  The ruling elite love to do just that – RULE.  Their lust for power and control drives everything that they do.  The average mind cannot comprehend the evil that exists in the hearts and mind of those who oppose GOD.
CONTROL is the bottom line for them.  CONTROL of EVERYTHING.  Especially the masses over which they reign.  They have always been afraid of an uprising because we outnumber them.  So from the beginning they have been searching for ways to take control of US!!
Sadly, my friends, they have found all the tools they need and now they are in a position to take EVERYTHING FROM US.  Including our minds and our spirits.
If you don't believe me, hopefully what follows will help to get you at least part way there.
spacer
If you have not already seen it, check out my other Zombie Post:
spacer
This man is a spokes person for the ruling elite.  If you don't think he is talking about humanity becoming mind controlled zombies… listen to this video repeatedly until it gets through.
spacer
spacer\
about a year ago
Dr. Yuval Noah Harari states: "Never let a good crisis go to waste. A crisis is an opportunity to do what in normal times people will never agree to, but in a crisis we have no chance. People could look back in a hundred years and identify the coronavirus epidemic as the moment when a new regime of surveillance took over. Specially surveillance under the skin."
Learn More At: www.HisGlory.Me
Learn More About to Overcome Anxiety, Depression and Lack of Energy At: https://reawakenhappy.com/
Learn More About Dr. Eric Nepute Today: https://neputewellnesscenter.com/
Learn More At: www.EricNepute.com
WATCH – Dr. Yuval Noah Harari Explain Human 2.0 – Why Is Dr. Yuval Harari Explaining How Technology Will Transform Our Bodies & Minds?
Watch Video 1 –https://www.youtube.com/watch?v=hL9uk4hKyg4
Watch Video 2 – https://www.youtube.com/watch?v=XOmQqBX6Dn4
Watch – Doctor Yuval Noah Harari Speaks At the World Economic Forum: https://www.youtube.com/watch?v=3epIv8FN7lQ&t=11s
Yuval Noah Harari is an Israeli public intellectual, historian and a professor in the Department of History at the Hebrew University of Jerusalem.
spacer
The current post of the following video is put out by the Onion.  But don't let that fool you.  This speech was actually given in front of congress years ago.  I have posted it more than once over the years since the first time I saw it.  Again, if you don't think the Senator is talking about ZOMBIES, listen to this video until the truth sinks in.
spacer
Yes, our Government has a Zombie Apocalypse Plan.  Again, I posted this when I first heard of it years ago.
spacer
The following article is regarding their latest carrier for the Zombie virus.  You need to recognize that these diseases and all their numerous variations are not occurring naturally.  Don't you find it odd that for thousands of years, nay billions according to "Science" animal diseases and human diseases were separate.  There was a firmly established blood barrier that kept us protected.  Also, for the most part there were known diseases that remained nearly unchanged.  Now, suddenly, the number of diseases are nearly uncountable, especially when you add in their variations.  And suddenly the blood barrier is removed and diseases are passing between animals and humans.  They try to tell you that is due "evolution" well folks, EVOLUTION is a lie.  We have NEVER in all these years whether thousands or billions seen any thing change from one thing to another without the intervention of man.   IF there was any truth to evolution, it does not occur that rapidly.  It is something that takes place over TIME…LOTS OF TIME.
It is only since "SCIENCE" has discovered how to interfere with our DNA, corrupt our blood and invade our minds that all these frightening things are occurring more and more frequently.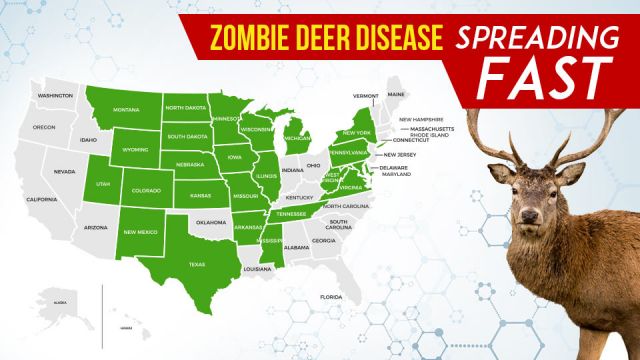 It has spread to more than twenty-five states and two Canadian provinces and is causing deer, moose, caribou, and elk to become zombie-like. A brain-wasting disease that is always fatal is causing the Centers for Disease Control and Prevention (CDC) to become concerned due to the likeliness that this wasting condition will spread to humans.
"It is probable that human cases of chronic wasting disease associated with consumption with contaminated meat will be documented in the years ahead," said Michael Osterholm, director of the Center for Infectious Disease Research and Policy at the University of Minnesota. "It's possible the number of human cases will be substantial and will not be isolated events."
What causes chronic wasting disease?
Known as prion disease or transmissible spongiform encephalopathies, chronic wasting disease is the type of thing that you might read about in a horror novel, only it's real, and it's deadly. In deer, the disease spreads through contaminated body fluids, tissue, drinking water, and food.
Abnormal prion proteins impact the brain and spinal cord. Brain cells eventually burst and leave tiny empty spaces in the brain matter that appear like a sponge. It can take more than a year for symptoms to develop which include weight loss, lack of coordination, drooling, excessive thirst and urination, listlessness, aggression and lack of fear of people.
The first case which almost turns its victim into a type of zombie was found in a captive deer in the late 1960s in Colorado and in wild deer in 1981.  The natural movement of deer spreads the disease which can be quickened when humans move the deer.
More than 15,000 families eat infected meat eat year
According to the outdoor recreation and natural resource research firm Responsive Management, 39% of hunters pursue the sport for meat. A 2017 Alliance for Public Wildlife report said that it is estimated that up to 15,000 hunter families eat infected meat each year and the number is growing annually by 20% because of the spread of the disease.
Although no human has yet to contract the disease from eating infected meat, that may not remain the case in the years to come.
What you need to know to stay safe
Now is the time to know what to do to avoid chronic wasting disease. Everyone should heed these warnings, especially hunters out in the field.
Don't shoot, handle or eat meat from deer and elk that are acting strangely.
Don't touch roadkill.
Have your deer or elk tested before eating.
Have your meat individually processed to avoid contamination.
Wear gloves when handling deer.
Avoid using any kitchen utensils when dressing a deer or elk
Avoid contact with animal organs, especially the brain and spinal cord tissue.
Know where your elk and deer come from before eating.
Know the hunting regulations pertaining to chronic wasting disease in your area.
Study supports the reality that zombie disease could threaten humans
Although it was thought to not be a threat to humans for a long time, it is now becoming more likely that this could become a very real possibility. A study conducted at the Alberta Prion Research Institute recently found that the disease can spread to monkey's who have eaten infected deer meat. The scariest part of all is that the monkeys chosen for the study have a genetic similarity to humans.
Stay informed and stay safe!
spacer
Poor little Guinea pigs.  How "Science' tortures God's creatures mercilessly in pursuit of their desire to control.
WATCH: Highly Infectious Disease Leaves Pigeons With Twisted Necks, Turns Them Into 'Zombie Birds'
Last Updated: OCTOBER 31, 2022, 13:11 IST Pigeon suffering from PPMV. (Image: Instagram/@loftyhopespigeonpositive)
The pigeons in the United Kingdom are now contracting Pigeon Paramyxovirus (PPMV).
In what is being deemed a deadly disease, pigeons in the United Kingdom are now contracting Pigeon Paramyxovirus (PPMV). It is a new illness which turns them into zombies. It results in neurological symptoms, which include trembling wings and a severely twisted neck. These affected pigeons become unable to move and can't fly. Also, they have green feces. A video of a pigeon suffering from the same is going viral on Instagram. Uploaded on handle 'loftyhopespigeonpositive,' the video shows the bird with a massively twisted neck.
"If anyone is searching for a sweet little special needs bird, here she is. This is Spring, she is in search of her forever home. She's a ppmv survivor, who just needs love," read the caption.
This condition is also called Newcastle's disease. According to reports, the new disease is a neurological symptom.
Oct 19, 2022
19 October 2022 The Hindu newspapers analysis.
In the clip, the insect, whose body has completely deshelled, can still be seen walking on what appears to be a grass field. While explaining the reason behind the bizarre behaviour, the IAS officer stated, "Do you know? according to scientists a neuro parasite has taken control of the brain of this dead insect and making it walk…Zombie." The video of the insect's creepy walk has gone viral on the internet. Within a span of two days, the short clip has amassed over a million views and more than 26 thousand likes on Twitter. Many users have responded to the clip with chilling comments. One asked, "OMG. Does this happen to humans also?"
Newcastle disease (ND) is a highly contagious and often severe disease found worldwide that affects birds including domestic poultry. It is caused by a virus in the family of paramyxoviruses. The disease appears in three forms: lentogenic or mild, mesogenic or moderate and velogenic or very virulent, also called exotic Newcastle disease.
Newcastle Disease (Avian Paramyxovirus-1)
Newcastle disease is a highly contagious viral disease that causes respiratory and neurological signs in various avian species. It may cause acute death.
Newcastle disease is caused by avian paramyxovirus-1 (APMV-1). APMV-1 generally presents in the following forms based on clinical signs: lentogenic (mild), mesogenic (moderate), and velogenic (severe). Other names for Newcastle disease include: Avian Paramyxovirus-1 (APMV-1), exotic Newcastle disease (END), virulent Newcastle disease (VND), pseudo-fowl pest, pseudo-poultry plague, and Ranikhet disease. Newcastle disease is an important poultry disease because it is endemic in many areas worldwide, including Asia, Africa, and parts of North and South America. Chickens are the most susceptible species and can experience 100% mortality with velogenic strains within 24 – 48 hours. Newcastle disease causes a significant economic impact, especially in developing countries that rely heavily on backyard chickens for income and as a protein source.
Clinical signs
Observed signs can vary greatly depending on the APMV-1 strain and bird host factors (species, age, immunity, etc.).
Respiratory signs may include:
nasal/ocular discharge, gasping for air, coughing or rales, sneezing, and conjunctivitis (swelling around the eyes or face)
Neurological signs may include:
paralyzed wings or legs, torticollis (twisted neck; Figure 1), muscle tremors or spasms.
Weakness, oral discharge (Figure 2) greenish colored diarrhea (Figure 3), decreased egg production, and eggs that are thin-shelled, pale, and/or have a watery albumin may be observed. With velogenic strains, especially in susceptible chickens, mortality death may be close to 100% in a flock.
| | |
| --- | --- |
| | |
| Figure 1. Torticollis in a broiler chicken affected with Newcastle disease. Photo credit: Dr. Lorenzoni. | Figure 2. Abundant oral secretion in a bird affected with Newcastle disease. Photo: Dr. R. Gallardo. |
| | |
| Figure 3. Greenish fecal material from chickens affected with Newcastle disease.  Photo credit: Dr. R. Gallardo. | Figure 4. Hemorrhagic proventricular papillae in a chicken affected with Newcastle disease. Photo credit: Dr. R. Gallardo. |
spacer
Necropsy findings
Gross lesions may vary but may include hemorrhage of the mucosa of the proventriculus (Figure 4), ceca, and small intestine, due to necrosis of the intestinal wall or lymphoid tissue. In the respiratory tract, hemorrhage and marked congestion may be seen in the trachea (Figure 5). Airsacculitis may also be seen, shown by thickening of the air sacs and mucus (catarrhal) or cheese-like (caseous) build-up, and is often associated with secondary bacterial infections. Laying birds may have egg yolk in the abdominal cavity, degenerative ovarian follicles, and/or hemorrhage of the reproductive tract.
spacer
Figure 5. Hemorrhagic trachea of a chicken affected with Newcastle disease. Photo credit: Dr. R. Gallardo.
Occurrence
APMV-1 has been reported in over 240 bird species, and velogenic APMV-1 is endemic in many developing countries. Chickens are the most susceptible to the velogenic strain and the most likely to succumb to disease mortality or have severe clinical signs. Turkeys are usually less susceptible, with lower mortality and less severe morbidity in clinical presentation. Other game bird species such as pheasants, partridges, quail, and guinea fowl have variable susceptibility, but severe clinical signs have been reported with exposure to velogenic strains. Waterfowl species such as ducks and geese are generally the least susceptible and may harbor subclinical infections. Psittacine bird species, including parrots, cockatiels, budgerigars, and conures can be infected, and there have been cases in which they have been subclinical carriers of the virus and have introduced it into areas that were previously not affected. A variety of exotic zoo birds such as ostriches, owls, raptors, and penguins have been affected to varying degrees as well. Outbreaks in wild double-crested cormorants and rock pigeons have been reported throughout the U.S. and Canada, with limited spillover into domestic poultry. There have been sporadic Newcastle disease introductions to U.S. domestic poultry, mainly through the introduction of imported poultry that were infected, as well as wild bird reservoirs.
There have been three extensive U.S. outbreaks of the virulent Newcastle disease, previously known as exotic Newcastle disease (END), based mainly in southern California. The first outbreak occurred from 1971 to 1974 and was linked to the importation of infected psittacine pet birds into the U.S. During the 2002-2003 outbreak, the disease began in illegally imported backyard gamefowl and spread to commercial egg layer farms. The most recent outbreak lasted two years, May 2018 to May 2020, affected backyard gamefowl and spilled into commercial layer facilities; in this outbreak, the disease was called virulent Newcastle disease (VND) because it was no longer considered exotic to the U.S. Wild bird introduction of the virus can also occur from cormorants, pigeons, doves, and migratory waterfowl, which can be subclinical carriers of the disease.
People who are exposed to large amounts of virus may experience a mild and typically self-limiting conjunctivitis (eye swelling, irritation and redness) and flu-like symptoms of fever, headache, and malaise.  Laboratory workers, vaccine crews, and emergency disease poultry responders are most at risk. Conjunctivitis usually resolves without treatment but can be shed in ocular discharge for 4 to 7 days. Due to the relatively minor disease manifestation of Newcastle in humans, it is not a significant zoonotic disease of public health concern and is not considered a foodborne transmitted disease.
Transmission
APMV-1 is acquired through ingestion or inhalation of manure or respiratory secretions from infected birds. The virus can also be transferred via fomite materials such as contaminated feed, water, shoes, clothing, vehicles, poultry crates and egg trays, and, especially, moist fecal material. Transmission can also occur through infected eggs to hatching chicks for some APMV strains. Incubation period is 2-15 days, with an average of 2-6 days in chickens exposed to velogenic strains. Gallinaceous birds typically shed virus for 1-2 weeks. However, psittacine species such as parrots, macaws, and parakeets can be prolonged shedders of APMV-1 for months to more than a year.
Diagnosis
Confirmation of APMV-1 via laboratory diagnosis is important because the virus can mimic many other poultry diseases such as avian influenza. Diagnostic tests may include:
Real-Time Reverse-Transcriptase Polymerase Chain Reaction (qRT-PCR) – detects the presence of viral RNA from swab samples from oropharyngeal or cloacal swab samples
Virus isolation (VI) – determines if viable virus is present by incubating embryonated eggs and determines virus type from swab samples
Serology Blood Tests (i.e. Enzyme Linked Immunosorbent Assay (ELISA), Agar Gel Immunodiffusion (AGID), Hemagglutination Asssay (HA) / Hemagglutination Inhibition Assay (HI)) – identifies antibodies in blood serum; used as a screening test
Differential diagnoses
Avian influenza, Avian Paramyxovirus, Infectious bronchitis, Infectious laryngotracheitis, Avian chlamydia, Mycoplasma, Avian cholera (pasteurellosis), Infectious coryza, acute poisoning (i.e. aflatoxin, insecticides, rodenticides), Egg drop syndrome (EDS 76), Duck plague (duck viral enteritis)
Prevention
Biosecurity remains the most important protection strategy. Practices such as avoiding visiting other places with birds and restricting visitors around your birds are helpful strategies to limit disease spread. Prior to anyone entering your poultry premises, it is recommended to have them park in a designated area away from your birds, use a properly maintained footbath or wear designated cleaned footwear and/or clothing, and disinfect hands. Clean and disinfect poultry equipment such as cages, crates, egg flat/racks, waterers, and feeders prior to reuse. APMV-1 is an enveloped RNA virus and is susceptible to most common disinfectants. The virus is inactivated by heating to 56 °C (133 °F) for 3 hours or 60 °C (140 °F) for 30 minutes. Acidic conditions with a pH ≤ 2 also kill the virus. Similar to other viruses, APMV-1 can survive for long periods in cool conditions and in organic material such as feces.
Know the signs of illness to report quickly to your local state Department of Agriculture for follow-up to prevent future disease spread. The velogenic form of Newcastle disease is reportable to the World Organization for Animal Health (OIE), which provides international guidelines for surveillance and eradication. Biosecurity information is also posted on the USDA and CDFA websites to provide education to poultry and pet bird owners to prevent disease.
Vaccination with live or inactivated lentogenic strains (i.e. B1 and/or LaSota) for chickens, turkeys and pigeons are available by mass application in drinking water or aerosol droplet spray. Individual birds can also receive eye or nose droplet vaccination. Layer and breeder birds are often vaccinated prior to the first lay to pass on maternal antibodies to their chicks. Chicks may also be vaccinated at 1-4 days of age at the hatchery, especially if the parent stock was not vaccinated, or at 2-3 weeks of age once maternal antibodies wane. There is often a withdrawal period especially for oil-based vaccines for birds intended for human consumption.
Vaccination with these lentogenic strains provides only a limited protection against more virulent (mesogenic or velogenic) APMV-1 strains. Vaccinated birds exposed to more serious strains may still experience a decline in egg production and neurological signs, with less mortality. Vaccinated poultry can continue to shed virus in feces and saliva, despite vaccination status, but may experience reduced respiratory illness and mortality.
spacer
2000s
The below timeline gives a summary of significant HPAI and LPAI outbreaks in birds, infections in people, and events from 2000-2009.
2002

Although there are reports of HPAI virus outbreaks in South America during the early 1900s, it was not until 2002 that the first HPAI bird flu virus was detected on this continent. In May 2002, an LPAI H7N3 virus was isolated from commerical poultry in Chile. In June, an HPAI virus of the same subtype was obtained from the same flock28.

2003

February 2003, HPAI H7N7 virus caused outbreaks in layer farms in the

Netherlands

, affecting around 28% of the total national chicken population. This outbreak in poultry was also associated with 89 human cases, 1 of which with fatal outcomes5,31.


(The Netherland, home of the United Nations and the Ruling Elite. )

In December 2003,

HPAI H5N1 viruses re-emerged in Asia in wild birds, causing outbreaks in poultry and two fatal human infections

in Hong Kong

32,33,34.


(There is no doubt that China is a big player in the World study of infectious diseases as well as the UN's choice for World Power in the NWO.)

2004

Between February and May 2004,

an outbreak of bird flu due to an H7N3 virus occurred among poultry in Canada.

Within days, the virus causing this outbreak had changed from low to high pathogenicity. There were

two human cases identified, both with very mild illness

35, 36: One case was infected with a LPAI virus, and one case was infected with a HPAI H7N3 virus37, 38.


(Isn't that interesting, like they were running some kind of test of the two strains.  We know that Canada is a big player in the NWO.)

Additionally, another human case of HPAI H7N2 virus infection was identified,

but findings were not published until 2012

39, 40.
Reports of detections in poultry followed from Japan, Hong Kong, Thailand, Cambodia, Lao PDR, Indonesia, China, Malaysia from January-August 2004 with sporadic human infections of varying severity reported41.
(All countries controlled by the NWO)

In 2004, the United States experienced a poultry outbreak of a North American lineage HPAI H5N2 virus that was restricted to one farm.


(just who owns that farm, I wonder.  Regardless it is the place where the virus was inserted.)

This outbreak was reported in a flock of

7,

000 chickens and was the first outbreak of HPAI virus in the United States in 20 years42. 

(1984 was the prior time?)

2005

From 2003-2005, wild birds spread HPAI H5N1 virus to poultry in Africa, the Middle East and Europe, and the HPAI H5N1 virus's HA surface protein diversified into numerous clades (related groups), and viruses reassorted into multiple genetic lineages (genotypes) that were detected around the world5,41. 
(isn't that interesting, The CRSPR tool had been invented to enable them to change the DNA/Genes/Genetic structure of the virus.)

2009

In the spring of 2009, a novel influenza A H1N1 virus emerged in humans. It was

detected first in the United States

and spread quickly across the United States and the world. This new H1N1 virus contained

a unique combination of swine, avian and human influenza genes

not previously identified in animals or people. This virus was designated as influenza A (H1N1)pdm09 virus10.


(Once they broke through the blood barrier that kept animal and human disease separate and they were able to infect a human with an animal disease…it took off like wildfire.)
Page last reviewed:
July 5, 2022
spacer
CRISPR (Clustered Regularly Interspaced Short Palindromic Repeat) sequences were initially discovered in the E. coli genome in 1987, but their function as a safeguard against bacteriophages was not elucidated until 2007.
Other posts related to this topic: 
24 Oct 2022
Vietnam reports first human case of bird flu
Content available in:
Português (Portuguese (Brazil))
Last week, Vietnam recorded the first H5 bird flu on a human since 2014 in the country, and the government ordered new measures to prevent further contamination and trace possible transmission outbreaks. According to local authorities, the patient is a five-year-old girl from the province of Phu Tho (North) hospitalized in a severe condition, with respiratory, liver, and kidney problems.
Tests were carried out on at least 65 people who had contact with the patient, diagnosed on October 17th, and all the samples were negative. Health authorities were also sent to the place where the girl lives to try to determine how the transmission took place.
Medical and veterinary authorities need to closely monitor the bird flu situation so that they can take steps to prevent human infections, said the Vice-minister of Health, Nguyen Thi Lien Huong, referenced by the Vietnam Express. The authorities also ordered that prevention and control plans should be urgently reviewed.
Since 2003, Vietnam has recorded 128 cases of H5 bird flu, with 64 confirmed deaths — before the five-year-old girl's infection was confirmed, the last cases had occurred in 2014 in two southern provinces. Both patients died.
Local authorities claim that other types of bird flu are still circulating in the country. As a result, they warn the population not to consume meat from sick animals and to avoid products of dubious origin.
According to the US Centers for Disease Control and Prevention (CDC), transmission occurs through infected animals' saliva, mucus, and feces. Symptoms can be mild, such as fever and cough, or
Feb 15, 2018 
The
H7N4
avian flu strain was 
first
 identified among chickens in Australia in 1997, according to the World Health Organization. But this is the 
first
 known 
human
case
of
 this strain. But this is …
spacer
Jun 1, 2021
BEIJING — A man aged 41 in China's eastern province of Jiangsu has been confirmed as the 
first
human
case
 of infection with a rare strain of 
bird
 flu known as
H10N3
, China's National…
spacer
Apr 29, 2022  A highly contagious strain of avian flu that has likely killed hundreds of birds and spread across more than two dozen states has been detected in a human for the first time in the U.S., officials said Thursday.
The man was working on a commercial farm in Colorado and was involved in culling poultry suspected to be infected when he was directly exposed to the H5N1 flu, the state's health department said in a release.
Saturday, October 22, 2022, 17:08 GMT+7
The Vietnamese Ministry of Agriculture and Rural Development has requested authorities at all levels to urgently strengthen measures to curb the spread of avian flu, following a human bird flu infection detected after eight years.
Prompt actions to intensify the prevention and control of avian influenza, caused by different virus strains including A(H5), A(H5N1), A(H5N6) and A(H5N8), must be taken by local administrations nationwide as required in the Veterinary Law, the ministry urged in its recent dispatch.
The urgent request came after a human case of bird flu, caused by the A(H5) virus, was detected in northern Phu Tho Province on October 5, the first human bird flu infection after eight years without such cases across the country, the ministry stated.
The latest case has brought the total number of patients of A(H5N1) avian flu in Vietnam since 2003 to 128, of whom 64, or 50 percent, died.
So far this year, 34 avian influenza outbreaks have been recorded in 19 provinces and cities nationwide, leading to the killing of over 77,000 chickens and other poultry animals, the ministry reported.
The risk of avian influenza spread is very high, the agency warned in its dispatch.
In addition, there is a risk of bird flu virus strains such as A(H7N9), A(H5N2) and A(H5N5), among others, entering Vietnam through transportation, trade, and consumption of poultry and poultry products, including those smuggled or with unknown origin.
In localities with avian influenza outbreaks that have yet gone through 21 days, and locations with poultry testing positive for A(H5) avian influenza virus or being suspected to contract bird flu, local authorities must destroy such infected animals, declare the epidemic, tighten epidemic prevention and control measures, and take urgent steps to stop the spread of the epidemic.
Veterinary authorities in such localities must vaccinate all poultry animals in the affected areas as well as high-risk zones, and coordinate with health agencies in conducting epidemiological investigations, taking samples for testing, determining the cause of bird flu in poultry and humans, and handling the confirmed outbreaks.
The Ministry of Agriculture and Rural Development requested all local administrations to strengthen poultry quarantine, strictly control the transportation and trade of poultry and poultry products.
It is forbidden to trade and transport poultry and poultry products into Vietnam and strictly handle violations, the ministry said.
Local governments must ask people to close monitor their poultry herds for signs of bird flu and report any suspected cases to competent authorities so that timely preventive measures can be taken, the ministry said.
People are recommended not to consume food processed from sick and dead poultry or from poultry of unknown origin.
The main symptoms of bird flu can appear very quickly and include a very high temperature or feeling hot or shivery, aching muscles, headache, coughing or shortness of breath, according to the UK's National Health Service (NHS).
After a person has been infected, it usually takes three to five days for the first symptoms to appear, and more severe complications such as pneumonia and acute respiratory distress syndrome may happen within days of symptoms appearing.
Receiving treatment quickly and using antiviral medicine may prevent complications and reduce the risk of developing severe illness, the NHS advised.
Like us onFacebook or follow us on Twitter to get thelatest news about Vietnam!
spacer
"We define a zombie as an entity that is fully or partially under the control of another entity. This includes host-parasite interactions, autonomous technology, and coercion/control in human interactions. These dynamics – where one entity controls another – can lead to unanticipated biological, technological and social consequences."
In a recent interview with AFP, Dr. Aktipis identifies a single-celled parasite that infects around 40 million Americans and has been known to affect human behavior by infecting the brain in areas that control risk-taking and aggression – two traits of zombies. Aktipis is so concerned about a zombie apocalypse and how to treat victims that she held the first Zombie Apocalypse Medicine Alliance (ZAMA) in 2018 and has another scheduled in 2020. Yes, she's serious.
"The Zombie Apocalypse Medicine Alliance (ZAMA) is committed to providing a positive and respectful environment for humans, zombies and all other monsters. This means creating and maintaining an environment at the Zombie Apocalypse Medicine Meeting (ZAMM) that is free of coercion, discrimination, cannibalism, harassment and any other non-consensual zombification dynamics."
Aktipis wants us to ignore the gory, brain-eating, entertaining aspects of movie and TV zombies and focus on the fact that ants can be turned into zombies by a parasitic fungus, wasps can be turned into zombies by parasitic wasps and we humans don't have any real protection from similar zombie parasites already in our bodies … or waiting to creep in when we least expect them to. For example, Toxoplasma gondii – the single-cell parasite living in 40 million Americans – gets into the system via undercooked meat and dirty litter boxes. (I'll never look at an Internet kitten pic the same way again.)
Living parasites aren't the only cause of human zombies. Aktipis also warns that a person can be controlled that which seems to be the cause of all of our problems — the media and its main delivery mechanism, the smartphone. The focus of the Zombie Apocalypse Medicine Alliance preventing all forms of control by outside forces through various medical and psychological means.
"Zombie Apocalypse Medicine (ZAM) is a theoretically grounded approach to understanding and treating disease in extreme conditions. These conditions include post-disaster environments, challenging ecological settings such as high altitude and extreme cold, social conditions characterized by mind control and manipulation and scenarios characterized by highly contagious infectious disease. ZAM employs theoretical frameworks including genetic conflict theory, game theory, evolutionary theory, and adaptationism in order to understand how humans and other species have evolved to counter both the physical challenges of apocalyptic conditions and psychological challenges of zombie mind control."
While all of that sounds sophisticated and futuristic, Aktipis warns that disasters, highly contagious infections and mind control are already here and can easily reach zombification levels. That's why she created the Zombified podcast.
"Have you been zombified? Is something taking over your brain? Zombified is a new podcast about how we are vulnerable to being hijacked by things that are not us. From microbes hijacking behavior, to humans influencing each other, to our brains being taken over by social media, we talk about why zombification happens, why we are susceptible to it, and what we can do about it. "
Like a good Scout, she gave AFP some other cheap and easy ways to be prepared for the zombie apocalypse.
"She recommends keeping a go-bag of vital supplies like first aid kits, duct tape that can be used to fashion a shoe or a weapon, and whiskey to sterilize water and wounds (or drink if things get really bad)."
Duct tape and whiskey – the universal tool and medication. We shouldn't be surprised if aliens visiting Earth are carrying them too.
spacer
For many years now, Hollywood has amplified the idea of a zombie apocalypse for a long time, and the stories have grown increasingly popular in pop culture, particularly due to TV shows like The Walking Dead and movies like Resident Evil and World War Z. And so far we all have been watching it and considered it to be only entertainment. But few people know that it is in fact possible, that it could happen in reality. In May 2011 Although it may seem unbelievable, and this was not a satire piece or a joke. The U.S. Centres for Disease Control, which has been deeply engaged in the fictions of Swine Flu and other so-called "pandemics," did publicly send a warning to all Americans to at least be prepared for a zombie apocalypse possibility. In a May 16th blog entry on the CDC.gov website you could read, the CDC's zombie apocalypse article is, of course, an alternative effort to reach a younger crowd by appealing to mainstream youth interests which now include anything having to do with vampires and zombies. The article actually offers a useful but rudimentary set of preparedness tips that include gathering up emergency medicine supplies, food, water and tools. And its real. Recently Red Orbit website reached out to a couple of microbiologists to weigh in on the subject of a "what-if" zombie virus in a real-world science-driven scenario. The scientists were asked to dream up a scenario in which a zombie virus could become reality, and if we take Hollywood out of the picture and instead use what they know about microbiology. Interestingly, both scientists had the same answer for a source: Rabies.
"I think that the Zombie Virus already exists: Rabies. Infection is nearly 100 percent lethal, i.e. it turns you into the walking dead for a while at least, and it causes you to change your behavior by reprogramming you to bite other people to spread the infection. Now if only it kept the corpse walking around," Jonathan D. Dinman, PhD, Professor in the Department of Cell Biology and Molecular Genetics at the University of Maryland, say: "Essentially, the rabies virus would need to be slightly altered, or would have to evolve, in a way to keep people kicking and screaming for their next victim rather than killing them off just a few days after symptoms occur." People really should avert their gaze from the modern survival thinking for just a bit and also look at how folks 150 years ago did it. Rabies has to incubate inside the body before showing signs of infection, which includes anxiety, confusion, hallucinations, paralysis, agitation, hypersalivation, difficulty swallowing and hydrophobia — fear of water. This incubation period can last anywhere from 10 days to a year, meaning a "zombie virus outbreak" may look a little slower and less "viral" than movies tend to portray. https://youtu.be/yAXoFIWpVo0 "When we think of rabies, we think of dogs with foaming mouths but this virus is actually the most likely to mutate into something that would be similar to a 'zombie virus'," Dr. Samantha Price, an HCPC registered Biomedical Scientist and Research Information Co-ordinator for the UK MND Association, say: "The common symptoms of rabies are dislike of 'bright lights' and a fear of water. When you think of the film 'I am Legend' the zombie-like creatures here dislike both of these things. Rabies is also transmitted via bodily fluids, bites etc and due to the virus making the individual increasingly aggressive the symptoms of rabies seem to be more alike to a Hollywood zombie than you probably previously thought," said Dr Price. "Rabies is, however, highly fatal so the virus would need to mutate in a way that would make it less fatal — so that it could cause a 'zombie-like' outbreak." Brain Parasites Parasites that turn victims into mindless, zombie-like slaves are fairly common in nature. There's one called toxoplasmosa gondii that seems to devote its entire existence to being terrifying. This bug infects rats, but can only breed inside the intestines of a cat. The parasite knows it needs to get the rat inside the cat (yes, we realize this sounds like the beginning of the most fucked-up Dr. Seuss poem ever) so the parasite takes over the rat's freaking brain, and intentionally makes it scurry toward where the cats hang out. The rat is being programmed to get itself eaten, and it doesn't even know.
Neurotoxins
There are certain kinds of poisons that slow your bodily functions to the point that you'll be considered dead, even to a doctor (okay, maybe not to a good doctor). The poison from fugu (Japanese blowfish) can do this. The victims can then be brought back under the effects of a drug like datura stramonium (or other chemicals called alkaloids) that leave them in a trance-like state with no memory, but still able to perform simple tasks like eating, sleeping, moaning and shambling around with their arms outstretched. Another very threatening disease is the Creutzfeldt-Jakob disease. Just check out the symptoms: Changes in gait (walking) Hallucinations Lack of coordination (for example, stumbling and falling) Muscle twitching Myoclonic jerks or seizures Rapidly developing delirium or dementia Yes, the disease is rare (though maybe not as rare as we think) and the afflicted aren't known to chase after people in murderous mobs. Yet. But, it proves widespread brain infections of the Rage variety are just a matter of waiting for the right disease to come along. If the Creutzfeldt-Jakob disease would mutate anything could happen. If the whole sudden, mindless violence idea seems far-fetched, remember that you are just one brain chemical (serotonin) away from turning into a mindless killing machine (they've tested it by putting rats in Deathmatch-style cages and watching them turn on each other). All it would take is a disease that destroys the brain's ability to absorb that one chemical and suddenly it's a real-world 28 Days Later.  (And you had better believe that they are working on it!!)
Could Scientists Really Create a Zombie Apocalypse Virus?
Before they appeared in movies, zombies played an important role in voodoo (or vodoun) culture in West Africa and Haiti. The word probably comes from nzambi, which roughly translates to, "spirit of a dead person." Zombies are humans without a soul. In the early 1980s, ethnobotanist Wade Davis proposed that zombies were more than mere witchcraft and folklore, and that zombie powder found in Haitian ceremonies might be derived from tetrodotoxin, a powerful neurotoxin that blocks nerve channels. Davis drew his hypothesis partially from real-world examples such as the female jewel wasp (pictured), which injects its tetrodotoxin into a cockroach's brain, shutting down the roach's fight-or-flight response. The wasp then leads the drugged bug into its burrow, lays its eggs upon the cockroach's abdomen and, eight days later, the larvae hatch and feed upon the roach, burrowing into its innards. The cockroach is alive throughout and under the wasp's control. Also, I highly recommend this book to everyone. 300 pages, color, paperback. The Lost Book of Remedies is helping Americans achieve medical self-sufficiency even in the darkest times using the time-tested methods of our grandparents without spending lots of money on toxic drugs and without side effects. A great gift for the coming holidays to help people prepare.
Mice were turned into Walking Dead -style zombie killers by turning on a light that activated specific brain cells associated with hunting, scientists have revealed.
The scientists, from Yale University in the US and other institutions in China and Brazil, managed to turn them into killing machines using a technique called optogenetics. This allowed them to activate specific brain cells using a laser.
Lead investigator Ivan de Araujo, who was the co-author of a paper on the study which was published earlier this week in Cell explained, "We'd turn the laser on and they'd jump on an object, hold it with their paws and intensely bite it as if they were trying to capture and kill it."
Watch the video below.  It should scare you!  They have isolated the part of the brain (even your brain) that when stimulated can turn you into a mindless killing machine.  And what do they use to stimulate it??  LASERS.  They have been developing Lasers for decades now and they have it down.  All sizes and power levels with all manner of deliverance tools.  YOU NEED TO WAKE UP! YOU BETTER BELIEVE that "scientist" and the crazed ruling elite ARE DRIVEN to push the limits.  If they dream that it is possible, they have no choice but to try it.  If they try it and they like it…they will find bigger, better more destructive ways to employ it!
That's right. In proof that we have permanently strayed from God's light, the team published a study of their Frankensteinian experiment in Advanced Science on July 26, in which they were able to control a dead spider's legs with puffs of air. The authors described the creation as "necrobotics," and believe that it could be used for a range of purposes including capturing insects and even assembling microelectronics.
"Prior research has focused on bioinspired systems, where researchers look to nature for inspiration and mimic the physical traits of living organisms in engineered systems," Faye Yap, a mechanical engineer at Rice and lead author of the paper, told The Daily Beast in an email. She later added, "Necrobotics, on the other hand, uses biotic materials, which are non-living materials derived from once-living organisms, such as the necrobotic gripper sourced from a spider in our work."
The team was inspired to create their hair-raising creation after they stumbled upon a dead spider moving things around their lab one day. After noticing how it curled when it died, they discovered that spider legs don't have muscles like humans do, but instead rely on hydraulic pressure to move their limbs.
"We understand that many people are put off by the sight of a spider, but from an engineering point of view, the spider's mechanism of movement is very interesting," Yap said. "It definitely warrants taking a closer look at these creatures, and learning more from them."
The team decided to see if they could actually control the legs. The mechanism was pretty straightforward: Yap inserted a syringe into a dead wolf spider's internal hydraulic chamber and added some superglue to hold it in place. Then she added a small amount of air and the spider's legs instantly opened. Voila! You have the world's most cursed grabber tool.
While skin crawling, the necrobotic grabbers were highly effective at picking things up. The wolf spiders used in the experiment are capable of lifting more than 130 percent of their own body weight—which meant the zombified grippers wereable to grip objects much heavier than themselves.
The team also found that their new tool was surprisingly durable too. One spider was even able to sustain 1,000 open-close cycles before showing signs of wear and tear. But Yap said that they eventually "plan on incorporating thin polymeric coating materials to prolong the lifetime of the necrobotic gripper."
Daniel Preston, an assistant professor of mechanical engineering at Rice and co-author of the paper, told The Daily Beast that, while the experiment has raised a few eyebrows, the general public "has been supportive."
"[The] typical reaction is a brief period of surprise, then an 'a-ha' moment where the underlying mechanism and engineering contributions of our work become apparent," Preston said. "We hope this research will spark new ideas for how we can respectfully and sustainably source and utilize biotic materials for robotics applications."
Preston added that the team hopes to eventually test the concept on smaller spiders, which can carry an even heavier load relative to its body weight and mass. The spider grabbers could also be used to catch other creepy-crawlies as well.
"Because the necrobotic gripper has inherent compliance and camouflaging capabilities, we envision that we can deploy it in scientific fieldwork," Yap said. "For example, to capture and collect small insects and other live specimens without damaging them."
Listen, this is no doubt creepy and pulled straight from the depths of our nightmares. But the necrobots do have a lot of useful applications. If you take a step back from the horror factor, it's pretty cool in a pulpy sci-fi way. Let's just hope they stick to spiders, though… and not something bigger.
The first 10:52 of this video is made up of snips from TV, Movies, and Dramatizations.  The data filled section begins after that.
9 months, 2 weeks ago