Who made Bill gates an expert on pandemics/epidemics/virology?
Whose money and power is behind him? 
Ok, folks, honestly, I have said this before and I will keep on saying it.  BILL GATES is not an expert on anything but numbers and making money.  He has said it himself.  He does not care about anything but see results.  That is what drives him.  Results in this case is see the ENTIRE WORLD vaccinated and chipped.  Why?  Because that is the UN/NWO AGENDA and they are the ones backing him. 
What I want to know is why does anybody care what he thinks or says??  Why? Because people are sheep.  Anyone who is touted by the media to be an "expert" is accepted unquestionably by the masses.  SHEEP!  Unable to think for themselves due to their dumbing down by television, movies, the education system, their diet, and their social network.
Bill Gates is a tool.  A tool formed and utilized by the powers that be.  He has a job to do, just like Obama's job was to bring the CHANGE to America that would enable them to move forward, Bill's job is to get the people vaccinated and chipped VOLUNTARILY preferably, but FORCIBLY if required.
Update 7/5/20
Just saw this post… had to add it.  Hope you enjoy.
Shilly Billy
Two of Bill's favorite things in one:  NUMBERS and LYING
HEAD OF STAT
A guide to number games
How to Lie With Statistics is a great introduction to a crucial topic.
March 14, 2015 

 1 minute read
 I picked this one up after seeing it on a Wall Street Journal list of good books for investors. It was first published in 1954, but it doesn't feel dated (aside from a few anachronistic examples—it has been a long time since bread cost 5 cents a loaf in the United States). In fact, I'd say it's more relevant than ever. One chapter shows you how visuals can be used to exaggerate trends and give distorted comparisons. It's a timely reminder, given how often infographics show up in your Facebook and Twitter feeds these days. A great introduction to the use of statistics, and a great refresher for anyone who's already well versed in it.
The original Bill Gates TED Talk transcript can be viewed here 
https://www.gatesnotes.com/…/6-Books-I-Recommended-for-TED-… In 2015 in a TED talk by Bill Gates he presented his summer reading list and I was honored to see he recommended Darrell Huff's (my grandfather) book How to Lie With Statistics. Just had to share 
🙂 Beryl Hauser Vaughan

https://www.gatesnotes.com/…/6-Books-I-Recommended-for-TED-…
Bill Gates shares a list of books he recommended to attendees at the TED conference.
spacer
Click to watch on
YOUTUBE.com
spacer
26 Jun, 2020 18:43 

/ Updated 7 days ago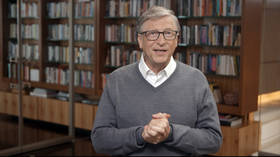 Microsoft billionaire Bill Gates lamented the US is 'not even close' to doing enough to fight the pandemic, before warning that the vaccine he wants to inject into every human on the planet does require their consent first.  (interesting…we know that the ACCEPTING the Mark of the Beast will damn one to HELL.  Sounds more and more every day like this is the it.)

Speaking to Anderson Cooper (another NWO/Illuminati SHILL)  at a CNN town hall on Thursday, Gates insisted (it seems like he is so frustrated that the pandemic is not going his way)the US was "experiencing a rebound" in Covid-19 infections even accounting for the increase in testing.(there are some saying that the testing contains the virus, and is part of the reason for the spread and the uptake in cases. I have not researched the evidence on that, personally.) That increase, the software tycoon reminded his interviewers, was accomplished by local governments in spite of – not because of – the White House.  (There you go… he is only a software tycoon, who by his own admission has not even spoken to the President regarding these issues. He has no idea what the President knows or why he makes the decisions he does.  WHO IS THIS GUY to criticize our President? Not that I agree with President Trump on all things.  I do however respect the office.  Why do we tolerate this Gates guy??  Who is he to tell us what we need to do?) 

Gates seemed miffed that Washington wasn't following his instructions more closely, complaining that "it's possible to ramp up testing for a new pathogen very, very fast" if they'd just do as they were told. He blamed the higher infection numbers in the US, which continues to lead the world with upwards of 2.5 million confirmed cases and over 125,000 deaths, on the nation's failure to adopt the same measures as everyone else. (That is Propaganda.  There are nations and whole areas of the world that are not even requiring masks.  ALL of Scandinavia for example, where there are numbers of infection are VERY LOW! This stuff he is handing Americans is all hype and BS!)

ALSO ON RT.COMUS billionaires' wealth soars by $565 BILLION during pandemic while millions lose jobs"Other countries" are "restraining their behavior," imposing restrictive lockdowns and quarantines, and adopting comprehensive contact tracing, Gates hinted, sounding impatient with the US' "very large case spread," which he called "embarrassing." (This man is a control freak, and the US is the UN target because we are so used to freedom here, it is hard to get American's to comply with TYRANNY.)

Some people almost feel like [Covid-19 is] a political thing, which is unfortunate. (LOL. it is totally a political thing. IT is all about the NWO gaining control of all governments and the people surrendering ALL THEIR RIGHTS!)

"Even to inconvenience themselves with masks requires maybe someone they know to not only test positive but maybe get very sick as well," he added. (So, sounds to me like that is the solution they came up with for getting people to comply…thus the need for contact tracing…to order to guarantee that everyone knows someone who has contracted the disease.) 

Gates, who has repeatedly expressed a desire to inoculate the world's population with whatever vaccine emerges from the research laboratories he is funding, admitted the shot might be rolled out before it's working perfectly. "It's possible the vaccine will be better at protecting you individually and not stop you from transmitting…it's not guaranteed that the vaccine will be a perfect transmission blocker."  (Ok, so wait a minute…it won't keep the virus from spreading.  It will only protect you from getting it, maybe?  So, all the screaming about respecting the rights of others…what about my right to refuse to take your chemicals into my body? If it only affects me…what difference does it make to you??)

Boasting that "the logistics in the US are not an issue at all," Gates bragged that "we can get this thing out there" before acknowledging that "you'll have a 'choice' whether you take the vaccine or not, so there's that final hurdle."  

ALSO ON RT.COM The more you know? Over a third of Americans apprehensive about Covid-19 vaccine, citing rushed development & trust issuesThe billionaire seemed unconcerned by the "vaccine hesitancy" factor, however, even though over a third of Americans have professed some concern over the safety of a coronavirus vaccine, citing the politicization of the issue, the rushed timetable, the less-than-stellar reputation of some of the individuals involved, and other issues.

Some 70 to 80 percent of the world's population will have to take the vaccine before anyone can hope to live a normal life again "with people taking vacations," travel, and sporting events, Gates explained, implying they had no choice.  (hmmm, that is why they had to force all that migration before the released this pandemic.  They had to weaken all nations by overcoming the native citizens attachment to their traditions, customs and governments. And, they had to introduce all the terrorist groups into ALL Nations.  Afterall, how else could you have WORLDWIDE TERROR AND CHAOS??)

If you like this story, share it with a friend!
spacer
(CNN) The Bill & Melinda Gates Foundation is contributing hundreds of millions of dollars (This is totally misleading, Bill and Melinda are not contributing any of their own money.  The Foundation protects their assets.  It is FALSE Philanthropy.  It is the GOOD OLD BOYS CLUB where they all get to benefit from tax exemptions and legaleeze while they build their personal wealth with the contributions of others. That is why, with all the so called contributions the Foundation is reported to make, they continue to get wealthier and wealthier.)toward Covid-19 vaccine trials. In this episode, Bill Gates sits down with CNN Chief Medical Correspondent Dr. Sanjay Gupta and CNN Anchor Anderson Cooper to discuss the prospect of developing a vaccine.
You can listen on your favorite podcast app or read the transcript below.(you have to visit the site to listen)

Bill Gates, philanthropist, at CNN Town Hall on April 30: So we're entering into a tough period. If we do it right, we'll only have to do it once for six to 10 weeks. It has to be the whole country. And having states go with different things, or thinking you can do it county by county, that will not work. The cases will be exponentially growing anywhere you don't have a serious shutdown.

Dr. Sanjay Gupta: That was Bill Gates talking to Anderson Cooper and me eight weeks ago.

At the time, over 63,000 Americans had died from Covid-19. But since then, that number has skyrocketed. And while many states are trying to reopen businesses and operate in this

new normal,

some are reporting their highest daily case counts since the pandemic began.
The only end in sight seems to be the arrival of a vaccine.

(ALSO BS!  This disease will run its course. NO Disease is permanent. And it is not as ominous as they want you to believe. But, they are using this "manmade crisis to DESTROY YOUR FREEDOM and CREATE A WORLD WHERE THEY RULE EVERY ASPECT OF YOUR LIFE!)

So, Anderson and I sat down with Gates for another conversation. And in this episode, you'll hear what he had to say about the prospect of a vaccine for Covid-19.

Gupta: Bill, thanks so much for coming back to speak with us. I thought we'd be having a different conversation, frankly, end of June, about this.

Last time we spoke, I asked you about cognitive dissonance. You know, this idea that people are already taking victory laps, acting as if the pandemic is over. How much do you think that's contributing? I mean, we know about the testing issues, we're going to talk about that, masks, physical distancing, but just the mindset overall.

(you know, here is my personal opinion on how we should respond to this threat:  FREE people do not allow ANY enemy to take away their lifestyle.  We have seen that throughout history.  WE do not allow FEAR of ANY ENEMY to make us crawl into a hole and cower in fear.  This threat of disease is no different.  WE will continue to live out our lives the way we always have and deal with any issues as they arise.  AND we will care for our loved ones at home, the way we see fit, barring any immediate life threatening developments, which we will address in the normal manner.  Because that is what FREE people do!  Because we would rather die FREE than live under TYRANNY!)

How much do you think that's contributing, this cognitive dissonance, and why? Why here?

Gates: Well, it's almost as though people have a willingness to go into lockdown once and, you know, for a certain period. You know, maybe that's not surprising. Then it takes to get them to extend it past a certain thing or even to inconvenience themselves with masks, you know, requires maybe somebody they know to not only test positive, but maybe get very sick as well.

And so the range of behaviors in the US right now, some people who are being very conservative in what they do and some people are basically ignoring the epidemic. It's, you know, huge. And, you know, we've worn out people's patience. And if they don't see it in some way, they, you know, some people almost feel like it's a political thing, which is unfortunate.

Gupta:

 So right now, there's been roughly

5 to 7%

of the United States population that's been infected with the virus. That's a rough number. It's a lot of people. But I know you've heard a lot from people like 

Dr. Michael Osterholm

, who's the director and founder of the Center for Infectious Disease Research and Policy in Minnesota.

And he said this interesting quote this past week. He said, "The virus is not going to slow down transmission overall. It may come and go, but

it's going to keep transmitting until we get at least 60 or 70 percent of the population infected,

which may give immunity or if we get a vaccine." So I'm just wondering, do you agree with him that unless we get a vaccine, that that percentage of Americans will likely get infected?

Gates: 

That's right. And even with the vaccine,

there's two characteristics of a vaccine. One is whether it protects you individually from getting sick. The other is whether it stops you from being a transmitter of the disease. And it's possible the vaccine will be better at protecting you individually and not stop you from transmitting. We're trying to look at the various vaccines and see how they measure up on those two dimensions. But

it's not guaranteed that the vaccine will be a perfect transmission blocker.


(Wow, so they are saying that this virus is going to infect 60 to 70% of he population, though they don't say what is magic about that number.  Why would it not be 100% or 50%.  Then, Bill makes a very interesting statement, he says "even with the vaccine" because the vaccine may not stop transmission.  WHAT? Go back and read the last two paragraph of the converstion above and see for yourself.)


Gupta: You know, the thing that has sort of struck me about this, Bill, is that I've been reporting on this for a long time. I haven't seen a lot of data. I saw a little bit of the Moderna data from the phase I trial, eight patients who developed the neutralizing antibodies.

The only peer-reviewed published data that I've seen has actually come out of China,(wait what?? We are going to trust CHINA?  Isn't that where this whole thing started?  Why would we ever trust China, when we know that they are philosophically our enemy?  We know that they have been caught putting poison in products that they sell to us, even baby products. They are the enemies of FREEDOM.  They are THE most TYRANNICAL government on the earth, except possibly North Korea. 

Why on earth would we put any credence in anything coming out of CHINA? They lied to us about EVERYTHING related to the Wuhan/Corona/COVID 19 virus.)

an adenovirus vaccine trial over there. We're seeing a lot of press releases. We're seeing a lot of preprints. It's not peer reviewed. I've got to tell you, it makes me nervous. You know, we like to dig into this stuff. You're optimistic, I know, about the vaccines. Are you seeing something that we're not seeing? Or how should we take that?

Gates: 

Well,

there's two vaccines, the Oxford [University] AstraZeneca

and

the Johnson & Johnson, that are similar in their approach

,

(WOW, there are two entities that I would not trust for a second!  IF you know anything about the OCCULT roots of Oxford, and if you have seen anything about the Baby Powder Scandal of Johnson and Johnson than you know why I would not trust either of these entities.)

they both use an adenovirus vector where the animal data looks promising. And

those are the two with the most promise

because we know

how to scale up the manufacturing.

(I submit to you that biggest concerns for these folks is the money they can make, and how to keep their costs down. Of course not to forget the biggest concern is getting everyone chipped and vaccinated in time for the 2021 Agenda)

And our foundation is

putting together agreements

where we put hundreds of millions in to have factories that are available even to the countries that aren't super wealthy.

(They want to be sure there are factories up and running in every country so when they are ready to unleash the vaccine, it is readily available and they are able to vaccinate the entire world in a timely manner.)

They may not succeed. But I'm hopeful for those two vaccines and that's why, you know, we're putting up, you know, hundreds of millions. So it'll be completely wasted if those don't succeed. But you're right. The amount of human data is modest. 

(have you, like me, noticed a pattern in Gates speech?  It appears that every time he is talking about something he knows is an OUTRIGHT LIE THAT HE IS AFRAID WILL BE DISCOVERED, he keeps saying "you know". Maybe that is just my perception.) 

Anderson Cooper, CNN anchor: I want to play something that Dr. Fauci talked about during his testimony about a vaccine, let's play that.

Dr. Anthony Fauci, director, National Institute of Allergy and Infectious Diseases: 

And I believe it will be when and not if we get favorable candidates with good results.

We will be able to make them available to the American public. As I said to this committee months ago, within a year from when we started, which would put us at the end of this calendar year and the beginning of 2021.

Cooper: 

I mean, you mentioned timeline a little bit. Is that realistic? And also you talked about distribution, you know,

having a vaccine that works and then actually getting it distributed and figuring out how it's distributed and paid for.

(That is Bill's assignment.  His area of expertise as demonstrated by Microsoft. Trouble is that was before people started to see the real Bill Gates.)

What sort of a timeline is that?

Gates: 

The big problems are safety and efficacy. And phase III trials are very complex to do. And you may see a safety signal that forces you to try out in a broader set of people. The two constructs, both Fauci and I are very hopeful that they'll work.

I talk to him regularly

,

more often than he talks to some other people.

(So, Bill Gates is shaping what comes forth from Fauci)

And

his view of the chances and our view are very aligned

. We're seeing the same data. We're sharing the same data. So I have a lot of hope for those two constructs.

If the safety and efficacy is there,

the factory piece is being done.

The cost of those two vaccines, the ability to scale up production is very, very strong. And the logistics in the US are not an issue at all.

We can get this thing out there.

Now,

some people,

you know, you'll

have a choice of whether you take the vaccine or not

.

So there's that final hurdle. 

(THE HURDLE that is in the way of TOTAL PERMANENT LOCKDOWN of the WORLD, the NEW ORDER, THE NEW NORMAL)

Cooper: 

In terms of who gets the vaccine first, your wife, Melinda Gates, said that, this week that health care workers should get the vaccine first. And then she said, quote, "

It's also going to be Black people who really should get it first

and

many indigenous people

, as well as

people with underlying symptoms and then elderly people.

" People who are more adversely affected and more at risk than others in the population. Do you agree with that? 

(All the people the EUGENICISTS WANT TO GET RID OF, and we know that BILL AND MELINDA ARE RIGHT AT THE TOP OF THE LIST OF EUGENICISTS!)

Gates: 

Yeah. So if what we know is that it protects you from getting sick and if it works all the way up into very high age ranges, then the rational thing to do would be to take the risk for each person and go down and,

you know

, the person most at risk of getting infected and having bad outcomes, you would go down and get the vaccine to them first. And,

you know

, clearly certain jobs expose you more, we know that. Certain locations.

Unfortunately, ethnicity is associated both with higher infection rates and, adjusted for age, somewhat worse outcomes.

And so that would influence how during the period of shortage you actually do that allocation.

So across countries, this is going to be complicated. And within countries, it's going to be complicated, at least for the people who want the vaccine, which,

you know

, should be most people.

Cooper: I mean, you saw this coming years ago. No one really listened to you then.

Gupta: I listened to you, just for the record.

Cooper: A lot of people watched your TED talk. But the changes weren't made. The tens of billions of dollars you talked about that would be needed to invest in fast-tracking vaccines and monitoring zoonotic viruses and the like. It wasn't spent. If authorities are listening to you tonight, what is your advice, or, or leaders listening to you, what's your advice? And is a vaccine the only avenue to do this ending? Or what happens between now and then?

Get CNN Health's weekly newsletter

Gates: 

Well, testing numbers will keep going up, and there's some breakthroughs there that could get us into much larger numbers. What I call mega testing. The therapeutics work. Dexamethasone, that's real, that's great.

You know

, some new ways of formulating remdesivir. And there's two other drugs that, in the assays, show effectiveness there.

You know

, we will get the death rate down.

We do need to think about the world here. And

you know

, that, I'm 

still pretty disappointed

. And without US leadership, it's been hard to pull together,

you know

, a response. And now the developing countries are bearing the brunt of the burden. Brazil is, it's very tough there. India is starting to be very tough.

It's possible to ramp up testing for a new pathogen very, very fast.

So I'm not fatalistic about future pandemics, even though I'm disappointed we didn't get ready for this one. And even during the pandemic, the US in particular hasn't had the leadership messages or the coordination that you would have expected.

(undermining our president without the balls to say his name.)

Cooper: But basically, we're still not doing enough now on this pandemic?

Gates: 

No, not even close. I mean, just,

you know,

people died today.

Gupta: Bill Gates did tell us to prepare for a global pandemic five years ago. We didn't. And now we are dealing with those consequences.

I'm certainly glad to hear about Bill's optimism about finding a vaccine. But it's important to remember that this will still be a long road ahead — and there will almost certainly be more setbacks along the way. If we stay the course —

wear a mask, keep a physical distance and each of us does our part

— we will reach the end of this pandemic sooner, rather than later.

(like a good little mouthpiece regurgitating the montra of the his puppet masters.)

We'll be back tomorrow. Thanks for listening.
*Bill and Melinda Gates want Black Americans to be the first to receive COVID-19 vaccines.

In an interview with Forbes magazine, the billionaire couple explained how they plan to distribute their vaccines based on racial groups.

Melinda wants "Black people" and "indigenous people" to receive the vaccines first, most especially those who work in the health field.

 "One of the reasons we are so involved in this is that you don't want the first vaccines to go to the highest-bidding countries," Melinda Gates said. "There are 60 million healthcare workers. They deserve to get the vaccine first, they're the ones dealing with this on the front lines, trying to keep us all safe." (if they know the truth, I don't think they would consider that an honor. IF I were them, I be running for the nearest exit.)

She added, "Then you have to start to tier from there, based on the countries and the populations. Here in the United States, it's going to be black people who really should get it first and many indigenous people, as well as people with underlying symptoms, and then elderly people."

The comments follow reports that a COVID-19 vaccine will work only if trials include Black participants, according to so-called health experts.

For months, COVID-19 officials have claimed that Black Americans have been disproportionately affected by COVID-19. (We don't really know if ANY of their claims are valid/true/accurate/honest.)

"And that's why I do what I do," said Calethia Hodges, a clinician at Infinite Clinical Trials outside Atlanta, per NBC News.  "And that's why I am here, in this neighborhood that is predominantly African American."

Hodges wants people from urban communities to participate in clinical trials to help find a vaccine. But she's finding that Black folks don't trust the medical institutions or experimental drugs. (well, hallelujah!  Good for them.  They are smarter than most.)

"The reasons I hear African Americans will not participate are heartbreaking and disappointing," Hodges said. "I have heard about the Tuskegee experiment a lot. And I have heard 'They [doctors] will give me the virus.' And 'They will put a chip inside me.' Many say their parents raised them 'to never participate in medical research.' It's all tough to overcome." (This is another reason they are first on the hit list.  They are dissidents. Anyone who does not willingly go along with the program is an enemy of the NWO.)

Meanwhile, Bill Gates says the 'final hurdle' to distributing his Covid-19 vaccine will be convincing people to take it.
spacer

Photo Credit: Imgflip.com
spacer
Jun 29, 2020
 55.5K
1:10:50 

To Watch This Video on BITCHUTE CLICK THE TITLE LINK BELOW:
Mel and Rob discuss the absurdities of the Equality Act, The NWO Gates inversion and so many red pills that we needed another glass of water to wash it all down. Yes these actions, proposals and such are scary but important for all to see as to make the think, wake up and retake our sovereignty. Time for the light to shine bright. We believe we are being tested, and we will prevail. God Wins! Keep the faith..this is Biblical!
We love what we do and are working hard to keep on top of everything to help this transition along peacefully and with love. Please support our work in any way you can. Like, Share, Comment and If you value our work and have the resources please support us through our website PayPal link.
Thank you amazing patriots for joining us on this journey, for your support of our work and for your faith in this biblical transition to greatness. God Wins! Power to the People!  1 year ago
 36.3K
23:27 

To Watch This Video on BITCHUTE CLICK THE TITLE LINK BELOW:
The Documentary Bill Gates Doesn't want you to see.
All Credit goes to the creator of this video.1 year, 1 month ago
spacer
 32.0K
58:44   

To Watch This Video on BITCHUTE CLICK THE TITLE LINK BELOW:
As video platforms shut us down be sure to follow us on these platforms:
Connect with us on social media:  6 months, 1 week ago
spacer
Bill Gates says a "final hurdle" to distributing a COVID-19 vaccine will be

ensuring that people decide to take it.

Given the urgency of the pandemic, testing vaccine candidates with a wide variety of populations and age groups can prove challenging, Gates said.

Still, Gates believes that "a lot" of people will take a vaccine when one becomes available, and believes herd immunity can be achieved if 70% to 80% of people take it.
The final roadblock to distributing a coronavirus vaccine will be ensuring that enough people actually take it, Bill Gates said in a recent interview with CNN. The billionaire philanthropist and cofounder of Microsoft has contributed millions toward coronavirus research. (BS)

"You'll have a choice of whether you take the vaccine or not," Gates said to CNN's Anderson Cooper and Dr. Sanjay Gupta in a Coronavirus Town Hall. "So there's that final hurdle."

Three-quarters of Americans said they would take a coronavirus vaccine if they were assured it was safe, according to a Reuters/Ipsos poll published in May. About 40% of American adults surveyed said they would take if after it was approved by the Food and Drug Administration, while 38% said they would take it after extensive peer-reviewed clinical trials. Thirty-eight percent of respondents also said they would wait until much of the public had taken the vaccine before taking it themselves.

More than 28,000 people have also joined an organization called 1Day Sooner, which runs human challenge trials to help test vaccines and treatments for COVID-19, according to The Washington Post.

There are more than 140 vaccine projects in development, according to The World Health Organization. Although research is moving quickly, there are still many challenges around gathering data to show that a vaccine would work and ramping up the necessary production, as Business Insider's Andrew Dunn has reported.

The US Department of Health and Human Services is aiming to deliver 300 million doses of a coronavirus vaccine by January 2021 as part of its broader strategy around the development and distribution of COVID-19 vaccines and treatments.

The urgency of the coronavirus pandemic, which has killed 489,922 people around the globe and infected 9.6 million according to Johns Hopkins University, means it could be challenging for scientists to spend a lot of time trialing vaccines with various age ranges and populations.

"It's understandable that because of the urgency of this, the amount of time that you'll be out looking at it is just going to be less," Gates said when asked about the issue of vaccine hesitancy. "And so even for scientists really understanding, 'Ok, were the trial populations accounting for all of these different groups? How low does the age range go? . . . How do you feel about pregnant women in it, what about the elderly? It's a challenge to get that safety database to build up the confidence."

Gates and his wife Melinda have contributed $250 million (BS) toward developing treatments, testing, and vaccines for COVID-19 through the Bill & Melinda Gates Foundation.  The funds will also contribute toward coronavirus relief efforts in low and middle-income countries.

Overall, Gates believes that "a lot of people" will be willing to take the vaccine and herd (hive mentality) immunity could be achieved if between 70% and 80% of people do so.

"It really could then exponentially drop the numbers," Gates said. "But we need that for the entire world if we're going to go back and have people taking vacations, international students, international sports events. So it'll take a while until we get this thing finished off on a global basis."(This is why they had to equalize, get the whole world on the same page. That is why you see the EXACT SAME THINGS happening in every country.  That did not happen organically. The world has been manipulated into one mass of CHAOS. And the people think their rebellion is organic brought about by everyone waking up… NOT!  We are all being herded by the elite. They know EXACTLY how to play the game.  AND YOU, DO NOT!)
Jun 9, 2020
A potentially dangerous vaccine is being rushed to market 90% faster than normal, a short-cut process which many scientists say may well harm more humans than it helps. Bill Gates doesn't care. He's intent on pushing his vaccine through, no matter the human cost.

While President Trump does not appear to be in favor of a mandatory shot, state and local leaders can override any recommendation Trump makes, just as they overrode Trump's recommendations to reopen the economy and church.  We MUST tell our elected officials NOW, before mandatory vaccination plans go any further, that we will not be forced to take any vaccine, especially not an untested vaccine.
Tell elected officials:
'We will NOT be forced to take Bill Gates' Shot!' – select here or the button below.
Your faxes make an impact in Washington, while also helping to fund our critical legal work! If you prefer to sign a petition, select here.
*Faxes will be delivered shortly after donation is made.
Our "NO Vax Fax"
Dear Sir or Madam,
Even in a time of crisis, the rights of every American as outlined in the United States Constitution still stand, and that includes the First Amendment right to religious freedom.
The COVID crisis has recently been used by some elected officials and other dubious actors to attempt to force mandatory vaccinations upon all Americans.
As an American citizen who loves my country, my Constitution and my right to refuse forced vaccinations, I urge you to end all consideration of mandatory vaccinations.
Sincerely,
(Your Name)
(City),(State)
A Constitutionally Committed American
https://lc.org/lcemail/elc2006faxnmvdonate?t=ELC2006-FaxNMV&c=ELC2006-FaxNMV
In the past eight weeks, Bill Gates-backed Moderna Pharmaceuticals has become the prominent COVID vaccine research center in the world, garnering both the funding and the support of world players.

Having already received a quarter billion grant from the Bill and Melinda Gates Foundation, sources say that as a result of Gates' influence, Moderna also received just under half a billion dollars from the federal government's Biomedical Advanced Research and Development Authority (BARDA) to develop and manufacture a COVID vaccine. An additional 1.6 billion in stock sales on a single day in May pushed Moderna Pharmaceuticals to new heights of available cash… and fast-rising influence. (Ya, and just who do you suppose holds those stocks?  All of Bills friends and business associates, the wealthy elite, who already own everything.)

That influence helped push Moderna to the front of the race for a COVID vaccine. (shoring up their bets.) Moderna released the results of its Phase 1 trials last month – just 42 days after COVID-19 reportedly reached U.S. shores. (that is INSANE, nothing happens that fast unless it is being pushed by VERY POWERFUL PEOPLE.) And therein lies a big problem…

Medical researchers around the world are raising red flags over Moderna's shockingly fast completion of Phase 1 COVID-19 vaccine trials. (That is not responsible, there are precautions and safety measures set in place for the development of new drugs.  The ones we have in place are already insufficient as demonstrated by all the lawsuits over drugs that turned out to be deadly and dangerous after going through the scrutinizing process that stands. To rush these measures through is irresponsible, dangerous and morally evil.)

"The fastest vaccine we previously developed was for mumps, and that took four years to develop. And typically it takes 10 to 15 years to develop a vaccine." said Dr. Seema Yasmin, Director of Stanford Health Communication Initiative. Yet Moderna claims their vaccine will be ready within 12-18 months. (Does anyone find this reasonable and acceptable??)

And what of Moderna's study itself? Peter Hotez, a leading expert on infectious disease and vaccine development at Baylor College of Medicine, said he found Moderna's released information to be "uninterpretable." Of the 45 patients "studied," Moderna only released high-level talking points on eight of the 45 patients.

"It didn't contain any data," Hotez said. "So basically — it's opinion. It was spin and opinion."  (That is what we have been getting from these people all along, cover ups, lies and their opinions!!)

In other words, whatever Moderna released and Bill Gates is pushing, it is not science.

So far, the Bill Gates-backed "experts," like Dr. Fauci, Dr. Birx and many other close associates of Gates and his foundation, have been dead wrong at almost every step of the coronavirus pandemic.

From the wildly inaccurate number of 2 million projected American deaths... to the debate about whether masks help or hurt patients...  to the advisability of shutting down the economy for the sake of social distancing, Bill Gates and his experts have been wrong at almost every turn.

Now, the same people want to force Americans to inject a barely tested mix of aborted baby cells, human DNA and undisclosed chemical concoctions into human bodies. (They don't even mention the tracking technology or nanotechnology that will be included in the vaccine.) Yet, even the esteemed Mayo Clinic has warned that current coronavirus vaccine experiments cause severe lung damage and should therefore be studied thoroughly to prevent human injury.

Gates' own comments in several interviews over the years shows that the tech billionaire doesn't care much for the human cost of his vaccination plans. In one discussion, Gates famously said that 750,000 deaths from vaccine injury is an acceptable price to pay for vaccinating the entire world.

To date, the entire world's COVID death toll is 407,000 people – around half the number of deaths Gates says is an acceptable number of vaccine-inflicted fatalities. Clearly, the cure is likely to be worse than the disease!

Vaccination is an individual decision that every America should be allowed to make in accordance with his or her own conscience. However, the political push to force the use of a vaccine that has been rushed to market in less than 10% of the time it normally takes to safely test is appalling.

No American should ever be compelled to accept an untested and potentially dangerous vaccine that has been rushed to market only to satisfy the eugenic wishes of the world's greatest Big Pharma lobbyist, Bill Gates.

Liberty Counsel is in the thick of the battle to protect believers and churches from the growing anti-religious forces that used COVID-19 as an excuse to shut down houses of worship.

Now, we are fighting many of those same forces that are using COVID-19 as an excuse to force Americans to take a vaccine that many do not want, and that with so little testing, will likely cause great harm.

Many states are already in the process of exploring and implementing mandatory vaccination measures.  If we want to stop this latest tyrannical measure, we must do so before mandatory vaccination plans go any further. Please, take a moment to fax our elected officials now.

Please, stand with us today, and tell elected officials:
'We will NOT be forced to take Bill Gates' Shot!' – select here or the button below.

In Christ,

Mat Staver
Founder & Chairman

P.S. Criminal charges and Summary Abatement threats against the Romanian pastors and churches in Chicago who refused to close their doors are still in litigation. Liberty Counsel continues to represent these pastors and churches in four federal lawsuits, in addition to the thousands of other pastors and churches we are advising.

We need your help more than ever to ensure churches are not illegally and unconstitutionally closed or otherwise oppressed by tyrannical local leaders.
spacer
The first time I ever wrote about global health was an article on the looming AIDS crisis in my native South Africa. My piece for the Johannesburg Star in 1991 reported dire predictions from experts about the potential of an epidemic. A major cause for pessimism was that, back then, HIV/AIDS could not be prevented or treated medically.

The same was true of the outbreaks of SARS in 2002, MERS in 2012, Ebola in 2014, and Zika in 2016. It is also the case with the previously unknown coronavirus, COVID-19, which has now reached more than 100,000 cases worldwide.

Any disease which threatens lives is disturbing, but one for which there is no treatment is especially alarming. And, as we've already seen with COVID-19, countries and communities bear immense human, economic, and social costs. At the Bill & Melinda Gates Foundation, we're committed to doing everything we can to ease that burden, especially for the world's poorest people who are often hardest hit by epidemics and their aftermath.

That is why today, we are joining forces with Wellcome and Mastercard to beef up our response—backed by $125 million in both new funding and money already earmarked to tackle this epidemic. The money will be used to identify potential treatments for COVID-19, accelerate their development, and prepare for the manufacture of millions of doses for use worldwide. The expertise of pharmaceutical companies will be critical to this endeavor, named the COVID-19 Therapeutics Accelerator.

Epidemics introduce a paradox to the world. Viruses like COVID-19 spread rapidly but developing vaccines and treatments to stop them moves slowly. If we want to make people, particularly the most vulnerable, safer from outbreaks then we need to find a way to unwind this paradox: to speed up R&D and slow down the spread. 

The only way to treat a viral infection, such as COVID-19, is with antiviral drugs. Right now, we can only treat the symptoms since there simply aren't antiviral medications that can treat a range of conditions in the same way that antibiotics do for bacterial infections. This is where we believe we can help by partnering with private and philanthropic enterprises to lower the financial risk and technical barriers for biotech and pharmaceutical companies developing antivirals for COVID-19.  (Their goal is to LOWER THE RISK TO THE PHARMACEUTICAL COMPANIES AND REMOVE THE TECHNICAL BARRIERS TO BIOTECH AND PHARMACEUTICAL COMPANIES… translation, 1) release them from ANY legal ramifications that might arise from the use of the drugs, like terrifying side effects, permanent irreparable damages to humans, and/or death. 2) remove the need for comprehensive and responsible testing, for informed scrutiny and answerability and allow them to produce drugs at will, without proper testing and vetting.  IN SHORT, GIVE THEM FREE REIGN TO DO WHAT THEY PLEASE, AND CHARGE WHAT THEY WILL, NO MATTER WHAT.)

We're optimistic about the progress that will be made with this new approach because we've seen what can come of similar co-operation and coordination in other parts of our work to combat epidemics.

The best way to prevent an infectious disease is with a vaccine. (According to the Pharmaceutical companies and the medical personnel they train and control.)  And in 2017, the Coalition for Epidemic Preparedness Innovations (CEPI) was created with nearly $650 million from Germany, Japan, Norway, Wellcome, and our foundation. Since then, others have come on board, including the UK, Canada, Ethiopia, Australia, Belgium, and the European Commission, to dramatically reduce the time it takes to develop vaccines for emerging epidemics, and ensure they are accessible, available, and affordable. The speed with which companies have begun working on a vaccine for COVID-19 is a result, in part, of CEPI.

(THIS IS A LITTLE TRICK THE ELITE DEVELOPED THAT IS WELL PRACTICED BY OBAMA. Rather than having to work with GOVERNMENTS, they built a network of Non-Governmental-Organizations that could run over, over-ride, and oust all national laws, rules and regulations through lobbying, corporate agreements, charitable projects and Corporate Contracts and Trade Agreements.  The reason we have GOVERNMENTS is so that we can have Laws, rules, and regulations that meet the general consensus of the people.  These rules, laws and regulations must pass through the established Governmental Structure, ALL of which are subject to the people.  The NGOs bypass our rights completely and serve only the CORPORATE HEADS, which are the ELITE.)  

I hope you thoroughly reviewed the above graphic.  Did you make note of the very first box?  "DEVELOP HEALTH SURVEILLANCE TOOLS, USING MOLECULAR DIAGNOSTICS"  just think on that one for a bit.

Ultimately, our goal with the COVID-19 Therapeutics Accelerator is to do for treatment what CEPI does for vaccines. That requires governments, private enterprise, and philanthropic organizations to act urgently to fund innovation for drugs that can be developed, mass-produced and delivered rapidly.

As Bill Gates points out in his article for the New England Journal of Medicine, primary health care systems, which can monitor disease patterns and act as an early warning system, also need to be strengthened. And the world should invest in disease surveillance, including a case database that is instantly accessible to relevant organizations.

The Johannesburg Star was my very first job in journalism and I am proud of my article. I still have a copy of it. What I remember most is that it was headlined Aids spectre must be tackled –but for various reasons nothing happened for a long time. It would be unforgivable to make the same mistake with this epidemic. The need to act with urgency is critical. I'm fortunate to lead an organization that has the financial resources, technical experience and expertise, and the convening power to do just that. 
spacer
Anti-vaxxing has the scientific and medical communities worried

, especially with a COVID-19 vaccine on the horizon
We're merely halfway into the year, and yet 2020 has challenged us with a global plague, months of lockdown, economic devastation, the most dire unemployment since the Great Depression, the horrific death of George Floyd and civil rights protests in our cities.

With so much strife occurring simultaneously, it's only natural that many Americans — socially isolated and financially insecure — are more prone to embrace far-reaching conspiracy theories, seeing malice around every corner and advocating extreme measures.  (LOL, they are hillarious! People are opening their eyes, finally, and seeing these tyrannical, murderous, diabolical elite for what they truly are.  The truth always comes out eventually.  God is revealing everything that has been hidden.  AND these elites are running scared!  The truther community has been trying desperately for decades or more, to get people to see the truth.  But, Mainstream/Lamestream media held all the cards.  They had the money and power behind them, they had the resources and the technology.  We were armed only with the TRUTH. What has changed…you people have gone too far… you have shown your hand, and FINALLY the masses are seeing through the facade/veneer/mask. You don't even realize that you are not fighting "Conspiracy Theorists" you are fighting GOD.  Let me clue you in… YOU LOSE!)

The conspiracy theory that worries us most is one that's been with us for a while, yet has found new energy and meaning in light of COVID-19: anti-vaxxing.

It is well documented that vaccines (No, it is documented that in the past there has been some good result with vaccines. However, current vaccines, not so much.  The results are underwhelming and the dangers, the side effects, death, the pain, sorrow and devastation they have caused are reason for great concern and frankly those in the know prefer not to participate.  That is our right as human beings.  The right to choose.) they  are critical tools against spreading infectious diseases. You don't have to be an epidemiologist to understand that they decrease morbidity and mortality throughout the world, even in areas where sanitation and clean water remain problematic. The need for a large segment of the population to be vaccinated is due to the need for herd immunity. (hive mentality)  Although 100 percent immunity is not required, some viruses such as measles require a population immunity level of 95 percent. (That is so much BULLSHIT!  Measles are not even a threat except in the mind of vaccine manufacturers.) This was demonstrated in 2019, when measles spread from anti-vaxxer communities to other segments of the population. (Again, pure propaganda and BULLSHIT.  Learn more by visiting my articles below)

Coupling fears of vaccination based on the false allegation that vaccines cause autism (proven and documented), a generalized fear of vaccinations (justifiable fear, some due to personal experience, some due to witnessing the damage done to others, some due to documentation of what is in the vaccines and how those things can effect you, some due to the fact that we are being lied to by the media, the government, the pharmaceutical companies, the FDA, the CDC, the WHO and every other entity related to drugs.)  and a social media-fueled campaign that the vaccines are a government plot (it is clear there is an agenda to use vaccines to control the masses), the stage is set for a well-organized destructive few to alter years of scientific success that benefit many.  (LOL, I wish we could say it was us…lol…not at all valid.  We have been trying for years.  The truth is GOD is opening people's eyes.  He is the only one who can.  You are just mad because all the work that the OCCULT has been busy at for thousands of years, was so close to coming to fruition, and  seems to be falling apart!) 

With the scientific community focused on developing and disseminating a vaccine for the novel coronavirus, doctors are already recognizing resistance from a small but significant portion of the US population that is adamant about refusing a COVID-19 vaccine when one is available — up to 30 percent, according to a recent poll. (So, you consider 30% of the people to be insignificant?? If so, why are you worried about them?  They have a right to make a choice.  DO PEOPLE REALLY WANT TO LIVE IN A WORLD WHERE PEOPLE ARE NOT ALLOWED TO HAVE THEIR OWN OPINIONS AND MAKE THEIR OWN CHOICES?)

That's an alarming statistic, and the number is so high because the anti-vaxxer movement has successfully used social media to foment fear and promote anti-science conspiracy theories. On social media platforms such as Facebook, Twitter and YouTube, vaccine skepticism conspiracies are already planting seeds of doubt that could limit the success of any future COVID-19 vaccine. (Let us hope so. Again though, the TRUTH is we could post all day, if God does not reveal the truth, people will not see it.  We cannot take credit.  We are only servants willing to be fools for HIM. The public has hated us and called us names, rejecting us along with everything we brought out. We lost jobs, friends, family, and sometimes everything we owned. The tables turned because of GOD not us.)

One such conspiracy places responsibility for the creation and spread of COVID-19 on the proliferation of 5G wireless network technologies (once again, there is very clear evidence) throughout China. In addition, some cable news hosts and conspiracy groups are spreading inaccurate information, including reports that Bill Gates will use coronavirus vaccines to implant location-tracking microchips (facts taken from his own conversations and postings media reporting.) into people to allow for tracking of individuals by technology companies and the government.  (These folks obviously would prefer that the masses just stay stupid and do as they are told.  Keep focused on social media and ENTERTAINMENT, and remain ignorant and obedient.)

In combination with the anti-vaxxer movement, the other rising risk threatening the general health and welfare of the American people is the anti-government lockdown protests. One readily understands the economic consequences of the lockdown and how it has resulted in hardships for both Americans and Europeans. (the lockdown was totally unsupportable. The damage it caused was not at all relative the ridiculously low level of actual risk.)  The protesters, however, often do not focus on jobs or national economic viability, but rather on the fact that this was ordered by the government. They feel their personal liberty outweighs public health, and much like the anti-vaxxers, believe the lockdown is all part of a larger government conspiracy. (The lockdown destroyed everything about the world in which we live and now they tell us, it is irreparable and that we will NEVER return to normal again.) This is also one of the primary concerns by many with contact tracing, a historical and effective tool of public health: They believe that the government is interfering with their right to privacy. (they believe??  That is a fact! The government has been intruding on our privacy far to much for far too long.  More GOVERNMENT is not what we need.)

To combat this situation, all health care providers must continue to help patients learn about their diseases, medications and vaccinations. As Sir William Osler, sometimes considered the father of modern medicine, stated: The greater the ignorance, the greater the dogmatism. We must harness our collective expertise in face-to-face and digital communication to initiate this dialogue as a public health service and as a matter of national security. (RED FLAG, RED FLAG, RED FLAG!!  I have been warning for years that the HEALTHCARE SYSTEM, which is neither about health nor care is the very tool they will use to enforce their NEW WORLD ORDER. They have ALL your information, especially now your  Health information.  They have your records, not you.  They presented digital records as a way to protect your records for you…. that was a lie.  The only one who can't access your Digital Health Record is you.  Every other entity and every hacker can easily access your most personal information.  Which your record now contains.  They will use this information against you.  Your continued Health Insurance, which is now mandatory, will depend on how well you submit to their demands as to what "care" you need.  If you do not follow their demands, you will not be allowed to work, have a home, own a car, drive, have a bank account or shop. They just put PUBLIC HEALTH SERVICE AND NATIONAL SECURITY together.  Not only in the same sentence, but as one and the same.)  Freedom only works in a society that is defined by not only individual freedoms but also by laws that protect everyone. (Our Freedom has worked for us for hundreds of years, and so has our SYSTEM OF LAWS. We don't want to need to be part of a ONE WORLD GOVERNMENT!) The alternative is anarchy and disease. (It is the United Nations and its agents, in the interest of THEIR IDEA OF UNITY, that has brought anarchy and disease to not only our nation, but every nation in the WORLD!)

Mark Jarrett, MD, is the deputy chief medical officer and chief quality officer at Northwell Health.

This op-ed appeared in the NY Daily News.
spacer
Bill Gates will Try to Block the Sun: 'Tower of Babel' in 2019
By Adam Eliyahu Berkowitz 
"They think they can control men and god, heavens and the earth,"  "The children said that scientists act as if they are God, as if they are in charge of the world and its destiny," Ovadia said. "This is precisely what God hates the most. So he turns their own efforts against them."
spacer
Data compiled by Zignal Labs and The New York Times shows the Microsoft co-founder and billionaire philanthropist has become the favorite subject of coronavirus conspiracy theories. (Awwww. poor baby!)
I won't even print this BULLSHIT!  If you want to read it. Click the title above.  I only posted it here to show that People are beginning to wake up and RESIST.   Bill can't handle it and so his handlers are stepping in to do some damage control and work to sway the public back into compliance.  I have no sympathy for BILL or Melinda Gates or any of their ILK.  I rejoice that people are calling them out.
spacer
Regeneration International
/by Ronnie Cummins