The Race War is something that has been created, developed and inflicted on the people by greedy, self serving, power hungry elites.  At the grassroots level, there is not a race issue.  This is clearly demonstrated by the fact that whites are just as angry and outraged by abuses committed against blacks, mexicans, muslims, or chinese as anyone.  And vice versa.  Why?  Because LIFE matters.  Not just black lives, not just white lives…ALL LIFE MATTERS.  I personally do not know ANYONE who hates ANY RACE.  Everybody I know is only concerned with living their life in peace.  Does that mean that there aren't individuals out there who do hate?  Certainly there are, but that is a spiritual problem, not a race problem.  And, let me point out that there are haters in every race.   Wars of all kinds are CREATED by those in power, who by the way, NEVER fight them.  They always send the general public to do the fighting.
Please understand that this is a tool they have employed to steer you in the direction they want you to go.  They want to bring about a ONE WORLD GOVERNMENT, using a ONE WORLD ARMY/POLICE FORCE to do it.   They have been trying to bring this about for years and they have been studying the human mind to figure out what motivates you and what pushes your buttons.  They have been studying emotional responses and they know how to pull your strings.
BIG GOVERNMENT is ALWAYS CORRUPT!  POWER CORRUPTS.  The whole idea of ONE GOVERNMENT, let alone ONE DICTATOR is disasterous.  Have we become so lazy and complacent that we will sell our souls for what we perceive as an easy life made possible by "government" hand outs?  Don't you know that NOTHING COMES FREE??  You are not gaining free medical care, or a free pay check.  YOU ARE SELLING YOUR SOULS for it.  THEY ARE NOT GIVING THEY ARE BUYING.
When my son was growing up, I advised him, that anytime someone gives you assistance, they assume that it grants them the right to assert their input into your life.  They want to be able to tell you what you can do not only with that money, but with your life.  So, before you let Gramma help you with college, just realize that it comes with expectations.
spacer
spacer
Thursday, June 11, 2020 12:45
By Lisa Haven 
spacer
spacer
"Therefore shall her plagues come in one day, death, and mourning, and famine; and she shall be utterly burned with fire: for strong is the Lord God who judgeth her … Standing afar off for the fear of her torment, saying, Alas, alas that great city Babylon, that mighty city! for in one hour is thy judgment come." (Revelation 18:7, 10, KJV)
Paul Hawthorne/Getty Images

Tom Arnold in attendance; An Unforgettable Evening Benefitting EIF's Women's Cancer Research  (Right)

Date: 02/13/2011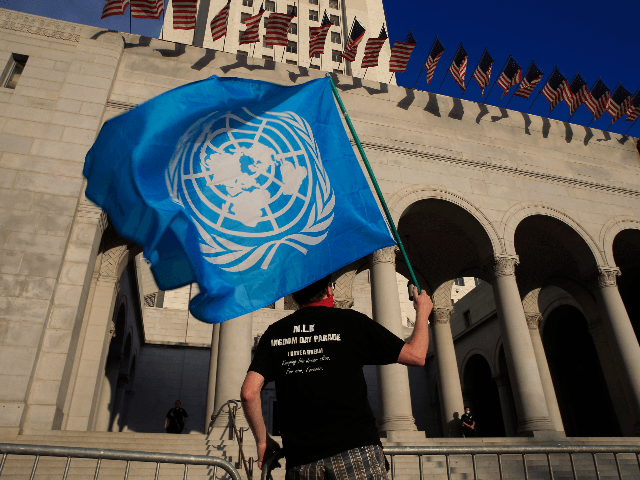 The family of George Floyd, the black man killed while in police custody in Minneapolis on Memorial Day, has sent a letter to the globalist United Nations to ask for its help in disarming police officers in the United States of America.
Headline News Analysis
NEWS BRIEF: "George Floyd's Family Petitions United Nations to Help Disarm Police in the United States", Breitbart News, 8 June 2020
 "The family of George Floyd, the black man killed while in police custody in Minneapolis on Memorial Day, has sent a letter to the globalist United Nations to ask for its help in disarming police officers in the United States of America."

""When a group of people of any nation have been systemically deprived of their universal human right to life by its government for decades, it must appeal to the international community for its support and to the United Nations for its intervention," Floyd's family attorney Ben Crump said in a press release."

Henry Kissinger's infamous May, 1992, statement rings in my ears!

"Today, Americans would be outraged if U.N. forces entered Los Angeles to restore order. Tomorrow, they will be greeted."

A more succinct statement of this part of the New World Order Plan is not possible! Henry Kissinger has just stated the full and complete Plan for his listeners, but since most Americans do not know this part of the Plan, Kissinger's remarks flew right above the heads of most.

Archived Article: "People Are Being Conditioned To Foreign Troops Patrolling Certain Areas of Formerly Sovereign Nations! ", David Bay, Cutting Edge Ministries, Sept, 1999

"This plea from the Floyd family, how ever heart-rending as it might be, plays directly into the hands of the Communist playbook! Lenin and his leadership cadre realized very early in the implementation of Communist rule in Russia that troops could not be expected to be cruel and merciless to their own people. However, they would be cruel and merciless to people who were not their own. Therefore, Lenin rearranged his army so that Muslim troops patrolled non-Muslim areas, while non-Muslim troops patrolled Muslim areas. This change in tactics served Lenin very well, as millions of Russians were either killed or jailed as Communism was brutally installed.

You have every right to be concerned when the United Nations intervenes somewhere in the world, even if the intervention is in a country you never heard of before. Remember, today East Timor, tomorrow Los Angeles .

How close are we to this nightmare scenario?
spacer
spacer
YOU CANNOT ATTACK THE WHITE HOUSE
RichieFromBoston
Jun 4, 2020
so they are telling you for over 200 years the White House has never been attacked by rival nations. but suddenly when its helpful to attain their target 'Martial law' teenagers with cellphones can overwhelm the secret service and all the state of the art anti personnel weapons and shut it all down.
spacer
Spacer