Photos from Pinterest
Are you kidding me?!  I have been furious over what I have seen and heard coming over my television screen this past year regarding Johnson and Johnson.   Johnson and Johnson most well known supplier of BABY PRODUCTS in the USA and probably the WORLD!  Mothers have trusted them with the well being of their infants for DECADES!  I have seen mothers everywhere pouring on the Johnson's Baby Powder, so that their babies could be cool and dry and SMELL SO SWEET!  Many women and young girls used Johnson Baby Powder and Shower to Shower for decades so that they cool stay cool and dry and SMELL SO SWEET!. 
ARE YOU KIDDING!   THOSE LYING, UNSCRUPULOUS, UNCARING, MURDEROUS BASTARDS knew for decades that that  very powder with which women, young girls and babies were being slathered, was poisonous containing a known carcinogen, ASBESTOS!   A DEADLY POISON!  Trust me as those Mom's were pouring it all over their babies they were breathing it into ther lungs and so were the babies!  
Alert: On May 19th, 2020, Johnson & Johnson announced it is stopping sales of its talc-based baby powder in the U.S. and Canada. All new inventory of this product will be discontinued. This is a big win for women who have developed serious illnesses from this product and all future victims it may have affected
If you or a loved one was diagnosed with ovarian cancer, you may be entitled to significant compensation. You don't need to know what caused your cancer— it will be investigated for you.  Several Attorneys Offices are available. Go online and find one you like.  If you used talcum powder on a regular basis at any time in your life… you need to seriously check on your health and call for advice.  
 No Fees Charged, Until We Win Your Case
 Cancer Case Investigated for Free
 Numerous Settlements Awarded Already
JOHNSON AND JOHNSON KNEW and DID NOT DO ANYTHING ABOUT IT!  CONTINUED TO SEE IT FOR DECADES! 
Johnson & Johnson says its product is safe. 
Asbestos is heat resistant and versatile, while talcum powder is valued as a natural lubricant that absorbs moisture. For much of the 20th century, companies promoted asbestos and talc as harmless, naturally occurring wonder minerals.

The asbestos industry manipulated medical research around its products and buried negative findings about asbestos and health as long as it could. The corporate cover-up of asbestos' cancer-causing effects lasted well into the 1970s.

The talc industry played a role, too, by downplaying the danger of asbestos contamination in talc products.

J&J Denied Talcum Powder-Cancer Connection

Johnson & Johnson has always publicly denied its talcum powder products cause cancer, much like many other companies accused of using asbestos in their products. However, documents unsealed in 2017 revealed J&J company executives were aware of asbestos liabilities as early as the 1970s.

Company reports highlighted the need to suppress concerns over asbestos contamination at talc mines in Vermont and Italy. And despite some J&J staff considering a switch of baby powder's main ingredient from talc to corn starch to avoid liability, the company never stopped selling talcum powder.

Now juries are holding Johnson & Johnson accountable for cancer caused by asbestos in its products.
It has been refreshing to see the mainstream media report on a new story showing the high criminality and purposeful abuse of this corporation at the hands of their talc product. It appears for the moment that Johnson & Johnson is involved in a continuous merry-go-round of lawsuits and settlements for their cancer-causing talc. Events have been unfolding over the recent years signaling trouble at J&J with an quickening over the last few weeks as mainstream media has again decided to report on uncomfortable facts concerning J&J. A new Reuters investigation on December 14 again opened the floodgates to well-deserved bad press and profit losses for J&J. Reuters writes:

"A Reuters examination of many of those documents, as well as deposition and trial testimony, shows that from at least 1971 to the early 2000s, the company's raw talc and finished powders sometimes tested positive for small amounts of asbestos, and that company executives, mine managers, scientists, doctors and lawyers fretted over the problem and how to address it while failing to disclose it to regulators or the public.

The documents also depict successful efforts to influence U.S. regulators' plans to limit asbestos in cosmetic talc products and scientific research on the health effects of talc."

J&J's damning documents and statements reported by Reuters only add to the corporation's tainted public discovery. Last year, documents uncovered during a court case in St. Louis in which the corporation was ordered pay over $110.5 million to a Virginia woman who developed ovarian cancer after decades of using its talcum powder.

Jim Onder, the attorney for a plaintiff in another $55 million St. Louis J&J settlement case stated:

"The evidence is real clear that Johnson & Johnson has known about the dangers associated with talcum powder for over 30 years," Onder said. "Instead of giving a warning, what they did was targeted the groups most at risk for developing ovarian cancer," specifically marketing to overweight women, blacks and Hispanics."

Reports are being written of multiple J&J's production facilities are experiencing visits from regulatory bodes over their talc powder. Reuters India writes:

"Indian drug authorities visited some of Johnson & Johnson's (JNJ.N) facilities on Wednesday and took "tests and samples" of its talcum powder, the company said in a statement. 

The visits came as regulators in India launched an investigation into J&J's Baby Powder following a Reuters report last Friday that the firm knew for decades that cancer-causing asbestos could be found in the product.

​The company told Reuters in a statement that the facilities were visited by the Central Drugs Standard Control Organization (CDSCO) and some state-based food and drug administrations (FDAs)."

J&J said on Monday it planned to buy back up to $5 billion of its stock, after $40 billion was wiped from its market value following the Reuters report.
Photo CreditI have no doubt that many, many more people were affected but never put the two together. I mean who would suspect the famous maker of BABY PRODUCTS??  This stuff has been around for decades and many people who likely had cancer from the products no longer have the medical records to prove it.  That is exactly what Johnson and Johnson were counting on.  And all those babies, may not show signs of the effects until well into theiir adult years.  Way to long to prove a connection.  SO, Johnson and Johnson built an empire and made billions in the meantime.  
They know that they can NEVER repay all the people that have been injured by their products, they are hoping to not have to pay ANY.  Considering how corrupt our judicial system is today I would not be surprised if that is exactly what happens.  Have you ever heard that old expression "It is always easier to ask for forgiveness than for permission."?  It is a good bet that they will be able to keep their losses in court down to a minimum and so it is smart business to go ahead with a product that could potentially kill, maime or injure millions, to make BILLIONS.  
In case you have missed all the horror stories on the TV related to Johnson's Baby Powder and Shower to Shower, here are just of few of the many related articles you can view:
Johnson & Johnson commercialized talcum powder more than a century ago. Now the company is liable for cancer caused by asbestos-contaminated baby … For years, it's been well known that many sources of talc are naturally … Despite this, J&J did not focus on the issues of asbestos contamination in baby powder, …
Jul 15, 2019 … Johnson & Johnson Claims Nothing New … The documents establish that Johnson's Baby Powder does not contain … its talc does not cause cancer, citing 40 years of medical studies that show it is free from … that its baby powder contained asbestos, which is the primary cause of malignant mesothelioma.
Jun 3, 2019 … Johnson & Johnson was ordered to pay $325 million in … years of litigation over Johnson & Johnson's various talc products. … Baby Powder does not contain asbestos or cause cancer," the … Only a small percentage of the claims involve mesothelioma, a rare and aggressive cancer with no known cure.
Oct 25, 2019 … Johnson & Johnson has issued a recall of an estimated 33000 bottles of its … and known carcinogen, is the primary cause of malignant mesothelioma, a rare and aggressive cancer with no definitive cure. … Not only do we and our suppliers routinely test to ensure our talc does not contain asbestos, our talc …
I was already furious about Johnson and Johnson being allowed to get aways with this for so many years.  Even more angry that they had no concern what so ever about all the precious little babies, young girls and women they were exposing to this deadly material.   Needless to say when this article came across my internet, I was beside myself.  
Throughout this entire crazy pandemic situation we have been lied to, kept in the dark, and placed in unnecessary peril for reason that are not always visible or easy to uncover.  Our trust in mainstream media, politicians, the medical industry, and the pharmaceutical industry, not to mention TECHNOLOGY and the evil lords who run it, has reached an all time high or should I say low.  What I mean is that we are FED UP WITH THE LIES!  Tired of having our rights ignored and/or eliminated by the scam artists and draconian elites.  
So who do they want creating a Vaccine for COVID 19?   ARE YOU KIDDING ME?
The household name has been hit in recent years with product misfires and court judgments challenging public trust and investor faith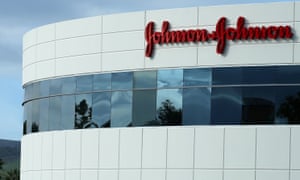 For decades, consumers worldwide have named the $347bn pharmaceutical behemoth Johnson & Johnson as one of its most trusted brands. The company returned the favor, instilling its commitment to corporate social responsibility in a 75-year-old "credo" inscribed at company headquarters.

"We believe our first responsibility is to the patients, doctors and nurses, to mothers and fathers and all others who use our products and services. In meeting their needs everything we do must be of high quality."   (OBVIOUSLY, JUST TALK, MEANINGLESS HYPE)

Now, experts are concerned that one of the world's most recognizable names and most reliable and valuable companies is caught in no less than an existential crisis, and the public is asking: what happened to Johnson & Johnson?

A series of product misfires and court judgments – with a potential 50,000 more to come and total potential liabilities of $15bn – is challenging both public trust and investor faith.

The pharma giant has seen its reputation drop steadily from ninth place to 57th out of 58 leading pharmaceutical companies since 2014, according to one study by the UK reputation intelligence company Alva.

Demonstrators rally to lower the price of a tuberculosis drug outside the Johnson & Johnson campus in Zug, Switzerland, on 17 October. Photograph: Urs Flueeler/EPA

Last week a jury in Philadelphia awarded $8bn in punitive damages to a man claiming that the company did not warn young men that taking its anti-psychotic drug Risperdal could cause them to grow breasts.

After the judgment, which the company said it plans to appeal, lawyers for the plaintiff said: "Johnson & Johnson is a company which has lost its way" and the jury had chosen to impose punitive damages "on a corporation that valued profits over safety and profits over patients".

Meanwhile, Johnson & Johnson went through five years of litigation over claims it failed to warn customers that its blood-thinner Xarelto increased the risk of internal bleeding. In March, Johnson & Johnson and co-maker Bayer agreed to pay $775m to settle about 25,000 lawsuits, though neither of the companies admitted liability.

In July, Johnson & Johnson asked a judge in Trenton, New Jersey, to dismiss as many as 14,000 lawsuits alleging its talc-based baby powder causes ovarian cancer. According to the complaints, which have been moving through the legal system since 1999, the company failed to inform the FDA that at least three tests by three different labs from 1972 to 1975 had found asbestos in its talc – in one case at levels reported as "rather high".

Previous efforts to settle the cases have had mixed results and last year, a Missouri jury ordered Johnson & Johnson to pay $4.69bn to 22 women.

Johnson & Johnson says its baby powder is safe and does not cause cancer.(even with all the evidence from their own documents and correspondence clearly show they knew and were more concerned about protecting their reputation that protecting the innocent public, they STILL deny any culpability.)

And on Thursday, the company agreed to a $117m multi-state US settlement over allegations it deceptively marketed its pelvic mesh products, which support women's prolapsed pelvic organs, but allegedly caused many cases of bleeding, pain and infections.

An investigation concluded that the company violated state consumer protection laws by not fully disclosing the devices' risks.

But none of those risk as much discomfort as the company's role in the US opioids crisis, which has claimed 400,000 lives.

Earlier this month, it settled a major lawsuit in a significant climbdown over its prescription painkiller business, just weeks before a multibillion-dollar trial over the public health epidemic.

Johnson & Johnson agreed to pay two Ohio counties a total of $20m to avoid the first in a series of federal trials testing whether opioid painkiller manufacturers, distributors and pharmacy chains are culpable for the worst drug crisis in US history.

Although the settlement was relatively small, it potentially opens the door to payouts totaling billions of dollars to 2,000-plus other counties, municipalities and Native American tribes suing over the damage caused by the crisis.

Dozens of states are also suing.

This all follows a ruling in August when the company lost a civil trial over opioids, where a court in Oklahoma ordered it to pay $572m to the state. The judgment, considered a bellwether, was a defeat for the company on principle but was welcomed by investors who had feared an award as high as $2bn. The company said it would appeal against the ruling.

While Johnson & Johnson's stock rose 2% after the verdict, the judgment presented a public relations problem for the company.  (So investors are looking to boost J&J to protect their investment.  They don't care about the people who have been injured or killed.)

A skeleton of pill bottles with protesters outside a courthouse where a judge heard arguments in a lawsuit against Purdue Pharma in Boston, Massachusetts, on 2 August. Photograph: Charles Krupa/AP

In addition to selling Duragesic fentanyl patches through a subsidiary, Johnson & Johnson had earned richly as a leading supplier of the opioid in Purdue Pharma's prescription painkiller OxyContin, developing a special strain of poppy, called Norman, in its opium fields in Australia.

The Johnson family are no longer major stakeholders in the company founded by Robert Wood Johnson in 1886, but the family interest is still valued at $6.3bn, putting them at #46 on Forbes' richest families list.

Senior patriarch Woody Johnson is the US ambassador to the Court of St James in Britain.

But the family has avoided personal opprobrium, unlike billionaire members of the Sackler family who own Purdue Pharma and have been personally sued and targeted by direct actionprotests over their philanthropy, led by the American art photographer Nan Goldin.

"My problem with Johnson & Johnson is that they did not give appropriate information with regard to the opioids they were distributing," says Gail Box, whose son Austin was a University of Oklahoma football star who was prescribed opioid painkillers after back surgery and died of an overdose aged 22.

"Johnson & Johnson were not upfront about the risks," says Box, whose husband Craig testified at the Oklahoma trial. "They said possibly 1% of people taking opioids would become addicted when they knew the number was far greater."

The opioids and Risperdal cases have meant a rough 2019 for Johnson & Johnson.

"The company has cultivated this reputation as this family-friendly, public-minded company, but these cases suggest otherwise," said Carl Tobias, a law professor at the University of Richmond. "So there's a huge public relations problem … there are 14,000 other cases involved with Risperdal, 15,000 talc cases, 25,000 pelvic mesh cases and possibly thousands of opioid-related lawsuits to follow.They can't litigate all of them, so are they going to settle?"

Looking back to the 1980s, says crisis management expert Bill Moran, Johnson & Johnson set the standards for corporate responsibility with its swift handling of the crisis when cyanide-laced Tylenol (the company's branded paracetamol) killed sevenin a bottle-tampering spree, quickly withdrawing the product and redesigning the bottle amid a public awareness campaign.
SO, Johnson and Johnson has a history of evil practices regarding multiple products, not just talc.  They continue to lie, deny and cover up.  They DON'T CARE ABOUT THE PUBLIC only about how they are perceived.  They have no remorse other than about losing their standing and their money.  They are compulsive about lying and will do anything to cover up the truth to protect themselves.  
spacer

Tuesday, April 28th, 2020
Johnson & Johnson expects human testing of COVID-19 vaccine by Sept under accelerated timeline
© Shutterstock
Johnson & Johnson wants to begin human testing of a COVID-19 vaccine candidate by September as part of a $1 billion joint investment between the company and the U.S. Department of Health and Human Services (HHS).

The end goal is to create a billion vaccines for emergency pandemic use to be dispersed globally. As a result of the arrangement, Johnson & Johnson will create new vaccine manufacturing capabilities in the United States and simultaneously add production capacity outside the U.S. This, the company hopes, will also provide assurances to a taxed global vaccine supply.

"We are very pleased to have identified a lead vaccine candidate from the constructs we have been working on since January," said Dr. Paul Stoffels, vice chairman of the Executive Committee and chief scientific officer at Johnson & Johnson. "We are moving on an accelerated timeline toward Phase 1 human clinical trials at the latest by September 2020 and, supported by the global production capability that we are scaling up in parallel to this testing, we expect a vaccine could be ready for emergency use in early 2021."

COVID-19, the disease byproduct of SARS-CoV-2 that has swept across the globe in a matter of months, has to date infected more than 755,500 people, according to data from Johns Hopkins University. The United States is now the epicenter of the disease, with more than 148,000 cases, though its death rates have been lower than in other afflicted nations. Currently, there are no approved treatments or vaccines for the disease.

The arrangement for Johnson & Johnson's new lead vaccine expands on an arrangement already in place between its Janssen Pharmaceutical Companies and the Biomedical Advanced Research and Development Authority (BARDA), which is part of the Office of the Assistant Secretary for Preparedness and Response (ASPR) at HHS. Despite the existing relationship, the timeframe proposed for the vaccine represents a major acceleration over the typical vaccine development process, if successful. Usually, the vaccine development process can take 5 to 7 years just to be considered for approval.  (even under those restrictions we, the public, end up with drugs and treatments that are used for years on the public BEFORE they discover how dangerous they truly are, after it is too late for thousands to millions of vicitms.)

Regardless, the government and Johnson & Johnson WILL co-fund vaccine research, development and clinical testing. At the same time, they will also expand efforts to identify potential antiviral treatments for SARS-CoV-2. While this vaccine is Johnson & Johnson's lead product, two back-ups are also in place if needed.

Johnson & Johnson has pledged to bring an affordable vaccine to the public on a not-for-profit basis for emergency use.
I don't want to take a vaccine produced by Johnson and Johnson.  I do not want to be part of their live studies that will go on for decades before the dangers come to light.  I am not a guinea pig and I don't think anyone, ESPECIALLY our children, should be forced to take vaccines about which we know NOTHING other than the fact that they were rushed into production by very unscrupulous people at a time when those in power are taking advantage of the fear surrounding the current pandemic which likely was man-made and released on an unsuspecting public.!