The recent Fires in Hawaii have raised a lot of controversy and outrage.  There are so many things that just do not add up and so many more that give one pause.  What exactly happened there?  Where does the truth lie.
We know for certain that the fire in Lahaina was a true tragedy and it appears a real travesty as well.  
All things point to the fact that the Elite have targeted Hawaii.  Looks like it is the kind of place the Elite love to go to for fun and frolic in the sun.  They don't want locals or even middle class tourists traipsing around on their paradise.
As we continue to uncover the events surrounding this fire it is gut wrenching to learn the lengths to which the elite will go to accomplish their aims with no regard for human suffering, no respect for life, no mercy even for children, It is difficult to think of the fear, the pain and suffering of those who have been and are being subjected to through these man-made catastrophes.  
The Globalists are already using the events of the past few weeks to push their Climate Agenda and Population Reduction Agenda.  If you have not seen or heard, they are stating that it is necessary to reduce the population in order to avoid climate collapse.
 Right on the heels of the Lahaina fire
 They are blaming the Maui/Lahaina fire on Climate Change, even though that is NOT what was found to be the reason at all.  Not only that, they are using the Fire as a focal point to introduce their plans for population Control/Reduction.
A population ecologist suggests that the only way to save the planet is through a population correction.
Should we not take advantage of this scientific study and its findings, taking a population correction into our own hands, Rees warns that there may be a civilizational collapse on the way. Essentially, if we don't do the work and take the steps and sacrifices necessary to turn things around, the Earth will do it for us.   Source

Book Linking Maui Tragedy to Climate Change Published BEFORE Wildfires Occurred
spacer
It has been proven over and over again that our government, and many other governments are manipulating the weather, volcanos and earthquakes.  Our government has been using geo engineering to control the weather for decades.  At least since the created monsoons in Vietnam during the war.  But, really much longer than that.  So it is very likely that they were controlling Hurricane Dora and/or the winds created by it.
It has been proven over and over again that the government not only has Directed Energy Weapons, but that they have been using them.  These fires that burn the paint off cars and melt steel rims but leave trees and other items still standing/sometimes seemingly unscathed, fires that burn trees from the inside…THESE ARE NOT NORMAL/Natural.  Young people have grown up in this technological Dystopia have no understanding of what is natural and normal.  They live in an artificial world.  They have nothing in their memory banks to raise the red flag and trigger there critical thinking and enable them to discern TRUTH from LIES and RIGHT from WRONG.  That is why they want to KILL all the people who are 50 and over.  Once we are gone, the techno deception becomes the new norm, the new reality.  
Whether the elite created the disaster through magic, through weather manipulation, or through Directed Energy Weapons, or any combination of the above, WE KNOW THEY DID IT!  THE CLUES or as they would call it THE DATA adds up to their GUILT!  
We know that we are in the ENDTIMES and we know that the BIBLE says the Earth will be destroyed by FIRE.  The bible does not tell us who or what will cause the fires or how or when they will come.  GOD KNOWS everything from the beginning and KNEW what the elite would be doing in the last days.  He KNOWS the Fallen Angels and what they will be doing.   SO, rest assured that GOD KNOWS exactly what is happening and HE is in Control!   CHOOSE your side, and choose it quick!!!  GOD takes care of His own.  THE DEVIL WANTS YOU DEAD, but first he wants to take everything you have including your SOUL/SPIRIT. Who do you trust?? GOD or the DEVIL and his servants?
Of course you know me.  I started my investigation into the Lahaina fire from the spiritual aspect.  This lead me to some very interesting and revealing  information.
cer
spacer
The very first headline that caught my attention was the following:
Tuesday, Aug. 8 at 12:22 a.m. A brush fire ignites and begins to spread in central Maui. Strong winds, with gusts of up to 80 mph, made the area unsafe for helicopter operations.7 hours ago
We know that MAPPING is the final step in the Scientific Process.  The last step before CONTROL which is always their ultimate goal.
The next thing I noted was the information on when this event occurred, or was reported to occur.  It is the information that appears in print, especially immediately after the event that is most revealing.  That is when they post their symbolism, the numerology and their magick workings.  So, we will start with TUESDAY.  Because that is where God lead me first.
spacer
TUESDAY 
Tuesday is ruled by the planet of action and energy, Mars   Source

Tuesday's element is fire and the day correlates with Mars, who is the God of War  Source

Tuesday is named after the God Tyr. Tuesday is named after the Norse god Tyr. He is also known as Tiv and Tiwaz as a Germanic combat god.  Source
spacer
Germanic deity

Tyr, Old Norse Týr, Old English Tiw, or Tiu, one of the oldest gods of the Germanic peoples and a somewhat enigmatic figure. He was apparently the god concerned with the formalities of war—especially treaties—and also, appropriately, of justice. It is in his character as guarantor of contracts, guardian of oaths, that the most famous myth about him may be understood: as a guarantee of good faith, he placed his hand between the jaws of the monstrous wolf Fenrir while the gods, pretending sport but intending a trap, bound the wolf; when Fenrir realized he had been tricked he bit off Tyr's hand (hence Tyr's identification as the one-handed god). Tyr came to be identified by the Romans with their own Mars, hence dies Marti (Mars' Day) came to be rendered Týsdagr (Tuesday).
spacer
Interesting, so this fire was a sacrifice to NODEN the ancient one handed GOD of the NORDICS.  Tyr is the Guarantor of Contracts as in the Paris Agreements and the CLIMATE CHANGE Agenda. Guardian of OATHS…and if you follow my posts you know where OATHS began and how God feels about those.
See the following post for more information related to this topic:

COP27   a NEW COVENANT WITH A NEW SET OF 10 COMMANDMENTS, for CLIMATE CHANGE!!
James Sternlicht, head of The Peace Department, called on faith leaders to take a climate vow: "I, as a person of hope, pledge to make the world a better place for people and planet, each day that I may live."

spacer
Aug.
8 at 12:22 a.m.   (8/8  12/22 or  88 222) 
Infinity is characterized by a number of uncountable objects or concepts which have no limits or size. This concept can be used to describe something huge and boundless. It has been studied by plenty of scientists and philosophers of the world, since the early Greek and early Indian epochs.

In writing, infinity can be noted by a specific mathematical sign known as the infinity symbol (∞) created by John Wallis, an English mathematician who lived and worked in the 17th century.

The infinity symbol (∞) represents a line that never ends. The common sign for infinity, ∞, was first time used by Wallis in the mid 1650s. He also introduced 1/∞ for an infinitesimal which is so small that it can't be measured. Wallis wrote about this and numerous other issues related to infinity in his book Treatise on the Conic Sections published in 1655. The infinity symbol looks like a horizontal version of number 8 and it represents the concept of eternity, endless and unlimited.
spacer
The Pythagoreans have made the number 8  the symbol of the love and the friendship, the prudence and the thinking and they have called it the Great "Tetractys".
T4 or Tetrad/Tetractys is the symbol for the Cosmos.  This means that according to the Pythagoreans, the Tetractys represented the universal geometric, arithmetic, and musical ratios upon which the entire universe was built. Source
Tetractys Meaning in Kabbalah
The Pythagoreans weren't the only ones to ascribe meaning to the Tetractys symbol. The mystical Hebrew belief system Kabbalah also had its own view on the Tetractys. It is a fairly similar interpretation on the symbol, however, the followers of the Kabbalah had arrived at it on a purely mystical ground while the Pythagoreans had formed their view on the symbol through geometry and mathematics.  Source
The number eight represents the division of room and divinities into their constituent parts. In the Brahmanas we discover reference to Adityas or sun based divine beings. They are the children of Aditi, the Primal Goddess, and their numbers differ from 7 to 12. In the most punctual Vedic writings we discover references to eight Adityas: Mitra, Varuna, Aryaman, Amia, Bhaga, Dhatar, Indra, Vivsvant.
The best type of greeting to an individual divinity is viewed as the eightfold welcome ( sashtanga namaskaram), performed with eight appendages of the body as a characteristic of absolute regard, compliance and give up.

The study of yoga is known to have eight appendages, subsequently the name as ashtanga yoga or the eight limbed yoga. They are yama (control), niyama (rules), asana (stances), pranayama (breathing practice), pratyahara (withdrawal of faculties), dharana (focus), dhyana (reflection) and samadhi (condition of self-retention).
spacer
Anti-Defamation League
88 

is a white supremacist numerical code for Heil Hitler

. Read more about the 

meaning behind

 the numbers, as well as how it's used in non-extremist forms.
The deadly wildfires in Maui, Hawaii, have left a mess, and now looters and land speculators are trying to cash in on the tragedy… 
First came the deadly fires on Maui, then the looters and speculators…
Man, returning to that house has got to feel so lucky and so shitty at the same time… Now I would like to know who owns this house… The red house that survived Maui's fires…
Hawaii News Now
Published: Aug. 15, 2023 at 3:08 PM CDT
|
Updated: Aug. 16, 2023 at 8:49 AM CDT
CLICK THE TITLE LINK ABOVE TO WATCH THE VIDEO
The two people identified on Tuesday evening were:
Robert Dyckman, 74, of Lahaina;
and Buddy Jantoc, 79, also of Lahaina.
Meanwhile, in a news conference on Tuesday afternoon, Gov. Josh Green once again acknowledged the unimaginable scale of loss and offered his condolences to a state in mourning. In all, seven additional fatalities were announced on Tuesday.
In a major development Wednesday, the White House announced President Biden would visit Maui early next week to meet with survivors, first responders and state and local officials.
Biden, speaking at an event in Wisconsin, called the recovery operation "painstaking."
"Our thoughts and prayers are with the people of Hawaii," he added.
One week after a wall of flames tore through Lahaina town, officials say that remains are continuing to be found. The Maui wildfire is now the deadliest in the U.S. in more than a century, and just one third of the hardest-hit areas have been searched by teams with cadaver dogs.
"Some of the sights are too much to share or to see from just a human perspective."
Also on Tuesday, Vice President Kamala Harris offered her support to the people of Lahaina and underscored the need for a speedy response to reduce additional suffering.
"We are all praying for the people of Maui," she said. "Far too many lives lost, lots homes, lost businesses, lost livelihoods."
While recovery operations ongoing, the state is also grappling with a humanitarian crisis.
With schools closed, Lahaina parents left children at home while they worked; confirmed death toll of 110 is expected to rise
4 hours ago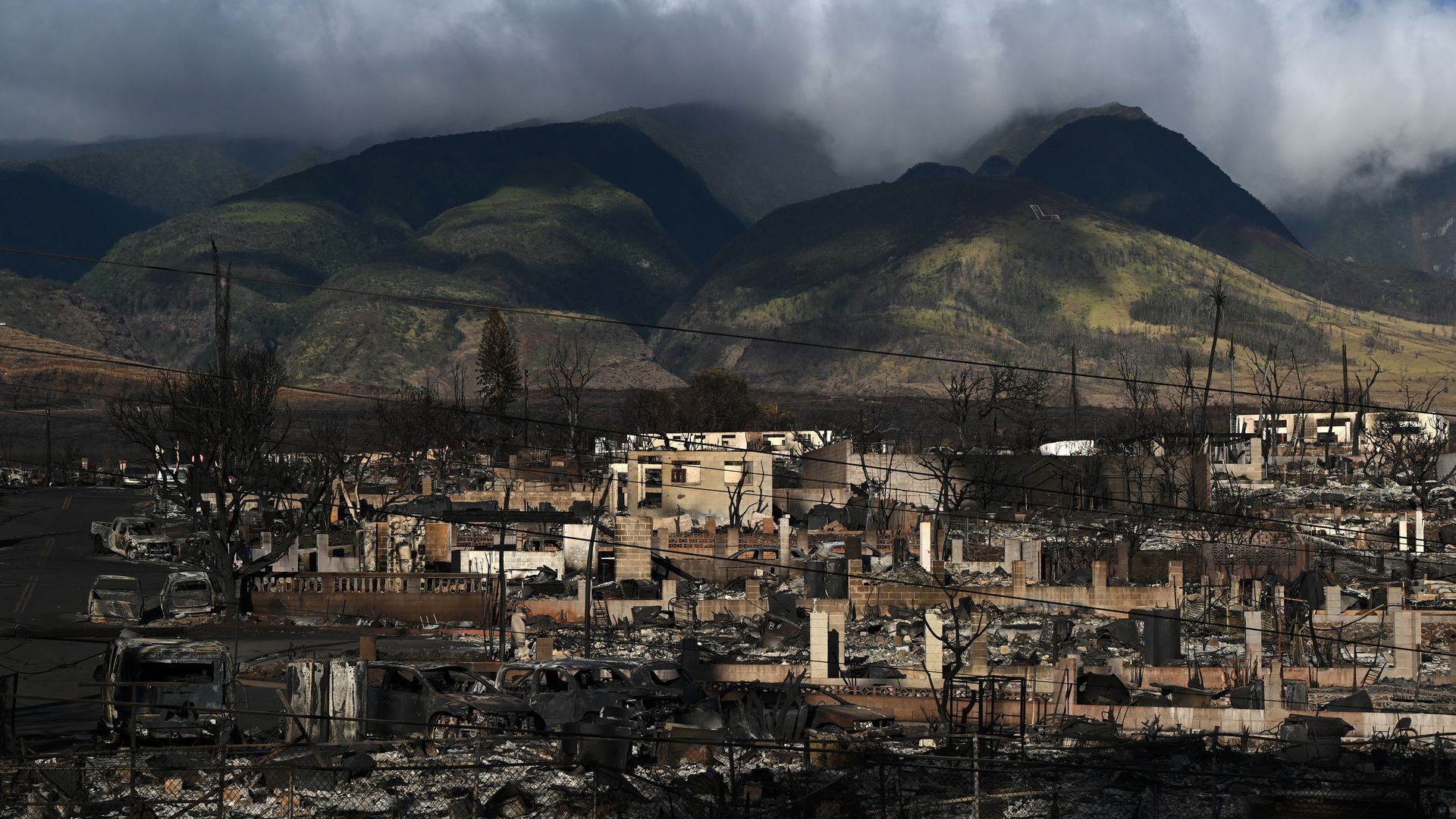 Over 1,000 people remain missing a week after Hawai'i's historic wildfires, as state officials warn the death toll will continue to climb while search and recovery efforts continue.
The big picture: The fire that razed most of the historic town of Lahaina on Maui last week is already one of the deadliest wildfires in modern U.S. history, but the full extent of its devastation may not be known for a long while.
At least 110 people have died in the Lahaina Fire

, Hawai'i Gov. Josh Green said Tuesday.
"There will not be any survivors in the area left," Green told CBS News on Monday. "Our hearts will break beyond repair, perhaps, if that means that many more dead. None of us think that, but we're prepared for many tragic stories."
Zoom in: Maui Police Chief John Pelletier said on Tuesday that rescuers who searched through the aftermath of 9/11 are now involved in the search in Lahaina, as well as 20 cadaver dogs.
"I want people to understand the reverence with which we're doing this," Pelletier said about the search effort. "It's not just ash on your clothing when you take it off. It's our loved ones. That's the reverence."
Many of the same people who were involved in search and recovery efforts after California's Camp fire have traveled to Maui to help find and identify fire victims, the New York Times reports.
Green said in a video address Tuesday crews had searched

38

% of the fire disaster site.
He told CBS News that the number of people missing after the fires decreased from 2,000 to about

1,300

after cellphone reception was temporarily restored in parts of the state.
Of note: Maui officials on Tuesday identified the first victims from the fires as Robert Dyckman, 74, and Buddy Jantoc, 79, both of whom were Lahaina residents.
Maui County officials encouraged people to provide DNA samples to help authorities identify other victims.
The deaths from the Lahaina fire have surpassed the toll from the (Paradise)2018 Camp fire in California, which killed at least

85

people.
In addition to the fatalities, the fire destroyed more than 2,200 structures in the town.
By the numbers: Maui County officials said the fire that tore through Lahaina had burned an estimated 2,170 acres and was 85% contained on Tuesday night.
It said another estimated 678-acre fire on the western-facing slope of Maui was

75%

contained, while two other fires on the island were fully contained.
Several other fires ignited on the other Hawaiian islands last week, as well.
The 2020 census estimated Lahaina's population was around 12,ooo at that time, though as a popular tourist destination, the number of people in the town fluctuates rapidly throughout the year.
Zoom out: The climate change-related fires were fueled by grasses dried by elevated temperatures and drought conditions and extreme winds from Hurricane Dora, which was passing the state hundreds of miles to the southwest.
At least three lawsuits — including two seeking class-action status — have been filed against Hawai'i's primary energy provider over the deadly fires.
The lawsuits allege that the fires, the causes of which have not been officially confirmed, were ignited by strong winds or trees damaging Hawaiian Electric's energized power lines.
A Washington Post

 investigation using security camera footage and sensor data indicates that the first reported fire on Maui likely started from a power line faulting

, meaning it either contacted vegetation or another line or was knocked down.
Go deeper: Why Hawai'i's governor doesn't want developers buying burned land
Editor's note: This article has been updated with additional details, including to reflect that the death toll has increased from 106.
---
First came the deadly fires on Maui, then the looters and speculators
Island residents said they have seen people stealing gas from tanks and have gotten calls from real estate investors looking to buy their property.
Nearly a week after Maui was ravaged by the deadliest wildfires in more than a century, and as residents continue to wait for word about their missing loved ones, a new set of problems has emerged: looters and speculators trying to cash in on the tragedy.
A local businessman said people desperate for gas and other scarce items are raiding the few businesses still standing in Lahaina, the historic city that was all but destroyed.
Bryan Sizemore, 48, a commercial sport fisherman and mechanical engineer who has lived on Maui for nearly 20 years, said he recently chased off several looters at gunpoint from his business.
"My boat exploded as a result of the flames, but my business somehow made it. But there's been looters at my place, people stealing gas," Sizemore said Monday. "I've been sleeping there in my car… They're poking holes into the gas tanks and draining them off."
The stealing and attempts at land grabbing are indicative of what locals are up against as they work to rebuild their homes and lives after deadly wildfires chewed through entire neighborhoods last week, killing at least 96 people and destroying irreplaceable Hawaiian cultural landmarks.
The fires displaced hundreds of families and became the deadliest in modern U.S. history, surpassing the 2018 Camp Fire in Paradise, California that killed 85 people, officials said.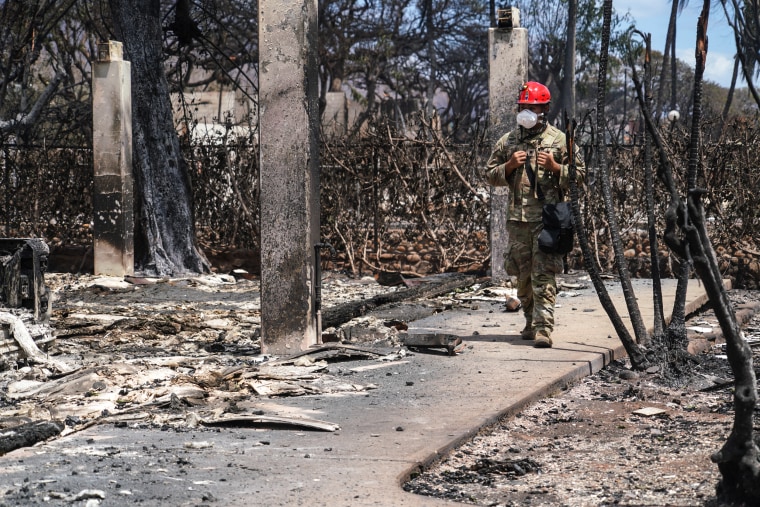 Hawaii Gov. Josh Green estimated the fires have caused $6 billion in damage.
Now that the tourists have been evacuated and the search for the missing continues, some residents feel as if they've been left to fend for themselves, they said.
"Do not go to Lahaina thinking that you're gonna get fed when you realize there are no resources," said Cassidy Keilieha, who was at the War Memorial Complex donation center in Wailuku on Saturday. "There are no stores out there for you. Everything is empty. There's nothing out there.
"A lot of people are angry. A lot of bad things are happening. People are going into survival mode."
In Sizemore's view, the looters are "just random people who are trying to get across the island to where there's more aid."
"We went to the Red Cross, but they can't keep up," he said. "They don't even have enough drinking water for everybody. I finally gave up and drove across the island to some friends, where I was able to take a shower."
When asked about reports of looting, Maui County Police Chief John Pelletier said, "the Hawaiian people are the most incredible, kind, loving people on the planet, period."
But Maui fire survivors said they are getting calls from real estate investors seeking to buy up what remains of their island homes and property.
"This is disgusting," Maui resident Tiare Lawrence told MSNBC's Katy Tur on Monday. "Lahaina is not for sale."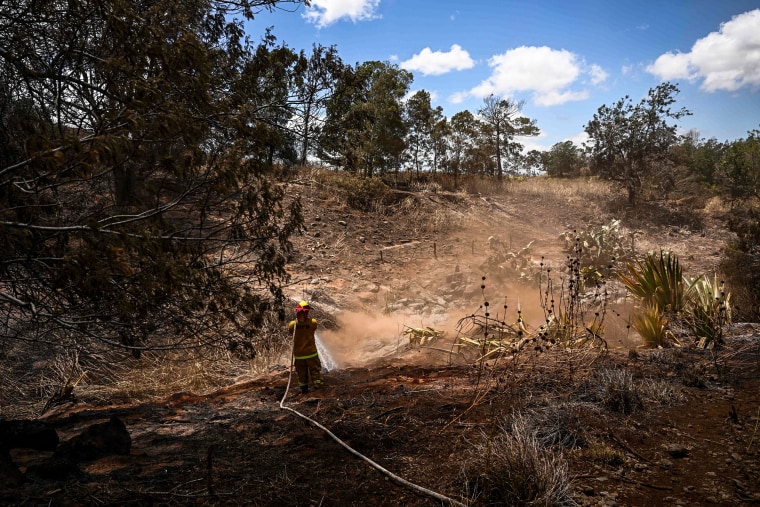 As the death toll continues to climb, police are searching the smoldering remains of Lahaina with cadaver dogs.
"I've seen dozens of bodies and I think when all this is over, there's going to be a lot more deaths," Sizemore said, adding that he still has not heard from at least a dozen friends.
Federal Emergency Management Agency Administrator Deanne Criswell declined to speculate on how many bodies search crews might find.
"The dogs can only work so long because of how hot the temperatures are," she said Monday in a video teleconference from Hawaii. "There's also hot spots, and so we have fire crews that are helping to cool down the area so the dogs can go in there.
"I hate to give an exact estimate because we want to make sure that we are precise and methodical and respectful as we go through this," Criswell said.
Green said an additional 20 dogs have joined the search.
"I mean it's a catastrophic loss, it's our largest natural disaster since statehood," Green said on NBC's "Meet the Press NOW." "It's incredible what we're seeing, it's definitely like a nuclear weapon went off on Lahaina."
FEMA has provided 50,000 meals, 75,000 liters of water, 5,000 cots and 10,000 blankets to Maui County for distribution, officials said, and more than 300 FEMA employees are on the ground assisting with the recovery effort.
"The coming days and the weeks, they're going to be tough, they're going to be difficult as people process what they have lost and what the road ahead looks like," Criswell said. "But we are going to be with the people of Hawaii, as I have committed to the governor, every step of the way."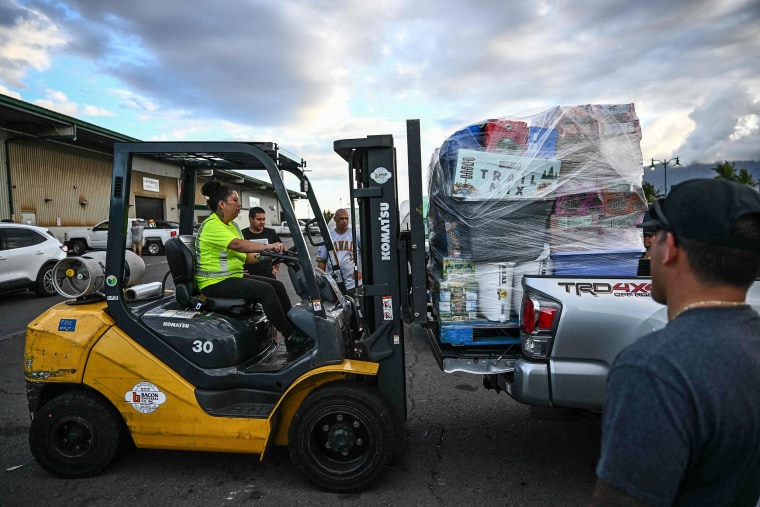 But Sizemore said the aid isn't getting to residents fast enough.
"People think everything is getting taken care of, it's not," Sizemore said. "It's a s—show out here."
One potential reason for the residents to feel as if there is a delay in resources headed their way is that the vast majority of good needs to be shipped to the island.
More than 90% of all goods consumed in Hawaii are imported from other states or internationally, according to Suwan Shen, an associate professor of urban planning at the University of Hawaii, who specializes in climate vulnerability and adaptation.
"We are in the ocean," said Shen, speaking in general about the state and not specifically about the disaster.
Compared to the mainland states, which can more quickly receive supplies from neighboring states when a disaster hits, including by trucks and other land vehicles, Hawaii may not as rapidly dispatch the resources needed to affected areas.
Shen said it typically takes about a week for Hawaii to receive goods from California by sea. And then it might take another two to three days to transport the supplies from Hawaii's main port in Honolulu to other parts of the island, she said.
"There's a lot of unpacking and repacking in the process, too," Shen said.
On its website, Hawaii's Emergency Management Agency urges residents to prepare for disasters by having 14 days worth of food and water at hand.
Another Maui resident, Barrett Procell, a realtor who has lived on the island for seven years, said he his girlfriend fled their home with just the clothes on their backs.
They spent several nights sleeping in their car before they were able to escape to Oahu, where they've been staying at a hotel.
"We're just grateful to be here," Procell said. "There are so many people who didn't make it out, so many dead bodies still to be found. There's kids who were at home with their parents after work."
Procell said that although they didn't witness any looting, they saw Maui residents rise to the challenge.
"The community of Maui is amazing," he said. "It's just wild to see people whose homes burned down a couple days ago, and they're out handing out water to people or even pulling dead bodies out of the water — it's pretty incredible."
In a visual timeline, survivors recount how they were overwhelmed by the fire's speed, smothering smoke and lack of escape routes
What is known is that thousands of people on Maui experienced horrors on Aug. 8 that they had never imagined, and that unfolded hour after hour.
Morning:

Howling winds, then a brush fire
Lisa Vorpahl, a bank teller, woke to the sound of someone shuffling on her lanai. It was 3 a.m. on Tuesday when she looked out her bedroom window — along a dry, grassy slope overlooking her slice of tropical paradise — and realized it was just the wind.
spacer
Numerology Number
of the name Lahaina
is
 

1

, Numerology is a practice that assigns numerical values to letters in a name to determine the significance of the name.
The expression number, also known as the destiny number of the name Lahaina is 1
Angel Number 1 Meaning And Symbolism – | Sarah Scoop
The number 1 is associated with beginnings, newness, and change. When you see the number 1, it is often a sign that something new is on the horizon. This could be a new opportunity, relationship, or project.
Apr 4, 2022
Jul 15, 2023 — 
Across most cultures, the number 1 is seen as 
a mark of new beginnings
. 1 is the next step after 0, which represents loss or nothingness.
Lahaina – Wiktionary, the free dictionary
Etymology. From Hawaiian Lāhainā, from lā ("sun; solar heat") + hainā ("cruel, merciless; to abuse")
.
spacer
A Local's Perspective On What's Happening in Maui
spacer
BREAKING NEWS: Oprah Winfrey INVESTIGATED for Maui Fires!
spacer
The Maui Fires – REAL Reason They Happened.
spacer
Lahaina Front Street Walking Tour Maui Hawaii Shops Restaurants Galleries Historic District
spacer
Maui fire: Many missing in wake of Lahaina disaster/Live Now from FOX
s[acer
It happened During the Maui Fire (Death Toll) 
spacer
BREAKING Maui Fires & WEF plan for Hawaii/ Redacted with Clayton Morris
spacer
Maui fire: Will residents lose their land now that Lahaina is wiped out?  
spacer
New Footage From Maui (THIS IS NOT NORMAL) /WHERE IS JOE BIDEN?
spacer
spacer
Locals Tell What REALLY Happened Maui Fire
spacer
Oprah PANICS As Her SICK PLOT to PROFIT from Hawaii Fires LEAKED
spacer
spaer