UPDATES ADDED 4/7/23
What does numquam mean in Latin? English Translation.

never

. More meanings for numquam. never adverb. nunquam, nusquam, nequando.
concedere ( Italian) Origin & history From Latin concēdere, present active infinitive of concēdō . Verb concedere ( transitive) to grant, allow ( transitive) to concede (that); to admit ( transitive) to award, bestow Derived words & phrases concedersi concessale subconcedere concedere ( Latin)
So we see that the motto on Trump's Scottish Crest is "NEVER GIVE UP" or "NEVER CONCEDE"
spacer
History of golf From Wikipedia, the free encyclopedia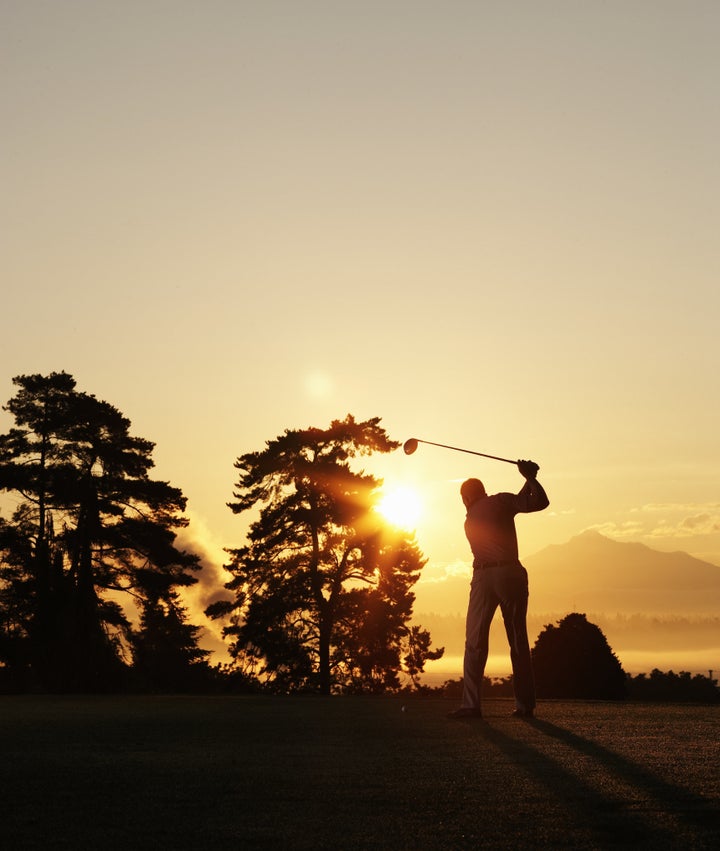 Then there is golf, which, some folks will tell you, is a metaphor for life. And even more, they will explain that it is a valid path to enlightenment with links to Eastern spirituality — particularly Buddhism.

If you doubt this, check out the list of best-selling golf books on Amazon: Zen Golfalmost always tops the list, while amongst the most popular sports novels are The Legend of Bagger Vance (a literal retelling of the Bhagavad Gita set against a golf match) and Golf in the Kingdomby Esalen Institute founder Michael Murphy, in which a fictionalized version of the author sets off for an Indian ashram but is waylaid on the links of Scotland, where he meets his own Zen master in the form of a golf pro named Shivas Irons.

During the past few months I have been interviewed several times on the subject of golf and spirituality, and nearly each time I am asked, "Why golf?" Which is a damn good question to which I think I have found the answer.

The difference between golf and most other mainstream sports is this: the ball doesn't move unless you make it. There is no action to anticipate. No physical event to react to. No one is passing to you. Nobody is going to chase, tackle, or tag you. You never have to fight for the ball. And all of those are things that put you in a reactive state, where you are pulled from your thinking brain into your body — which has no thoughts. It's easy to feel grounded when you don't think.

In golf, however, there is almost nothing that makes you react other than your own actions. It's just you, the ball, the course, and — perhaps most harrowing of all — your thoughts, which are often the single biggest obstacle standing between you and par. You see golfers implode on the course every day. Sit on any hole on any course and several times each day you will see one lousy shot send a seemingly rational, educated, and composed human being into a self-hating rant with a chorus of "YOU IDIOT!!! YOU SUCK!!! HOW CAN YOU MISS THAT PUTT!!! IDIOT!!! IDIOT!!!" Then think about the thousand free throws Michael Jordan missed (all more consequential than whether you bogey the 5th one Sunday morning) without even so much as a single: "Jordan, you're awful."

And in this way, golf is about something more. It's about staring down what is often our worst self-defeating behavior in a quiet setting, which ought to be meditative and so seldom actually is. This is where the Buddhism comes in. It is through the undoing of these negative thought patterns that golfers find their way towards nirvana and from which even non-golfers can learn at least two lessons.

The first is to stop keeping score. I tried this one cold spring afternoon a few years back after an instructor had suggested I play one round without writing down the results of a single hole. Keeping the card in my pocket that day tested my willpower in ways that you cannot imagine. I have never wanted a drink or a late-night slice of cold pizza as much as I wanted to write down my bogey five on the first. But, I didn't.

What I learned from the experience was liberating. It was inevitable that I would care about score, just as we all care about how much money we have in the bank or whether we'll get that promotion at work. But, by detaching from the results and engaging with the journey (or in this case the game) you take an enormous amount of pressure off of your shoulders. You place yourself squarely in the moment. You take care of what is in front of you without scars from three-putting the last green and without thoughts of whether you'll hit your next drive in the fairway. And the result is that you are free, you are present and — in typically Buddhist fashion — your scores actually improve the less you care about them. The same applies to just about anything that you do in your everyday life.

The other thing I took away was the related idea of loosening your grip. No less a spiritual figure than Johnny Miller, then NBC golf analyst and former U.S. and British Open champion, once said that only one in a thousand golfers grips the club lightly enough. After years of strangling my Callaway irons and swinging them like hell, I learned that he is absolutely right. The less grip pressure, the longer and more accurately your ball usually flies. It is a terrific lesson for Westerners (like myself), who so often seek to exert their will on things more important than golf, things like our children, our careers, our marriages, traffic, and just about anything else that engages us and that we care about. We think that the harder we try or the more force we apply — be it physical or mental — the better the result. Yet, so often the absolute opposite is the case. When you do less, loosen your grip, and give up the elusive need to control both actions and outcomes, you become free as well. It is the reason that people have faith in god, Christ, and other higher powers. It is something I thought that I'd never learn, yet I came to it through a sport I'd always associated with plaid pants and Pat Summerall.

Ultimately, the way we live today is best summed up by something Shivas Irons tells Michael Murphy during Golf in the Kingdom when the latter has just double-bogeyed and is disconsolate: "Ye try too hard and ye think too much." We can all probably learn something from that.
I find it so disheartening to hear people talk about Eastern Relgion in this manner.  All of what that person shared is better found in the bible and in right relationship with the Creator.  You do not want to be yoked to BUDHA!
"Come unto me, all ye that labour and are heavy laden, and I will give you rest. Take my yoke upon you, and learn of me; for I am meek and lowly in heart: and ye shall find rest unto your souls. For my yoke is easy, and my burden is light."  Matthew 11:28-30
Blockbuster Anthropology
Cultural Analysis by Anthropologist Peter Wogan
To understand how golf can bring about feelings of transcendence and awe, we need to look at the physical layout of the game and those intimate connections between the ball and player.


The Set-Up
The union with the ball begins with the set-up stance, in which the golfer stares down at the ball, head bowed, as if in prayer. Few other sports require such single-minded focus on a stationary ball. In sports like baseball, basketball, and football, the ball moves too fast for anyone to get a lock on it; in golf, every play begins with a mini-meditation on the ball.
Watching the Shot
In the switch from the stationary set-up position to the swing and then the ball's soaring flight, the golfer undergoes a sudden, radical shift in perspective—from head bowed to head raised, from a focus on earth to sky, low to high, abjection to transcendence. Having started off like a prayerful hunchback, the golfer soars like a bird.
I say "the golfer soars like a bird" because the golfer is now intimately connected with the ball, as if it were his or her spirit double. The ball traveling through the air mimics the golfer's mind and body so precisely that its flight path reveals microscopic, hidden tics in the swing that even the golfer often can't consciously recognize. Once golfers see the ball going astray, they often apply "body English," contorting their bodies up and down, to the right, left, and sideways, (thus the terminology warp and torque) as if the ball will feel obliged to change course, to please its human twin. Even golfers who suppress these spontaneous movements often still talk to their ball in such sincere tones that you could swear they somehow believe the ball can hear them. Whether mystical or maddening, it's hard to deny the felt union between the golf ball and player.
Of course, you sometimes see body English applied in other sports as well, and that's for good reason: the same magical principle of "like produces like" appears around the world and throughout human history. This is what anthropologists call "sympathetic magic," a long-standing, common type of magic found in everything from a love potion made with red flowers to induce a red heart, to bowlers who spontaneously jump to the left or right when they see their ball heading for the gutter. But golf takes this magical thinking to an extreme. By starting every shot with a stationary ball and putting such intense visual and mental focus on the ball's flight path, golf makes sympathetic magic an absolutely central part of the sport.
Searching for the Ball
Once the ball lands, the player assumes yet a different relationship with it. The ball is now a tiny white dot in the distance, whether nestled far off in the grass, or, worse, out of sight in the woods, water, or sand. The player now experiences what novelist John Updike called the "intoxicating relativity" of golf, i.e., the constant changes in scale and spatial relations as the golfer and his or her ball move through the game. Updike writes, "As it moves through the adventures of a golf match, the human body, like Alice's in Wonderland, experiences an intoxicating relativity—huge in relation to the ball, tiny in relation to the course, exactly matched to that of other players" (Golf Dreams, "The Bliss of Golf," 1997, p. 147-150). Whatever you might think about Updike's fiction, it's fair to say his brief point about golf's relativity is as insightful as his famous essay about Ted Williams' final home run.
Although Updike is referring here to the tininess of the golfer's body in relation to the course, his point also applies to the golfer's spirit double, the ball itself, which is even tinier in relation to the course terrain. Here's the way Updike puts it: "To see one's ball gallop two hundred and more yards down the fairway, or see it fly from the face of an 8-iron clear across an entire copse of maples in full autumnal flare, is to join one's soul with the vastness that, contemplated from another angle, intimidates the spirit, and makes one feel small."  In other words, the ball induces a sense of the golfer's place in nature and the universe—connected yet humbled, as in religious experiences.
If talk of the universe and religion still sounds like romantic hyperbole, remember that sheer scale can fundamentally change a person's emotional experience, as anyone will attest who has ever felt awe and wonder at the grandness of the ocean, mountains, or stars, or just a beautiful, tall cathedral or large-canvass painting. Vast scale, in fact, is one of the quintessential aspects of awe, as social psychologists like Dacher Keltner have shown. Granted, seeing a golf ball fly is not the same as seeing the Grand Canyon for the first time. Most golfers only experience a tingly hint of awe when they're on the golf course, especially if it's one they've been on before. Golf only offers cultivated and controlled awe, but it's still a kind of awe that induces a physical, if not spiritual, sense of humility.
I got interested in these golf questions for personal reasons. My father-in-law has been battling with Parkinson's disease, trying to maintain his balance and coordination and dignity in the face of the disease's relentless attack on his nervous system, and he has fought particularly hard not to let Parkinson's take away his golf game, one of his greatest joys. Over the last decade, he made compromises. He accepted that his shots wouldn't go as far as they used to. Sometimes he fell down on the golf course. But he refused to give up. He also insisted on teaching me how to play. In fact, the worse his shot got, the more determined he seemed to teach me how to hit the ball right. I still can't say my shot has gotten very good, but I've felt as close to him on the golf course as anytime in the years we've known each other. And while walking through the grass and searching for my ball in the woods, I've had ample chances to reflect on golf's mysteries and how this game gets inside you.
Of course, I try not to think about all these questions when I'm swinging. I just listen to my father-in-law's advice ("hold the club gently, like you're holding a bird…feet shoulder-width apart"), bow my head, swing, watch the ball fly—and hope it reaches its destination.
The game of golf was invented several hundred years ago in Scotland. When you think about it, the northern part of Great Britain is not the ideal place to play an outdoor sport. While on the links in that part of the world, I've been rained on, snowed on, baked in the sun and blown around the course by 40 mile per hour winds.

But golf also has some strange traditions. Here are 11 unusual aspects of the game.

 1. Lessons:

2. Etiquette: 

Golfers are obsessed with the etiquette of the game. Specifically, talking or moving about are not allowed when a golfer is addressing the ball, fixing ball marks on the greens is imperative, raking traps is a must, yelling "fore" when you hit a crappy shot is expected, you must tee off in the correct order (lowest score from previous hole goes first), never give anyone golf tips unless you are a 10 or less, absolutely no social media gadgets are permitted, do not wear a hat in the dining room, short shorts are unwelcomed and so much more.

3. Rules: 

There is an entire book of rules governing the game. Only ten are relevant; the others are arcane and/or esoteric. Some golfers are so serious about all this stuff that they never seem to have a good time. They are perennially concerned that the golf gods will smite them for violating a golf commandment.

4. Cheating: 

If you are playing a match or gambling, you must never cheat. But, if you are playing alone or with some friends and you are behind a tree, such that you may be injured, move the damn ball and avoid unnecessary medical expenses. I promise not to report you the golf police.

5. Ladies on the Course: 

Historically, golf has been a chauvinistic sport. For years, women were not permitted to play, which is really a dumb rule. In any case, so long as women (or men for that matter) play quickly, I have no issues regardless of their handicaps. Here are some tips for all high handicappers: if you cannot hit out of a sand trap, pick up and move on; do not practice while playing on the course; when you reach three over par, pick up your ball and go to the next tee; golf is not a coffee klatch, discussions about life, health, children, sex, politics, etc. should take place after the round is over.

6. Golf Elitism: 

Joining a golf club is like buying a coop apartment; you must be approved by a tribunal, so be on your best behavior. This process is degrading while you are being subjected to it, but after you are admitted into the club, it keeps out the riffraff, most of the time. However, there is not a legitimate reason to exclude people because of race, religion, color, sex or sexual preference.

7. Golf Fashion:

This is an oxymoron. Who designs these clothes, anyway? See Loudmouth clothes (http://us.loudmouthgolf.com/). It is permissible and desirable to look like a dork or a clown on the course. I would never wherewore any golf clothes on the street. And, you must have the club's logo on everything including your hat, your belt, your shirt, your golf bag, your golf balls and your underwear.

8. Speed of Play: 

When men play golf, they cannot wait to be finished. Rush, rush, rush. It is a sacrilege to spend more than four hours on the course. You are supposed to be having fun while playing, so why be in such a hurry to get home? To mow the lawn or do work?

9. Golf Arrogance: 

If you suck at golf, some people will not play with you and think less of you as a person; they are arrogant jerks. As if a low handicap makes you a superior person. Some great golfers act like they are God's gift to the world. They hit a little white ball around a course with 18 holes on it. There are no Nobel prizes for golf.

10. Betting: 

Most golfers, not me, want to bet when they play golf. The challenge of the game is enough to keep me interested. I do not need any incentives to play harder. And besides, I lose all the time, and it pisses me off to give someone cash.

11. Caddies: 

Caddies are a strange lot. Their job is to find your ball when you hit it into the woods, read greens, say you are a great person and listen to all your whining and bitching. They do this to make a large tip.
spacer
spacer
Here are some places you can find more information on Heraldry.  
Myths and misconceptions are easily attached to the subject of heraldry, what else would you expect from a science and art form that so readily embraces fantastic beasts such as the unicorn or the dragon?  This page of Frequently Asked Questions should help you tackle some of those common myths and misconceptions.
A good place to start is to view this short video on heraldry recorded by one of Her Majesty's officers of arms.
FREQUENTLY ASKED QUESTIONS
Thomas Woodcock, C.V.O., B.A. (Durham), LL.B. (Cambridge), D.L., F.S.A. Garter King of Arms is the senior of the three English Kings of Arms. The office takes its name from the Order of the Garter….