Scientists are They are heating up our atmosphere deliberately using lasers, microwaves, radio waves, fusion, fission, electromagnetic waves and mirrors in space.  They already have been telling us for years that they can control the weather.  Many countries have been doing it for years and there are companies/corporations that sell the service and/or the supplies for DYI.  The elite who love to make decisions for all the rest of us, are making a big fuss about weather and climate change in DAVOS.  Believe me, I do not put it past them to deliberately make a show of no snow for their meeting to gain support for their Agenda.
If you don't know about the Geo-Engineering of our weather, you have not been listening.  I have tons of posts about that on this webpage, and there are hundreds of other TRUTHERS posting articles, videos and photos regarding this all over the web.
spacer
If you are not familiar with DAVOS, check out my earlier posts:
spacer
spacer
As the rich and powerful gather for the World Economic Forum, these photos show how the impact of global warming is getting harder to ignore.
(Bloomberg) — In the week before Davos plays its usual wintry part as host of the World Economic Forum's annual jamboree,

the biggest question

isn't what might be discussed among business and political leaders, but whether there'll be enough snow for skiing.
Though it's perched at an altitude of 1,560 meters,

this year's rare winter heat wave

saw the Swiss town basking in temperatures well above freezing in early January, with its

mountainsides covered in dead, brown grass

and hikers out with their dogs. The snow arrived just in time for the elite visitors,

replenishing the slopes and covering the concrete conference center with its familiar frosting.

More is on the way. But

2023 is no freak year

: It's a sign of things to come

in the Davos region, where the atmosphere is heating up faster than most of the planet.
The town isn't just host to high-level discussions about the changing world, it's home to a weather station that holds the longest series of high-altitude, daily snow-depth data. Scientists have found that the trends recorded there are replicated across the Alps.Satellite images show summertime snow cover has fallen 10% in the last 40 years. That doesn't seem like a lot, until you look at the depth of the snow that accumulates through the winter. Compared to 1971, when the WEF's inaugural annual meeting took place, the snowpack has thinned more than 40% on average. When snow disappears, it's replaced by trees, which isn't a good thing. Dark foliage absorbs heat from the sun that was previously reflected by the white snow. That causes even more warming, according to Sabine Rumpf, a professor at the University of Basel in Switzerland, setting in motion a negative feedback loop and accelerating temperature rises.
Read More: Record Winter Heat Wave Forces Snowless Alpine Ski Resorts to Close Slopes
"I hope it's a real reality check" for the world's

decision-makers

, says Gail Whiteman, professor of sustainability at Exeter Business School in the UK. "Switzerland in the winter should have snow. It's not just that you can't ski as much as you might want. The whole biodiversity chain changes, because trees start to think it's spring and so do flies."Despite decades of incremental change, the risks posed by a warming planet

weren't much of a priority for the world's elite

until recently. Barring the pandemic, the WEF has physically convened business leaders and heads of state every year since 1971. This year, more than

a third of the panel discussions on the official agenda are linked to climate change

, alongside the usual fare on the health of the global economy and the delicate state of geopolitics. But looking at the executive summaries from the 2010s, the first mention of "climate" didn't come until 2014.
Even that shift required years of effort from outside the town's angular concrete conference hall, Whiteman told Bloomberg Green's Zero podcast, to convince business and political leaders that they were vastly underestimating the risks of unmitigated climate change. Whiteman has dedicated her career to bringing the natural sciences to corporate boardrooms. After spending time in the Canadian Arctic, which is warming much faster than other parts of the world, she was determined to carry the message of urgency to Davos. The motto was "what happens in the Arctic doesn't stay in the Arctic."
But it was an uphill battle.
Without the

magic white pass

needed to get past the machine gun-toting security guards at the Davos Congress Centre, and gobsmacked by how much it cost to rent a venue anywhere else in town, Whiteman struck on the idea of building a "base camp," just as climbers do to scale Everest, part of another iconic mountain range that's experiencing unprecedented glacial melt.
In 2017, she pitched the kind of tent used by polar explorers a little distance away from the venue, which did double duty as presentation space by day and bedroom by night.
"We were very thankful for any dinner anybody ever gave us during the Davos weeks," says Whiteman. The initiative worked, with over 100 people showing up the first year, and Arctic Basecamp was born.
Over the ensuing meetings,

the tent became a home to climate scientists and activists who either hadn't heard of Davos before or couldn't afford to come.

Their main message was that what happens in the Earth's frozen expanses has an impact across the world, from rising sea levels to changing storm patterns. The North American cold snap that pushed temperatures in Texas well below freezing in December and the unusually warm New Year's Eve that central and western Europe experienced are both linked to disruptions in the Polar vortex caused by climate change.
In the language of Davos, however, melting glacial ice has monumental economic repercussions. The productivity of all wheat baskets in the world is directly linked to temperatures in the poles, says Whiteman, giving just one example of the bonds that exist across the planet. At Whiteman's basecamp, scientists brief business leaders on what these risks mean

for their bottom line

and why helping the world meet climate goals is very much

in their financial self-interest.
"When we touch their humanity, and we combine that with self-interest at times, people can rise to the occasion," says Whiteman. "I've seen it happen many times."
But she is also the first to acknowledge that progress on awareness will be for naught if emissions don't fall. In 2022, the world hit a record high in planet-warming gases released after the energy crisis prompted some governments to turn back to burning coal.
Still, every meeting that Whiteman has with the powerful people that congregate in Davos gives her another cause for optimism. In 2018, Israeli Prime Minister Benjamin Netanyahu, flanked by his security detail, walked by and asked Whiteman, as she tells it: "What the heck are you doing here with this big Arctic tent? You're sleeping here?" She ushered him in and talked to him about climate change in the Arctic, showing samples of ice cores that provide us with primary evidence that the warming we observe today is unprecedented in more than 800,000 years.
"Davos gives you the opportunity where you can make those unusual moments" happen, says Whiteman, "and

just speak science to power

."
—With assistance from Gem Atkinson, Maria Wood, Oscar Boyd and Christine Driscoll.
spacer
I pulled the weather reports for the week before the meeting DAVOS as well as this week.
Winter sports enthusiasts should take next week off. Because the slopes and cross-country trails in Davos Klosters are an insider tip during the WEF period: excellent conditions and plenty of space. Ideal for a day trip.
While renowned representatives from the world of politics are meeting at the annual meeting of the World Economic Forum (WEF) in Davos, there is plenty of space on the Davos Klosters piste and cross-country skiing network. No wonder: during the WEF period from 16 to 20 January 2023, Davos Klosters is considered an insider tip. There are never so few winter sports enthusiasts as on these days. This means: plenty of space on the pistes to really get out the carving turns, no waiting times at mountain restaurants and lifts, and excellent snow conditions thanks to the snowfall of the last few days.
Davos Weather
(Next 3 days):
The snow forecast for Davos is: A moderate fall of snow, heaviest on Sun afternoon. Temperatures will be below freezing (max 30°F on Sat morning, min 14°F on Sun night). Wind will be generally light.
Davos Weather (Days 4-6):
A moderate fall of snow, heaviest on Wed night. Temperatures will be well below freezing (max 18°F on Tue morning, min 3°F on Tue night). Wind will be generally light.
spacer
Forecast update in 

02

hr 

10

min 

00

s
New snow in Davos:  
2.4cm

0.9in
 on Fri 13th (after 9 PM)
Davos Weather (Next 3 days):

The snow forecast for Davos is: A moderate fall of snow, heaviest on Sun afternoon. Temperatures will be below freezing (max 30°F on Sat morning, min 14°F on Sun night). Wind will be generally light.

Davos Weather (Days 4-6):

A moderate fall of snow, heaviest on Wed night. Temperatures will be well below freezing (max 18°F on Tue morning, min 3°F on Tue night). Wind will be generally light.

---
Davos Snow Conditions
Top snow depth:

37

 

in

Bottom snow depth:

7

 

in

Fresh snowfall depth:

0

 

in

Last snowfall:
13 Jan 2023
Snow Alerts
Create Alert
Snow History
Week 2 of January has on average:
0.8

Bluebird Powder days

Fresh snow, mostly sunny, light wind.

2.0

Powder days

Fresh snow, limited sun, any wind.

2.0

Bluebird days

Average snow, mostly sunny, light wind.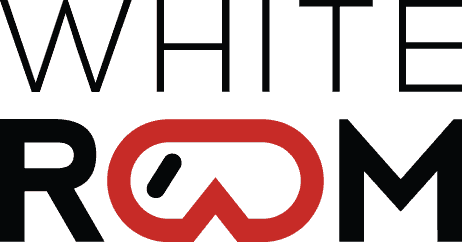 Seeking Asgard
Holmlands have released a new ski film 'Seeking Asgard: Ski Life Stories from Iceland' on YouTube. https://www.youtube.com/watch?v=NhxH9Qw-SWM&t=3810s The film is a feature length documentary that explores Icelandic ski culture from a human interest perspective; getting to know the personal stories of some of the country's most pioneering outdoor industry figures – all of whom have helped to push the boundaries of skiing in Iceland to new levels, though adventure, exploration and hard work. Shot in April 2022 over three weeks, the team circumnavigated the country holding interviews in all four corners of Iceland – travelling to Ísafjörður in the West, Eskifjörður in the East, Dalvik in the North and Reykjavík in the South, covering over 3000km. The series of interviews
spacer
You don't have to worry about the possibility of the elite not having snow for their yearly rituals in the mountains.  SNOW and plays a major role in their magic.  Remember, no matter how little snow comes down, they can always make snow, even in warmer temperatures.  But, I have no doubt that they will create the weather to suit them.


spacer
Snow has long been used as a symbol in the spiritual beliefs of various cultures. In Christianity, snow's use as a symbol of purity is evident in Bible verses such as Psalm 51:7, in which the psalmist prays, "Wash me, and I shall be whiter than snow." East Asian philosophies also address snow as something uncontaminated and fresh. In the book Everyday Tao: Living With Balance and Harmony, author Ming-Dao Deng likewise writes that "White is the symbol for purity. In ceremonies, it is the color of spirituality."
(You can rest assured this DAVOS RITUAL is all about spirits.  It is about the elite seeking the spirits/Fallen Angels for knowledge, favor, and power.)
Water in all its forms is a symbol of knowledge
.
Descending water represents the transmission of knowledge from a higher to a lower place, the flow of information."
Thus, snow falling could represent knowledge being bestowed on people.


(Not like we the people, but knowledge coming to the elite gathered for this ritual, to receive knowledge from the ancients/fallen angels. To formulate their plot/plans for the world.)
In order to form, a snowflake needs both water droplets (in the form of vapor) and a nucleus made up of dust, minerals and other particles in the air. In other words, it's technically made up of a combination of earth and water.  the water droplets represent the knowledge of God, while the earth represents the material world. Because of this combination, snow could represent an intermediary between heaven and Earth.
While snow may sometimes represent purity or new beginnings, its symbolism can change drastically depending on perspective. For many years, a harsh winter could be a death sentence to those who weren't prepared for its severity.
Snow can represent the idea of being left "out in the cold," a situation that can be attributed to financial loss, poverty or poor planning. Or, it can represent isolation, especially the kind of withdrawal that's sometimes purposefully undertaken to pursue spiritual growth.
Snow can also be seen as a sort of necessary death

that precedes the recreation of life
. In this context,
snow can be interpreted as a harsh yet powerful force for rebirth and new beginnings.
(ORDER OUT OF CHAOS, Phoenix rising from the Ashes, Man being transformed from human to non-human form, the merging of man and machine.)
Snow has likewise often been used in literature as a metaphor for bleakness, desperation and death.
spacer
Machine etymology in English | Etymologeek.com
Machine English word machine comes from Proto-Indo-European *meh₂gh-, Ancient Greek (to 1453) μηχᾰνή, Ancient Greek (to 1453) μᾱχανᾱ́, Doric Greek μᾱχᾰνᾱ́, Doric Greek μᾱχανᾱ́, and later Latin machina (Machine. Scheme, plan, machination.)
machine | Etymology, origin and meaning of machine by etymonline
1540s, "structure of any kind," from middle french machine "device, contrivance," from latin machina "machine, engine, military machine; device, trick; instrument" (source also of spanish maquina, italian macchina ), from greek makhana, doric variant of attic mēkhanē "device, tool, machine;" also "contrivance, cunning,"
spacer
The mystique of snow is precisely because of its dual quality of heaven meeting earth,
w
ater meeting land
.
Next time you look at the snowflakes gently dropping from heaven, blanketing earth in its white embrace, remember

that you are witnessing a kiss – the kiss of the Divine and the mundane.
Security staff guard Outside of the meeting center in Davos.
Davos is a town in the Swiss Alps, within the canton of Graubünden. It's
a popular ski resort
with a conference center that hosts the annual
World Economic Forum
.
Downhill and cross-country ski areas
include Jakobshorn, Pischa, Rinerhorn and Parsenn. Summer activities include swimming and sailing on Lake Davos, hiking and mountain biking.
The Glacier Express, a scenic train ride, connects Davos to the Matterhorn.
Graubünden means. An alternative name (the German name) for Grisons (the French name).
What does Grisons mean? – definitions
grisons The largest of all the cantons of Switzerland. The country was anciently inhabited by the Rhætii; it was conquered by the Roman emperor Constantius in the 4th century, and his camp (Curia, Chur, or Coire, the name of the present capital) was planted on the Rhine.
Grisons – Wikipedia
The German name of the canton, Graubünden, translates as the "Grey Leagues", referring to the canton's origin in three local alliances, the Three Leagues. The other native names also refer to the Grey League: Grischùn in Sutsilvan, Grischun in the other forms of Romansh, and Grigioni in Italian. "Rhaetia" is the Latin name for the area.
Rhaetian people – Wikipedia
The Raeti / ˈriːtaɪ / (spelling variants: Rhaeti, Rheti or Rhaetii) were a confederation of Alpine tribes, whose language and culture was probably related to those of the Etruscans. Before the Roman conquest, they inhabited present-day Tyrol in Austria, eastern Switzerland and the Alpine regions of northeastern Italy.
Grey League | Detailed Pedia
Apr 23, 2022The Grey League(German: Grauer Bund, Italian: Lega Grigia, Romansh: Ligia Grischaor Lia Grischa (help·info)), sometimes called Oberbund, formed in 1395 in the Vorderrheinand Hinterrheinvalleys, Raetia. The name Grey League is derived from the homespun grey clothes worn by the people. The league became part of the canton of Graubünden.

—
The Matterhorn is a mountain of the Alps, straddling the main watershed and border between Switzerland and Italy. It is a large, near-symmetric pyramidal peak

(a pyramid with a GOLD Captstone when it is bathed in sunshine.) 

in the extended

Monte Rosa

(Rose Mountain/ as in Rosicrucian) area of the Pennine Alps, (Pennine –  a mineral approximately (Mg,Fe,Al)6(Si,Al)4O11(OH)8 of the chlorite group consisting of a basic aluminosilicate of magnesium, iron, and aluminum, that is monoclinic and is commonly emerald or olive green)  whose summit is 4,478 metres high, making it one of the highest summits in the Alps and Europe.
Wikipedia
spacer
Spiritual Adventures in the Snow: Skiing & Snowboarding as Renewal for Your Soul (Art of Spiritual Living)
Activities that are exhilarating and fun are not usually thought of as spiritual. But to the contrary, such ventures may well point us to our most profound spiritual connections. For when we are able to come fully into the present moment, turn off the noise in our minds, feel our true essence as complete union of body-mind-spirit, we enter into a kind of other worldly state of ecstasy that we can experience only as a spiritual dimension.
Debunking the myth that your body has nothing to do with your spiritual life, avid winter sports enthusiasts Dr. Marcia McFee and Rev. Karen Foster demonstrate how spirituality is fed by play and challenge and how your snow-filled adventures can serve as a set of metaphors for seeing lifes ups and downs as part of a sacred rhythm.
Whether you have a need for speed or are drawn toward more lyrical motion, McFee and Foster offer poignant insights on how you can find your peak spiritual life in your favorite snow sport, no matter your skill level.
I have read before that skiing is a spiritual experience. They say that you feel closest to God when you are flying through the air on your skies.  Much like a pilot feels in a plane… only I guess stronger because you are not enclosed in a vehicle.—
spacer
Mountains are true unique creations of nature and possess wisdom and information about the earth that's immensely valuable to mankind.  On top of that they affect the balance of the world which symbolizes the effect it can bring to our spiritual state of mind.  Being close to mountains calms the mind and balances the soul.
Mountains symbolize large and challenging obstacles in your life that demand hard work to overcome them, but once you do, you will feel absolutely invincible and ready to take on the world
A mountain is often associated with perseverance and mental strength as it can become very challenging to climb a mountain and keep on pushing towards your ultimate goals and desires.
In many cultures, mountains are associated with connection towards the divine. Because of this spiritual connection, mountains are known for their ability to spark creative inspiration like no other.  As mountains reach towards the heavens, they are seen as the ultimate natural connectors towards the Universe.
Eph 6:12
For we wrestle not against flesh and blood, but against principalities, against powers, against the rulers of the darkness of this world, against spiritual wickedness in high places.
What Paul was referring to was 
mountain
 tops or hills; the "
High
places
" in the Old Testament were elevations where altars of worship could be erected (ref., Isa 14.14.) The belief was the closer to God, relative to distance, for worship, the more effective at communicating prayer to him.
Since ancient times, Pagans have been building Temples and altars on the Mountaintops.  Mountains and Forests are favorite dwelling places of evil spirits.  When these folks talk about communing with GOD, they are not talking about the Creator of All Things, the One and Only True and Living God
.
acer
It is no wonder that these folks believe they have the right to tell us what to do.  They believe that they have reached higher levels of spiritual enlightenment because they communicate with their gods.  Many of them are already convinced that they are descendants of the Fallen Angels.  They are really puffed up and full of themselves. 
spacer
spacer
Goood goood….. pic.twitter.com/yCujchjGG0

— Free Man (@Edmund4Texas) January 13, 2023
spacer
spacer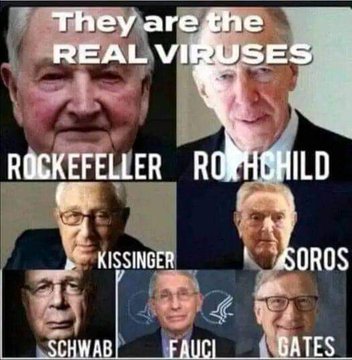 spacer
QUESTION: Marty, I think Schwab's great reset is all about your 2032. He seems to be a Socrates subscriber and is just trying to manipulate the outcome in his direction. What do you think?
Joe
ANSWER: I know, Many people have noticed this trend. This is coming up more and more. Back in 1983/1984, a major player there in Geneva was trying to buy my name to start Armstrong Brokerage. I was offered $5 million and told I did not have to do anything. It did not smell right. I declined. But they put on a huge party in Geneve to honor me which was really about trying to impress me with how powerful they were. Back then, Geneva was like one masquerade party. You never knew who anyone really was. I ended up managing money TWICE for Muammar al-Qaddafi. Even Aristotle Onasis was a client. When Ferdinand Emmanuel Edralin Marcos fled the Philippines with the February 1986 revolution, that is when the disgraced FBI came to me asking me where Marcos had taken the $5 billion in gold reserves. I said I did not know Marcos. It turned out he was a partner with Qaddafi and they were part of the group behind trying to use my name for a brokerage house. It was October 1985, when the Bank of England and the Monetary Institute of Luxembourg (Luxembourg's bank regulator) ordered BCCI to change to a single accountant after they became alarmed at reported BCCI losses on the commodities and financial markets. They ended up coming to us for they lost a fortune with the turn of the ECM in 1985 and the Plaza Accord's desire to manipulate the dollar lower. Geneva has always been a magnet for interesting conspiracies and the World Economic Forum appears to be in the middle of interesting times.
The Swiss government has sent in 5,000 troops to protect DAVOS. That is interesting and it does reflect the rising security problem that is surfacing because of Son of a Nazi, Klaus Schwab's insane authoritarian proposals. The lies are staggering. Zelenskyy told the Golden Globes audience: "There will be no third world war." Back in March 2022, he said that World War III may have already begun. Then in June 2022, he was saying that Russia would invade Europe within a year. He manipulated audiences all the time. That is what he is good at.
The report released ahead of the World Economic Forum's annual conference was based on interviews with 1,200 members of the World Economic Forum including academia, business, and politics. They provided their views regarding major short- and long-term risks facing the world in the decade ahead. Naturally, they think that they can be activists to avoid these risks. They include the rising cost of living created by COVID and Russian sanctions, slow economic growth which cannot be solved with rising taxation, and tight global food and energy supplies which they are creating between the Russian sanctions and their anti-fertilizer war for climate change. They focused mainly on an ecological crisis. Some are calling this a 'polycrisis' which is defined as a cluster of related global risks with compounding effects.
The World Economic Forum report made the same case that while global cooperation is normally a "guardrail" against global risks, geopolitical dynamics in the first half of the 2020s stemming from U.S.-Communist China tensions and the Ukraine war threaten to weaken international ties to tackle climate change and global development when they are most needed.
The World Economic Forum concluded:
"In the years to come, as continued, concurrent crises embed structural changes to the economic and geopolitical landscape, they accelerate the other risks that we face."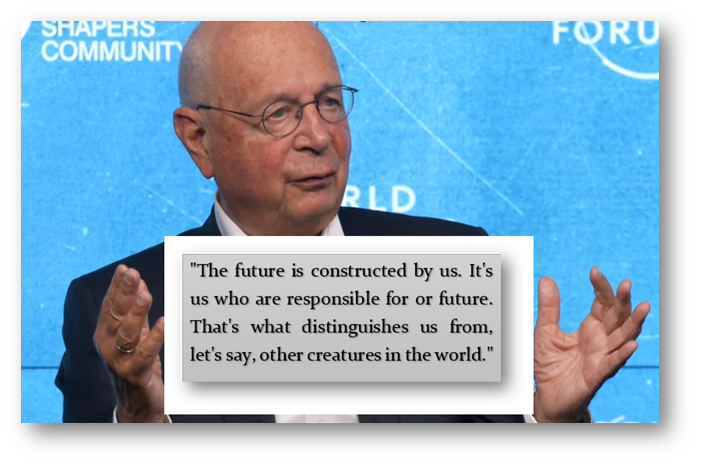 It is an idea of Schwabs that we even have the power to manipulate the future when in fact, it has been these very manipulations that are causing the problem. You have people already experimenting with shooting particles into the atmosphere to cool the planet. The company is named Make Sunset. It is experimenting on its own without any supervision or regulation that can screw up the entire planet all for climate change. What if this entire idea of manmade climate change is wrong? The New Yorker warned we are moving toward using particles to block the sun last November. We can be destroying civilization and sending the earth into an Ice Age with just a couple of volcanoes. Thank you Schwab for making your insanity worldwide acceptance.
The post Davos 2023 – the A Threat to the Entire World? first appeared on Armstrong Economics.
Click this link for the original source of this article.
Author: Martin Armstrong
P.D 
5,000 Troops to protect WEF in Davos. Are they expecting trouble ?
#WEF
#KlausSchwab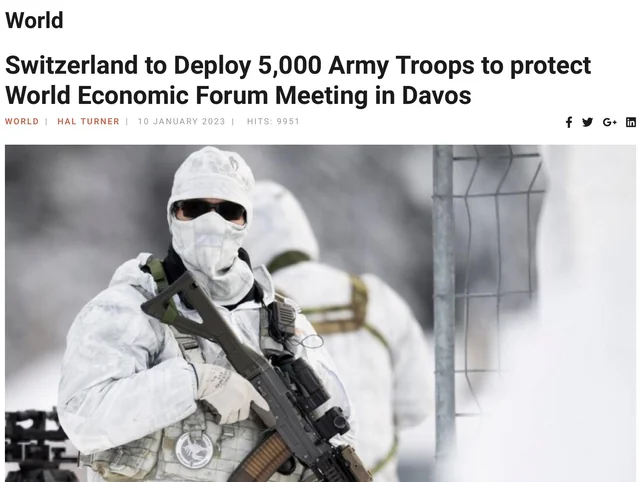 spacer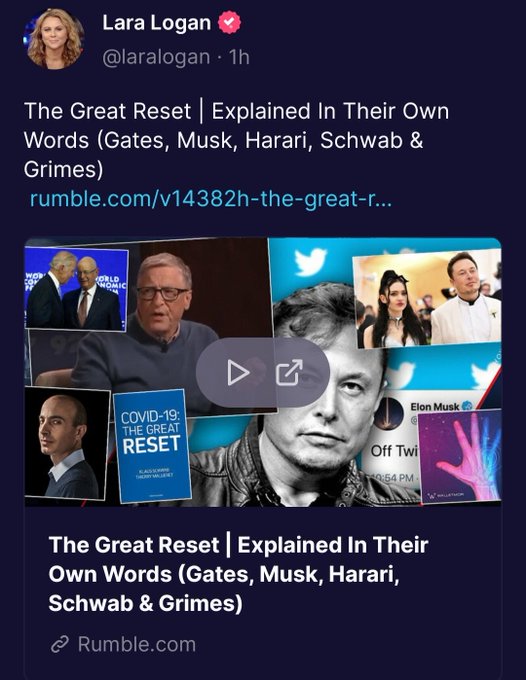 spacer
Alfonso Poza
spacer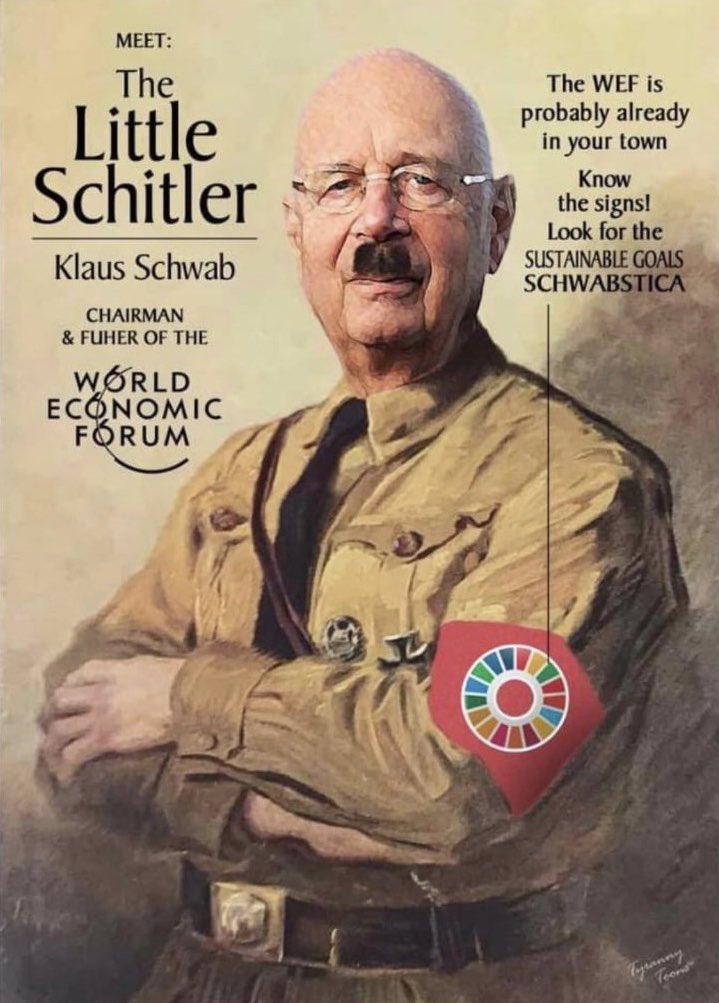 spacer
We have the names of those who are doing this.

These aren't gods, they are mortals that can be touched. pic.twitter.com/5JuNk0qc5B

— Bigdaddy Bigfoot (@BigPaPaBigfoot) January 13, 2023
spacer