TAGS:  GIANTS, DRUIDS, SHAPESHIFTERS, Ireland, BRITAIN, China, GREAT WALL, Pooka, IMAGE, Hero, Supermen, EndTime, Revelation
Wow, I don't know about you, but I was late in learning about this.  I thank one of my readers for sending me a video that contained information on this topic.  You likely will find this post to be lengthy and cumbersome, more information than you think you need.  Don't let that prevent you from review EVERYTHING in it.  GOD wants you to have the information.  He does not want you to be ignorant and therefore easy prey for those who want to take your soul.
Everything is coming at us at ever increasing speed!  Changes are happening so fast and most people are oblivious, to their peril.  BUT GOD'S PEOPLE SHOULD NOT BE!  God is pouring out truth.  Open your hearts and minds.  Shake off the dust, pull yourself free of the things that would hinder you.  Better yet, ask GOD to free you, and open your eyes, ears and mind.
In these last days, you cannot afford not to be awake and aware.  You cannot afford to be without the POWER of the HOLY SPIRIT OF GOD.  If you don't know the Heavenly Father and His Precious Beloved Son, if you are not walking by the Spirit, than you are in BIG TROUBLE.
Click is in Ireland to explore plans to create a series of giant tech statues. We also report from the Hay Literary Festival in Wales and test out the UK's first flying theatre ride.
Giant "shape-shifting" statue that speaks and moves could be coming to 21 cities across America soon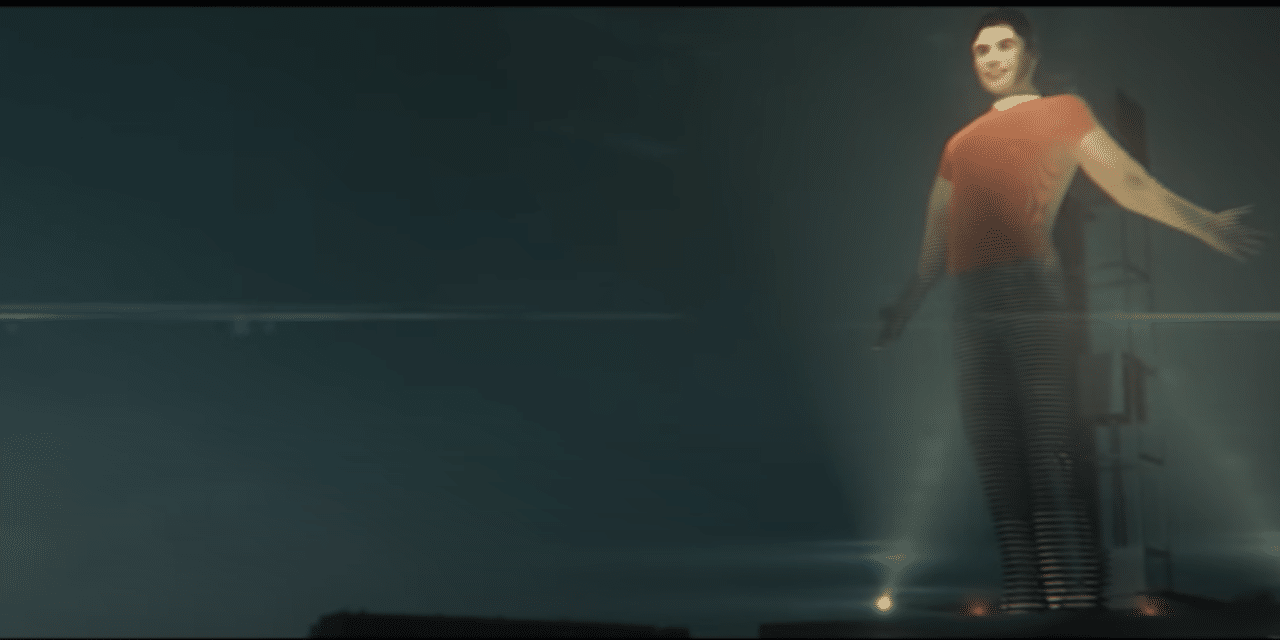 ETH) – Could you imagine watching a 10-story tall Beyoncé perform on Grand Ave? What about John Lennon (The Cannibalistic Walrus/The "EGG"man) on Van Buren or a much larger-than-life Larry Fitzgerald near State Farm Stadium?
The possibilities are endless if a European group's plans come together. A company in Ireland is hoping to bring the world's tallest moving statue to 21 cities in 2021, including Phoenix. Called "The Giant" it's a programmable, moving statue that's 10-stories tall and covered with millions of LED pixels that allow it to take the form of any person — even Spider-Man.
According to a press release, The Giant's arms and head can move in multiple directions and would change shape every hour as crowds gather below. The Giant can take on any image so you could even find yourself featured, talk about the ultimate selfie. The statue can also sing and speak.
The project's website calls it an "exciting digital art gallery," "the world's most captivating billboard" and, of course, "fun for the entire family." The idea was developed by entrepreneur Paddy Dunning, Berlin-based architecture studio Dan Pearlman and backed by the commercial real estate company Enterprise Ireland. Each "Giant" will cost $18 – $24 million to develop depending on the location and chosen size, according to the press release.
The company estimates the sculpture to bring in about $14 million in revenue for the host cities. Visitors would be able see panoramic views from the structure, judging by the artist's renderings on the website. A series of exhibits would be held inside the base, or "stage" of the attraction as well as dining and shopping. READ MORE
c. 1300, "fabulous man-like creature of enormous size," from Old French geant, earlier jaiant "giant, ogre" (12c.), from Vulgar Latin *gagantem (nominative gagas), from Latin gigas "a giant," from Greek Gigas (usually in plural, Gigantes), one of a race of divine but savage and monstrous beings (personifying destructive natural forces), sons of Gaia and Uranus, eventually destroyed by the gods. The word is of unknown origin, probably from a pre-Greek language. Derivation from gegenes "earth-born" is considered untenable.
It replaced Old English ent, eoten, also gigant (from Latin). The Greek word was used in Septuagint to refer to men of great size and strength, hence the expanded use in modern languages; in English of very tall and unusually large persons from 1550s; of persons who have any quality in extraordinary degree from 1530s. As a class of stars, from 1912. As an adjective from early 15c. Giant-killer is from 1726.
giant  (

ˈdʒaɪənt

)   n The Free Dictionary
Collins English Dictionary
1. a mythical figure of superhuman size and strength, esp in folklore or fairy tales. Also (feminine): giantess
2. 
a person or thing of exceptional size, reputation, etc: 
a giant in nuclear physics
.
3. 
(Classical Myth & Legend) 
Greek myth
 any of the large and powerful offspring of Uranus (sky) and Gaea (earth) who
rebelled against the Olympian gods
but were defeated in battle
4. (Pathology) pathol a person suffering from gigantism
6. 
(Mining & Quarrying) 
mining
 another word for 
monitor
8
adj
7. remarkably or supernaturally large
8. 
(Architecture) 
architect
 another word for 
colossal
[C13: from Old French geant, from Vulgar Latin gagās (unattested), from Latin gigās, gigant-, from Greek]
ˈgiant-ˌlike adj
Giants [N] [S]    BIBLE DICTIONARY
eb. nephilim, meaning

"violent" or "causing to fall

" ( Genesis 6:4 ). These were the

violent tyrants

of those days, those who fell upon others. The word may also be derived from a root signifying "wonder," and hence "

monsters

" or "prodigies." In Numbers 13:33 this name is given to a Canaanitish tribe, a race of large stature, "the sons of Anak." The Revised Version, in these passages, simply transliterates the original, and reads "Nephilim."
Heb. rephaim, a race of giants ( Deuteronomy 3:11 ) who lived on the east of Jordan, from whom Og was descended. They were probably the original inhabitants of the land before the immigration of the Canaanites.The Anakim, Zuzim, and Emim were branches of this stock. In Job 26:5 (RSV, "they that are deceased;" marg., "the shades," the "Rephaim") and Isaiah 14:9 this Hebrew word is rendered (A.V.) "dead." It means here "the shades," the departed spirits in Sheol.
This whole thing is to reinforce in you the false teaching that you are in control, that you can be a giant (modern version of the meaning, that you can become GOD.  The oldest lie in the BOOK!!
See the following posts for more information:
According to a press release, The Giant's arms and head can move in multiple directions and would change shape every hour as crowds gather below. The Giant can take on any image so you could even find yourself featured, talk about the ultimate selfie. The statue can also sing and speak.
The project's website calls it an "exciting digital art gallery," "the world's most captivating billboard" and, of course, "fun for the entire family."
Immersive art:A massive Van Gogh art show is coming to Phoenix. Here's everything you need to know
Here's the story behind 'The Giant'
The idea was developed by entrepreneur Paddy Dunning, Berlin-based architecture studio Dan Pearlman and backed by the commercial real estate company Enterprise Ireland.
Each "Giant" will cost $18 – $24 million to develop depending on the location and chosen size, according to the press release. The company estimates the sculpture to bring in about $14 million in revenue for the host cities.
Visitors would be able see panoramic views from the structure, judging by the artist's renderings on the website. A series of exhibits would be held inside the base, or "stage" of the attraction as well as dining and shopping
The statue can be a permanent or temporary fixture and built in 18 months.
"The Giant will be one of the world's most ambitious cultural and commercial projects bringing together art, amusement and wonder to create a contemporary and highly profitable business," Dunning said in a press release.
"We envision The Giant as an adjunct to new urban redevelopment projects, stadiums, arenas, shopping centers, museums and other locations; it's going to be an awe-inspiring addition to the cities where we locate it."
Right now, the company seems to be shopping the idea around for investors and requesting interested parties to register online to support its U.S. debut.
To learn more visit ​thegiantcompany.ie.
Elizabeth Montgomery is Arts and Culture Reporter for The Arizona Republic, azcentral.com. Reach her at emontgomery@azcentral.com or 602-444-8764. Follow her on Twitter @emontnews. Support local journalism. Subscribe to azcentral.com today.
The Giant Company hopes to display the statue in 21 cities in 2021. Selected cities have reportedly included Phoenix, Arizona. Others which have expressed interest include Belfast, Berlin, Dubai, Dublin, Las Vegas, London, New York, and Singapore.   Source: Wikipedia
For more information on this topic, be sure to view the following posts:
The had to find a way to keep you from hearing the voice of the True and Living God, so that you would turn to the False god they present to you.
spacer
A new statue "The Giant" will be displayed in 21 cities across the globe. The ten story public art display will showcase the giants in communities across the globe using technology to celebrate humanity. NBC's Molly Hunter reports for TODAY from London.

 spacer
The ten story public art display will showcase the giants in communities across the globe using technology to celebrate humanity.
by Chloe Rabinowitz May. 18, 2021  
The most exciting visitor attraction concept of the 21st century has been launched. Entitled, The Giant, it features the world's tallest moving statue (35 metres/112 ft). The Giant was conceived by The Giant Company based in Dublin, Ireland; the idea was initially inspired by Jonathan Swift's Gullilver's Travels.
Supported by Enterprise Ireland and CRBRE, the concept for The Giant includes the multi-storey statue mounted on a plinth housing an exhibition. The statue will be embedded with millions of addressable LED pixels giving it the ability to instantly take the form of any person from historical figures such as Albert Einstein or (famous woman Amelia Earhart) to stars of today from Lionel Messi to Beyoncé. Each hour the Giant will transform into each country's national heroes and celebrities. The Giant's arms and head can move to a diversity of positions and the images of the men and women appearing on the statue can speak or sing.
More than a visual wonder, visitors to the attraction will explore several fully immersive exhibits that feature state-of-the-art technologies including augmented and virtual reality, robotics and artificial intelligence. The exhibits are designed to be entertaining, educational and engaging for all age groups. Another feature of The Giant is the viewing tower where visitors can literally stand on the shoulders of a giant and look out over the city from a dramatic vantage point.
The attraction offers significant economic benefits to cities where it will be located providing a diversity of jobs and attracting local and international tourists and residents who will increase footfall in the vicinity. Besides income from ticket sales, The Giant provides several revenue producing opportunities including advertising on the spectacular three-dimensional digital statue; Giant selfies where every visitor can be scanned and instantly displayed on the sculpture creating the most awe-inspiring selfie in the world; special events and conferences; and retail shops and restaurants which are situated on the terrace roof garden. Additional revenue options include private events, brand celebrations and message for birthdays, anniversaries and wedding proposals. The Giant is expected to draw approximately 500,000 visitors each year, generating annual revenues of around €12m. Each Giant will cost between €15 – 20m to develop, depending on location and size of Giant, which is variable.
The Giant Company led by award winning entrepreneur Paddy Dunning is now seeking partners and expressions of interest from international developers who want to attract hundreds of thousands of people to a particular location (where footfall has been reduced by the current pandemic). Paddy and The Giant team are working with the award-winning innovative Berlin-based creative studio and architecture firm Dan Pearlman – to design the attraction.
Speaking about the launch of The Giant, Dunning said; "With patents in place, we are excited to unveil our plans! We have already had interest from investors from Europe, Australia, Abu Dhabi and cities across the US. The beauty of this attraction is that its exhibition can be tailored to individual cities and cultures and the sculpture can be posed in a number of positions to suit the location.
International commercial property giant CBRE has partnered with The Giant Company and is engaging with city authorities globally with the goal of establishing 21 Giants in 21 locations in 2021.  (I don't see how they continue to say that, if it takes 18 months to build.  2021 is 3/4 of the way over.)
Niall McEvoy, Senior Development Advisor from the Irish Department of Enterprise said, 'The Giant is a High Potential Start up project we have supported from when it was at concept stage. At the core of this innovation is an ambitious team that have a vision for developing landmark attractions in multiple city locations across the globe. We look forward to supporting the next phase of the roll out of this innovation'.
Iconic American attraction company Ripley's Believe it or Not! Has also showed enthusiasm in the project with President Jim Pattison saying, "The Giant has real potential on so many levels: iconic landmark, attractions, technology, lighting, education and most importantly family fun! The outside will be an artistic canvas that can celebrate any event in the community and inviting every guest to be one of the many beautiful faces of the Giant. Excited to see which world-class city will be the first to take advantage of this Gigantic opportunity!"
Speaking about securing interest, Florence Stanley, of CBRE, said, "We're looking for prime locations and we are also open to more off-beat sites that need to drive footfall. We are very excited to be working on this project sourcing sites in 21 cities around the world. Our immediate priority is securing appropriate locations and from there finding investors who will see the huge benefits of situating this iconic attraction in their city. Franchising the Giant is also an option"  (They seem to be really pushing the connection to Stadiums and Football, is the plan to bring back death matches as worship to the BEAST? Or are they preparing for death by guillotine for all who will not bow down?)
The Giant is pandemic proof i.e. Even in times of lockdown customers can scan themselves using an iPad and for a fee upload themselves to become a Giant and share their Giant selfie on social media.(Come on guys, are your egos that huge?)
Visitors to The Giant will receive a certificate, and become part of the Giant Movement, an ongoing online engagement for the public. The Giant will also present new dimensions in gastronomy and shopping. The team will work with leading chefs, artists and inventors in each location to ensure that the dining and retail experience is imaginative and of the highest level for its customers. The Giant's movement will lead the charge on promoting sustainable living and climate action along with funding programmes for the homeless and other philanthropic endeavours.  (There is a big negative.  If you don't know what philanthropy has become shake the cobwebs from your mind and find out.  It is all about exploiting your generousity to fill the pockets of the rich and the budgets of NASA, SCIENCE and the MILITARY, not to mention to increase the stronghold of AI.  They are not raising money to help people, they are raising money to destroy us and the earth we live on.)
The Giant Company/organization works in concert with cities, embassies, and leaders across the globe. The Giant Company is a member of IAAPA, the international association of amusement parks and attractions. The Giant is planned for 21 major cities across the globe. While every Giant is bespoke for its city and country, each is also a member of a family that can digitally communicate with other Giants around the world. (Boy, that ought to scare your pants off) Global events will engender global communities and these trendsetting events will become a defining social feature of the coming decades.
Inside the ten-thousand square foot exhibition space, visitors will engage with The Giant Exhibition which offers an absorbing journey into the world of giants from the realms of legend and mythology, (Ya, that is called PAGANISM!)  to a celebration of the extraordinary men and women of the city and country it's located in; from its inventors, scientists and artists to leaders, athletes, and game changers from the past to the present.  (IDOL Building and Self Worship)
The Giant visitor attraction can be built as a temporary or permanent structure for cultural and commercial use. All aspects of The Giant conform to the highest standards of ethical (Ethical by whose Standards? Obviously, not by the standard of the WORD OF GOD.) business practices and environmentally sustainable and health-conscious design, construction and operation.
Features of The Giant:
● The world's tallest moving statue

● The world's most unique digital billboard

● The World's most sensational selfie

● Instantly transforms into any image

● It sings and speaks

● View the city from the shoulders of a Giant

● Hi-tech museum and exhibits for all ages

● Stage for performances and presentations

● Roof garden for dining, retail and entertainment
 spacer
They say that this Statue incorporates all the "STATE OF THE ART" technology.  You don't even know what that means.  I don't even know all that entails.  We only know about the technology they reveal to us.  They have technology that is at least 50 to 100 years ahead of what we know.   The very fact that it is AI technology and tied in to AI WORLDWIDE should TERRIFY YOU.   You are feeding the AI data just by visiting this thing.  Remember that it will have abilities about which you know nothing.  It scans your body, GOD KNOWS what for, believe me it is not just to provide you the chance to be a god for an hour.  It also has facial recognition and can see for miles from its location.  Meaning it can spot and identify people for miles around and what they are doing and where they are going.  It is watching.  Watching everything, and learning more and more about YOU.  How you react to stimulus, choices you make, what interests you.  This data is used to create simulations and solutions,  related to how crowds can be controlled and how individuals can be controlled.   Only God knows what else they have in mind.
But, here is something to think about.  We all have nanoparticles in our bodies today. It cannot be avoided.  It is in our water, our food and even the air we breathe. It is in all medications.  It is most certainly in the VAX big time! So anyone who has been vaccinated needs to really be concerned.  With the IOT (Internet of Things) IOB (Internet of Bodies)  IOE (Internet of Everything) and the AIOT (AI Internet of Things) technologies partnered with the nanotechnology AI can, from that statue, single you out in the crowd and control you, torture you or even kill you.  That is no joke.  It is something you need to be aware of and think about.  Check out the posts below if you don't believe.
spacer
I live in Texas, and I have driven past the Sam Houston Statue on Highway 45 many times.  It is ridiculously ostentatious.    It is a MONSTER, unimaginable what it would be like to run into something that big that was alive.  There is no one that needs or deserves a statue of any kind, let alone one so brazenly offensive. Apparently, it is only 77  feet tall on its pedestal.  This one they are discussing is 110 feet tall.  OUTRAGEIOUS.  NOT GONNA BOW TO NO IDOL!!!  They are invoking the FALLEN to return to earth.  ARE YOU READY to deal with the coming GIANTS???  Fee FIE FO FUM!
It 
is
the
 world's tallest 
statue
of
 an American hero. It is not known what or where the second tallest 
statue
of
 an American hero 
is
. 
Sam
Houston
is
67 feet tall
standing on a 10 foot tall
 granite pedestal. The cane must help support Mr. 
Houston
 during high winds.
Texas
-size attractions. And while giant 
Sam
is
 one of the biggest 
statues
of
 an American
hero
in the world, there are a couple of 
statues
in
Texas
 that are almost its equal, vertically speaking. The giraffe in front of the Dallas Zoo is 67.5 feet 
tall
, while a 
statue
of
 Stephen F. Austin, the father of 
Texas
, stands 60 feet 
tall
in
 Angleton.
spacer
hero (n.1)
late 14c., "man of superhuman strength or physical courage," from Old French 

heroe

 (14c., Modern French 

héros

), from Latin 

heros

 (plural 

heroes

) "hero, demi-god

(Demi gods were the product of human women and fallen angels)

, illustrious man," from Greek 

hērōs

 (plural 

hērōes

) "demi-god," a variant singular of which was 

hērōe

. This is of uncertain origin; perhaps originally "defender, protector" and from PIE root 

*ser-

 (1) "to protect," but Beekes writes that it is "Probably a Pre-Greek word."Meaning "man who exhibits great bravery" in any course of action is from 1660s in English. Sense of "chief male character in a play, story, etc." first recorded 1690s. 

Hero-worship

 is from 1713 in reference to ancient cults and mysteries;

of living men by 1830s

. In Homer, of the Greeks before Troy, then a comprehensive term used of warriors generally, also of all free men in the Heroic Age. In classical mythology from at least the time of Hesiod (8c. B.C.E.) "man born from a god and a mortal," especially one who had done service to mankind; with the exception of Heracles limited to local deities and patrons of cities.
A hero
 (
heroine
 in its feminine form) is a real person or a main fictional character who, in the face of danger,
combats adversity through feats
of ingenuity, 
courage
, or 
strength
. Like other formerly solely gender-specific terms (like 
actor
), 
hero
 is often used to refer to any gender, though 
heroine
 only refers to women.
The original hero type of classical epics did such things for the sake of glory and honor.
Post-classical
 and 
modern
 heroes, on the other hand, perform great deeds or selfless acts for the common good instead of the classical goal of wealth, pride, and fame. The antonym of 
hero
 is 
villain
.
[1]
 Other terms associated with the concept of 
hero
 may include 
good guy
 or 
white hat
.
In Eastern thought/religion, one gains spiritual favor and/or fame by being tried through challenges, tasks, labors, feats, challenges, or quests.  In which one overcomes great pain, struggle and hardship to EARN favor and recognition by the gods.  So not only were heros born as hybrid half man/half god… they still had to earn their favor and fame.  That is where the term HERO originated.
That is what the bible call WORKS.  Our GOD frowns on trying to earn your way into heaven.  
Today, we throw around words like Giant and Hero, without really knowing the origination of those words and what they mean.  Yes, I know we have applied new "meaning" to them, because we think we are so sophisticated that myths and fairy tales are laughable.  THAT is our downfall.  Because MYTHS and FAIRY TALES are the TRUE HISTORY.  Now that PAGANISM is on the rise, the world is returning to the culture of the gods/THE FALLEN/THE GIANTS.  
Could you imagine watching a 10-story tall Beyoncé perform on Grand Ave? What about John Lennon on Van Buren or a much-larger-than-life Larry Fitzgerald near State Farm Stadium?
MARTIN VAN BUREN:  A DUTCH MAN,  8th president of the United States from 1837 to 1841. A founder of the Democratic Party, he had previously served as the 9th governor of New York, the 10th United States secretary of state, and the 8th vice president of the United States.He was the 3rd incumbent vice president to be elected president. Source: Wikipedia    Martin Van Buren's skull is apparently kept in the CRYPT of the Skull and Bones Society.  Source   Martin Van Buren, 8th. President of the United States (D) Confirmed Mason.  Source   (SO,  Illuminati FreeMason, connected to the SKULL and BONES and one of the FOUNDERS of the DEMOCRATIC PARTY.. do you think the numbers in red above occurred by accident?)
LARRY FITZGERALD: is a philanthropist, investor, business owner and currently in his seventeenth season as a wide receiver for the Arizona Cardinals of the National Football League (NFL)  Source: Larry Fitzgerald | Official Website      (There ya go,  phony philanthropist and Football connection!!)
The possibilities are endless if a European group's plans come together.
A company in Ireland is hoping to bring the world's tallest moving statue to 21 cities in 2021, including Phoenix. (If you don't have a clue about PHOENIX and its New Age/Illuminati/OCCULT Spiritual significance… start researching!)
Called "The Giant" it's a programmable, moving statue that's 10-stories tall and covered with millions of LED pixels that allow it to take the form of any person — even Spider-Man.
According to a press release, The Giant's arms and head can move in multiple directions and would change shape every hour as crowds gather below. The Giant can take on any image so you could even find yourself featured, talk about the ultimate selfie. The statue can also sing and speak.
The project's website calls it an "exciting digital art gallery," "the world's most captivating billboard" and, of course, "fun for the entire family."
In the picture below… Do you see the other Giants all featured all around the base of this thing?  Some true physical giants from ancient history and some modern day "giants" of science and industry?  Do you the people walking around the exhibit?  Do you notice the size comparison between them and the ones on the walls, and then them and THE GIANT???  Does that not just creep you out??  Who in their right mind thinks that is just ok??  TO me it is appalling!!  They call it family entertainment…  I wonder how much fun it would be for the kids if they knew they will soon be seeing these things in the flesh!!!  
Elizabeth Montgomery is Arts and Culture Reporter for The Arizona Republic, azcentral.com. Reach her at emontgomery@azcentral.com or 602-444-8764. Follow her on Twitter @emontnews. Support local journalism.Subscribe to azcentral.com today.
Read or Share this story: https://www.azcentral.com/story/entertainment/arts/2021/05/06/the-giant-worlds-tallest-moving-statue-phoenix/4947964001/
Image via AZCentral
A company in Ireland is hoping to bring the world's tallest moving statue to 21 cities in 2021, including Phoenix. Called "The Giant" it's a programmable, moving statue that's 10-stories tall and covered with millions of LED pixels that allow it to take the form of any person — even Spider-Man.
We are truly living in some strange times. In it's own right, this statue can be said to be an impressive combination of technology and art, but for many believers – me included – it's either creepy or gives an unsettling feeling as it draws our minds to Nebuchadnezzar's statue in Daniel 3 and ultimately to the image of the beast that will be built during the tribulation by the order of the false prophet.
And he deceives those who dwell on the earth by those signs which he was granted to do in the sight of the beast, telling those who dwell on the earth to make an image to the beast who was wounded by the sword and lived. He was granted power to give breath to the image of the beast, that the image of the beast should both speak and cause as many as would not worship the image of the beast to be killed. (Revelation 13:14-15)
I want to stress that I'm not saying that this statue is the image of the beast, but that it merely brings some of us to this part of scripture. In one sense one could say it's further gearing the minds of people to accept the image of the beast that is coming. Some have noted it is a more overt display of idolatry and I definitely agree with that sentiment as well.
At the end of the day, could the idea behind this statue be used in the construction of the image of the beast in the future? Maybe. It's also possible we could see the attention around it die down once they're unveiled to the public.
Personally, I believe that Artificial Intelligence and robotics may be what's incorporated in the creation of the image of the beast. I first talked about this in my 2018 article, The Rise of AI & A Race to Digital Identities.
Revelation 13:14-15 tells us there will come a time when an image of some sort will be made, given "life" and be able to speak and exercise power to such a degree that it can kill people. With the current technology we have, we can see how this could possibly be a AI robot or program that resembles the antichrist in likeness and has control over a global system already put in place that it can tap into to identify, find, and kill those who don't worship it. (The Rise of AI & A Race to Digital Identities)
I then touched on the idea again concerning Pope Francis' efforts with AI last year. From what we read in scripture, the "breath" (some translations render it as "life") that is given to the image (Revelation 13:15) by the false prophet in Greek is pneuma, a word we see used as "spirit" throughout the book of Revelation (Revelation 1:4, 10; 2:7, 11, 17, 29; 3:1, 6, 13, 22; 4:2, 5; 5:6; 11:11; 13:15; 14:13; 16:13-14; 17:3; 18:2; 19:10; 21:10; 22:17).
What we could be seeing here is not just an AI robot but one that may be given a "spirit" or possibly inhabited by a demonic entity. Whatever form the image of the beast takes, time will tell, but in my opinion, it's worth keeping in the back of our minds.   (Oh, you had better take it very seriously and start praying not only for yourselves but for your loved ones.  Shapeshifting is the animation of a form by a spirit being.  They are calling this GIANT a shapeshifter already.  By worshiping/glorifying/adoring this THING YOU ARE GIVING LIFE TO IT!! YOU are calling on the spirit of the GIANTS!!  The Image o the BEAST is not the AntiChrist or the Beast of the FALSE PROPHET, IT IS THE IMAGE of the BEAST!!  IT IS HERE!!)
[11] And I beheld another beast coming up out of the earth; and he had two horns like a lamb, and he spake as a dragon. [12] And he exerciseth all the power of the first beast before him, and causeth the earth and them which dwell therein to worship the first beast, whose deadly wound was healed. [13] And he doeth great wonders, so that he maketh fire come down from heaven on the earth in the sight of men, [14] And deceiveth them that dwell on the earth by the means of those miracles which he had power to do in the sight of the beast; saying to them that dwell on the earth, that they should make an image to the beast, which had the wound by a sword, and did live. [15] And he had power to give life unto the image of the beast, that the image of the beast should both speak, and cause that as many as would not worship the image of the beast should be killed.

Revelation 13:11-15
I am not saying these 'giants' are a fulfillment of that passage, but I think it is heading in that direction and is subtly conditioning the masses to accept the eventual image of the beast that the "false prophet" will set up, so that the world will worship the son of perdition, the antichrist. We see the fanaticism the religious crowd, such as Roman Catholics, get when they are around their Jesus and Maryian idols: just blow that up even bigger than one the one in Brazil; plus it moves and speaks – that's a recipe for some serious sacrilege.

"Christ The Redeemer" Idol In Brazil Illuminated For Vaccine Promotion

It is also interesting to note that Jesus said that before his second coming that the world would be like the days of Noah prior to the flood (Luke 17:26-27). In those days were giants, so I find that "coincidental."
[4] There were giants in the earth in those days; and also after that, when the sons of God came in unto the daughters of men, and they bare children to them, the same became mighty men which were of old, men of renown. [5] And GOD saw that the wickedness of man was great in the earth, and that every imagination of the thoughts of his heart was only evil continually. [6] And it repented the LORD that he had made man on the earth, and it grieved him at his heart.

Genesis 6:4-6
"Now I tell you before it comes, that when it does come to pass, you may believe that I am He." (John 13:19)
For the believer in Christ, these are amazing times we're living in as we see the world stage being set up just as the bible says it will in the last days preceding Christ's return. For us, it's a time of hope as our redemption draws near, but for those yet saved, they lack the same hope and instead may find themselves living in fear as to what tomorrow may bring.
In Revelation 19:10 we're told that the essence of bible prophecy is Jesus, "For the testimony of Jesus is the spirit of prophecy." My purpose in writing these articles in relation to bible prophecy is to express this truth to ultimately point you to Christ. Bible prophecy is not meant to scare but to prepare. These things were revealed to us so that we have confidence in God's word and believe in Jesus (John 13:19).
If you have not placed your faith in Jesus' finished work on the cross, I implore you to do so today (2 Corinthians 6:2)! The bible makes it clear that our life is like a vapor so tomorrow isn't guaranteed for anyone (James 4:13-14). We've all sinned and fallen short of the glory of God (Psalm 51:5, Romans 3:23) and due to this there's nothing we can do to save ourselves or somehow work our way to heaven (Isaiah 64:6). Because God is Holy he must judge sin. The penalty of this sin is death and ultimately the Lake of fire (Romans 6:23, Revelation 20:11-15).
But God, in his love has provided a way to escape his wrath through Christ (John 3:16-18, John 14:6). Jesus paid for our sin penalty by taking God's wrath in our stead on the cross (Romans 5:8). He died for our sins, was buried, and rose again 3 days later (1 Corinthians 15:1-5). Although God offers humanity the gift of eternal life through the shed blood of his son, it's our choice to either reject this gift and pay for the penalty of our sin ourselves or accept it by placing our trust in the one who's already paid it all in full (Acts 16:30-31, Romans 6:23, Ephesians 2:8-9). Make sure you've made the right decision about Jesus today! It will be the most important decision of your life, for eternal life.
spacer
I am very glad I came across the above video.  I had not heard anything about the second "Statue of Liberty".  Had YOU?
Local media said officials claimed the 36.6-metre structure was 'not approved'
A giant golden statue of the late Communist Party leader, Mao Zedong, erected in the remote Chinese countryside, has been torn down, removed almost as quickly and secretly as it was built.
The 36.6-metre high statue of the founding father of the People's Republic of China appears to have been taken down after negative publicity in Zhushigang in the Tongxu prefecture in the central province of Henan.
Some internet commentators said it was a waste of money in a poor region, while others called it an act of hubris.
A report in the People's Daily quoted an official in Zhushigang saying the statue had not been registered and approved, and had now been removed. The paper also quoted land resource officials at Tongxu county confirming its removal, but they did not know why it was taken down.
Photographs online show the gold-painted structure, which was nearly finished when it generated headlines around the world, being disassembled. The statue reportedly cost nearly three billion yuan (€427,000), and was paid for by local entrepreneurs and residents.
This year is the 40th anniversary of the Great Helmsman's death. He is widely revered in China, although he is blamed for the deaths of millions in the Great Leap Forward. Henan province was one of the areas worst hit by the failed agricultural experiment in the 1950s.
He was also responsible for the Cultural Revolution, a period of ideological fundamentalism which saw hundreds of thousands oppressed by Red Guard zealots.
I just don't know what to think of that one.  That made no sense to me at all.  First of all… I find it hard to believe that people in China have any room to speak out against anything the government does.  Secondly, that was a lot of money to spend to just tear it down.   Thirdly, I don't really think the people love Mao or Xi Jinping.  They are in fear and oppressed.  I just found it interesting that the story popped up at this time when I was looking at all these other Giant IDOLS going up everywhere.  
The GIANT comes out of IRELAND.  That is quite appropriate.  Ireland the land of the DRUIDS where almost all the insane practices and beliefs of the Illuminati/Magicians originated.  The country has a strong attachment and affinity for spirit beings of all kinds and a firm belief in GIANTS.  Take a look at some of the GIANT IDOLS already standing in Ireland.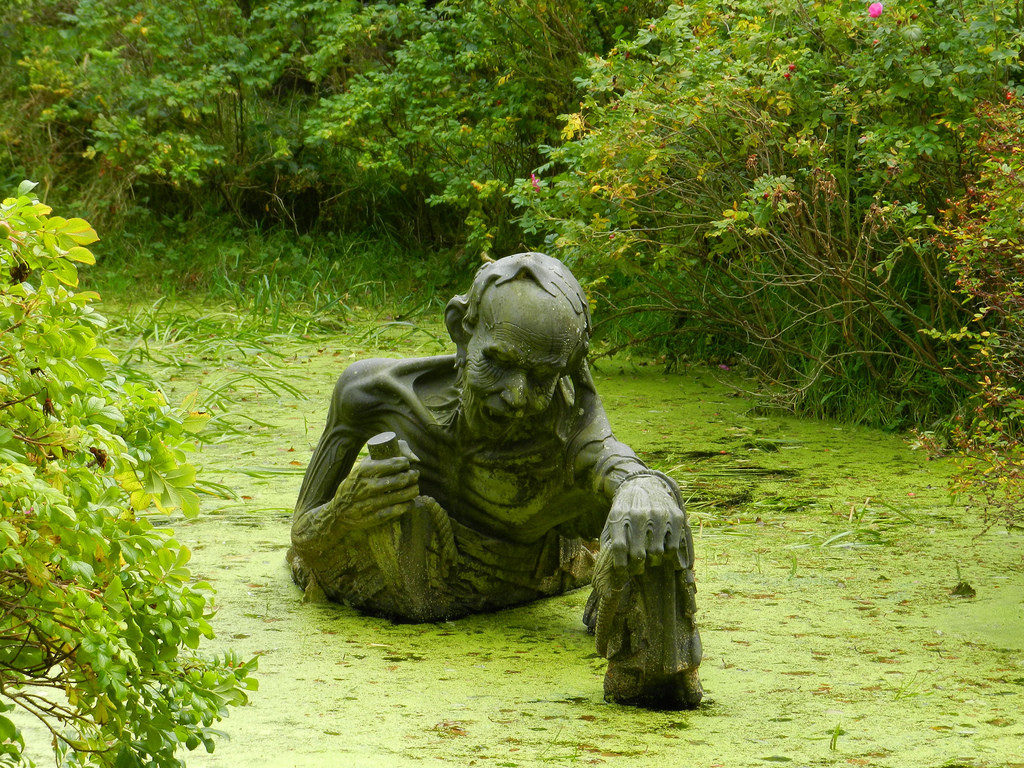 When you think of freaky and disturbing statues, you probably don't think of Wicklow in Ireland but it turns out that these are where some of these figurines are located, in The Indian Sculpture Park on Victoria Way.
IMAGES VIA
The park was established by a guy called Victor Langheld in 1989 after he travelled to India in search of spiritual enlightenment. It's supposed to induce self reflection as every statue has its own meaning, but I'm thinking it's more likely to freak you out because most of them are fucking weird.
The most prominent figure in the park is Ganesha with eight statues of the Hindu deity in various poses such as dancing, reading and playing musical instruments. These were each made in Tamil Nadu and took five craftsmen an entire year to make, but it's not these statues that are creepy, it's all the weird ones that have been included in the park to try and make you 'self reflect' on your own persona.
AWAKENING OR BIRTH OF CONSCIOUSNESS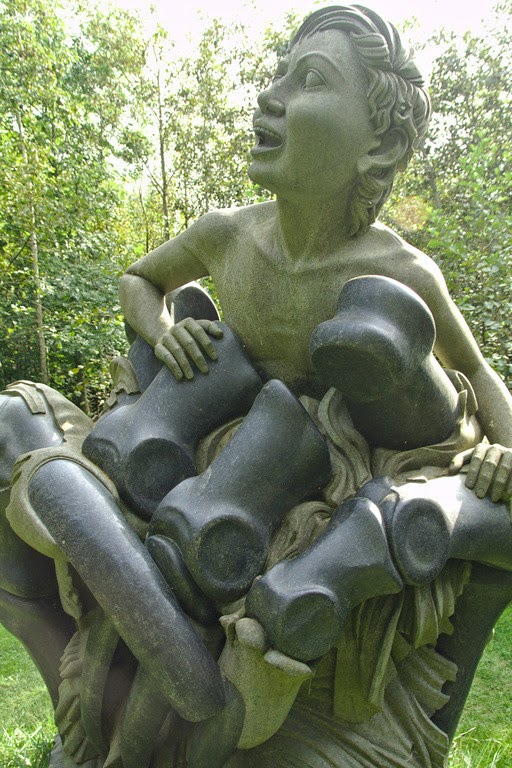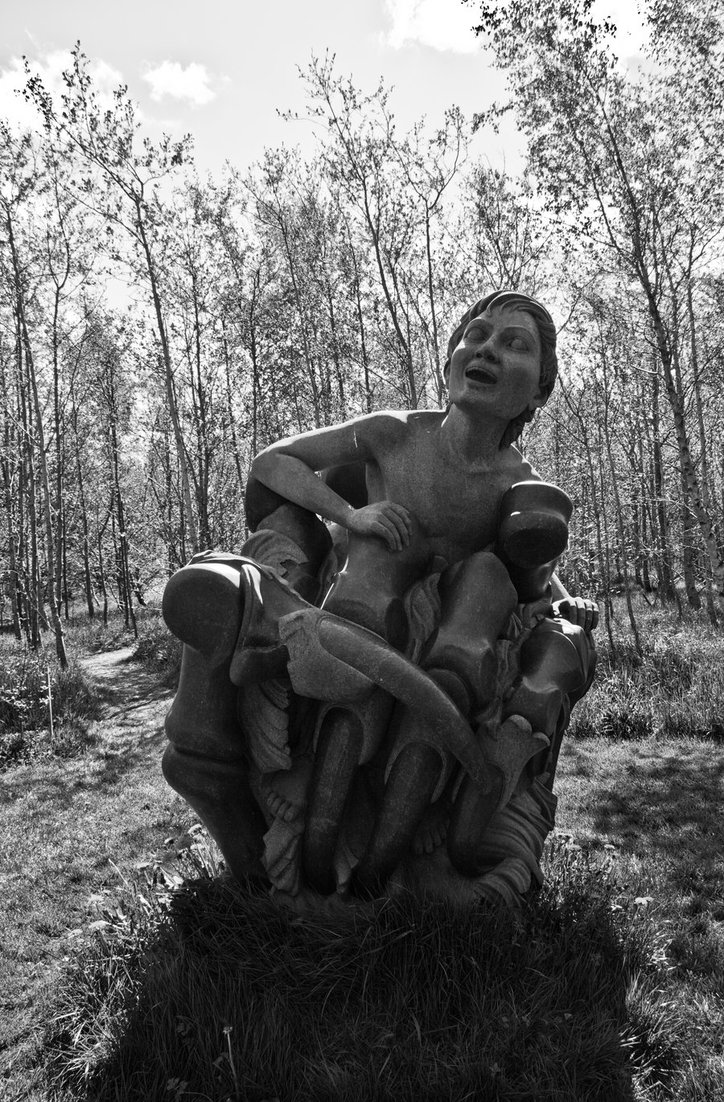 This statue illustrates the purity of first experiences by showing the emergence of an infant who is first impacted by reality. It kind of looks like a robot spider trying to kill somebody to me though.
DARK NIGHT OF THE SOUL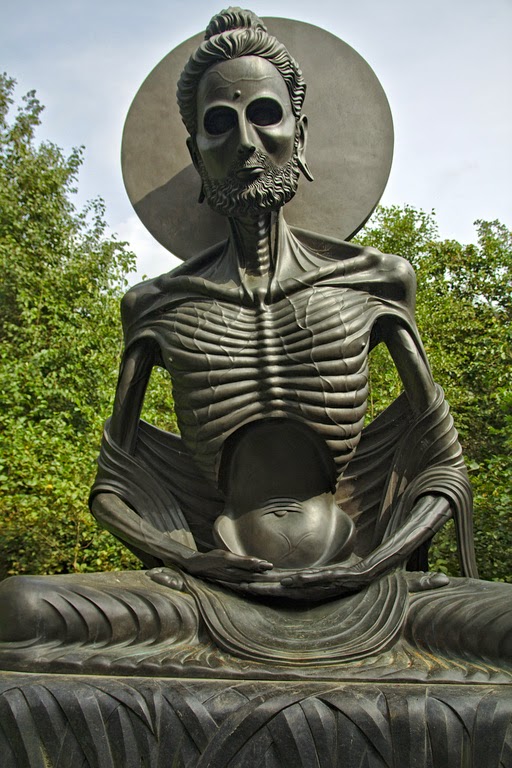 This statue is supposed to symbolise the period of emptiness and despair that must first be traversed before arriving at contentment, but kind of just looks like Dhalsim from Street Fighter about to give birth.
THE SPLIT MAN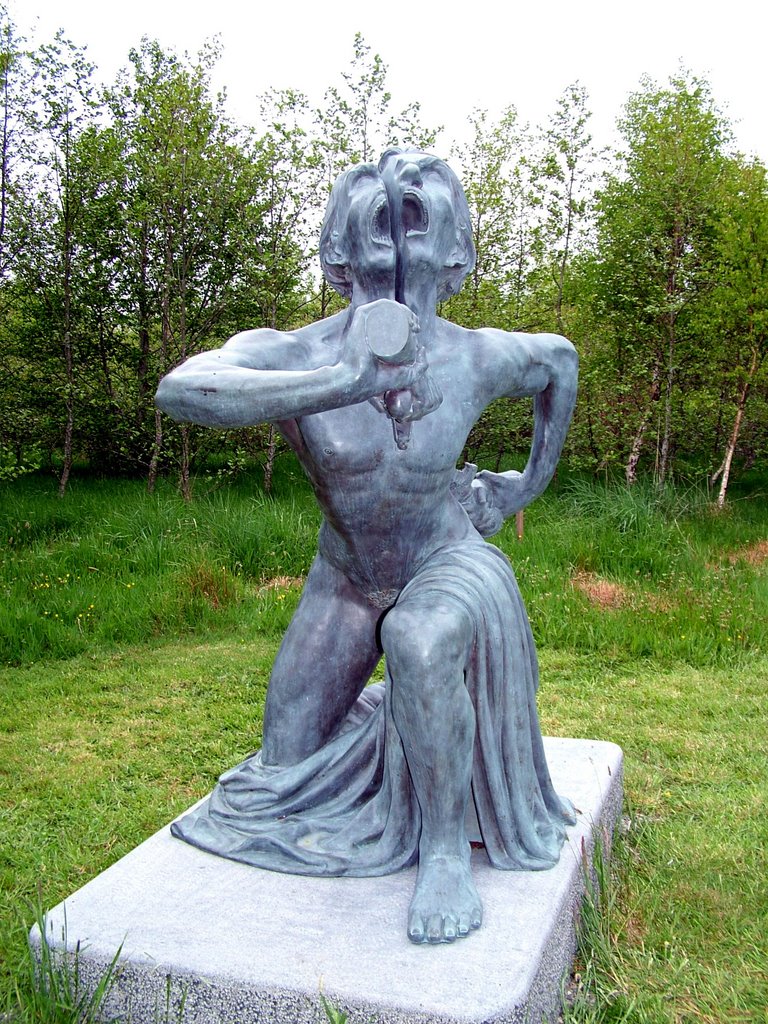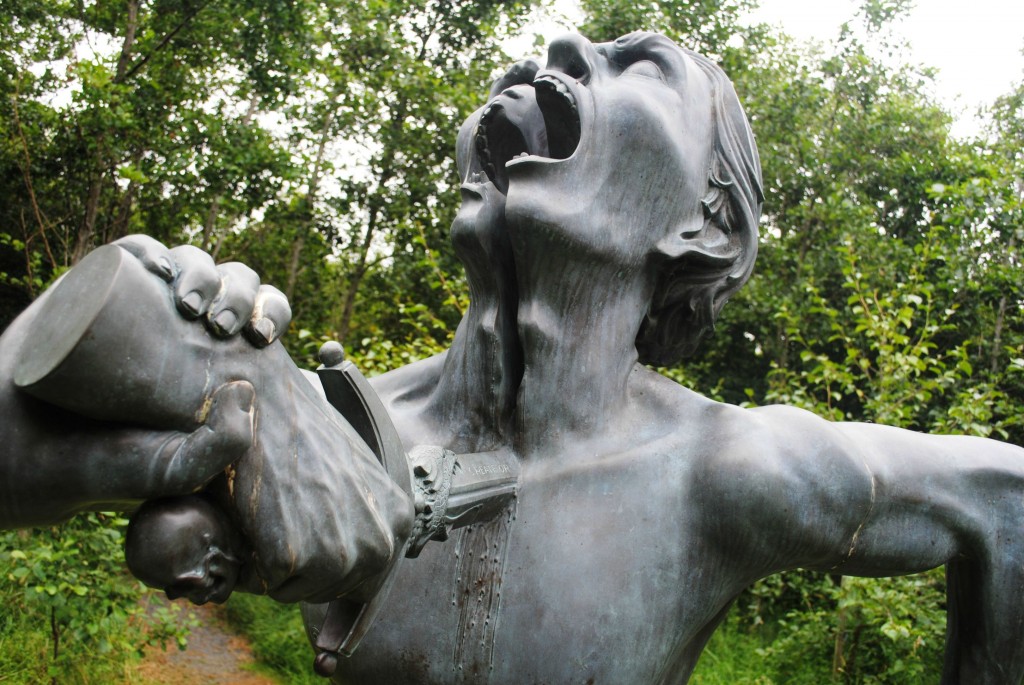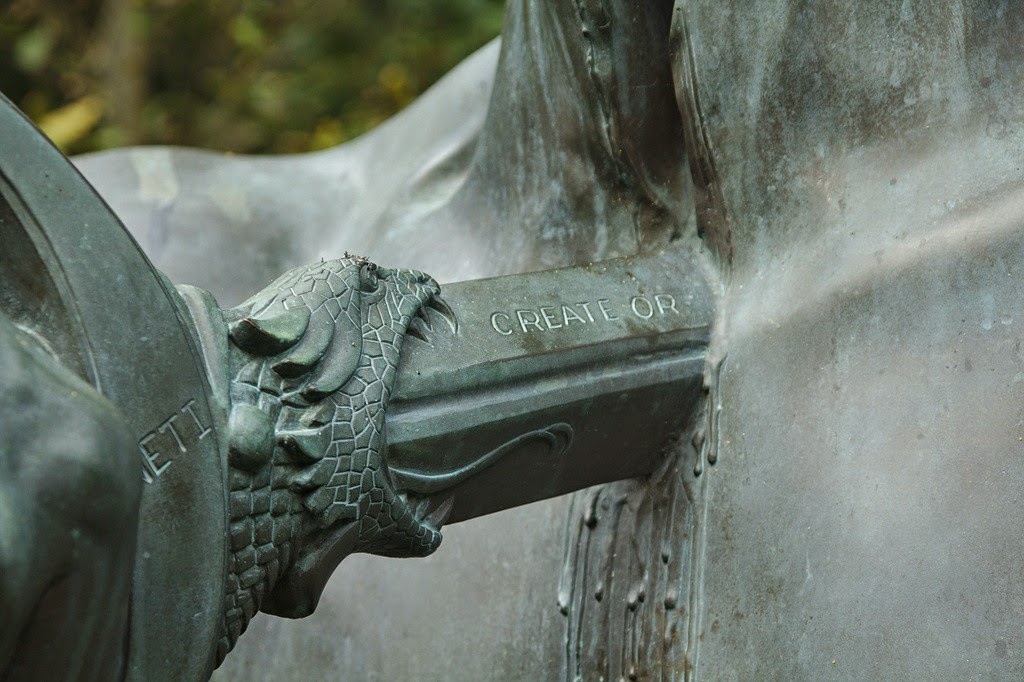 The Split Man illustrates how the inability to dedicate yourself creatively or spiritually to one goal can result in unhappiness and depression. It also looks like someone cutting themselves in half which is just plain weird and is more likely to freak you out then make you look within yourself to find the answers to these questions.
THE FERRYMAN'S END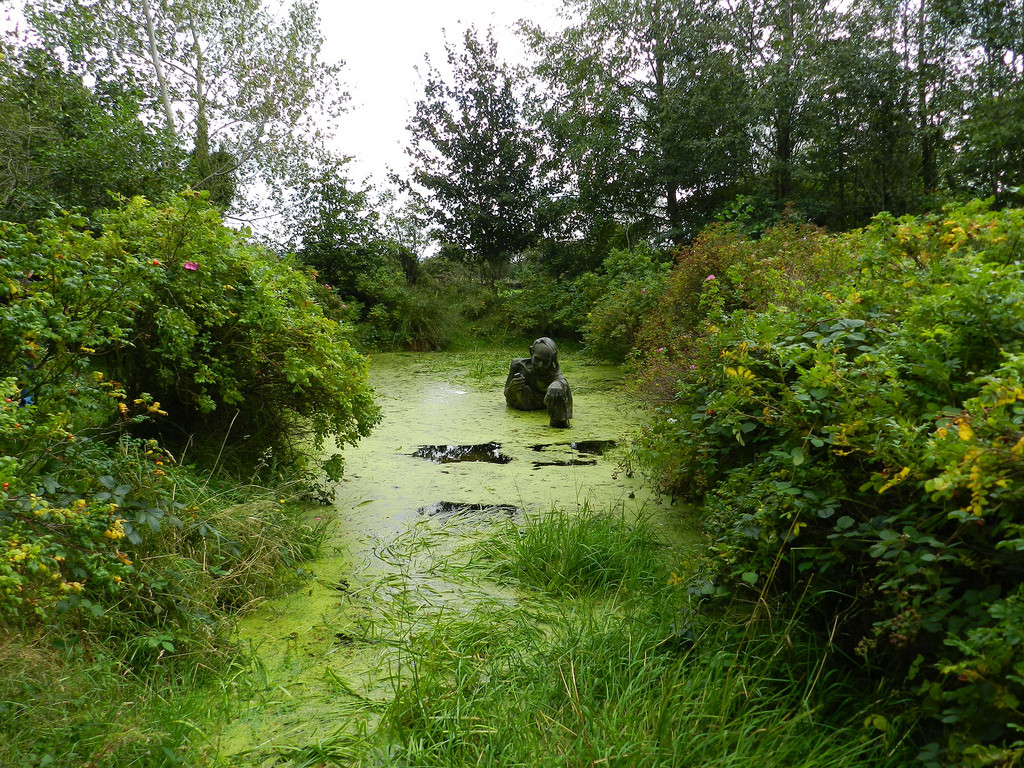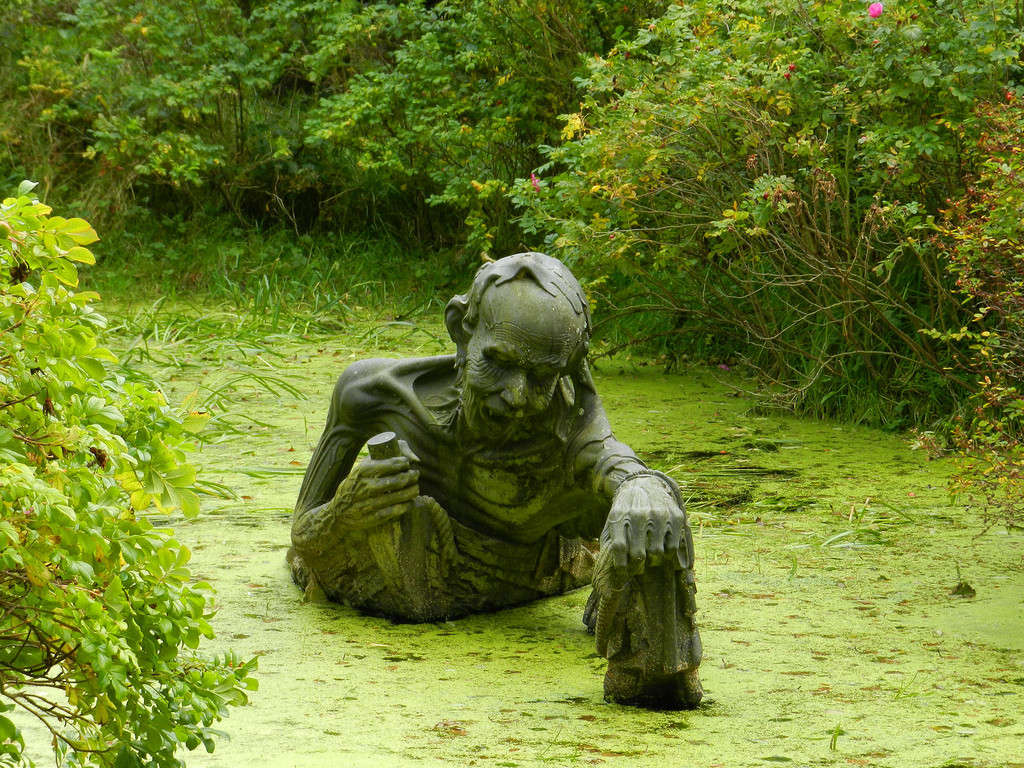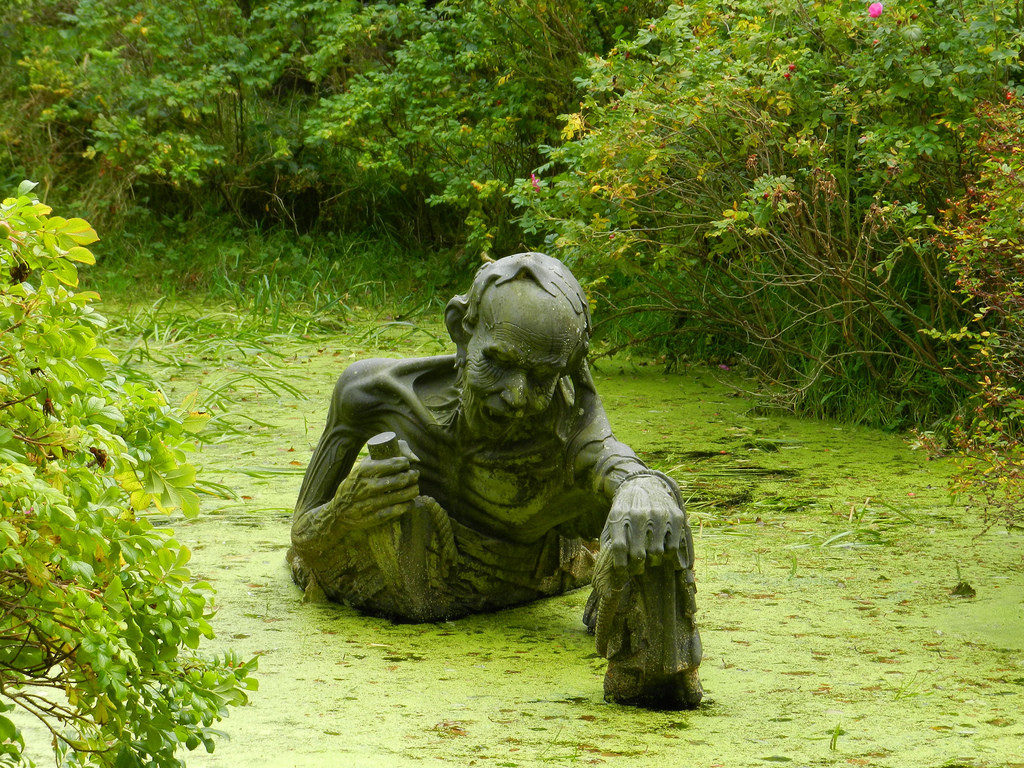 The Ferryman's End is meant to represent being stuck in a rut and the depression and sorrow that can result from such a situation. This kind of makes sense, but it also looks like someone drowning in a lake which is pretty damn depressing.
CREATE OR DIE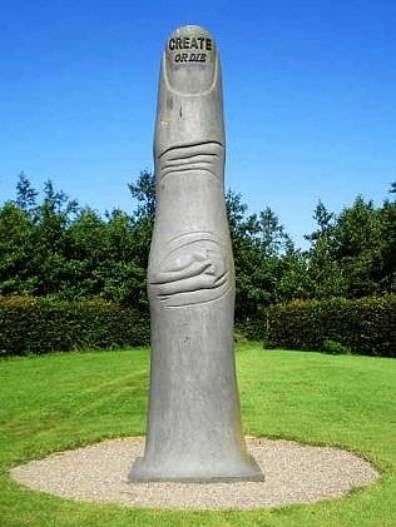 Yeah, this is supposed to show how only through creating difference and variation can be 'touched' and ultimately satisfied, but to me it just looks like a giant middle finger that's kinda old and weathered.
There are also a whole bunch of statues that just look plain strange but also pretty cool in there too, if tits and snakes are your thing.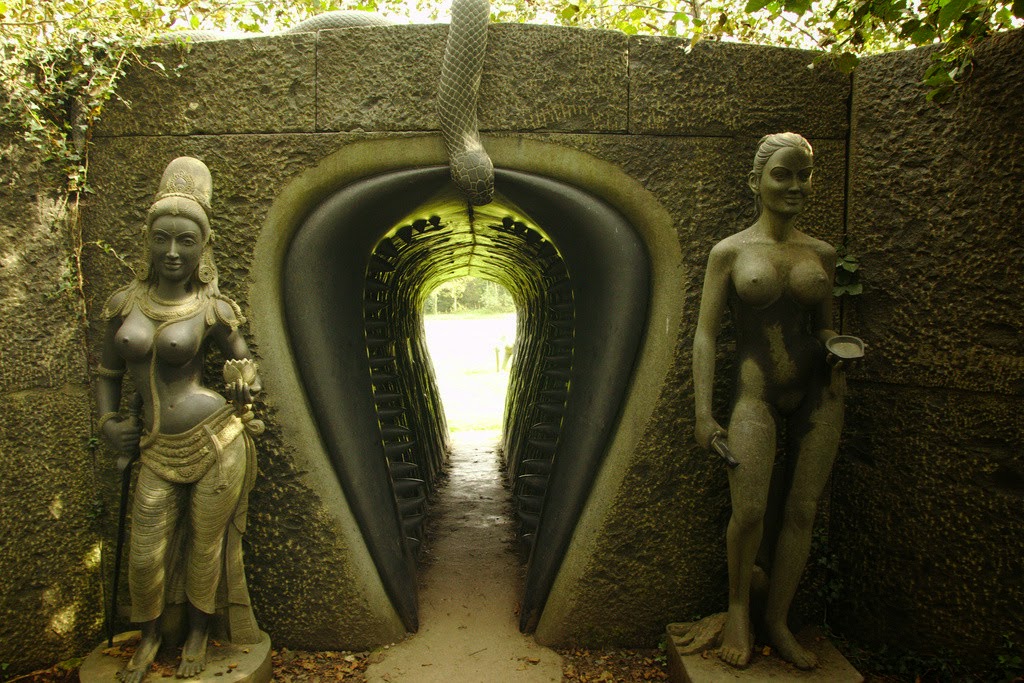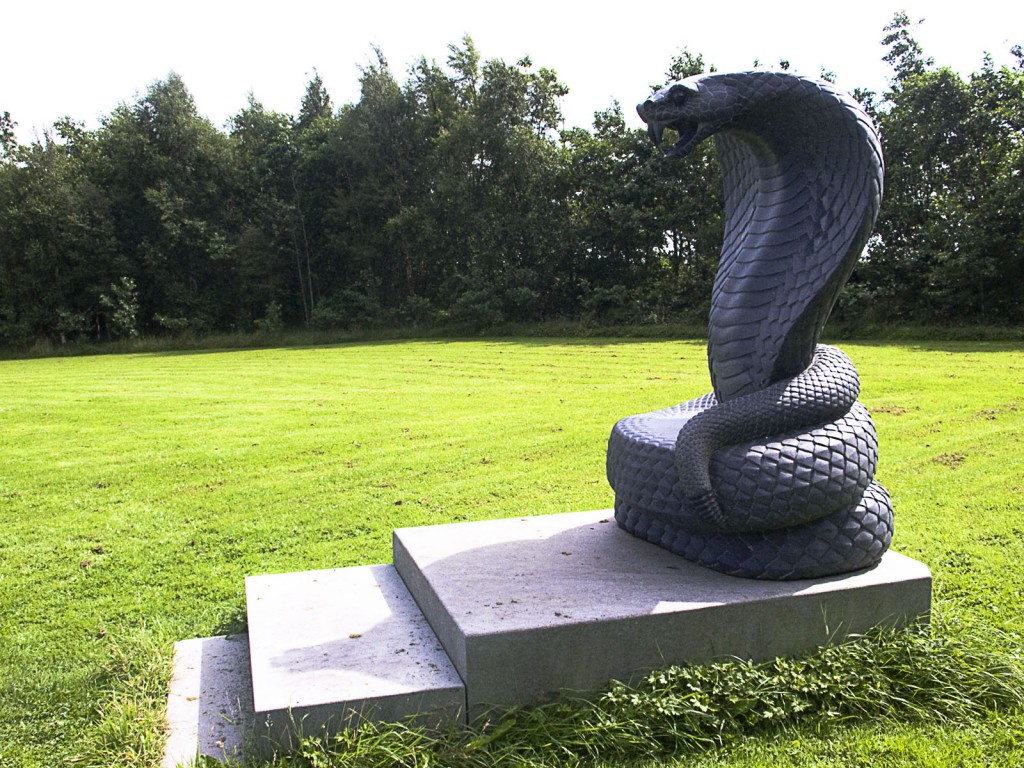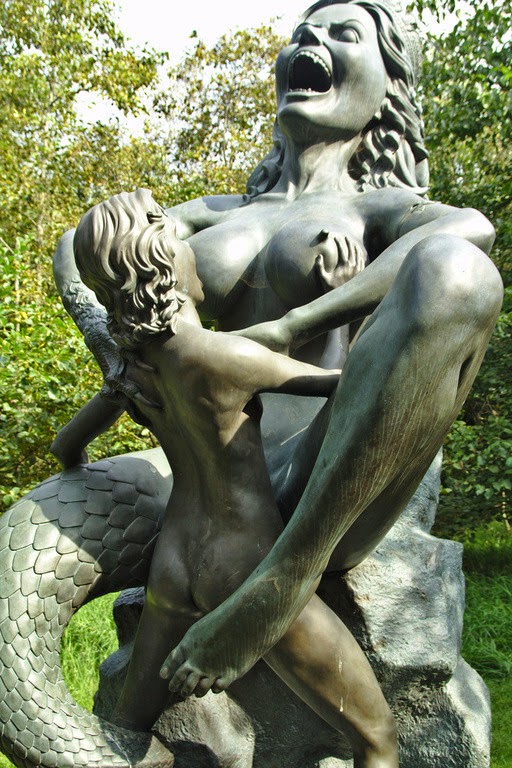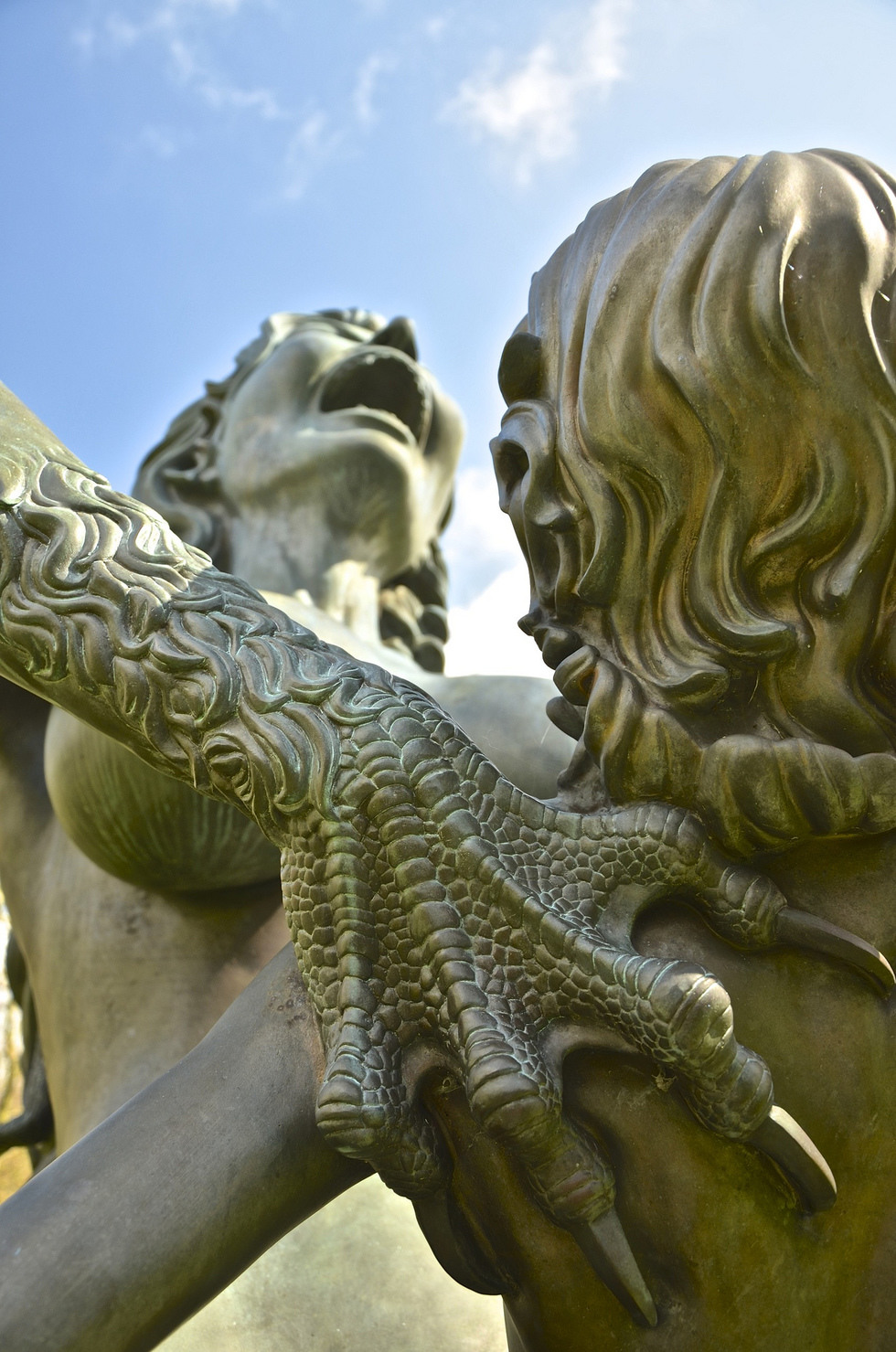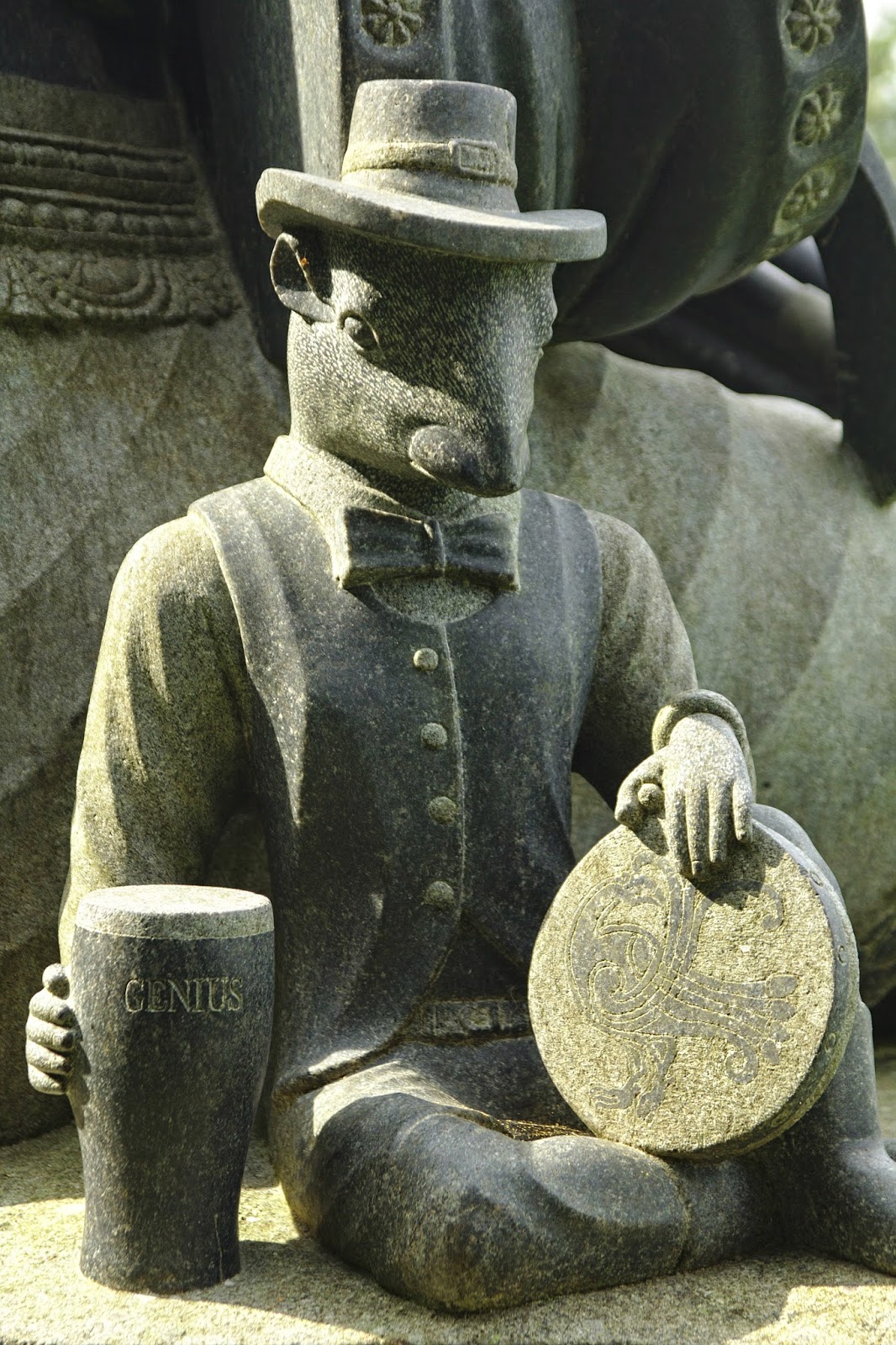 Fancy some self reflection then?
For more weird and messed up statues, then check out the weirdest 11 statues in the world. These guys have got nothing on them.
More Images for Ireland Giant Shapeshifting Statue
Scotland – These giant horse sculptures, called Kelpies, rear their heads in Helix Park in Falkirk, Scotland. Their name isn't random: They are inspired by the Scottish legend of the kelpie, a shape-shifting water spirit that takes the form of a horse. As far as these real-life Kelpies go, the steel-paneled statues are 98 feet tall, making them the tallest horse sculptures in the world. They are a remarkable reminder of Scotland's history, as the country's industry was largely built on the strength and durability of the horse, according to Historic UK.:
As I said, Druidism was centered in the British Isles, and yet you will find that most of their beliefs come from Eastern Teachings.
The story of Khali and Shiva is all about the destruction and rebirth of earth, the GOD, humanity.  which is the main theme of the illuminists and our Scientists.  
For those of us who were born and raised in the USA, all this stuff seems way out there.  It is hard to take it seriously.  We have been so conditioned to think that anything spiritual is just not to be taken seriously.  It is all made up by simple people in fear of what they don't know.  We educated, sophisticated Americans are far above all that stuff.  Well, let me tell you.  The spirit realm is much more real than what we can see, hear, taste and feel in the natural.  Our "SCIENCE" is more fantastical malarkey than what they refer to as MYTHS.  Mythology it turns out is based on the real history of our earth.  If you get the opportunity to travel or speak with people from other countries you will find that all this spiritual stuff is a regular part of their everyday life.  They know that spirits are real.  Sadly a very large percentage of them do not KNOW GOD!  SO the spirit realm that they experience is still ruled by the ancient entities.  
So, when Americans hear about shapeshifting, they just cannot get their mind around it.  But, that is what they are calling this GIANT a Shape Shifter.  I have been trying to folks to understand that is what the illumined ones want for us to be subject to shape shifters of all a kinds.  Their gods and goddesses are shape  shifters.  
'The Giant' (De Reus) van The Giant Company is een 10 verdiepingen hoog standbeeld. Een 'spannende blik in The Giant Project', en een waarschuwende droom! Een bedrijf in Ierland hoopt in 2021 's werelds hoogste bewegende standbeeld, ook wel bekend als 'The Giant', naar 21 steden in de wereld te brengen, waaronder Phoenix.
Cu Rui (Ireland): husband of Blathnait and caster of a spell that rotated whatever stronghold he stayed in so that its door could not be found after sunset. He declared Cuchulain the best warrior of the three who stayed in his home one night to be tested; Cuchulain killed a giant.
Craig Chalquist, PhD
It would not be too much to say that myth is the secret opening through which the inexhaustible energies of the cosmos pour into human cultural manifestation. — Joseph Campbell
While training as a depth psychologist I sometimes caught myself translating the Greek deities I was learning about into their Celtic equivalents in order to understand these beings better in terms of my ethnic background. By "Celtic" I mean: of the collections of tribal pastoralists and part-time farmers who probably originated somewhere near the Caucasus and carried a common language and similar habits and beliefs across most of pre-Romanized Europe from the Atlantic to India. As Julius Caesar noted, they held a particular fondness for their equivalents of Mercury, trickster god of craft and eloquence. This document lists the major Celtic deities with some of their Greek and Roman counterparts. Because there is more than one Celtic language, pronunciations vary.
The Celts emerged as a group around 3,000 BCE and fanned out west on horseback. The picture drawn by early commentators looked something like the stereotypical ancient Highlander, but neatly groomed and equipped with colorful cloaks clasped with cunningly wrought brooches. The status of women in Celtic society horrified the Romans and then the Christians: not only did women own cattle and keep their possessions when mated, they held political power, often led the men into battle, and worked as druids, satirists, and tellers of tales. For the most part they fared badly at the hands of those who wrote down the old myths.
As with Norse myth, most of what survives of the lore of the Celts passed down through monks and missionaries, many of whom looked down on the indigenous stories as superstitious nonsense. This always happens when a society that considers itself civilized conquers land-based people. It is as though someone reduced the Library of Congress to four or five old books, in this case with the gods and monsters euhemerized into heroes and historical figures. Imagination must fill in the gaps as we invite these evocative mythic figures to dream themselves forward.
See also my page on Nordic and Germanic myths and deities, some Sami deities, and a Gnostic glossary.
Dedication: to my ancestors: my foremothers and forefathers who danced like furies, lived close to Earth, and held back the night in Britain, Gaul, Germania, Holland, Scandinavia, Spain, Ireland, and Scotland. And what a ruckus in Rome: Diwrnod i'r bren!
DIETIES I FOUND VERY INTERESTING
Ai (Ireland): god of poetry. Similar to Apollo.
Cuchulain ("coo-CHOOL-in," with the "ch" like that of the German "Ich"; Ireland): powerful, heroic son of Lugh. A 17-year-old Irish Hercules who died on Samhain. Famous for his strength, arrogance, and salmon leap. His name means "Hound of Culan" after the smith whose ferocious dog he killed. His birth name was Setanta. His "riastarthae" was a kind of rage frenzy that made him uncontrollably dangerous.
Cu Rui (Ireland): husband of Blathnait and caster of a spell that rotated whatever stronghold he stayed in so that its door could not be found after sunset. He declared Cuchulain the best warrior of the three who stayed in his home one night to be tested; Cuchulain killed a giant.
The Morrigan (also Mórrigan or Morrigu) is one of the most mysterious figures in Irish mythology. The name Morrigan means 'phantom queen' (or 'great queen') and describes a Goddess from old Ireland that was very associated with war, destiny, fate and death.

She was a shape-shifter

and frequently appeared as a black crow, an ominous sign for those who saw her prior to battle. Legend has it that the Morrigan was in fact a triad of sisters, often named as Badb, Macha and Nemain, while the Morrigan is also remembered as the triad of the land Goddesses Ériu, Banba and Fódla. Such was her influence over the land of Ireland that it is from áariu that the word 'Eire' and 'land' ('Ériu-land'),

developed into 'Ireland', in effect naming the country!

The incredible Morrigan! The shape-shifting Phantom Queen.
Here is a great example of Shapeshifting in our modern time.  Ever since CERN opened the portals, we are hearing more and more about these kinds of things occurring.  I have heard it said of Justin Bieber, Bruce Jenner/Kaitlyn, The Queen of England, Rothchild, and many many more have been reported to be seen shapeshifting.  Of course there are many stories of Vampires, Werewolves, Dogmen, etc..  Here is an article on Adele… some may call her the queen of pop music in England.
ADELE APOLOGIZED TO FANS FOR SCARING THEM AFTER "SHAPESHIFTING INTO A GIANT REPTILIAN" DURING A BACKSTAGE MEET AND GREET, AND EXPLAINED SHE WOULD NOT BE ABLE TO PERFORM LIVE OR TOUR AGAIN UNTIL SHE LEARNS TO STOP SHAPESHIFTING.
Adele "shapeshifted into an eight-foot reptilian" backstage at Auckland's Mount Smart Stadium after the final concert of her world tour, according to shocked fans and a reporter from the New Zealand Herald. 
The ten super fans, invited backstage to meet Adele after her final New Zealand show, got more than they bargained for when the singer "shapeshifted" into a "massive, at least eight or nine feet tall, powerfully built reptilian"with "greenish-grey scales", to quote one of the witnesses.
Jim Joint, reporting for the New Zealand Herald, wrote that the super fans told him Adele had "flickering reptile eyes with a black stripe down the middle"and "scaly horns and protrusions" all over her body.
"She looked shocked, like she wasn't prepared for the change," a witness told the Herald.
Adele fan Jesse Warren also told the Herald that Adele said the shapeshifting is "crippling her" and she "can't go on" until she learns to stop the reptile inside herself from manifesting itself in public.
"Adele said she won't be able to perform live or tour again until she learns to control the shapeshifting."…
I'm a "GOOD REPTILIAN" and nothing to be scared of.  "I am ONE OF the GOOD REPTILIANS"  "I'm so sorry to scare you like that.  I've bee terrified it's going to happen to me on stage.  I'm losing the ability to control it."
Source: Adele Caught Shapeshifting into Eight-Foot Reptilian in New Zealand | Conspiracy Theories
"Sorry to burst your bubble, Adele.  There are no "good reptilians".  You have been duped.  Once you open yourself up to demonic influence…they will TAKE FULL CONTROL eventually.  Anyone who thinks they can control a demon, is an idiot!  Only the POWER OF GOD can control a demon."
space
Everyone loved Jimmy Stewart in Harvey, the whimsical story about a man's experience with the Pooka.  Sadly, we did not even realize that this is a very real spirit and that people in Ireland take it quite seriously.   Even worse, that movie added to the deception that spirits can be kind, helpful and even fun.  Even in Harvey, the pooka was a trickster and had an evil side. 
Despite what the world will tell you, humans were not made good and evil.  Evil is not from GOD.  Any evil inside you comes from the pit of HELL.  Demonic forces working against you and against God's plan for you.  As you walk with GOD, obeying his commands, you will become increasingly more LIKE HIM.  THERE IS NO EVIL IN GOD. 
Now that Paganism is back full force and the demonic entities are free to walk among us…thanks to "modern Science"… they want to be acknowledged.  Actually they want to be adored and worshiped.  They want to be feared!!  They are warming you up to that.  At first, they make you think it is just entertainment, all fun and games; then they convince you that they are able to help you, as long as you give them something in return; then they get you to worship them, with adoration and sacrifice; then they work to destroy you.  That is their pattern.   
Opinion: Steve Lally responds to the drama around the plans to erect a statue to a mystical creature in County Clare, and argues that Ireland's ancients legends and myths should be celebrated, not demonized.As a professional storyteller, my curiosity was piqued by last month's furore about the Púca of Ennistymon, a public sculpture that has been postponed after some natives of the West Clare village protested both its "sinister" quality and also its relevance.
Video available on the instgram post below:
I got in touch with the Dublin-based sculptor Aidan Harte and explained that I felt obliged to lend a hand as a Folklorist. The best help, Harte suggested, would be to tell people more about this misunderstood character.
Harte describes the mythical 'Púca' or 'Pooka' as: "Ireland's shape shifting boogeyman who likes to offer drunken travellers a ride home, on his back – no matter how long your taxi's taking this Christmas, don't even consider it."
Watch: I'm A Monster on RTÉjr – The Pooka tells his story
But there is a lot more to this deity than this. I first came across this story 'Pooka' in William Butler Yeats' 1888 publication Folk and Fairy Tales of the Irish Peasantry. In Yeats' collection the story was retold by Patrick Kennedy (1801 -1873) from his own book Legendry Fictions of the Irish Celts (1866).
I have collected the story and published it in my second book Kildare Folk Tales (2014), entitled The Pooka Horse. The story also appears in a book I co-wrote with Paula Flynn entitled Irish Gothic – Fairy Stories from the 32 Counties of Ireland (2018). An image of The Pooka Horse adorns the covers of both Kildare Folk Tales and Irish Gothic.
I have also performed this story hundreds of times for over 15 years. It has been received with great joy and excitement from audiences both young and old all over the world.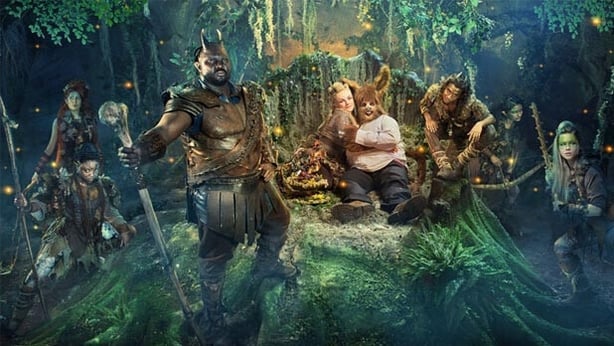 The Pooka appears as 'Nick Bottom' (a man with the head of a donkey)
in Shakespeare's A Midsummers Night DreamWho and what is 'The Pooka'?
The Pooka is a solitary, sinister, wise and sometimes generous fairy who has most likely never appeared in human form, although it can take on human form as it is a 'shape-shifter'.
His shape is usually that of a horse, bull, goat, eagle, snail or cat. But most common as a horse and he takes great delight in throwing an unwary rider on his back and taking them over ditches, rivers and mountains, and shakes them off in the early grey-light of the morning.
According to Yeats, this is how the Pooka described itself:
I am the Pooka Horse
I dwell amongst the Ruins
And the Hill Tops
And I am driven Mad!
By much solitude
And they say…
That I am of the race of The Nightmare…
Although the Pooka may come across as a thing to be feared, it also possesses great wisdom and can often be beneficial to folk.
Yeats referred to a letter he got from Mr. Douglas Hyde (Ireland's first president, and a great Folklorist) in 1888:
'We read that 'out of a certain hill in Leinster, there used to emerge as far as his middle, a plump, sleek, terrible steed, and speak in human voice to each person about November-day, and he was accustomed to give intelligent and proper answers to such as consulted him concerning all that would befall them until the November of next year. And the people used to leave gifts and presents at the hill until the coming of Patrick and the holy clergy.' This tradition appears to be a cognate one with that of the Púca."
Why do we need a sculpture like this?
The Irish fairies are both feared and revered, I would often ask when telling stories does anyone know what the word 'banshee' means?' I explain it means 'fairy woman' and it is far removed from any 'Tinker Bell'.
We have to remember these stories predate the bible and even literature and we should be very proud to be the custodians of such ancient and powerful stories. They should be celebrated and not ridiculed.
It is also a well-known fact that trick or treating came from Ireland when children would dress up as ghosts and demons to disguise themselves among the fairy folk that roam the land on Halloween night. When I was a child growing up in Kildare, we always called trick or treating 'Going on the Pooka'.
The Pooka is a huge part of Irish folklore and even made an appearance in Walt Disney's Darby O'Gill and The Little People. He also appears outside of Ireland as 'Nick Bottom' (a man with the head of a donkey) in Shakespeare's A Midsummers Night Dream alongside another Pooka called 'Robin Goodfellow' or 'Puck'. The Pooka even made an appearance in Jimmy Stewarts 1950 film classic Harvey as a giant rabbit.
It is vitally important that we as a nation celebrate our folklore and its characters. They should be seen as a natural resource not to be frowned upon or dismissed as superstitious nonsense.
Over the last century, our legends and folk tales have been pillaged in order to create many epic franchises. Yet being the source, we never seem to benefit from it or even get a mention.
It is time that we claimed them back, especially during these difficult times with COVID, storytelling has been a wonderful way to connect people over the internet.   (THIS IS WHAT IS HAPPENING ALL OVER THE WORLD.  PEOPLE ARE INVOKING THE ANCIENT SPIRITS AND "CALLING THEM BACK">  THEY WILL BE SORRY!)
Watch: Pooka – The Irish Prankster   (We know that the Prankster/Joker is Satan)
When the sculptor Aidan Harte was commissioned to make a piece reflecting the Village of Ennistymon in Co. Clare. He was asked what the sculpture's relevance to Ennistymon was and he explained 'It relates to the Horse Fair there and the Pooka's many appearances around County Clare generally'.
As a storyteller and folklorist, I can categorically state Ennistymon is rich in folklore and fantastical stories.
It is the home of the great bard Brian Merriman (c.1747 – 27 July 1805) who wrote Cúirt an Mheadhon Oidhche or The Midnight Court in 1780.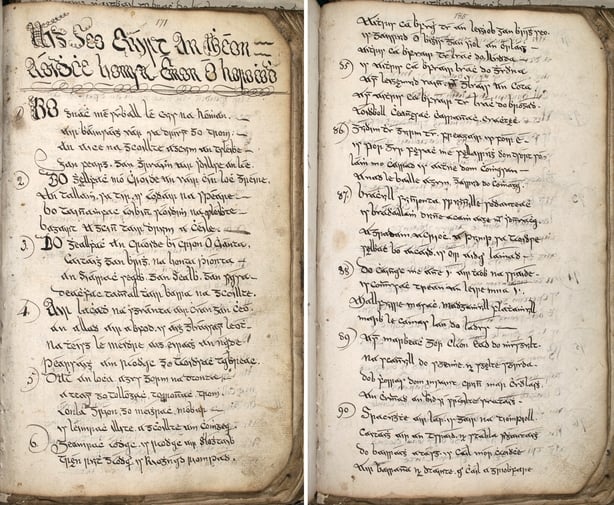 This is one of Ireland's most important literary accomplishments in the Irish language. It is an 'Aisling' or 'dream' poem describing a mortal man who falls asleep only to find that when he wakes he is being judged by the fairy folk holding 'The Midnight Court' near Ennistymon.
The fairies in Merriman's poem are described as ugly and hideous, very like Harte's portrayal of the Pooka:
I threw a glance with beglamoured eyes And beheld a hag of hideous guise, Her shape with age and ague shook, The plain she scoured with glowering look,
Her girth was huge, her height was quite Seven yards or more if I reckoned it right, Her cloak's tail trailed a perch's length, She gripped a staff with manful strength,
Her aspect stark with angry stare, Her features tanned by wind and air, Her rheumy eyes were red and blear, Her mouth was stretched from ear to ear,
A plate of brass held fast her bonnet
With bailiff's powers inscribed upon it. She grimly gazed and gruffly spake: –
'You lazy laggard, arise! awake!
This begs the question: why is there a memorial statue of Brian Merriman in Ennistymon? Was it not he who gave life to the Pooka and all its otherworldly brethren in the region?
Yet one of the most prominent characters is not being allowed to be presented as a sculpture, which I am sure Merriman would have been very proud of.
Merriman himself was berated and demonised at the time for his poem. In 1945 writer Frank O'Connor translated The Midnight Court into English, which was in turn banned by the Censorship Board of the Irish State in 1946.
We have to remember these stories predate the bible and even literature and we should be very proud to be the custodians of such ancient and powerful stories. They should be celebrated and not ridiculed.
View this post on Instagram
It is fitting that 'The Pooka' finds a home in Ennistymon, Co. Clare, the same place where the great Brian Merriman hailed from and whose work brought to life 'the good folk', better known as 'the fairies'.
You have to be very careful, for you may be peeping through a keyhole into another world that lies beyond the ethereal wall. You don't want to miss it…    (BELIEVE ME YOU WANT TO AVOID IT AT ALL COST!)
spacer
Giants are at the heart of national folklore concerning the founding of Britain,
and
archaic traditions state they have inhabited the country since deep antiquity.
This article investigates not only the origins of Britain. It also uncovers
a lost legacy of extremely tall and powerful individuals who

once ruled t

his part of the world.
Prehistoric giant king
Merlin being assisted by a giant at Stonehenge, circa 1150 AD (Public Domain)
The earliest traditions agree that the first inhabitants of Britain were of the tall persuasion. Some say they were descendants of Noah's son Ham, and came from Africa about 4000 years ago. Other versions state that Noah's son Japeth, had arrived even earlier. Noah's lineage is often said to be giants. Britain's oldest acknowledged name is thought to be taken from a prehistoric giant king called 'Albion' who made his way to the island after being banished from his homeland of Greece. "He was begotten by the sea-god whom the Greeks called Poseidon, the Romans Neptune." In Chronicles of England, Scotland and Ireland, by Raphael Holinshed, Albion and the giants were said to have gradually consolidated their position in Britain, ruling the land for hundreds or possibly thousands of years.
After a long reign, Albion went to the south of France (Called Gaul at the time) to help his army defeat Hercules. To ensure winning, Hercules summoned his father Zeus and a shower of stones fell from the sky. These were used as weapons against Albion and he was defeated. However, the giant race of Britain continued for hundreds more years, although their numbers decreased and ended up at southwestern tip of Cornwall, until the arrival of Brutus after the Trojan wars. However, Britain's original name could also be from a Greek giantess called 'Albina':
"The Chronicles of Britain, written by John de Wavrin between 1445 and 1455, relate that in the time of Jahir, the third judge of Israel after Joshua, Lady Albine and her sisters came to, and settled in, an island which they named Albion after her, and which afterwards got the name of Britain. While they were living there the devil assumed the shape of a man, and dwelt among the wicked women, and by they had issue great and terrible giants and giantesses, who afterwards much increased and multiplied, and occupied the land for a long time, namely, until the arrival of Brutus, who conquered them."
Lady Albina
Albina and other daughters of Diodicias (front). Two giants of Albion are in the background, encountered by a ship carrying Brutus and his men. French Prose Brut, British Library Royal 19 C IX, 1450-1475 (Public Domain)
The story of Albina has variations. One version says she was taller than average, so had 'giant genes'. Her father Diocletian was either a Roman Emperor or possibly the King of Syria. Most versions agree that her father had thirty-three wicked daughters, but he managed to find thirty-three husbands to curb their unruly ways. The daughters were displeased and under the leadership of their eldest sister Alba (also Albina, or Albine) they plotted to cut the throats of their husbands as they slept.
"For this crime they were set adrift in a boat with half a year 's rations, and after a long and dreadful journey they arrived at a great island that came to be named Albion, after the eldest. Here they stayed, and with the assistance of demons they populated the wild, windswept islands with a race of giants."
"Assistance" really meant, " mated with " and with their offspring a new ruling giant elite were founded. These giants are evidenced in the story by huge bones that were said to be unearthed in the country during the 1400s. This echoes the story of the Grigori (or Watchers) of the Bible, who mated with human women and birthed the mighty Nephilim giants, who have remarkably similar traits to their British counterparts.
History of the Kings of Britain
Geoffrey of Monmouth's influential 12th century Historia Regum Britanniae ( History of the Kings of Britain ) has caused one of the biggest controversies regarding the founding of Britain. Thousands of years after the giants had populated the island, Brutus and other warriors fleeing the Trojan wars landed on the coast of Albion and legend states that the modern name of Britain comes from Brutus. Geoffrey asserts that he translated the Historia into Latin (in about 1136) from " a very ancient book in the British tongue ," that was loaned to him by Walter, Archdeacon of Oxford. What this book was, has had scholars debating for centuries, but it could have been the Historia Brittonum ( History of the Britons ) from the ninth century, written by Nennius, a monk from Bangor, Wales. This is likely, as he covered many Arthurian myths, including the giants of ancient Albion. An important section of Geoffrey's text has Brutus and his men realizing that Albion was already partly populated by unexpectedly tall foes: "It was uninhabited except for a few giants…. they drove the giants whom they had discovered into the caves in the mountains."
After scaring off the giants and launching attacks on the titans, the land was then divided up and Corineus was given the southwest area of Cornwall to rule, named after the great warrior.
"Corineus experienced great pleasure from wrestling with the giants, of whom there were far more there than in any of the districts which had been distributed among his comrades. Among the others there was a particularly repulsive one, called Gogmagog, who was twelve feet tall."
Attack of the Giants!
Other chroniclers state that he was in fact twelve cubits tall, so this would have made him 18 feet (5.5 meters) tall. Gogmagog was described as being so strong that he could uproot an oak tree and shake it like a hazel wand. Anyway, the ferocious giant attacked Corineus' camp with twenty of his kin. This turned into an all-out battle and Corineus and his men called on their local allies and eventually defeated them in a bloody conflict. Brutus chose to keep one of the giants alive, as he wanted to witness a wrestling match between Gogmagog and Corineus. During the tightly fought match, Gogmagog broke three of Corineus' ribs, and he was so enraged, he hoisted Gogmagog up on his shoulders with superhuman strength and ran to the cliff where he threw him off to his death. His body smashed into many pieces after hitting sharp rocks and stained the water red, that " was so discolored with his blood as to continue tinged with it for a long time ."
The cliff from which he was thrown became known as Langnagog or 'The Giants Leap'. It was on Plymouth Hoe that became the legendary place that the wrestling occurred because it was recorded in 1486 that a giant turf-cut figure was carved depicting two figures, one of them being Gogmagog.
Gog and Magog
Artist's impression of what the chalk-hill figures on Plymouth Hoe may have looked like. (Image via Author)
Wherever it was, the names of Gog and Magog first appear in the Hebrew Bible with reference to Magog, son of Japheth in the Book of Genesis, then Gog, the king of Magog, appears in the Old Testament in Ezekiel (38:2) as the instigator of a terrible battle. Gog was referred to as being a person and Magog was the land he was from. Similar stories are echoed in the Book of Revelation and the Qur'an. The tradition is sparse and confused as Gog and Magog are presented as men, supernatural beings (giants and demons), national groups or lands, and appear widely in other folklore and mythology. For example, Gogmagog and Gogmaegot are identified with giants in Spencer's Faerie Queen (1590) and in the medieval legends of Alexander. The names even reached Cambridge in Eastern England where the hilly area became known as the 'Gog Magog Hills', where interestingly, some taller than average skeletons were unearthed in the 1800s.
After defeating the giants, Brutus travelled all over the country to find a suitable spot to rule from. He decided on the River Thames and founded the city of Troia Nova , or New Troy , which became Trinovantum, we now know as London, with his captured giant in tow.
Another, later version of the story describes how the giants Gog and Magog were two people and were taken prisoners and forced to become porters at the Royal Palace, now the London Guildhall. The effigies of Gog and Magog have remained at the Guildhall since the reign of Henry V. In The Gigantick History of the Two Famous Giants of Guildhall (1741) it proclaims that Gogmagog and Corineus were in fact two giants:
"Corineus and Gogmagog were two brave giants who richly valued their honour and exerted their whole strength and force in the defence of their liberty and country; so the City of London, by placing these, their representatives in their Guildhall, emblematically declare, that they will, like mighty giants defend the honour of their country and liberties of this their City; which excels all others, as much as those huge giants exceed in stature the common bulk of mankind."
Gog and Magog being paraded through London in the Lord Mayor's Show every November. (Image via author)
The defeat of Gogmagog by Corineus was the beginning of the end for the remaining giants, and the few that remained turned up again the tales of Jack-the-Giant-Killer and Cormoran (mainly based in Cornwall), while others were said to have fled to Dartmoor and the mountains of Wales.
Jack the Giant Killer
Before we leave the confines of Cornwall, the stories of Jack-the-Giant-Killer are worthy of a mention. The violent chronicles of Britain's most famous giant hunter stretch far back into prehistory, to the times when the giants and humans were attempting to co-exist, before the arrival of Brutus. Mainly based in Cornwall, his exploits lingered across the whole of Britain. He was presented as a clever young man who often outwitted his gargantuan foes.
Jack kills Cormoran with a pick-axe. (Public Domain)
The most famous story is that he defeated the terrible Cormoran on St Michael's Mount. By blowing a horn loudly, he caused the giant to come rushing out, but it fell into a deep pit that Jack had prepared and covered with twigs. Cormoran was then hacked to death by Jack. The other stories continue in this vein, and it was only when the printing press was developed in the Victorian age that the story was toned down, and it transformed into the children's classic Jack and the Beanstalk .
Even though there are thousands of legends of giants throughout Britain, there are a surprising amount of accounts of large and powerful people in the archaeological and historical record. Their physical strength and stature became exaggerated as their deeds pass into legend, but in a strange twist, it is often in the same locations that actual giant skeletons and bones were reportedly unearthed. Here are a few intriguing examples:
St. Michael's Mount photographed in 1903 with added color. (Image via author)
CORNWALL
St. Michael's Mount: A prehistoric eight-foot (2.4 meter) skeleton was unearthed from a dungeon on the island 250 years ago, that may well be the giant that Jack was said to have slayed.
Tregoney: "The Annual Register for 1761 tells us that in March of that year, as a miner was working at Tregoney, in Cornwall, in a new mine, he accidentally discovered a stone coffin, on which were some inscribed characters. Within it was the skeleton of a man of gigantic size, which, on the admission of the air, mouldered into dust. One tooth, two inches and a half long, and thick in proportion, remained whole. The length of the coffin was eleven feet three inches, and its depth was three feet nine inches."
News report from The Age – Jan 24, 1955 p.2 (Public Domain)
DEVONSHIRE
This is the area where Gogmagog was thrown off the cliff by Corineus: "A stone coffin in Devonshire contained a thigh-bone belonging to a man eight feet nine inches high."
WALES
Mold, Flintshire: " He found by the remains, (of a tumuli), that the person interred was above the common size of men ."
The Mold cape made of gold now on display in the British Museum. (Image via author)
STONEHENGE
Later in Histories giants reappear in the stories of the Welsh wizard, Merlin. He tells the King that in a distant epoch, giants transported huge trilithons from North Africa to Killarus in Ireland, where "The Giant's Dance" was positioned. Later, they were transported to Salisbury Plain by mysterious means. However, huge skeletons have also been discovered in the mounds in the local landscape. In Journey into South Wales (1802) George Lipscomb reported: " a skeleton which measured fourteen feet ten inches in length ."
In A Theological, Biblical, and Ecclesiastical Dictionary (1830), it describes a nine foot four inch (284.48 cm) skeleton unearthed near Salisbury in 1719. It also recounts a mound named 'Giant's Grave' next to St Edmunds Church, just a few miles from Stonehenge.
GAUL (France):
Where Albion was finally defeated in a battle with Hercules are two examples of gigantic skeletons being unearthed:
Two examples of giant discoveries in old Gaul. (Public Domain)
The authors have collated over 150 accounts of giant bones, skeletons and skulls throughout the British Isles. Although the founding of Britain is still shrouded in mystery, and Geoffrey's Histories is clearly jumbled-up versions of older books and myths, the stories of the giants seem to go very far back. The Legends and foundations myths of Britain are so strongly associated these local titans, we hope this introduction to giant-lore gives some indication that they could be the ancestral memories of real-life giants who ruled here long before us 'Brits' ever lived here, and could have been responsible for the thousands of megalithic constructions that grace this ancient landscape.
The Burgh Castle Giant skeleton in Norfolk. A Saxon giant who lived in the sixth century AD and is 7 ft 4 in (223.52 cm). (Images via author)
Top image: Skull – CC BY 2.0
By Hugh Newman
Giants are at the heart of national folklore concerning the founding of Britain,
and archaic traditions state
they have inhabited the country since deep antiquity.
This article investigates not only the origins of Britain. It also
uncovers a lost legacy of extremely tall and powerful individuals who once ruled this part of the world
.
"Extraordinary claims require extraordinary evidence."
— Carl Sagan
I once heard Steve Quayle say something to the effect of, "The understanding of the Nephilim is literally the Rosetta Stone for understanding all of history." Indeed. The more I study the subject of the Nephilim, the more I find that it is literally woven into nearly every thread of civilization. I would even go so far as to say that without a proper understanding of the Nephilim, you really cannot truly understand much of anything from history, to the Bible, genetics, science, prophecy and even global politics. Regarding the latter two, I have found some rather interesting facts concerning…

GOG AND MAGOG
So far, I have spent a lot of time addressing the giant offspring of Ham, but along the way, I did make mention of the fact that there appears to be historical evidence for giants in Japheth's line as well.
Chapter Eleven
THE RETURN OF THE NEPHILIM
I actually discovered this as a result of going on a missionary trip
to China in 2006. There, I was privileged to stand on the Great
Wall of China. What I didn't know however was that this amazing
structure was originally known as the Ramparts of Gog and Magog.
Gog, Magog, Chimeras and the Second Incursion
When I discovered that, all of a sudden, I realized there was a
possibility this incredibly long and massive wall may have been
built to keep out giants! You may ask, "How did you come to that
conclusion?" Keep reading.
In my research, I found that Gog and Magog were historically
considered to have been giants.
"Corineus and Gogmagog were two brave giants who richly
valued their honour and exerted their whole strength and
force in the defence of their liberty and country; so the
City of London, by placing these, their representatives in
their Guildhall, emblematically declare, that they will,
like mighty giants defend the honour of their country
and liberties of this their City; which excels all others, as
much as those huge giants exceed in stature the common
bulk of mankind."

—Thomas Boreman, Gigantick History, 1741
The picture to the left is from the Romance of Alexander (at Trinity College, Cambridge). It depicts Gog and Magog (and others) as horrible, cannibalistic giants who were thought to be the ancestors of the Mongols.
Here they are depicted as evil and ugly. However elsewhere, they are depicted as jolly good giants who help people (such as in Figure 43).
Gog and Magog were considered to be warrior giants. As such, they are almost always depicted as one having a long pole with a mace attached to it and the other holding a long spear and a shield.
THE RETURN OF THE NEPHILIM
Did you know that even to this day, Gog and Magog are celebrated as "patron saints" and "protectors" of London?
Every year, on the second Saturday of November, their giant statues are paraded through the streets of the city in what is called the Lord Mayor Parade.[1] They just celebrated the last one on November 10, 2012. Wikipedia describes the Lord Mayor account of Gog and Magog as follows:
The Lord Mayor's account of Gog and Magog says that
the Roman Emperor Diocletian had thirty-three wicked
daughters. He found thirty-three husbands for them to
curb their wicked ways; they chafed at this, and under the
leadership of the eldest sister, Alba, they murdered their
husbands. For this crime they were set adrift at sea; they
washed ashore on a windswept island, which they named
"Albion" – after Alba. Here they coupled with demons and
gave birth to a race of giants, whose descendants included
Gog and Magog.[2]
An even older British connection to Gog and Magog
appears in Geoffrey of Monmouth's influential 12th
century Historia Regum Britanniae, which states that
Goemagot was a giant slain by the eponymous Cornish
hero Corin or Corineus. The tale figures in the body of
unlikely lore that has Britain settled by the Trojan soldier
Brutus and other fleeing heroes from the Trojan War.
Corineus supposedly slew the giant by throwing him into
the sea near Plymouth; Richard Carew notes the presence
of chalk figures carved on Plymouth Hoe in his time. Wace
1. See: www.lordmayorsshow.org and www.reformation.org/en-gog-and-magog1.jpg
2. Gog and Magog at the Lord Mayor's Show: official website. Retrieved August 3, 2007.
Gog, Magog, Chimeras and the Second Incursion
(Roman de Brut), Layamon (Layamon's Brut) (who calls
the giant Goemagog), and other chroniclers retell the story,
which was picked up by later poets and romanciers. John
Milton's "History of Britain" gives this version:
The Island, not yet Britain, but Albion, was in a
manner desert and inhospitable, kept only by a
remnant of Giants, whose excessive Force and Tyrannie
had consumed the rest. Them Brutus destroies, and to
his people divides the land, which, with some reference
to his own name, he thenceforth calls Britain. To
Corineus, Cornwall, as now we call it, fell by lot; the
rather by him lik't, for that the hugest Giants in Rocks
and Caves were said to lurk still there; which kind of
Monsters to deal with was his old exercise.
And heer, with leave bespok'n to recite a grand fable,
though dignify'd by our best Poets: While Brutus, on
a certain Festival day, solemnly kept on that shore
where he first landed (Totnes), was with the People
in great jollity and mirth, a crew of these savages,
breaking in upon them, began on the sudden another
sort of Game than at such a meeting was expected.
But at length by many hands overcome, Goemagog,
the hugest, in hight twelve cubits, is reserved alive;
that with him Corineus, who desired nothing more,
might try his strength, whom in a Wrestle the Giant
catching aloft, with a terrible hugg broke three of his
Ribs: Nevertheless Corineus, enraged, heaving him up
by main force, and on his shoulders bearing him to the
next high rock, threw him hedlong all shatter'd into
the sea, and left his name on the cliff, called ever since
Langoemagog, which is to say, the Giant's Leap.
Michael Drayton's Poly-Olbion preserves the tale as well:
Amongst the ragged Cleeves those monstrous giants sought:
Who (of their dreadful kind) t'appal the Trojans brought
THE RETURN OF THE NEPHILIM
Great Gogmagog, an oake that by the roots could teare;
So mighty were (that time) the men who lived there:
But, for the use of armes he did not understand
(Except some rock or tree, that coming next to land,
He raised out of the earth to execute his rage),
He challenge makes for strength, and offereth there his gage,
Which Corin taketh up, to answer by and by,
Upon this sonne of earth his utmost power to try.
Figure 44 depicts Gog and Magog as clock guarding statues in the Royal Arcade in Melbourne, Australia.
Gog, Magog, Chimeras and the Second Incursion
Growing up listening to teachers of eschatology, I always heard of Gog and Magog as representations of China and Russia. Yet, if you continue to dig, you will find many paintings, sculptures, effigies and stories all depicting these two characters as apparently members of real giants who were descended from Japheth.
Suddenly, it starts to make sense why someone would want to build such a massive structure as the Ramparts of Magog. As I stood on the Great Wall of China (Figure 45), I had to admit, it did seem a bit "over-kill" if it was simply meant to keep out armies of 6 foot tall invaders. On the other hand, if we're talking about giants... well, that's a different story. I might also suggest that if this theory is true, it sure puts a whole new spin on the Ezekiel 38 war, doesn't it?
One of the things that really caught my attention regarding the Lord Mayor Parade though is when and how it got started. According to the official website:[3]

3. http://www.lordmayorsshow.org/history/
In 1215 King John, keen to win the support of the City
in his baronial feuds, made the Mayor of London one of
England's first elected offices.
The Mayor was a powerful figure, equal to any of John's
unruly Barons. Only two months later William Hardel,
the new Mayor of London, would put his signature to
the Magna Carta. He was probably responsible for the
inclusion of part 13:
13. The city of London shall enjoy all its ancient liberties
and free customs, both by land and by water. We also
will and grant that all other cities, boroughs, towns,
and ports shall enjoy all their liberties and free customs.
Perhaps it suited the King for the city to have more
influence, but he also wanted to keep it close to him. It was
a condition of the new Charter that every year the newly
elected Mayor would have to present himself at court and
swear loyalty to the Crown*. And so it began: every year,
the newly elected Mayor of London would travel upriver
to the small town of Westminster and give his oath. The
Lord Mayor has made that journey almost every year since,
despite plague and fire and countless wars, and given his
loyalty to 34 kings and queens of England.
This "King John" is King John Lackland. Is it just a coincidence that nearly all of our U.S. presidents are related to him? I wrote about this issue in my book, Babylon Rising: And The First Shall Be Last
(Chapter Seven):
What am I talking about? Among other things, I'm talking
about the whole facade of supposedly electing presidents who
are "of the people, by the people, for the people." I believe
that simply is not true. If it were, let me ask you (once
again) what are the statistical odds that 43 out of 44 of our
presidents would all be related to each other; many of them
tracing directly back to the same man (King John Lackland
of the House of Plantagenet)?[4] Further, why is it that
nearly all (if not all) of them have been members of secret
societies—all of which have practices that trace directly
back to Nimrod and ancient Babylon?

All of our presidents
have been either Freemasons, Bonesmen, members of the
CFR, the Trilateral Commission, the Bohemian Grove,
the Bilderbergers, or any number of other "Round Table"

[5]
secret societies, fraternities

and/or special interest groups that
don't allow the general public to know what they are truly
about. It gets to the point where "coincidence" just doesn't
cut it anymore. Sooner or later we must face the facts.
The Elite don't like to share power. Once they have it, they keep it in the family. No outsiders are allowed to crash their power party. That's the way it has always been, and that's the way it is today.


It appears to me we have presidents who are "of the Masons

(and other secret societies), by the Illuminati, for the Elite."



4. Visit http://weareallrelated.com for more
5. A U.S. and British-based group of secret societies and government think tanks that
consists of the Council on Foreign Relations (CFR), the United Nations, the Bilderberg
Group, the Club of Rome, the Royal Institute of International Affairs and the Trilateral Commission. David Icke calls this network "the most powerful expression of the
Illuminati" and says that these are dominated by the Rothschilds and Rockefellers,
with major manipulators in play like Henry Kissinger. To read more from Mr. Icke go to:
http://www.bibliotecapleyades.net/sociopolitica/esp_sociopol_roundtable_5.htm
How interesting that the elite of London would celebrate something with a parade that honors Nephilim — and that all of our presidents can be traced back to the one who started it? Could it be that there is something to all of those "blue blood" theories after all? King John Lackland was of the House of Plantagenet . In Chapter Four of Babylon Rising: And The First Shall Be Last I wrote:
The House of Plantagenet is a branch of the Angevins.
Popular legends surrounding the Angevins
suggested that they had corrupt or demonic
origins.

While the chronicler Gerald of Wales is the
key contemporaneous source for these stories, they often
borrowed elements of the wider Melusine legend.
For example, Gerald wrote in his De instructione
principis of "a certain countess of Anjou" who rarely
attended mass, and one day flew away, never to be
seen again. A similar story was attached to Eleanor
of Aquitaine in the thirteenth century romance
Richard Coeur-de-lion. Gerald also presents a list of
sins committed by Geoffrey V and Henry II as further
evidence of their "corrupt" origins.
According to Gerald, these legends were not always
discouraged by the Angevins. Richard the Lionheart
was said to have often remarked of his family that they
"come of the devil, and to the devil they would go."
A similar statement is attributed to St. Bernard
regarding Henry II. Henry II's sons reportedly d
efended their frequent infighting by saying "Do not
deprive us of our heritage; we cannot help acting
like devils." The legends surrounding the Angevins
grew into English folklore and led some historians to
give them the epithet "

The Devil's Brood.

"
— Wikipedia[6]
The "Devil's Brood" is an interesting epithet, wouldn't you say? Could there be some truth to that notion? What if there really was/is Nephilim seed being passed along amongst those believed to have descended from Japheth? Time does not afford me the opportunity to cover that subject in more detail in this book. If interested in tracing down more Nephilim who may have originated within Japeth's lineage, I would suggest you read the following excellent books:

• Genesis 6 Giants by Steve Quayle
• Giants and Dwarfs by Edward J. Wood
• Ancient Post Flood History by Dr. Ken Johnson
• Genes, Giants, Monsters and Men by Josephy P. Farrell
ENGINEERING THE ÜBERMENSCH
I have already stated that I do not subscribe to the idea that all whites come from Japheth, all Asians and Middle Easterners come from Shem and all blacks come from Ham. What I find quite
intriguing in this regard, concerns the reality that most of the giants that have been found in both history as well as the present are described as basically Caucasian: Often white with blond or red hair, with piercing, light colored eyes. How interesting that those same traits were most desired by Hitler and the Nazis as proof of "Aryan blood."
spacer
In mythology, folklore and speculative fiction, shapeshifting is the ability to physically transform through an inherently superhuman ability, divine intervention, demonic manipulation, sorcery, or having inherited the ability. The idea of shapeshifting is in the oldest forms of totemism and shamanism, as well as the oldest extant literature and epic poems such as the Epic of Gilgamesh and the Iliad. The concept remains a common trope in conspiracy theories, modern fantasy, children's literature and popular culture.
The image and descriptive article of the purported
Irish petrified giant of Antrim,
have made the rounds on the internet as
proof of the existence of ancient giants for several years.
Renown authors on the subject of giants, Hugh Newman and Jim Vieira have taken a deep dive investigating this case to figure out if there is any truth to the claims. 
The photo of the 'fossilized Irish giant' was taken at a London rail depot, and appeared in the December 1895 issue of Strand Magazine ,
a British publication.
The photograph of the Antrim Giant published in The Strand Magazine in 1895. ( Kadumago/ CC BY-SA 4.0)
The giant was claimed to have been dug up by a Mr Dyer while prospecting for iron ore in County Antrim (Ireland). The full account from the Strand Magazine reads: "Pre-eminent among the most extraordinary articles ever held by a railway company is the fossilized Irish giant, which is at this moment lying at the London and North-Western Railway Company's Broad-street goods depot, and a photograph of which is reproduced here. This monstrous figure is reputed to have been dug up by a Mr. Dyer whilst prospecting for iron ore in Co. Antrim. The principal measurements are: Entire length, 12ft. 2in.; girth of chest, 6ft. 6.5.in.; and length of arms, 4ft. 6 in. There are six toes on the right foot. The gross weight is 2 tons 15 cwt.; so that it took half a dozen men and a powerful crane to place this article of lost property in position for the Strand Magazine artist. Dyer, after showing the giant in Dublin, came to England with his queer find and exhibited it in Liverpool and Manchester at sixpence a head, attracting scientific men as well as gaping sightseers. Business increased and the showman induced a man named Kershaw to purchase a share in the concern. In 1876, Dyer sent this giant from Manchester to London by rail; the sum of £4 2s. 6d. being charged for carriage by the company, but never paid. Evidently Kershaw knew nothing of the removal of the 'show', for when he discovered it he followed in hot haste, and, through a firm of London solicitors, moved the Court of Chancery to issue an order restraining the company from parting with the giant, until the action between Dyer and himself to determine the ownership was disposed of. The action was never brought to an issue."
Jim Vieira is a stonemason, explorer, historical detective and host of the History Channel shows -"Search for the Lost Giants" (2014) "Roanoke: Search for the Lost Colony" (2015) and "Return to Roanoke: Search the Seven" (2016). He is co-author of Giants on Record and The Giants of Stonehenge and Ancient Britain: Investigating the Lost Records, Missing Skeletons and Giant Lore of England, Scotland, Ireland and Wales with Hugh Newman.
Top Image : David and Goliath by Daniele da Volterra (1550-1555) Louvre Museum ( Public Domain )
By Jim Vieira
Now, you must know that there have been hundreds, if not thousands of GIANT SKELETONS found over the centuries.  They have been confiscating and storing these artifacts all this time.  Some at the Smithsonian, some at the Vatican and others at multiple secret locations across the earth.  NOW, they are pulling the DNA from these relics and creating hybrid beings.  Just as they did in the Days of NOAH!  There is not room to bring you all the supporting data here.  You can research for yourself.  You will find this to be TRUE.
The Giant Company is a member of IAAPA, the international association of amusement parks and attractions. The Giant is planned for 21 major cities across the globe. While every Giant is bespoke for its city and country, each is also a member of a family that can digitally communicate with other Giants around the world. Global events will engender global communities and these trendsetting events will become a defining social feature of the coming decades.
Chance 

(13 Jun 2021)
(Do you even have to ask?)
Hello John and Doves,

Just saw this – "the most exciting visitor attraction concepts of the 21st century" a giant, shape-shifting, 3-Dimensional digital statue – created by The Giant Company '

The Giant 2021 on The Giant Company channel, March 10, 2021

They are looking for investors/cities interested in their project for their city.  

The Giant moves it's head and arms in multiple directions and can change shape instantly.  It can also speak and sing, move it's head and arms.  It can be programmed to

look like anyone.

Their official site is: 

The Giants Are Coming In 2021

".

Is this a warning for what is coming, prophetically, in 2021?

Reminds me of Rev 13: 13-15 where the second beast with two horns like a lamb but spoke like a dragon "telling those who live on the earth to make an image to the beast who had the wound of the sword and has come to life.  And he is given power to give breath to the image of the beast, so that the image of the beast will even speak and cause those who do not bow down and worship the image of the beast to be killed."

It could be possible that the 'image of the beast' will be an AI statue of some sort.  It is referred to as an "image" – an AI, 3-D copy – that will be able to speak, sing, and move.  The second beast (False Prophet) tells men to MAKE an image to the beast – so this will be MANMADE – and he will order anyone who does not bow down to this 'image' to be put to death.  And this 'image' could be erected in many, many cities around the world – like "The Giant".

Whether or not the Giant Company can get cities interested in their 'giant' – this could easily be the technology for creating the 'image of the beast' that could be erected through out the cities of the world.

I think this could easily fulfill this prophecy in The Revelation.

Pray for the peace of Jerusalem!

Maranatha!

Chance
spacer
APOLLYON RISING & THE RETURN OF THE GIANTS
Over 500,000 came to the National Mall this July for the Apollo 50: Go For the Moon projection show on the Washington Monument. You can now relive this once-in-a-lifetime celebration in full. Go for the Moon captures the excitement of the first Moon landing and tells the story of the iconic Apollo 11 mission from launch to landing and beyond.
"Apollo 50: Go for the Moon" was commissioned by the National Air and Space Museum and produced by 59 Productions. The Museum's Apollo 50 programming was made possible by the support of Boeing with additional support from Raytheon.
Watch show online – https://youtu.be/R7ayx7CuKFs
Fly Me To The Moon, Jupiter, and Mars! – https://youtu.be/zRf9m6MKWlM
2001: A Space Odyssey – What Did Stanley Kubrick Know? – https://youtu.be/yI9gPV-ggug
Resources:
* SMHP may not agree with everything from the content producers we share. Apply critical thinking and use discernment to come to your own conclusions regarding the content in the videos / links.
………………………………………….
First movie clip is Jack The Giant Slayer. 2nd is Noah. 3rd is 300.
SHEEPDOG 111 (Watchman Of The Harvest Archives) – https://www.youtube.com/channel/UCGWbgQVZcKCKgnjfScNn3_Q
Vincent Rhodes – https://www.youtube.com/user/truevinecenter
the Truth is stranger than fiction… – https://www.youtube.com/channel/UC2aFQcGgRoVuEWfx2AM0H-A
Spy Kitten TV – https://www.youtube.com/channel/UCJQtaCAhN4JgVTDR12oQrdw
………………………………………….
Please do you own research on the content in the video. Don't take any of the content here as the final say. Let us know how you feel about the content and the speakers in the comment area. Please be respectful of others when commenting. This is a learning channel where we help each other put the pieces together. Comments reviewed typically within 12 hours.
Jesus saith unto him, I am the way, the truth, and the life: no man cometh unto the Father, but by me. John 14:6 "In whom we have redemption through his blood, the forgiveness of sins, according to the riches of his grace;" Ephesians 1:7 God bless you and your families. Know Jesus! Repent of your sins. Let the Potter mold his clay into something wonderful!
Subscribe to our channel: http://www.youtube.com/c/ShakingMyHeadProductions
/////// /////////////////
https://shakingmyheadproductions.com – Main Website
To Watch The Video on BitChute: CLICK HERE
MORE POSTS THAT ARE RELATED.  IF YOU HAVE NOT SEEN THEM, CHECK THEM OUT
MY FINAL COMMENTS:
Are we really so stupid that we cannot see that this is an IDOL?  Now that you can see your favorite "hero" in GIANT SIZE idol form, you can no longer pretend that you are not worshiping these people.  Are you really fool enough to make of YOURSELF a full blown, GIANT SIZED IDOL??  Seriously???  WAKE UP!!  BEFORE THE WRATH OF GOD FALLS UPON YOU!
spacer